If sipping glühwein, perusing endless stalls of holiday wares and admiring thousands of glittering fairy lights seems like your personal winter wonderland, plan to celebrate this season at one of Europe's festive Christmas markets.
Many of these markets were canceled in past years due to the pandemic. However, things are back in action this year, with almost all markets operating as normal.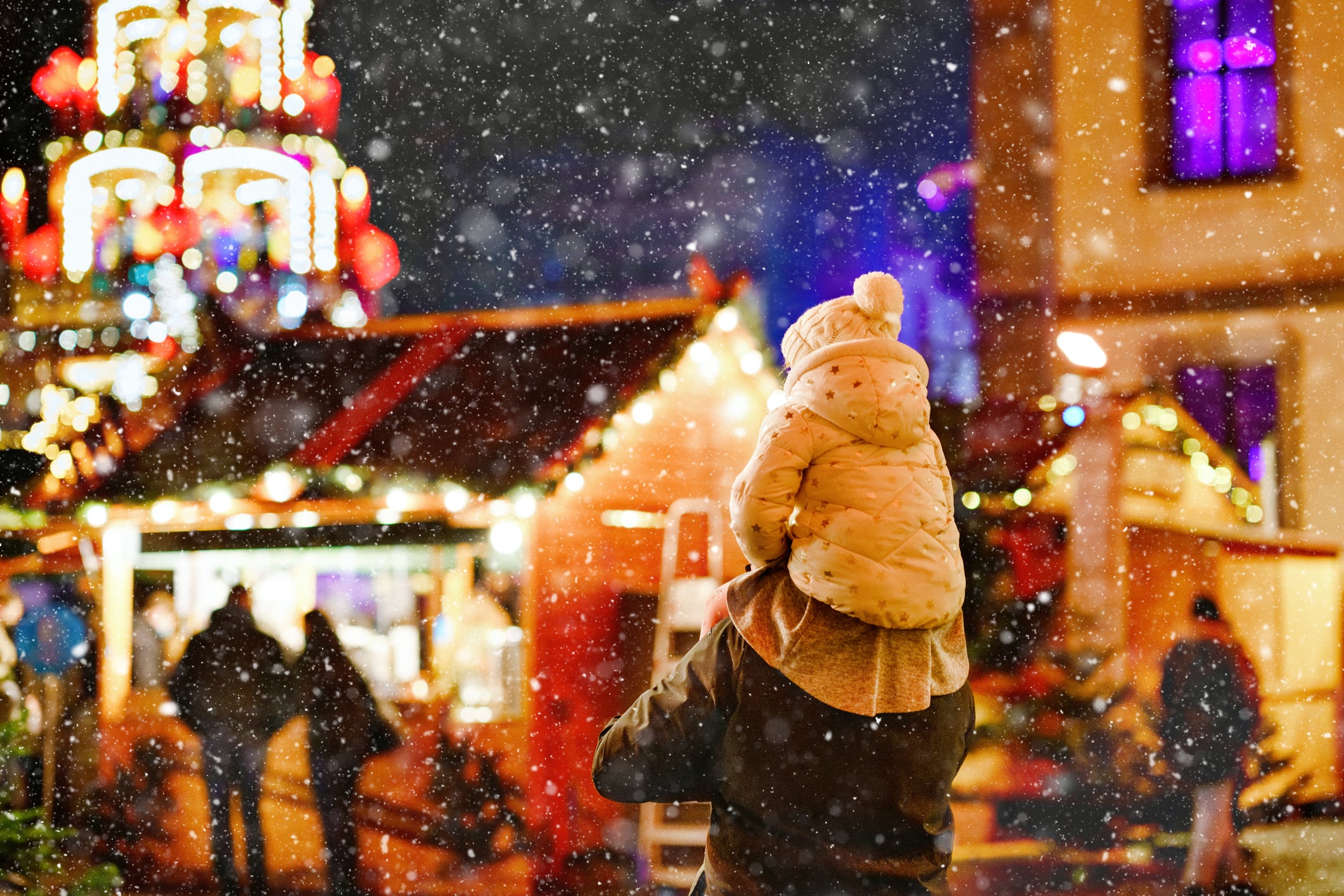 Traditional Christmas markets date back hundreds of years and are still popular today in many European countries.
Although the weather is cold (and snowy in some destinations), experiencing the sparkling lights, wafting smells of traditional foods and holiday cheer are the best ways to brave the chilly temperatures. Since many markets begin in November and run through the holidays, travelers have plenty of opportunities to snag a fall or winter flight deal or off-peak award redemption.
Here are some of the best Christmas markets in Europe, complete with tips on ways to get there and where to stay.
Vienna, Austria
Wander past more than 100 stalls at Vienna's largest Christmas market, situated in the famous City Hall Square in Rathausplatz (Nov. 19 to Dec. 26). Kids will love the reindeer train, Ferris wheel and carousel — there's even a Nativity path, too. This year, the market and its stalls will focus on improving sustainability, so expect more eco-friendly products and materials.
Planning a winter 2023 visit? Strap on rental skates at Vienna Ice World in City Hall Square to glide around the 96,000-square-foot rink (Exact dates are TBD, but the rink should be open from January through March 2023).
Stay: The Park Hyatt Vienna is the ultimate Viennese luxury: high, arching ceilings, an indoor swimming pool and suites decked out with chandeliers and marble bathrooms. Winter rates start at 456 euros ($457) or 21,000 Hyatt points per night, but are significantly higher around Christmas.
Arrive: Austrian Airlines, the flagship carrier, is part of the Star Alliance. If you have miles on any partner airline, you should be able to get a seat at a good valuation. Austrian flies direct from Chicago O'Hare International Airport (ORD), New York's John F. Kennedy International Airport (JFK), Newark Liberty International (EWR), Boston Logan (BOS) and Washington Dulles International (IAD), with seasonal flights from Los Angeles (LAX). If you are flying into a European hub such as London's Heathrow Airport (LHR), British Airways and Austrian fly nonstop between the two cities, as well as low-cost carriers like Wizz Air and Ryanair.
Germany
One of the most famous countries in Europe for Christmas markets, Germany has a market in practically every city. We couldn't pick just one, so here are some of the best:
Cologne: This city, famous for its towering Gothic cathedral, features not one but seven different Christmas markets, including an LGBTQ-friendly Christmas market (most run from Nov. 18/19 to Dec. 23).
Munich: Bavaria's most famous market normally operates in Marienplatz, decorated with thousands of candles and featuring more than 100 stalls (Nov. 21 to Dec. 24).
Munich Airport: Jump right into the holiday spirit (even go ice skating) during a long layover at Munich International Airport (MUC), which transforms into a Christmas market (Nov. 19 to Dec. 26).
Frankfurt: Enjoy shopping and a 100-foot-tall Christmas scene at Frankfurt's main Christmas Market (Nov. 21 to Dec. 22).
Nuremberg: In addition to its world-renowned lebkuchen (gingerbread), keep a look out for this market's Christkind, a young lady with curly blond hair dressed like a golden angel who makes frequent appearances at the festivities (Nov. 25 to Dec. 24).
Berlin: Germany's capital has a number of Christmas markets, but one of the best is the market flanked by two cathedrals in Gendarmenmarkt (Nov. 21 to Dec. 31). Expect the typical food and shopping but also incredible holiday-inspired performances from fire eaters, acrobats, jugglers and choirs belting out classical, jazz and gospel Christmas tunes.
Dresden: One of the country's oldest and largest markets the Striezelmarkt in what was once East Germany features puppet theaters, storytelling time and gingerbread-decorating workshops (Nov. 23 to Dec. 24).
Stay: The JW Marriott Frankfurt features 219 rooms and more than 200 hand painted art pieces by German Artist Hartwig Ebersbach. Rates start as low as 264 euros ($264) or 45,000 points per night.
Arrive: Star Alliance partner Lufthansa operates direct flights to Germany out of several U.S. airports, including major hubs like New York (JFK), Los Angeles International Airport  (LAX) and Chicago O' Hare (ORD), as well as smaller airports, such as Charlotte Douglas International Airport (CLT) and Denver International Airport(DEN).
If you want to visit in comfort and style, you can splash out for one of the most iconic fifth-freedom routes out of the U.S., offered by Singapore Airlines between New York's John F. Kennedy International Airport (JFK) and Germany's Frankfurt Airport (FRA). Super-luxurious business-class awards on this route cost 81,000 miles each way through Singapore Airlines' KrisFlyer program. You can transfer points to KrisFlyer from all of the transferable points programs — American Express Membership Rewards, Capital One Rewards, Citi ThankYou and Chase Ultimate Rewards.
Strasbourg, France
Although you can't go wrong with markets in French spots like Lyon and Lille, Strasbourg's Christkindelsmärik, near the city's cathedral, is one of France's most popular holiday haunts for sipping mulled wine, tasting French wintery treats like tarte flambée or sugary bredele biscuits and shopping for wares among the wooden stalls (Nov. 21 to Dec. 23).
The city is known as the Capital of Christmas. Strasbourg's towering Christmas tree, millions of twinkling lights and festive ice rink can convince any Grinch to love the festive season.
Stay: Stay at one of the newest hotel additions to the city, the Aloft Strasbourg. The hotel is welcoming and modern, just a 15-minute walk to the main Christmas market. Rates start at 96 euros ($96) or 21,000 Marriott Bonvoy points per night.
Arrive: Strasbourg is a smaller city, and you can't fly nonstop there from the U.S. Instead, fly to Strasbourg Airport (SXB) from hubs such as Paris, Madrid (MAD) or Amsterdam (AMS). Or, plan a layover to check out Munich Airport's Christmas market (see above), then continue on to Strasbourg. You can also take a train from Frankfurt or Paris to the French city.
Tallinn, Estonia
Sample Baltic holiday cuisine like black pudding and gingerbread paired with spiced wine at the Christmas market in Tallinn's medieval town square (Nov. 25 to Jan. 8).
The setting is simply stunning: Historic buildings surround stalls selling Christmas goods and decorations (many of which are heart-shaped, as Estonians firmly believe Christmas is a time of love), with the enormous tree as a centerpiece.
This season, there'll be two different carousels for the little ones and a double-decker holiday bus to ride around town.
Stay: The Radisson Blu Sky Hotel is a short walk away from the town square, which you can view from the hotel's outdoor terrace that overlooks the Estonian capital. Rates start at 96 euros ($96) or 44,000 points per night.
Arrive: Although you can't fly nonstop from the U.S. to Tallinn Airport (TLL), you can connect easily to hubs such as Warsaw (WAW), Istanbul (IST), Frankfurt or Brussels (BRU) and then fly on over. If you fly Finnair between the U.S. and Helsinki (HEL), a ferry to Tallinn takes about three and a half hours. From various London airports, you can fly to Tallinn on low-cost airlines like Air Baltic, Ryanair or Wizz Air.
Brussels, Belgium
While Antwerp, Ghent and Brugge's markets have a smaller, more charming and cozier vibe, Brussels' Winter Wonders market (Nov. 25 to Jan. 1) is the largest and most impressive in Belgium, with more than 200 stands weaving through the city center.
Take a spin around the ice rink, fly high in the Ferris wheel or enjoy a visit from Santa. The market also offers an immersive audio and visual Christmas show, an innovative way to experience all the holiday fun.
Stay: Budget travelers can stay in the midst of all the action at the Holiday Inn Express Grand Palace for as low as 133 euros ($133) or 27,000 IHG points per night (breakfast included).
Arrive: Fly to Brussels on Star Alliance carriers from hubs like New York-JFK and Washington, D.C.(IAD). Some of your one-way redemption options include United MileagePlus, Avianca LifeMiles, Air Canada Aeroplan and Singapore KrisFlyer. Consider combining a trip to Brussels with other European cities (or Christmas markets) using the Brussels Airlines pit-stop service. This stopover program allows passengers to stay from one to five nights at no extra charge in Belgium.
If you fly from the U.S. into London, you can fly to Brussels on British Airways and Brussels Airlines. Taking the Eurostar train between London and Brussels is an alternative option — the ride takes just over two hours. Rates start as low as £33 ($37) each way.
Prague, Czech Republic
It's hard to decide whether to visit Prague's Old Town Square market or Wenceslas Square market. Considering they're a 10-minute walk from each other, it's easy to visit both (Nov. 26 to Jan. 6).
There's also another market near the Prague Castle. The markets sell similar items, like Medovina honey wine and Czech crafts like puppets and dolls, but Old Town Square has live animals like sheep and donkeys for children to pet.
Stay: Hilton Prague Old Town is a 10-minute walk from Old Town Square, offering modern comforts and renovated guest rooms that still retain that old world Prague charm. Room rates start at 145 euros ($145) or 33,000 points per night.
Arrive: Find great deals over the next few months, flying to Prague from the U.S. with TAP Air Portugal and LOT Polish Airlines. Fares from Chicago O'Hare (ORD), Miami International Airport (MIA), Newark Liberty International Airport (EWR) and Washington Dulles International Airport (IAD) can be found for as low as $500.
Many airlines fly to Prague (PRG) from numerous European hubs, which is also a cost effective way of traveling during winter. Although British Airways has a direct route to the Czech Republic capital, it's easy to get to there if your Avios balance isn't quite topped off via low-cost carriers like Ryanair, EasyJet, Jet2 and Wizz Air from various London airports.
Just make sure to brush up on the rules before flying European low-cost carriers so you're not caught off guard.
Zagreb, Croatia
Voted numerous times as Europe's best Christmas market, Zagreb's holiday magic is truly special. In fact, the entire city is decked out with lights, Nativity scenes and decorations. Start at the Zrinjevac Park Christmas market (Nov. 26 to Jan. 7), where you can sample hot štrukle, a pastry with melted cheese or medenjaci cookies paired with soul-warming wine as you browse handmade ornaments and toys.
Then visit Zagreb Cathedral with its famous Nativity scene out front. Finish the evening up with a few laps around the King Tomislav Square ice rink or a ride on the carousel in Strossmayer Square.
Stay: A short walk away from the Christmas action, the Westin Zagreb is ideal for those wanting a quiet, contemporary space to relax while still staying close to all the holiday cheer. Rates start 108 euros ($108) or 15,00 Marriott Bonvoy points per night.
Arrive: Getting to Zagreb (ZAG) will take you more than one flight: There are no nonstop flights available from the U.S. to the Croatian capital and United's nonstop seasonal service from Newark Liberty International Airport (EWR) to Dubrovnik Airport (DBV) only operates from May to October.
You'll need to stop first in destinations like London, Frankfurt, Istanbul or Frankfurt en route to Zagreb on various airlines. Both British Airways and Croatia Airlines fly between London Heathrow (LHR) and Zagreb (ZAG), with Ryanair also operating from London Stansted Airport (STN).
Basel, Switzerland
Wander through over 160 snow-covered wooden stalls at Basel's Christmas market, stretching from Barfüsserplatz to Münsterplatz (Nov. 24 to Dec. 23). A steaming mug of glühwein perfectly complements traditional delights like waffles, gingerbread and melted Swiss raclette.
Stay: The new Basel Marriott offers the best of Swiss culture without sacrificing modernity. Rates start around 169 Swiss Francs ($171) or 27,000 Bonvoy points per night.
Arrive: Getting to Basel (BSL) from the U.S. requires a stop somewhere in Europe. The airport (officially EuroAirport Basel Mulhouse Freiburg) is actually in France, though it's a short drive from both Basel and the border of Germany — perfect for visiting three countries in one trip. You can also fly Swiss International Airlines to Zurich (ZRH), stopping there quickly before hopping on a Swiss Federal Railways train to Basel, bookable as one complete ticket on the Swiss website.
If London is your preferred international hub, getting to Basel from the U.K. is simple. You can fly EasyJet from London Gatwick (LGW), Manchester (MAN) or Edinburgh (EDI), or British Airways from London Heathrow (LHR).
Christmas markets are back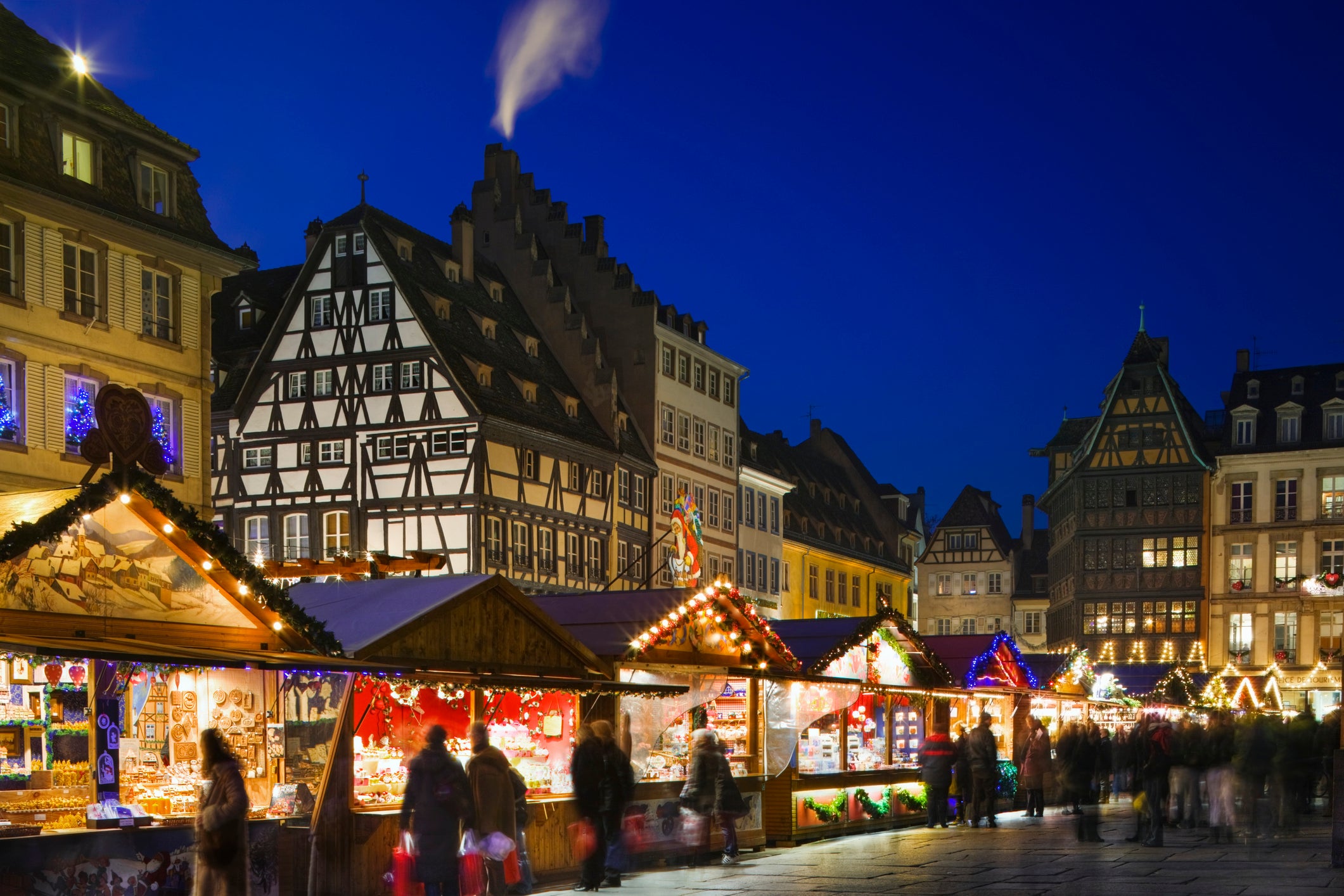 Christmas markets are a festive way to celebrate the holidays, complete with local gastronomy, mulled wine, ice skating and twinkling holiday decorations. And after two years without many of Europe's most popular markets, it's finally time again enjoy all the seasonal delights these markets offer.
If you want to visit other European destinations, check before booking to see if your destination has a market. Many cities have versions of these seasonal markets, including Copenhagen, Gothenburg, Madrid, Budapest and Krakow.