I spend a lot of time in hotels and theme parks, which also means I spend a lot of time in theme park hotels.
One of the most important features I look for is proximity to the theme parks. If it's a five-minute bus ride between my hotel room and my favorite attractions, great. If I can walk, that's even better.
Related: The best hotels near Universal Studios Hollywood
Universal Studios Hollywood stands out from other theme parks in many ways, one of which is that there are no on-site hotels. However, that doesn't mean I couldn't find a hotel with the all-important convenience factor.
Luckily, there are a handful just a short walk from Universal Studios Hollywood's iconic red carpet and all the fun that awaits inside the gates.
For my most recent visit, I chose the Hilton Los Angeles/Universal City. According to Google Maps, it's the closest hotel to Universal Studios Hollywood. So, I packed my suitcase and laced up my walking shoes to find out for myself.
Convenient location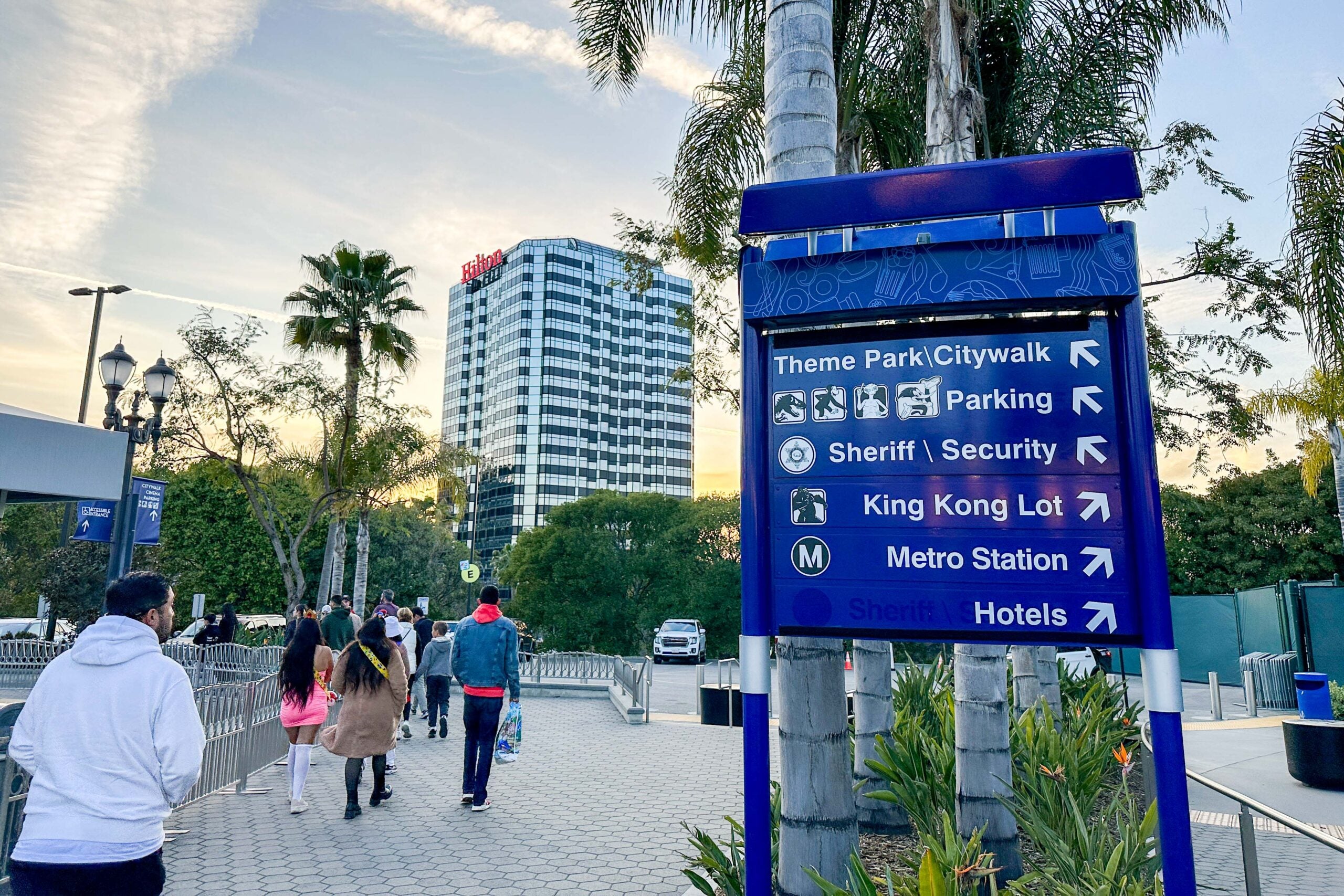 The Hilton Los Angeles/Universal City's claims that it's the closest to Universal Studios Hollywood turned out to be true.
I walked from my hotel to the park's front gate in less than 10 minutes. The path was well-marked with signage that pointed me in the right direction. Coming home in the evening was just as easy. After exiting the park, signage points you back to the walking path.
If you choose not to walk, the hotel also offers a complimentary shuttle to Universal Studios Hollywood. A ride-hailing service between the hotel and Universal cost me $10, including a tip, if you go that route.
If you have a car, you can drive, but you would have to pay for theme park parking, which costs $35 per day before 5 p.m. or $10 after 5 p.m. This would be in addition to the hotel's daily parking fee of $35.
The rooms are large and comfortable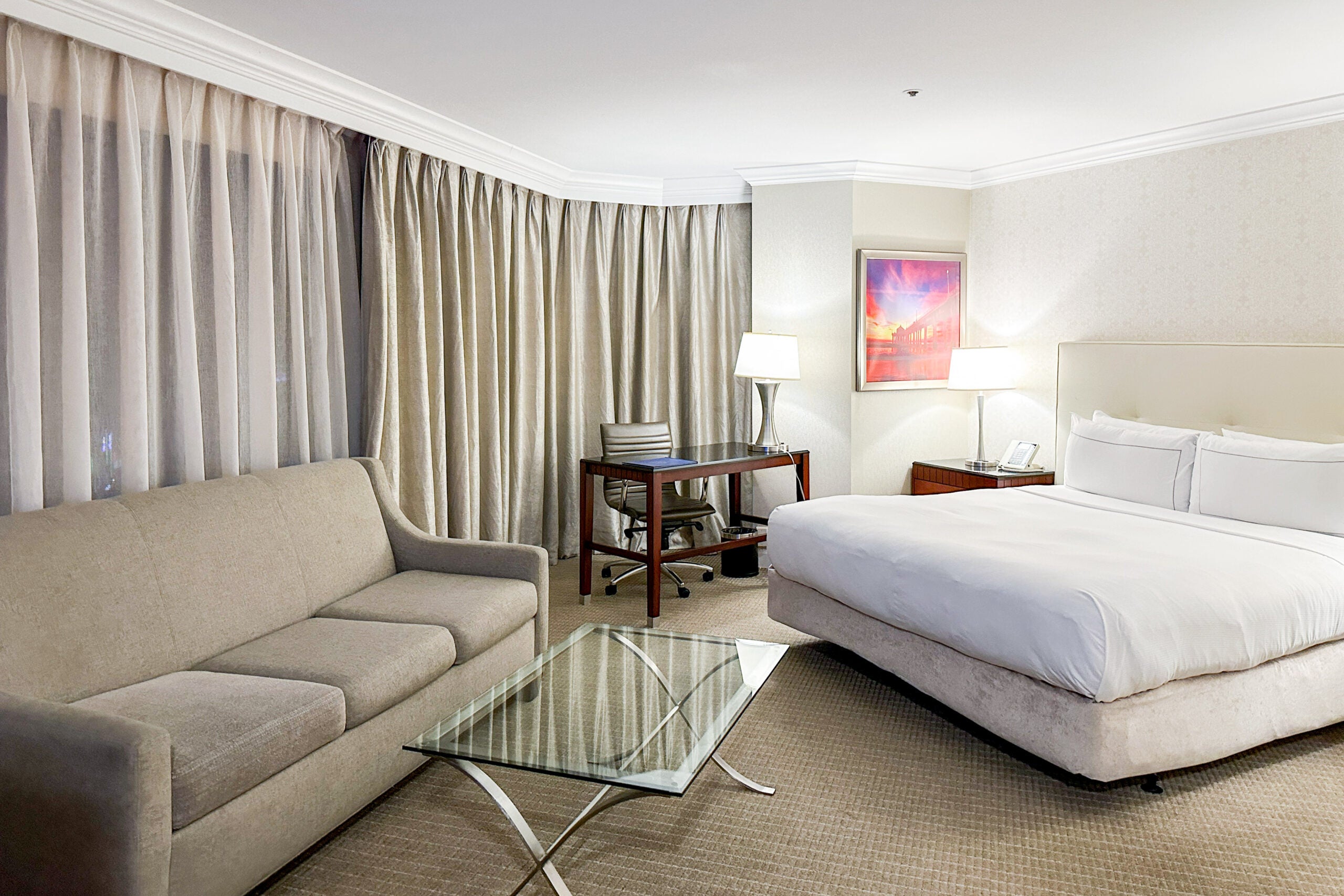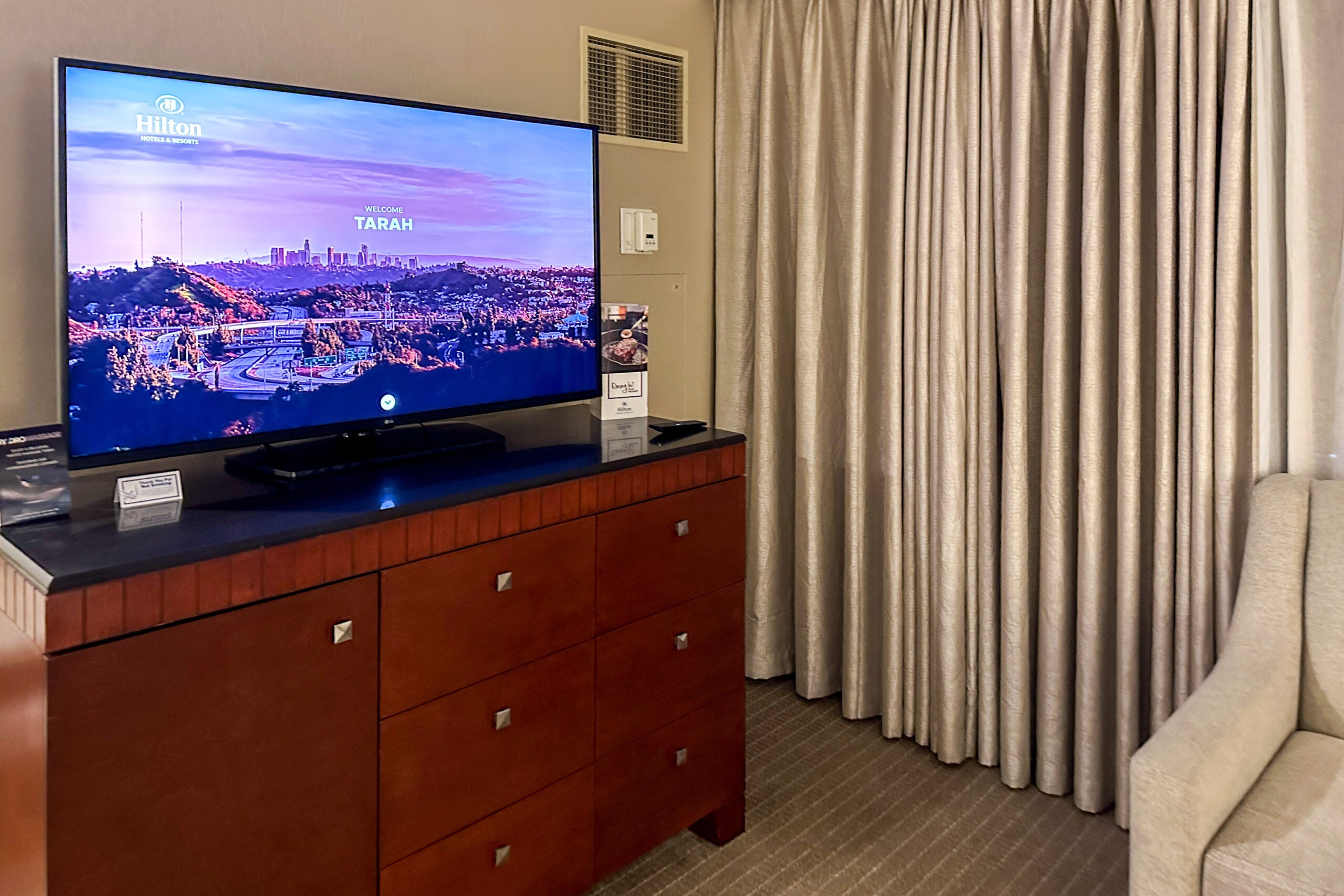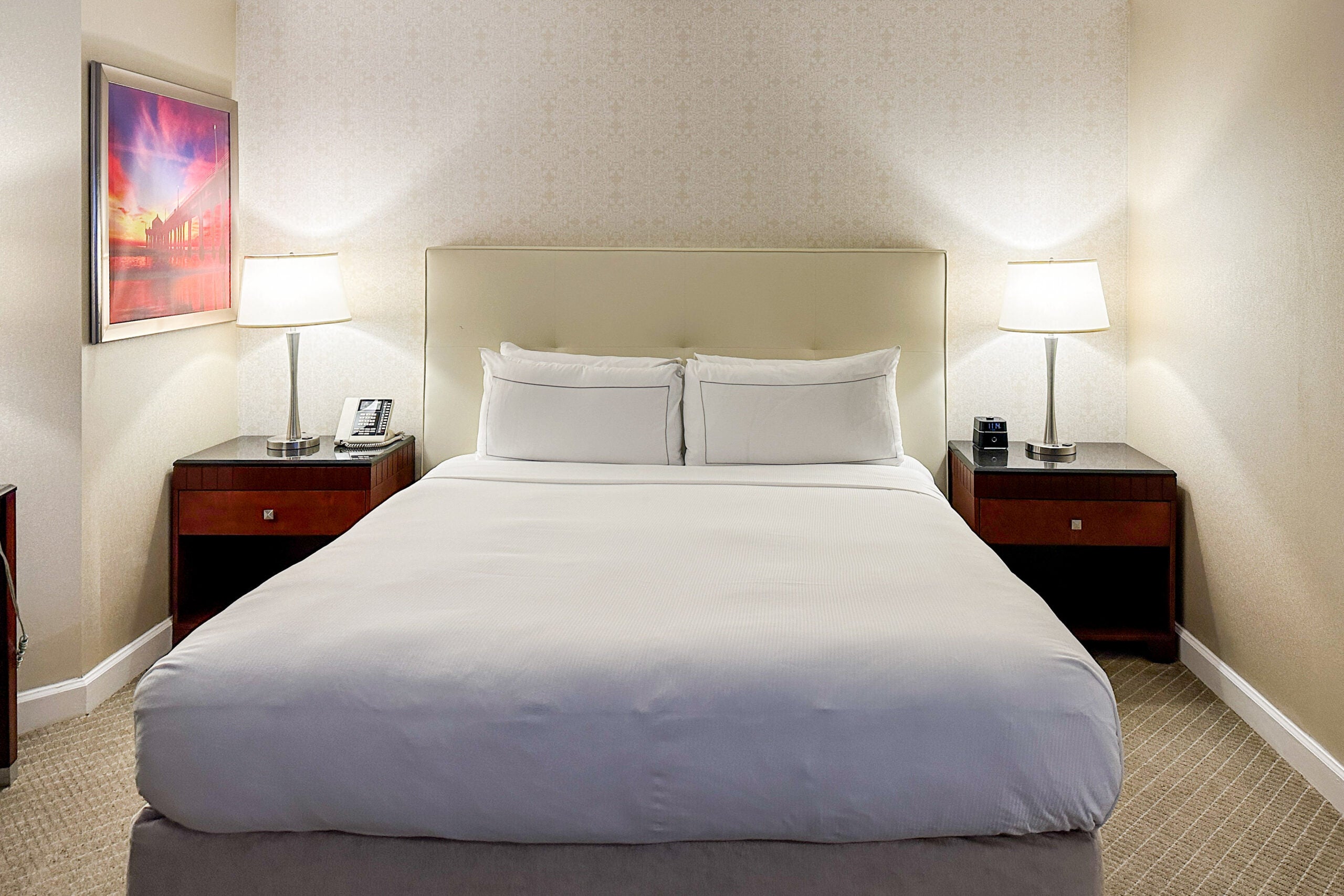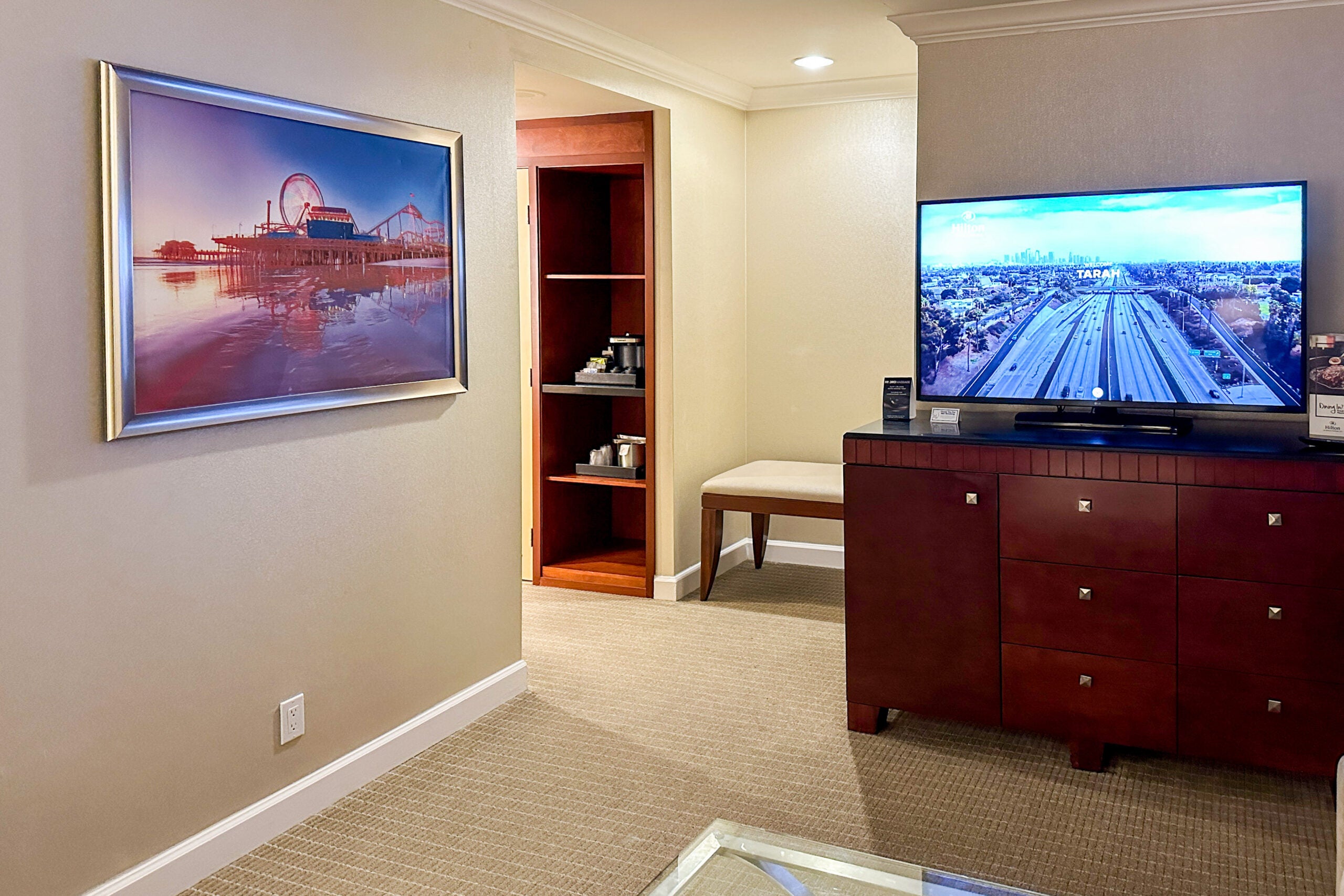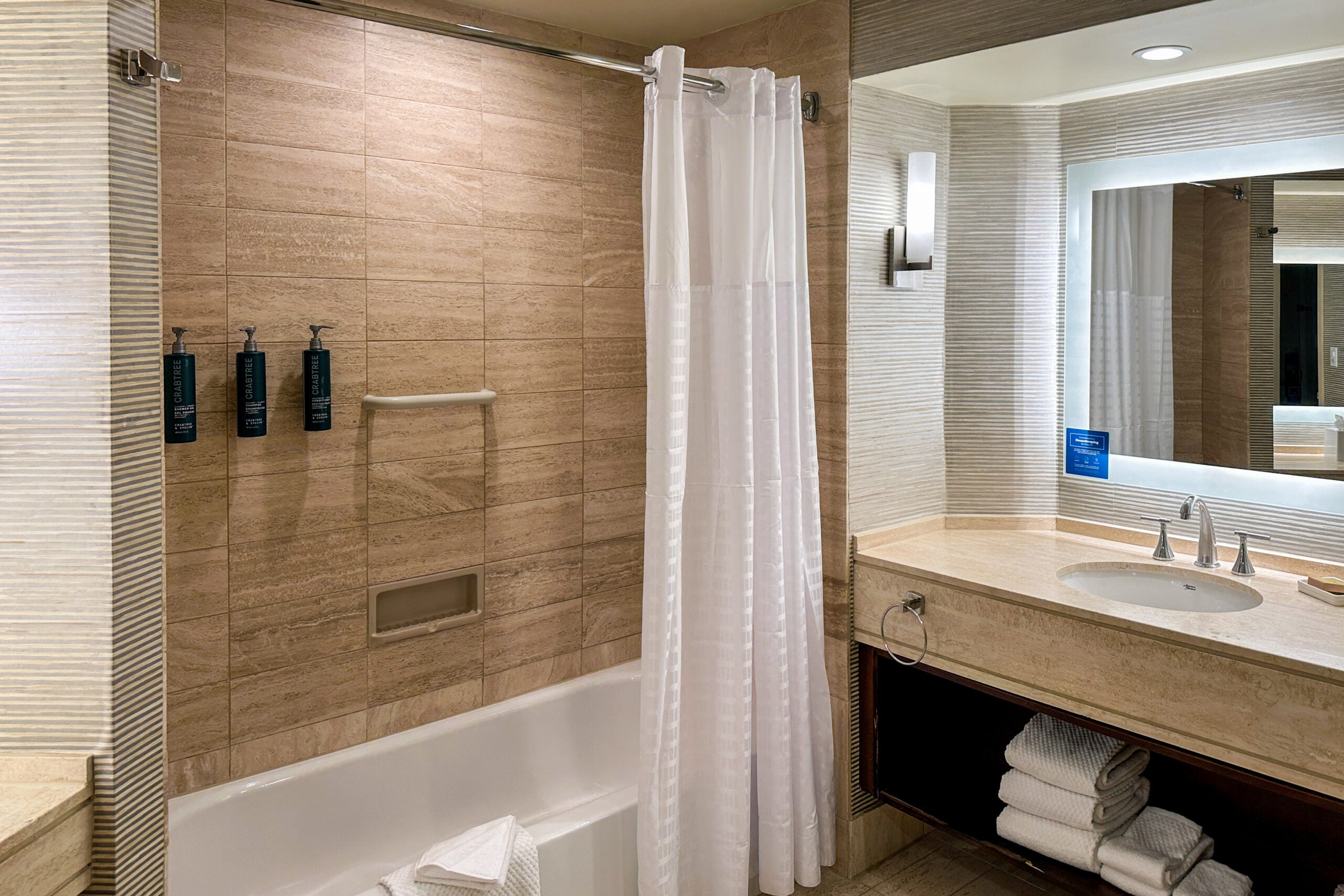 Because I was in town to visit Universal Studios Hollywood, I opted for a theme park view room to extend the experience of being in the park to my hotel room. The price difference between my corner room with a theme park view and a standard room is, on average, less than $40 per night, which felt more than worth it after I saw my room.
For comparison, standard rooms start at around $224 or 61,000 Hilton Honors points per night. The room type I stayed in starts at around $260 or 100,000 Hilton Honors points per night. I paid cash for my stay and earned 20,575 points.
Related: How to choose the best Hilton credit card for you
My room had a king bed and a queen sofa bed, sleeping up to four guests. There was a closet in the entryway, as well as open storage shelves and a coffee and tea maker.
Because of the unique corner layout of the room, the bathroom was one of the largest I've seen in a standard hotel room. The sink offered a lot of counter space, and it had a lighted mirror. There was also a separate vanity area with a lighted mirror (great if you have multiple people getting ready at once).
In addition to the bed and sofa bed in the main living area, the room included a large desk for working, a dresser with storage drawers and a hidden mini-fridge, a large smart TV and plenty of USB and eclectic outlets around the room for charging my devices.
The real reason I chose this room was the view, and I was not disappointed.
Amazing theme park views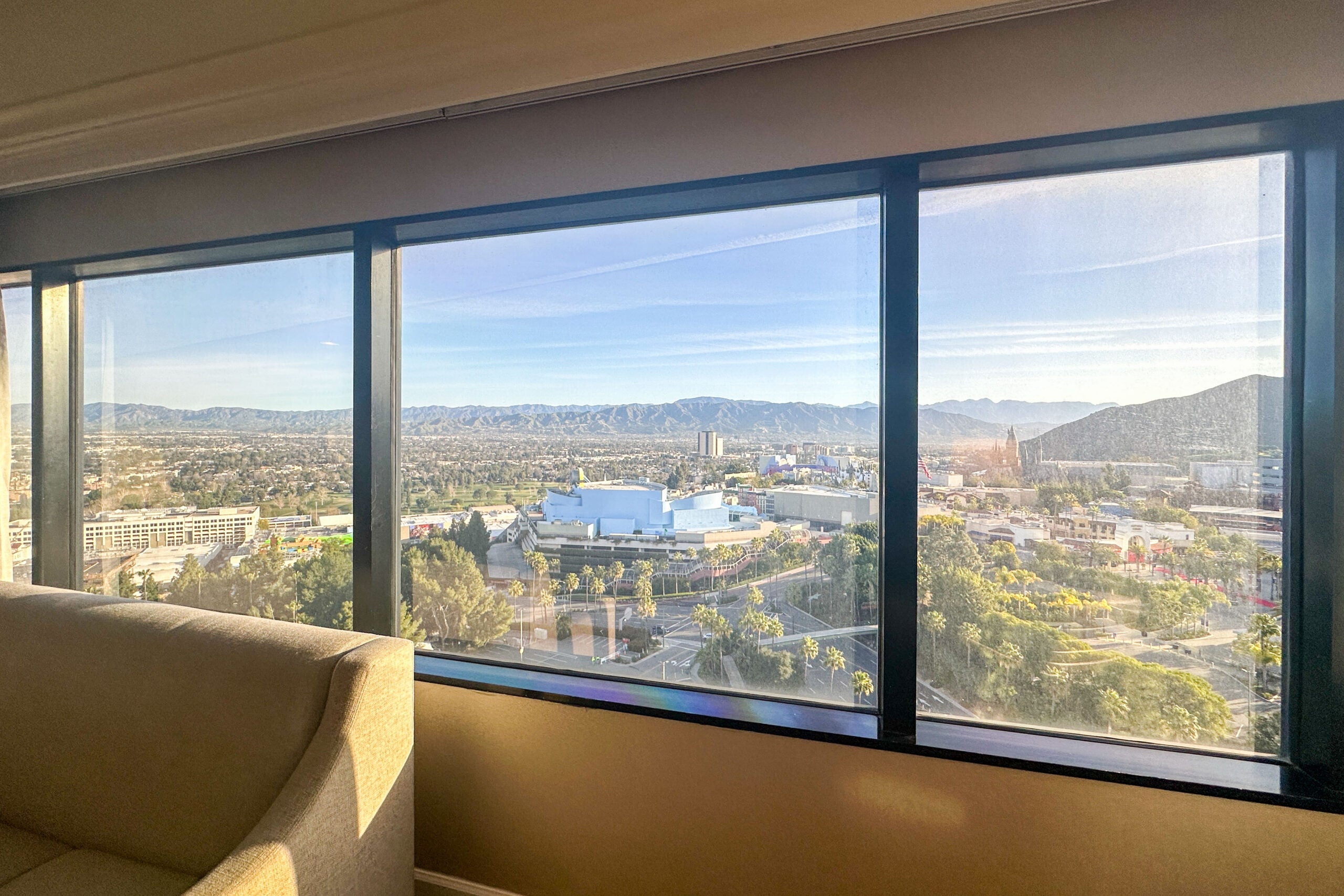 The windows in my corner room spanned the entire length of one wall. When I pulled back the curtains to see if the view was as good as I had hoped, I shrieked with delight. I could see all of Universal Studios Hollywood right outside my window.
Related: Thrills for all ages: 6 best rides at Universal Studios Hollywood
In the distance, I could see the turrets of Hogwarts School of Witchcraft and Wizardry, the colorful scenery in Super Nintendo World and the iconic red carpet and globe at Universal Studios Hollywood's entry arch.
The San Fernando Valley and Verdugo Mountains views beyond the park weren't too shabby, either.
Full-service amenities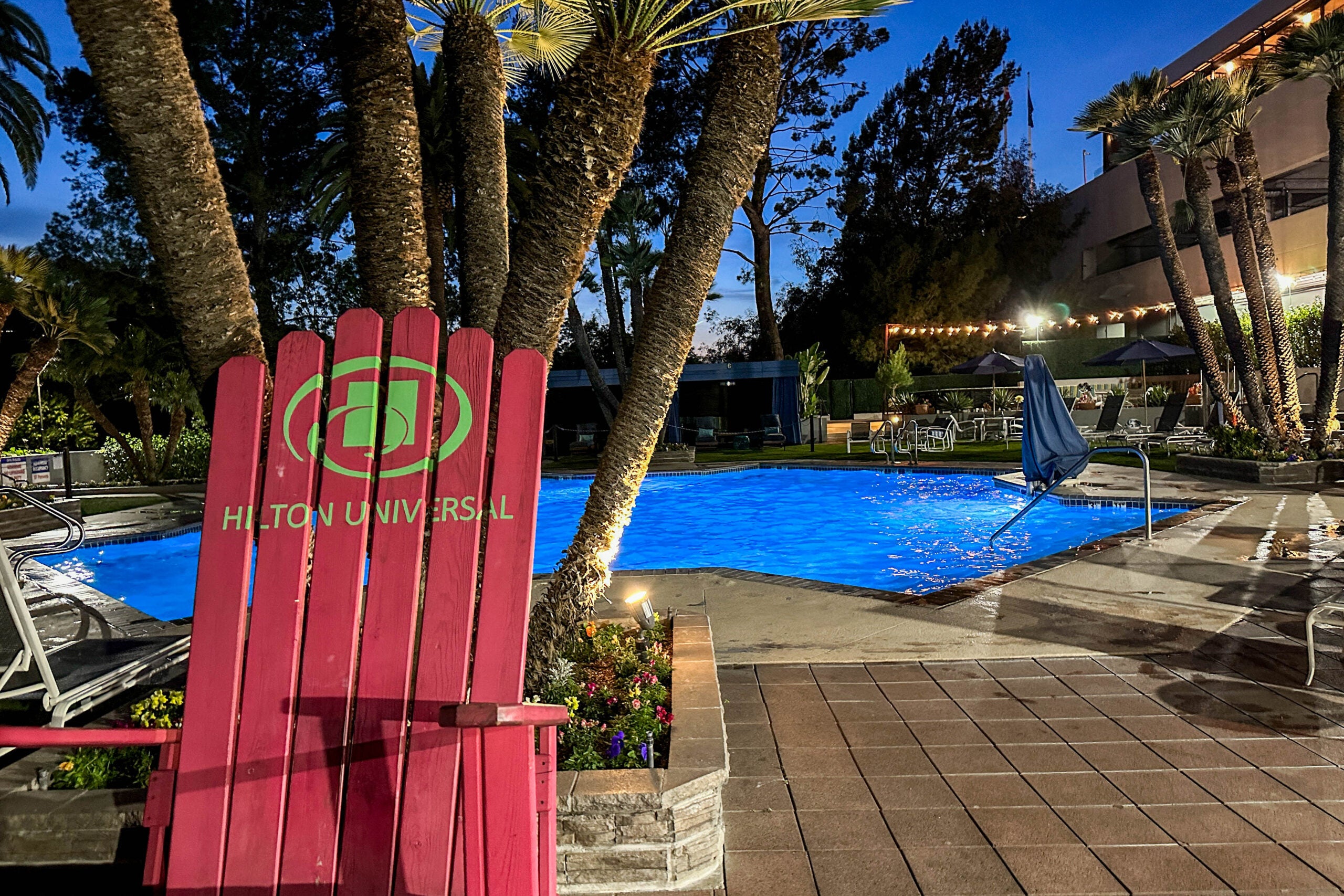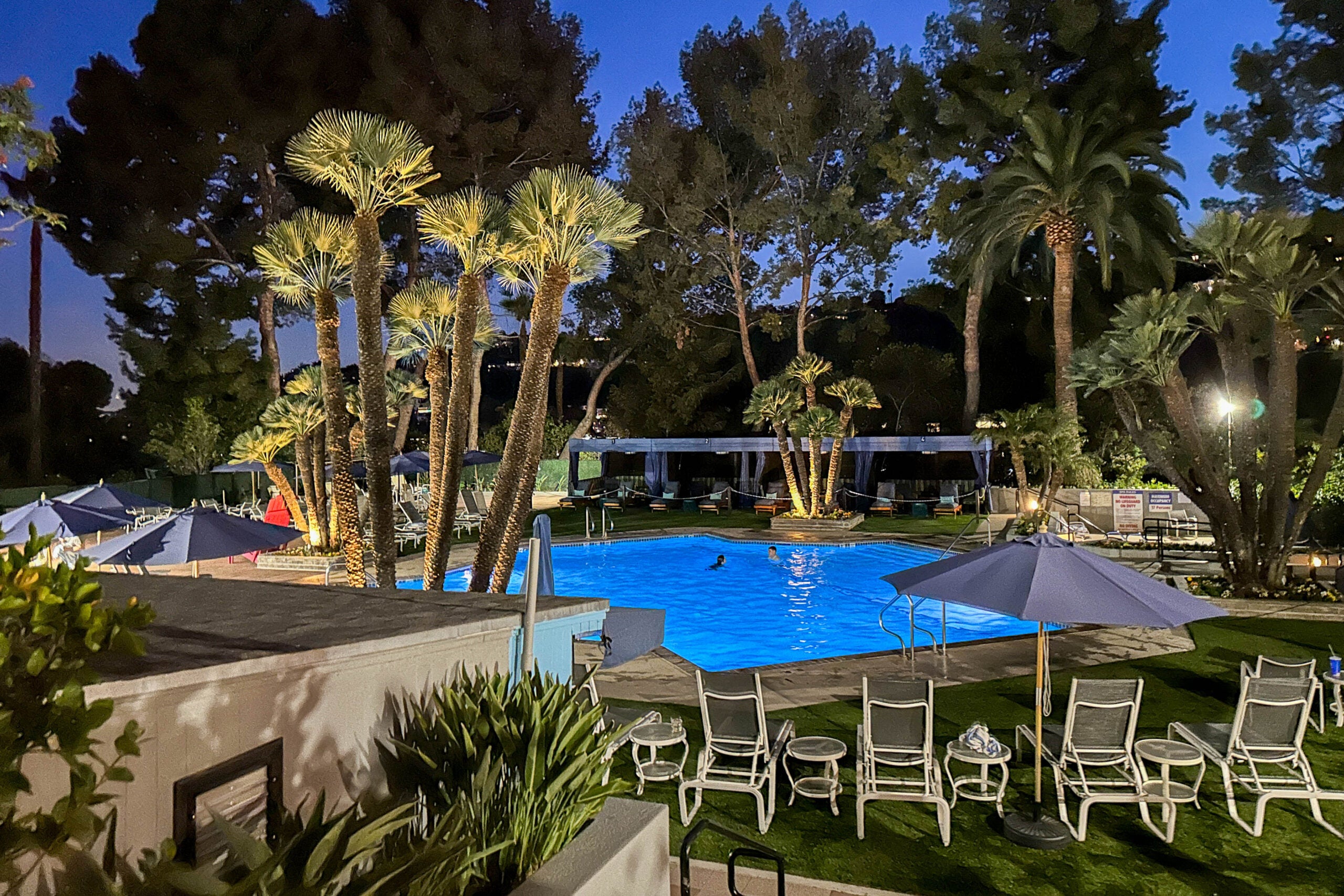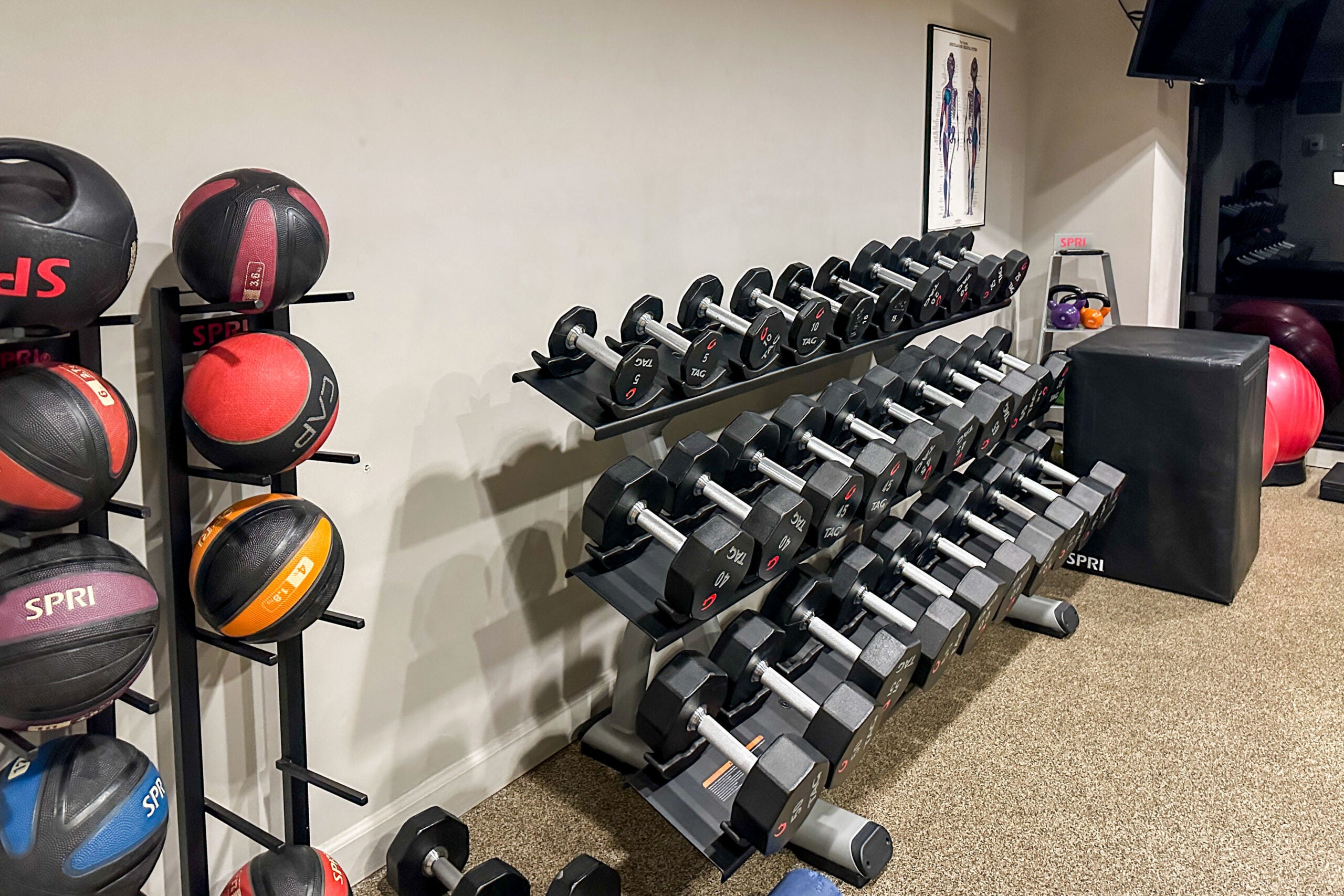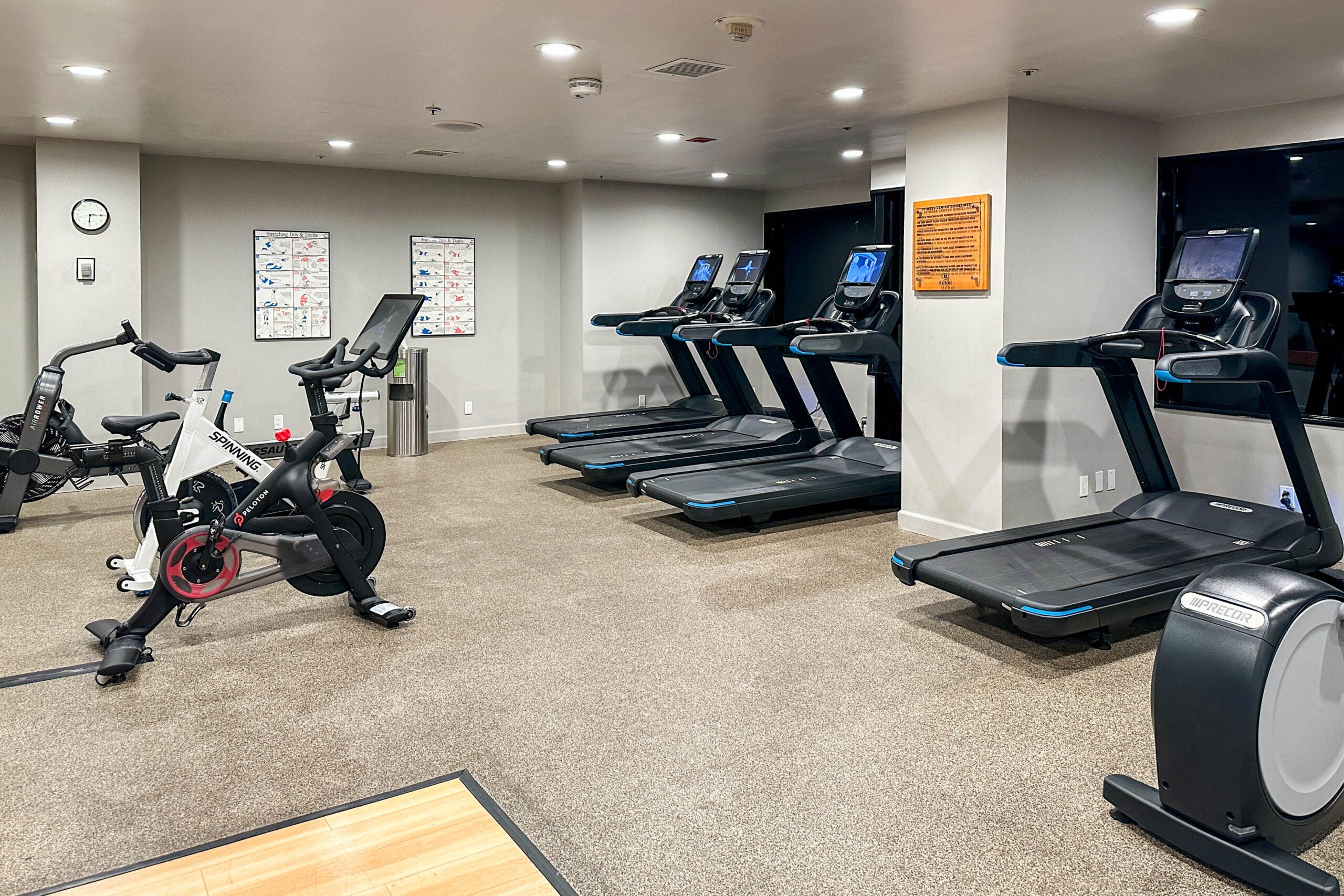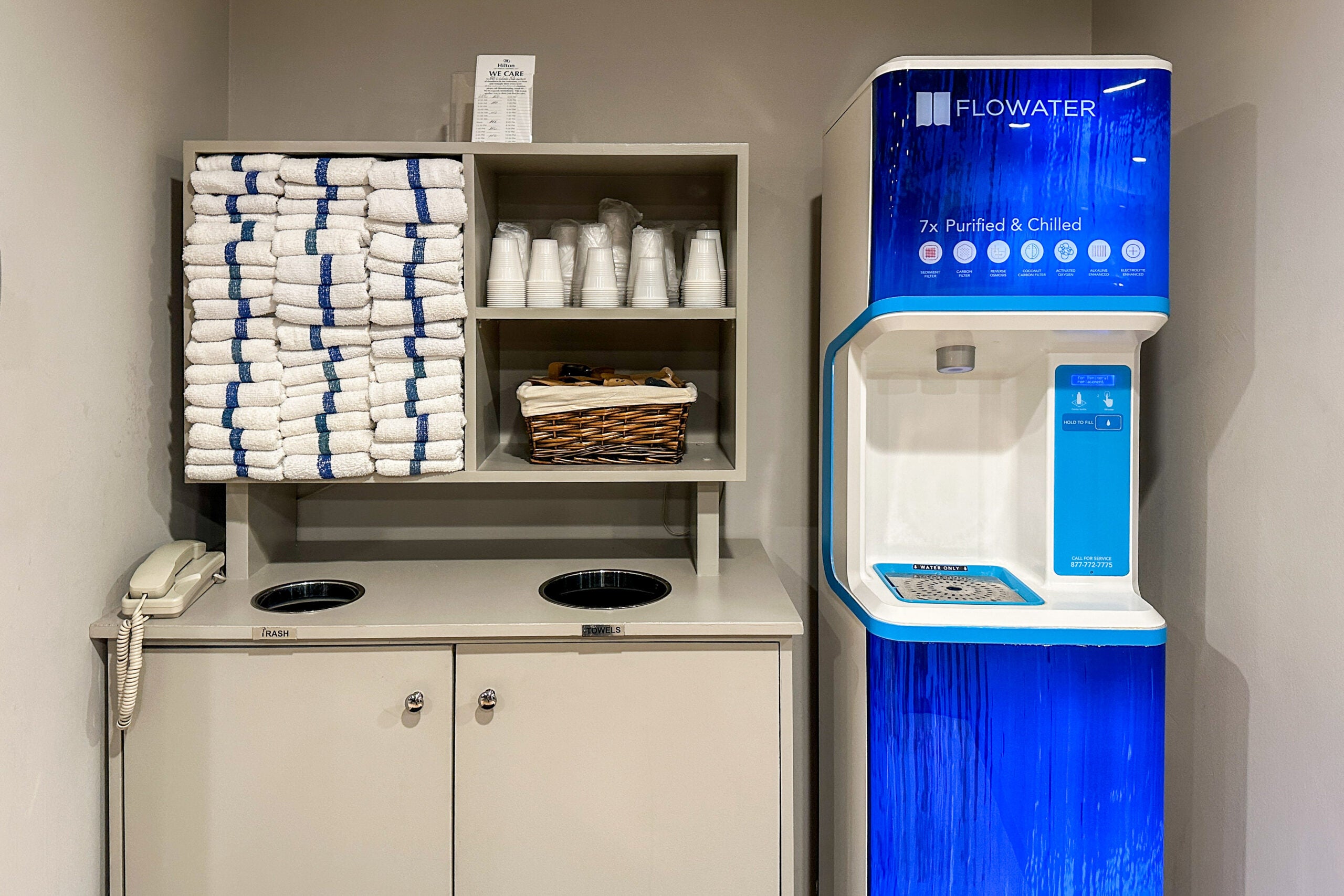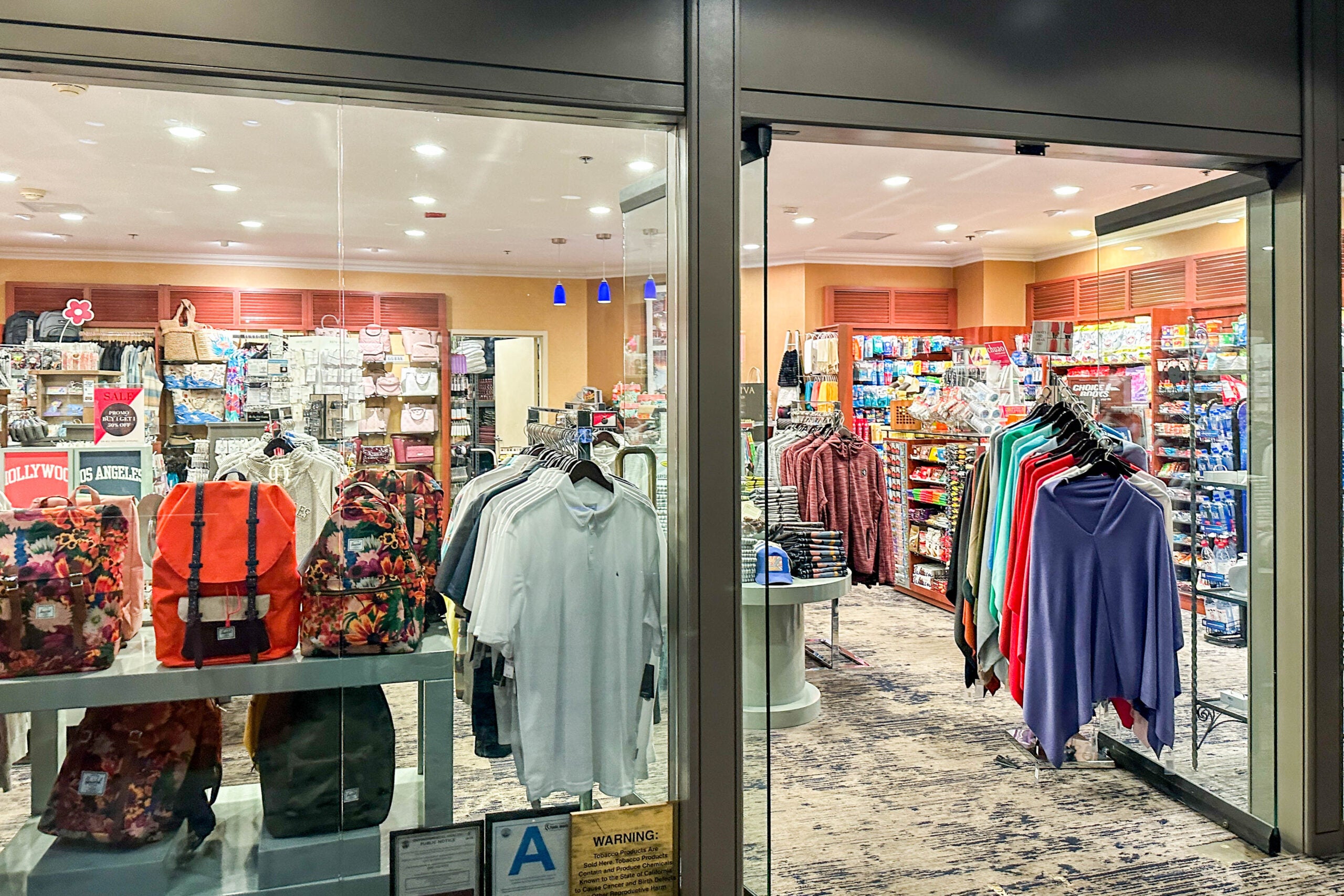 Though I spent most of my time at the theme park, I appreciated that anything else I needed was right there at the hotel. The 24/7 fitness center was larger than many hotel gyms I've seen, with separate areas for cardio and strength training and complimentary towels and water. There was even a Peloton bike so you can stick with your at-home schedule even when you travel.
The pool area had a hot tub, plenty of seating, cabanas available to rent, an accessible pool lift and a poolside bar and grill. There was also a large gift shop in the lobby with not only the typical items like toiletries, medicines, snacks and other items you may have left at home but also clothing, jewelry and souvenirs.
Drink and dine all day long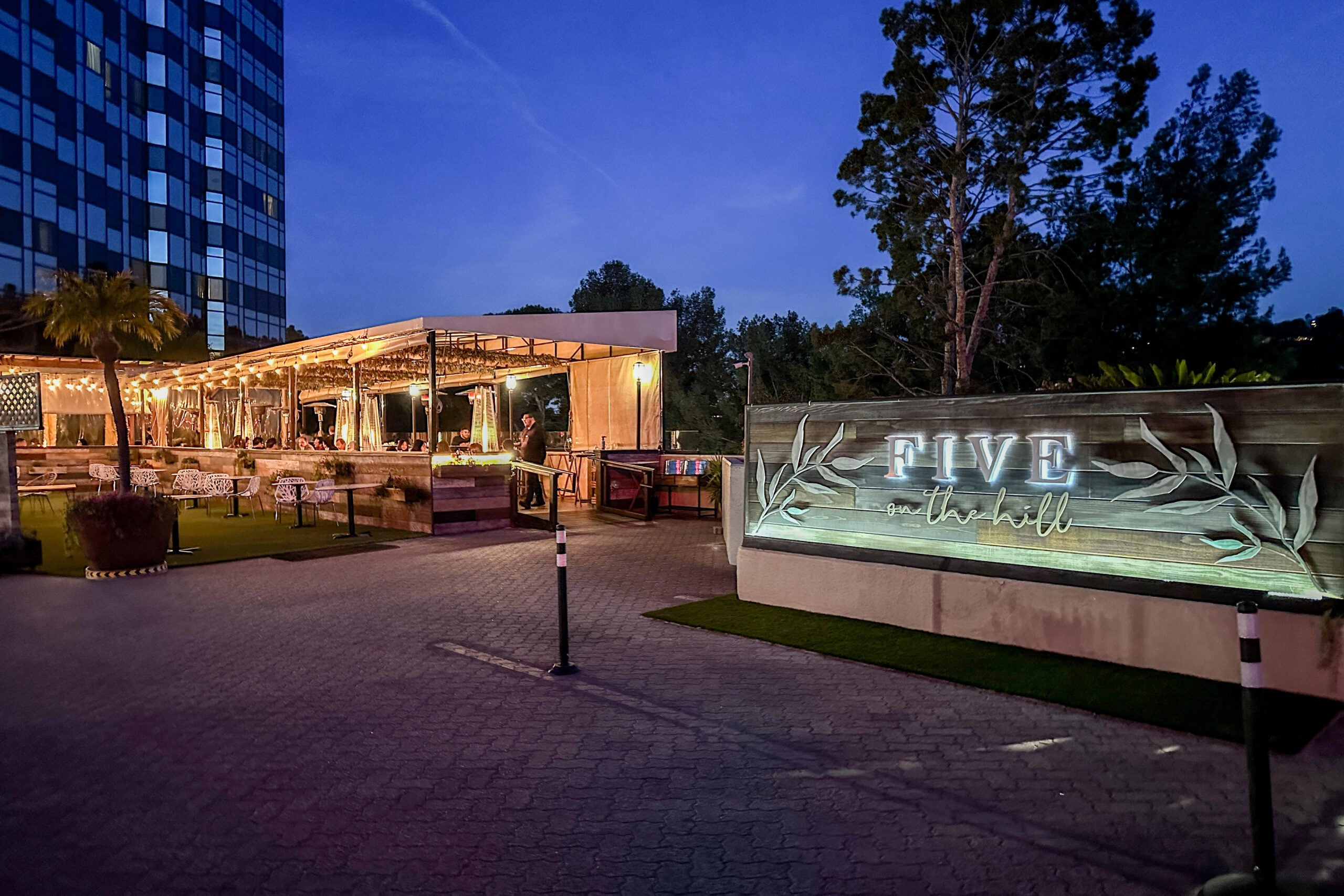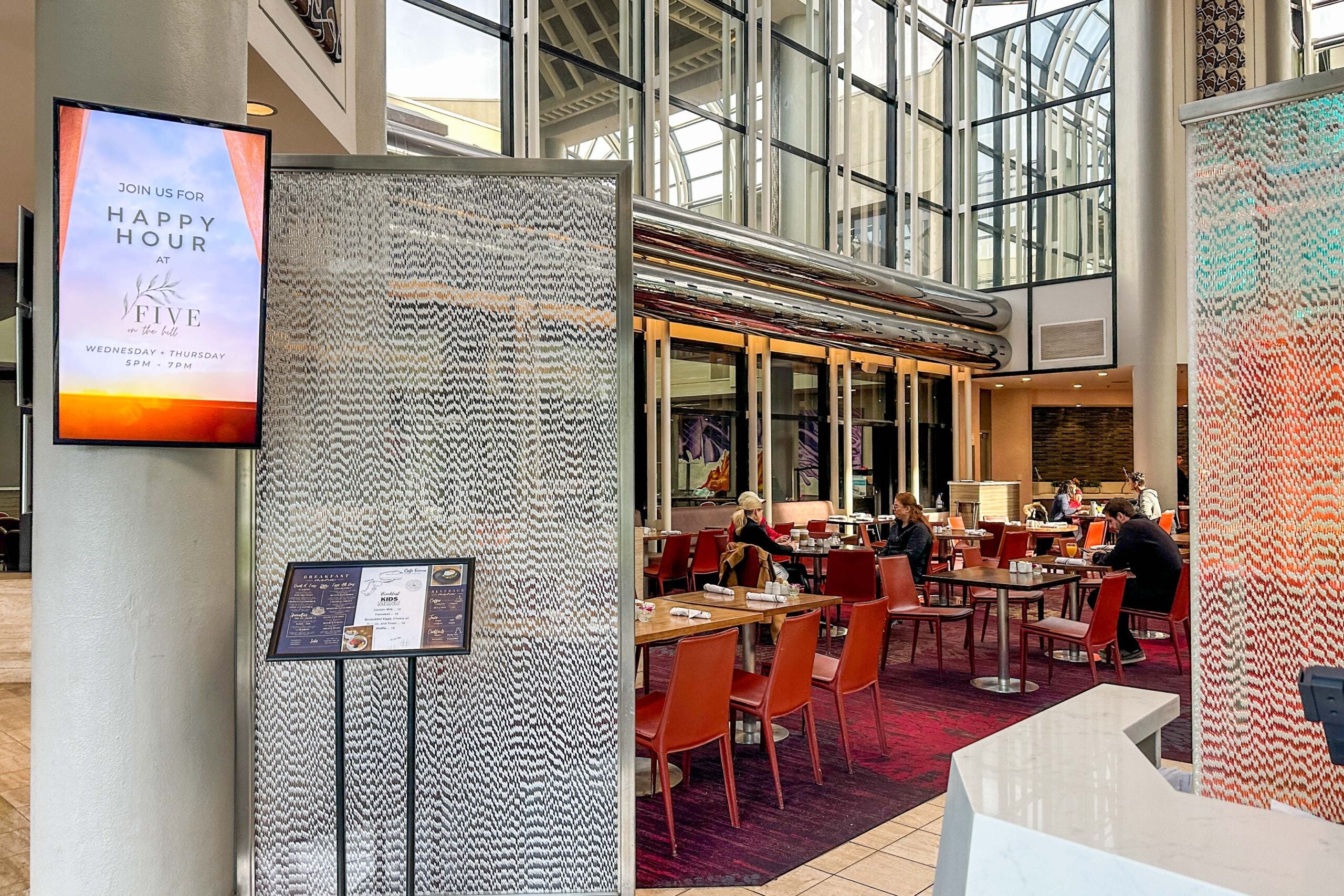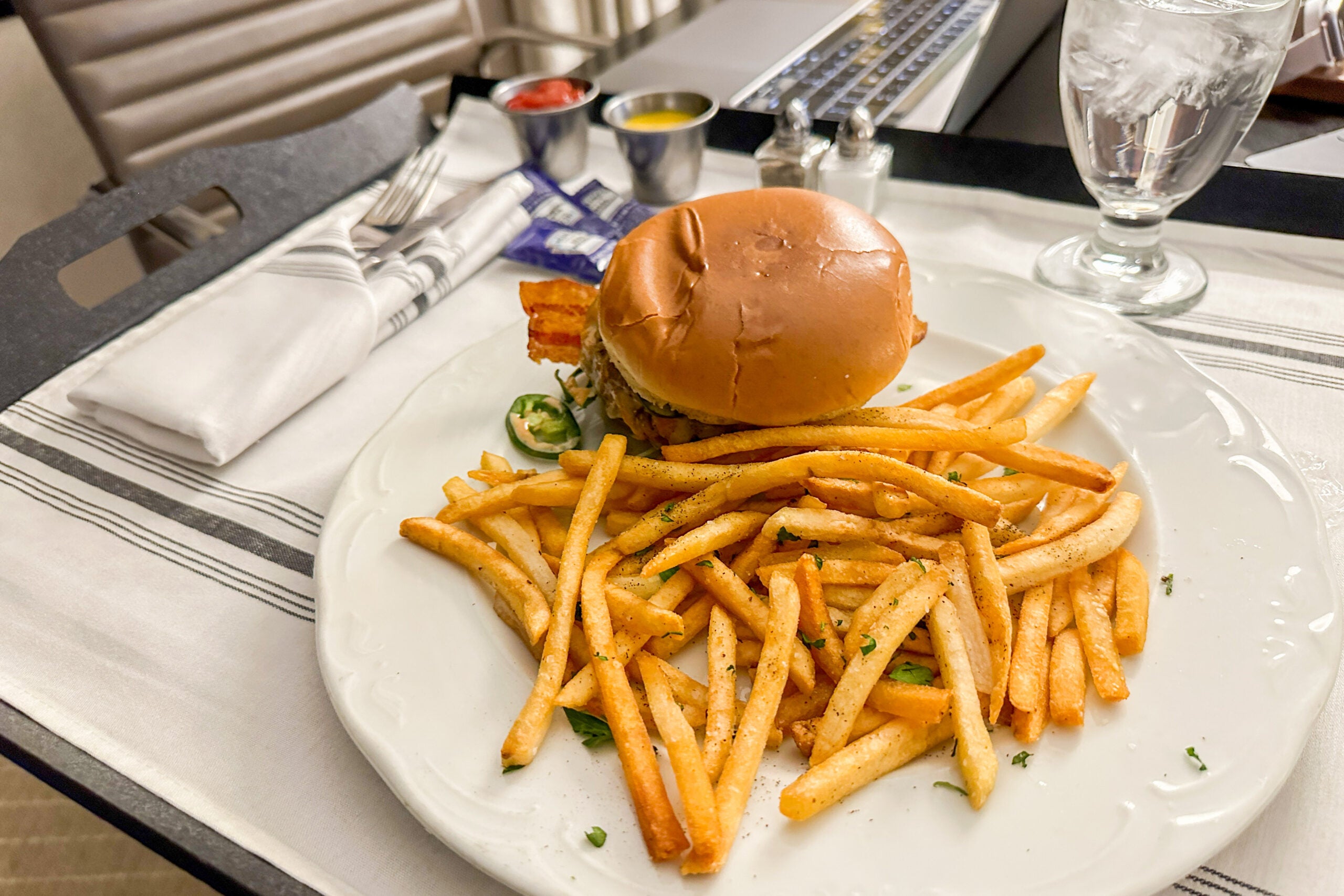 Running around a theme park all day requires lots of fuel in the form of food and caffeine. Luckily, I was able to satisfy both of those needs at the Hilton Los Angeles/Universal City. The on-site coffee shop is open daily from 6 to 10:30 a.m. and serves Starbucks coffee drinks, as well as snacks and pastries.
Also, Cafe Sierra in the lobby atrium serves breakfast. You can choose from a buffet with a selection of international and traditional American breakfast items or order off the menu. Cafe Sierra also opens on Saturday evenings for a seafood and prime rib buffet and on Sunday mornings for a Champagne brunch.
Thanks to my Hilton Honors gold status, I earned a $15 daily food and beverage credit for each day of my stay.
Related: What is Hilton Honors elite status worth in 2023?
Dinner is served outdoors at Five on the Hill, a fine-dining restaurant with handcrafted cocktails, shareable small plates and gorgeous views.
After a long day at Universal Studios Hollywood (and a lot of work to catch up on), I was too tired to dine at the restaurant and opted for the 24/7 room service. The crispy seasoned fries and hearty burger were just what I needed to refuel at the end of the day.
Theme park perks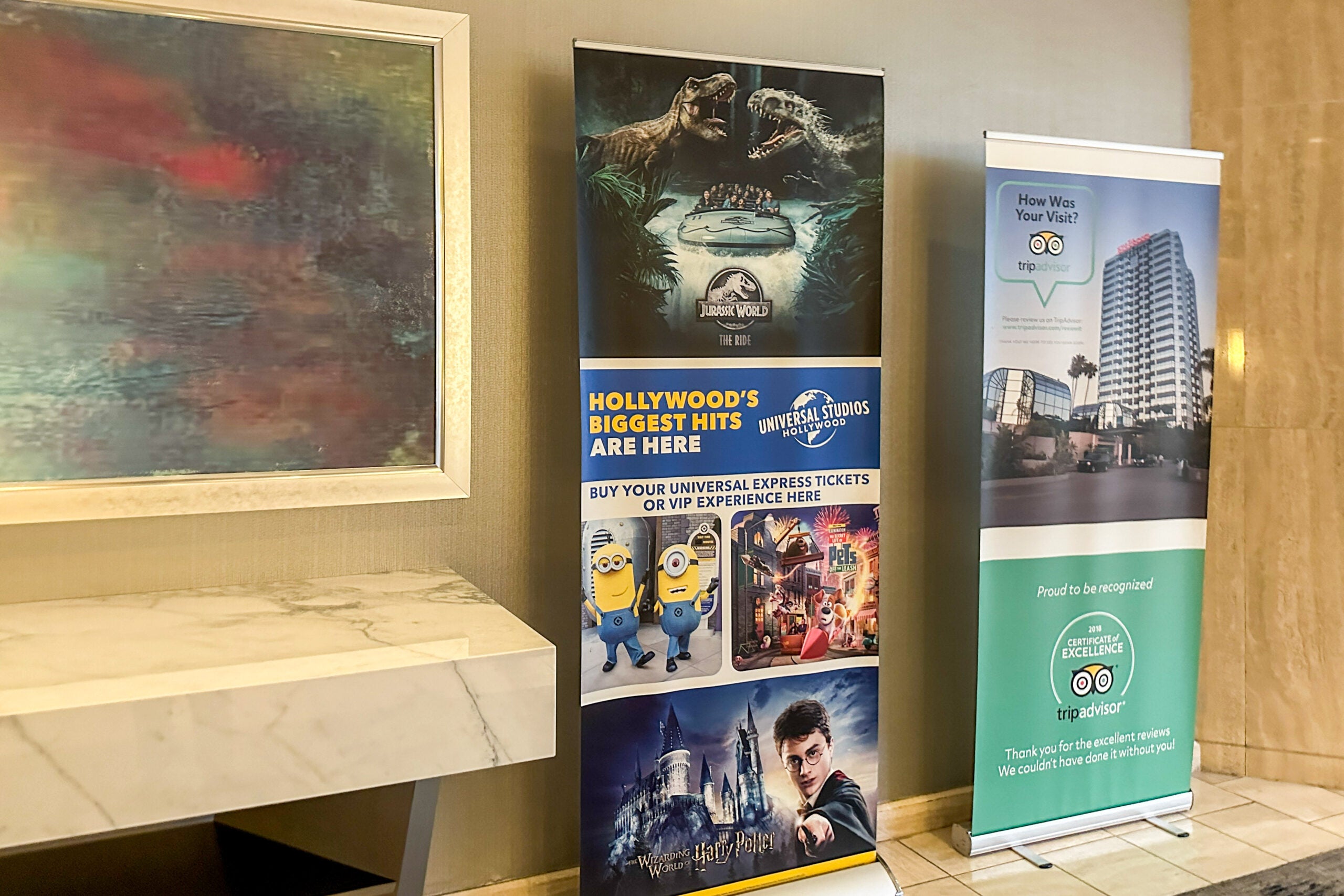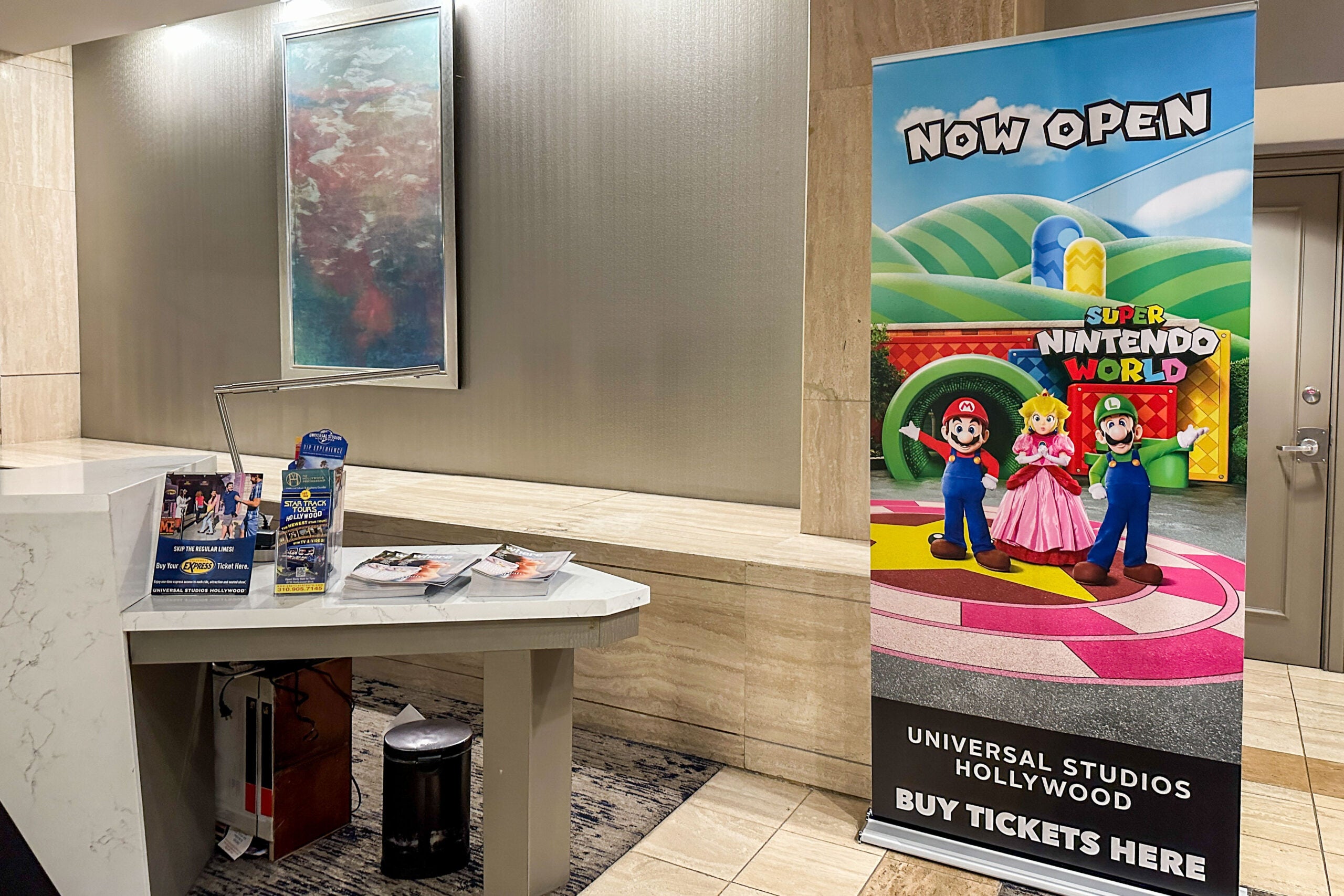 The Hilton Los Angeles/Universal City is considered an official Universal Studios Hollywood Partner Hotel. There was a concierge desk in the lobby where hotel staff could assist you with your Universal ticket purchases and add-ons like Universal Express skip-the-line passes and VIP tours.
Checking out
Next time I visit Universal Studios Hollywood (which I hope is sooner than later), I plan to head straight back to the Hilton Los Angeles/Universal City.
Even though it isn't technically a "theme park hotel," the views and walkability to Universal made it feel like one. Pair that with earning Hilton Honors points and the hotel's full-service amenities, and I was a happy theme park fan and hotel fan.