Editor's note: This post has been updated with new information.
---
I look to maximize every hotel stay with both the benefits I receive on-property and the hotel points I earn for my booking (that I can then redeem for future stays). Typically, that means booking directly with a large hotel chain on its website to ensure I earn elite status qualifying nights, enjoy elite status benefits and earn points (Hilton Honors is currently my go-to program). For those reasons, I haven't delved much into the Expedia membership loyalty program called Expedia Rewards.
While it might not be quite as rewarding as the terrific Hotels.com Rewards third-party hotel booking loyalty program, Expedia Rewards is a points and miles option because you can earn Expedia points. Here's everything you need to know about the Expedia loyalty program.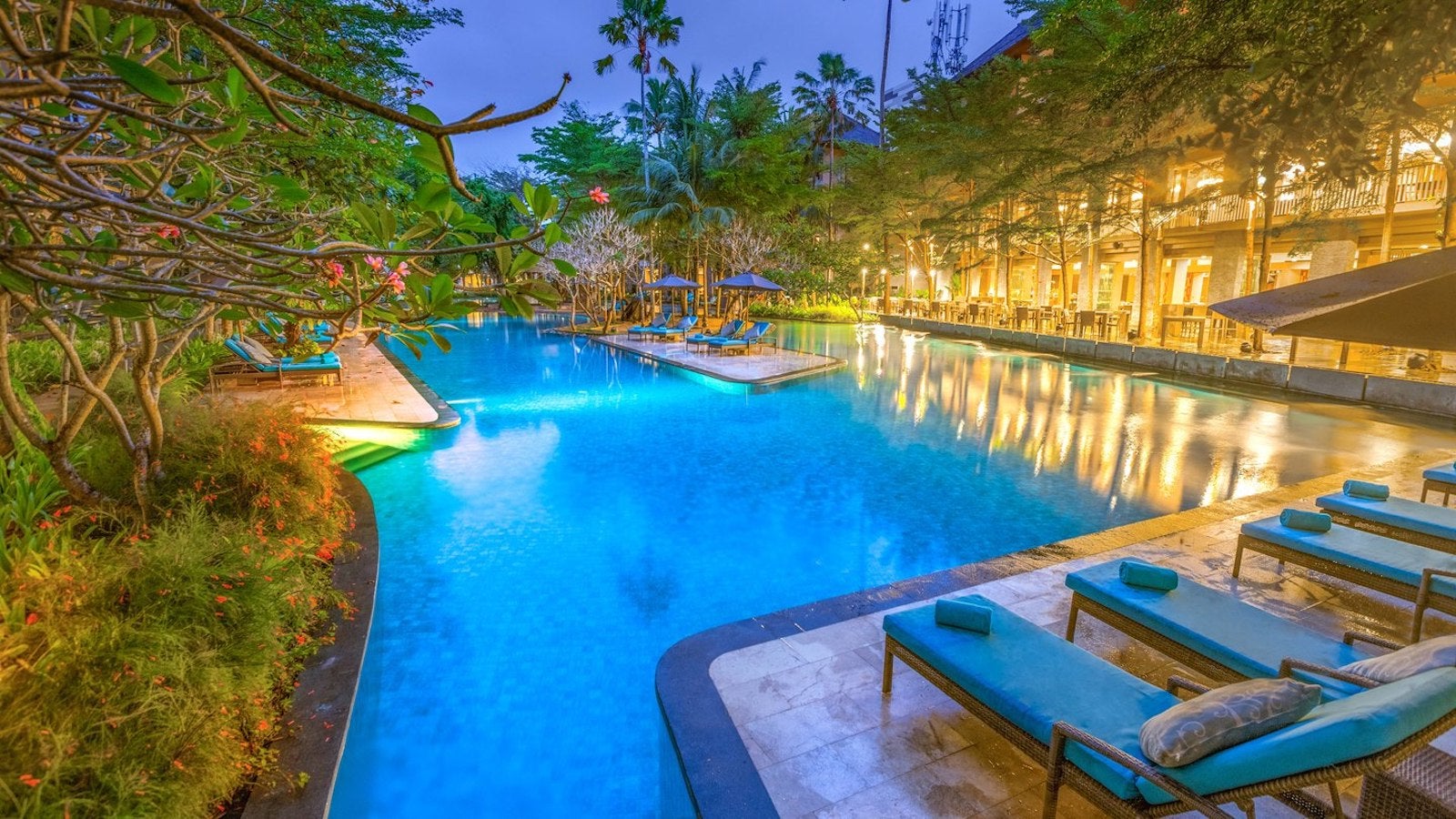 Expedia Rewards basics
Expedia is an online travel booking platform with more than 1 million accommodation listings. The Expedia Group employs more than 24,000 people in 30 countries and also owns platforms including Hotels.com, Vrbo, Orbitz, Trivago and Wotif, but for now, Expedia Rewards only covers Expedia. It's not a hotel chain or an airline, nor does it have its own properties or operate its own flights. Instead, it is a platform listing hotels, flights, cars and experiences that you can book, similar to Skyscanner or Google Flights. The site books several hundred million hotel nights each year.
You won't receive your normal hotel program points or elite status nights when you book through a third party, so why choose Expedia rather than booking directly with the hotel?
Unlike its competitors and subsidiaries in the hotel space such as Hotels.com, which offers a straightforward 11th night free,  or Booking.com, which offers discounts on room rates and the occasional bonus perk to loyal customers, Expedia Rewards has a traditional points-based loyalty program.
Earning Expedia Rewards points
You'll earn 1 Expedia Rewards point for every $1 you spend with the program for hotels, cars, packages and things to do as well as 1 point per $5 spent on flights. This makes the program unique because you can earn points for both hotel stays and flights, so it can be a one-stop to book your next trip. You will receive double points when you book through the Expedia app.
So, if you booked a $1,000 flight and a $1,000 hotel through the Expedia app, you would earn an impressive 2,400 Expedia Rewards points for the purchase.
As a base Blue member (the program is free to join), you'll receive:
Access to member prices.
The opportunity to earn triple points at VIP Access properties.
Hotel price guarantee (conditions apply).
The member prices discount may save you a small amount on your accommodation, but the main benefit of the Blue level is the ability to earn Expedia points on each purchase. I mostly saw discounts of 10% where member prices were available, though there were discounts of up to 19% on the odd London hotel for 2023.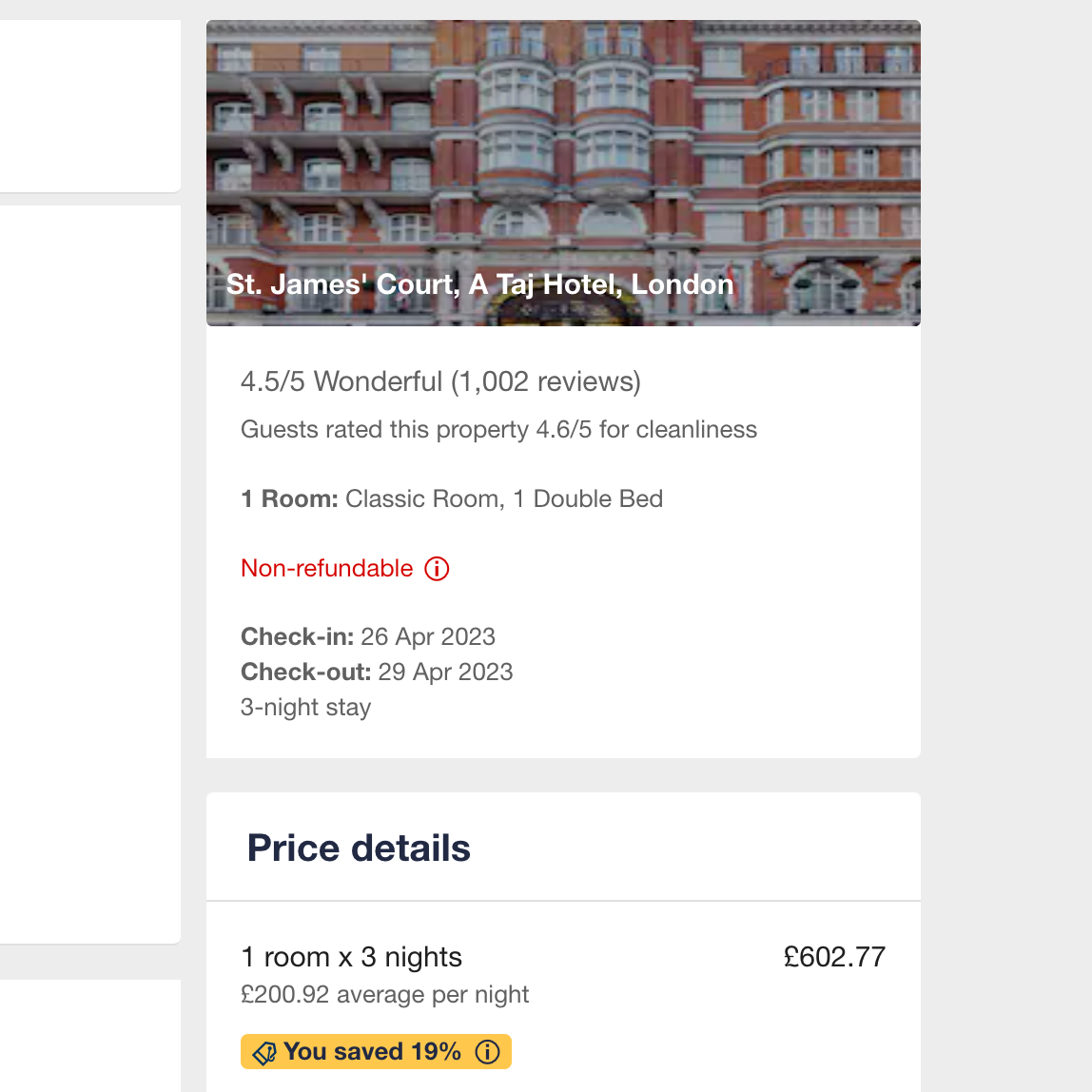 For each booking you make as an Expedia Rewards member, you will collect "Trip Elements" as follows:
1 per flight ticket.
1 per hotel room per night.
1 per vacation rental night.
1 per car reservation.
1 per cruise cabin night.
1 per activity ticket.
Each Trip Element requires spending at least $25, which shouldn't be difficult to meet for the above purchases.
Once you have earned 10 Trip Elements in 12 months you gain Silver membership status. You will then receive double base points for each booking thereafter; this means you'll get 2 points per $1 on hotel bookings, cars, packages and things to do (3 points per $1 when booked on the app) as well as 2 points per $5 spent on flights (3 points per $5 when booked on the app). You can also receive free breakfast or spa credits when available at VIP Access properties.
Once you have earned 25 Trip Elements in 12 months, you gain Gold membership status (so 15 Trip Elements above Silver). At this level, you will receive triple base points for each booking after that, meaning 3 points per $1 on hotel bookings, cars, packages and things to do (4 points per $1 when booked on the app) as well as 3 points per $5 spent on flights (4 points per $5 when booked on the app). You can also receive late checkout and free room upgrades when available at VIP Access properties.
You can only earn these points for booking when you are logged in to your Expedia Rewards account on desktop, mobile or app. Points will not be retroactively awarded if you forget to log in, so don't forget to take this step before you book. Points will appear in your account between 30 and 90 days after the end of your stay; you don't earn anything if you cancel the trip.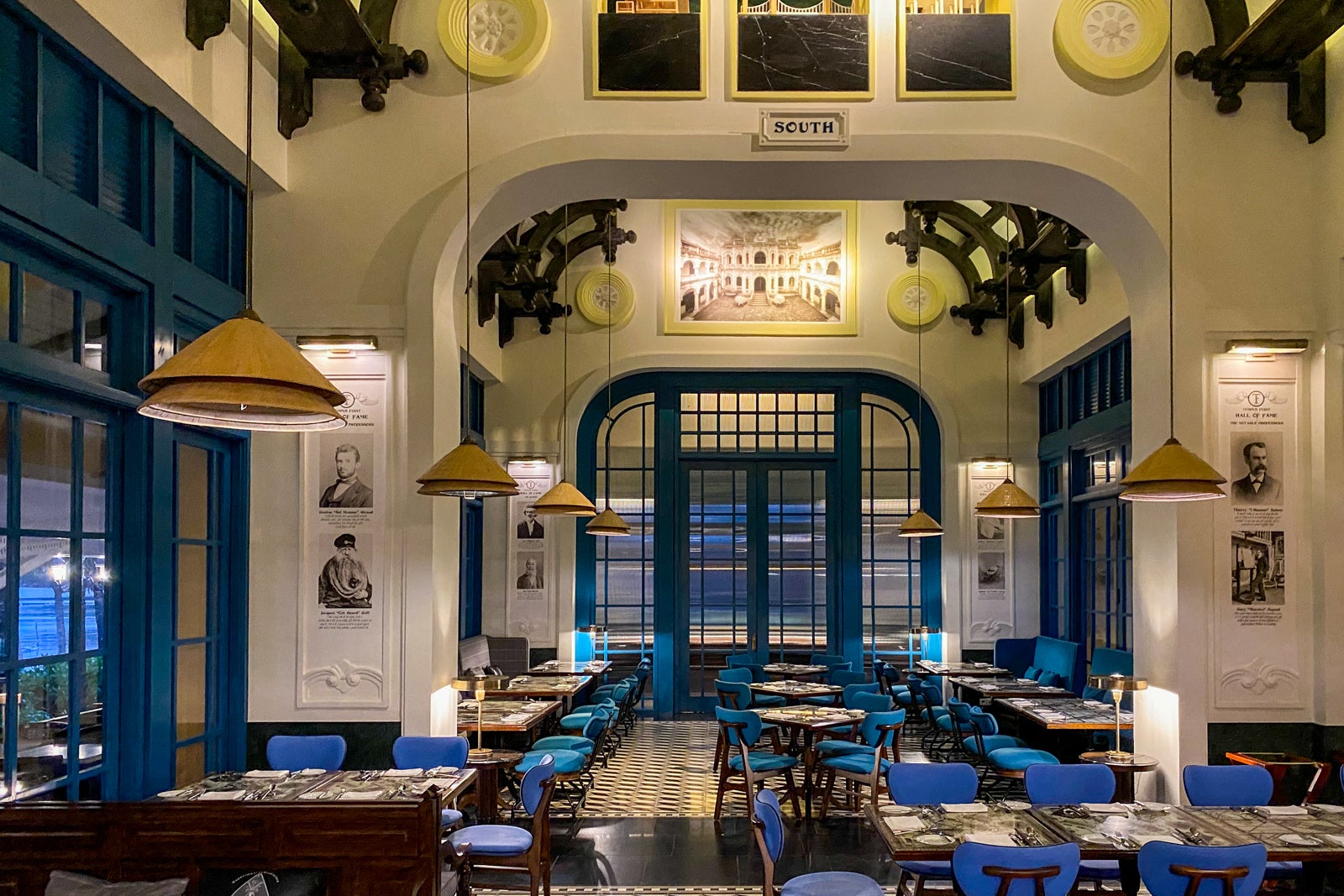 Redeeming Expedia Rewards points
Redemptions are very straightforward. For every 140 Expedia Rewards points you redeem, you'll save $1 on a future booking — so each point is worth around 0.7 cents; this means 1,000 points are worth around $7. No need to search for award availability — you can redeem your points for anything.
Here's another way of looking at it: By using the $2,000 flight and hotel booking example above, those 2,400 points you would earn from the booking would be worth around $17. Compared with saving 10% off each hotel room with Hotels.com (via the 11th night free), only earning $17 worth of value on a $2,000 booking isn't great — it's less than 1% off rather than 10%. What is attractive about this program is that you can use your points toward flights, car rentals and experiences rather than just hotels. It's just that the earning rates in this program are really low.
Related: How to maximize Hotels.com Rewards for free nights and more
Your points won't expire unless you go more than 18 months without earning or redeeming any of them.
Note: You can also redeem American Express Membership Rewards points or Citi ThankYou points for travel with Expedia and this would still earn Expedia Rewards points.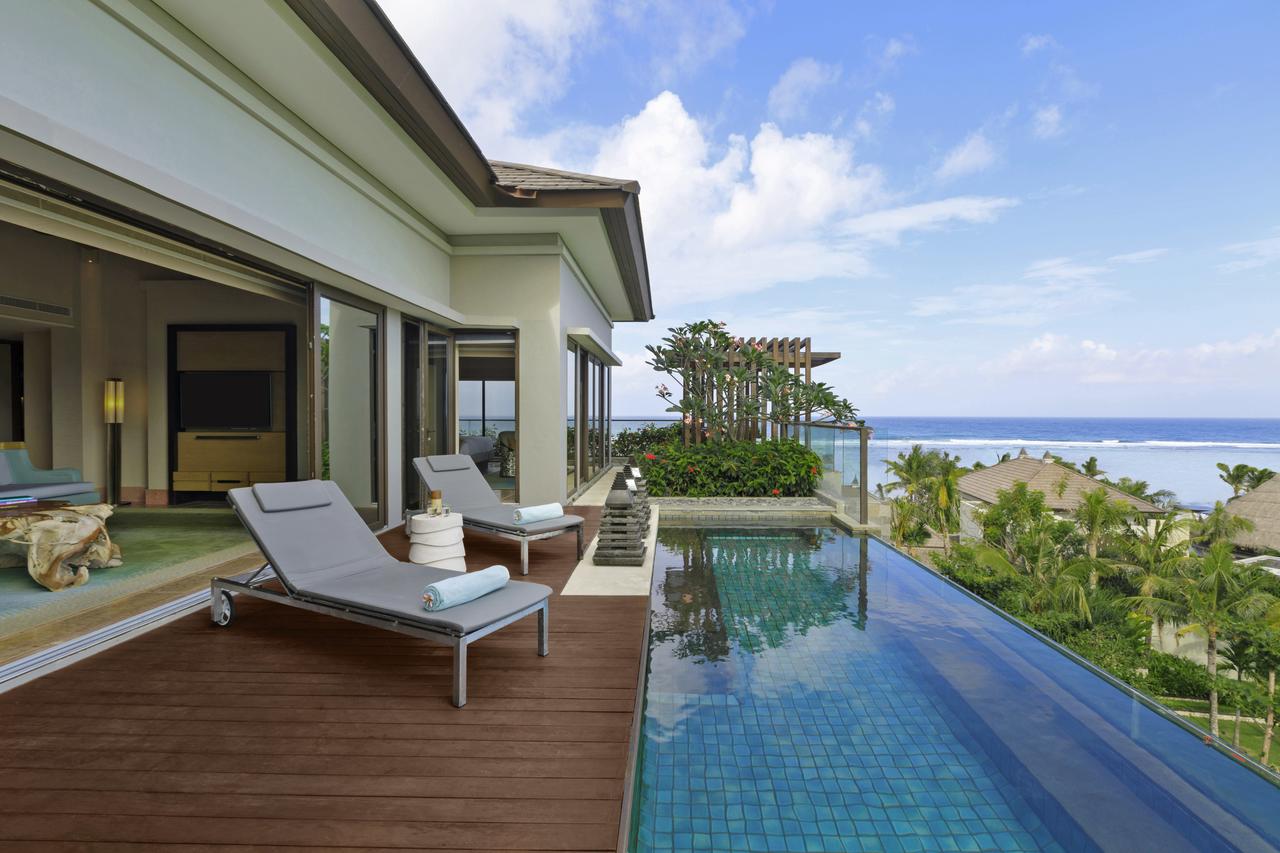 Will Expedia Rewards continue in 2023?
In 2021, the Expedia Group announced plans to unify and expand its loyalty programs across its family of brands, which includes Expedia, Hotels.com, Orbitz and vacation rental site Vrbo. The Seattle-based company said that this move would form what will be "the most complete travel rewards offering in the industry."
The new loyalty program will be called One Key and will launch, slightly later than originally planned, in 2023 (though as 2022 comes to a close, there is still no launch date). The unified program will be free to join.
The new program will serve more than 154 million current loyalty members, according to Expedia. One Key will bring together four existing programs — Expedia Rewards, Hotels.com Rewards, Orbitz Rewards and Ebookers Bonus+ — and will, for the first time, offer customers rewards through brands such as Travelocity and Vrbo that had no loyalty programs before. All Expedia Group brands will participate, including far-flung brands like Ebookers from the United Kingdom and Wotif from Australia.
When One Key launches in 2023, it is likely to be later in the year, given there is no launch date as of November 2022.
Related: Expedia introduces One Key, unifying loyalty programs for Orbitz, Hotels.com and Vrbo
When to use Expedia Rewards
If you're going to stay regularly at large hotel chains like Hilton, Hyatt, Marriott and Radisson, then I believe it's still best to book directly with those properties and earn hotel elite status, benefits and points. Top-tier status in a hotel program is enormously valuable and you can easily obtain thousands of dollars a year in benefits.
Related: Comparing 4 top hotel elite status levels — and how to earn them in 2022
It's best to use Expedia when looking at remote destinations where there may be no chain properties. For example, it's helpful if you want to book a boutique hotel or a unique property or you know you have a one-off stay at a chain you'll never (or almost never) utilize again. Also, if you're a "free agent" with no loyalty to any one particular hotel chain or program and will never stay enough to earn elite benefits with an individual hotel loyalty program, Expedia can be a good way to receive some benefits (like that up-to-10% discount) at lots of different, unaffiliated properties.
Remember, if you're looking to book a luxury property, it could be best to utilize a Virtuoso agent or Amex Fine Hotels + Resorts and compare the benefits you'll receive over any savings toward a future stay with Booking.com.
Bottom line
If you book enough of the big-box chain hotels to carry elite status and earn hotel points, Expedia Rewards may not make sense for you. Remember that for bookings made with online travel agencies like Expedia, in most cases you won't earn hotel points or elite credit, and the properties don't have to honor your existing elite status (though some do anyway). I also find upgrades to be less generous and room assignments poor when booking through online travel agencies compared to booking directly.
Expedia Rewards will be merged into the new One Key platform next year, though details are still scarce.
Separately, the up-to-10% discount on some properties with the fantastic Hotels.com Rewards program combined with the poor points-earning rates don't look compelling. Combined, it's a decent, though fairly complex, loyalty proposition. I prefer the simple, clear value of the Hotels.com loyalty program. However, if you are booking large amounts of different types of travel (hotels, flights, car hire and experiences), and can reach Silver or Gold status, you could find some real value in focusing on the Expedia Rewards loyalty program.