Cue up the iconic theme song, because "The White Lotus" is reportedly heading to Thailand for its third season — and we have four leading candidates for the host hotel.
The show — which is expected to explore themes of death and Eastern religion and spirituality — is set to move from Sicily to Southeast Asia in its third run, Variety reported this week. Since the show's creators worked with Four Seasons Hotels and Resorts for the first two seasons, it's only natural to think that the working relationship will continue in Thailand, where the company has four hotels.  
Everyone is busy discussing who might join the next cast lineup (the internet hopes for Lindsay Lohan and Pamela Anderson comeback performances, while Danny DeVito might also be in the mix). In the meantime, we'll share our four picks for the host hotel and explain how to book a stay at each. Book fast before rates soar with the inevitable popularity that comes with being on HBO.
Related: These Four Seasons hotels are the real main characters of 'The White Lotus'
It's a shame (spoiler alert!) Jennifer Coolidge's Tanya won't be around to enjoy the high thread count. Or will she? Many speculate that the next season could be a precursor to the first two seasons, so we don't have to say goodbye to the beloved character just yet.
Four Seasons Resort Chiang Mai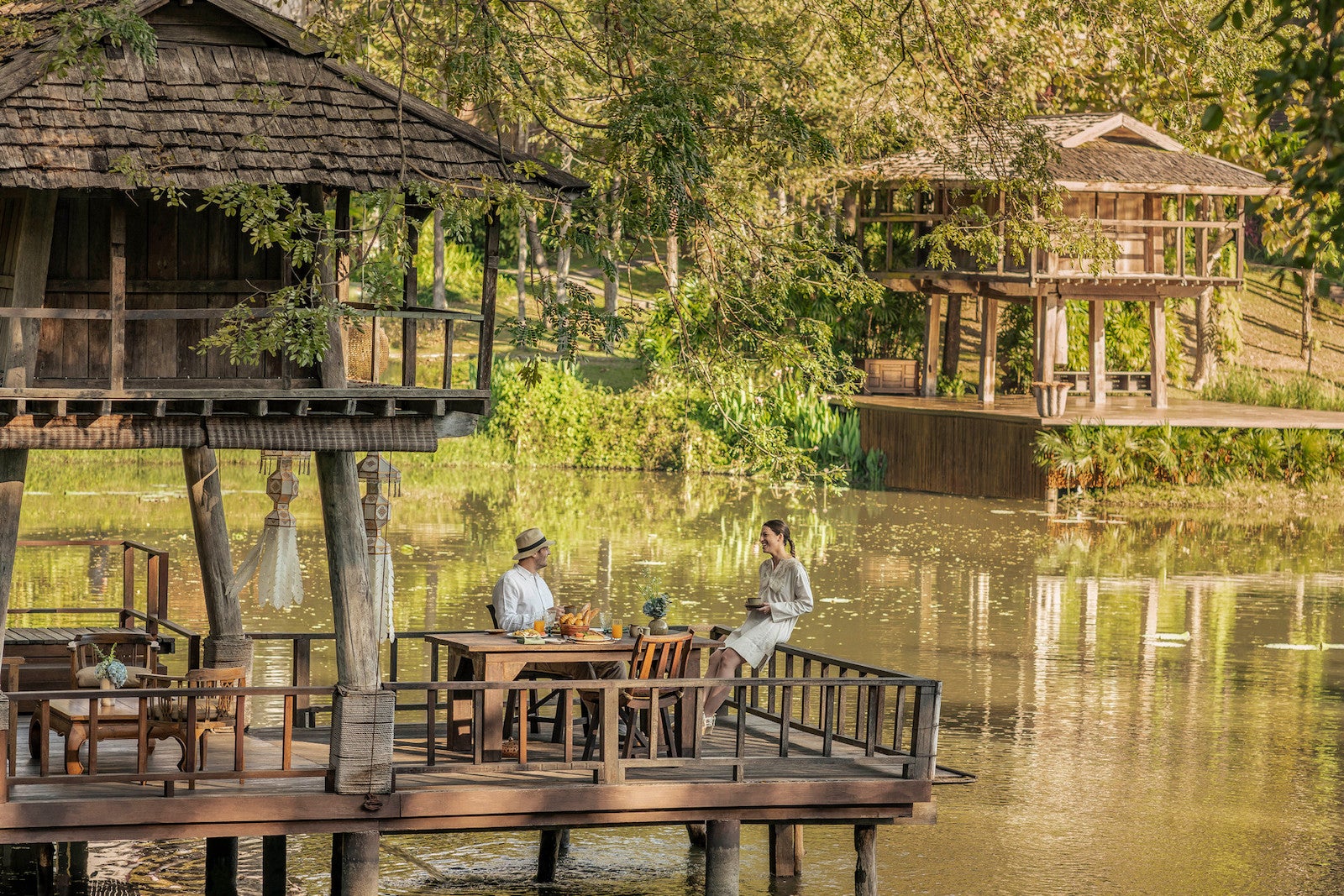 Tucked away in the beautiful, lush mountains of northern Thailand, Chiang Mai could be the perfect locale for some "White Lotus" drama. It could provide a great backdrop for spiritual cleansings and cultural immersions that may or may not end with murder or untimely death — who can say, really?
The Four Seasons Resort Chiang Mai feels like a great fit for the show. Chiang Mai — a culturally rich, visually appealing city that's the second largest in Thailand — has a lot to offer characters. This is in contrast to the relaxed, spiritually fueled Four Seasons property, which is surrounded by rice fields away from all the hustle and bustle.
Whether it makes the show or not, you should certainly consider letting it star in your next vacation.
At this property, well-being is the center of everything, and guests can cleanse themselves physically and mentally. Start the day with an hourlong sunrise yoga session, spend the morning planting rice shoots, help bathe a water buffalo in a "ritualistic bath," work on breathing exercises called pranayama or join a guided meditation. (Although we don't know which cast members will appear in Season Three, it's safe to say many past characters or some new characters with relationships to old characters — cough, cough Tanya's sister — could benefit from all of this.)
Rooms at this Four Seasons are obviously incredible. They range from elevated pavilions towering like treehouses over the rice fields to larger-than-life private villas with pools and even private homes with personal chefs. (We haven't had a major chef character yet, and that could literally turn up the heat.)
Speaking of food, there are three beautiful restaurants here. Two serve Thai food and one is an open-flame grill restaurant. All would perfectly serve as the setting for some cooking class scenes or some he-said-she-said dining moments over khao soi gai.
While it's too late for our dear Tanya to bathe a water buffalo, can't you picture yourself doing it? Or maybe this season takes place before Season One, and Tanya's spiritual journey starts here.
Rates at the Four Seasons Chiang Mai start around $500 per night.
How to book: Book through our partner Skylark and earn elitelike benefits and on-property credits.
Four Seasons Tented Camp Golden Triangle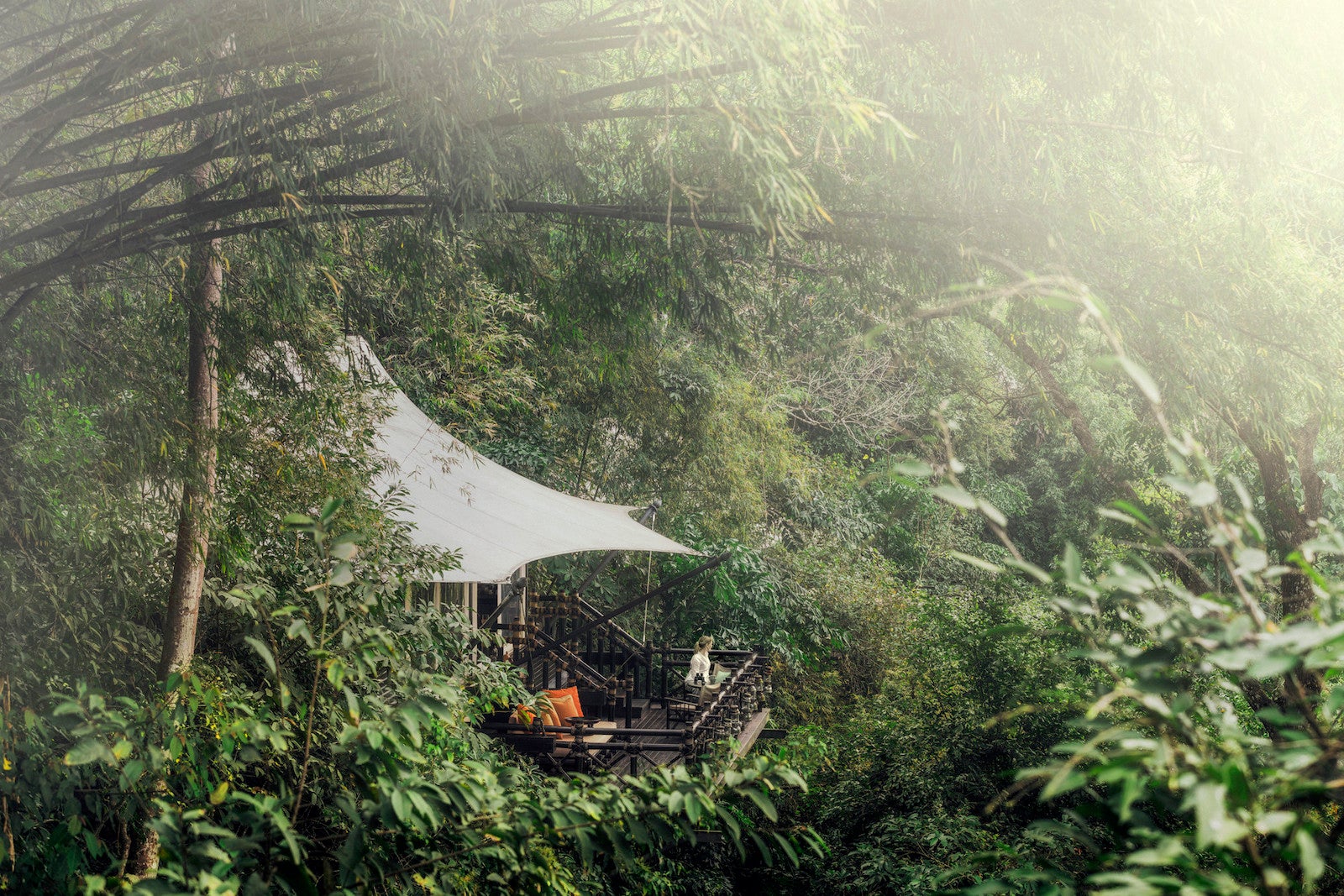 With rates that often soar above $2,500 a night, the Four Seasons Tented Camp Golden Triangle is a long way from your typical camping adventure. Still, it has the perfect "one percenters do the great outdoors" vibe for a third season of "The White Lotus."  
You can practically hear Connie Britton's Nicole (rumored to be returning for Season Three) eyeing the fabric of the tent and musing if it's made of environmentally friendly fabric — after she flew privately to Thailand, of course. 
Accommodations range from deluxe tents to the Explorer's Lodge, a secluded villa at the end of the resort with a private infinity pool and enough beds to hold six guests. It's almost an insult to refer to the luxury accommodations as "tents," since they feature wooden hot tubs on a private deck overlooking the Ruak River and surrounding mountains. There are also soaking tubs with incredible views, luxe furnishings and cozy beds to get some rest and shut-eye after a day of exploring the jungle or hanging out with elephants.
The real luxury here is the surrounding environment. Guests can interact with rescued elephants on a guided tour that allows you to bathe them, feed them and walk with them. We can already envision at least one character from Season Three getting a well-deserved splash from these magical creatures. One of the elephants is named Mercedes, as in … Mercedes-Benz. With a name like that, she's practically begging to be a cast member. 
Located in northern Thailand along the border of Laos and Myanmar, the resort's natural setting will hopefully have critics less concerned about guests deciding to eat so many of their meals at the hotel. Who would want to break away from these views to eat off-site?
The indoor-outdoor design of the entire property extends to mealtime. Thai, Laotian and Burmese fare is served up on the pavilion of Nong Yao, the resort's main restaurant, where we can already envision plenty of main character tension simmering alongside the Thai curry. Burma Bar, the cocktail lounge, would be another perfect setting for happy hour with a side of drama and views of the Ruak River basin and Elephant Camp.  
However, all eyes are usually more focused on clues for an inevitable plot twist during a season of "The White Lotus." Never trust the strange duo claiming to be an uncle and nephew — even if it is in an ultra-luxurious tented resort. 
Of course, those looking for a more private experience with their meals are in luck. Days can start with sunrise breakfasts prepared by a personal chef at the resort's Camp Peak. Guests can also book private picnics, barbecues or Elephant Camp meals. For those looking to unwind, the Four Seasons Tented Camp Golden Triangle has an open-air spa nestled among the trees of the Thai jungle — a perfect getaway from "The White Lotus" getaways that never seem to be all that relaxing.  
Four Seasons Tented Camp Golden Triangle rates start at $2,500, but they are bundled as packages that include meals, drinks, spa treatments and other amenities.  
How to book: Book directly with Four Seasons.
Four Seasons Resort Koh Samui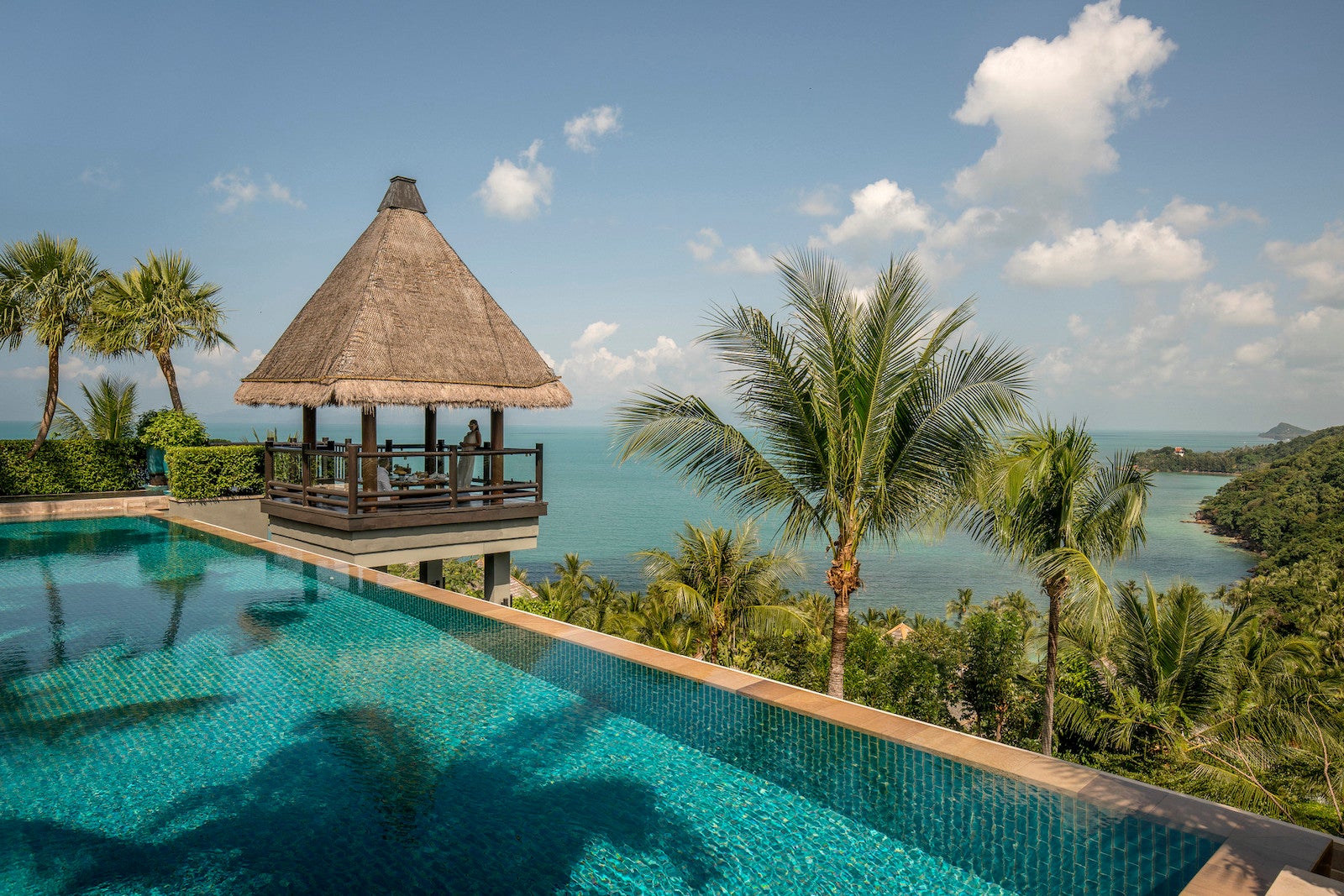 If there's one thing we know about Mike White and the haughty characters he dreams up, it's that they all love an island — and Thailand has plenty of them. For the upper echelon (think: movie stars, socialites and tech bros), the island of Koh Samui is one of the places to see and be seen in Thailand.
Thankfully for us, Four Seasons has a resort there.
At the Four Seasons Koh Samui, guests can stay in beachfront villas, pool villas, elevated villas with panoramic ocean views and private plunge pools, or even opulent private residences fit for an entire family. All that to say, White has a lot to work with if he sends his characters here.
Whether you're a past-season character with a lot of pent-up anger (rightfully so!) or just a regular person trying to work on your fitness, you can join a professional kickboxer for a Muay Thai Recovery session. Or, just get a Thai massage to work out the kinks (and any residual emotional trauma from life).
At Koh Thai Kitchen, a restaurant serving the flavors of southern Thailand, Emmy-worthy meals are served in an open-air dining room with beautiful mountain views that could easily set the scene for some Harper-style cut-throat conversations and revelations.
In true "The White Lotus" fashion, the resort's gorgeous beaches and pools feature comfortable lounge chairs perfect for smoldering or suntanning in (also in the style of Harper).
And, in a true tribute to Tanya, there are numerous yacht excursions available, so guests can explore the drop-dead gorgeous (pun intended) islands and beaches surrounding the resort. Whether you're looking to spread (Tanya's) ashes or simply sail with a gaggle of (hopefully nonmurderous) gays, Four Seasons can hook you up. (Hot tip: If you do charter a yacht, leave the heels behind!)
Rates at the Four Seasons Koh Samui start around $720 per night.
How to book: Book through our partner Skylark and earn elitelike benefits and on-property credits.
Four Seasons Hotel Bangkok at Chao Phraya River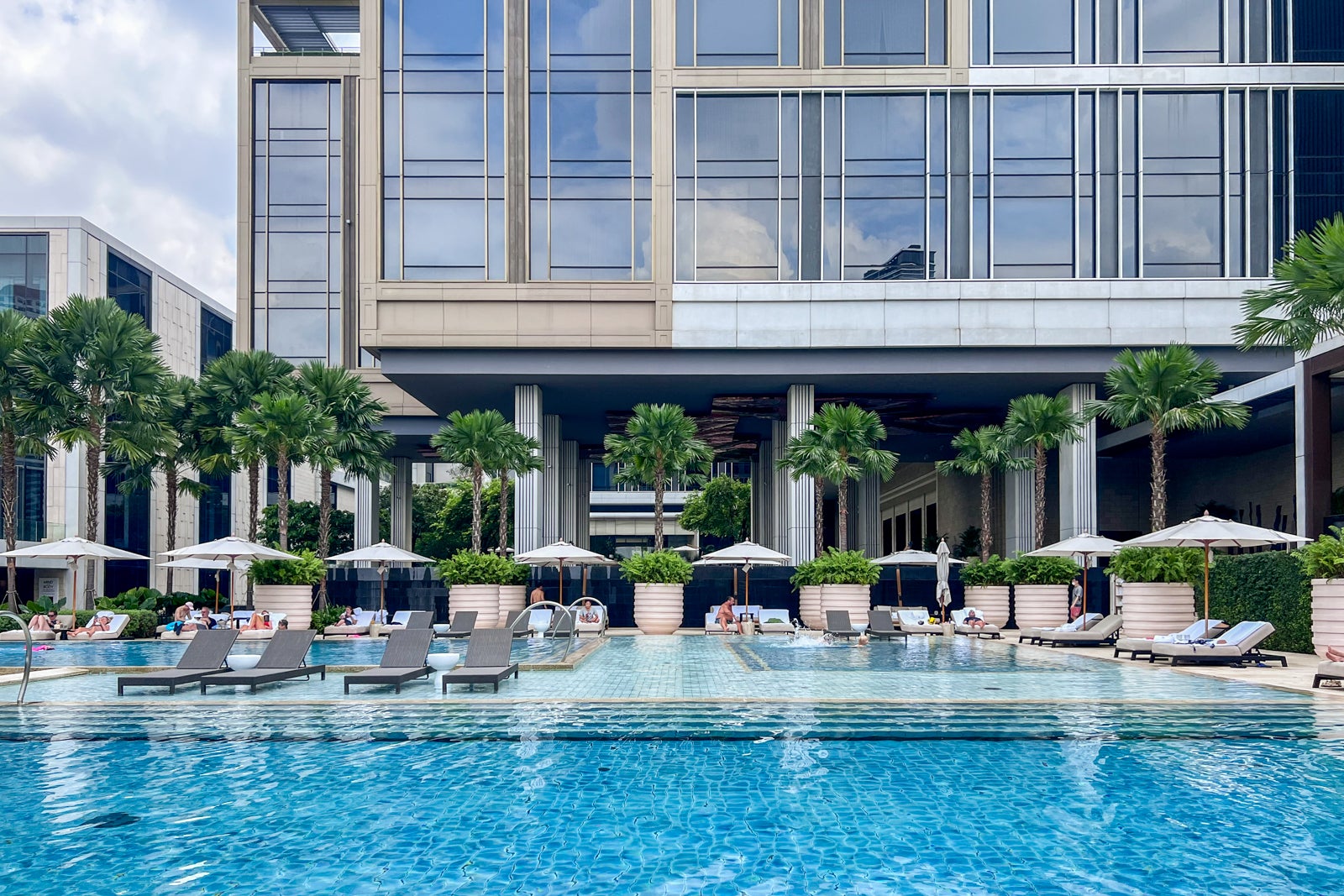 While we'd love to eventually see a "Lost in Translation"-style season of "The White Lotus" that takes place at a city hotel, we have a hunch this upcoming season won't be it. However, on the off chance the characters do explore those themes of Eastern religion and spirituality in a major Thai city, the Four Seasons Hotel Bangkok at Chao Phraya River is their best bet.  
TPG explored the hotel last fall, and it manages to be a relaxing resort in the heart of one of the world's largest cities.  
The hotel's soaring lobby, with its stone floors and picture windows, is an opulent place to display Season Three fashion and introduce new cast members — or to just grab a glass of Champagne at the bar. Spacious guest rooms and suites overlook the Chao Phraya River and include luxe bedding, attentive staff to cater to any whim and soaking tubs to relax or simmer on whatever drama took place at the bar downstairs. 
The Four Seasons Bangkok dining lineup is extensive. It provides many opportunities for cast members to plot whatever it is they'd be plotting in a third season (or to just act huffy after their significant other behaved like an idiot). 
The Michelin-starred Cantonese Yu Ting Yuan is a beautiful dining space serving up Peking duck and dim sum overlooking the resort's gardens (a beautiful space to look away to when you don't like what a fellow cast member is saying at the dinner table). BKK Social Club is the resort's Buenos Aires-inspired cocktail bar that churns out a powerful cocktail you can sip while wondering about the inevitable surprises the season finale will deliver. 
Of course, the hotel has plenty of places to unwind, from a rooftop lap pool to the more leisurely waterfront pools for families. The hotel's spa features a mix of Thai body treatments, from massages to herbal compresses — but we can imagine a little "The White Lotus" levity coming from stand-up float board yoga in the lap pool. We're falling over just thinking about it.  
Rates at the Four Seasons Hotel Bangkok at Chao Phraya River start at $730 a night. 
How to book: Book directly with Four Seasons.