It's not easy to feel small in a world determined to keep us all connected all the time. However, spend an evening staring slack-jawed at the northern lights, and you'll quickly be reminded of your place in the universe.
Scientifically speaking, the northern lights – also known as aurora borealis – are formed when electrically charged solar particles collide with the earth's atmosphere.
We are currently in the midst of a massive solar storm that makes the sometimes-tough-to-see northern lights easier to spot in locations as far south as Kansas.
Pair the specific weather conditions that need to occur for them to appear with how difficult it can be to get away from light pollution, and you're in for an adventure.
However, there are a handful of destinations around the world where aurora hunters are more likely to encounter this natural phenomenon.
For your best shot at seeing the northern lights this year, head north to the Arctic Circle as early as the last week of August, depending on the destination. It's the beginning of aurora season, when it stays dark for longer and longer stretches of time, increasing the likelihood of a wild light show. The aurora is at its most active around September's equinox.
What are the northern lights?
This phenomenon occurs when a solar flare penetrates the Earth's magnetic field and shoots charged particles into the atoms and molecules that make up our atmosphere.
The bursts of colorful light you see are actually the colliding particles and atoms. The various colors indicate what types of atoms and molecules are interacting.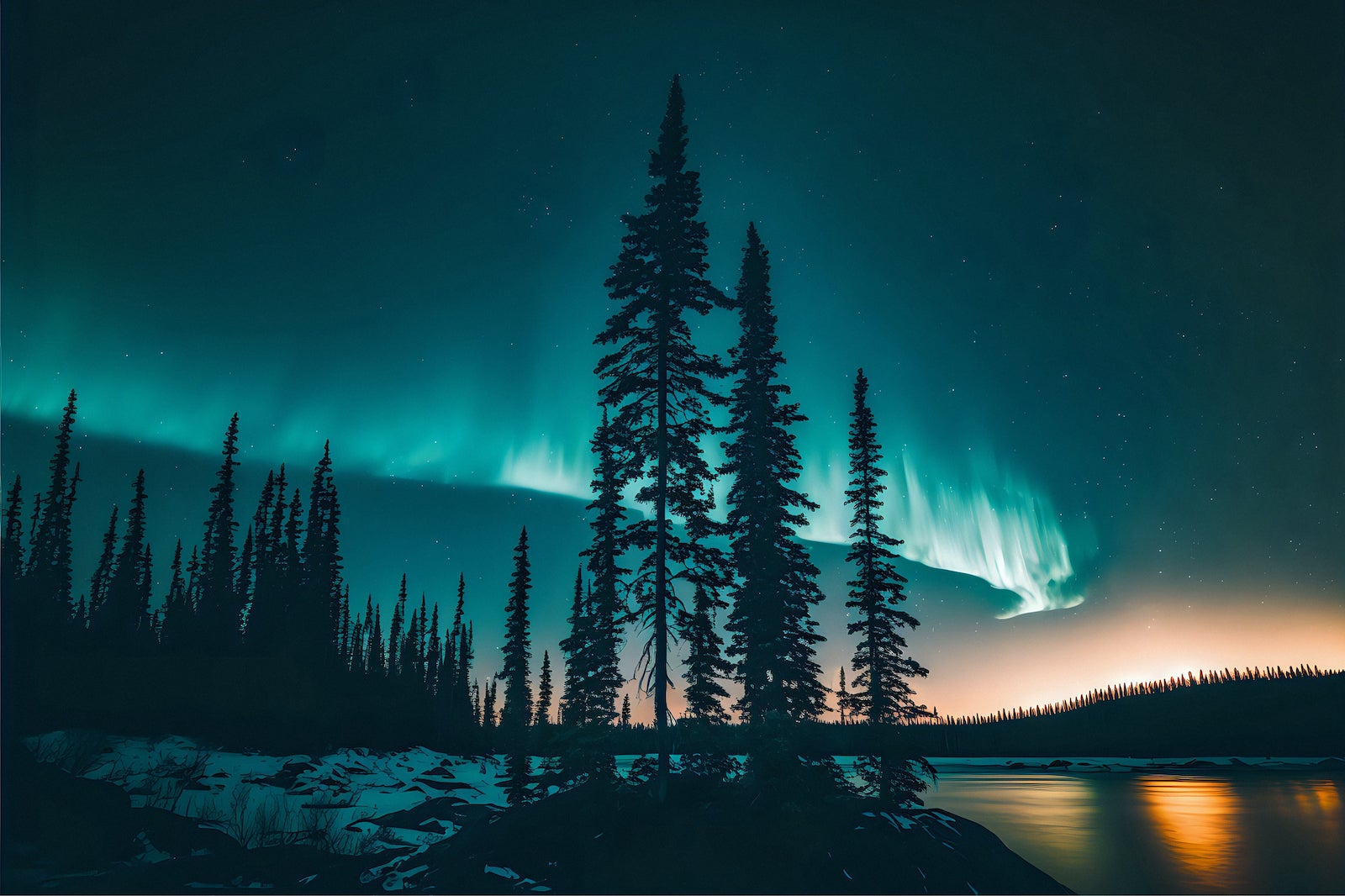 Green, pink, yellow, blue and purple are the most common colors you'll see during a northern lights show. However, particularly intense flares can manifest as orange or white.
According to space.com, particles colliding with oxygen will produce green and yellow, while nitrogen results in red and violet. Additionally, sometimes the lights will only appear as a faint color filter across the night sky — barely a shimmer on the horizon. Part of the fun is the unpredictable nature of the lights.
How to photograph the northern lights
If you plan on capturing the light show with your iPhone camera, think again. Unless you're lucky enough to catch some seriously strong collisions, you'll need some equipment, including a camera, tripod, wide-angle lens and even a flashlight.
Camera: Don't depend on your phone camera for this task, no matter how powerful the lens is. Any digital single-lens reflex camera with a manual settings option will do the trick.
Tripod: You'll need a steady surface to take photos of the northern lights, as your f-stop (aperture) will be set at a minimum value. The smaller the value, the more light your camera will let in during the exposure. This helps capture as much of the northern lights' movement as possible. All of this being said, you don't want to move your camera around while this is happening, or you'll blur the image.
Wide-angle lens: Not a requirement, but the best way to capture a stunning pro-quality shot of the horizon.
Flashlight: One trick I learned while trying to find the northern lights in northern Finland was to bring along a flashlight. If you want to take portraits in front of the northern lights, specifically, you will need to light up your subjects. As soon as you click the shutter, shine the flashlight toward your subjects, at the ground, and then back at your subjects.
Now that you've got the basics of photographing the elusive northern lights, on to the spots where you can best see them around the world.
Where to find the northern lights
Continental US
When to visit: When there is high solar activity.
While rare and tough to predict, when conditions are right, you can view the northern lights in states like New York, Minnesota, Michigan and Maine and, occasionally, Midwest states as far south as Kansas and Colorado.
 

View this post on Instagram

 
You have to be ready to go when high solar activity strikes (or be lucky enough to live in the area), so planning when to go and where to stay may be difficult.
If your schedule allows, your best bet may be International Dark Sky Parks and Sanctuaries, like Glacier National Park in Montana and Maine's Katahdin Woods and Waters National Monument.
The best resources: For your best shot at seeing this celestial light show, you can subscribe to Night Sky Alerts for $5.99 monthly or check in regularly with the Space Weather Prediction Center's aurora forecast.
Iceland
When to visit: September to mid-April.
Getting away from light pollution is simple all across Iceland. With only two major cities — Reykjavik and Akureyri — you're a 15-minute drive from the perfect viewing spot almost anywhere in the island nation.
There are an overwhelming number of tours available for travelers seeking the northern lights. Many of them are bus tours.
However, there are a few that stand out from the crowd: Special Tours' Northern Lights by Boat experience and a photography-focused Jeep tour.
Remember, if you're flying from the U.S., chances are your flight is overnight. Keep an eye out for the northern lights as you pass over Greenland and get closer to Iceland.
You really can't beat seeing them from an airplane, an experience that passengers on an easyJet flight between Reykjavik and Manchester, England, were treated to in late February.
Big thanks to the @easyJet pilot of EZY1806 from Reykjavik to Manchester who did a 360 fly by mid flight to make sure all passengers could see the incredible Northern Lights 🤩 pic.twitter.com/A4CHi9Hqgo

— Adam Groves (@APTGroves) February 27, 2023
Where to stay: On an old geothermal energy site, the Ion Adventure Hotel is designed around the surrounding views: large wall-size windows open up to the surrounding mountain range. However, the best view might be from the outdoor geothermal pool underneath the hotel. You can even request that the hotel staff calls and wakes you up if the northern lights are out.
About an hour's drive from Reykjavik near the Golden Circle is Thingvellir National Park; it's a drive worth experiencing to get away from the city lights. If you want to stay in town, book a room at the Canopy by Hilton Reykjavik City Centre.
The best resource: The Icelandic Meteorological Office website does a great job of tracking all things weather-related. The aurora tracker even shows cloud coverage across the country and a forecast for how likely it is you'll catch the northern lights on any given day.
There are a lot of apps that indicate they'll alert you when the lights are making an appearance in your location, but unless you're constantly updating the app, chances are it isn't accurate.
Alaska
When to visit: Late August to mid-April.
When the northern lights are especially strong, you could catch a glimpse anywhere around the state. However, if you want a sure sighting, consider Fairbanks, Anchorage or the Brooks Range.
Fairbanks is known as the most reliable location for spotting the aurora borealis, and the best times to see them are generally between 11:30 p.m. and 3:30 a.m. Later in the year, that time range shifts from 12:30 a.m. to 4:30 a.m.
Consider a northern lights photography workshop with The Aurora Chasers or an overnight Aurora Chaser tour with Last Frontier Mushing Co-Op that will take you to your yurt accommodation via dog sled. Whether you want to brush up on your nighttime photography skills with professional photographers or have a completely private view of the show, these two tour operators will get you away from the crowds and into the wilderness.
Where to stay: If either of these tours sounds like your ticket to the northern lights, consider making Fairbanks your home base, even if you plan to bed down in a yurt. However, there are a number of points hotels worth checking out.
The best resource:  Much like Iceland's weather website, the online forecast from the University of Alaska Fairbanks details how likely it is you'll see the aurora borealis — and where. There's also a scale of 1 to 9 that shows the strength of the solar activity.
Northern Norway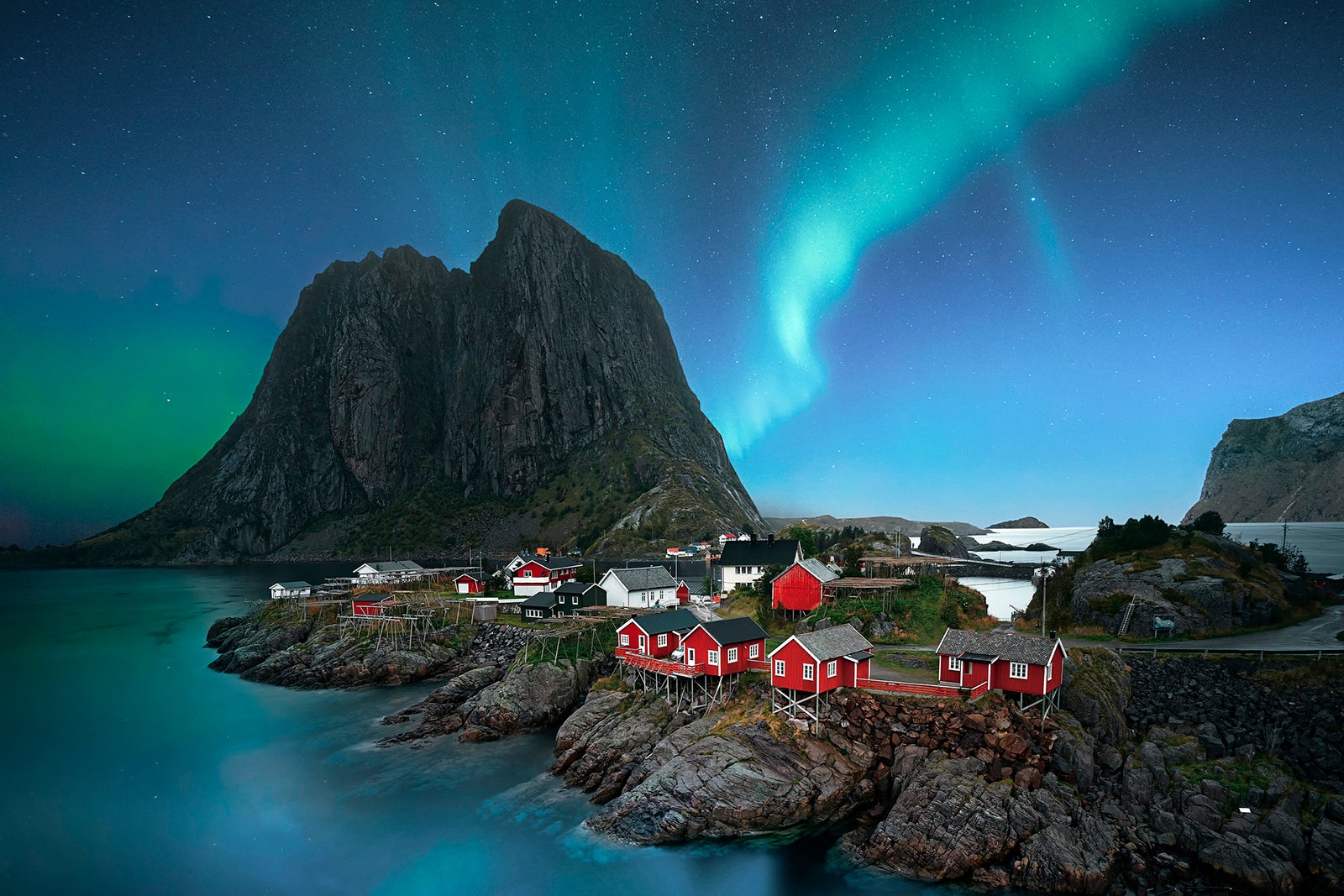 When to visit: September to early April.
Northern Norway is where you'll really want to travel to see the northern lights. Tromso, one of the country's northernmost cities, is right in the center of the aurora borealis zone.
Where to stay: Stay in a traditional lavvo, or temporary Sami dwelling, at Green Gold of Norway, where you'll find yourself far, far away from light pollution. Travelers are driven to the Lyngen Alps for dinner and to enjoy a quick photography workshop before tracking down the northern lights. After a night in your lavvo, you'll pack up for the beautiful drive back to Tromso.
The best resource: The experts at Visit Norway created the Norway Lights app. It's a super-simple interface with information about the forecast and the cities where you're most likely to see the lights. Think of it as a forecast, itinerary and guide to use while you're killing time waiting for the auroras to show up.
Northern Finland
When to visit: Late August to April.
According to Visit Finland, the northern lights are out and about approximately 200 nights of the year. Head to Finnish Lapland — a region bordering Russia, Norway and Sweden —  for your best chances.
Where to stay: A small town called Rovaniemi is home to 37 treehouses built for the sole experience of gazing at all of the beautiful nature around you. Each suite at the Arctic TreeHouse Hotel is on a steep slope and features panoramic windows.
If you want to sleep under the northern lights, some accommodations make the splendor of the auroras visible from the comfort of your room. The Aurora Bubble at the Wilderness Hotel Nellim has a glass roof that offers 360-degree views of the night sky, as do the glass igloos at Levin Iglut in Finnish Lapland.
The best resource: Add your location to the My Aurora Forecast & Alerts app, and you'll receive real-time alerts when the probability of northern lights spikes. It will also provide the top spots for viewing the aurora across the world at any given time.
Northern Sweden
When to visit: September to March.
Similar to Finland, you can see the northern lights throughout the Swedish Lapland region. You usually won't catch sight of the lights in southern Sweden, so plan accordingly — and dress warmer than warm. The best part? Sweden's weather is a tad bit milder than its Scandinavian neighbors.
Consider venturing to the Aurora Sky Station in Abisko National Park, a popular spot for aurora borealis enthusiasts. The station is nearly 3,000 feet above sea level in an area clear of light and sound pollution. Here, you can take a Night Visit Tour, which brings you to the station on a chairlift (the incredible mountain views are a highlight). If you take the guided Night Visit Tour, you'll be equipped with warm overalls for northern lights spotting.
Where to stay: Fall asleep under the northern lights in the elevated 7th Room at Treehotel. It features panoramic windows that offer 360-degree views of the night sky. Or, "glamp" it up in a tent at Aurora Safari Camp.
The best resource: Don't let the scant website turn you away — locals and travelers who have spotted the lights will tell you the same thing: The personal alerts from Soft Serve News are the real deal. A monthly $3.10 subscription gives you access to immediate aurora alerts as they're happening. You will also receive updates on potential future solar activity, outlining three-day forecasts for when the weather looks ideal for a sighting.
Northern Canada
When to visit: November to April.
Compared to other destinations, there are a lot of places in Canada to view the northern lights. Head to the Yukon, Saskatchewan, British Columbia, Alberta, Nunavut, Newfoundland or the Northwest Territories for your best chance at catching the show.
Where to stay: The highlight of Aurora Village — a northern lights-focused community — may be the heated outdoor seats designed for spending hours outdoors waiting for (or admiring) the auroras. The seats even spin 360 degrees for optimal viewing.
Aurora Village is family- and Aboriginal-owned and focuses on the heritage, culture and traditions of the Northwest Territories. The village comprises 21 teepees, each with its own wood stove. When you aren't checking the skies, you can snowshoe, learn how to lead a dog sled or take a trip down the property's giant snow slide.
The best resource: The Northern Lighthouse Project aims to raise awareness of local weather, the northern lights and other space-related phenomena. Each lighthouse works on a color system: flashing blue signifies low solar activity, flashing green means the geomagnetic field is quiet and auroras could be expected, and flashing red indicates that there has been a recent solar flare that could spark vibrant auroras.
Scotland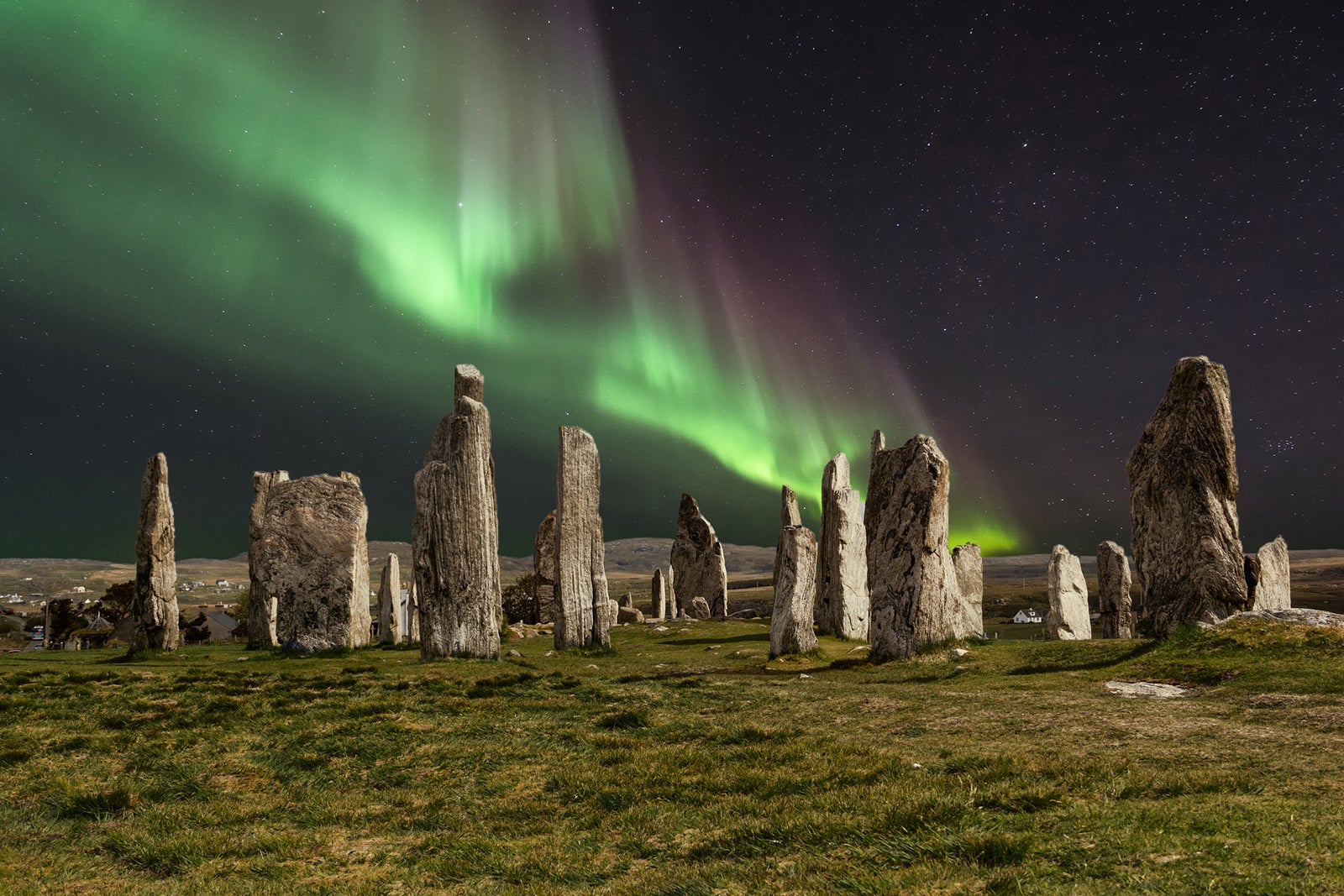 When to visit: September to March.
Northern Scotland shares the same latitude as some Scandinavian locations. That means there's a good chance you could spot the northern lights here if conditions allow.
Visit Scotland recommends several destinations for aurora viewing. They include Orkney, Caithness, the Moray Firth coast, Aberdeenshire, Lewis, Harris, Skye, Applecross, Lochinver, Cairngorms National Park, Galloway Forest Park, Rannoch Moor, Perthshire, Angus and Calton Hill.
The northern lights have also been known to appear as far south as Edinburgh during especially strong storms. If you really want to fit in, refer to the northern lights as "mirrie dancers" for local cred.
Where to stay: The Isle of Skye is a dark-sky enthusiast's dream. With nine Dark Sky Discovery Sites in the area, it's the perfect spot for stargazing and checking out the northern lights. The Shulista Croft Wigwams all offer incredible views of the Trotternish Peninsula.
The only thing second to the views may be the local wildlife: You can spot sheep, rams, chickens, sea eagles, buzzards and minke whales all within walking distance of the property.
The best resource: AuroraWatch UK alerts will send real-time alerts via Twitter, Facebook or the messaging app Telegram. The site also offers an AuroraWatch API, showcasing historical data you can (theoretically) use to build your own alerts.
Plan your northern lights trip
If your dream northern lights trip is one that includes thoughtful, authentic and off-the-beaten-path travel experiences, consider booking your trip with Elsewhere (owned by TPG's sister company, Lonely Planet).
Experiencing a northern lights trip of a lifetime can be very simple with Elsewhere, thanks to fantastic local experts who create an itinerary based on your preferences. Edvinas in Finland, Trent in Iceland or Steven in Scotland can plan and book everything for you through the Elsewhere platform.
Additional reporting by Tarah Chieffi and Kristy Tolley.