Let the countdown begin.
We are now one year away from the start of the 2024 Olympics in Paris. Kicking off with the Olympic opening ceremony on July 26, 2024, the Olympic Games will run through Aug. 11, 2024.
For both athletes and fans, the event figures to be a refreshing change of pace after the coronavirus pandemic hampered travel to the previous Summer and Winter Games. 
The millions of fans expected to visit France next summer should see quite the spectacle, too: an opening ceremony on the Seine, beach volleyball in the shadow of the Eiffel Tower and tennis played on the iconic clay courts at Roland-Garros (home of the French Open).
As of the end of June, the Paris Olympics organizing committee reported it sold some 6.8 million tickets out of 10 million available — or around 70% of its ticket supply. What's more, the tickets have so far been sold to customers from 178 countries, according to the committee.
"The success of the ticket sale was better than we ever could have imagined," Tony Estanguet, organizing committee president for the Paris Olympics, said in a recent statement.
The good news: There are still tickets available. Plus, booking windows are only now beginning to open for most airlines and hotels.
Here's what to know if you're planning (or at least hoping) to make the trip to Paris next summer.
When do flights and award bookings open for the Paris Olympics?
For most major airlines, booking windows for air travel to the 2024 Olympics in Paris are either just opening or will soon open in a few weeks. So, depending on the airline, you should be able to book flights in the not-too-distant future.
The biggest U.S. airlines, including American Airlines, Delta Air Lines and United Airlines, typically allow passengers to begin booking flights somewhere around 330 days out, which is a little less than 11 months from departure date.
On American, for instance, you can book online starting 331 days in advance. In theory, that means you could book an outgoing flight that departs the night before the opening ceremony (on July 25, 2024) around Aug. 28. You may want to wait a bit longer, though, so you can also book your return trip.
Most U.S. airlines open award ticketing at the same time as regular ticketing, so whenever you decide to book your flights, you should have the option to use cash or miles.
Some international carriers like Air Canada and British Airways allow passengers to purchase tickets a bit further out — just under a year before departure (or around 354 or 355 days before departure).
Checking Air France tickets on July 26, I could book as far out as July 19, 2024, which means the Paris Olympics dates will be inside the booking window soon.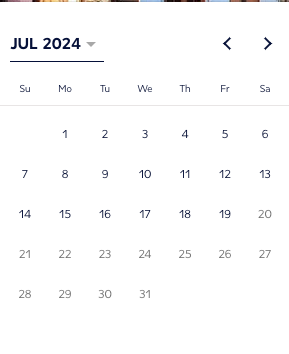 Award availability should open up soon, too. For context, I could book an early July 2024 trip from New York to Paris for 30,000 Flying Blue points (the equivalent of spending around $360, according to TPG's points and miles valuations).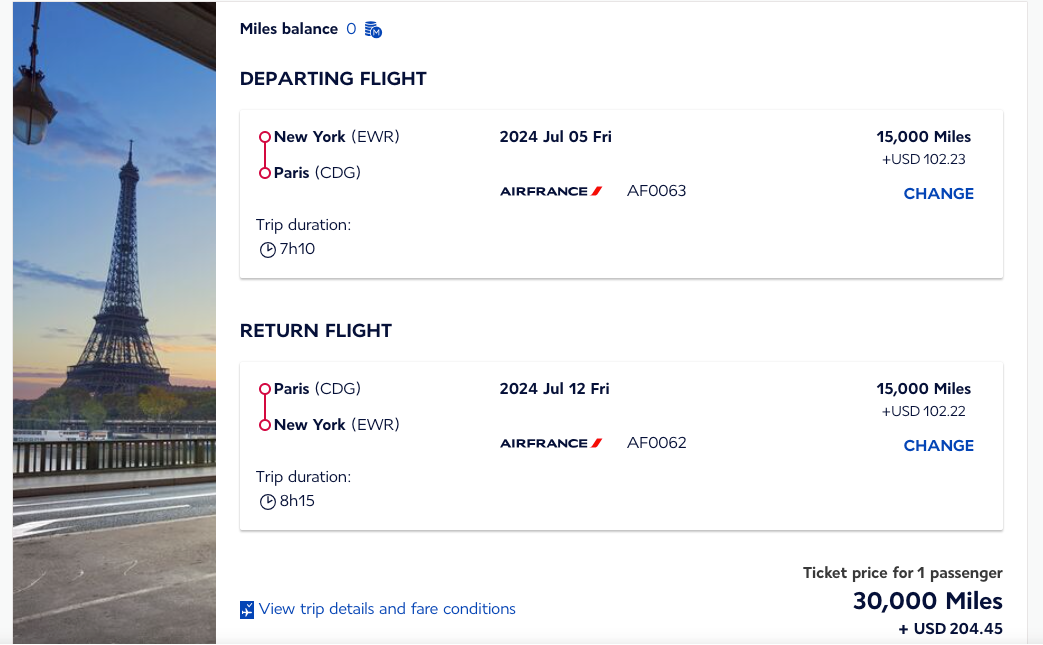 Even though the best time to book a flight to score the best cash deal is usually much closer to your departure date, in this case, you may want to lock in your airfare sooner rather than later due to the immense demand for travel to the Olympics.
For award flights, your best bet may be to go ahead and book the best early deal you see. After all, if the award pricing drops, you can generally cancel your ticket and rebook at the lower price.
When does hotel award availability open for the Paris Games?
For hotels, there's a bit more fluctuation when it comes to how early you can book your stay. Additionally, there are a few Olympics-specific quirks that may affect whether you can book your room directly through a hotel.
What is different about booking hotels for the 2024 Olympics?
Though it's typically best to book most travel arrangements directly, you may need to go through a third party for Olympics lodging. That's because many hotels have rooms tied up in agreements with the Olympic Games, so booking availability may appear limited if you try to search for accommodations directly.
For example, Accor notes that the Olympics organizing committee reserved 80% of its rooms, leaving just 20% for guests to book directly with the hotel chain.
Earlier this year, the Paris Games launched an official online booking platform called On Location to help travelers find lodging. There, you can search various all-inclusive and individual packages to fit your travel dates. Many are priced per person and include access to sporting events.
How early can you make hotel reservations?
If you do want to test the waters and try booking hotels directly, now is a good time to start looking — though, again, you may have limited luck finding rooms, let alone award space.
Under normal circumstances, Marriott's booking windows open about 355 days out.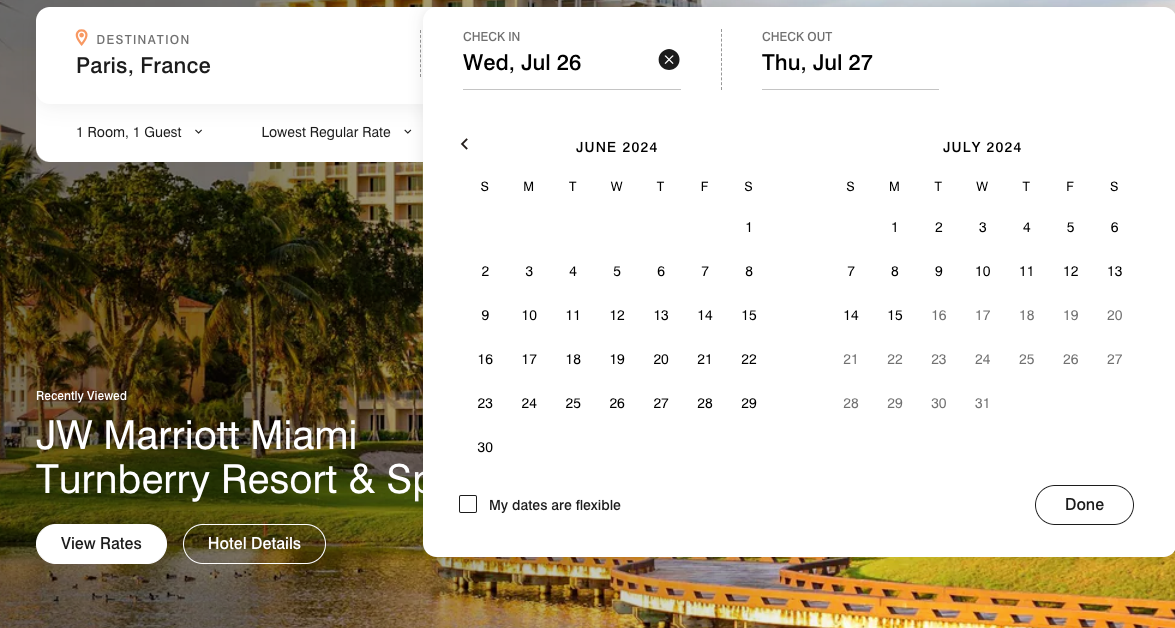 IHG is a bit closer in, at 350 days in advance.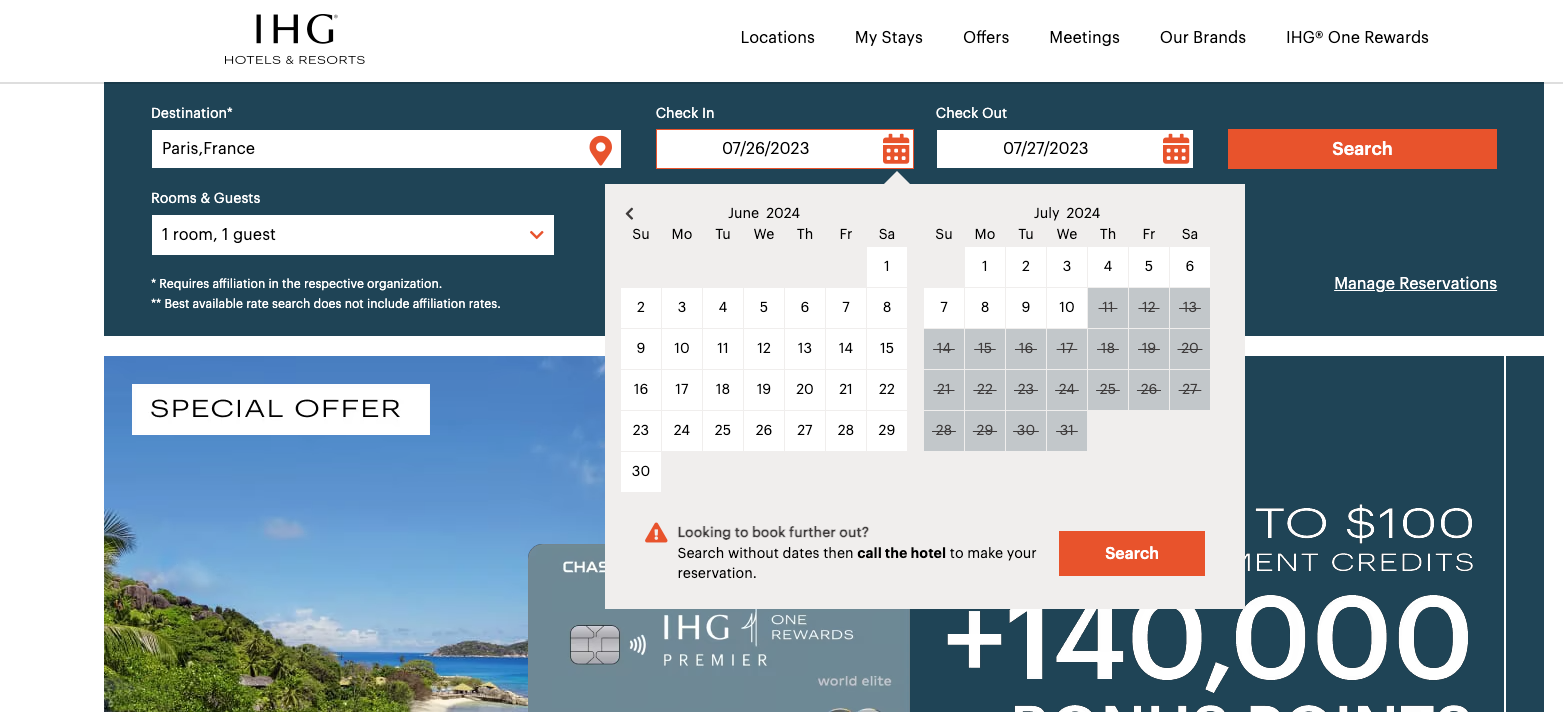 You can book Hyatt stays 13 months out, and a quick check of Paris hotels during the dates for the 2024 Olympics shows many properties are already sold out.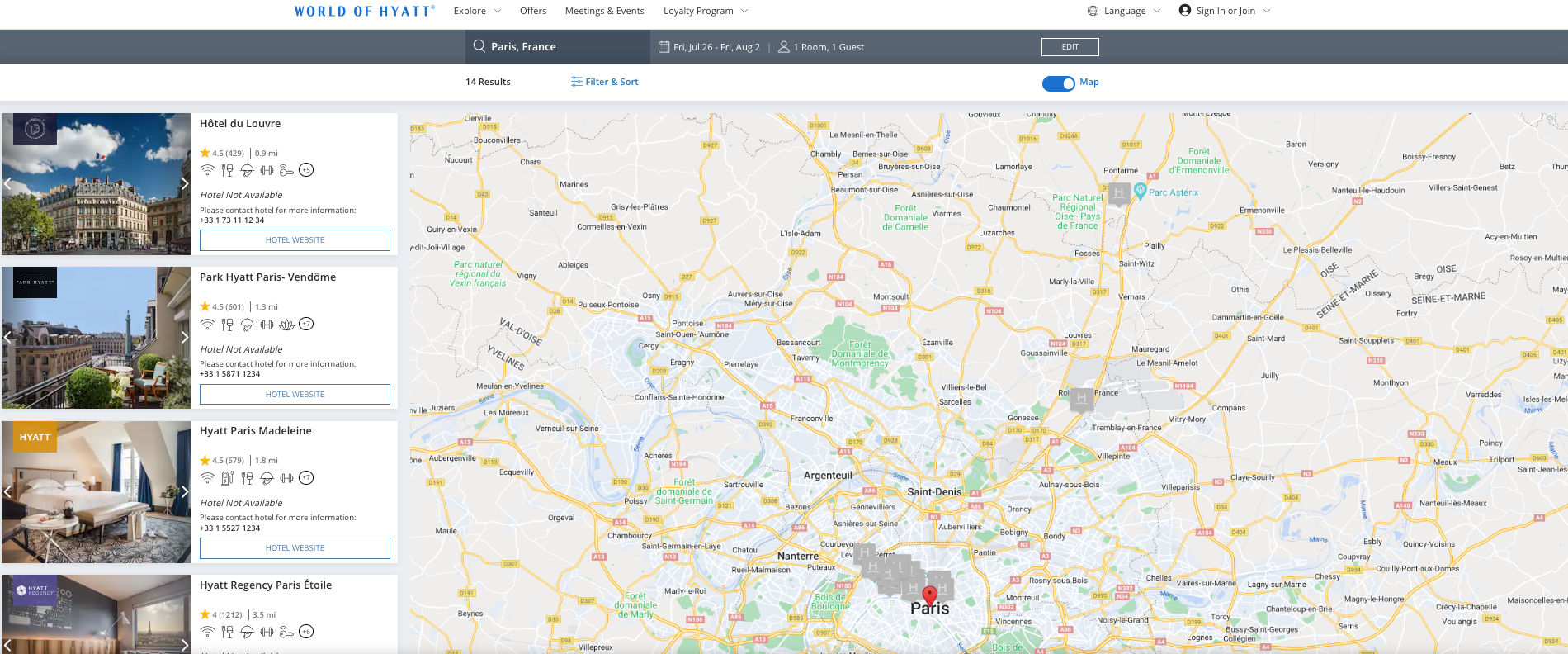 It's a similar story on Hilton's website.
If you run into challenges booking stays with major U.S. hotel brands, your credit card travel portal could come in handy, whether you use American Express Membership Rewards, Chase Ultimate Rewards, Capital One or a different portal. You may not be able to leverage all your elite status perks with, say, Hilton Honors. However, you may be able to use credit card rewards to book a stay at a nice boutique property in Paris if there's availability.
Also keep in mind that there are a variety of apps and programs that can send you alerts should rooms or award space become available.
Related: The best hotels in Paris
Can you still get tickets for the 2024 Olympics?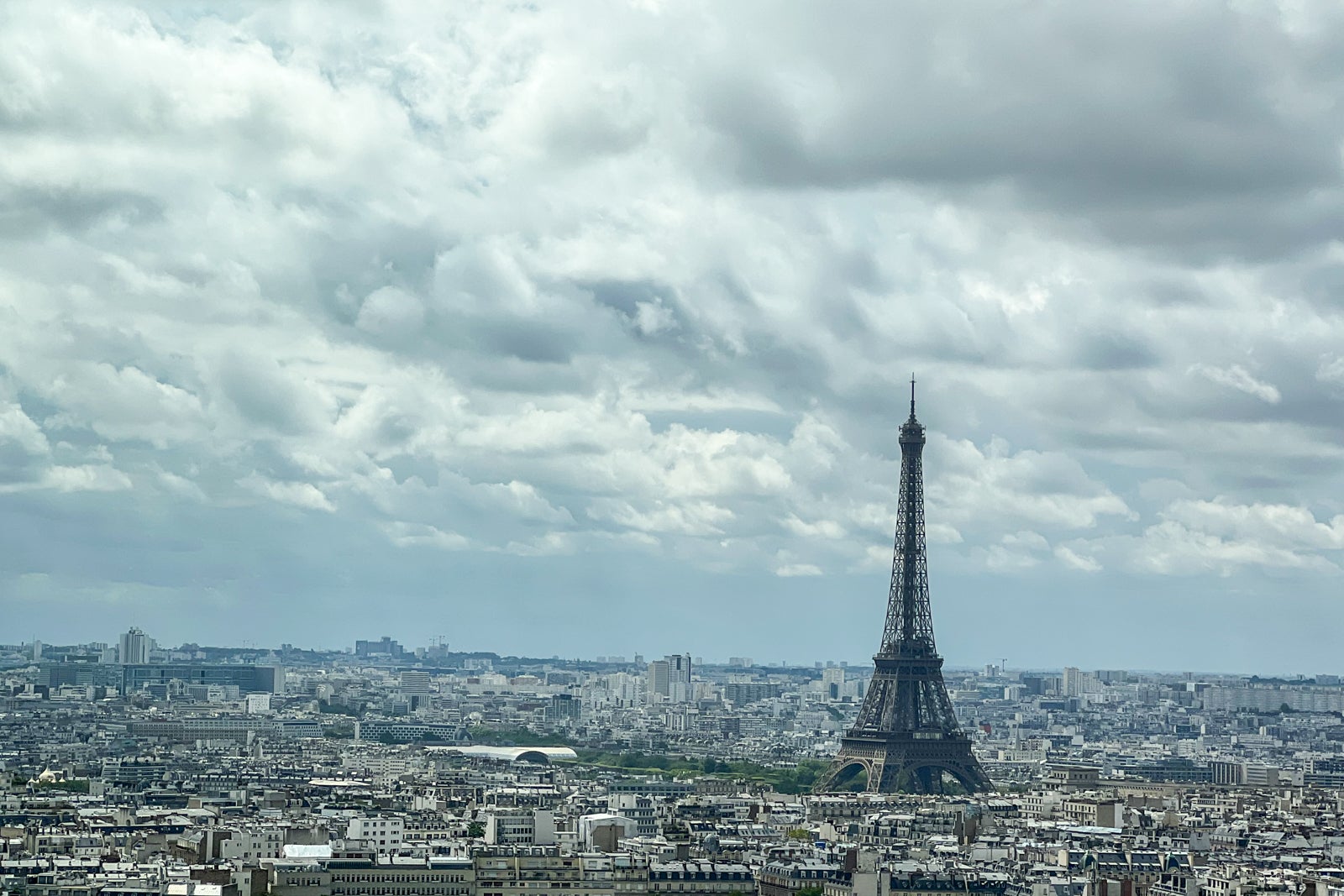 What's the point of booking a flight and pricey hotel stay if you can't see the Olympics up close?
Fortunately, even if you missed the ticket draws earlier this year, you're not out of luck. In fact, the Olympics organizing committee just released a batch of tickets on its official ticketing website for sports like beach volleyball, boxing, rowing, canoe slalom, golf and water polo.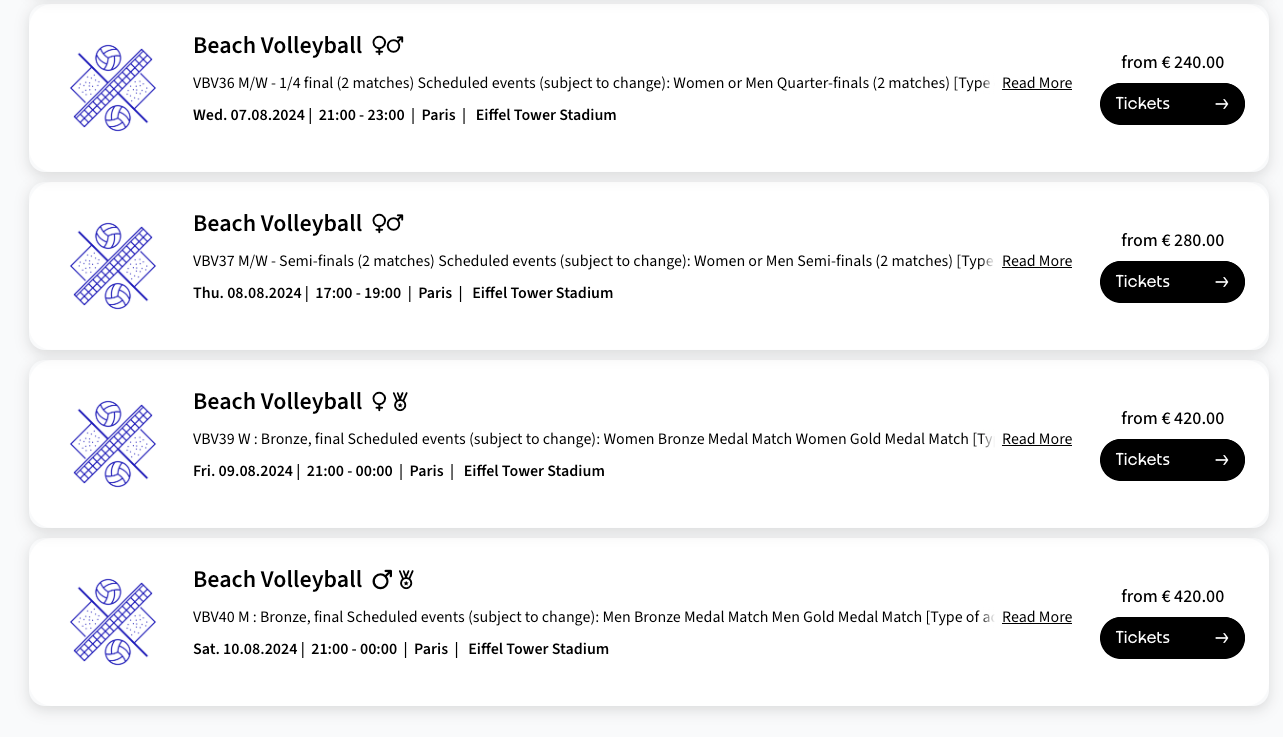 At this point, tickets are sold on a first-come, first-served basis.
Organizers suggest buying soon since there are a limited number of tickets available on the official Olympics platform. You can buy up to six tickets for an individual session, though sales are capped at four per customer, per session for some high-demand events.
A single member can purchase up to 30 tickets per account across all events throughout the Paris Games.
Now, a word of caution: Many tickets are not cheap. For instance, I could log in and find tickets to the beach volleyball semifinals (again, right in front of the Eiffel Tower) starting at 280 euros ($320) per person for two matches. Meanwhile, tickets to the Olympics opening ceremony on the Seine will currently run you about 1,600 euros ($1,775) each.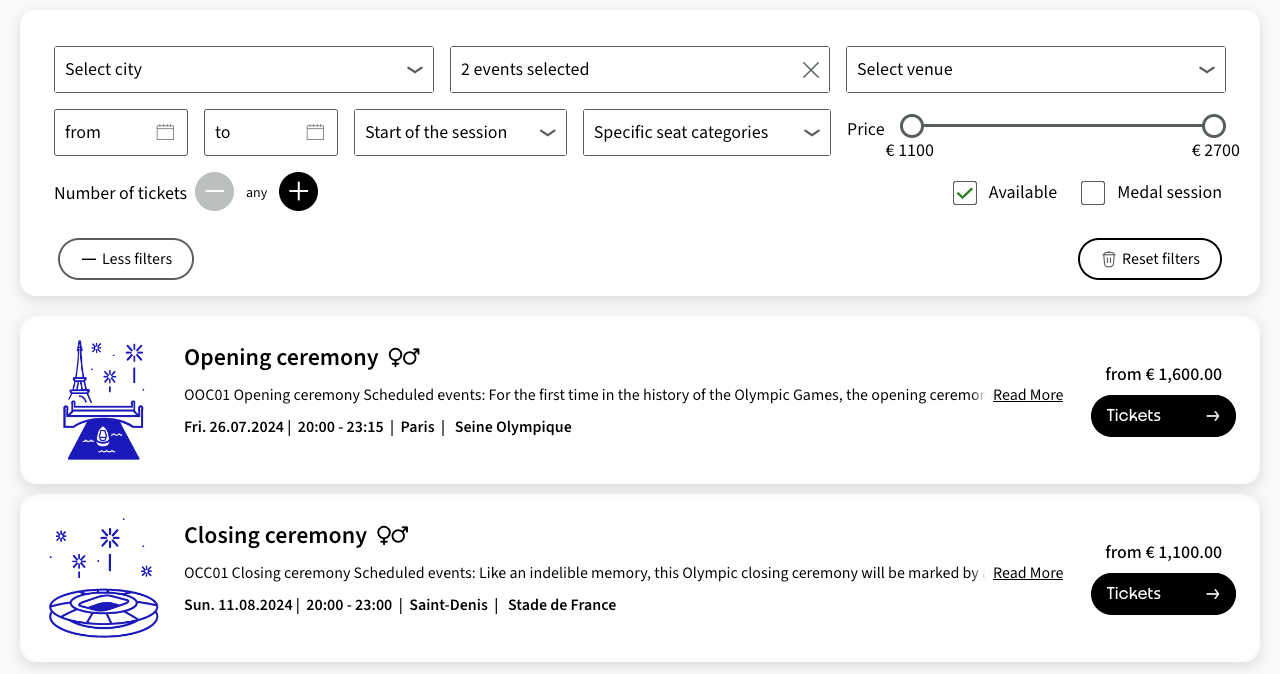 There also appear to be tickets available on secondary markets like StubHub. The cheapest tickets I found for the first night of swimming finals were approaching $700.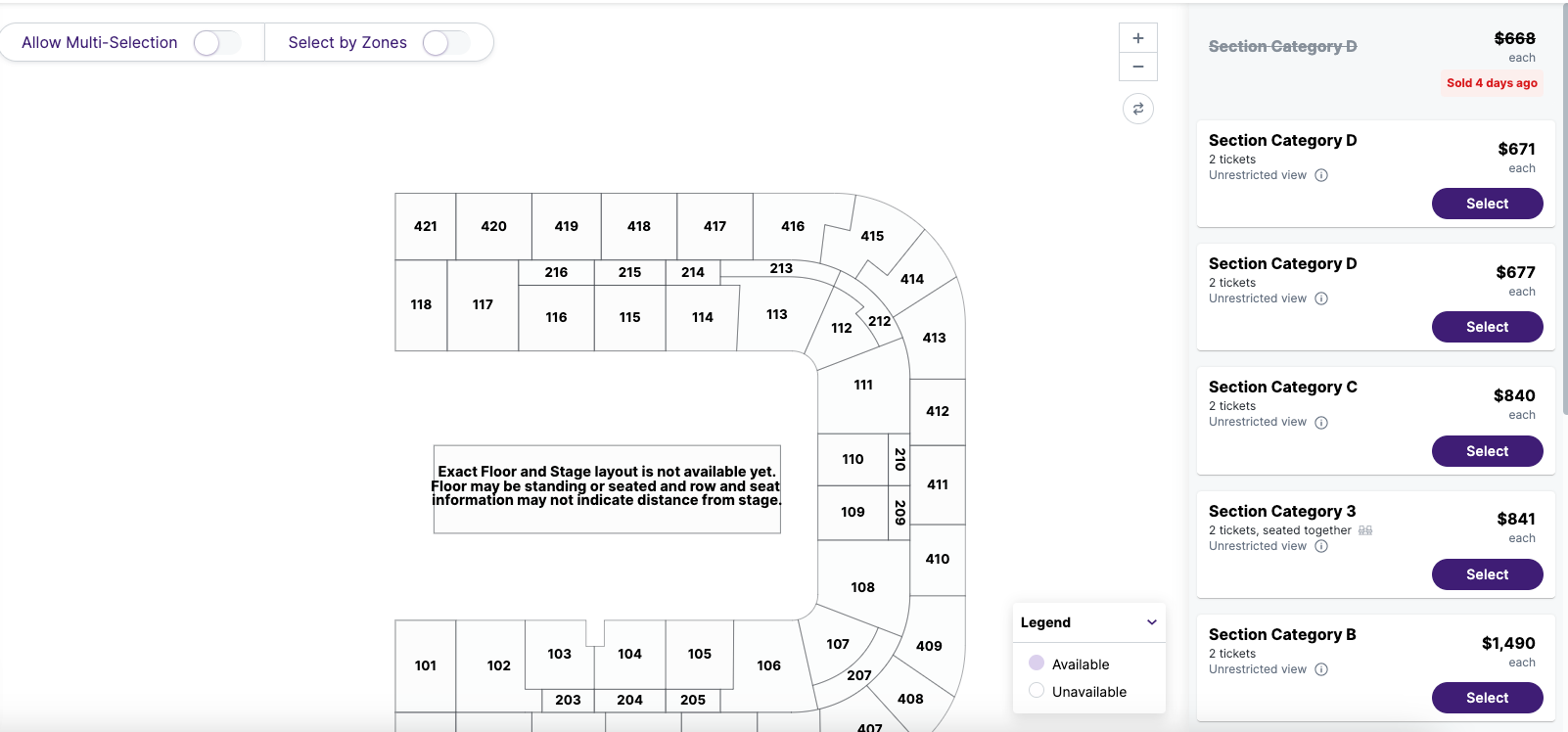 However, know that booking through a third-party platform may come with risks. The Olympics organizing committee cautions it is the only platform authorized to sell tickets.
Bottom line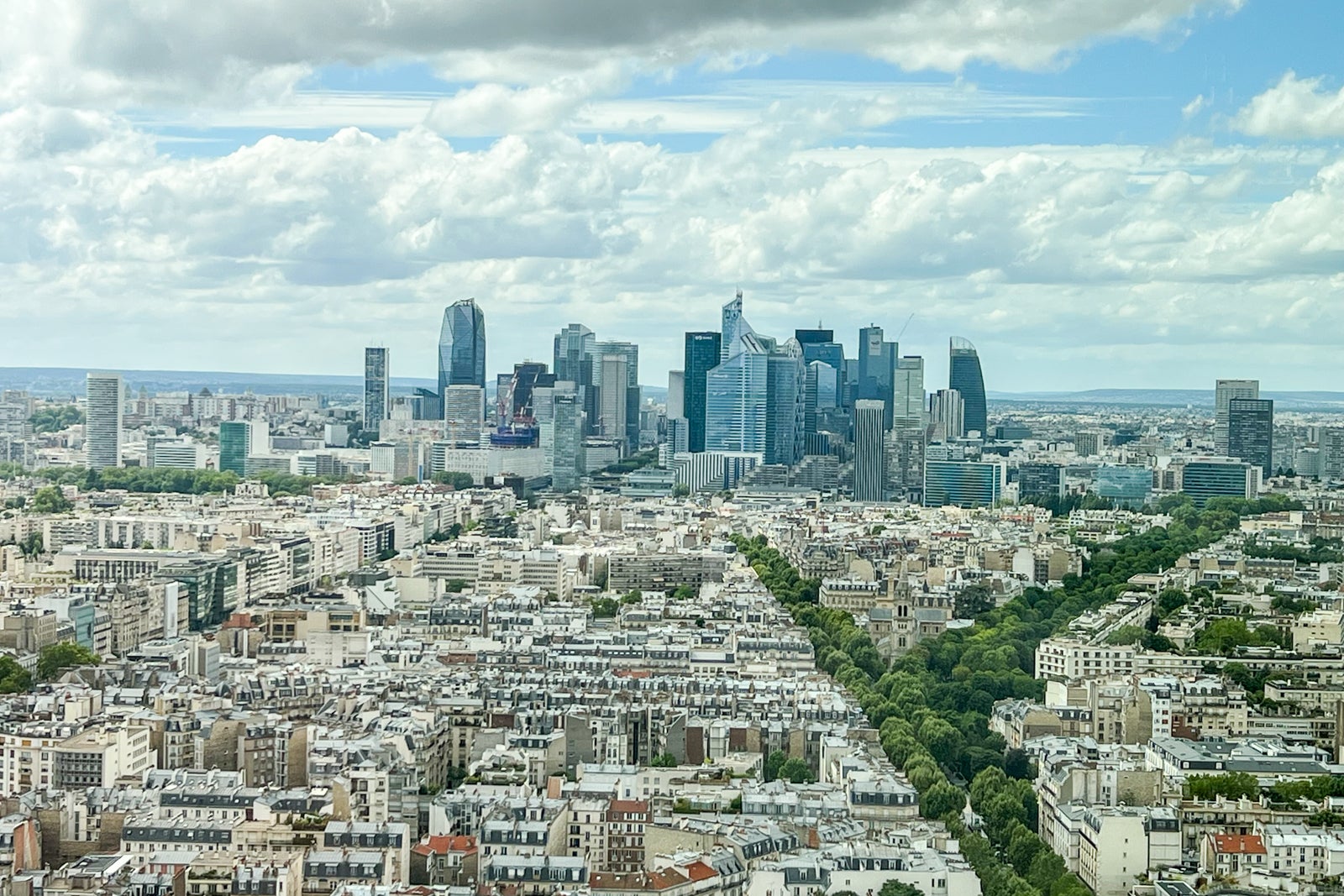 There are now just 366 days until one of the most anticipated Olympic Games in recent memory. 
Whether you're still hoping to buy tickets or have now shifted your attention to securing travel arrangements, we suggest checking your favorite booking channels frequently in the coming days and weeks, as flight and hotel availability — and award availability — is just starting to open up. Remember, though, that the best way to lock in accommodations may be through the official On Location booking platform.
As you make your travel arrangements, don't forget to consult TPG's awards versus cash calculator to decide whether to use cash or points for your bookings. Additionally, make sure you reserve your trip with a travel credit card that earns the most points and, ideally, has trip protection benefits in case you run into any trouble along the way.
Related reading: