Like most good frequent travelers, I've got my airport security routine. When you take 40 to 50 flights a year, you need to be efficient. With TSA PreCheck, I can leave my shoes on and keep my laptop and other electronic equipment in my bag. And for those times when PreCheck isn't fast enough, I have a Clear membership. Enrollment is required
My belt, shoes and watch never trigger airport metal detectors. Once my ID and boarding pass are checked—though most airports are now just scanning IDs—I put my phone into the pocket of my carry-on bag.
So when the metal detector at LaGuardia's Terminal B started to beep Thursday morning, I assumed I was randomly selected for additional screening. I wasn't wearing a belt. There's no metal in my body. I was wearing sneakers with rubber soles.
Then I handed the TSA agent my wallet.
Bingo.
I've currently got two dozen credit cards in my name. I travel a lot and each serves a purpose. No, I don't carry them all at once. The physical cards in my wallet are routinely rotated to maximize category bonuses and to spend my way toward elite status.
On Thursday morning, the mix of cards apparently triggered the metal detector. Now, some of my colleagues at The Points Guy were shocked to hear that I didn't put my wallet through the X-ray machine. Others said they did the same thing as me and kept their wallet in their pocket.
But I digress.
Upon inspecting my wallet the TSA agent said, "Wow, that's a lot of metal cards."
And it was.
In recent years, credit card companies have been churning out heavier cards; cards that have a "plunk factor" meant to impress dining companions when you drop it down on the table to pay the check.
At TPG, we have tested the strength and weight of the cards. And one of our content directors, Nick Ewen, has commented on why it is time for card issuers to stop making all these heavy metal cards.
I, unfortunately, happened to have three of them on me as I passed through airport security: the Chase Sapphire Reserve, The Platinum Card® from American Express and the Delta SkyMiles® Reserve American Express Card.
My Delta Reserve card is the limited edition one made from a former Boeing 747. (For those aviation geeks out there: the plane's registration was N667US and it flew 68 million miles in its more than 27 years of service.)
The limited edition Delta Reserve Boeing Card option is no longer available.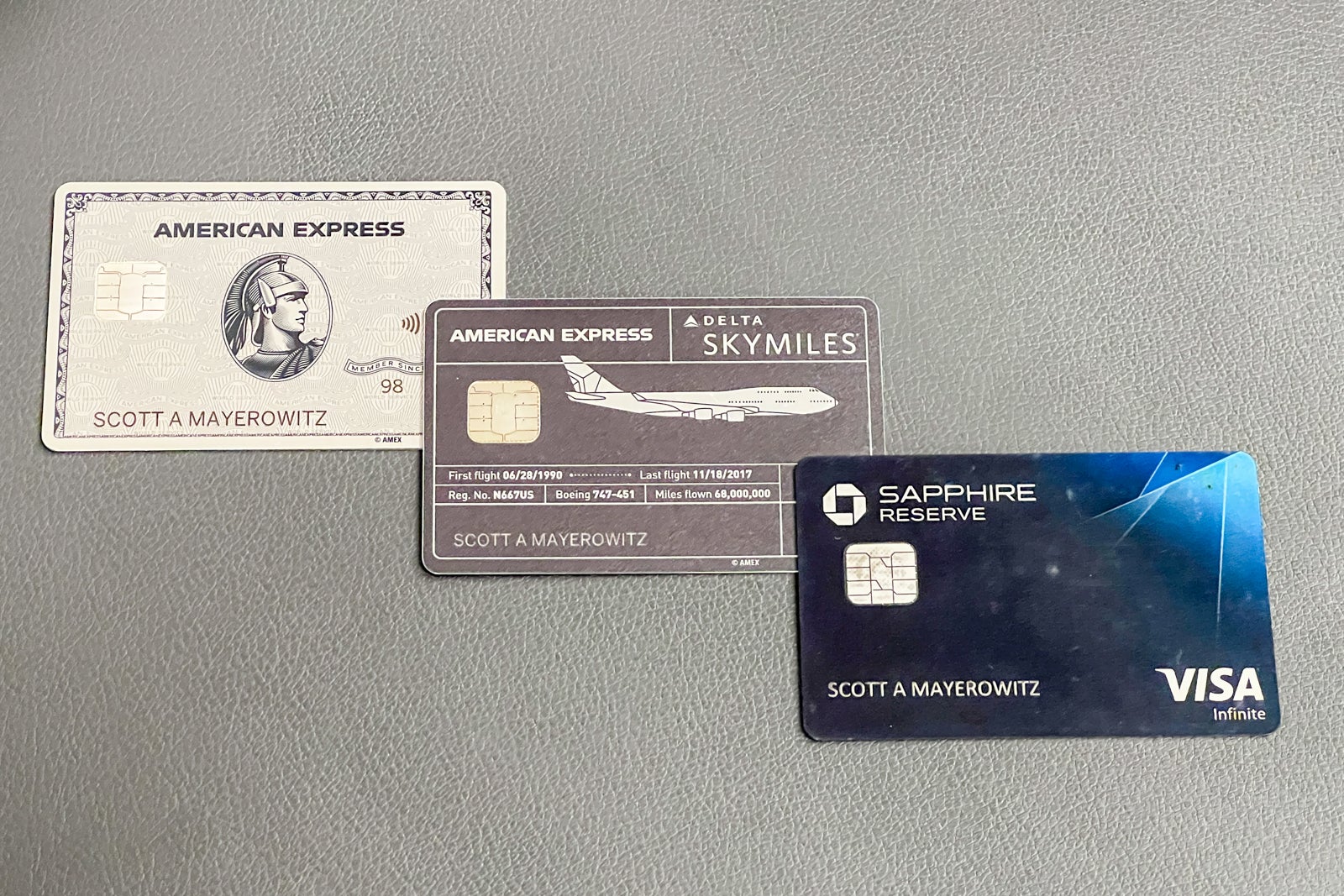 That magical combination slowed me down. Moving forward, I'm either going to need to put my wallet in my carry-on bag or just carry fewer cards. I think we all know that I'll go with the first option.
The heavy metal cards cost me a few seconds at security, but at least I got a good story out of it. How many can say that the TSA pulled them aside because they were carrying too many metal credit cards?
Related reading: