Editor's note: This is a recurring post, regularly updated with new information.
---
In 2004, Air France and KLM formed the Air France-KLM Group. Around the same time, the company launched Flying Blue, a combined loyalty program for the two airlines.
The program quickly became one of the most well-known airline loyalty programs because of its list of credit card transfer partners, lucrative Promo Rewards and selection of airline partners.
As a result, Flying Blue is a popular program for travelers who focus on earning transferrable points. But if you're new to the program, it can be a bit daunting — especially given its unpredictable dynamic award pricing.
Today, I'll take you through the ins and outs of the Flying Blue program. First, I'll give you an overview of the loyalty program, and then we'll move on to earning and redeeming Flying Blue miles.
Let's get started.
An overview of the Flying Blue program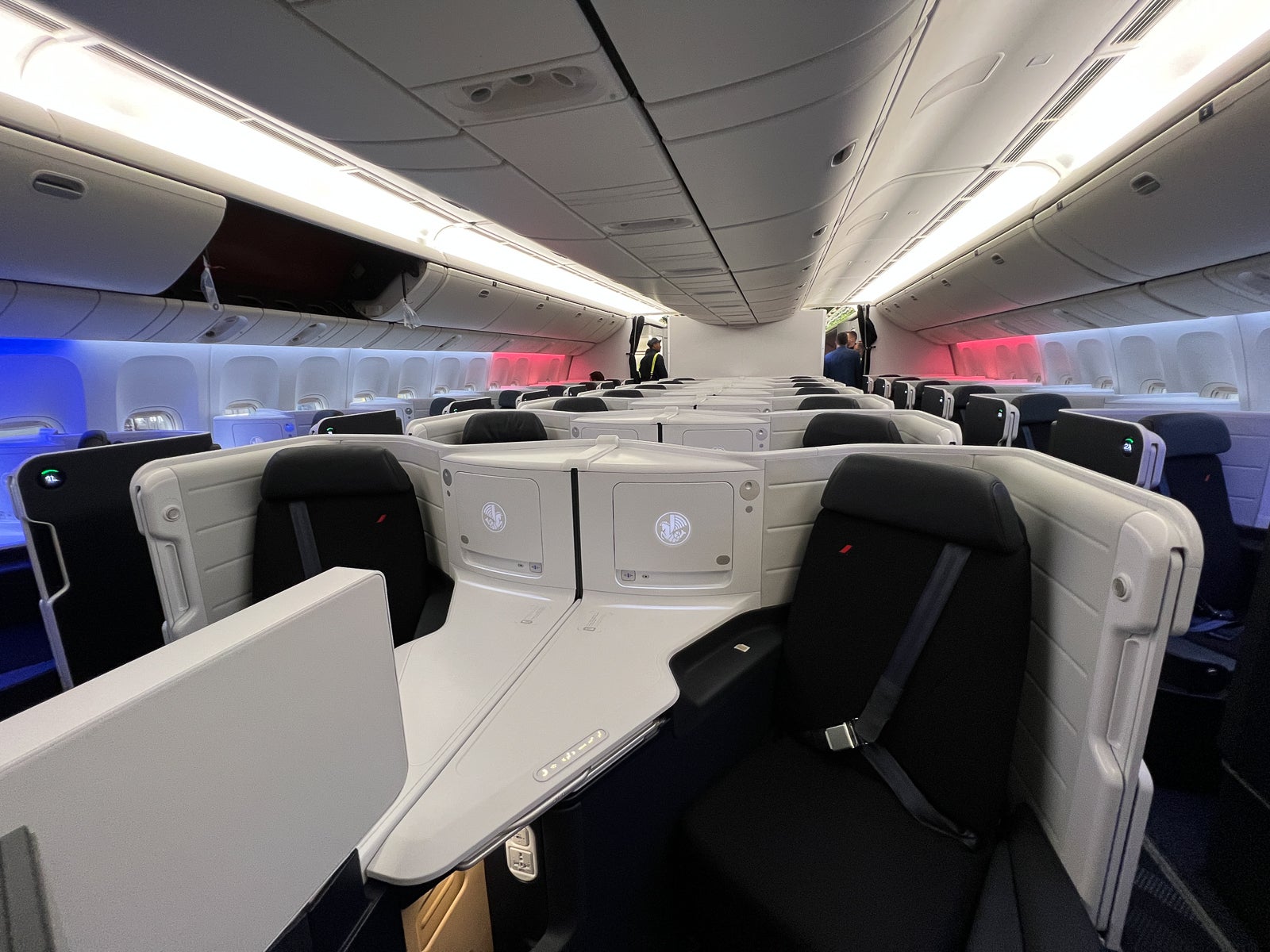 As mentioned, Flying Blue is the joint loyalty program of Air France and KLM, but these aren't the only carriers that use Flying Blue as their default loyalty program. Several other airlines — inside and outside of Europe — use the program for mileage earning and elite status. Here's a look at all the airlines that use it:
Aircalin.
Air France.
Kenya Airways.
KLM.
Transavia.
TAROM.
If you're a Flying Blue member flying one of these airlines, you can add your Flying Blue member number to earn miles, Experience Points for elite status qualification and more. Once you reach elite status, you'll be able to use your benefits on these airlines and reciprocal benefits on other partner airlines.
But just because these airlines use Flying Blue as their default program doesn't mean you can't earn Flying Blue miles with other airlines. Most partner airlines that allow you to earn Flying Blue miles are in the SkyTeam alliance, but there is an assortment of non-alliance partners, too. These include:
Air Corsica.
Air Mauritius.
Bangkok Airways.
Chalair Aviation.
Copa Airlines.
Gol.
Japan Airlines.
Malaysia Airlines.
Qantas.
Transavia.
Twin Jet.
Virgin Atlantic.
WestJet.
airBaltic.
Note that there may be restrictions regarding which flights you can earn or redeem miles on within each of these partnerships. Review the airline's partner page on the Flying Blue website before you plan your travels so you know what to expect.
Related: Your ultimate guide to searching award availability for the major airlines
Flying Blue elite status tiers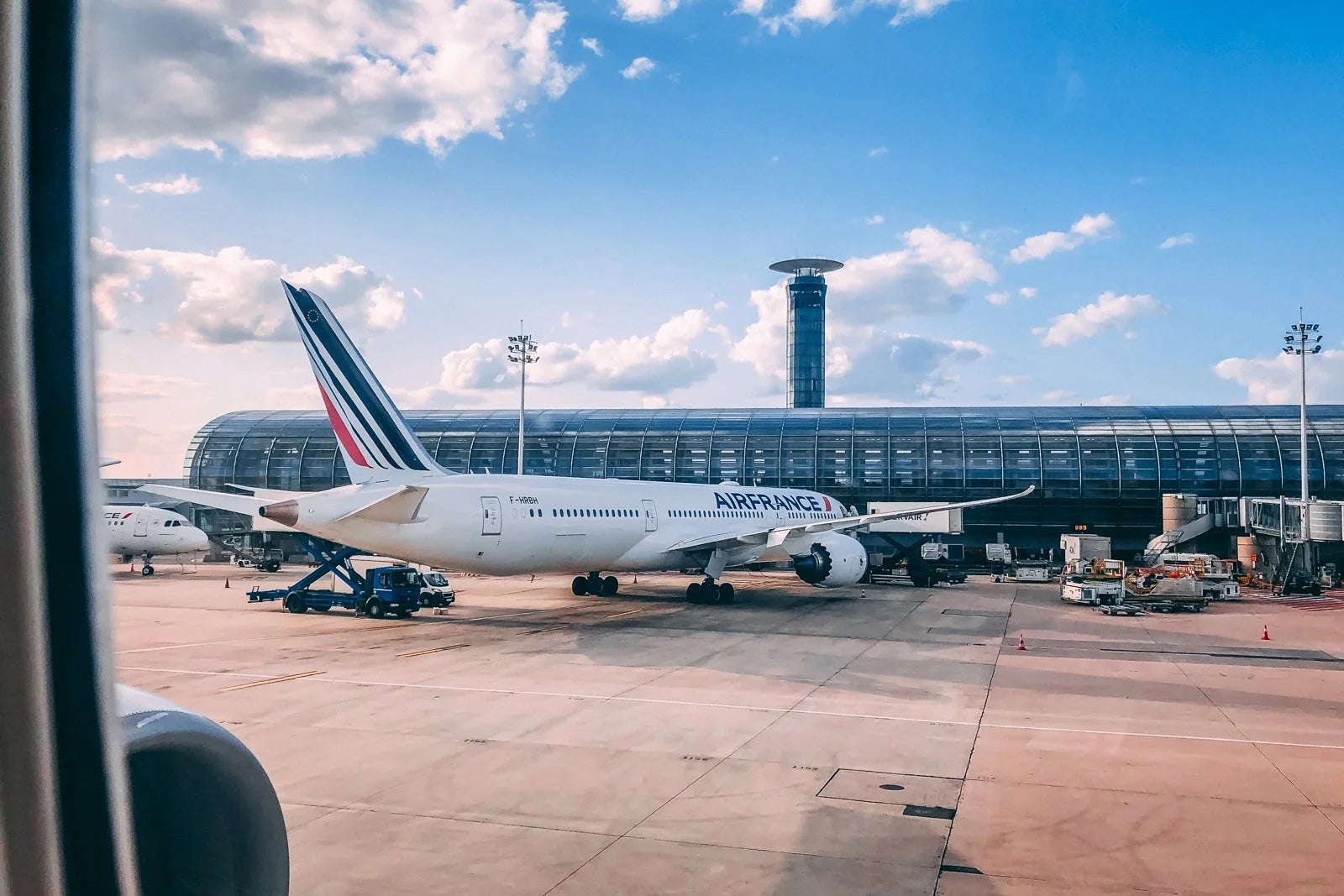 Like many airlines, Flying Blue offers elite status to its most frequent flyers. The airline currently offers three elite status tiers: Silver, Gold and Platinum. Each of these offers varying benefits, and while they're not as lucrative as benefits with many U.S. airlines, the benefits are helpful for European flyers or anyone who frequently flies Air France or KLM.
Flying Blue Silver
Silver is the lowest tier of Flying Blue elite status. It includes some basic benefits, including:
6 Flying Blue miles per euro spent on Flying Blue-issued tickets.
Free standard seat selection
Priority check-in and boarding.
SkyTeam Elite benefits (the most notable SkyTeam Elite benefit is a free checked bag on all Flying Blue and SkyTeam partner flights).
Flying Blue Gold
Gold, on the other hand, includes more premium benefits. With this status tier, you have access to the Flying Blue Silver benefits and some other ones, including:
7 Flying Blue miles per euro spent on Flying Blue-issued tickets.
Access to SkyTeam lounges on international flights operated by a Flying Blue or SkyTeam airline (valid for you and a guest).
Access to partner lounges on airlines like Virgin Atlantic, Qantas and Air Mauritius.
SkyTeam Elite Plus (benefits like SkyPriority boarding, fast-track immigration and more).

50% discount on preferred seats and Delta Comfort+.
Flying Blue Platinum
Flying Blue's top-tier Platinum status includes all of the Gold benefits we mentioned earlier but sweetens the deal by upgrading some benefits and adding others. Platinum members earn 9 Flying Blue miles per euro spent on Flying Blue-issued tickets, have access to free Economy Comfort and extra-legroom seats on all SkyTeam flights and can access Delta Comfort+ seats for free.
Additionally, effective Jan 1, 2023, only Flying Blue Platinum members can book Air France La Premiere's first-class award tickets. That said, they come at a pretty hefty cost. La Premiere tickets often cost more than $10,000 when flying from Europe to North America, Asia or Africa, so being able to book with miles makes an otherwise unattainable ticket possible for many flyers. In the past, Flying Blue Gold members could also book these awards, but that changes in 2023.
Once you hold Flying Blue Platinum for 10 consecutive years, you've got the status for life.
Related: Flying Blue introduces an interactive map with entry award rates, officially adds stopovers: What you need to know
Qualifying for Flying Blue elite status
You can qualify for Flying Blue elite status by earning Experience Points, or XPs. Each tier requires a specific number of these points, and you can earn them by flying and through credit card spending. All Flying Blue (except Transavia) and SkyTeam partners are eligible for earning XPs, as well as some non-alliance partners like Qantas.
| | | |
| --- | --- | --- |
| Silver | Gold | Platinum |
| 100 XPs. | 180 XPs. | 300 XPs. |
The chart above shows how many XPs are required to earn each elite status tier. You need to reach this number of XPs within a year of earning your first XP. So if you take a paid flight in May, you have until May of the following year before your XP counter resets. Current Flying Blue elite members must requalify by earning enough XPs to maintain or upgrade their status tier within one year.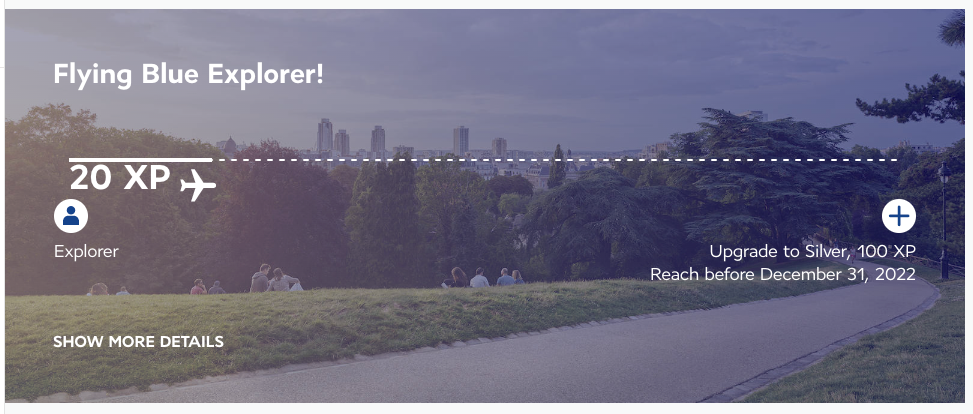 Earn XPs by flying
Domestic
Medium
(0-2,000 miles, international)
Long 1
(2,000-3,500 miles, international)
Long 2
(3,500-5,000 miles, international)
Long 3
(5,000+ miles, international)
Economy
2 XPs.
5 XPs.
8 XPs.
10 XPs.
12 XPs.
Premium economy
4 XPs.
10 XPs.
16 XPs.
20 XPs.
24 XPs.
Business class
6 XPs.
15 XPs.
24 XPs.
30 XPs.
36 XPs.
First class
10 XPs.
25 XPs.
40 XPs.
50 XPs.
60 XPs.
Earning XPs on flights is surprisingly simple, but there are some quirks.
I posted a copy of Flying Blue's XP earning chart above. You can see that you earn XPs based on distance and the class of service you're flying, and miles are earned regardless of your ticket's fare class. A discount economy ticket earns the same XPs as a full-fare economy ticket.
Easy enough, right? This chart has advantages: It's easy to earn points in the Medium XP tier if you take international flights within Europe. Per the award chart, a quick 211-mile flight from Paris-Charles de Gaulle Airport (CDG) to London's Heathrow Airport (LHR) would earn 5 XPs in economy class or 15 XPs in business class.
But things get weird when earning XPs in larger countries like the U.S. or Canada. A 2,994-mile flight from Salt Lake City International Airport (SLC) to Honolulu's Daniel K. Inouye International Airport (HNL) would earn 2 XPs in economy class as — per the above chart's a domestic flight. So if you fly mid- or long-haul flights within the U.S. often and are chasing SkyTeam elite status, it's probably in your best interest to credit your mileage elsewhere.
Thankfully, U.S.-to-Canada flights are considered international, so the 214-mile jaunt between Detroit Metropolitan Wayne County Airport (DTW) and Toronto Pearson Airport (YYZ) would earn 5 XPs in economy class. Better yet, you can earn XPs on these routes when flying Delta or WestJet, so there are opportunities for U.S.-based Flying Blue elite members to top up their XP balances.
Another interesting quirk of Flying Blue is that you earn points based on segments. So if you fly from Frankfurt Airport (FRA) to New York's John F. Kennedy International Airport (JFK) via Amsterdam Airport Schiphol (AMS) on KLM in business class, you'll earn 15 XPs for the FRA-to-AMS leg and 30 XPs for the 3,643-mile AMS-to-JFK segment. This equals 45 XPs for the one-way trip, already getting you almost halfway to Silver status.
Earn XPs through Flying Blue's US credit card
This may surprise some, but Flying Blue has a cobranded U.S. credit card with Bank of America. I'll go more in-depth on the Air France-KLM World Elite Mastercard® in the next section, but one of its standout benefits is earning XPs via credit card spending.
You receive 60 XPs when you open your account for the first year. In subsequent years, you earn 20 XPs every year on your account anniversary. If you spend $15,000 on purchases (exclusive of any fees, returns and adjustments), you'll receive an additional 40 anniversary XPs (totaling 60 anniversary XPs). That's more than half the 100 XPs required for Silver without stepping on a plane.
How to earn Flying Blue status on the cheap
U.S. flyers can earn Flying Blue status pretty easily with a combination of XPs earned with the Air France-KLM World Elite Mastercard and flying. If Silver is your goal, you can apply for the card and take a couple of short-haul hops to Canada or Mexico to earn status quickly.
On the other hand, Gold or Platinum will take a little more work. Gold requires 180 XPs. You can shave this down to 120 XPs with the cobranded credit card and earn those through a mix of short-haul international hops and flights to Europe.
For example, you could earn the remaining 120 XPs by taking two round-trip business-class flights to Canada from the U.S. for 60 XPs, one round-trip premium economy flight from Los Angeles (LAX) to Paris (CDG) for 48 XPs and six one-way domestic flights on Delta for the remainder. And since there's no set spending requirement, you can book cheap fares to earn the required XPs.
The same goes for Flying Blue Platinum status — if you plan your flights right, it's pretty easy to obtain status. Regardless, you will need to spend quite a bit of time on a plane to earn the status, but the cobranded credit card helps by taking a couple of flights out of the mix.
Related: The cheapest business-class awards across all 3 alliances
Earning miles with Flying Blue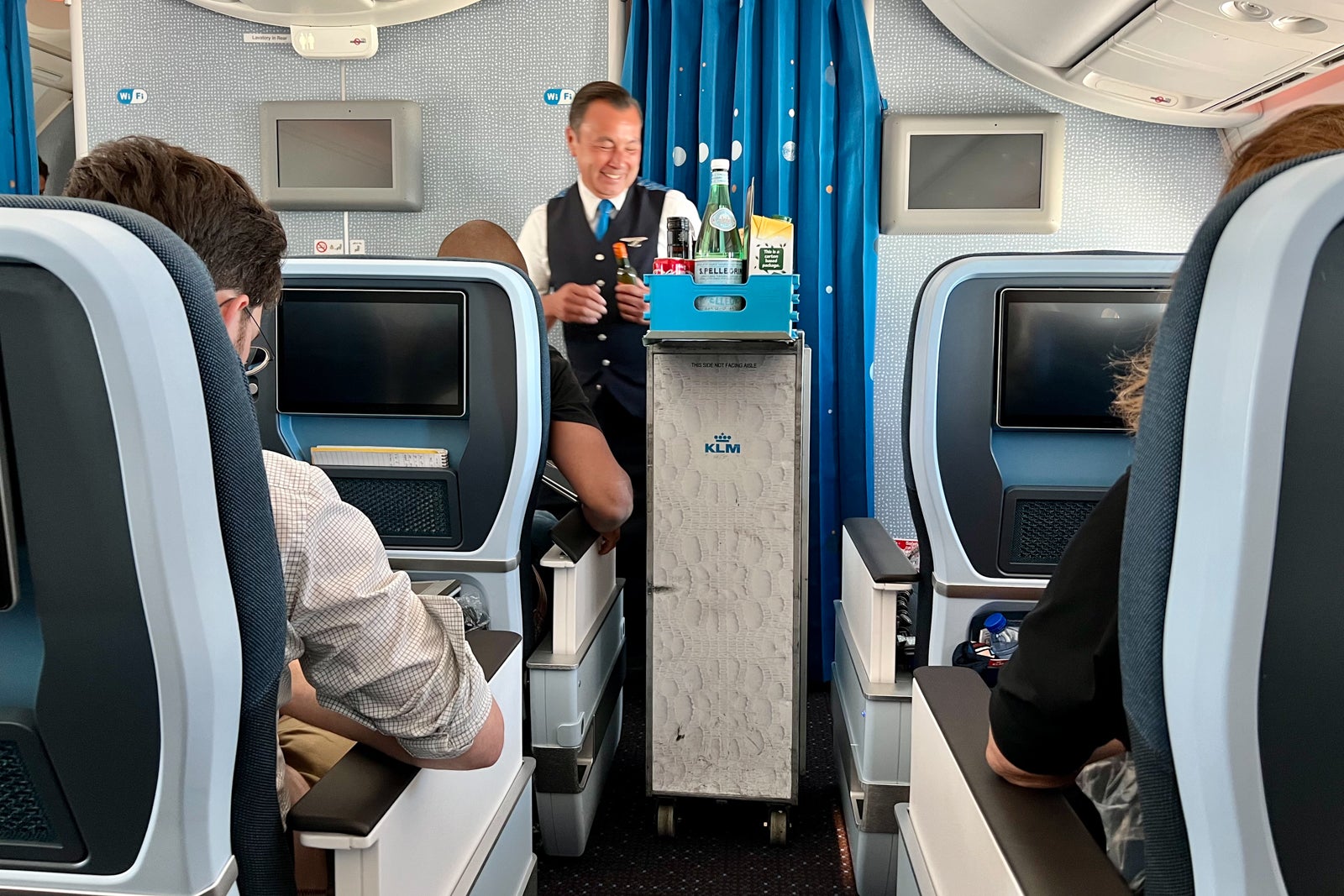 So, Flying Blue elite status is great, but what about earning miles?
Thankfully, there's no shortage of ways for U.S. travelers to earn Flying Blue miles by flying, through credit cards and more. Below is a list of the best ways to earn Flying Blue miles — use these methods in conjunction with one another, and you'll be well on your way to earning enough miles for your next Flying Blue redemption in no time.
Earn miles by flying with Flying Blue airlines and SkyTeam partners
Naturally, you can earn Flying Blue miles by flying. How you earn these miles varies by airline, though. When you book a flight on Air France or KLM, you'll earn miles based on how much you spent on the ticket (before taxes). This is also the case for Flying Blue-marketed tickets (i.e., booked on a Flying Blue airline website but operated by another carrier).
The number of miles you'll earn per dollar also depends on your Flying Blue status tier. Flying Blue Explorer members (those without status) earn 4 miles per euro spent, while Silver, Gold and Platinum members earn 6, 7 and 8 miles per euro spent, respectively. This earning doesn't include taxes and certain fees charged on the ticket.
For example, a Flying Blue Platinum elite member would earn 3,200 miles on a ticket operated by KLM that costs 400 euros (about $424) before taxes. On the other hand, a Flying Blue member without elite status would earn 1,600 miles. If you put your Flying Blue membership number on an eligible fare, miles are automatically deposited into the traveler's account within a few days after completing the travel.
Earn Flying Blue miles with partner airlines
Earning with SkyTeam and non-alliance Flying Blue partners on tickets that haven't been purchased through Flying Blue is a different story. For tickets that are marketed by another airline and credited to Flying Blue, you'll earn miles on the following criteria:
Distance flown.
Fare class.
Operating airline.
Your elite status tier.
Each airline partner awards a different number of miles for each fare class — you can find how many miles your partner flight earns on the Flying Blue partners page.
Here's the Flying Blue earning chart for Delta Air Lines tickets.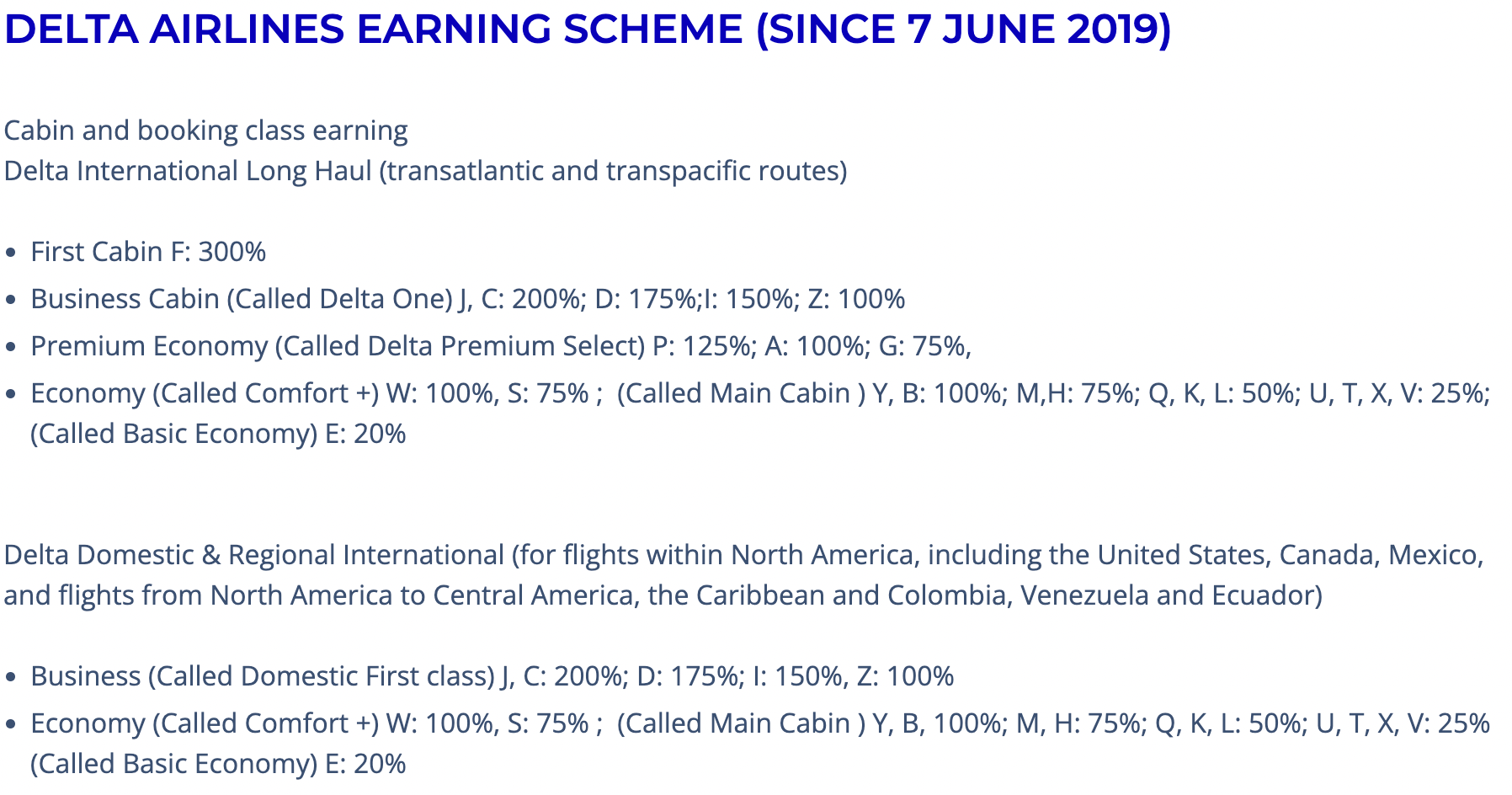 Once you've found your partner, look at your ticket, find your fare class and match it to the mileage-earning rate on the Flying Blue website. Then, multiply the flight length (in miles) by the percentage next to your fare class. For example, if you're flying Delta Air Lines from New York's LaGuardia Airport (LGA) to Chicago's O'Hare International Airport (ORD) — a 733-mile flight — in I-fare domestic first class, you'd earn 1,099 Flying Blue miles, as the fare class earns 150% miles flown. The math looks like this: 733 times 1.50 equals 1,099.50.
This is the same process for SkyTeam and non-alliance partners, so you can earn Flying Blue miles based on the distance flown for several other airlines. Non-alliance partners include Copa Airlines, Japan Airlines and Qantas.
Spend on the Flying Blue cobranded credit card
Another way to earn Flying Blue miles is with the previously discussed Air France-KLM World Elite Mastercard®. This card earns 3 Flying Blue miles per dollar spent on SkyTeam airfare purchases bought directly with a SkyTeam airline and 1.5 Flying Blue miles per dollar everywhere else.
The card also has a solid welcome bonus of 50,000 Flying Blue miles after spending $2,000 on the card in the first three months of account opening. TPG values Flying Blue miles at 1.2 cents each, so this bonus alone is worth $600.
Additionally, you'll earn 5,000 Flying Blue points on your card anniversary date so long as you spend at least $50 on your Flying Blue credit card each year. We value the 5,000-mile anniversary bonus at $60, which can help justify the card's $89 annual fee.
Transfer points to Flying Blue
Many U.S.-based flyers earn Flying Blue miles by using a transferable-points card. You can transfer points from American Express Membership Rewards, Bilt Rewards, Capital One, Chase Ultimate Rewards, Citi ThankYou and Marriott Bonvoy to Flying Blue. Outside of Marriott, all these transfer partners offer conversions at a 1:1 ratio. Marriott Bonvoy transfers, on the other hand, are at a 3:1 ratio, with a 5,000-mile bonus awarded for every 60,000 Marriott points transferred.
More often than not, you're better off putting your everyday purchases on a transferable-points card than the Flying Blue cobranded card we mentioned earlier. This is because cards that earn these points often earn bonus points in specific spending categories like travel, dining, groceries and more.
For example, the Chase Sapphire Preferred Card earns points at the following rates:
5 points per dollar on

travel purchased through Chase Ultimate Rewards and on Lyft rides.

3 points per dollar

 on dining.

2 points per dollar on all other travel purchases.

1 point per dollar on all other purchases.
While the card has a $95 annual fee, there's a 60,000-point welcome bonus after you spend $4,000 on purchases in the first three months of account opening.
Another popular transferable-miles credit card is the Capital One Venture X Rewards Credit Card. Here's what this card earns:
10 miles per dollar on hotels and rental cars booked through Capital One Travel.

5 miles per dollar on flights booked through Capital One Travel.

2 miles per dollar on all other purchases.
While this card has a $395 annual fee, it comes with a plethora of perks like an annual $300 Capital One Travel portal credit; Plaza Premium, Capital One Lounge and Priority Pass lounge access (which includes many Air France lounges); and Hertz President's Circle status. Plus, it has a 75,000-mile welcome bonus when you spend $4,000 on the card in the first three months of account opening.
If you're a renter, you might consider opening the Bilt Mastercard® to earn Bilt Rewards points that you can transfer to Flying Blue. You will earn 1 point per dollar when you pay rent to any landlord through Bilt with no added fee. Plus, you'll earn 3 points per dollar on dining; 2 points per dollar on airfare, hotels, rental cars and cruises; and 1 point per dollar on all other purchases. Better yet, the card has no annual fee.
Related: Luxury perks for a reasonable annual fee: A review of Capital One Venture X

Stay at Accor hotels and earn bonus points
Flying Blue and Accor Hotels — a French hotel group that includes brands like Fairmont, Novotel and Ibis — have a partnership called Miles+Points. Flying Blue members earn Accor Live Limitless points when flying on member airlines, thanks to this partnership. Conversely, you can use the program to earn Flying Blue miles when staying at Accor properties. These points are earned in addition to the typical rewards, so you can double dip.
Make sure to link your Flying Blue and Accor Live Limitless accounts on the Flying Blue Miles+Points website to earn these bonus points. Earnings start immediately, so do it before your next Flying Blue member flight or Accor hotel stay.
Book other hotels through Flying Blue
If you're not staying at an Accor property, you can still earn Flying Blue miles when you book hotels. Flying Blue has a hotel booking platform called hotels for Miles. Using this portal, you can earn up to 10,000 Flying Blue miles per night booked through the portal, with promoted and more expensive stays generally earning more miles.
For example, a one-night $246 hotel room at the Kimpton Hotel Monaco Washington DC earns 6,100 Flying Blue miles per night.

Just note that you may not always get the best deal when you book through this portal, so compare the listed rate with the price of booking your hotel directly. Furthermore, you generally won't be able to use hotel elite status benefits or earn hotel points on these stays; you often need to book directly to use these benefits.
Additionally, some hotel bookings are charged in euros, so make sure to use a credit card that doesn't charge foreign transaction fees. If you don't, you could pay up to 5% in fees on your booking, offsetting the value of any miles earned.
Additionally, you can earn 1 Flying Blue mile per 1 euro spent on Booking.com if you go through Flying Blue's Booking.com portal. While you can still not use elite benefits and earn hotel points, Booking.com sometimes has excellent deals on boutique hotels and bed-and-breakfasts that wouldn't otherwise earn hotel points.
Related: How I saved over $16,000 on my 1st international business-class flight using points and miles
Redeeming miles with Flying Blue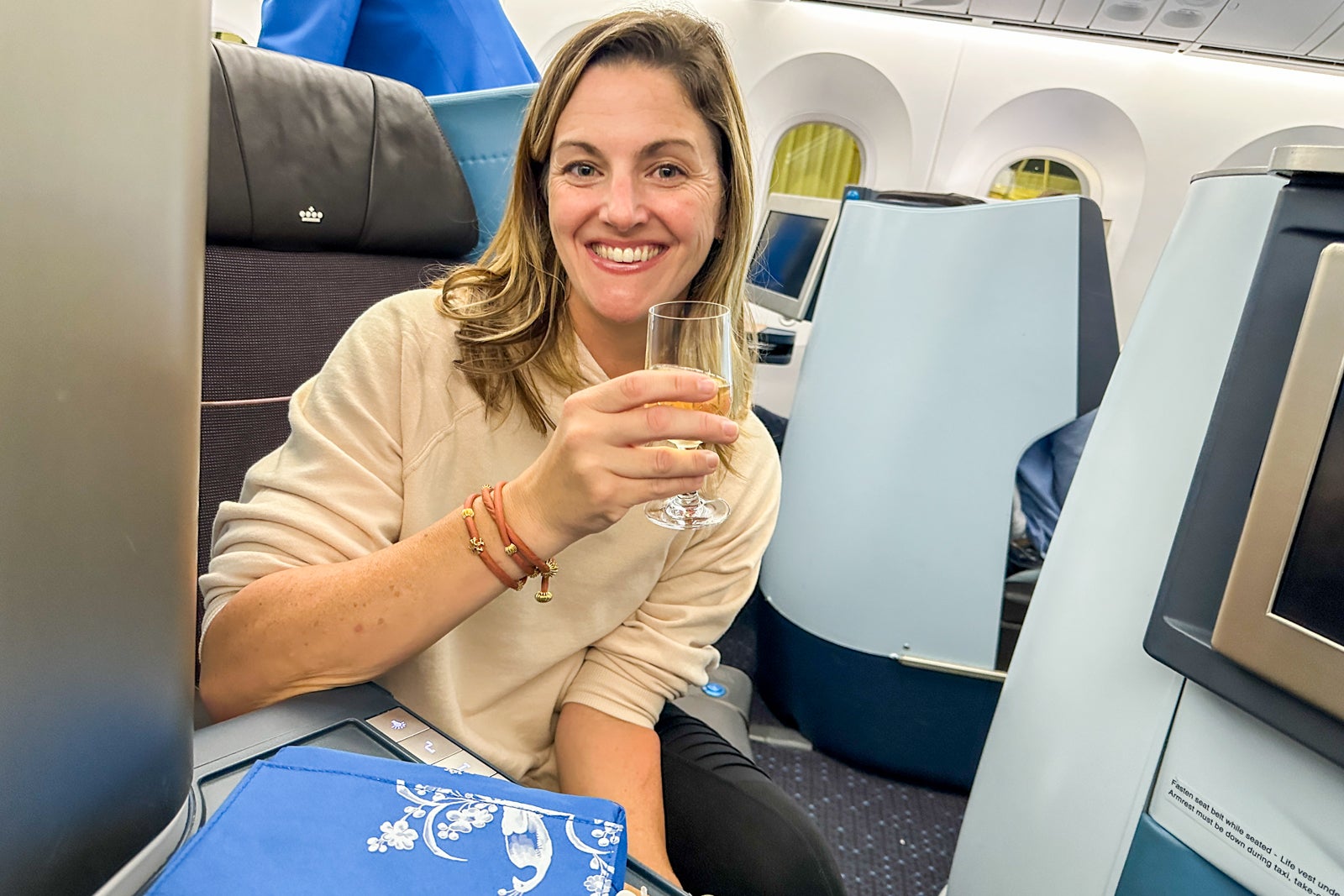 Now it's time for the fun part: redeeming Flying Blue miles.
While there are various ways to redeem Flying Blue miles, I recommend sticking to award flights. This will almost always give you the most value for your miles.
You should be aware of a few implications before redeeming your miles, though. Since 2018, Flying Blue has used dynamic pricing. This means there's no set award chart, and some tickets can be extremely expensive — think 200,000 miles for an economy-class flight from JFK to London. That said, Flying Blue recently published an interactive award map with entry-level award rates.
Even with dynamic pricing, Flying Blue often has the best pricing for many SkyTeam awards, beating out Delta, Korean Air and other major airlines. The key to finding these awards is to be flexible and keep an eye out for great deals. For inspiration, check out TPG's guide to maximizing Flying Blue miles.
The second thing you should be aware of is that Air France and KLM charge moderate fuel surcharges on some tickets. You can expect to pay $200 to $350 on a one-way business-class award ticket across the Atlantic. While these fuel surcharges are significantly less than those charged by airlines like Emirates and British Airways, it's still something to keep in mind as you compare pricing across loyalty programs.
Thankfully, the program doesn't pass on fuel surcharges for all airlines. You can redeem Flying Blue miles on Air Europa, Delta Air Lines and Copa Airlines and pay nominal taxes and fees. For example, while transatlantic Delta One business-class award space is a rarity, if you find it on Flying Blue, taxes and fees generally do not exceed $15 when departing the U.S.
Even with fuel surcharges, paying $250 (on top of your miles) to redeem miles for a $2,500-plus Air France ticket on a transatlantic Air France or KLM flight is still an excellent deal, especially if you'd otherwise pay for the flight out of pocket.
So with all that out of the way, let's look at some of the best Flying Blue redemptions.
Related: Book this, not that: SkyTeam award tickets
Book Air France business class to Europe with a free stopover in Paris
While Flying Blue prices its awards dynamically, you can usually score a ticket from the U.S. to Europe on Air France or KLM for just over 55,000 miles in business class if you're flexible. This includes nonstop and one-stop connecting flights — in the screenshot below, I found a flight from Washington's Dulles International Airport (IAD) to Adolfo Suárez Madrid-Barajas Airport (MAD) for 56,500 miles and $215.80 in taxes and fees.

Since this flight has a connection in Paris, you could spend a couple of days in Paris using the free Flying Blue stopover. This is a great way to visit another city without forking over additional miles or cash. To book Flying Blue stopovers, you'll need to call Flying Blue at 800-375-8723.
Transatlantic Flying Blue award rates can be reasonable, so it's worth checking Flying Blue when planning trips to Europe.
Fly Delta between the US and Europe, South America and beyond
As mentioned earlier, Delta doesn't charge fuel surcharges, so you can use your Flying Blue miles to book Delta tickets with low fees. For example, you can book an economy-class flight from New York to Dublin for just 22,500 Flying Blue miles and $10.10 on many dates in 2023. Alternatively, you can book the same flight in business class for 56,500 Flying Blue miles with the same low taxes, but award space is significantly more limited in business class.

Just note that Virgin Atlantic Flying Club often has better deals on Delta flights to Europe. Earlier this year, Virgin Atlantic had wide-open award space on Delta One to Berlin Brandenburg Airport (BER) for 50,000 miles and minimal taxes and fees. So if you have transferable points, cross-check other airlines and book with whichever one offers the best price.
Keep an eye out for Promo Rewards
Every month, Flying Blue releases a batch of Promo Rewards. You can only book these deeply discounted award tickets within the same month they're released. They're more restrictive than standard Flying Blue award tickets — they can't be changed, so make sure your plans are finalized. But if you're willing to risk it, these promotions can provide an excellent deal on tickets to Europe and beyond (e.g., transatlantic business class for under 30,000 miles).
You can view an up-to-date list of Promo Rewards on the Flying Blue website, and TPG updates our Flying Blue Promo Rewards page at the beginning of each month with the latest deals.
Be sure to keep an eye on the Flying Blue Promo Rewards. There are some incredible deals to be had.
Fly Copa Airlines to Panama City and beyond
Copa Airlines is a Star Alliance member, but the airline has a non-alliance partnership with Flying Blue. This means you can earn and redeem miles with Copa, further expanding the reach of Flying Blue's loyalty program. Pricing usually starts around 21,500 miles for a ticket from North America to Copa's hub in Panama City, and you add connecting flights too.
Copa Airlines flies to major Central and South American cities like Bogota, Colombia; Sao Paulo; and Buenos Aires, Argentina.

Copa's flights are operated by a Boeing 737 or Embraer 190, so it's not usually worth paying more miles to book business-class tickets. However, passengers enjoy lie-flat seats on Copa's Boeing 737 MAX 9 flights. Business-class awards to the U.S. on Boeing 737 MAX 9s often cost around 55,000 miles.

To increase the odds of a lie-flat seat deep into South America, consider booking a ticket on Delta Air Lines.
Related: The ultimate guide to Delta One suites
Bottom line
Flying Blue is one of the world's largest frequent flyer programs. You can earn miles with all Flying Blue airlines and their SkyTeam and non-alliance partners, meaning that you can book thousands of different routes with your miles. While its elite status program isn't the most rewarding, earning status is easy enough with the loyalty program's U.S. credit card, and includes full SkyTeam elite status benefits when you reach Platinum status.
I think that the best way for most people to earn Flying Blue miles is with transferable-points credit cards like the Chase Sapphire Preferred. Not only will you earn more points on most purchases, but you'll also have the flexibility to redeem your points with other partners.
See Bilt Mastercard rates and fees here.
See Bilt Master card rewards and benefits here.
Additional reporting by Kyle Olsen.