You probably don't need me to tell you that the average stay at a Walt Disney World Resort hotel can be quite expensive.
Even if you avoid the higher-end "deluxe" resorts, which routinely go for around $500 to $700 per night, properties in the moderate category still often exceed $300 per night. And if you rub away the pixie dust and ignore the theming and proximity, let's be honest: These are premium rates for otherwise pretty standard hotel rooms.
Of course, there are real advantages to staying in the so-called Disney bubble. However, sometimes that expense just isn't in the (credit) cards.
What if I told you I spent a night at the newest hotel in Disney Springs during a busy spring break week for an all-in total of $163? What if I also told you the rate included free hot breakfast, free afternoon popcorn and sodas, a hot evening fare and six adult beverages? Per night.
Do I have your attention? Good. Let's talk about the new Drury Plaza Hotel Orlando – Disney Springs.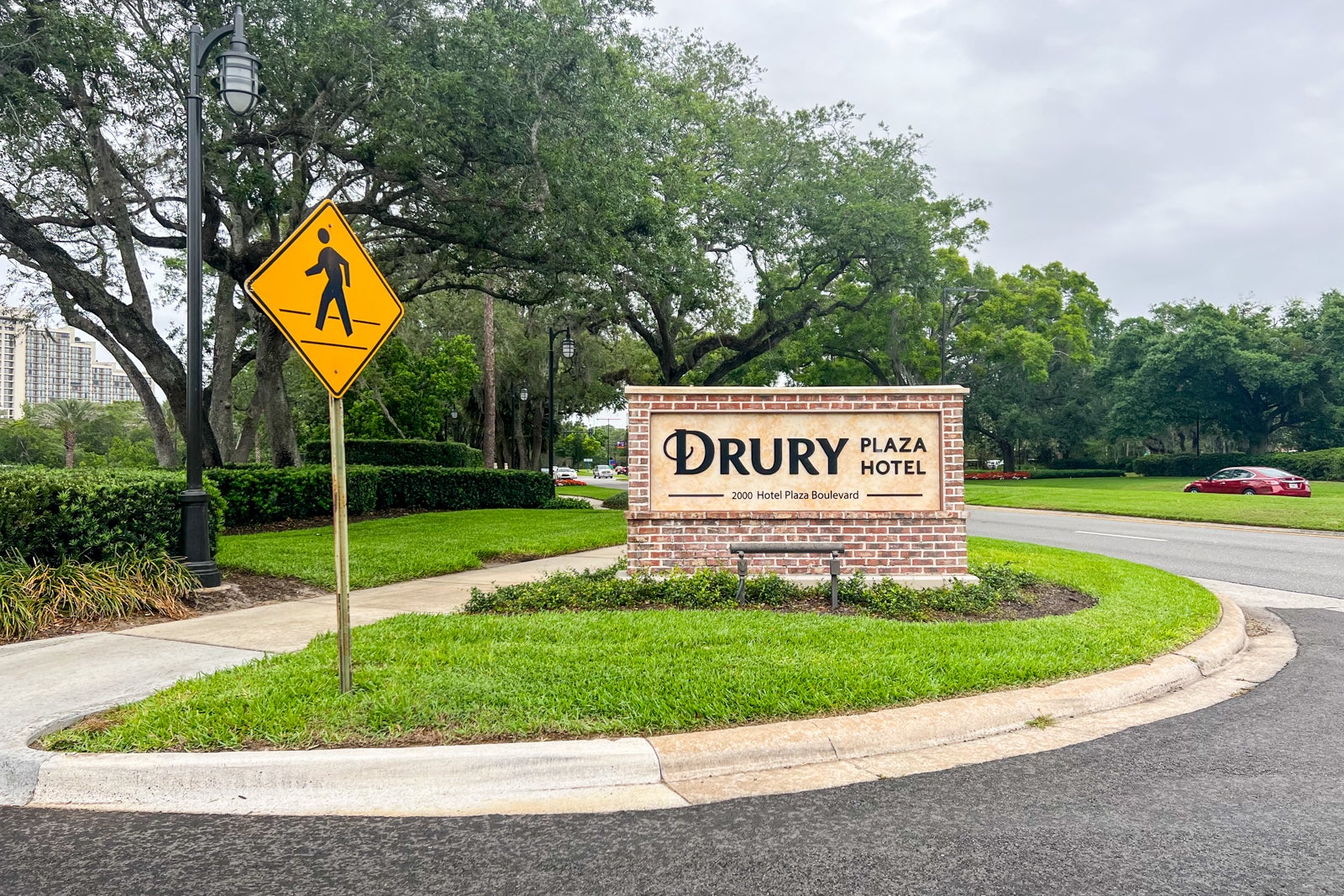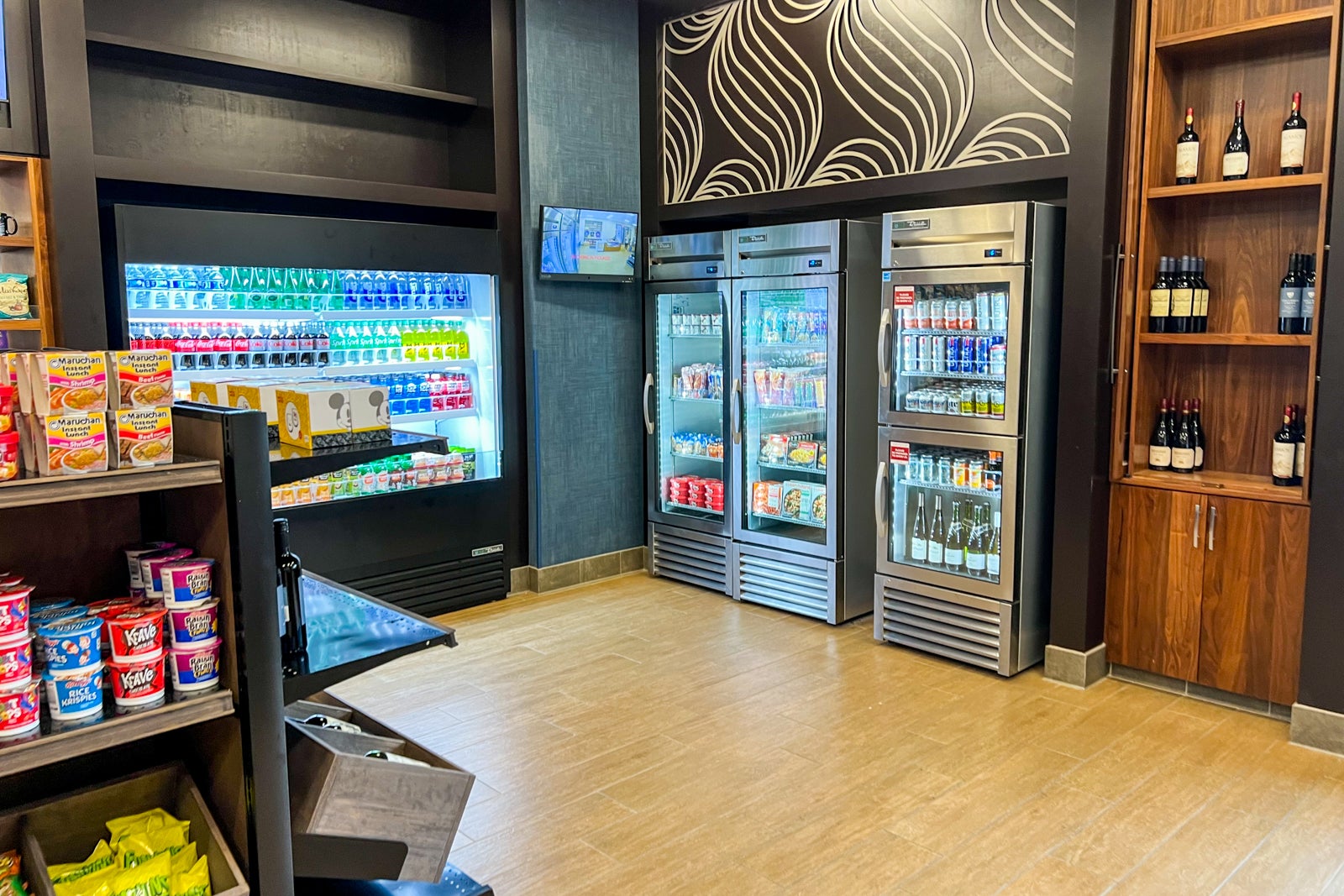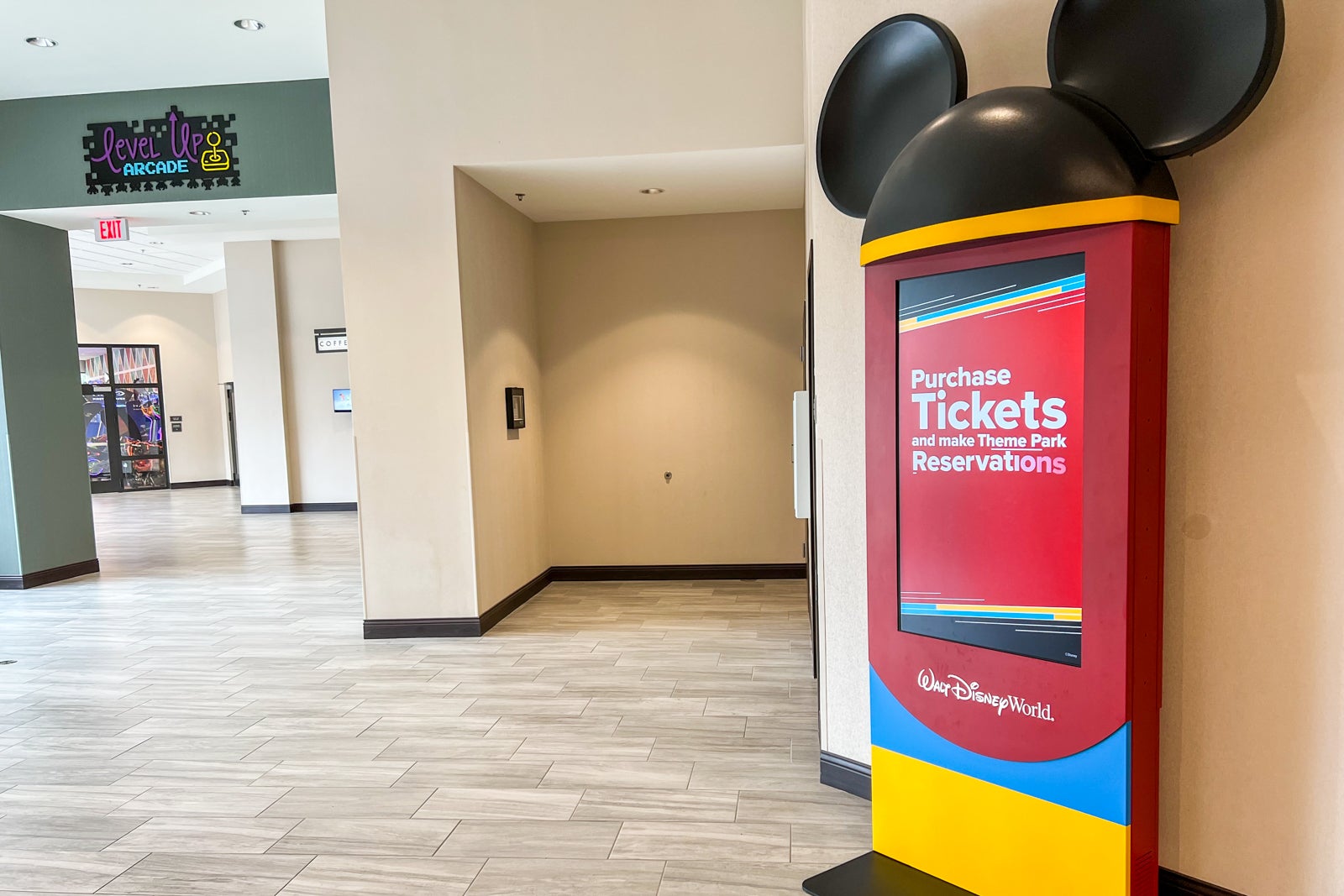 Some Disney perks — without Disney prices
Disney Springs is Walt Disney World's 120-acre shopping and dining destination that's on official Disney property but does not require a ticket to access and enjoy.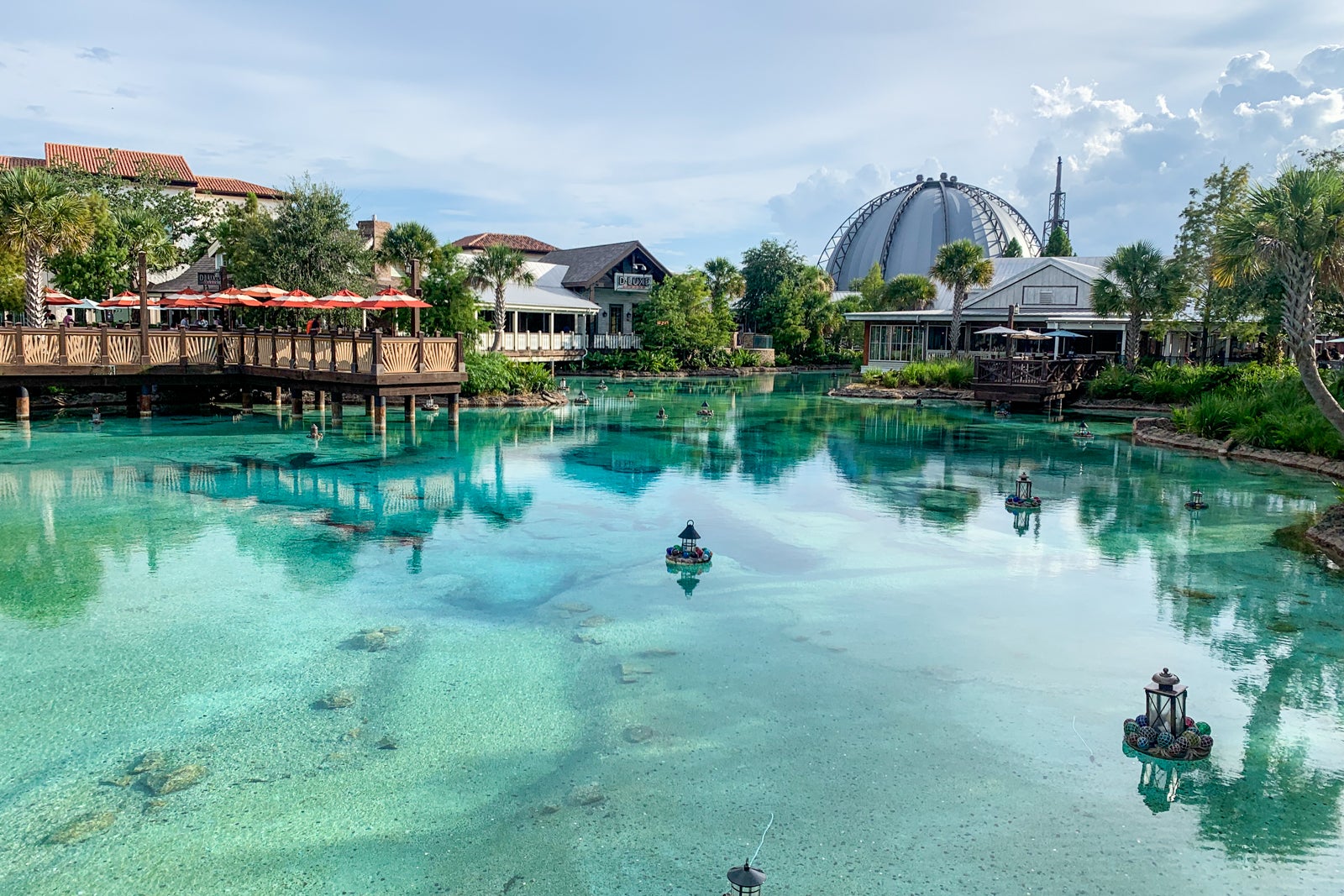 In the Disney Springs area, you'll find seven hotels from major chains such as Hilton, Holiday Inn, Wyndham and now, Drury. By staying at an official Disney Springs hotel, you typically pay a lot less than at a Disney-owned and operated resort, but you still get some Disney perks and proximity to the parks.
For example, you can link your stay to your Disney account and get access to the Disney theme parks 30 minutes early each morning when you stay at a Disney Springs hotel, just like you would at a Disney-owned resort. There is also complimentary shuttle service to the Disney theme parks from the Disney Springs hotels and the ability to access an on-site concierge and Disney tickets.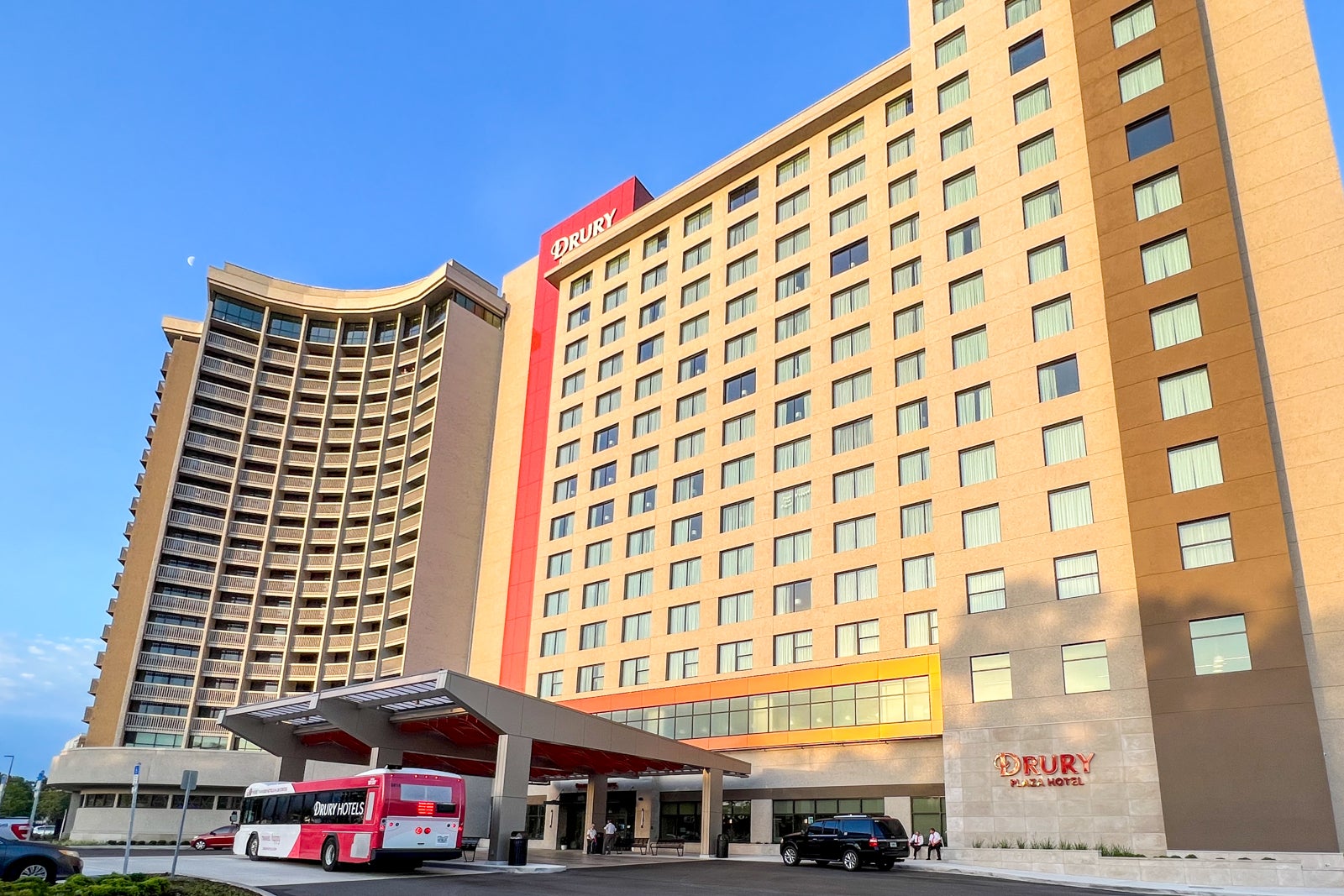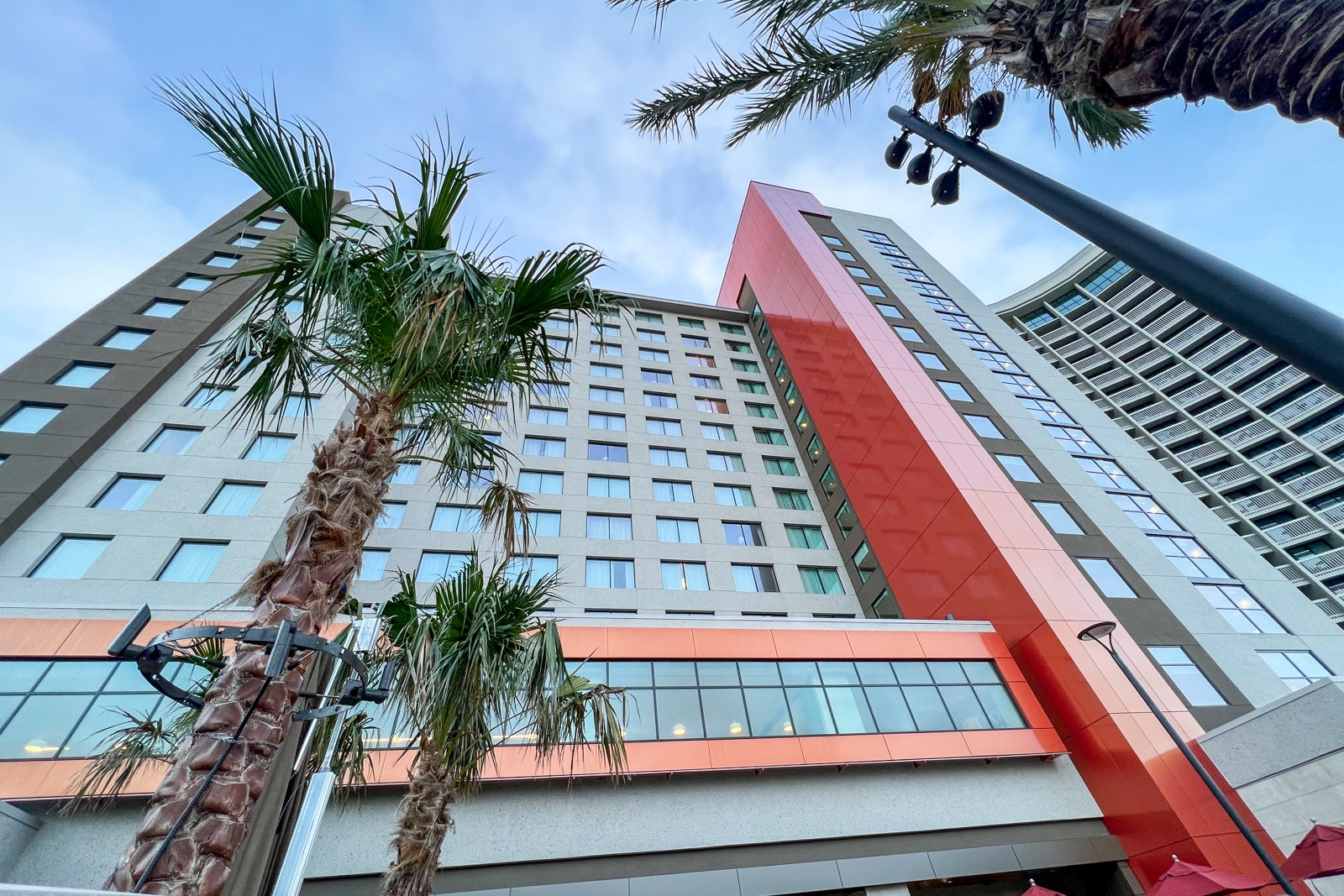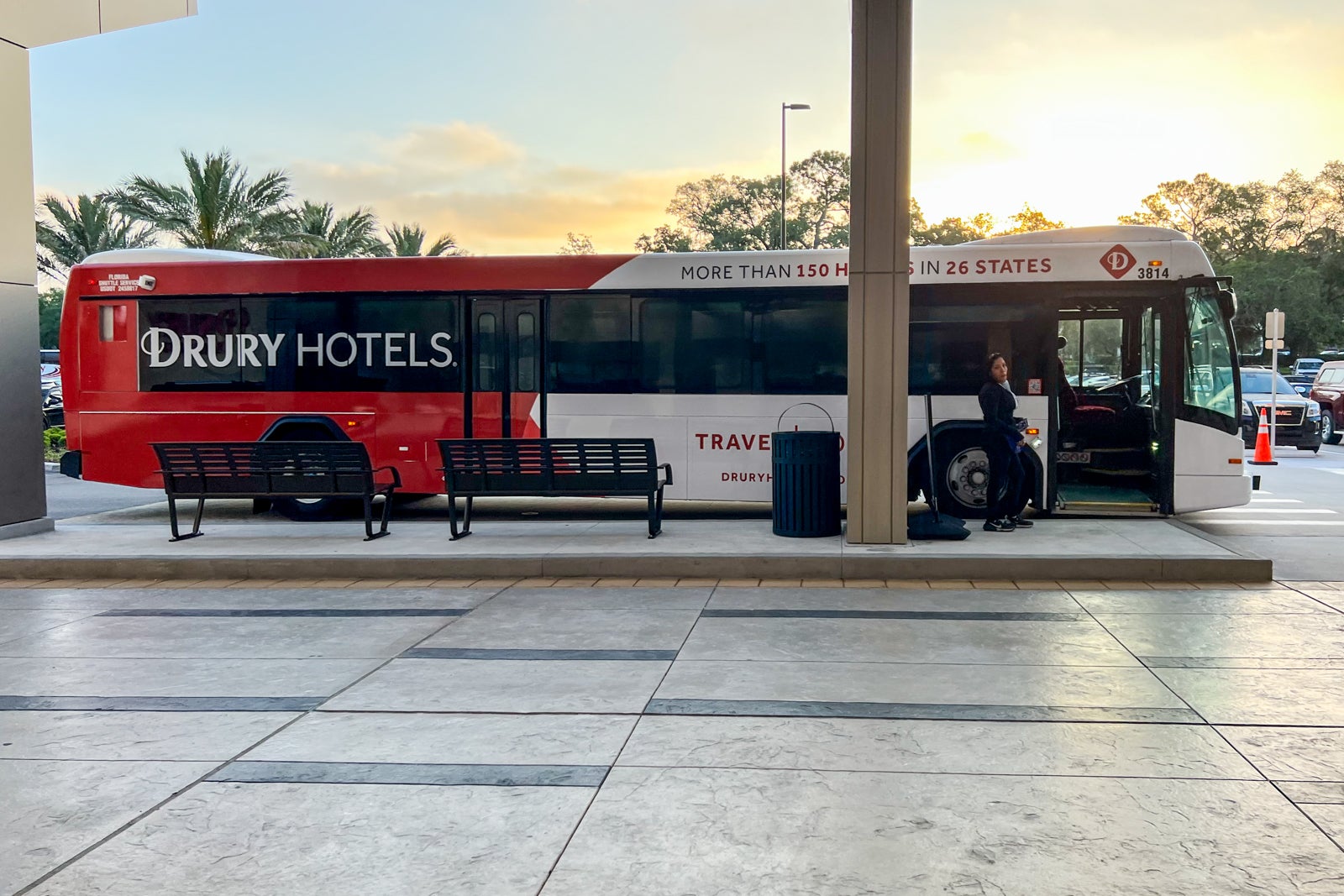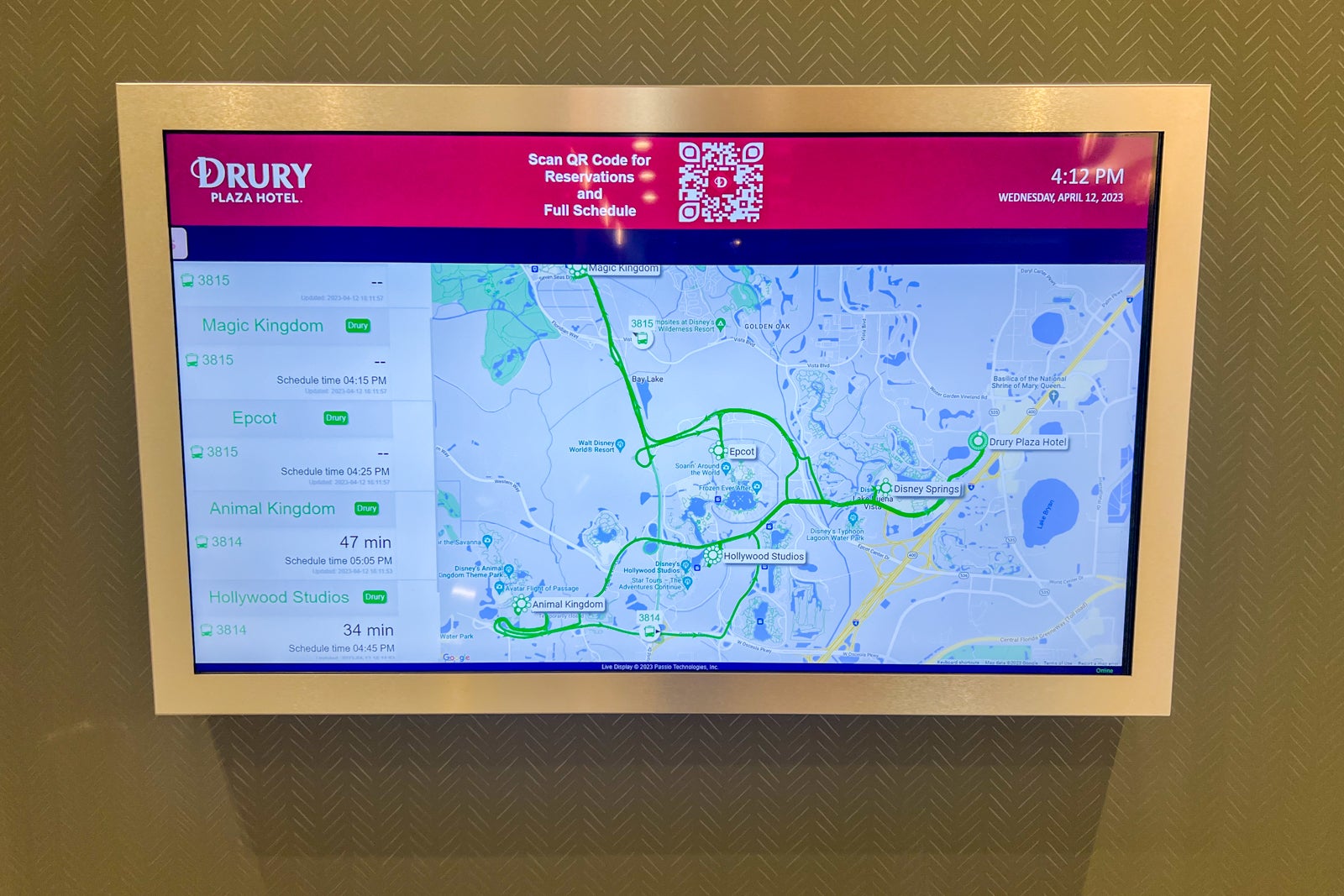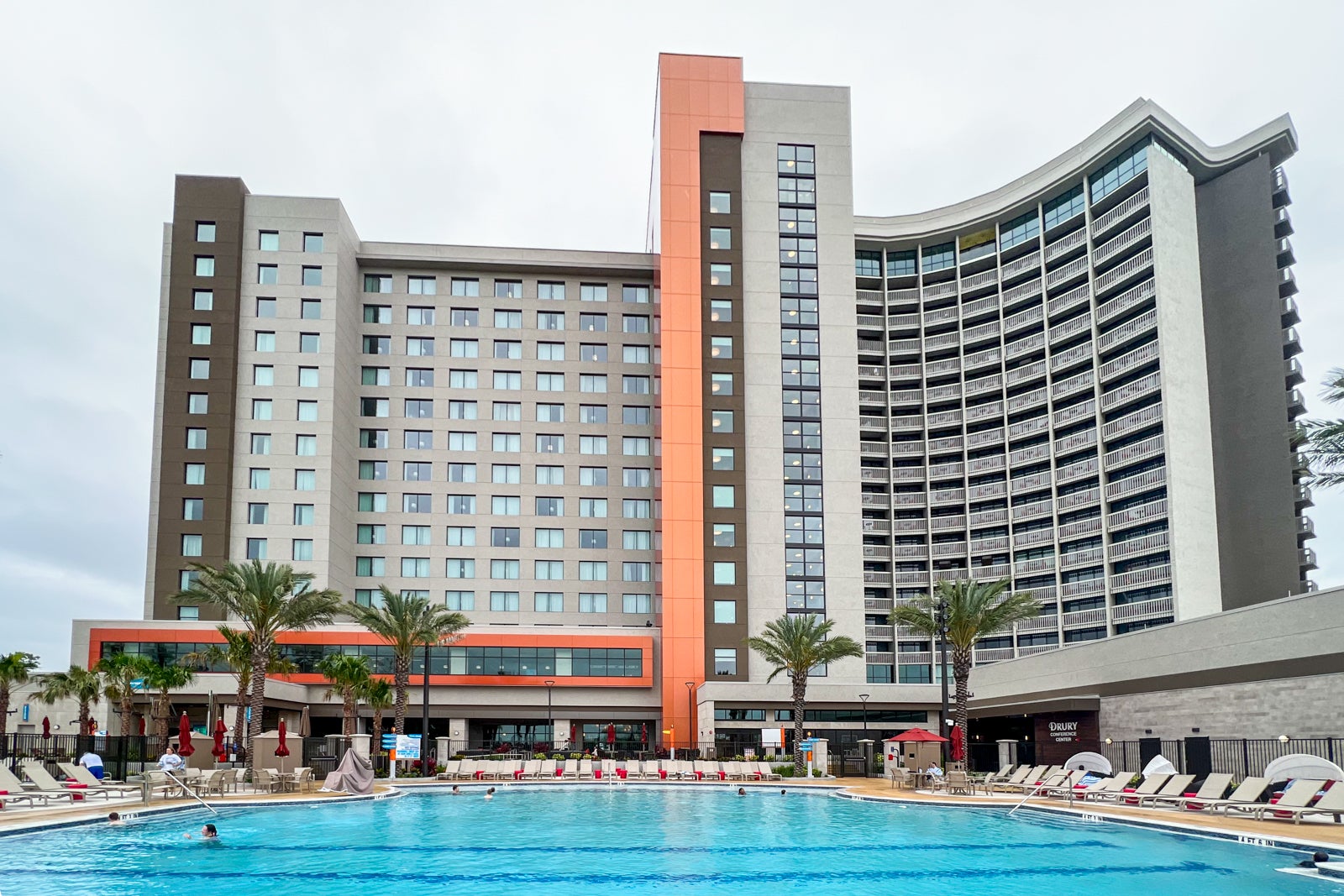 It's important to note, however, that while you can access virtual queues and Genie+ ride selections at 7 a.m. while at a Disney Springs hotel, you do not get 7 a.m. access to purchasing the individually-priced Lightning Lanes for the newest and most popular attractions (such as Tron and Guardians of the Galaxy) unless you are at a true Disney-owned resort or the on-property Swan, Dolphin and Swan Reserve.
Instead, when you stay at a Disney Springs property, you have to wait until the official park opening time to try and purchase those individual attractions. And sometimes, for the newest rides, that's too late.
The newest hotel at Disney Springs
If you put an aging luxury hotel up against a brand-new, midrange hotel, the odds are decent that you might enjoy the midrange property even more, especially if what you're after is mostly just a solid place to sleep.
And indeed, the new hotel smell, ample power outlets and modern conveniences that come with new properties are in abundance at the Drury Plaza at Disney Springs.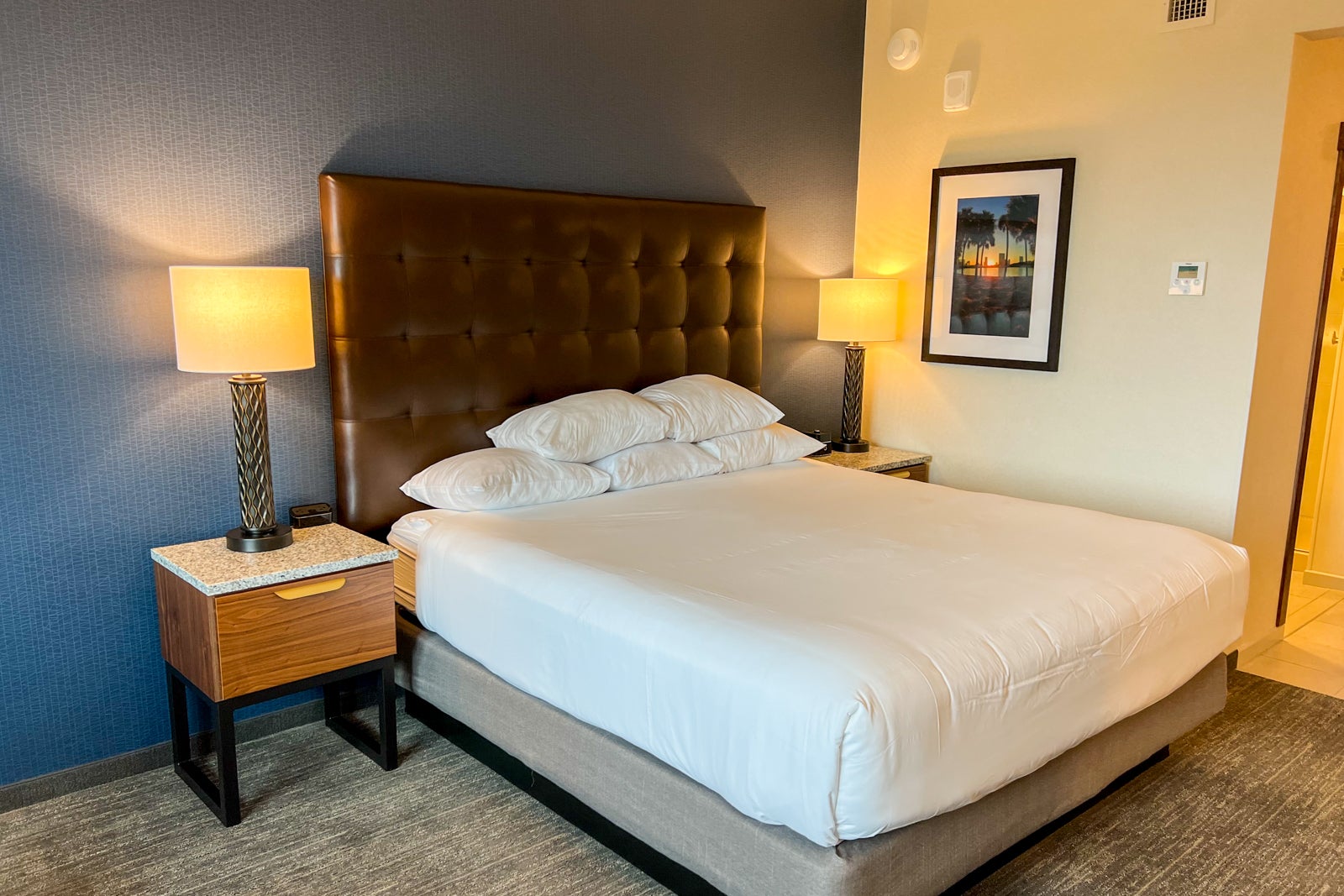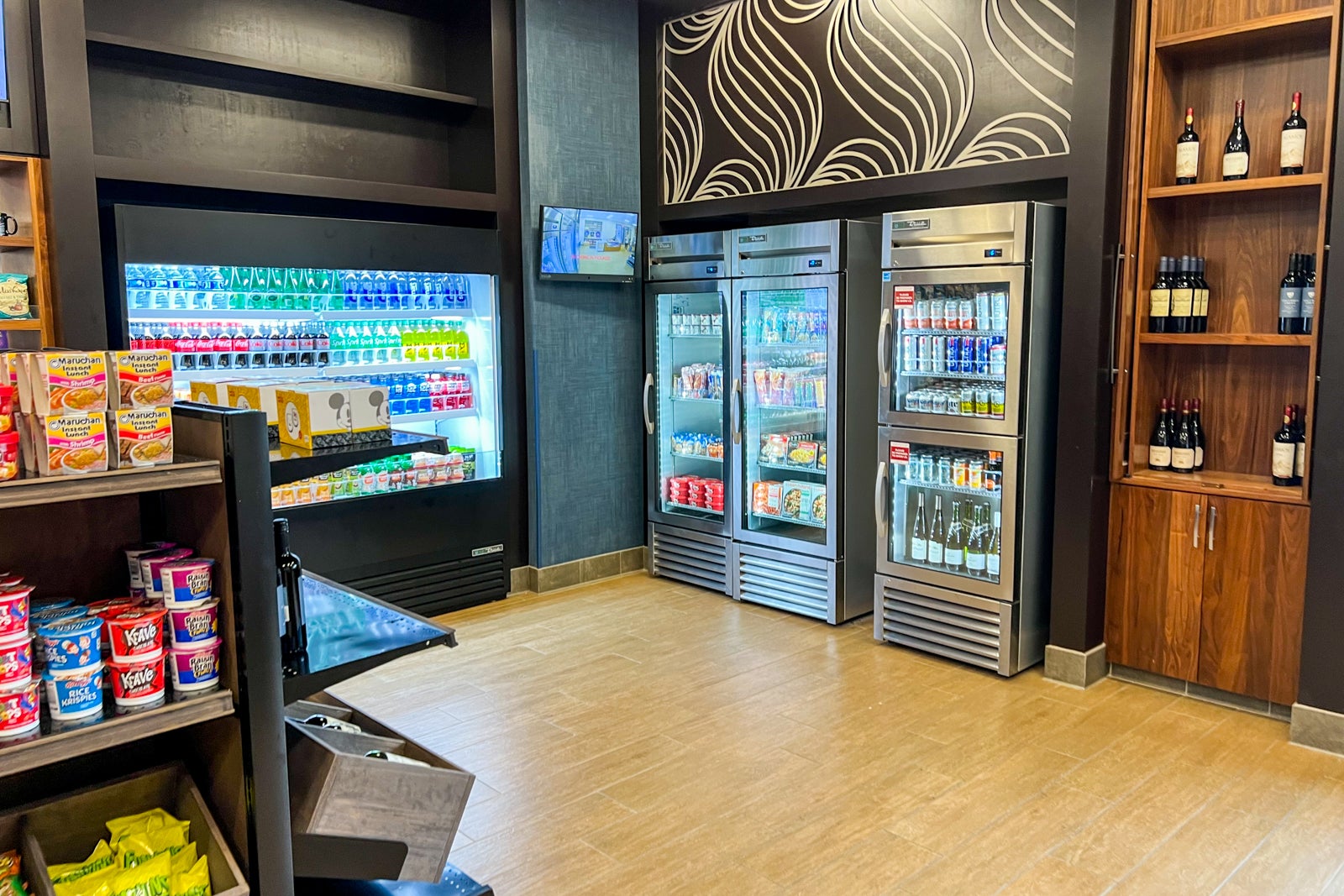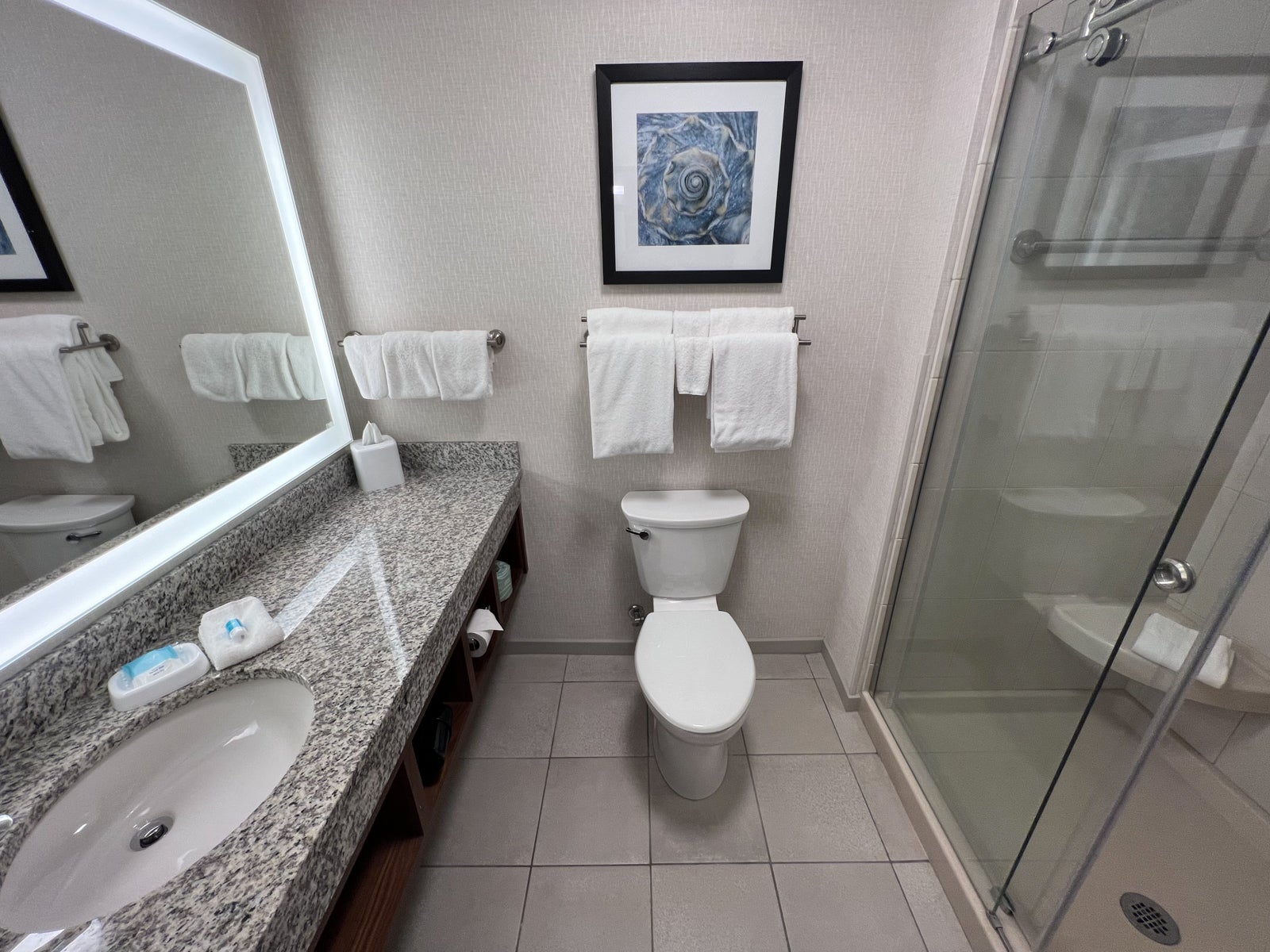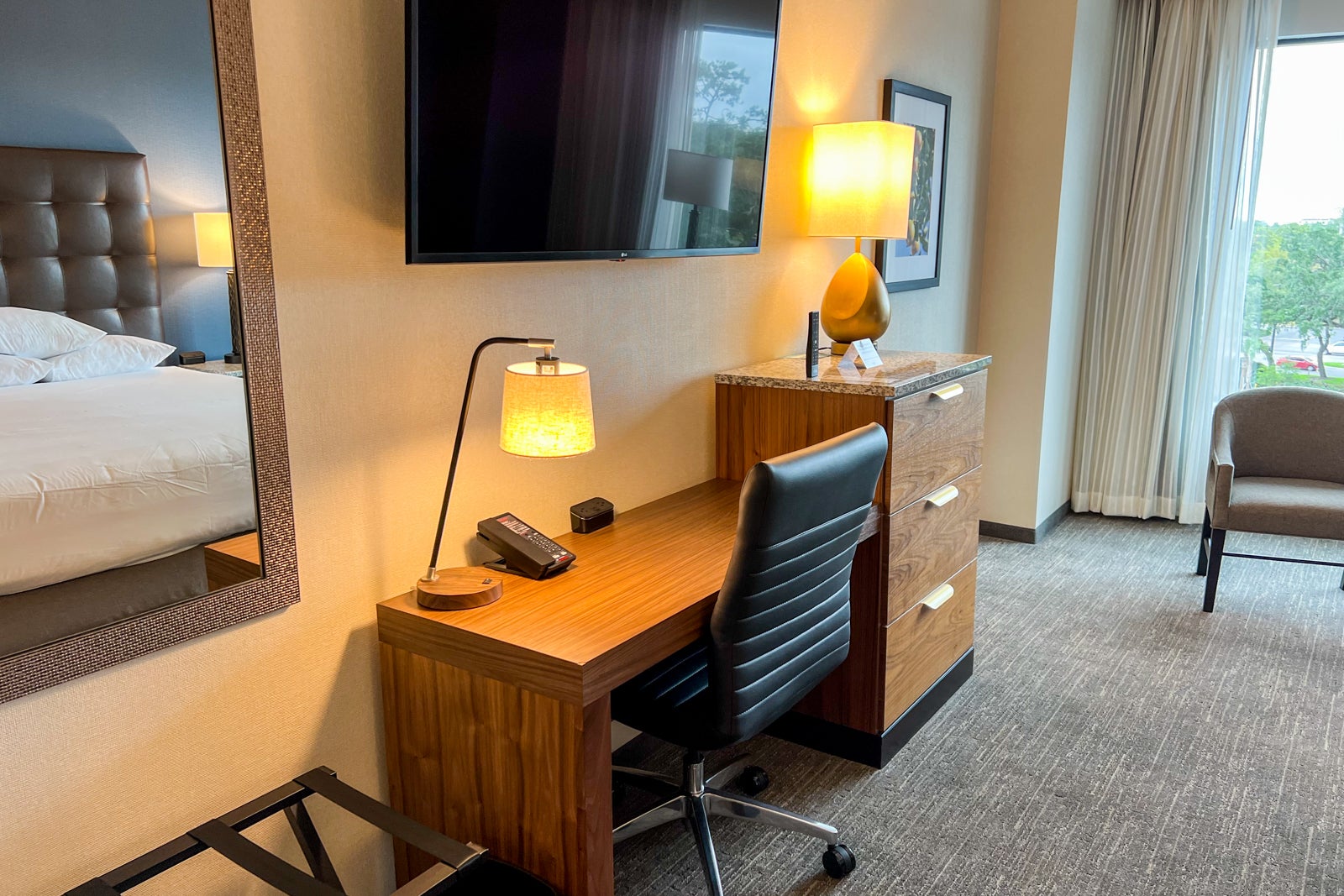 A Drury is not a Four Seasons, but it doesn't pretend to be, and everything I encountered at the Drury Plaza was in like-new condition. The newest option is usually a very good choice when in doubt about which hotel to pick in a lineup of otherwise similar stays.
This hotel is not only the newest in Disney Springs (it just opened in late 2022), it's also the newest in all of Disney World.
Related: Guide to visiting Walt Disney World
So much free food it's almost all-inclusive
The Drury brand is probably extremely underrated when it comes to budget-friendly travel. The brand offers free hot breakfast starting at 6 a.m. daily and a free evening "kick back" from 5:30 to 7:30 p.m. each evening, which includes what they describe as "dinnertime snacks, cold beverages, beer, wine, mixed drinks and more."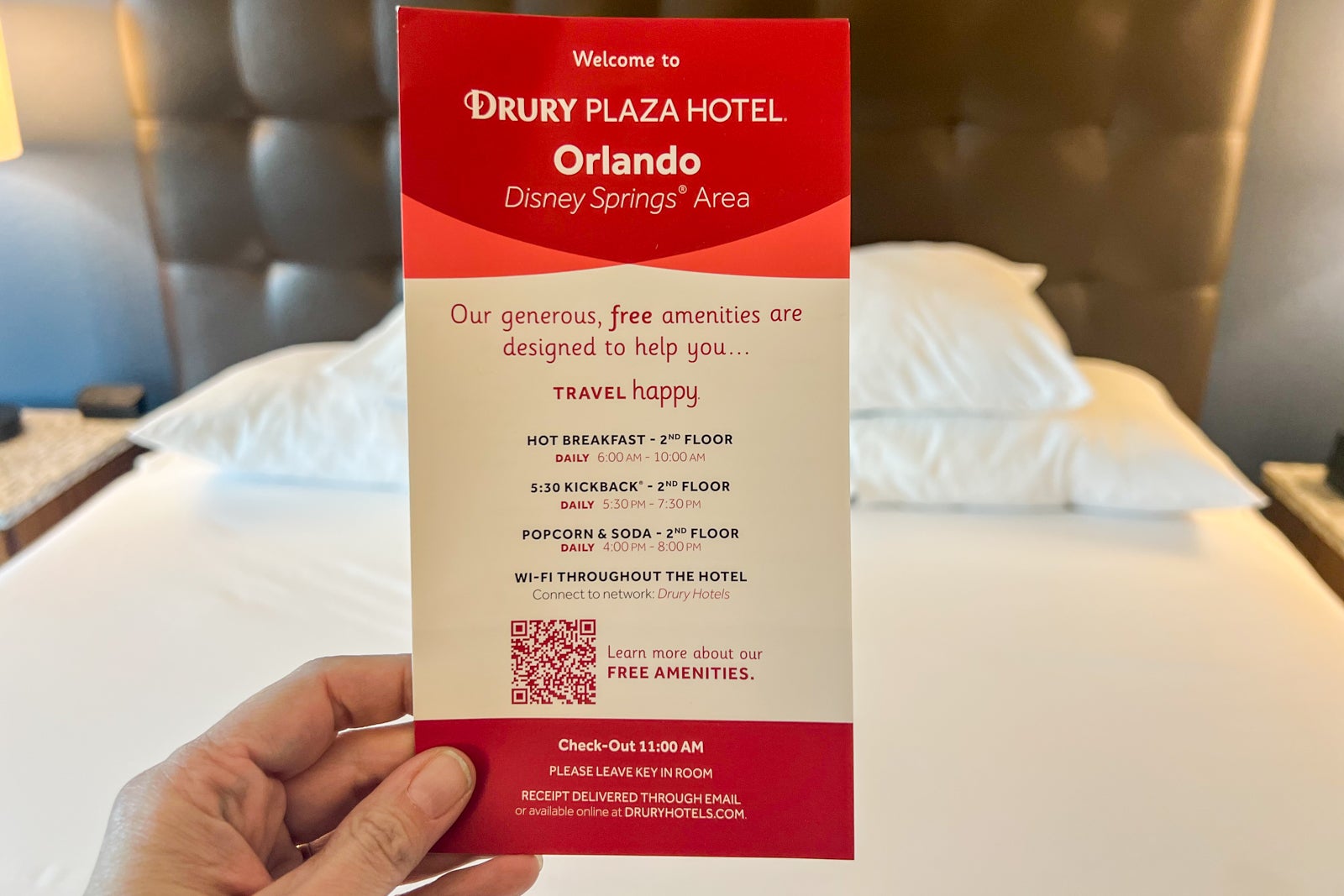 The Drury Plaza Hotel Orlando also has free sodas and popcorn available for four hours in the afternoon. As someone used to Disney prices for soda and meals, I was completely shocked by how much was free at this hotel. A family can very realistically save over $100 per day in food costs by staying here.
The expansive spread for breakfast included scrambled eggs, pancakes, sausage, biscuits, juice and more that they prepare and replenish right in front of you. Breakfast is available starting at 6 a.m., which is great for guests looking to "rope drop" the Disney theme parks and get a few early-morning rides in before the wait times climb.
On the evening I was there, the free nighttime options included baked potatoes, mixed vegetables, fettuccine and chicken … which were quite generous "snacks." It wasn't Michelin-worthy fare, but it was also totally passable if you're looking for a convenient way to fill bellies and save cash.
Related: These are the best restaurants at Disney World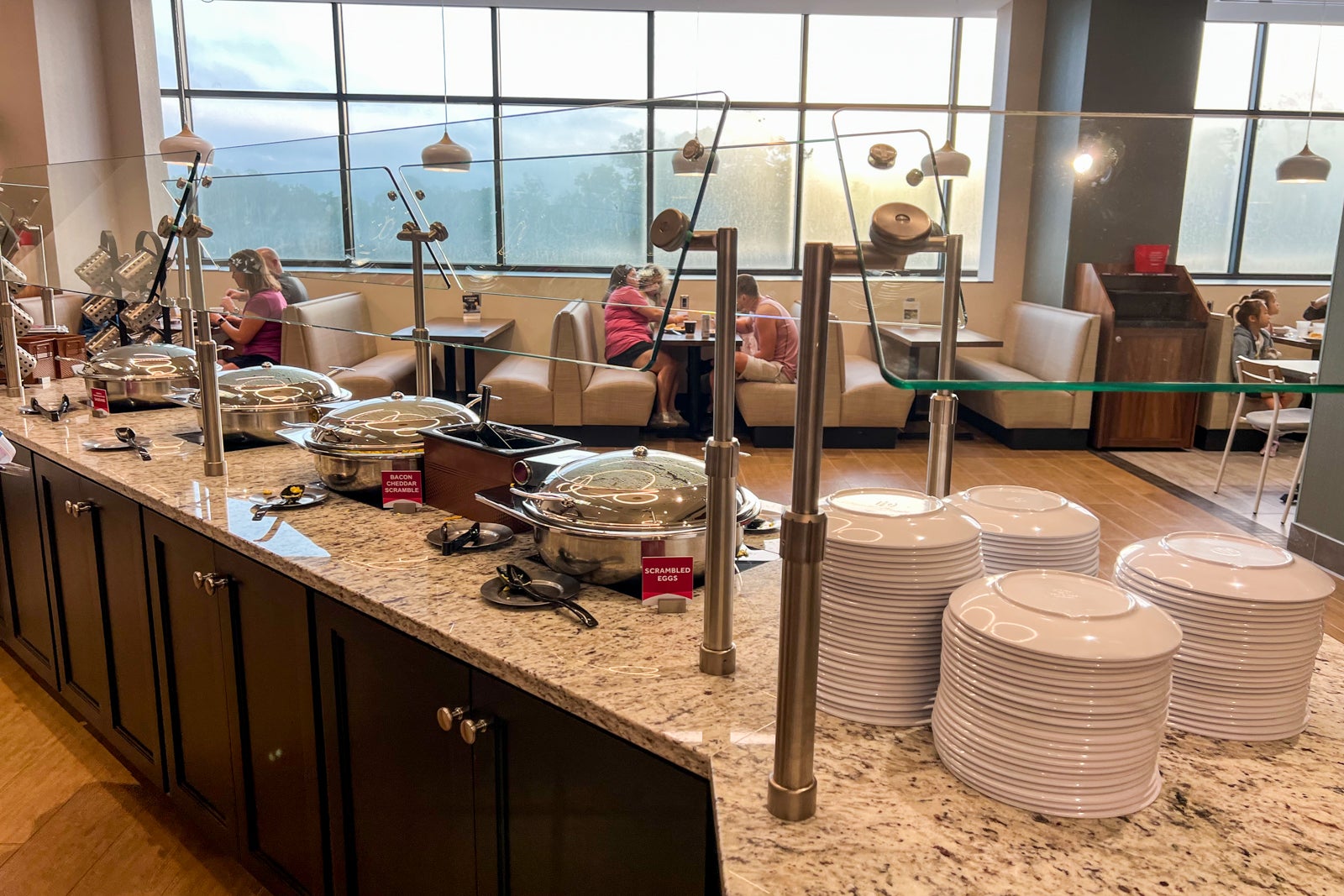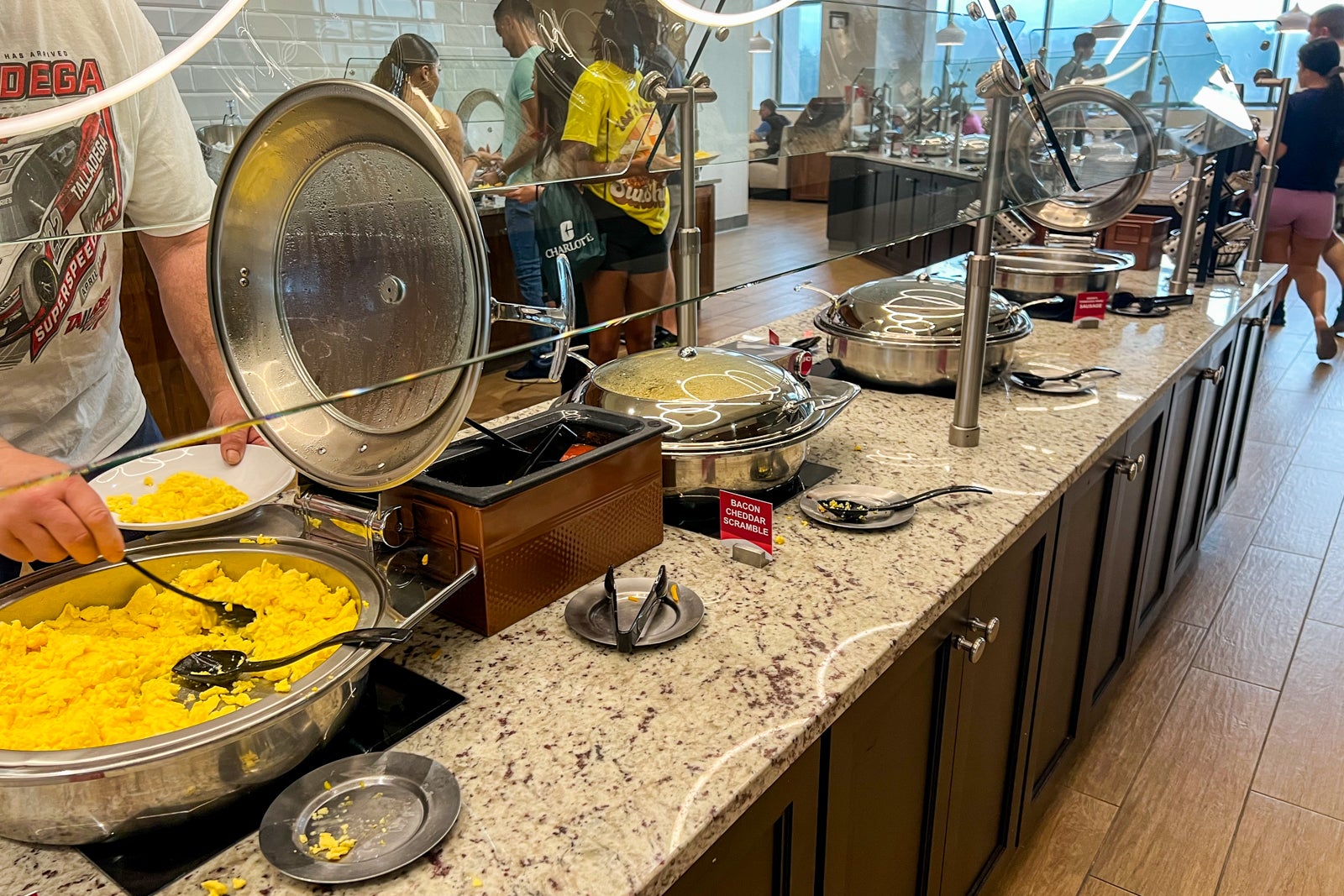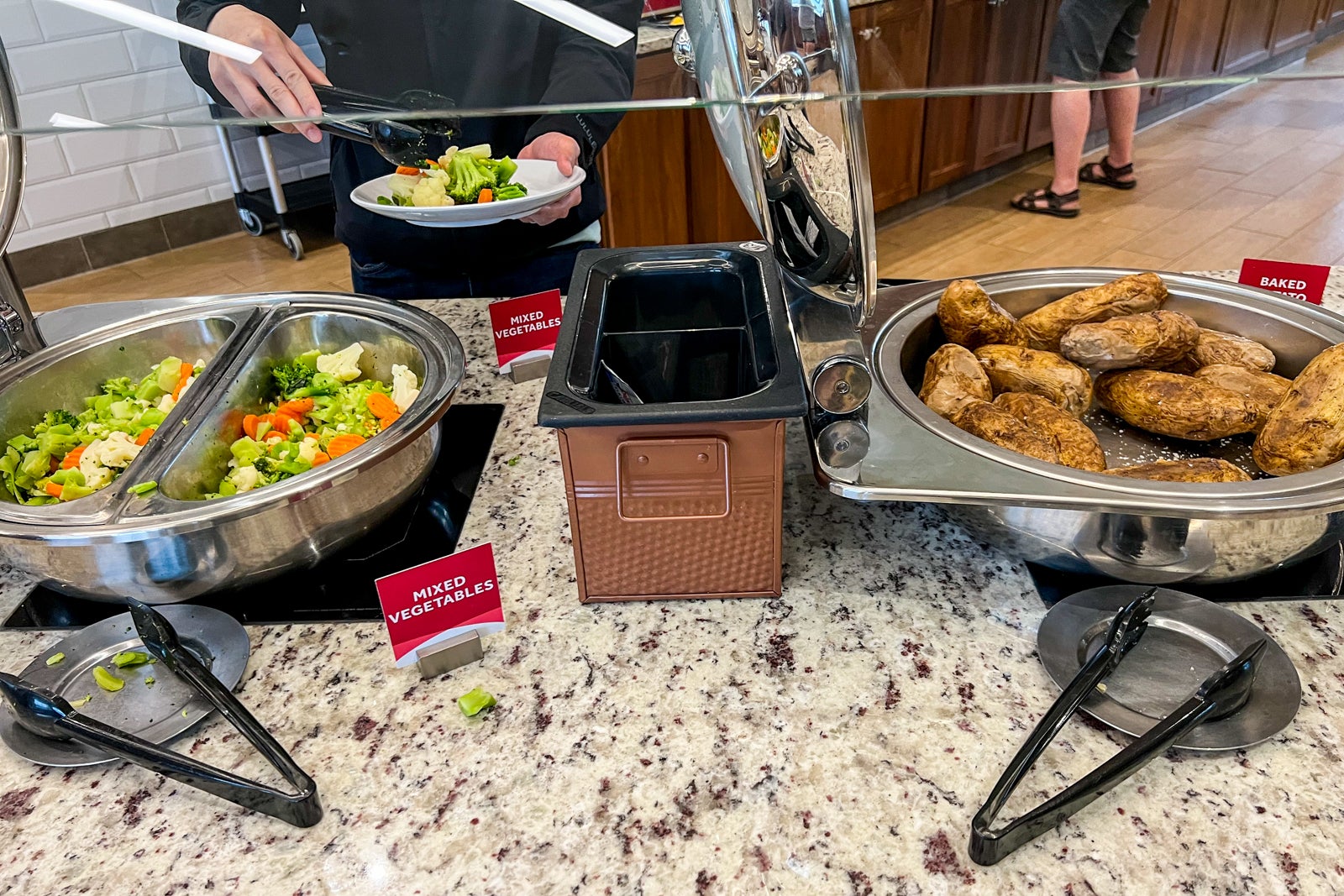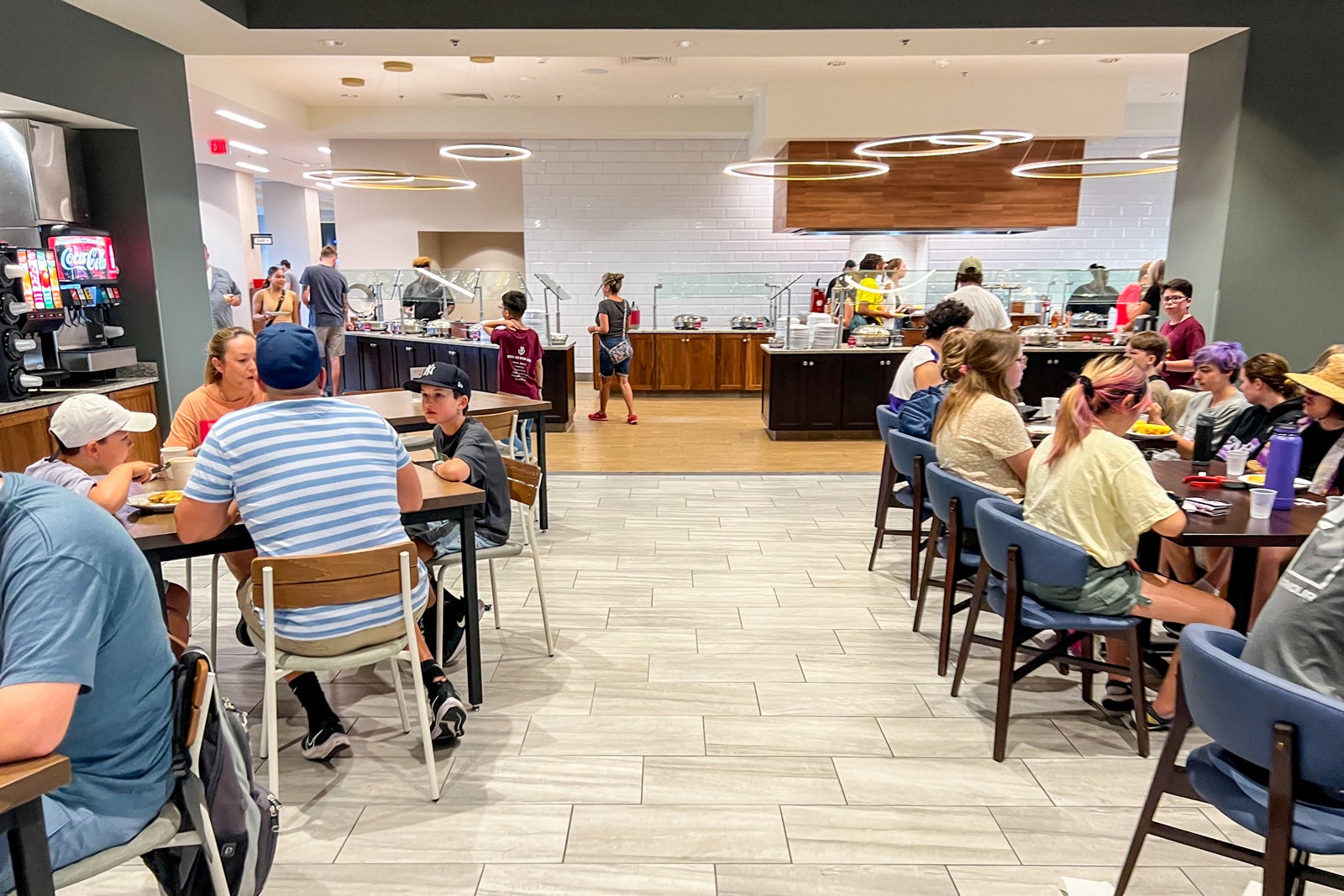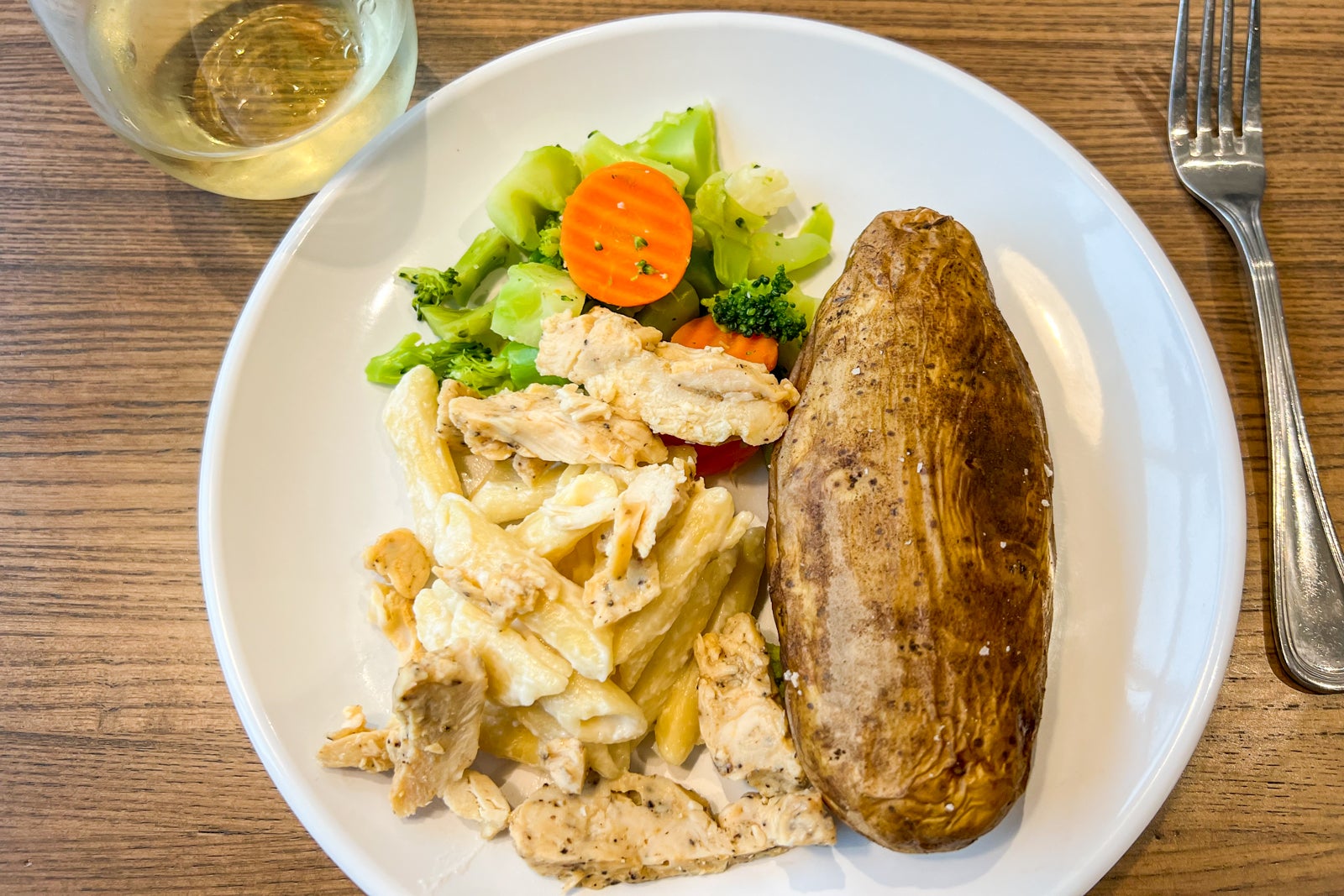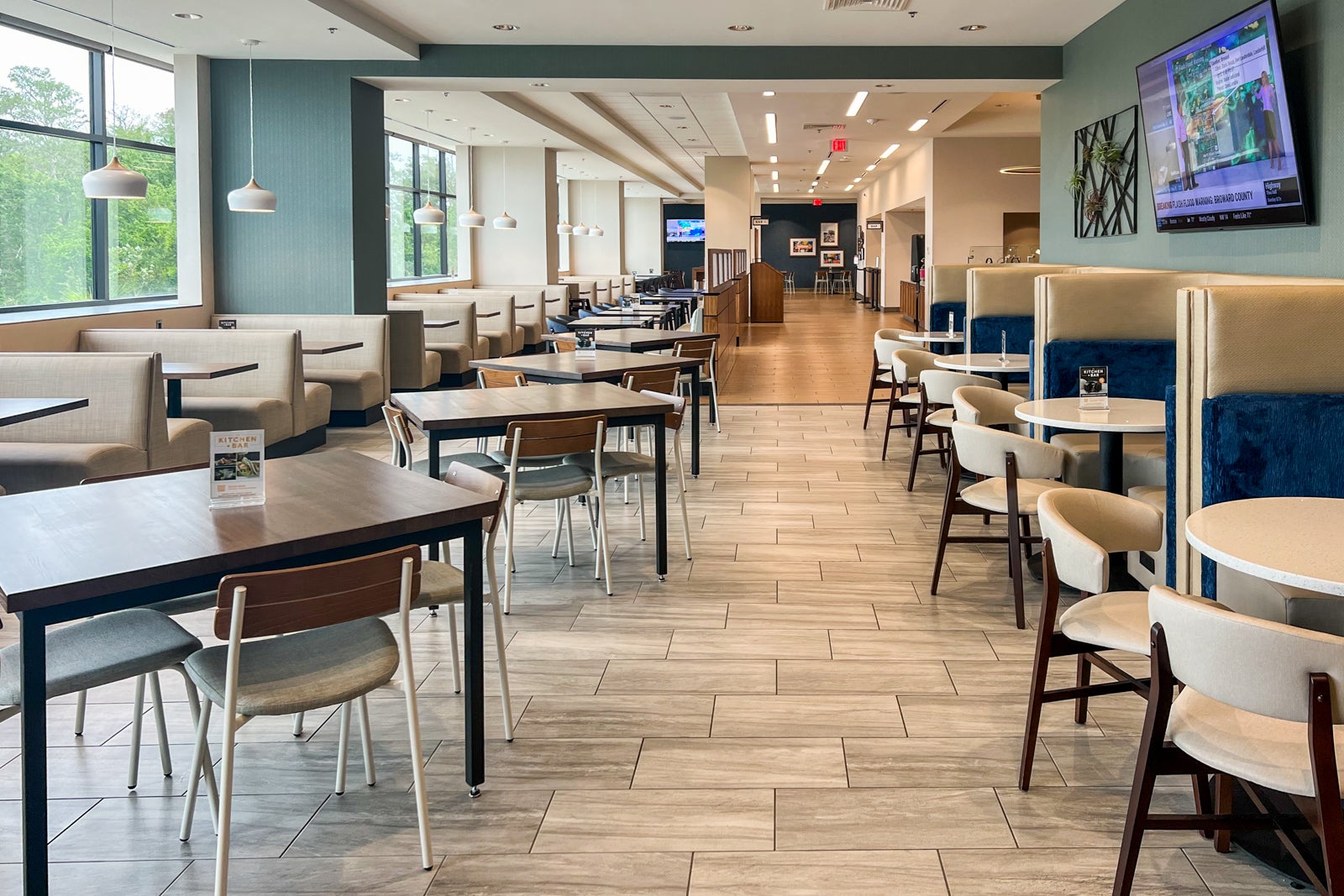 Perhaps more surprising than all of that were the six free drink coupons I was given — per night. In fairness, this was probably the number intended for two people, but still, half a dozen free nightly drinks are unheard of at any other hotel in the area unless you're shelling out to stay in a Disney club-level room or similar.
I can't imagine redeeming all six of these drinks every night on a busy theme park trip. Still, you theoretically could, and the free options included Bud Light, a local craft beer (Oyster City, for example), wine, Jack Daniels, Johnny Walker Red Label, Bombay Sapphire, Juarez tequila, mixers and more.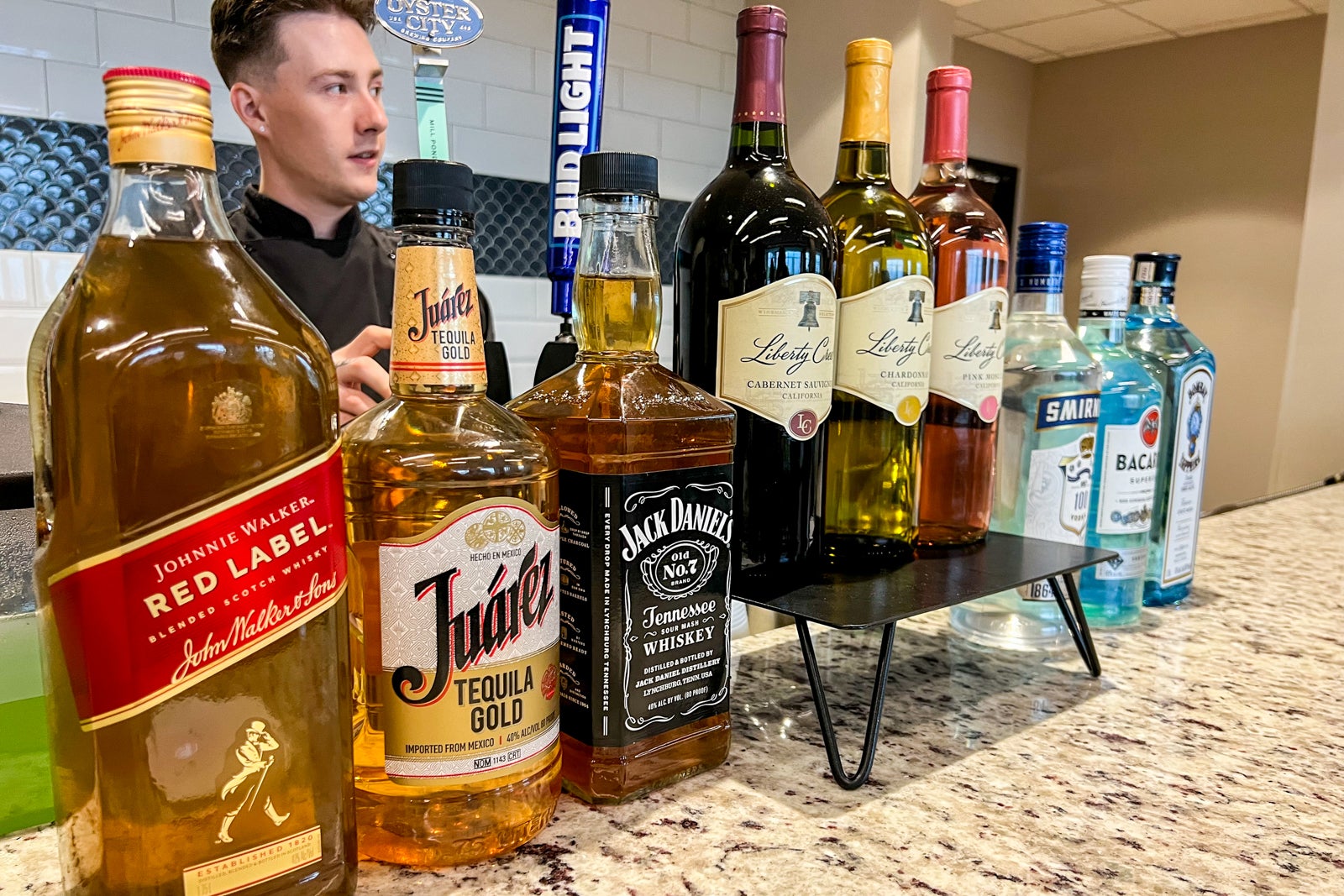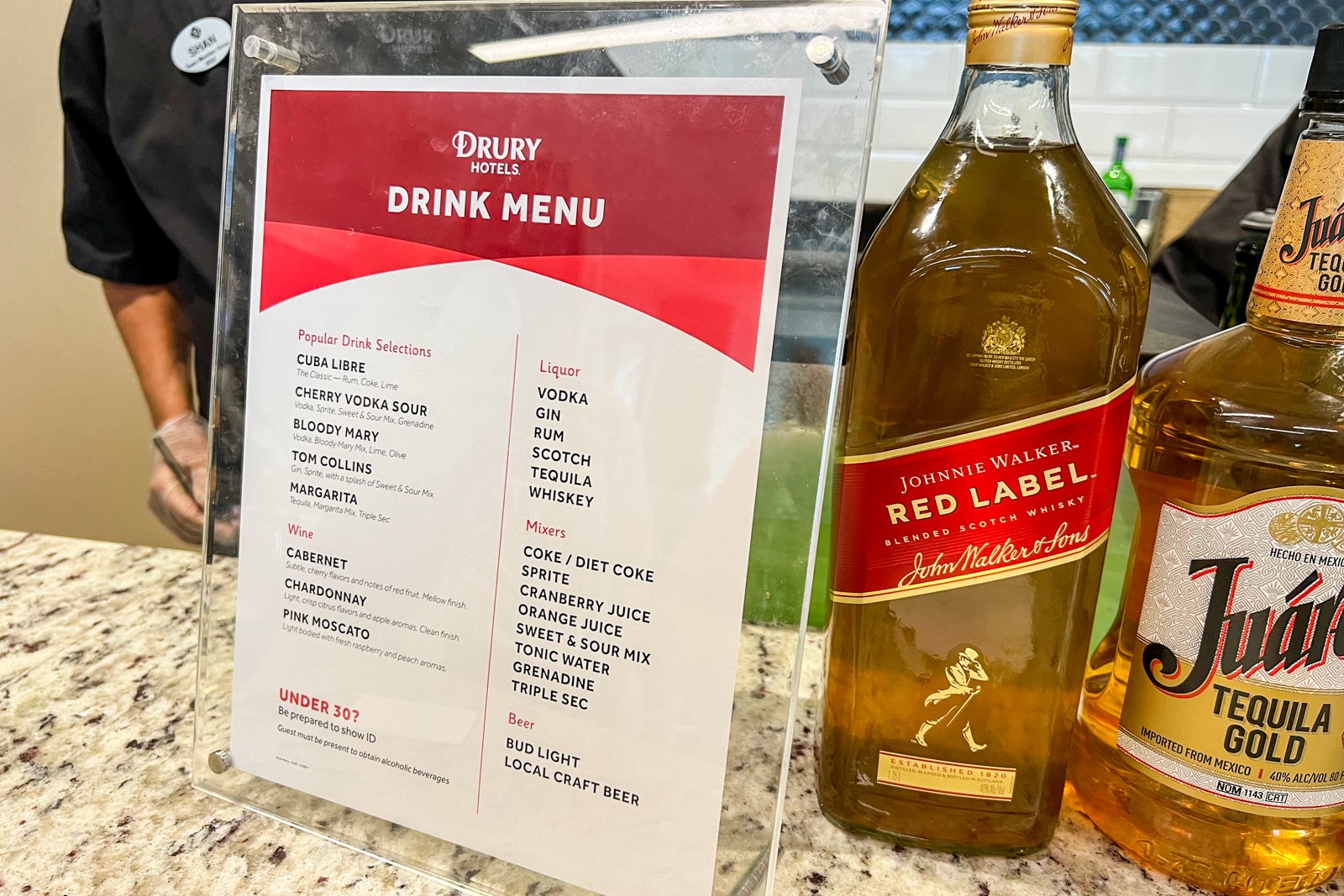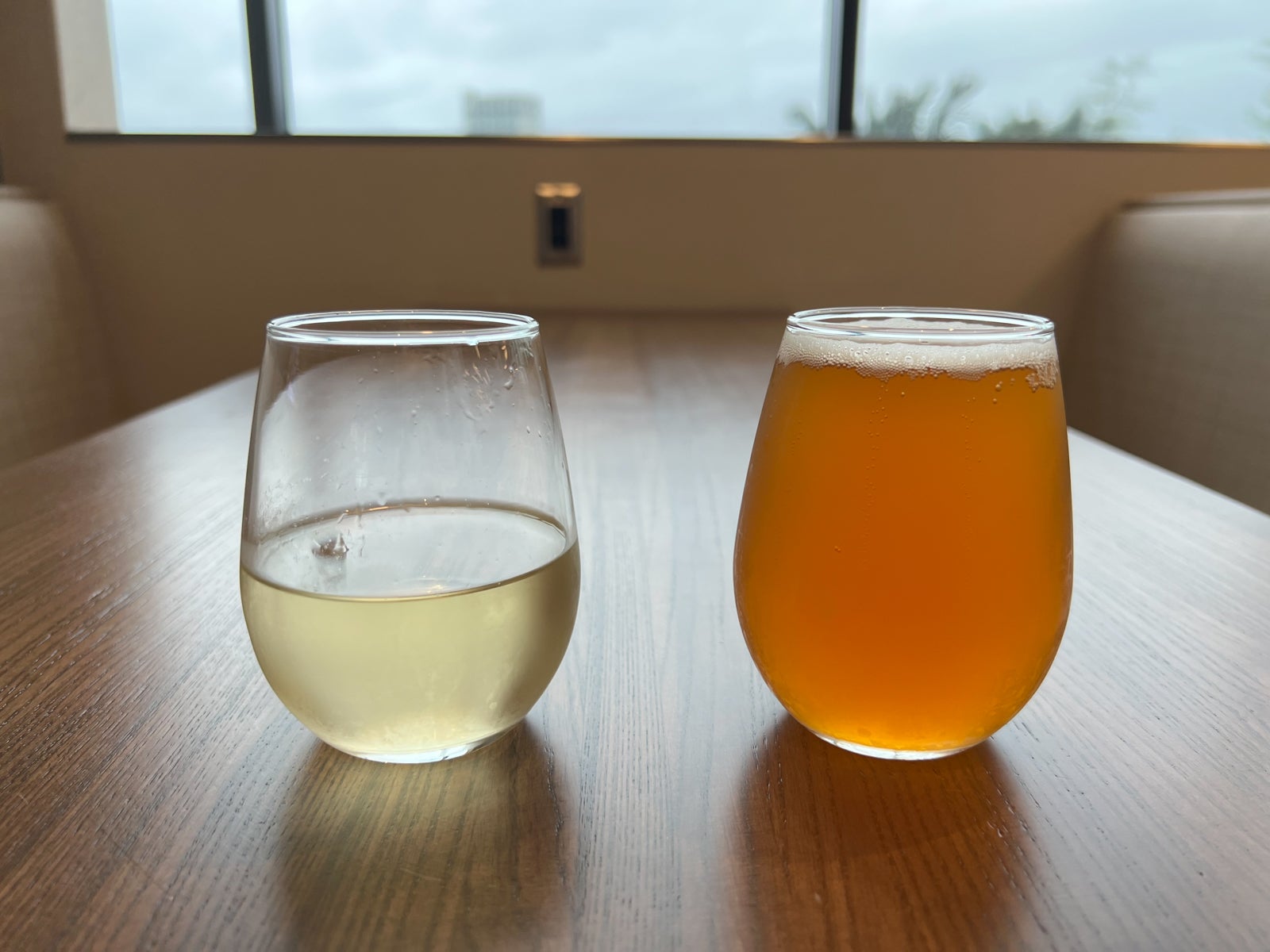 No resort fees
In an era of fees — including at some neighboring Disney Springs hotels — this lack of a resort fee deserves a special call out.
The Drury Plaza Hotel Orlando — Disney Springs offers tons of inclusions with your stay, including shuttles to the theme parks and a nice pool area (complete with a large splash pad), an arcade and the aforementioned food and drinks. However, there's no resort fee tacked onto your stay. The price you see when you search for a room is the real price, and that's pretty rare in tourist-heavy areas like Orlando.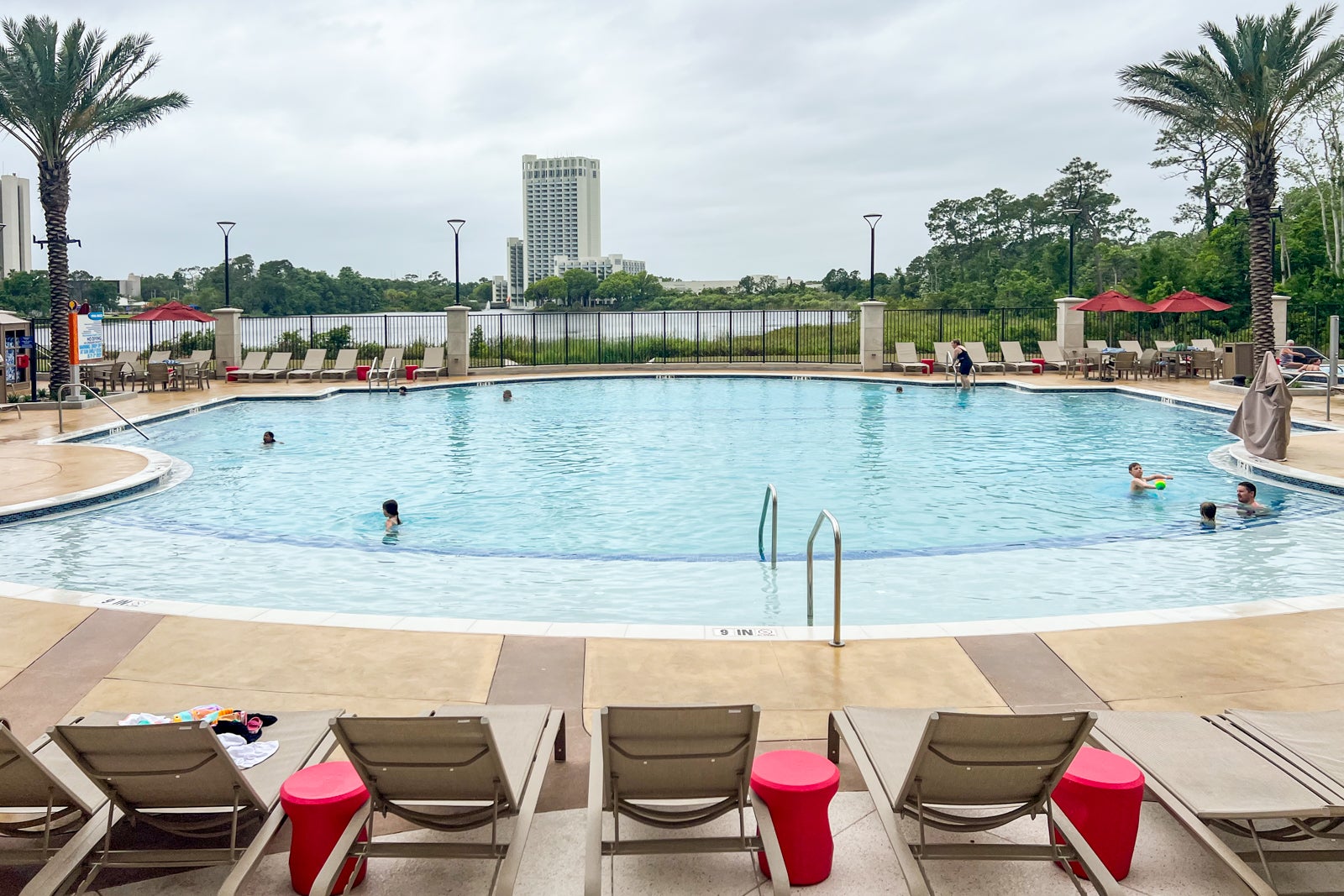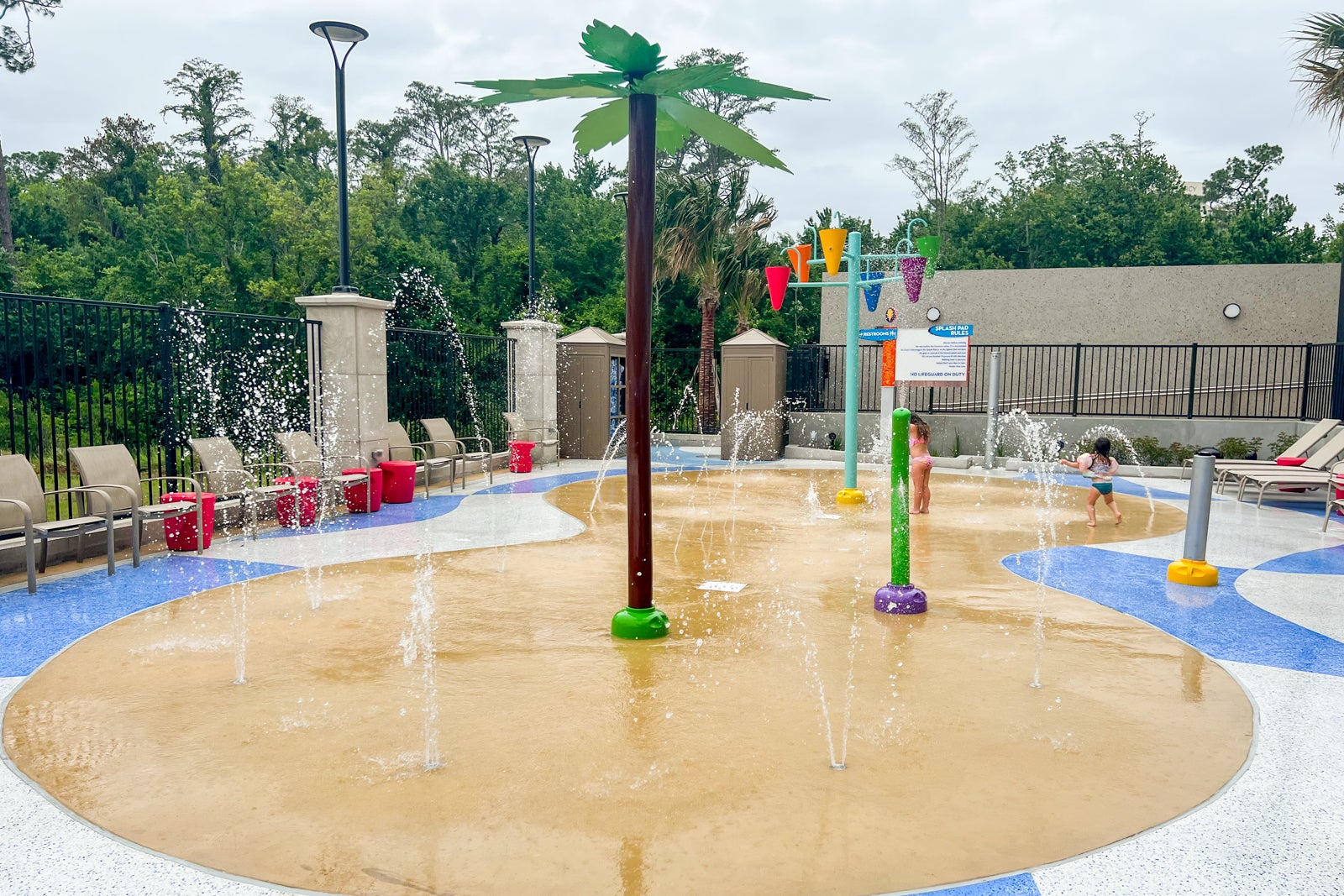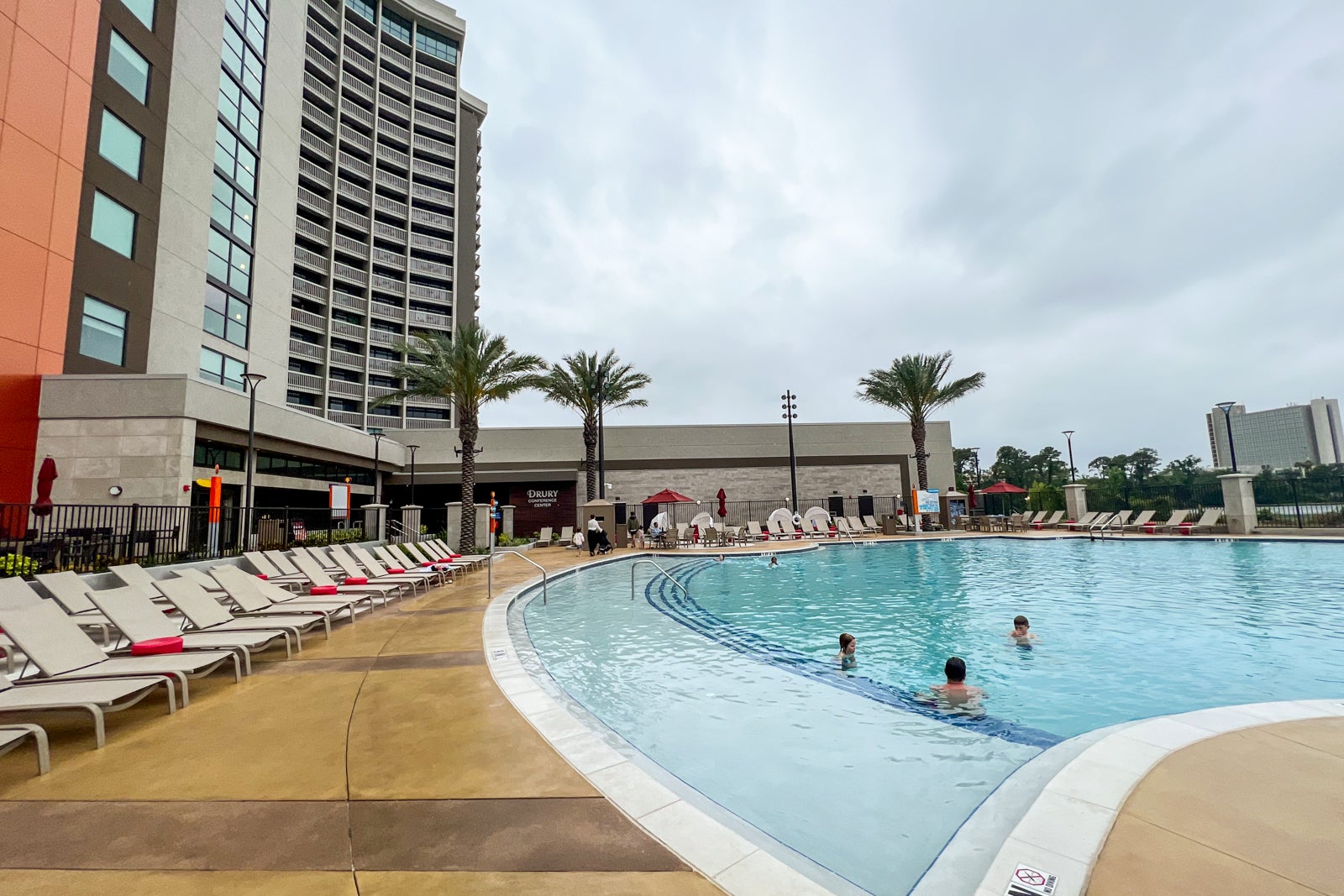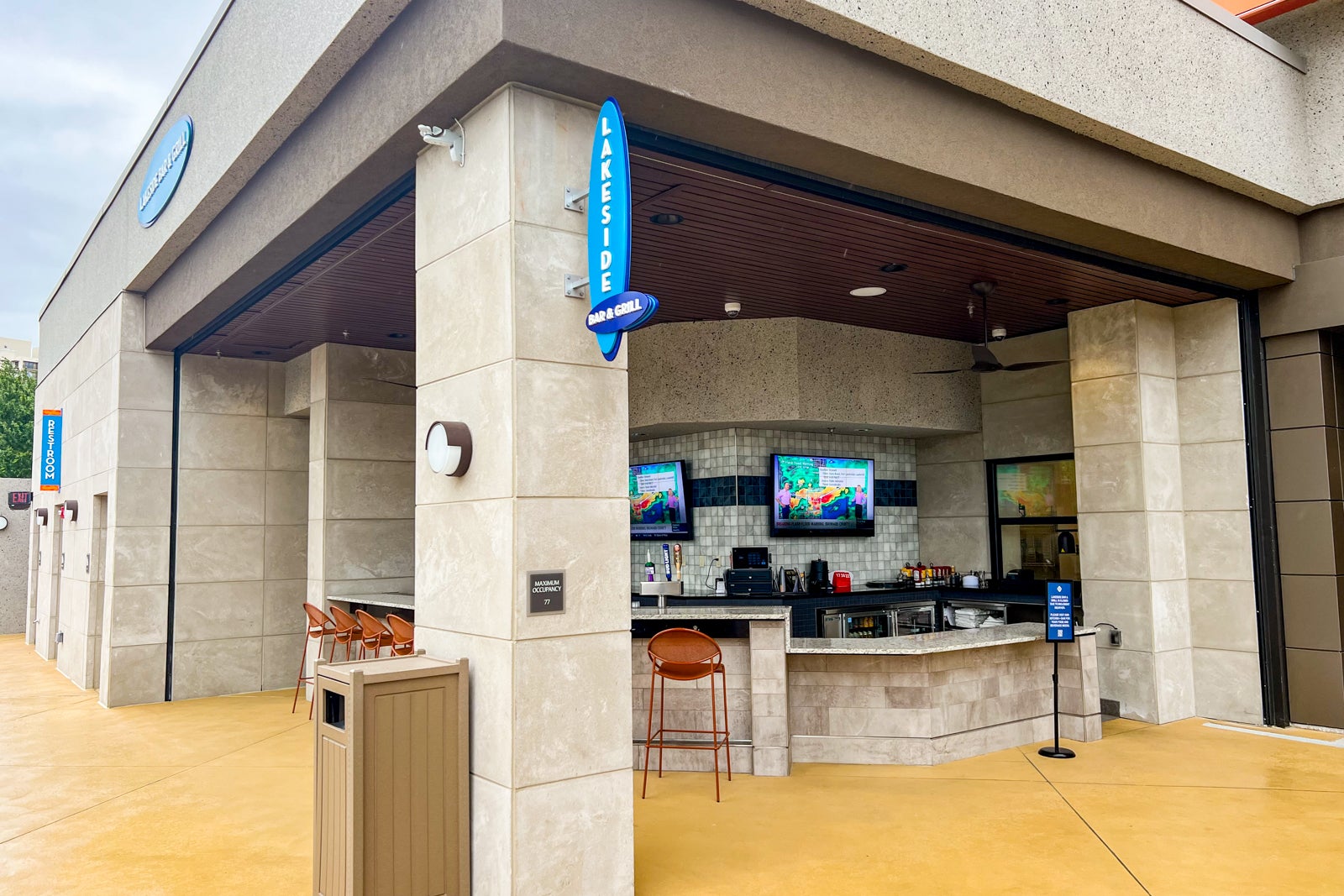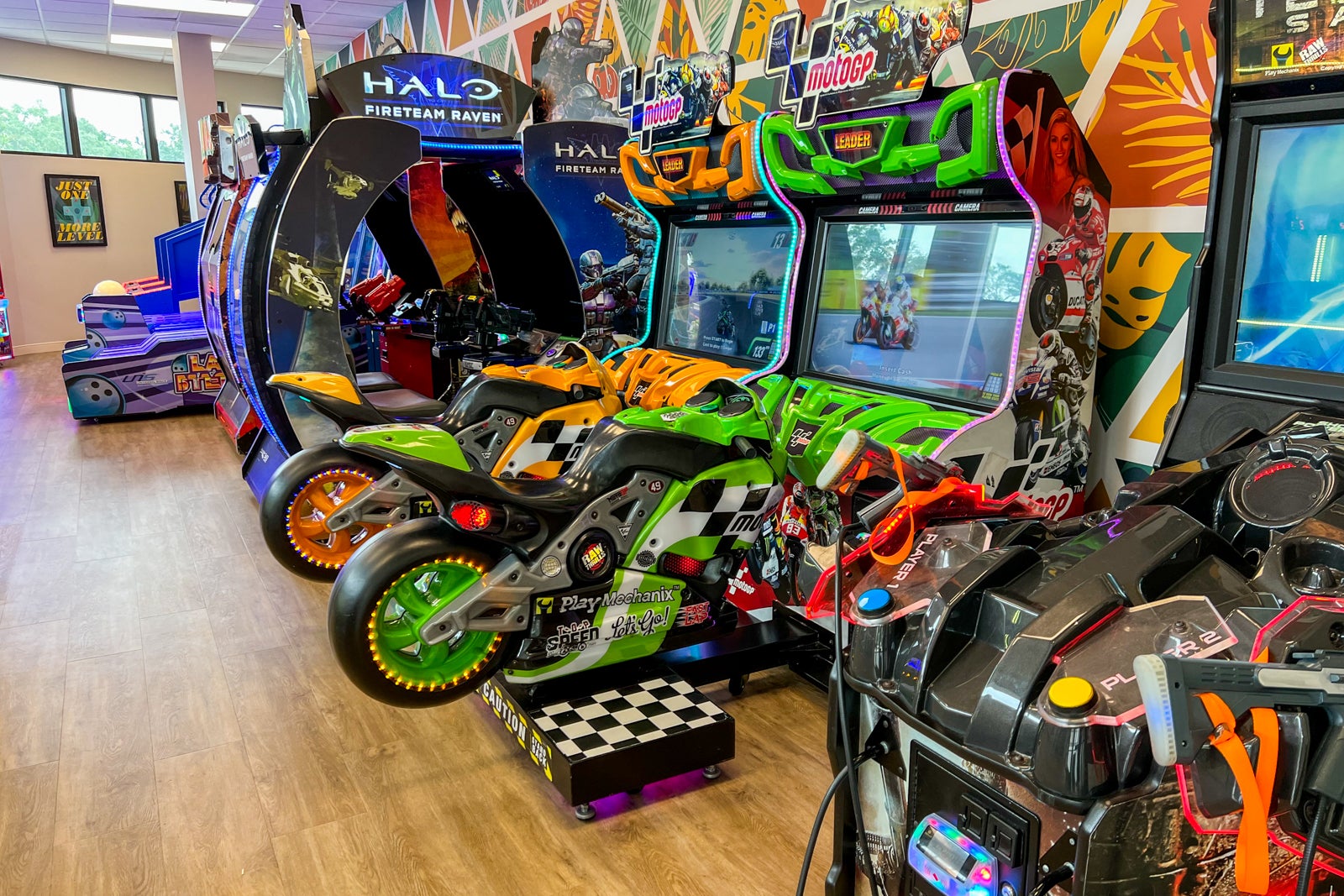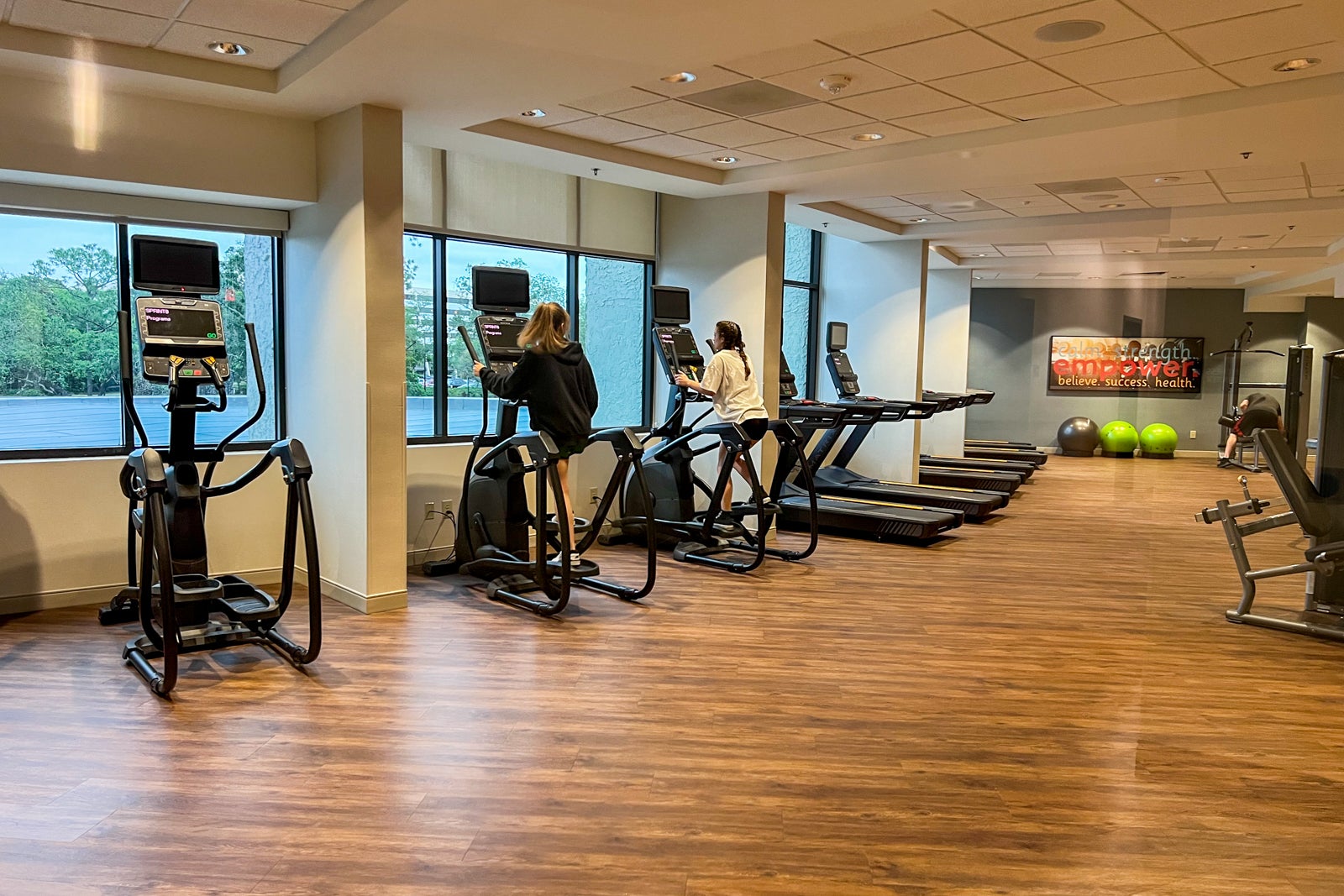 That said, if you bring a vehicle, there is a parking fee of $25 plus tax per night. It somehow came to $32 on my final bill, so do the math carefully if you don't really need a car and are just looking for the cheapest way to get from the airport to the hotel. An option such as Uber, Lyft or the Mears Connect bus from the airport may turn out to be cheaper than renting a car to park here, depending on how long your stay is and how many people are in your group.
Reasons it may not be for you
The Drury Plaza is walkable to Disney Springs, but it's just about the farthest of the Disney Springs hotels from that area and is about 3/4 of a mile into the actual Disney Springs shopping district. There are closer hotels if you want to be a very short walk into Disney Springs. Also, if you want walkable access to a Disney theme park, this isn't the best hotel for you.
Families looking to stay in the Disney bubble with immersive themes and nonstop Mickey will have that bubble burst a bit while at the Drury Plaza Orlando. There are some Disney images on the elevators and other light touches if you look for them. Still, for the most part, it's a new hotel that could be in Anywhere U.S.A. and not one that screams Disney, which may be a pro or a con, depending on your perspective.
If you want luxury and are appalled at the idea of travelers lining up en masse for free food, keep searching for the best Disney World hotel for your trip, as this is not the pick for you.
Since you can't buy the individual Lightning Lanes early, starting at 7 a.m. while staying here, this can make for a harder time getting access to the newest and hottest rides. If that per-ride access is a priority, you might want to pick a true Disney hotel.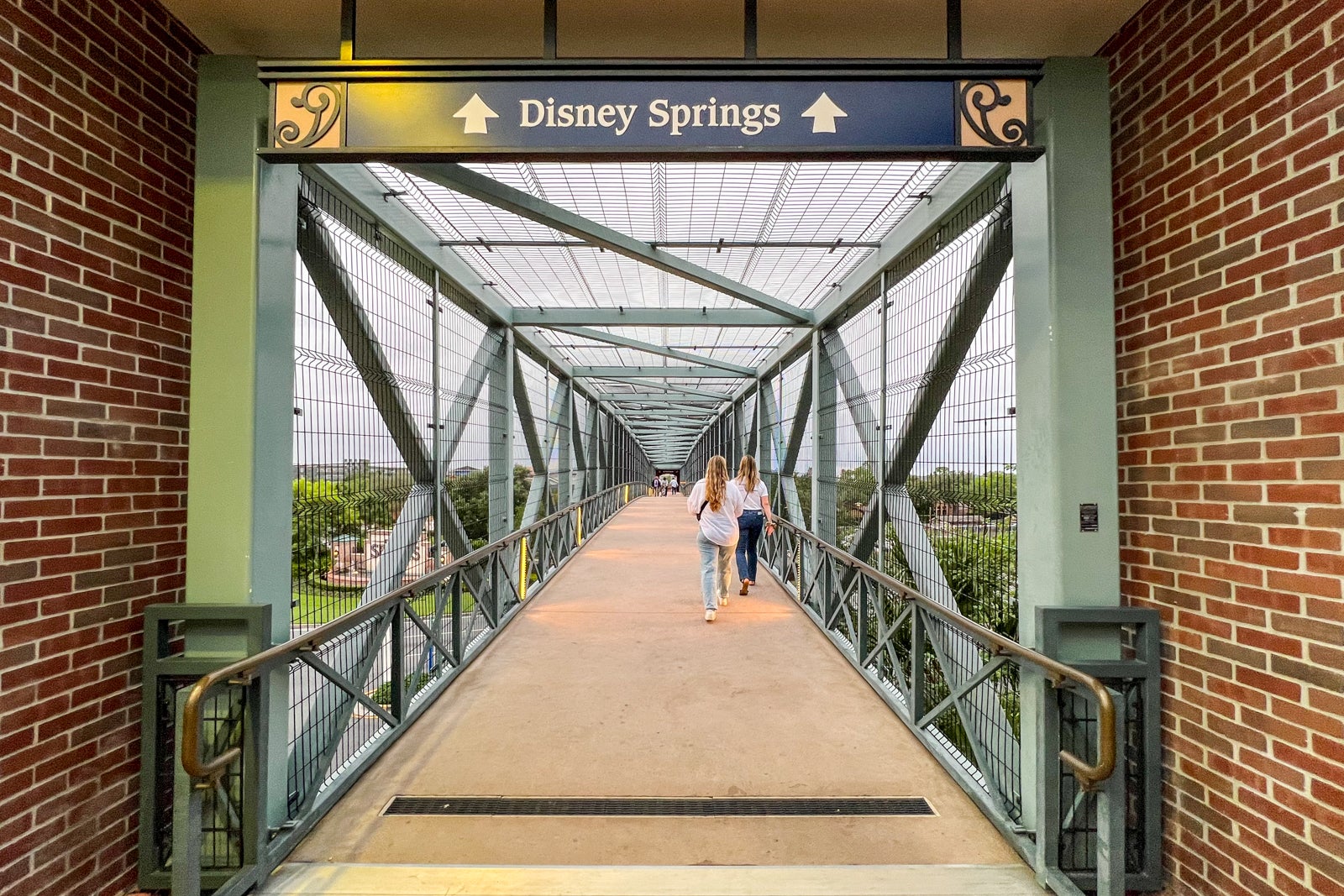 Other hotels to consider
If you're intrigued by the Drury Plaza but not certain it's right for you, there are plenty of other hotels in the area.
If you want to be right next to Disney Springs, consider the Hilton Orlando Lake Buena Vista, which is about as close as you can get. If you want to use points to stay at a hotel that's walkable to two Disney theme parks (Epcot and Disney's Hollywood Studios), look at the Walt Disney World Swan, Dolphin and Swan Reserve, all bookable with Marriott Bonvoy points.
Finally, if you want the least expensive option that will still allow you to purchase individual Lightning Lanes at 7 a.m., consider the Disney All-Star hotels, which can often be found starting at around $200 per night. You can also look into renting Disney Vacation Club points, which can start under $200 per night for the lowest-priced studio rooms during off-peak time frames.
Bottom line
I was completely impressed during my one-night stay at the Drury Plaza Hotel Orlando — Disney Springs.
It's new and probably the most wallet-friendly property for families visiting Disney World on a budget. This is especially true if you can take advantage of the included food and beverages.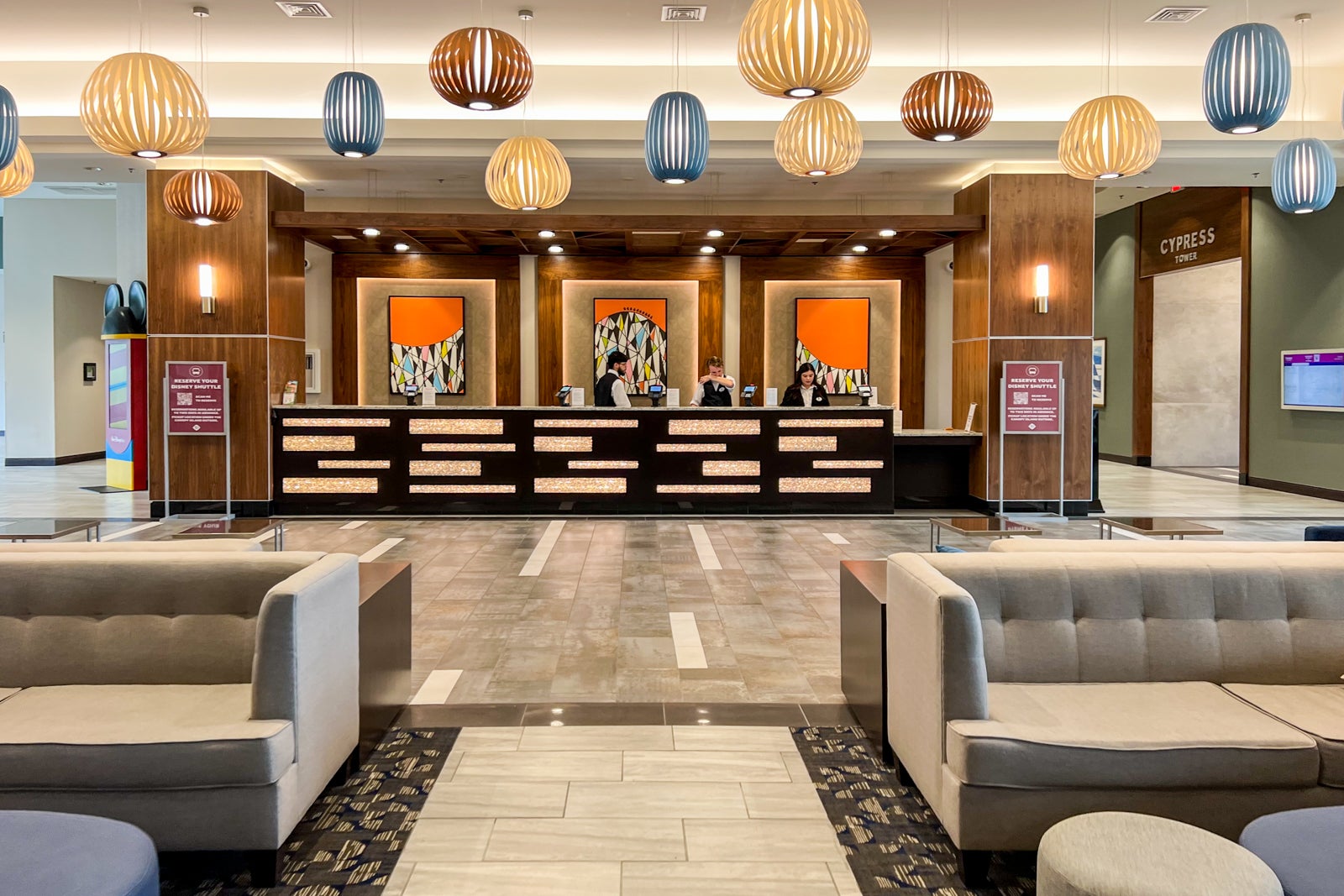 If you do make the trip, look into booking through a site like Chase Travel like I did to earn a nice 10 Chase Ultimate Rewards points per dollar on the stay via my Chase Sapphire Reserve, which came to $32.60 in rewards by TPG valuations, making the overall deal even sweeter.
If you told me there was a new Disney Springs hotel with low rates, free food several times per day and six included drinks each night, I'd have thought you'd fallen and hit your head.
Now that I've stayed at the Drury Plaza, I know better, and I'll only wonder if you managed to use all your free evening cocktails.
Related readings: