Free fleetwide Wi-Fi is now available on United Airlines … with a catch.
If you're a T-Mobile subscriber on an eligible plan, you can now enjoy free internet access on all United-operated flights — no matter the distance or destination, as confirmed by a carrier spokesperson.
This includes all long-haul routes and covers all of United's internet providers, including Panasonic, Thales and Viasat.
At this point, the only planes that don't (yet) feature free T-Mobile access are two-cabin regional jets. These planes, operated by smaller subsidiaries, are outfitted with Gogo air-to-ground connectivity, and free internet will be enabled in the coming weeks and months.
United first teamed up with T-Mobile in September 2022 to enable inflight internet access for select subscribers. At the time, free Wi-Fi was limited to a subset of planes, including the entire Boeing 737 fleet and select Boeing 757-300s and Airbus A319s.
These planes are equipped with Viasat or Thales Wi-Fi antennas, the two providers that were initially covered in the announcement.
However, United and T-Mobile recently expanded the tie-up to include Panasonic, which provides internet access to the rest of United's mainline fleet.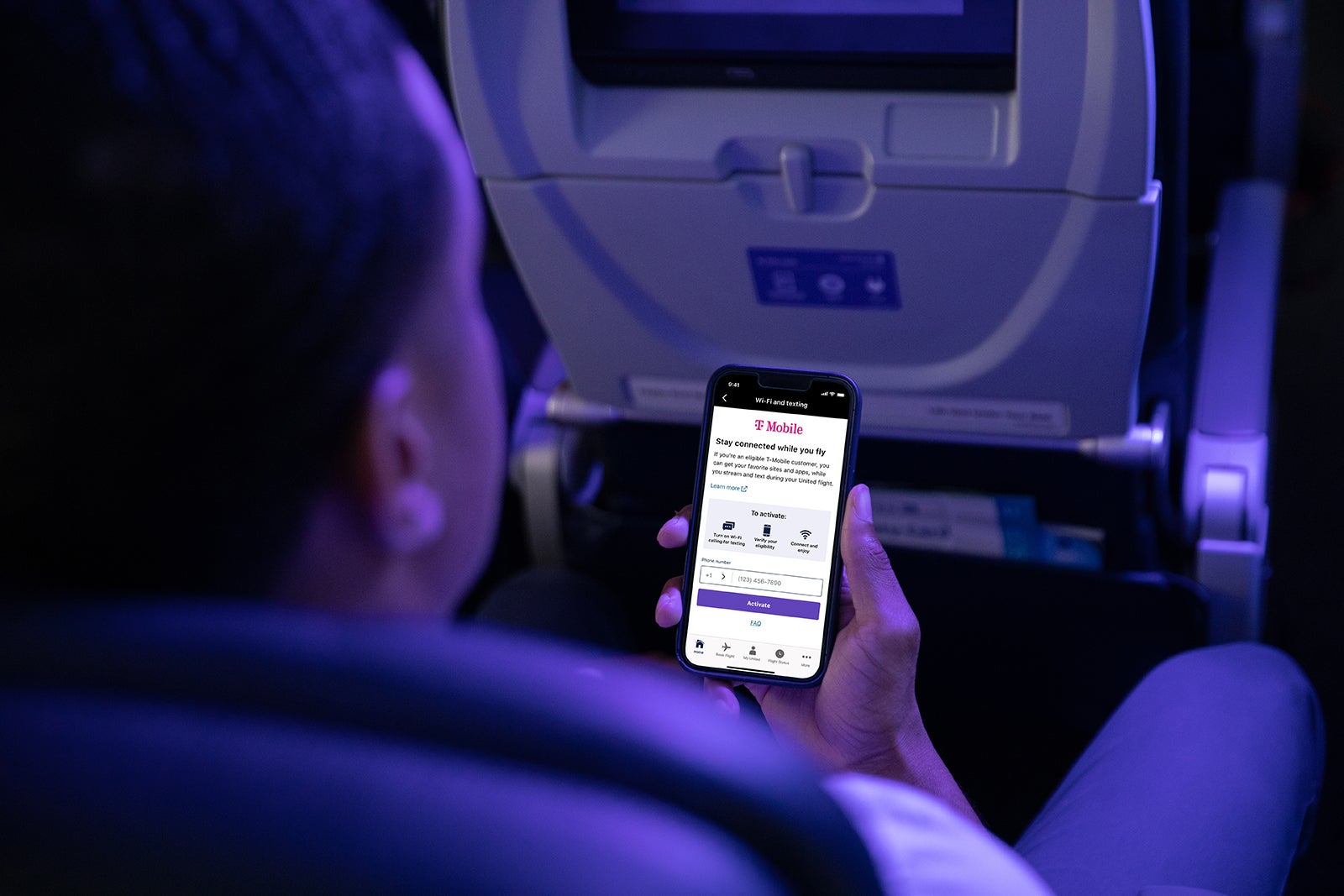 Going forward, all you need to do is connect to the "Unitedwifi.com" network once you're on the plane and then enter your eligible T-Mobile phone number to start browsing. Streaming is supported, but note that the free T-Mobile Wi-Fi is limited to cellphones (not laptops).
T-Mobile's Magenta and Magenta Max plans include free inflight internet. The former plan includes four full-flight passes each year, with one hour of internet access available on all other flights. Magenta Max subscribers receive unlimited inflight Wi-Fi all year long.
T-Mobile is a popular wireless carrier for frequent flyers. In addition to free inflight Wi-Fi on United (and on select American Airlines and Alaska Airlines jets), many plans include a generous allowance of high-speed international data roaming. Once you've gone through your allotment of 5G data, you'll enjoy unlimited throttled internet access when roaming.
That's in stark contrast to the two other major U.S. cellular providers, AT&T and Verizon, both of which charge a $10 daily fee for international data.
While T-Mobile subscribers can now enjoy fleetwide Wi-Fi access on United, everyone else can access cheaper internet plans on the carrier.
United offers a free messaging plan across its entire fleet, while connectivity on all domestic and short-haul international flights now costs a flat $8, or 1,600 miles, per device for MileagePlus members.
The airline also redesigned the splash page for its Wi-Fi network, making it even easier for first-timers to connect to the network.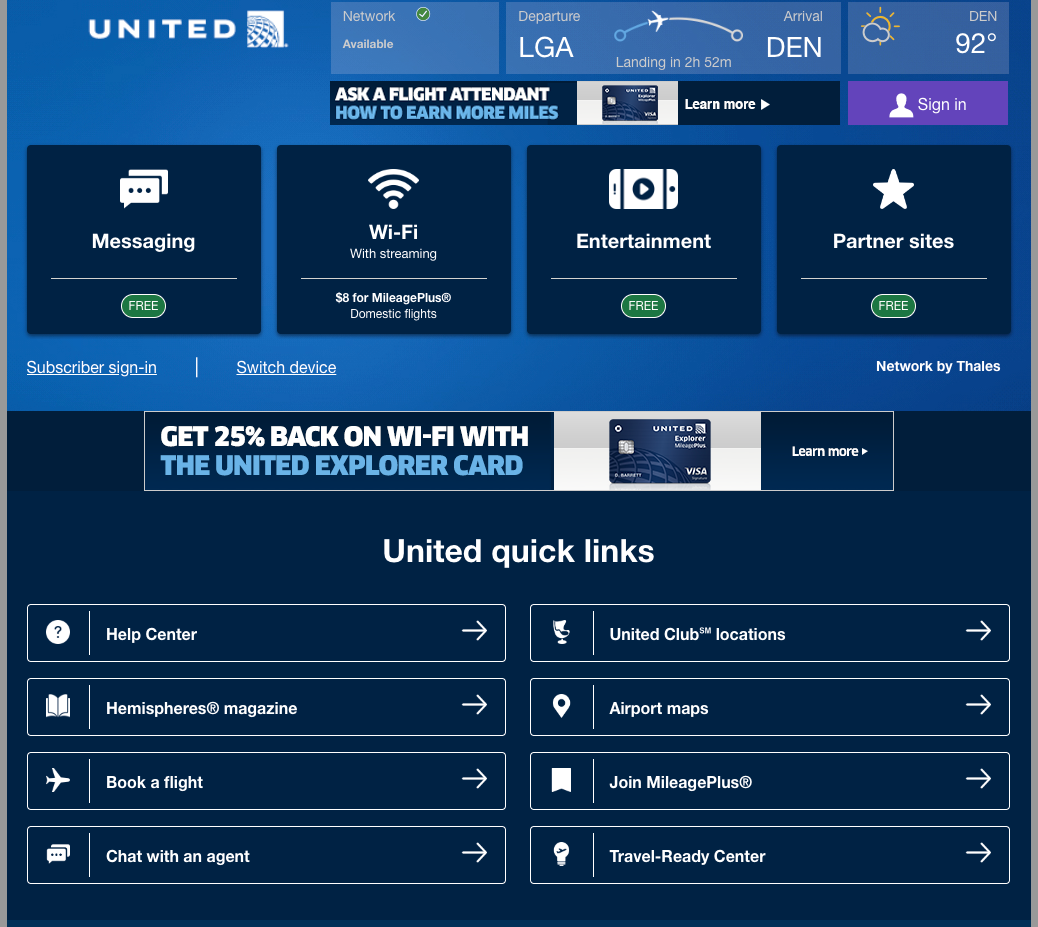 Internet access on long-haul flights ranges in price. I recently paid $8 for Wi-Fi from Newark to Barcelona but have seen $37.99 full-flight passes on the London-to-San Francisco route.
T-Mobile subscribers are the big winners. However, the competitive pressure is on for United to enable free Wi-Fi for all passengers.
Earlier this month, Delta Air Lines enabled unlimited free Wi-Fi with no device limits on all planes equipped with Viasat antennas. The airline's offering has worked well in the past few weeks, with download speeds topping 50 Mbps on full flights.
Delta's free Wi-Fi is sponsored by T-Mobile, but the only requirement to use the internet on Delta is that you must be a SkyMiles member.
That said, United may not be ready to make internet free to all.
"A small price creates a little bit of friction that we think is a way to help people that really need it — are gonna be able to have it and use it," chief customer officer Linda Jojo said during the Skift Aviation Forum in Dallas last November.