One of the best parts of a cruise is that you don't have to worry about dusting, vacuuming, scrubbing or otherwise lifting a finger to clean during your vacation. That's due, in large part, to your room steward (also known as a cabin steward or cabin attendant). These cruise line employees make sure your cabin stays tidy throughout your sailing.
What else should you know about your cruise cabin steward? In this piece, I'll lay out their duties, what you can (and can't) ask them to do and what sets them apart from the folks who straighten up your room at a hotel or resort.
For more cruise news, guides and tips, sign up for TPG's cruise newsletter.
Room steward duties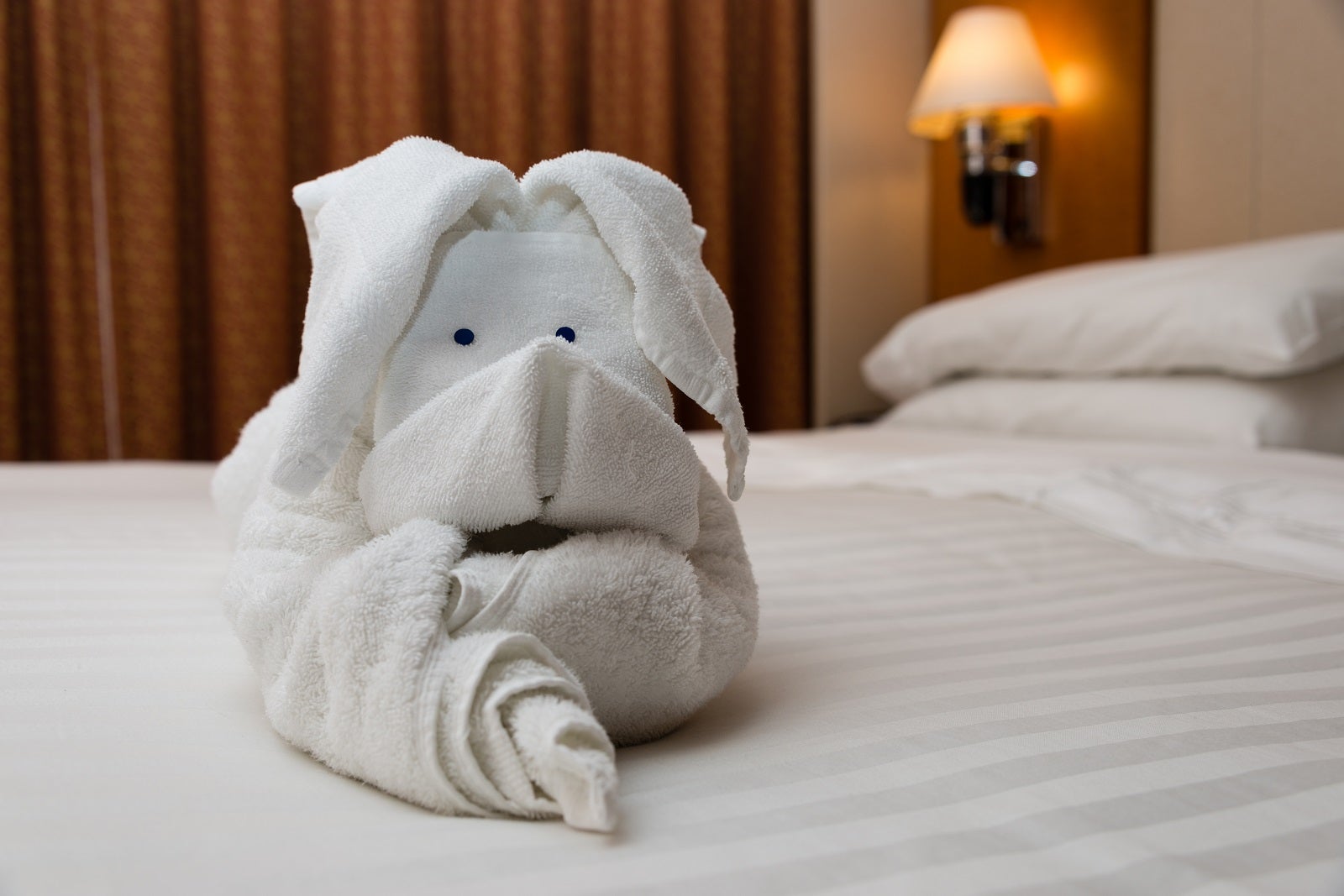 In addition to cleaning and sanitizing your room and bathroom before you embark, your cabin steward is also responsible for tidying and cleaning your cabin during your cruise.
Many cruise lines offer twice-a-day service in each cabin. That means you can expect your room steward to come in sometime between breakfast and lunch to make up the beds, remove any used glasses or room service trays and provide fresh towels and toiletry refills when necessary.
They'll also pay visits to your stateroom at night, likely while you're at dinner, to provide turndown service, which sometimes includes treats like pillow chocolates and towel animals. On lines that still provide paper printouts, your steward's nightly duties will also include leaving copies of the next day's activity schedule, as well as dinner invitations, shore excursion tickets and flyers for events like art auctions and spa tours.
However, there are exceptions. Several major cruise lines — including Royal Caribbean, Norwegian Cruise Line and Carnival Cruise Line — have cut back to once-a-day room cleaning in order to trim costs. On those lines' ships, passengers can expect room straightening once per day.
If you don't want your cabin steward to enter your room, put the provided "do not disturb" magnet or hanging sign on your door. I do this when napping, getting ready for dinner or working.
As for their other tasks, room stewards are responsible for collecting clothing that passengers wish to have laundered, dry-cleaned or pressed (for a fee); restocking each cabin's minibar; and fielding requests for things like extra bedding or hangers.
What a cabin steward can (and can't) do for you
Keep in mind that a room steward is not a butler. While they can refill your ice bucket, show you how to work your TV and climate control, provide you with child-size life jackets and fold the pajamas you left strewn around the room when you ventured out for morning trivia, they won't be able to honor specific requests outside the scope of keeping your room spotless.
Here's some of what you can expect your cabin attendant to do:
Introduce themselves to you on the first day or two of the sailing.
Deliver your checked luggage to your room after you board the ship.
Remove dirty dishes, cups and room service items from your cabin.
Straighten up and tidy your room (vacuum, wipe up spills, fix beds and generally organize).
Remove dirty towels and provide new ones.
Change your bedsheets (if requested).
Set up sleeping arrangements (splitting beds, combining beds and pulling down bunks).
Refill complimentary shower gel, shampoo, conditioner and lotion.
Restock tissues and toilet paper.
Deliver daily schedules and other paper announcements.
Answer general questions or point you to the person who has answers if they don't.
Alert maintenance if something goes wrong with things like plumbing or electrical in your cabin.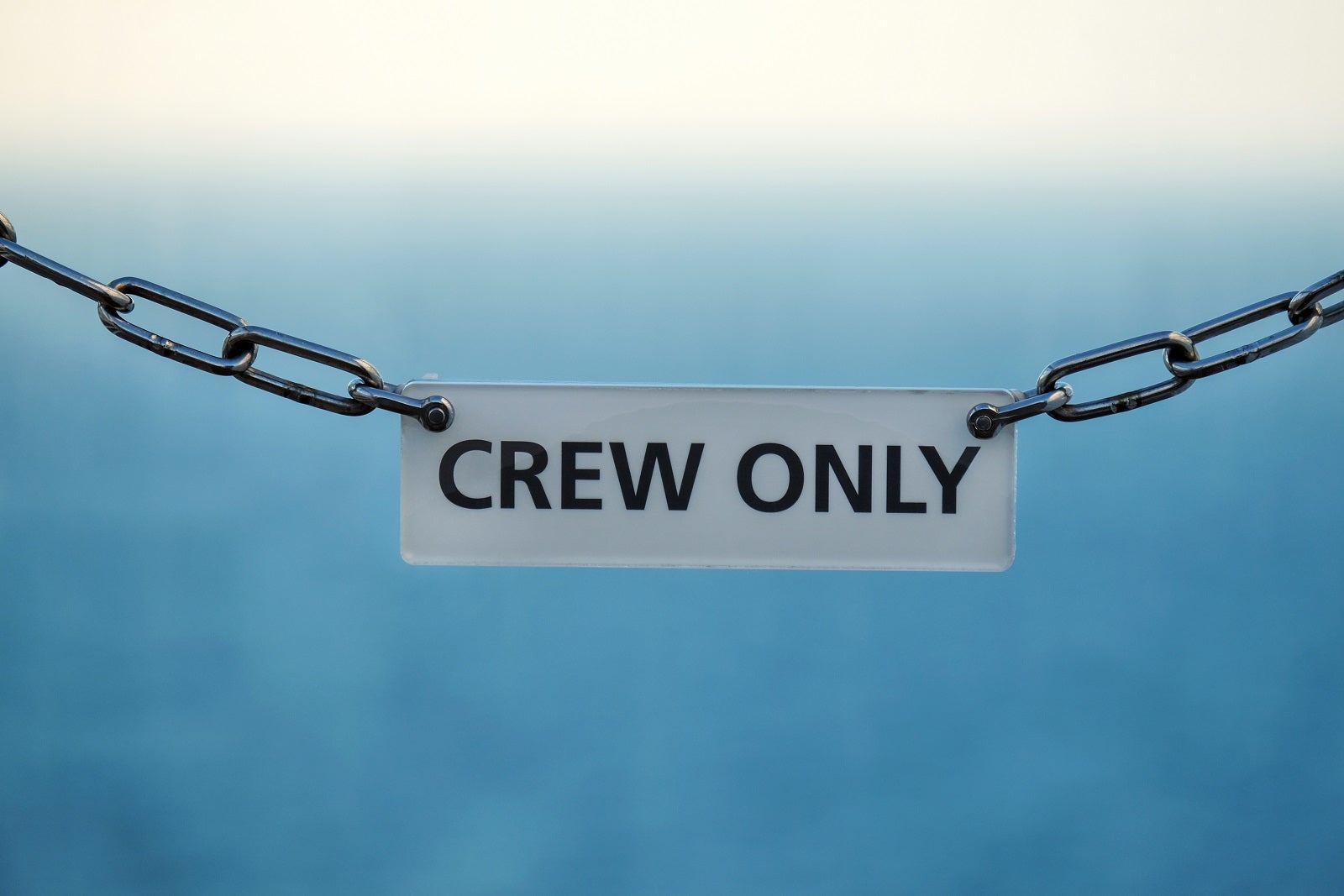 They won't be able to do the following:
Answer questions related to your onboard bill.
Schedule shore excursions, dinner reservations or spa treatments for you.
Take room service orders.
Help you unpack or repack.
Offer assistive services if you have mobility issues.
Babysit your kids.
Hang out with you during your cruise.
Show you the crew quarters.
To address the first few items on the second list, you'll have to call guest services, the shore excursions desk or the spa from your cabin, or visit in person. Sometimes, you can also make these reservations on your cruise line's mobile app. If you're booked in an expensive suite that includes the services of a concierge, you'll have the option to book through them as well.
For room service, you'll have to call your ship's dedicated room service number, which is often noted on your cabin's phone. For packing and unpacking services, employ the services of a butler if you're staying in high-level accommodations. Otherwise, you're on your own.
How room stewards differ from hotel housekeepers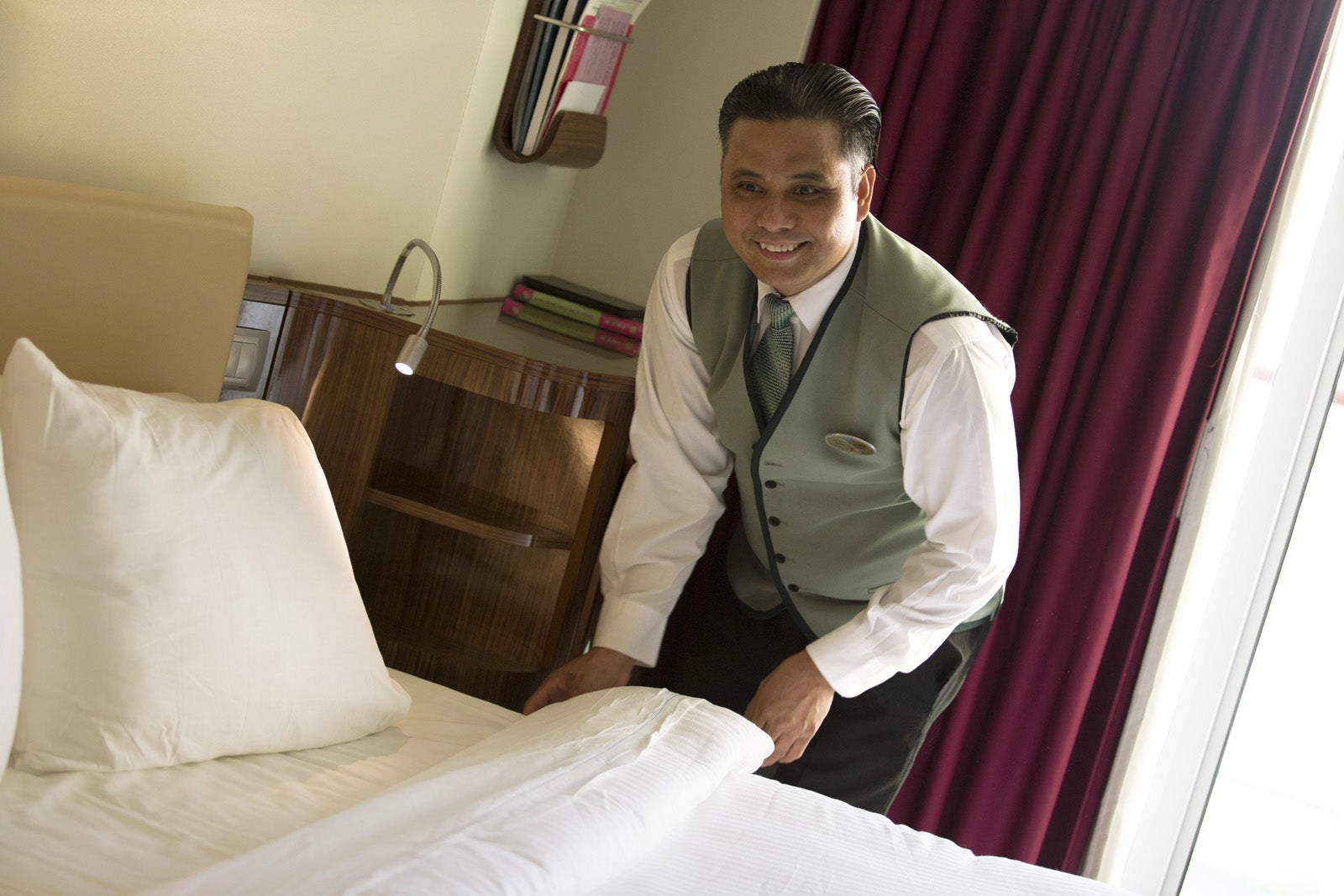 Although a cruise cabin steward is similar to a housekeeper who would service your room at a hotel, there's one major difference: You're likely to actually meet your room steward and, possibly, even get to know them. They will almost always knock on your door on embarkation day to introduce themselves and their team (if they aren't working alone), explain the particulars of your room and ask if there's anything you need.
It's also common for them to greet you by name when they pass you in the hallway and ask about your day.
In addition to knowing your name and the names of those traveling with you, cabin attendants have a tremendous knack for remembering special requests. Would you like a daily refill of your ice bucket? Do you prefer only one pillow chocolate instead of two? Do you want a printed copy of the daily schedule even though your cruise line only offers them on request? Do you need four washcloths instead of two? Ask your room steward.
Service on a cruise is far more personalized than what you'll receive at a standard hotel. For that reason, it's customary (except on luxury cruises where gratuities are included) to tip your room steward for a job well done. Most cruise lines charge a per-passenger daily service fee that covers the cost, but many passengers choose to leave extra in cash at the end of their sailing if they feel their cabin attendant has gone above and beyond.
Planning a cruise? Start with these stories: