Editor's note: The author paid full price for her event ticket but also attended a pre-party media event showcasing several characters and specialty food items. The opinions expressed below are entirely those of the author and weren't subject to review by Disney or any external entity.
Walt Disney World has a brand-new holiday party … and it's one that is geared toward adults.
Many Disney fans already return year after year to the Magic Kingdom for the beloved Mickey's Very Merry Christmas Party, where hot cocoa and characters are plentiful, but this year, Disney World has introduced a new event: Jollywood Nights at Disney's Hollywood Studios.
Disney's Jollywood Nights is brand new for 2023 and will be held for just 10 evenings this year. It's uniquely targeted toward Disney adults and marketed as a swanky holiday soiree. There are holiday specialty foods, live entertainment and character meet-and-greets you can only find here. It also happens to be one of Disney World's most expensive party offerings.
I attended the inaugural evening of the new Jollywood Nights party. Here's what it was like, plus everything you need to know if you want to go.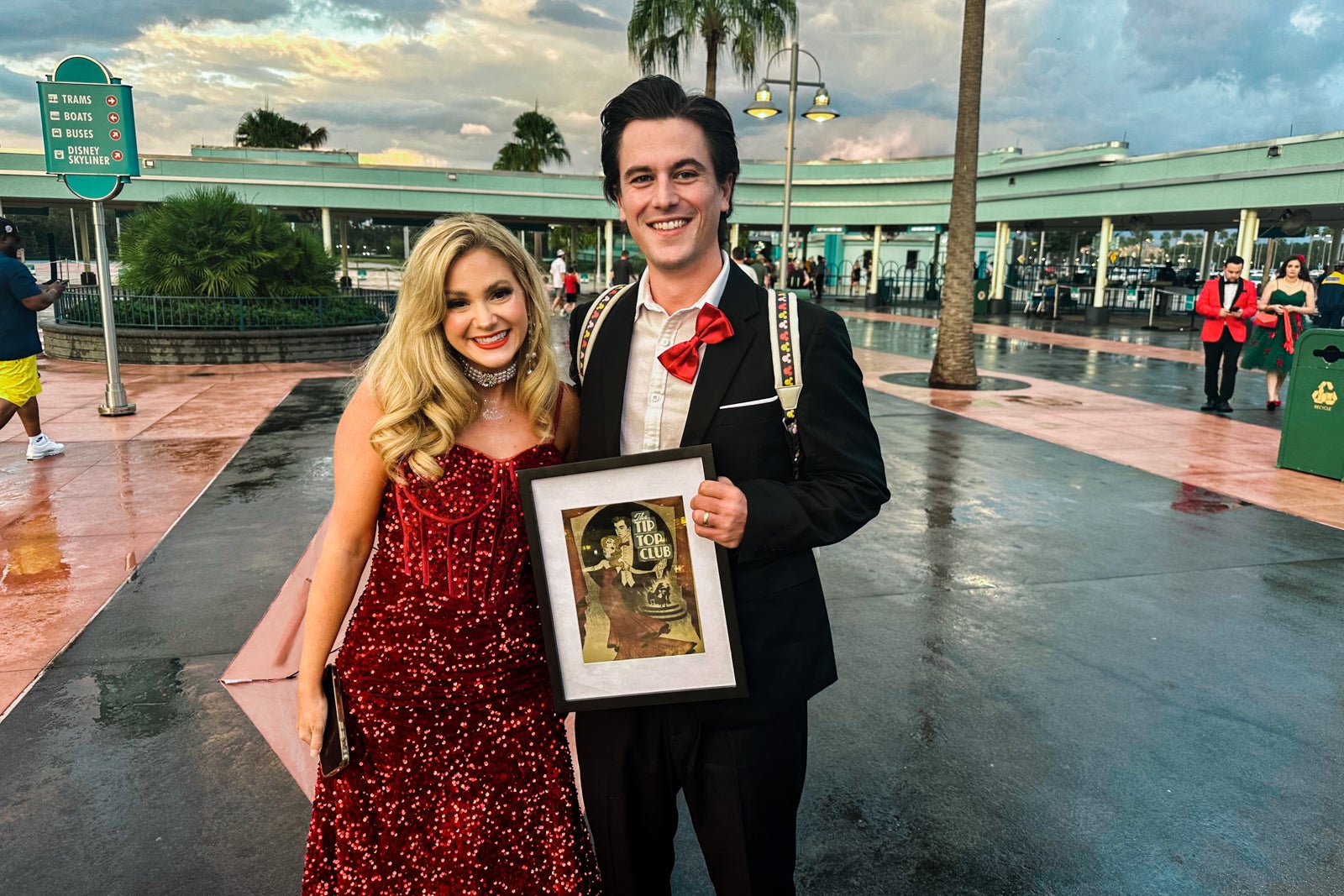 What to expect from Disney's Jollywood Nights
This celebration is intended to be a throwback to old-school Hollywood — and attendees are encouraged (though not required) to dress the part. It features plenty of 1950s holiday glam, two specialty stage shows performed four times a night, fireworks, unique holiday character meetings, limited-time lounges and street entertainment.
The event will be hosted on select nights through Dec. 20, 2023. Just like Mickey's Very Merry Christmas Party, this is a separately ticketed event. Prices range from $159 to $179 per ticket, plus tax. The official party time is 8:30 p.m. to 12:30 a.m., with mix-in (that's Disney-speak for when you are allowed to enter the park with some day guests still there) at 7 p.m.
Related: Up all night: How Disney transforms the Magic Kingdom from Halloween to holiday overnight
Specialty experiences only at Jollywood Nights
With the "of-age" crowd as the focus, the cornerstone (and most hyped portion) of the event is two specialty lounges: Jazzy Holidays at The Hollywood Brown Derby and the Twilight Soiree at The Tip Top Club.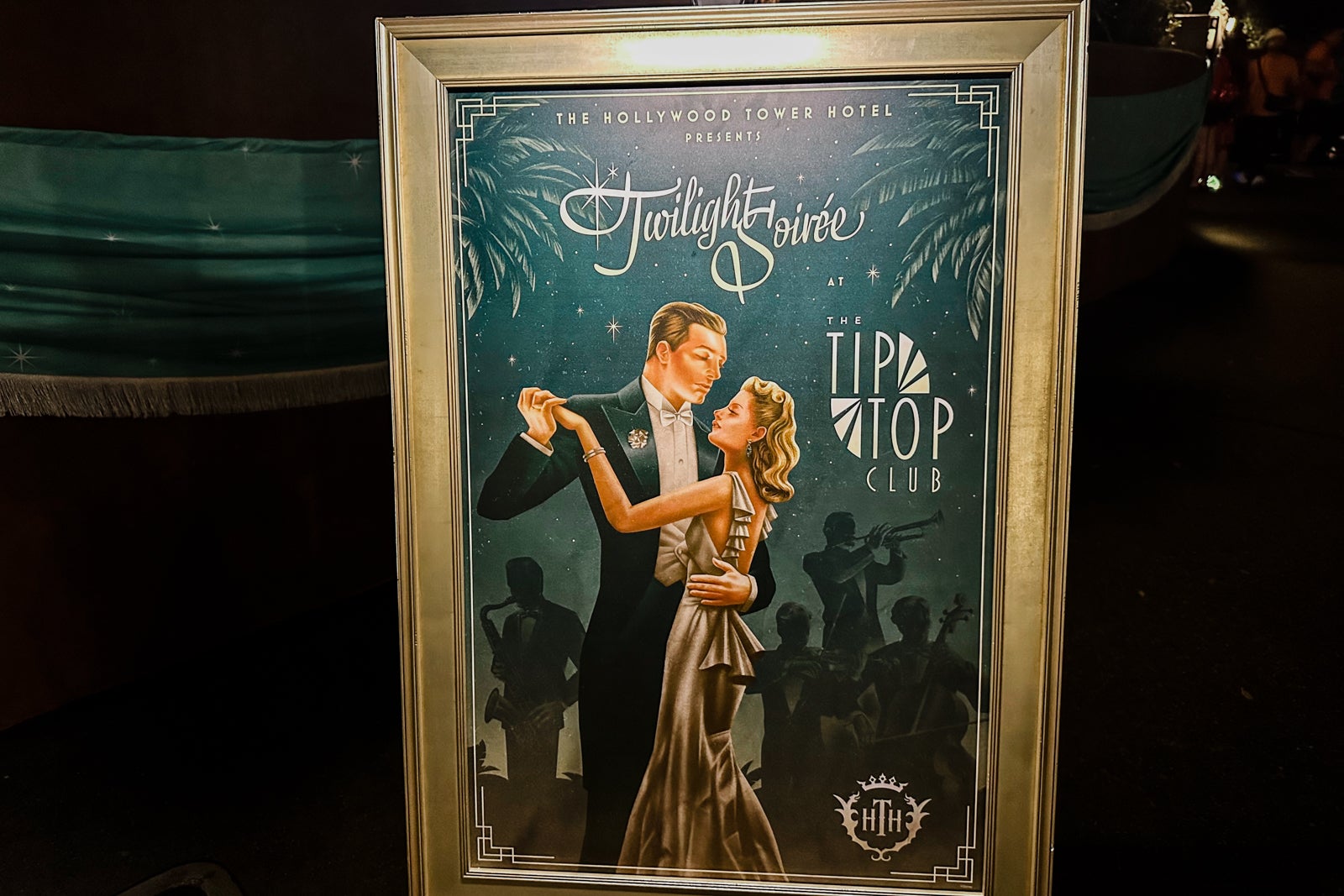 During the party, the iconic Disney dining spot, The Hollywood Brown Derby, transforms into a jazz club with live entertainment and a specialty food and beverage menu. It's operating on a mobile walk-up virtual queue that opens at 8:15 p.m. within the Walt Disney World app.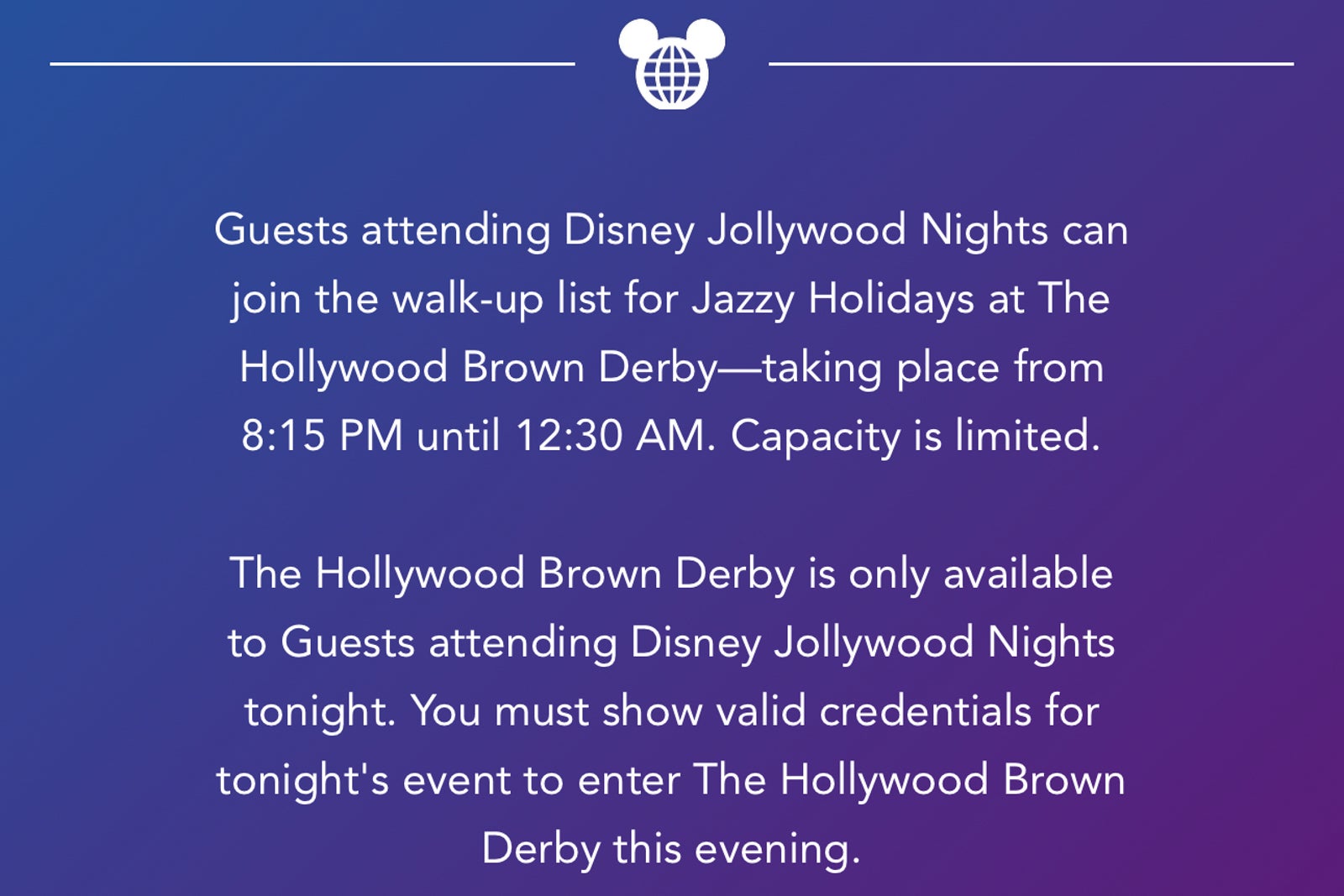 Guests must be near the restaurant to access this virtual waitlist, and the crowds were in full force on opening night. It was reminiscent of the early days of trying to score a Rise of the Resistance virtual queue, with loud cheering from the lucky ones in the crowd who landed a reservation.
After snagging a spot on the waitlist, my party was immediately seated, while others who secured a waitlist slot at the same time had to wait up to two hours to be seated. Suffice it to say, there are some "new party" issues and inconsistencies that did make themselves known at times in the night.
Once inside, the experience — which you can expect to last at least an hour — was more or less similar to a daytime visit, with the addition of a live pianist and vocalist. During our time, he stuck to mostly Disney classics, but we'd love to see a full holiday playlist to contribute to the spirit of the event.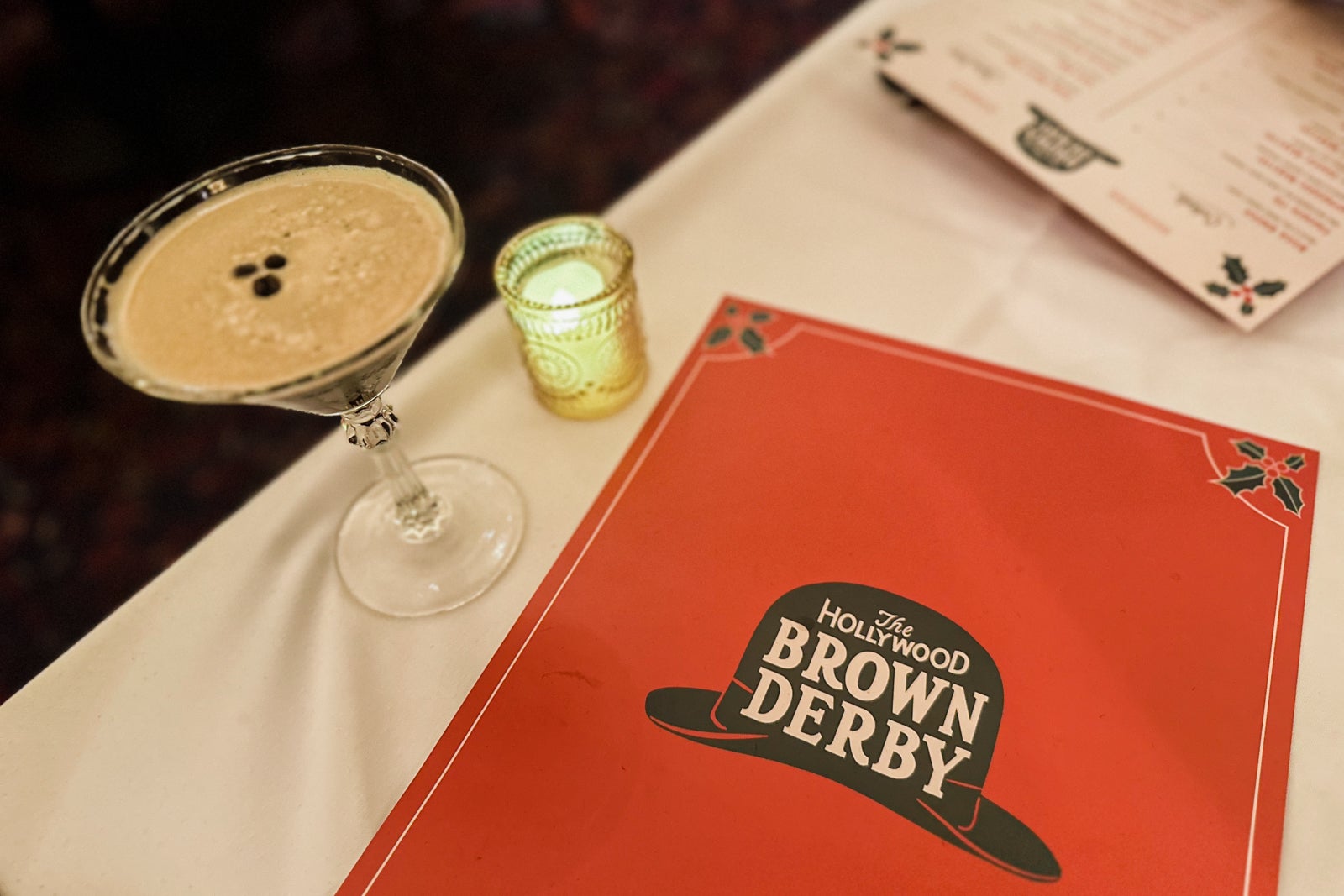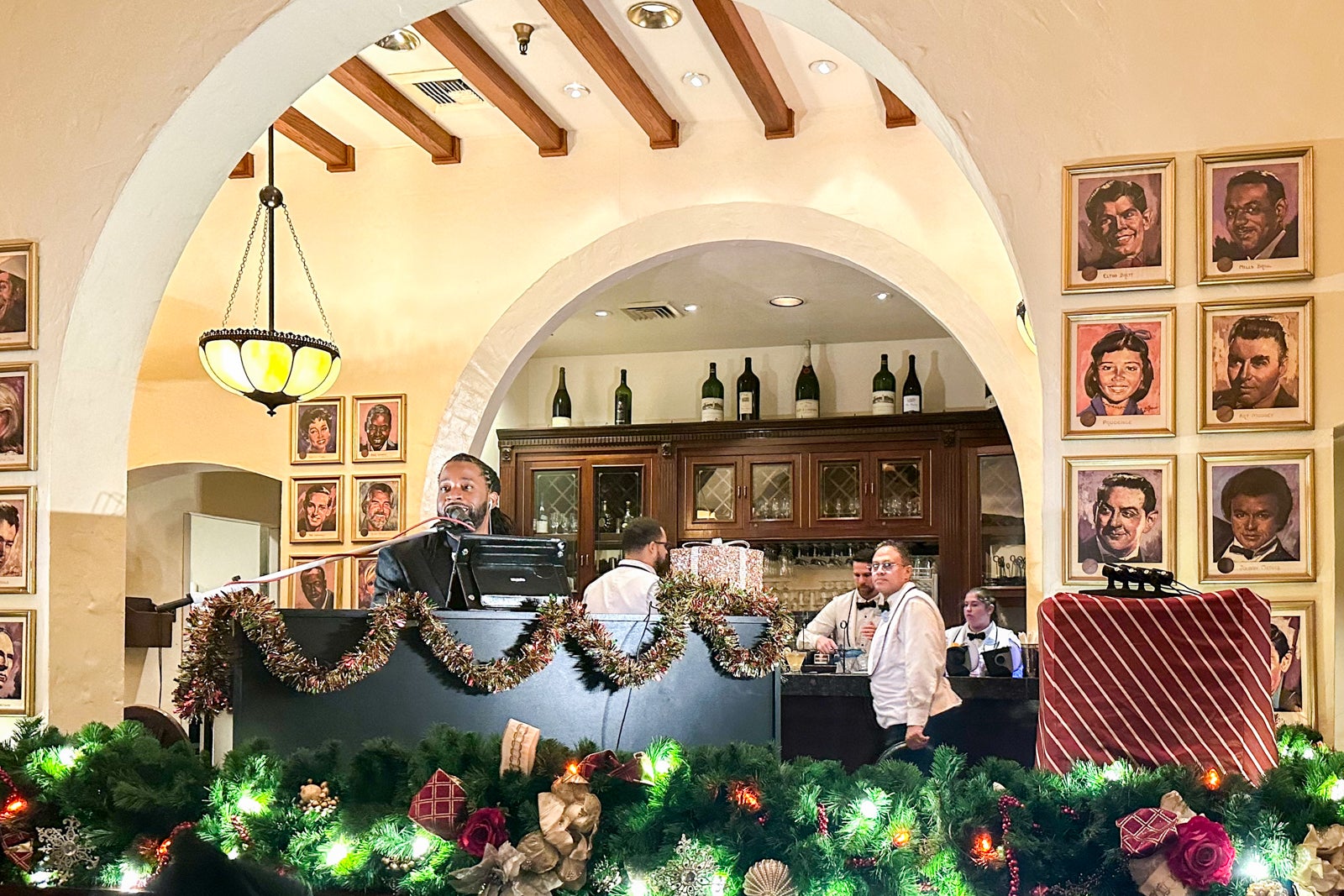 The Twilight Soiree at the Tip Top Club is themed after the fictional bar from The Twilight Zone Tower of Terror lore. Held in the adjoining courtyard outside the attraction, the event features a live band and a small pop-up bar with specialty cocktails. This proved to be an immensely popular spot, and the line for drinks extended well over an hour.
Since there isn't table service for this experience, it might serve you better to grab a drink from another stand or just visit to enjoy the atmosphere and band.
Related: The best restaurants at Disney World
Entertainment and characters available at Jollywood Nights
In addition to the specialty experiences, this event features two stage productions: "Disney Holidays in Hollywood" at Theater of the Stars and "What's This? Tim Burton's The Nightmare Before Christmas Sing-Along" at the Hyperion Theater.
Each performance was only offered four times during the event, and the room reached capacity ahead of the start time for each show. While I was able to get a seat at "Disney Holidays in Hollywood," arriving early for "What's This? Tim Burton's The Nightmare Before Christmas Sing-Along" still didn't give me enough time to get inside.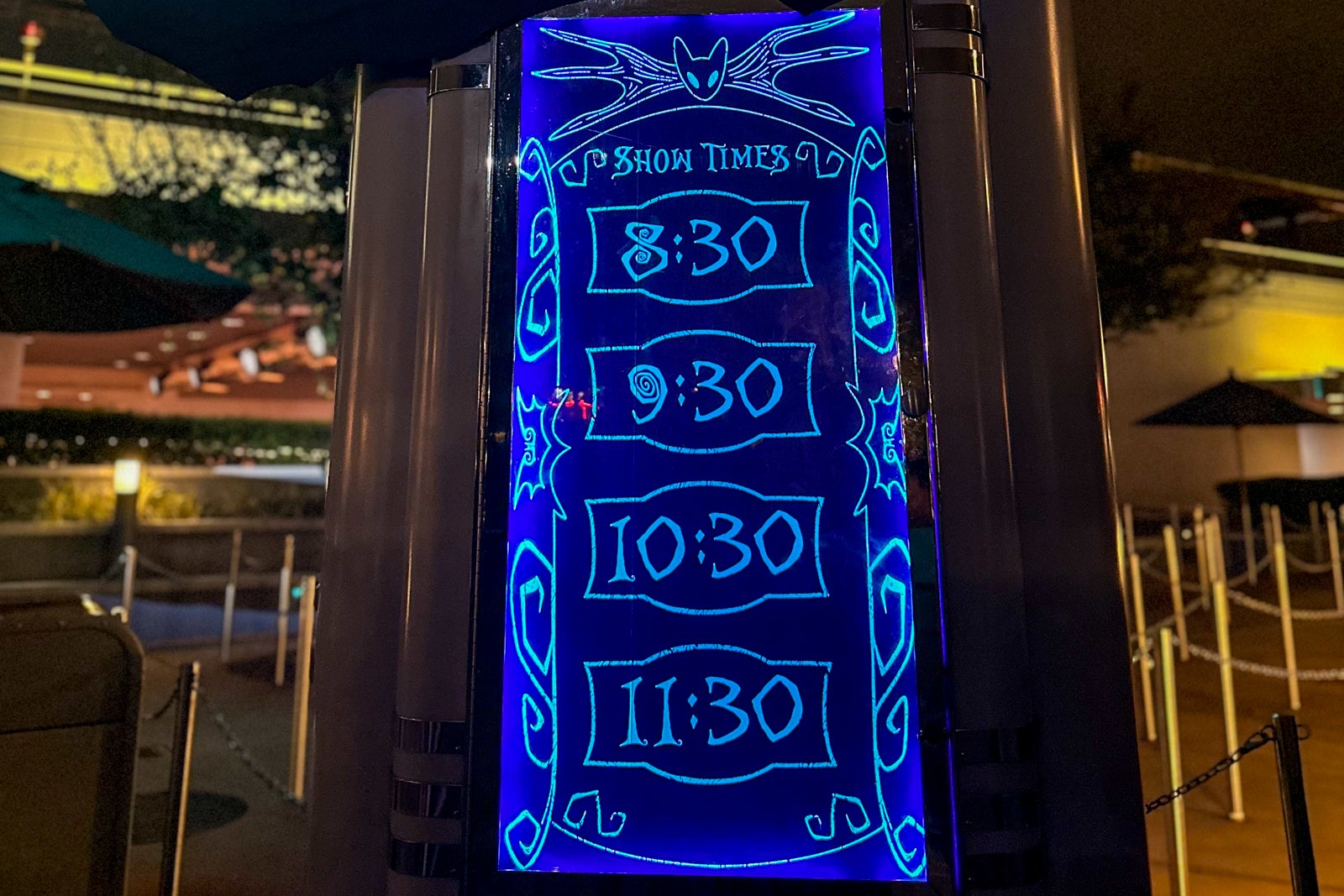 "Disney Holidays in Hollywood" is a variety show-meets-musical production, with appearances from beloved Disney characters, including Belle in her Christmas outfit. It's hosted by Kermit the Frog and Miss Piggy.
"What's This? Tim Burton's The Nightmare Before Christmas Sing-Along" is a spirited group production full of fan-favorite songs from the now iconic movie led by Jack Skellington.
In addition to these shows, guests can partake in a hallmark of any Disney after-hours event: special meet-and-greets with rare characters and Disney favorites in holiday attire.
Each meet-and-greet generally garnered lines with wait times between 30 and 60 minutes, with the most popular being Phineas and Ferb, which required waiting up to two hours. The Fab Five, including Mickey Mouse and Minnie Mouse, donned new vintage-inspired Hollywood glam outfits that served as a highlight.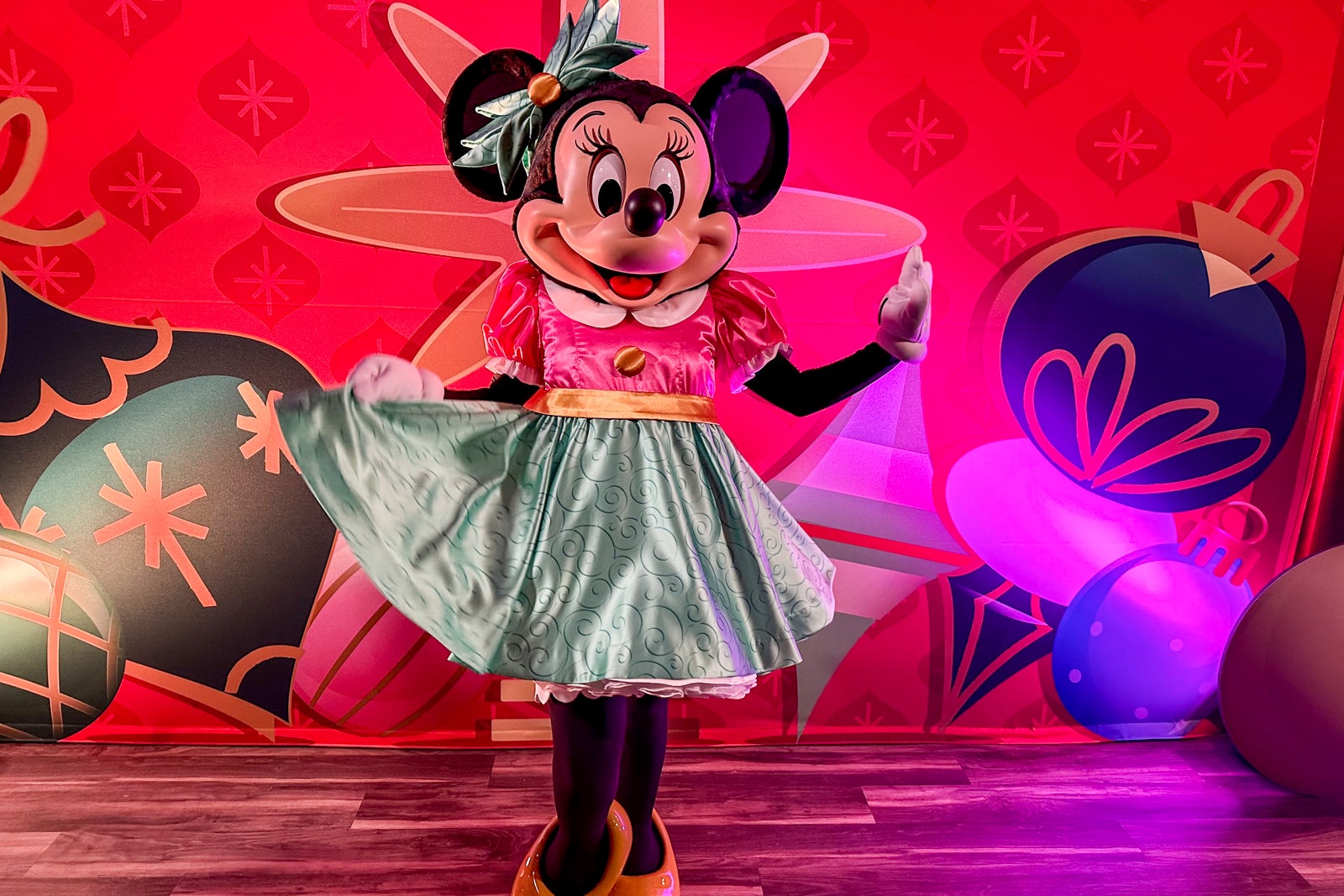 To remember the moment, you'll have access to complimentary PhotoPass downloads, special MagicShots and new photo experiences.
Related: Disney World and Disneyland holiday details revealed, including all-new festive fun
In Commissary Lane, you'll find another event-specific experience: Holiday Fiesta en la Calle. This street experience features live Latin music celebrating Central and South American holiday traditions that proved to be a fun spot to relax and listen to the sounds. There's also a DJ spinning holiday tracks near the front of the park.
Sunset Seasons Greetings also returns throughout the night, transforming the Tower of Terror with a holiday projection show as "snow" falls upon Sunset Boulevard.
Finally, the party culminates with a showing of "Jingle Bell, Jingle BAM!" at 12:30 a.m. This festive nighttime spectacular is truly a fan favorite that we're happy to see return, as it combines projections, music, lasers and fireworks set to the stunning backdrop of the Chinese Theater. Sadly, it rained during our visit, which resulted in less-than-ideal conditions for watching the show.
Limited-time food at Jollywood Nights
Disney curated a robust food and beverage program for this party, with a mix of savory and sweet goodies available from various dining locations throughout the park. However, note that none of the treats are included in the cost of admission here — there's an extra charge for every item you wish to sample.
The adorable Gertie cookie (modeled after the park's beloved green dinosaur) was a favorite in the dessert category, and the savory holiday turkey popover was a clear savory winner.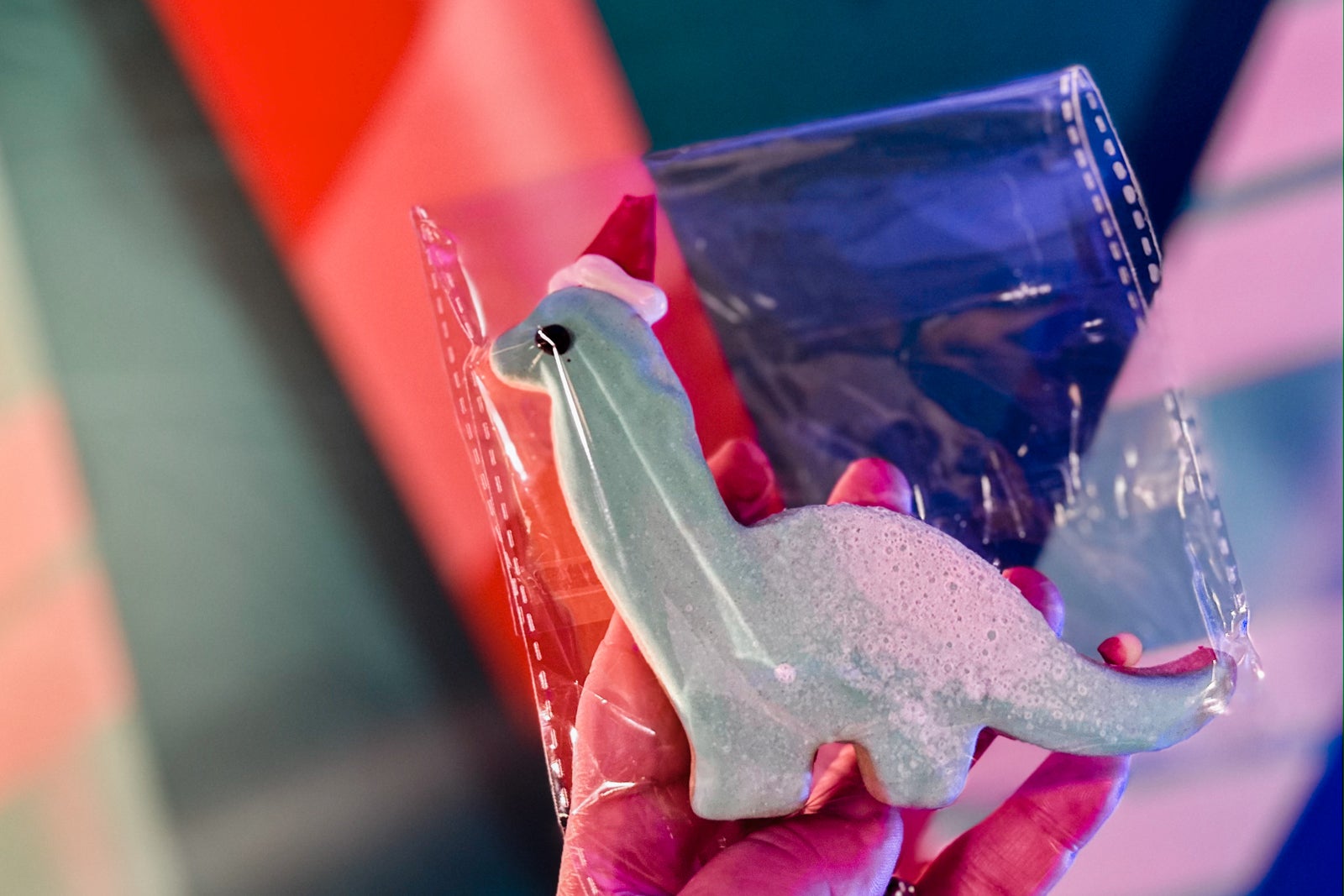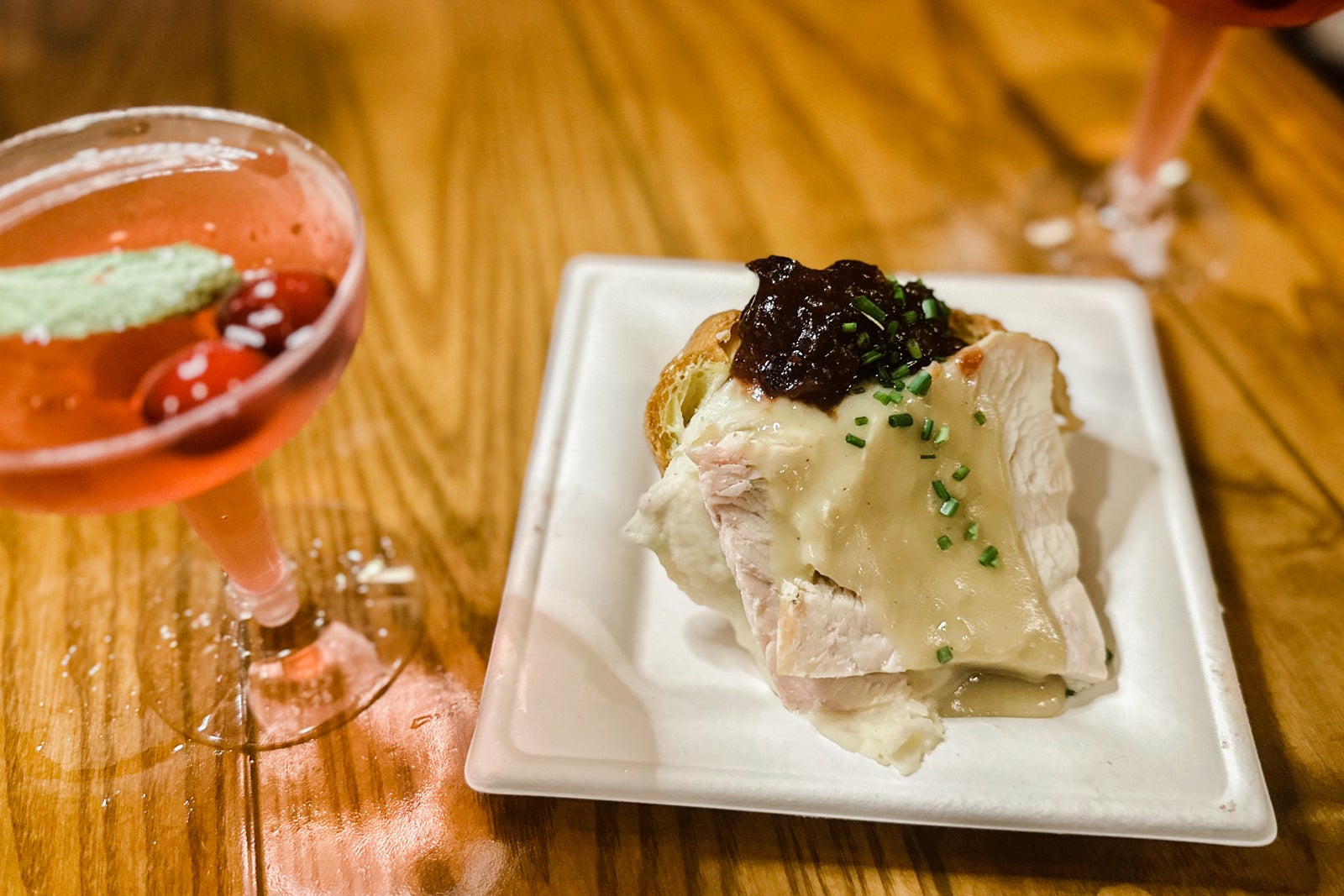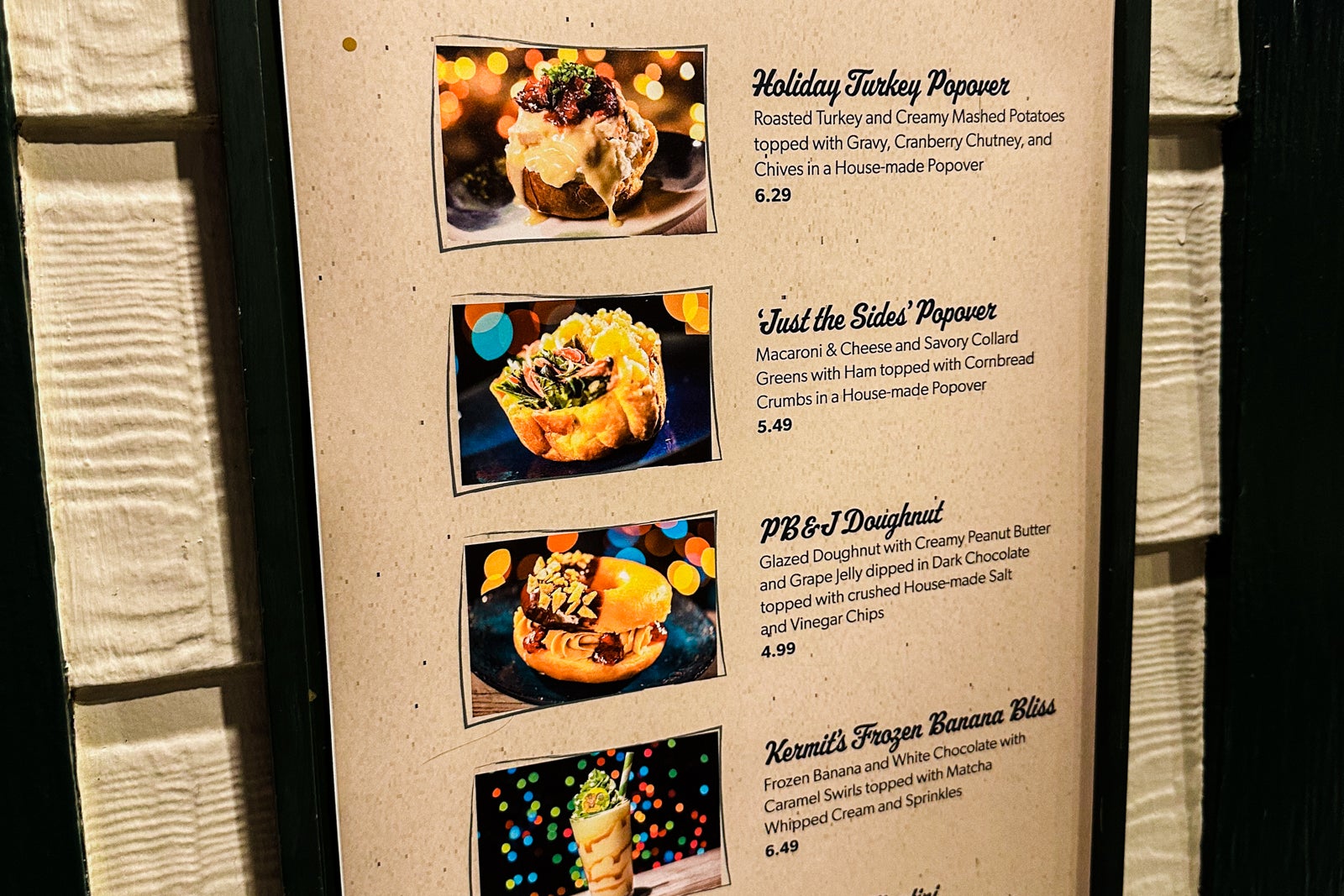 A favorite cocktail was the 5th Dimension Royale from the Tip Top Club. This brightly-hued drink is a fruity twist on a margarita topped with prosecco.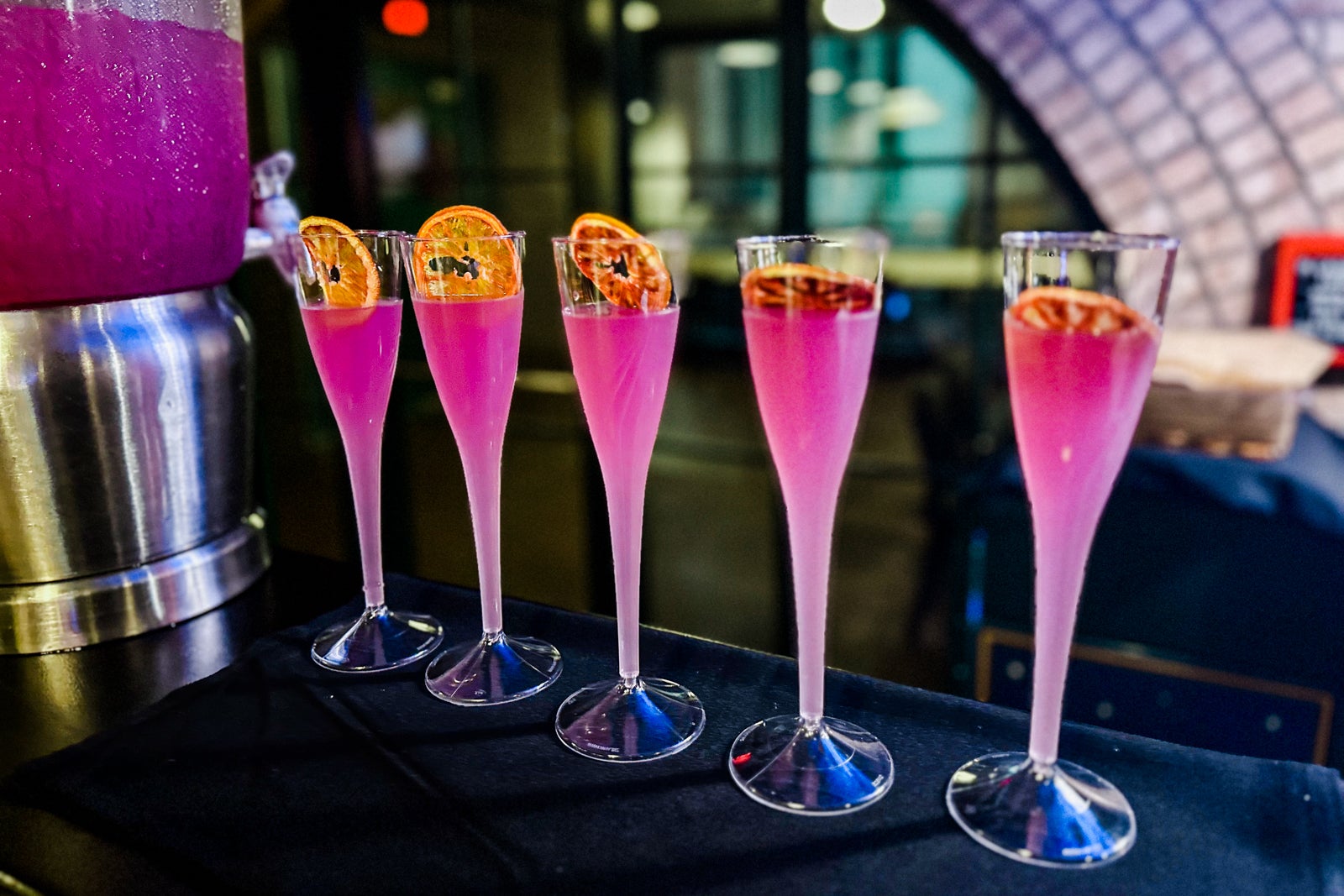 Keep in mind that wait times for specialty food and drinks can vary from 20 minutes to 45 minutes, based on our experience, so if enjoying the event's treats is important to you, plan accordingly.
Wait times for attractions at Jollywood Nights
Many will be pleased to know that most attractions are open during the event. One of the highlights of our evening was being able to walk on to several fan-favorite rides, including Mickey & Minnie's Runaway Railway, Toy Story Mania! and Rock 'n' Roller Coaster Starring Aerosmith. It was even easy to secure the virtual queue for Star Wars: Rise of the Resistance, which opened its queue at 8 p.m.
While all Disney after-hours events have a limited capacity, I haven't seen immediate access to attractions before attending Jollywood Nights. This could be because the party is a new event and guests were really focused on the party-only offerings, but if this continues, it could be a big selling point and even a reason to return for a rare chance to experience your favorite rides over and over again without needing to purchase Genie+.
Is Disney's Jollywood Nights worth it?
As with any Disney Parks after-hours event, it's entirely up to your tastes and what matters to you.
If getting dressed up in festive attire and attending a Disney event that was created primarily for adults (though children are welcome) sounds like a great night out for your crew, then go for it. For those who love Tim Burton or The Muppets, this is an obvious choice. The same goes for guests who love seeing rare characters and Disney favorites in their limited-time holiday attire. 
That said, I suggest having realistic expectations for what you'll be able to do when you're spending top dollar to be there. Strategizing and prioritizing are key for many Disney parks events, and this new party is no exception. With the short time frame of the party, it's impossible to experience all the characters, entertainment and specialty eats that the event has to offer.
With a bit of luck, some of the waits will even out as Disney hosts a few more of these parties.
Related reading: