It's one of the hottest attractions in New York City, and no easy task getting reservations. Still, after a lovely dinner, I can heartily recommend making the effort to dine at the exclusive Centurion New York City.
My colleague Zach Griff wrote the definitive guide to the new club when it first opened in March, but we wanted to go back and see what it's like as a regular patron.
Here's how to get reservations and what dining at the fancy restaurant 55 stories above Manhattan was like.
The Centurion New York City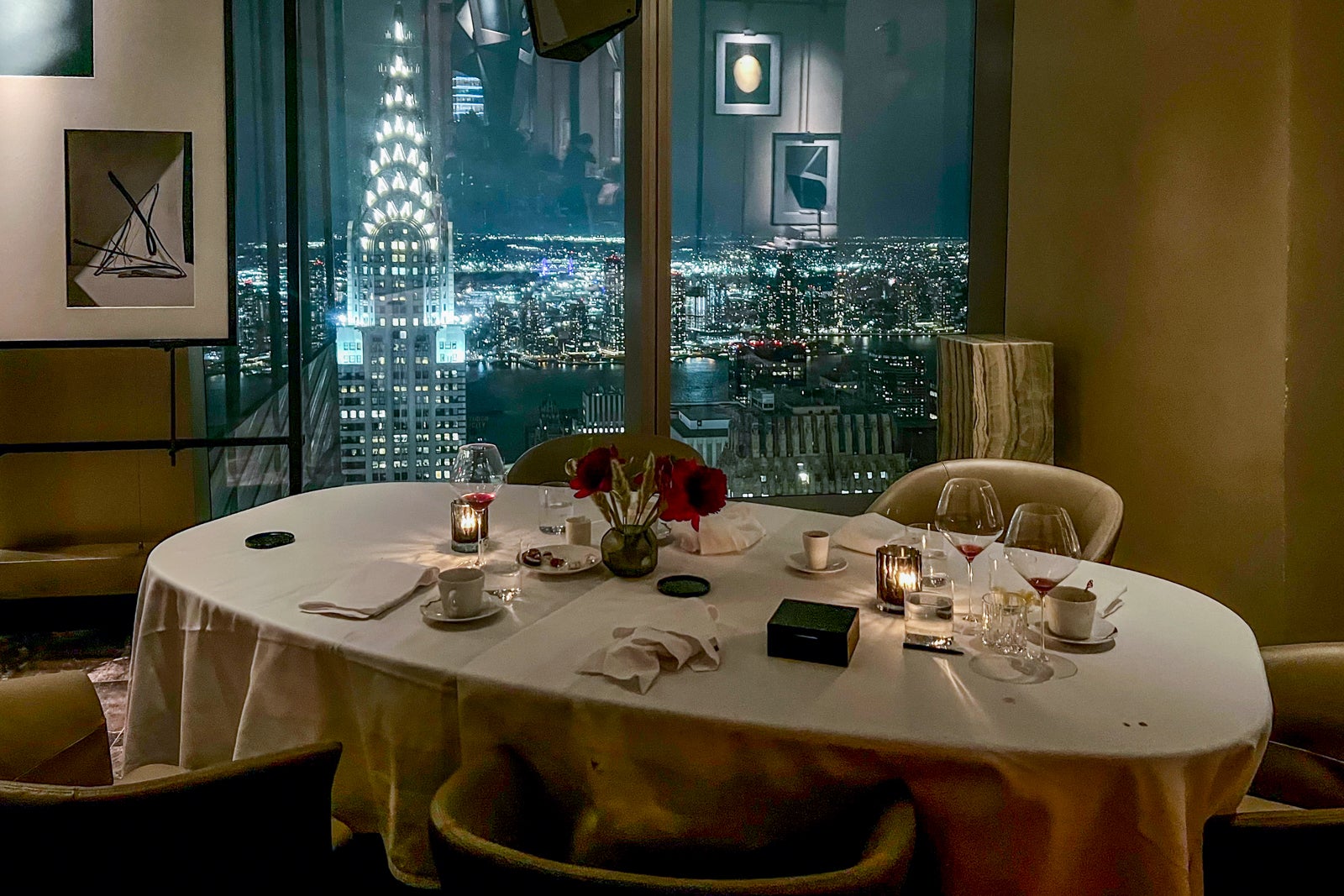 The space itself is spectacular … or at least the views are.
The various dining and lounging rooms take up some 17,000 square feet on the 55th floor of the new One Vanderbilt skyscraper right next to Grand Central Station. There are sweeping views of various New York City landmarks, including the Chrysler Building. You could dine at the restaurant and get a different and equally fabulous view each time you visit.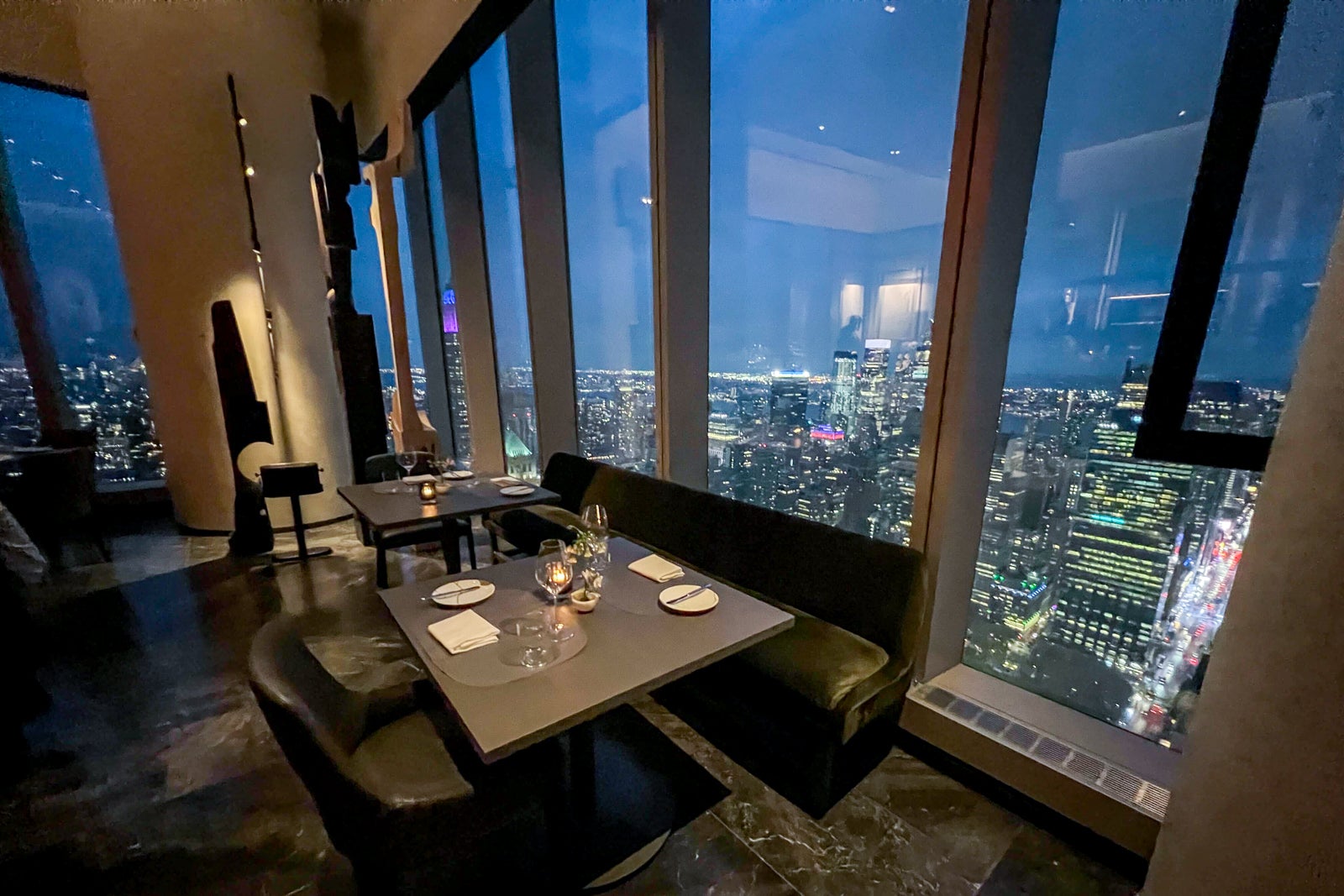 There are several seating options, including the Studio where my dining companion and I ate — and where you'll likely sit if you get reservations as a non-Amex Black cardholder.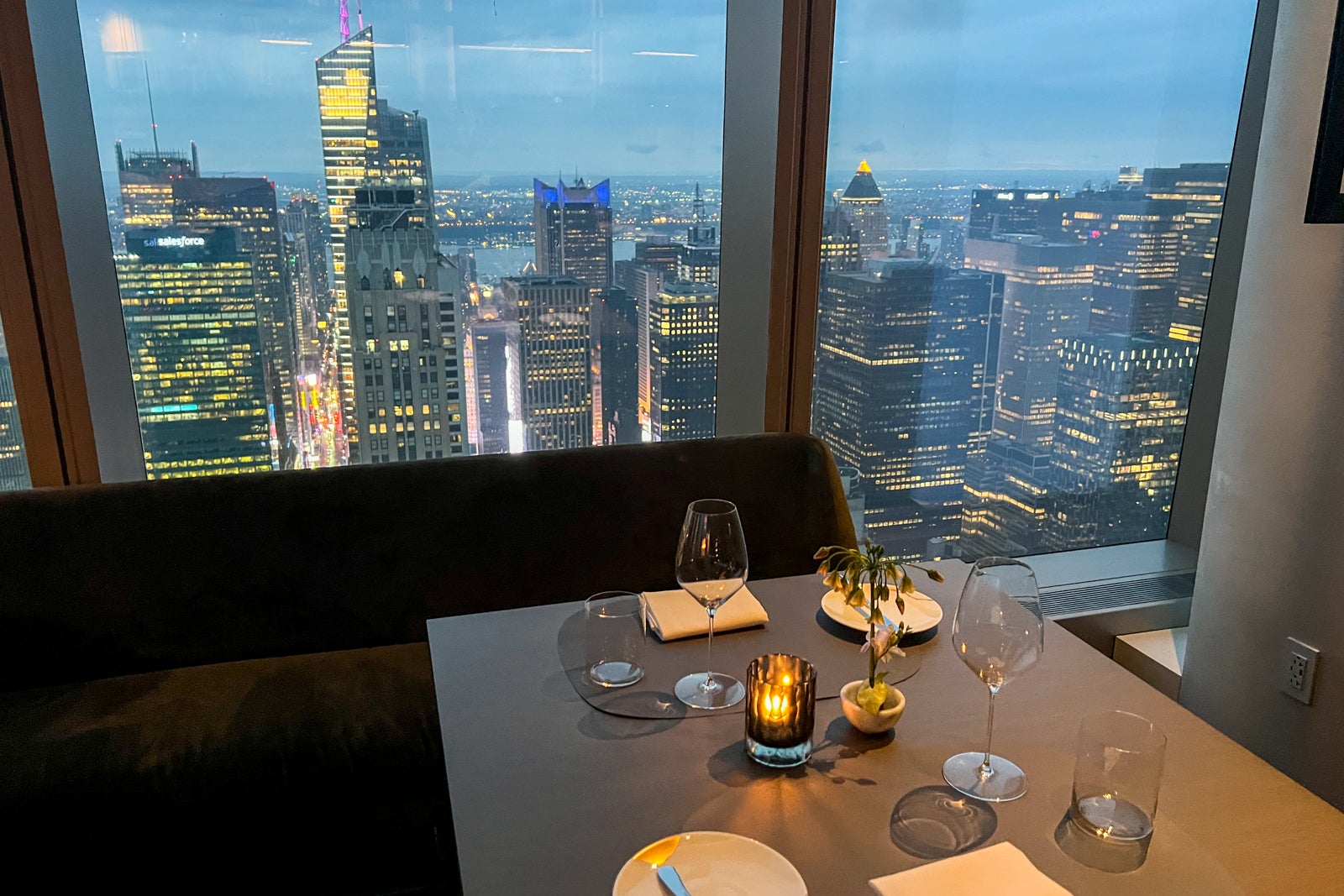 The Gallery is reserved for Amex Centurion members and their guests, where you'll find a fancier menu and white tablecloths.
There they offer five-course or three-course tasting menus.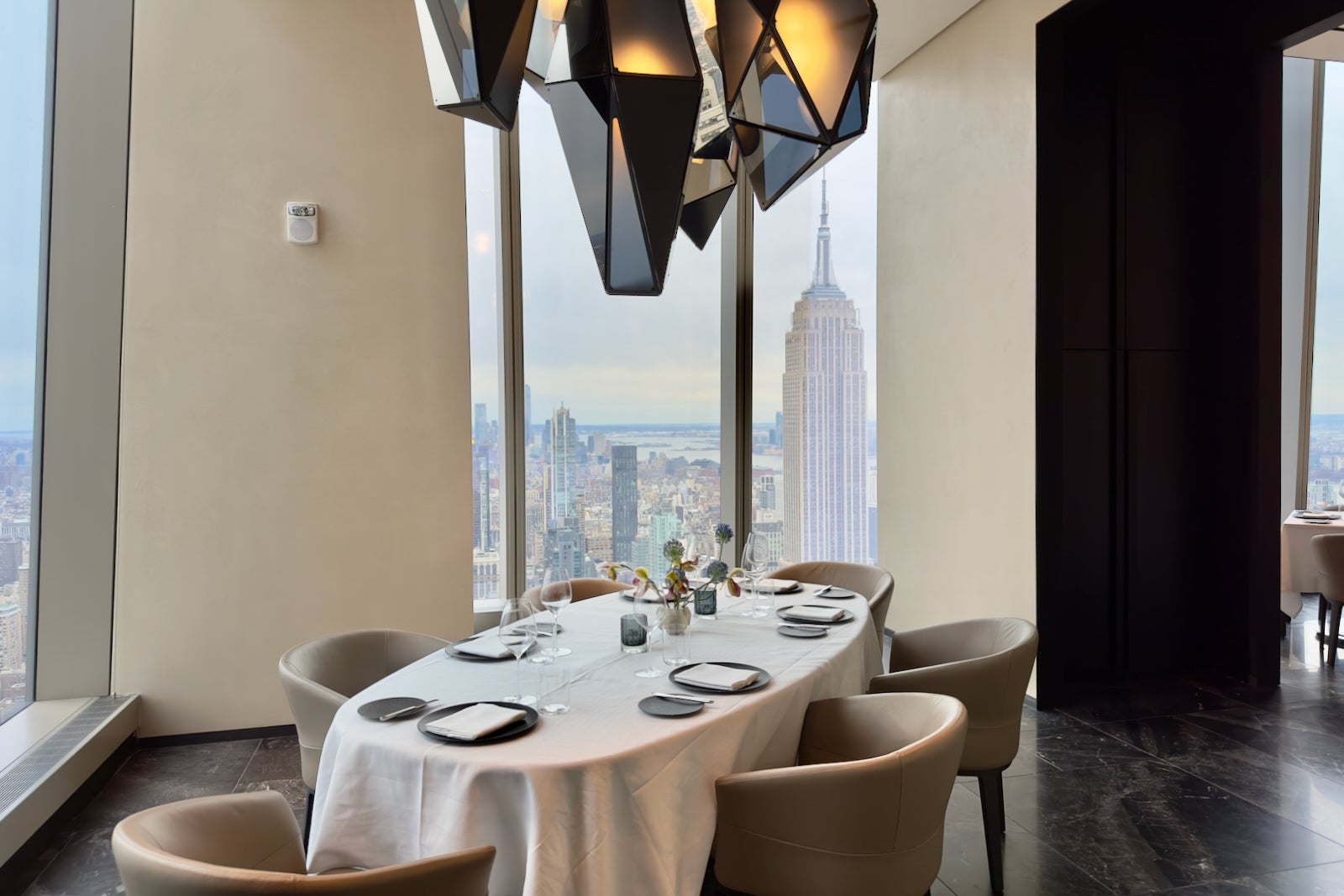 Centurion members can reserve two private rooms — named Carbon and Obsidian — for events.
There's also reportedly a secret speakeasy that American Express won't even confirm actually exists.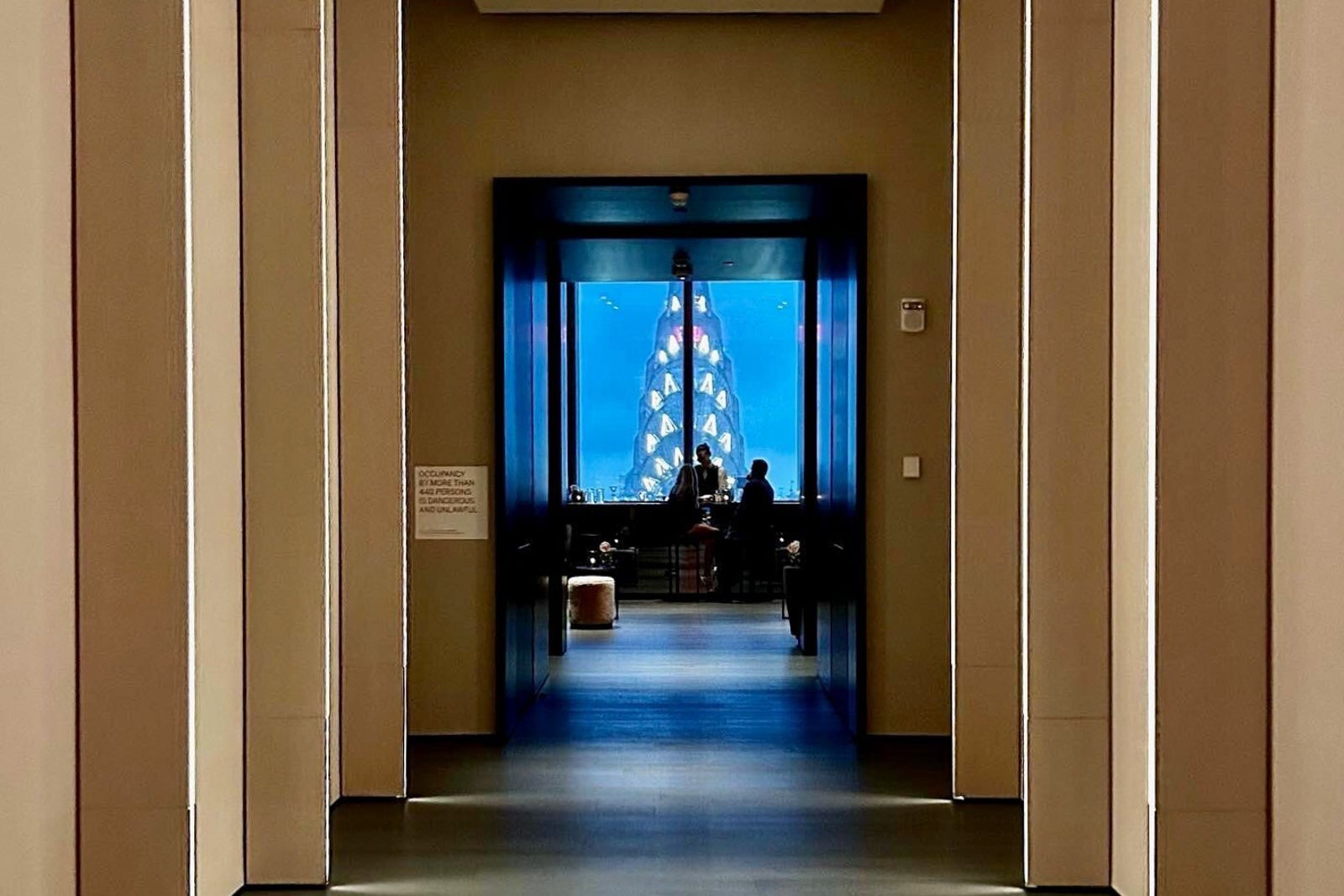 The place has some of the best views in the city — and that comes from a man who's been to the observation decks at 30 Rock, the Empire State Building and One World Trade Center. The views here are somehow more intimate since you feel like you are in the middle of the city instead of seeing it from the edges.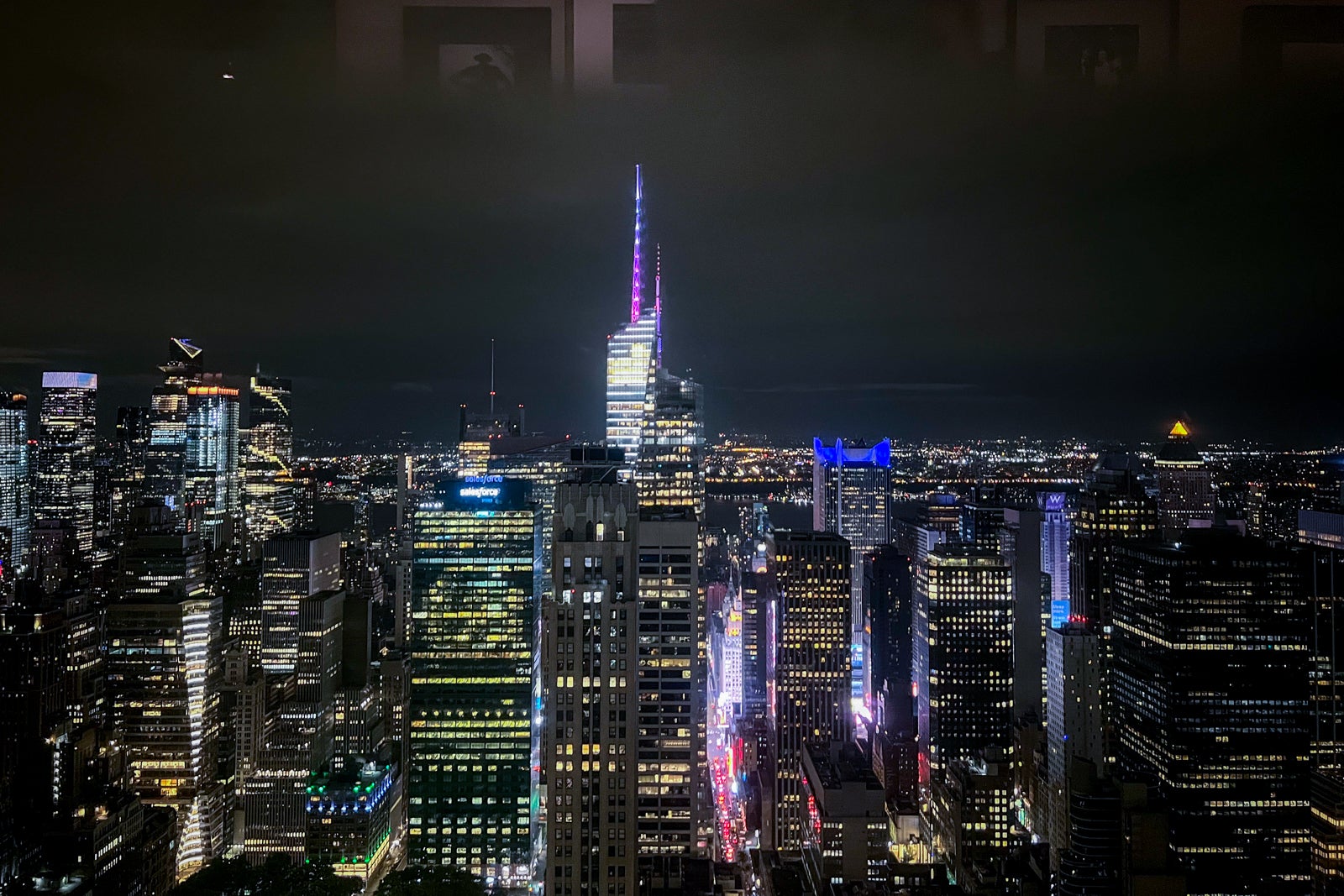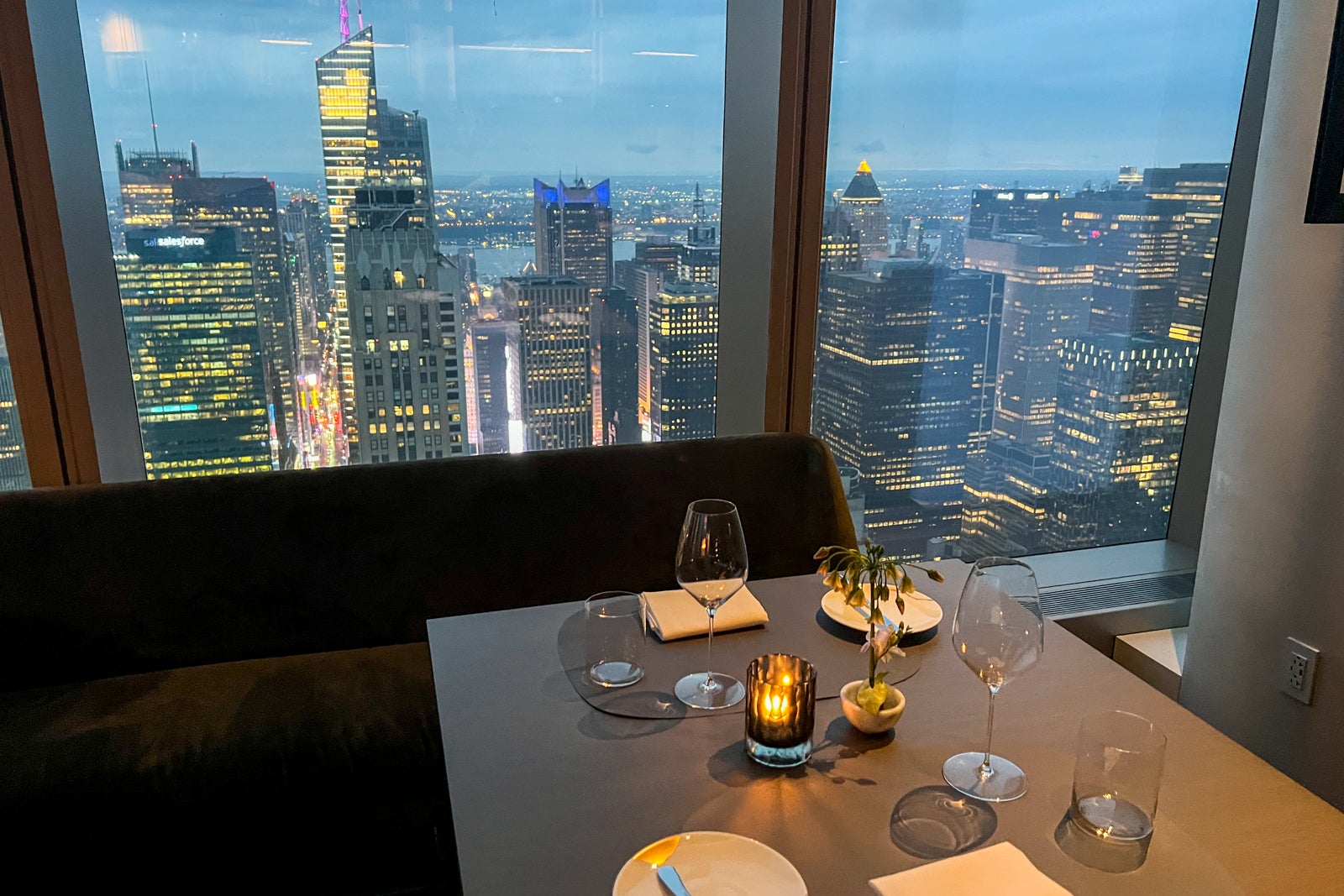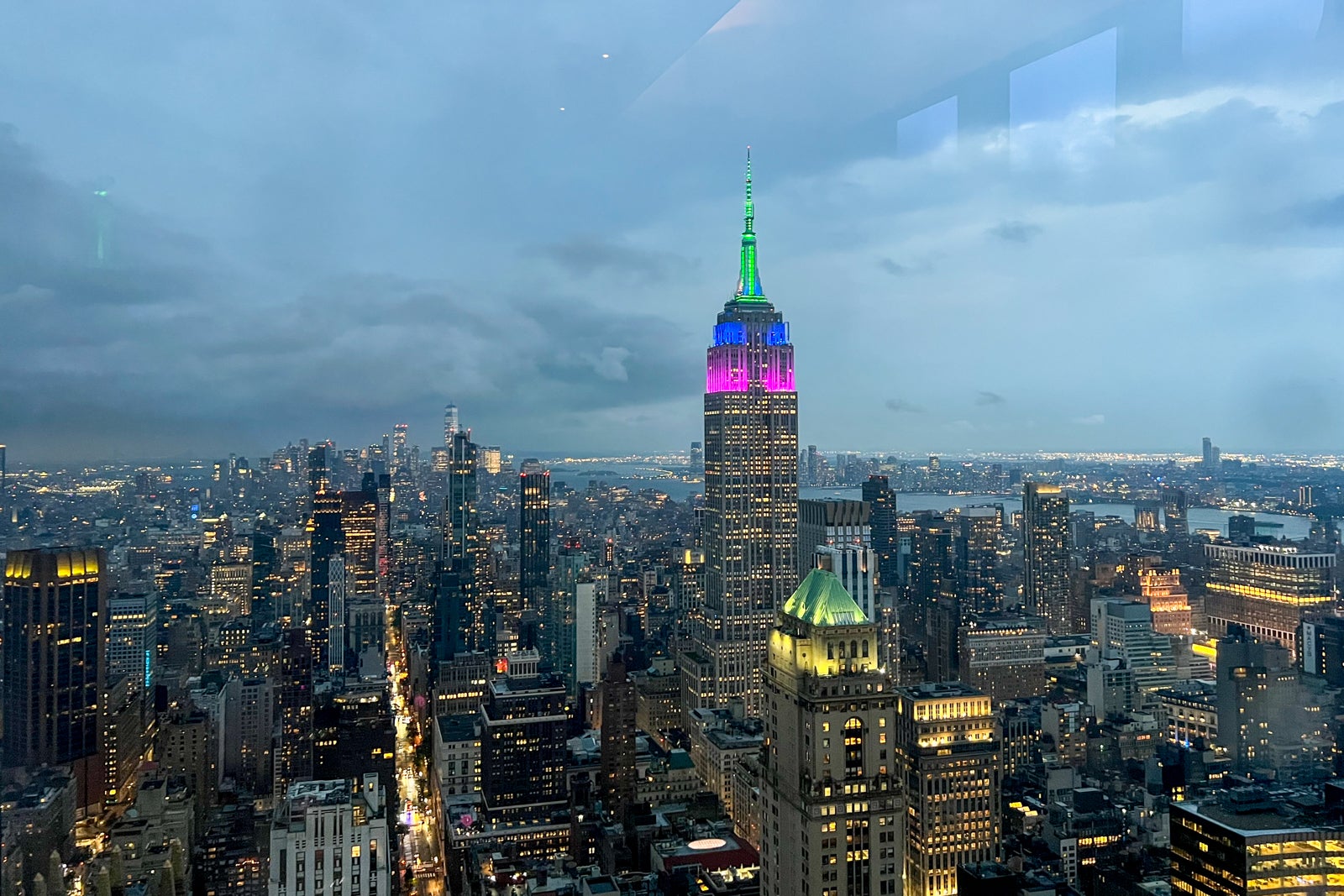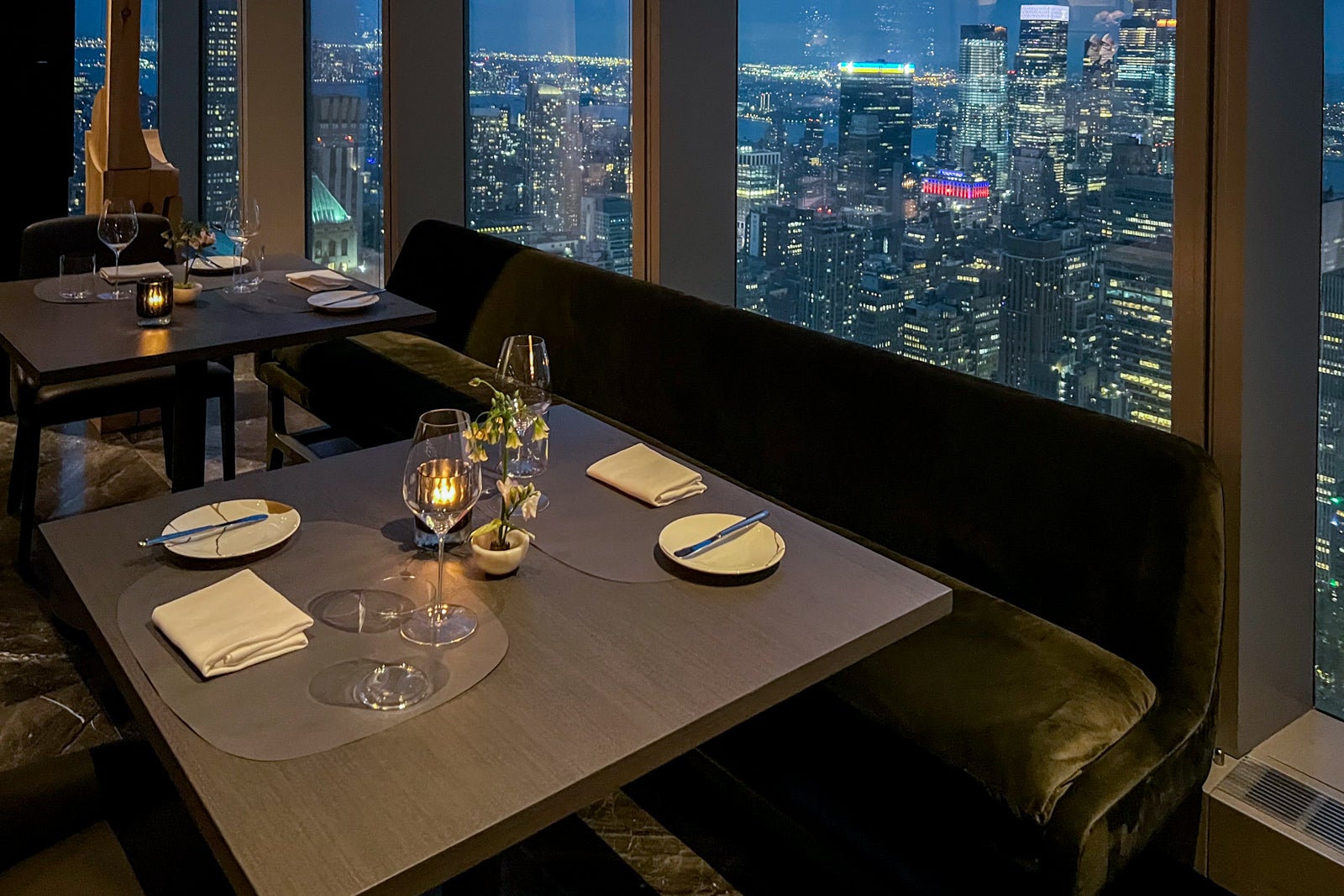 My coworker Zach took even more photos of the spaces during the day when he visited in March.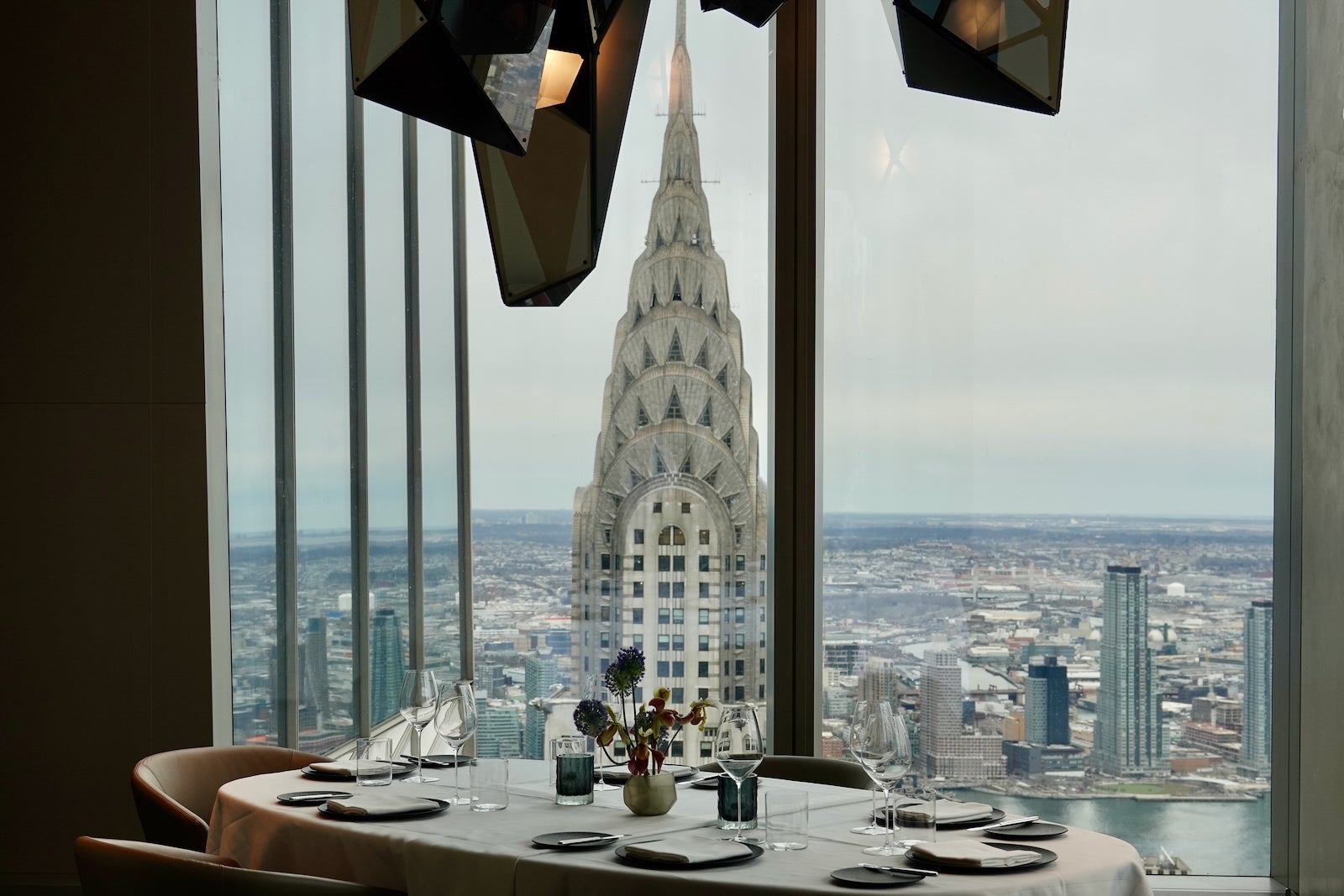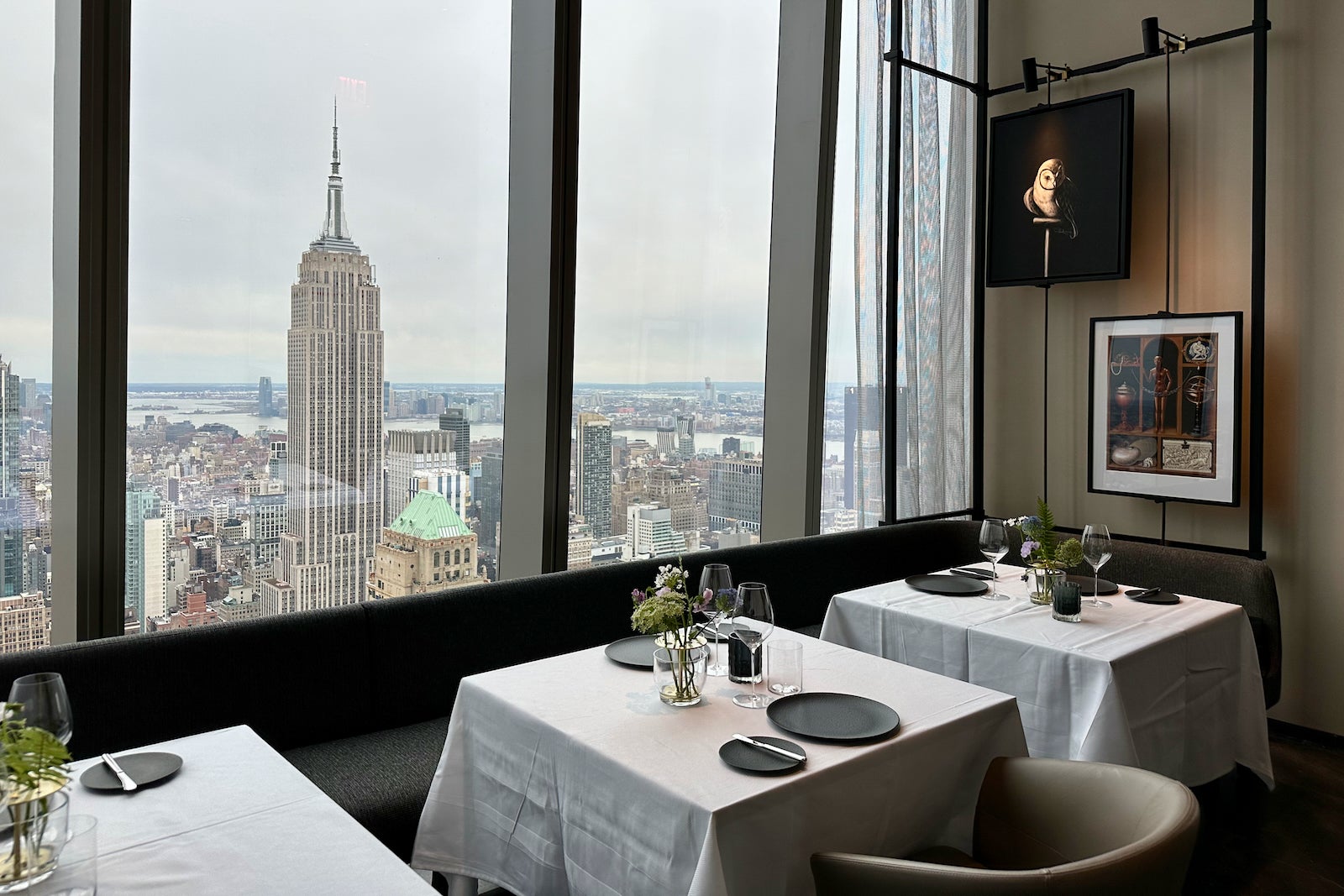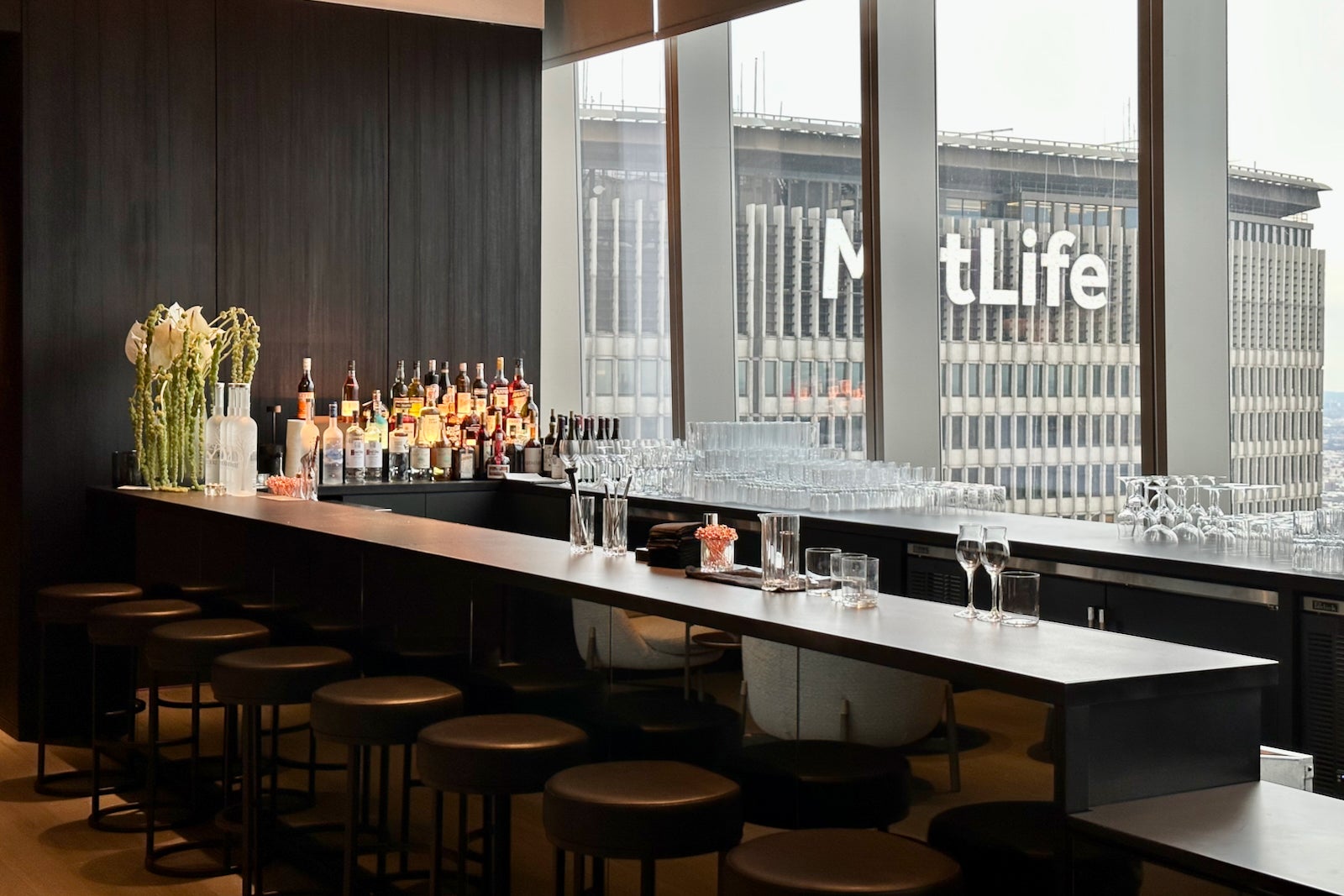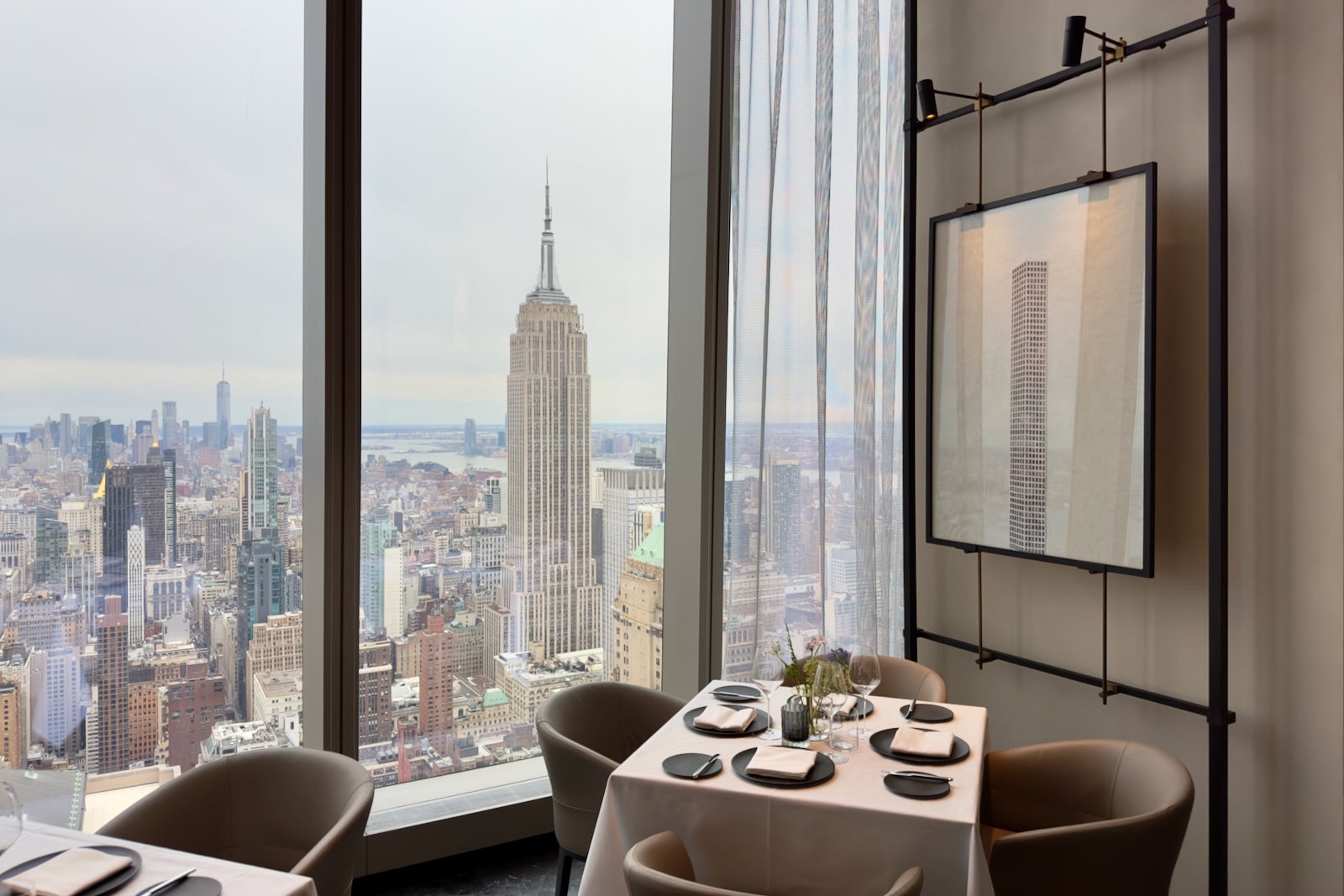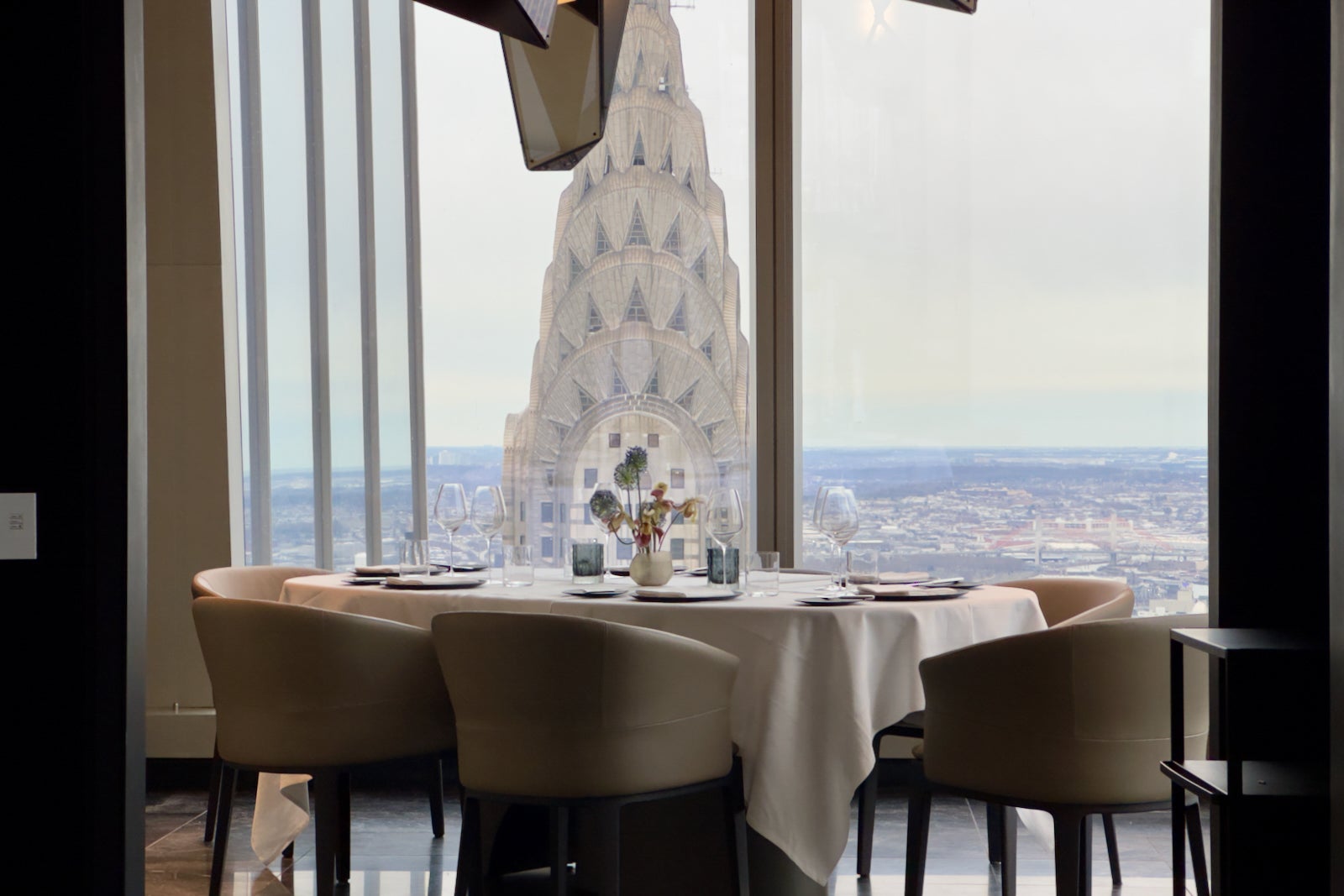 Even the bathrooms are chic with dark interiors and a specially-scented Diptyque handwash and hand lotion.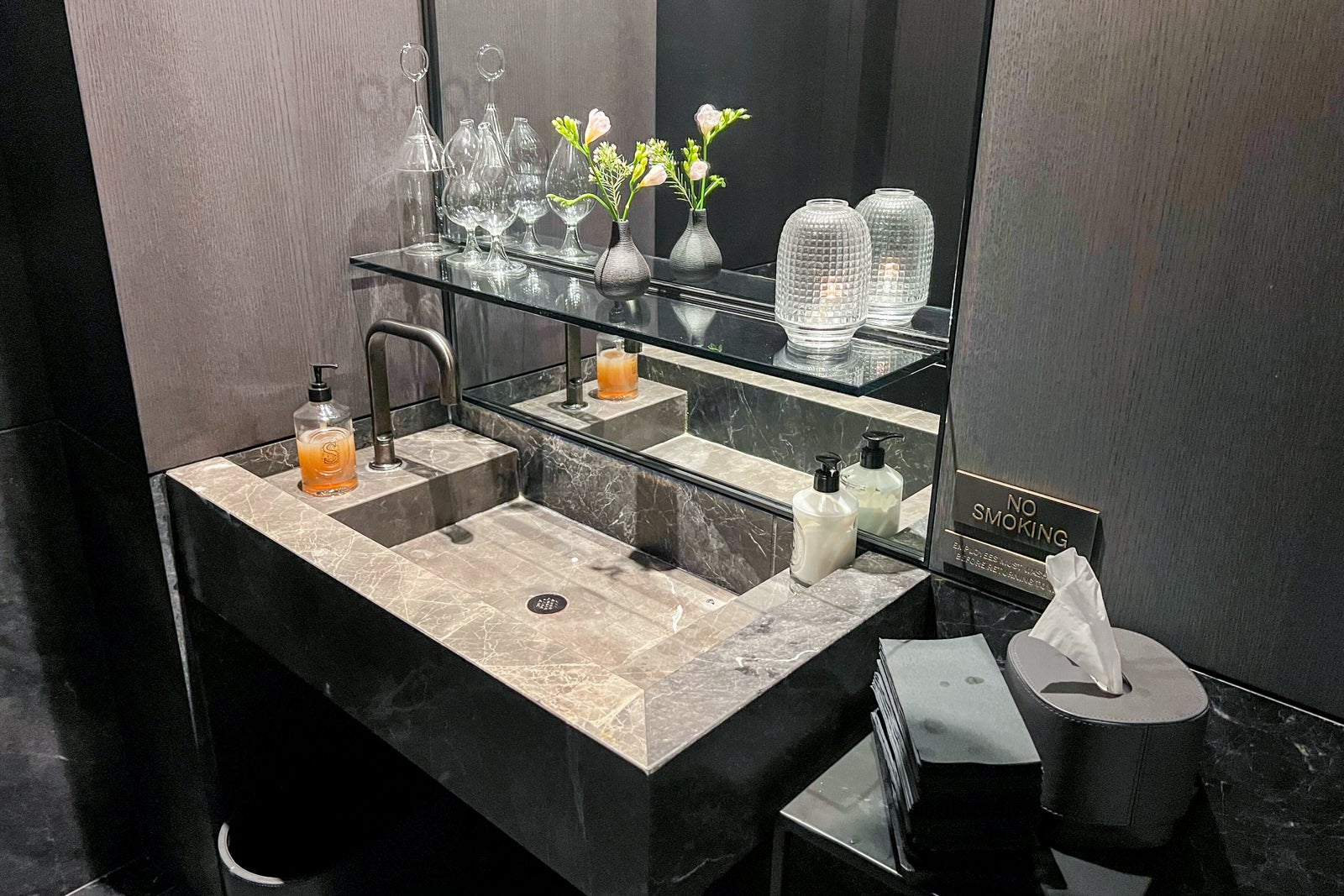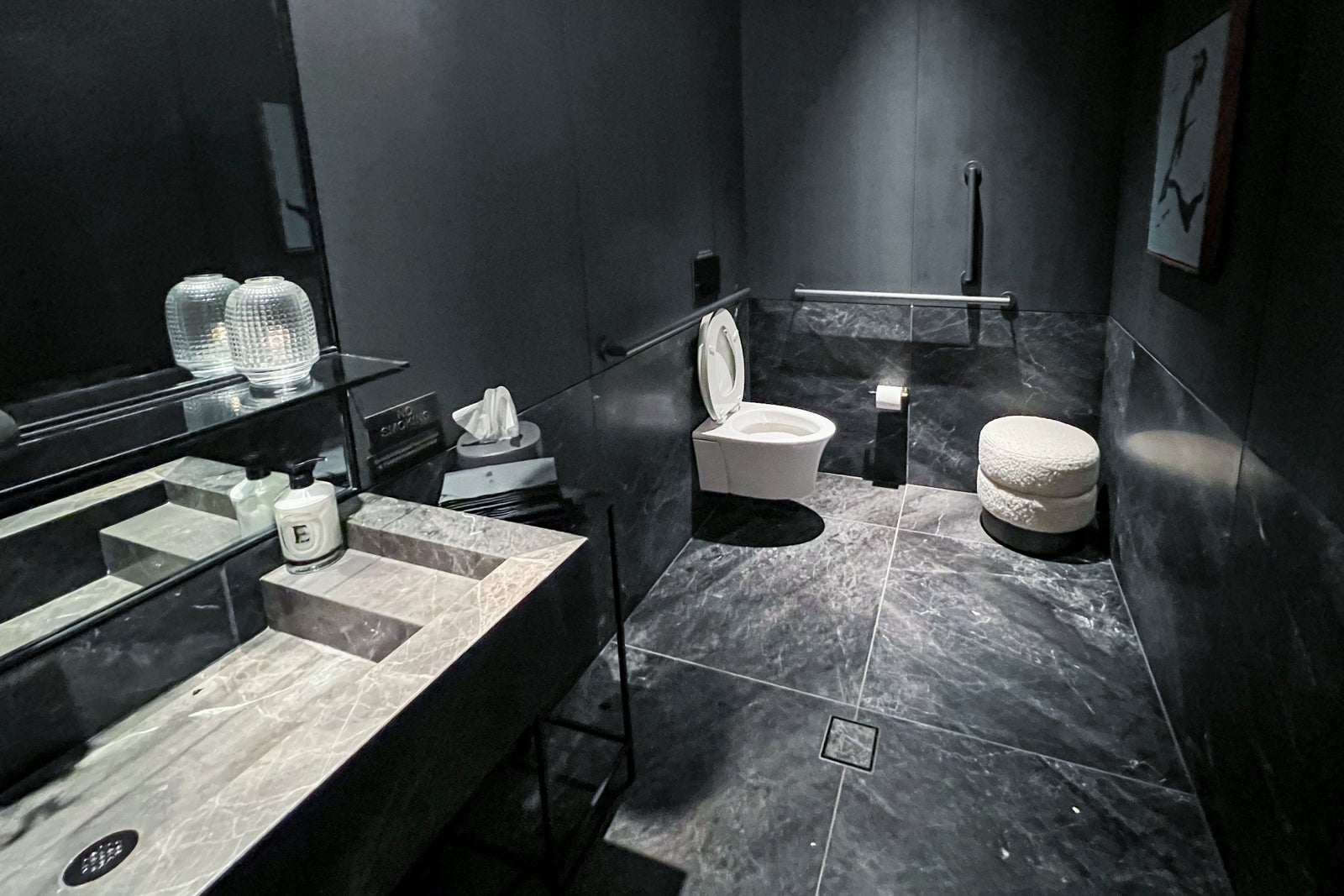 Probably the least glamorous part of the experience is the check-in. You need to go to a special desk in the lobby at One Vanderbilt (actually at the entrance on Madison Avenue).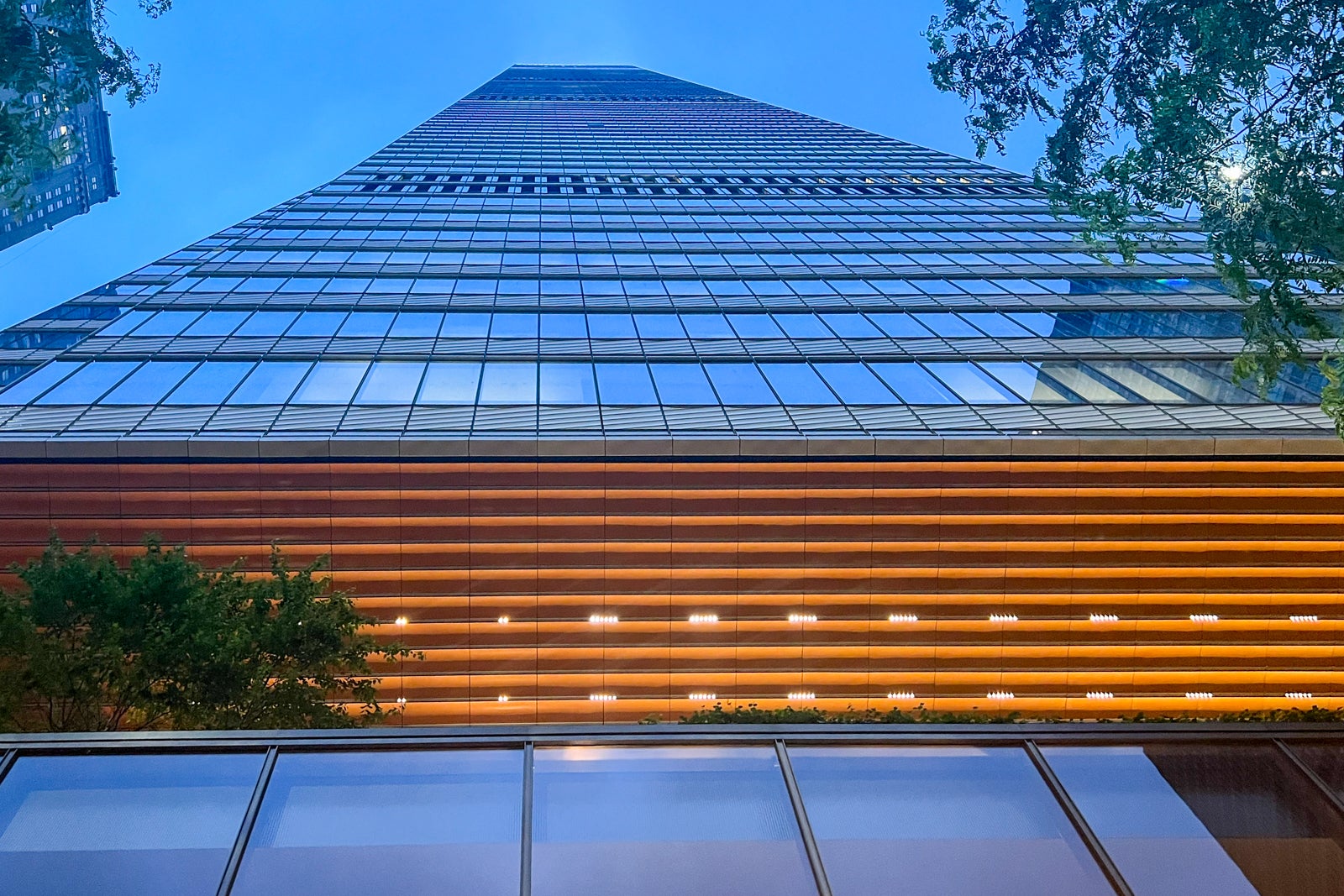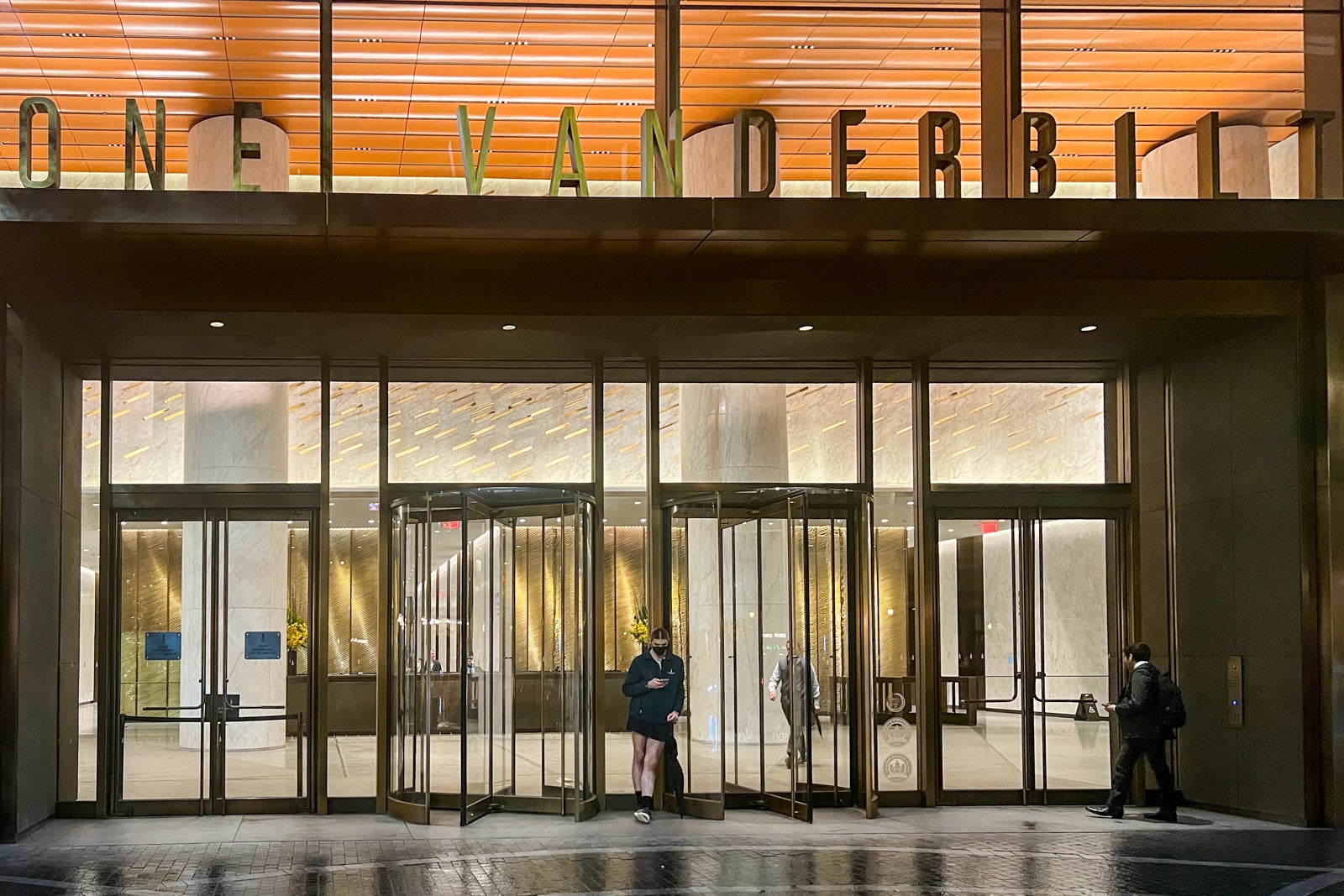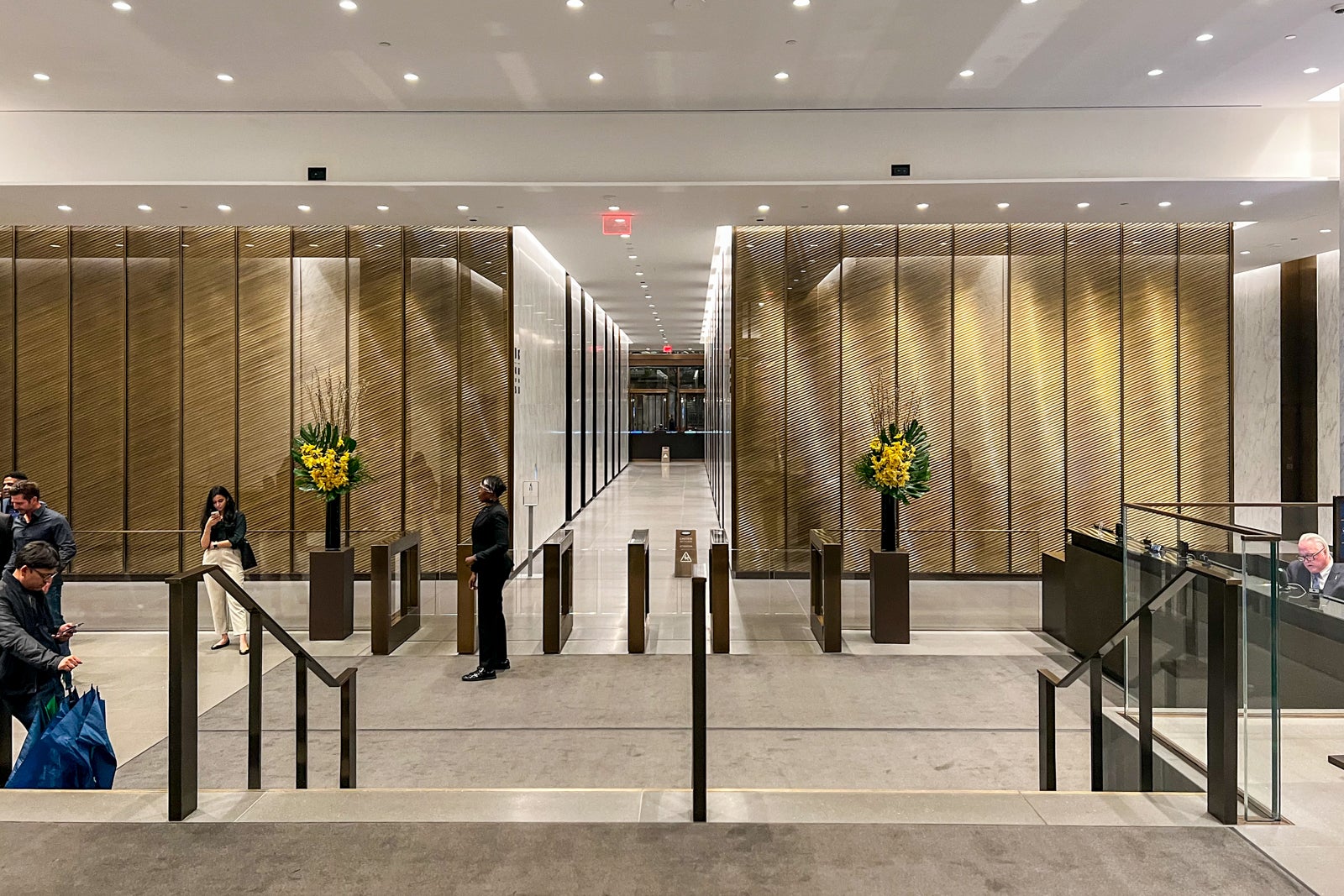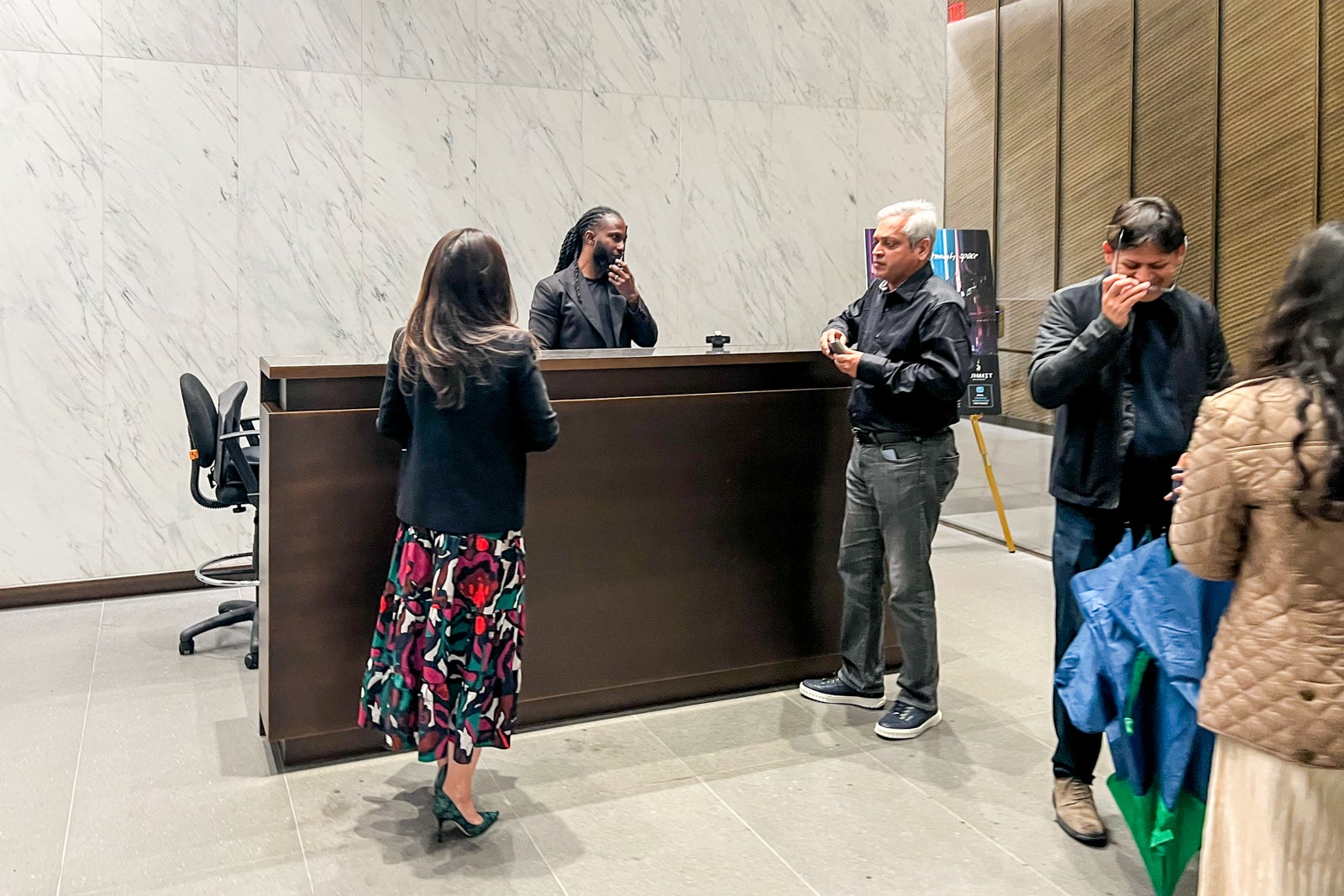 From there, someone escorts you to the 55th floor via a high-speed elevator, where you check in at another desk. One thing to note: You must provide an ID at the initial check-in desk to enter the building, so bring your government-issued ID.
Securing a reservation
Talk about an exclusive dining experience. I had a heck of a time trying to get a reservation at Centurion, New York City.
Holders of the American Express Centurion card get priority access. That invite-only black card is typically reserved for celebrities, the ultra-wealthy and businesses with hundreds of thousands of dollars in monthly expenses.
I am most definitely not among that group.
I do, however, hold the Platinum Card® from American Express. One of the great perks of holding that card is the concierge service. However, I had never used that service despite holding the card since 2000.  I have to say I was super surprised at how good that team was at keeping me updated with the efforts to snag a table here.
The process started when I called the toll-free number on the back of my card and asked to be connected to a concierge. After entering my account information into an automated system, I was prompted to pick dining, and then I was connected to a live agent.
The way it works is that you give the phone agent a few dates that would work for you, and they add your name to a list to call the restaurant the next business day. The restaurant takes reservations for non-Centurion cardholders Monday through Friday between 10 a.m. and 12 p.m. for bookings 30 days in advance.
I was pleasantly surprised when I received several calls updating me on their hunt for reservations for me over the next few weeks. Unfortunately, I didn't get a spot that way. Still, when I called the American Express concierge on July 7, the agent told me the situation had improved significantly in the past few weeks.
He said agents have been able to confirm reservations for more people and that I might have better luck than I had initially.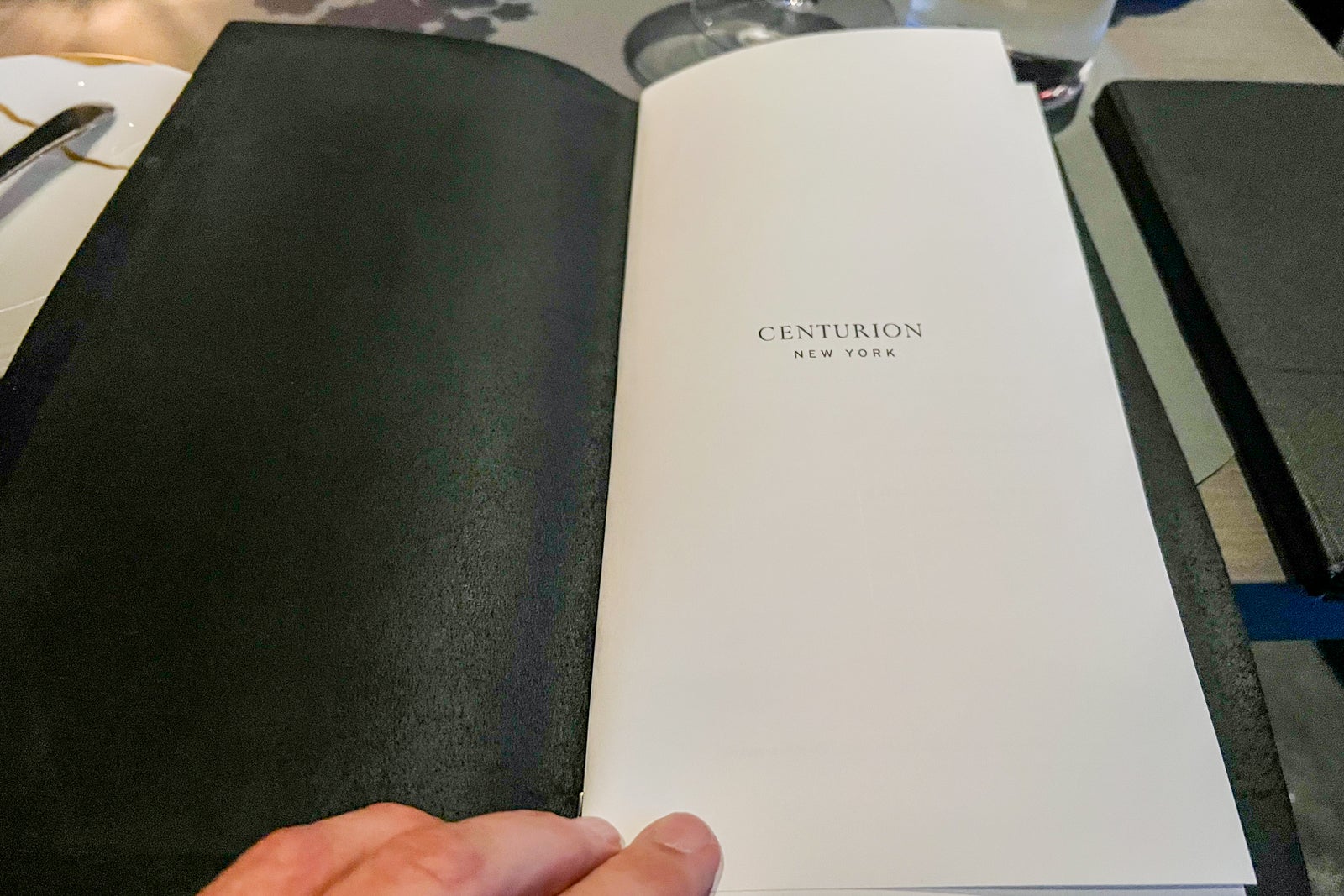 The concierge also told me that Platinum cardholders can now get reservations for parties of four instead of the former policy of only allowing for two in a reservation. Centurion cardholders get access to even larger group reservations.
American Express cardmembers can access the Centurion New York with a reservation made via Resy, but it's not necessarily easy to go that route, either. However, that's ultimately how I secured a coveted reservation (note that American Express owns Resy).
To make a Resy reservation, you must have the app installed. Resy will only allow you to get on a waitlist for a reservation within a month. There's also a cancellation fee of $100 if you have to cancel, so be sure it's a date you can make.
There is also a stated strict rule on photography, "to respect the privacy of all patrons, photography is discouraged in all areas." However, we found that the rule was totally ignored.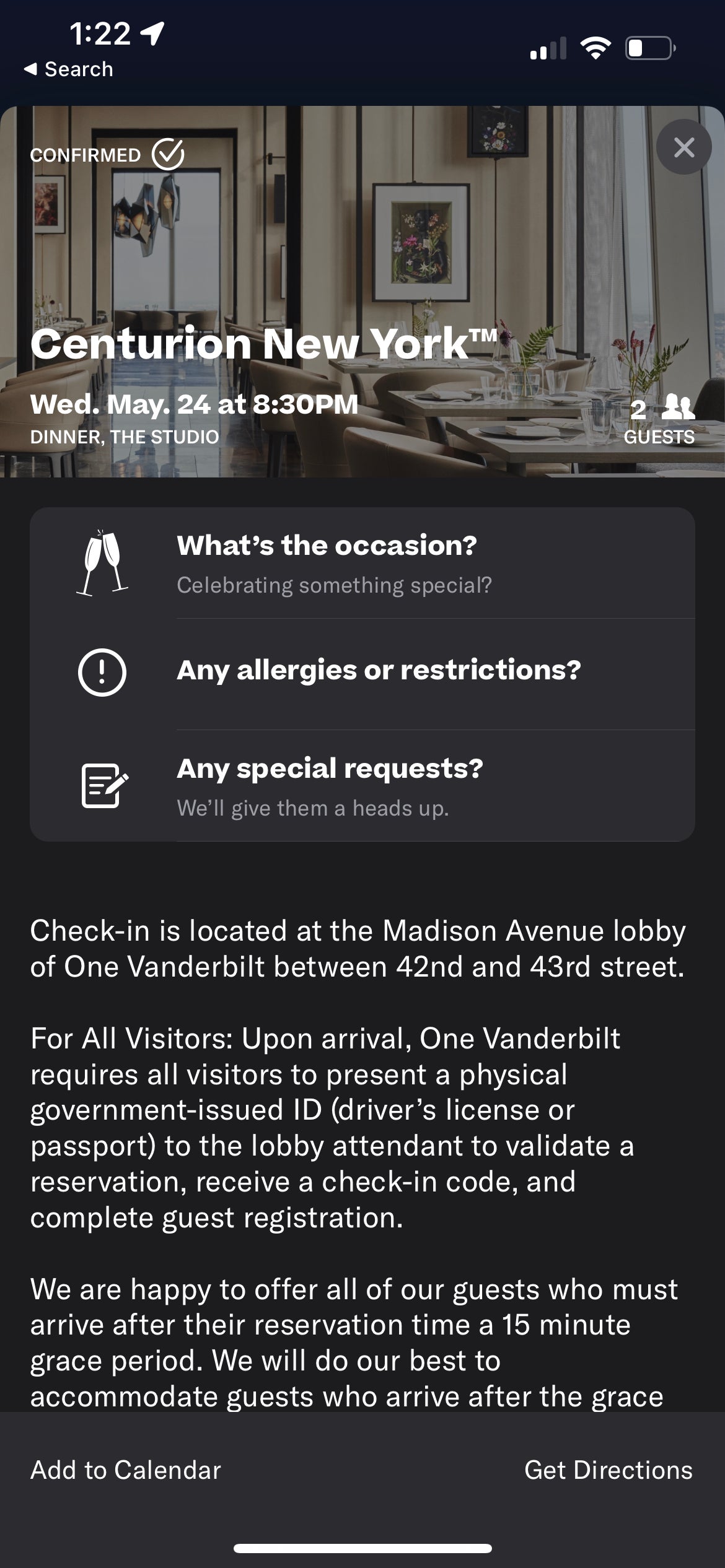 You select the number of guests, the time frame you'd like to book and then hit "confirm."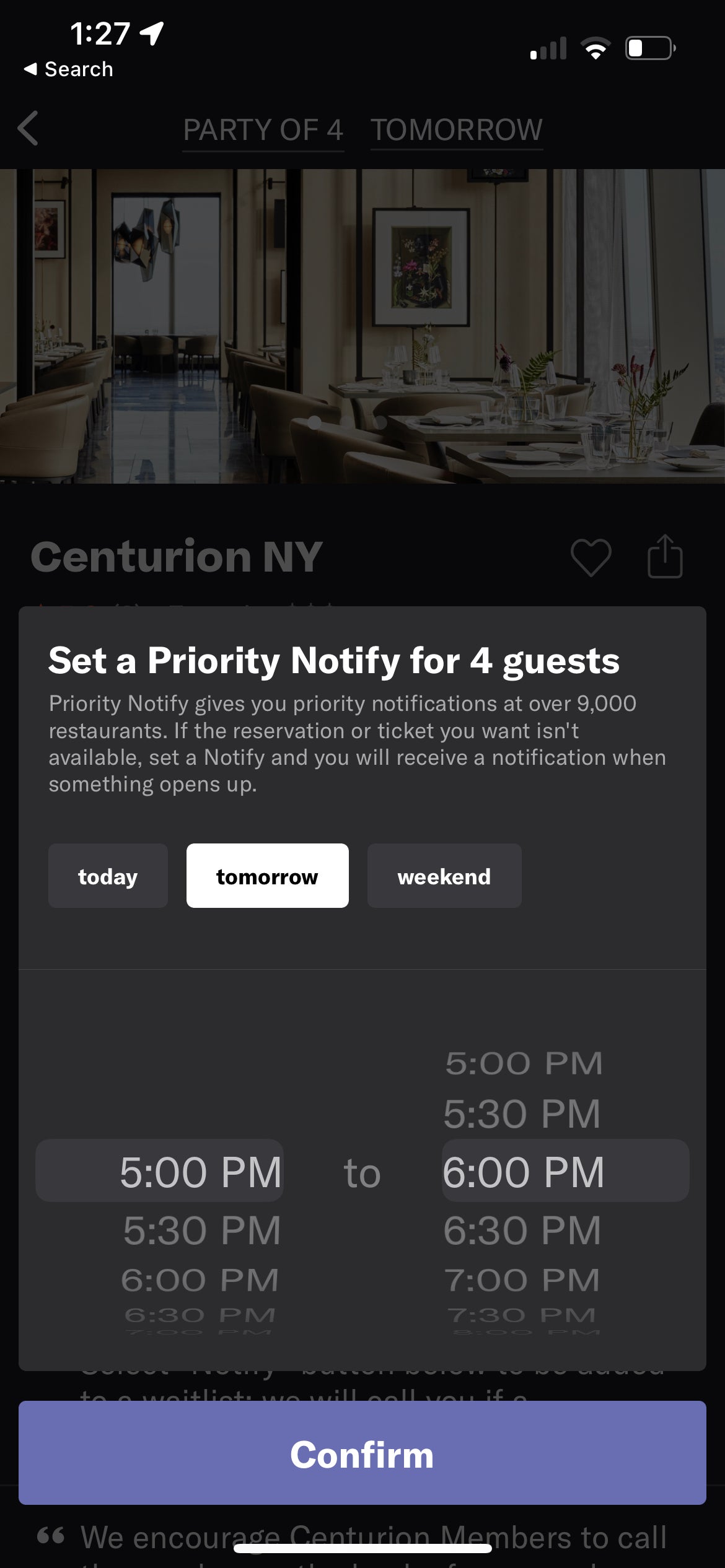 After requesting a dinner reservation for May 24 at any time, I received a text notification that there was an opening at 5 p.m. and 8 p.m. By the time I replied, only 8:30 p.m. was available, which I quickly agreed to book.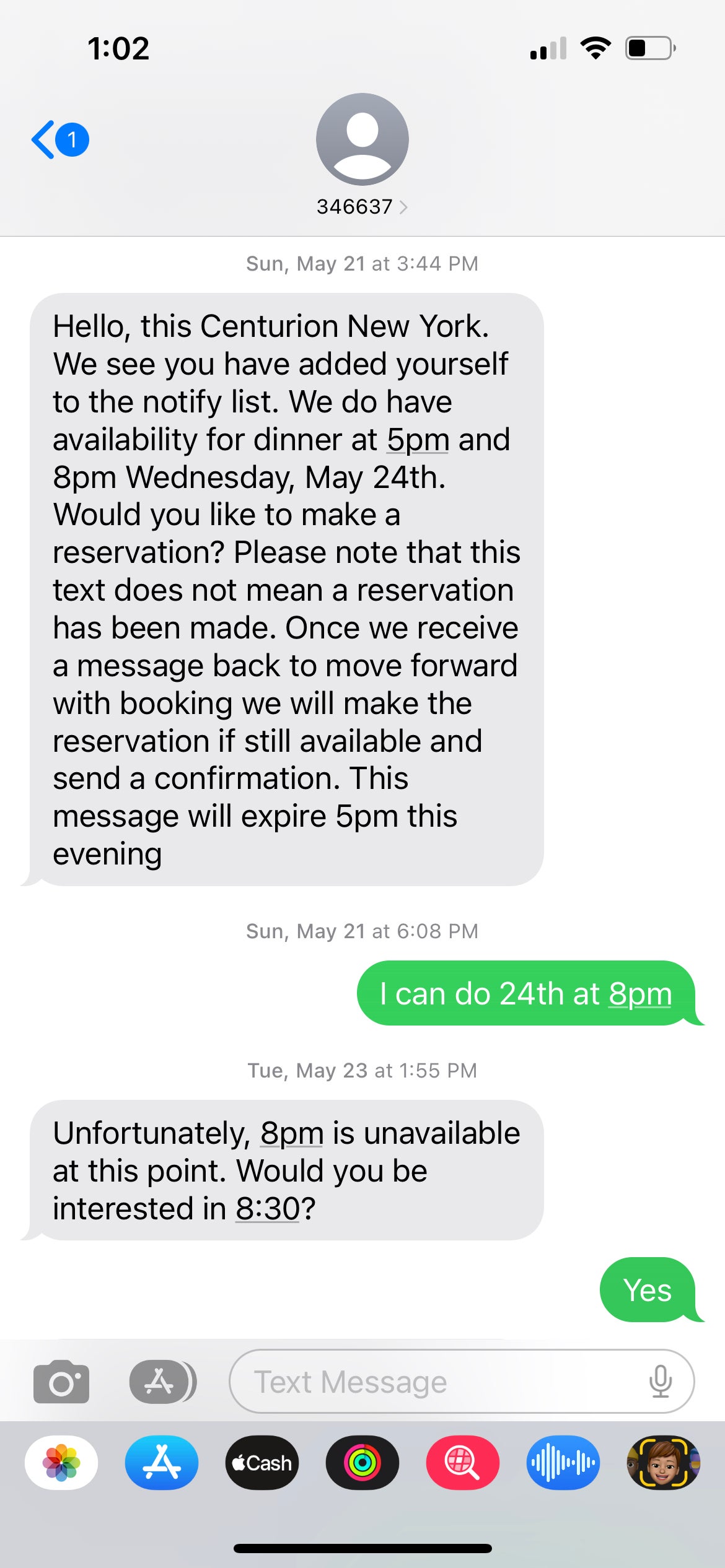 Voila, I had a confirmation.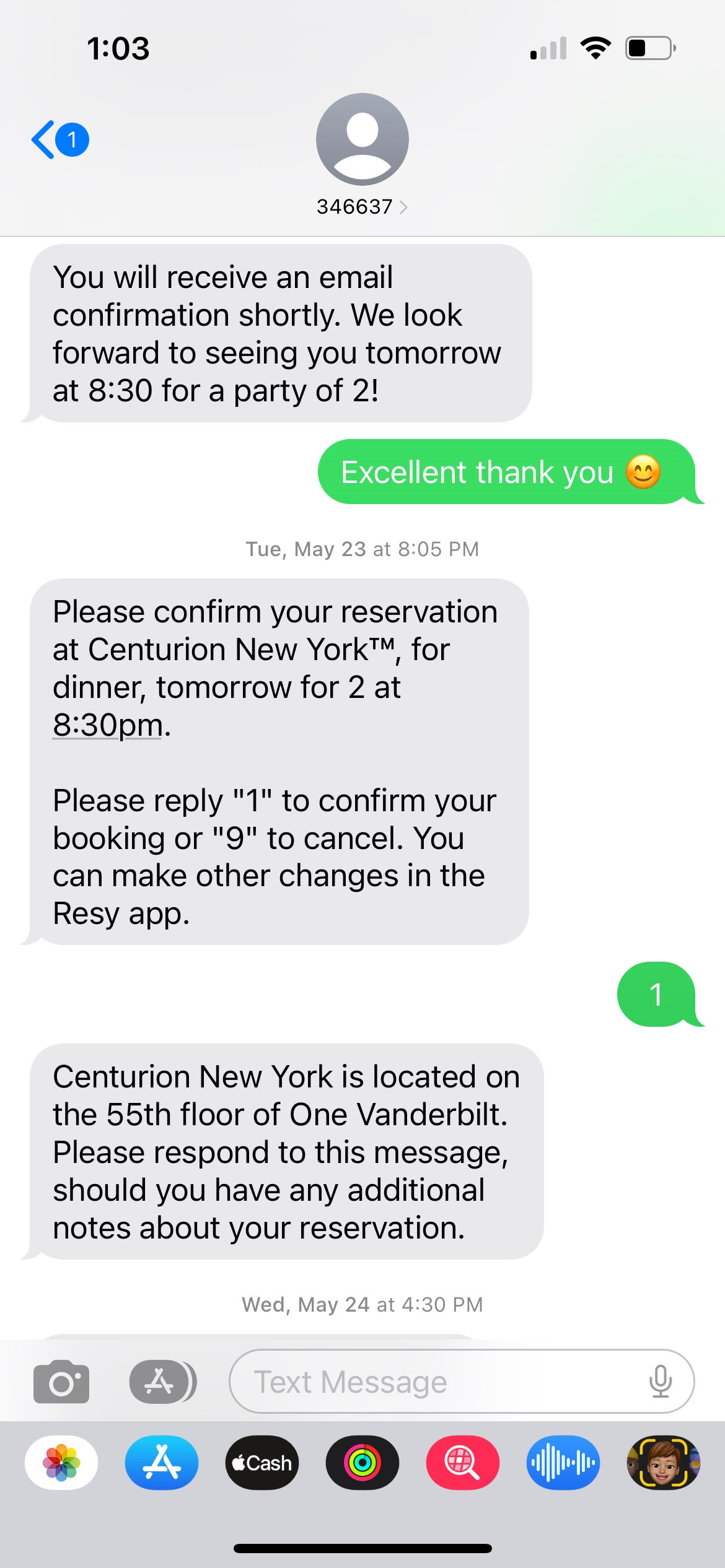 After my experience with Resy, that's the way I would advise people who want to dine there to book. It seemed easier than calling the Amex concierge and hoping you would catch a callback.
Food and drinks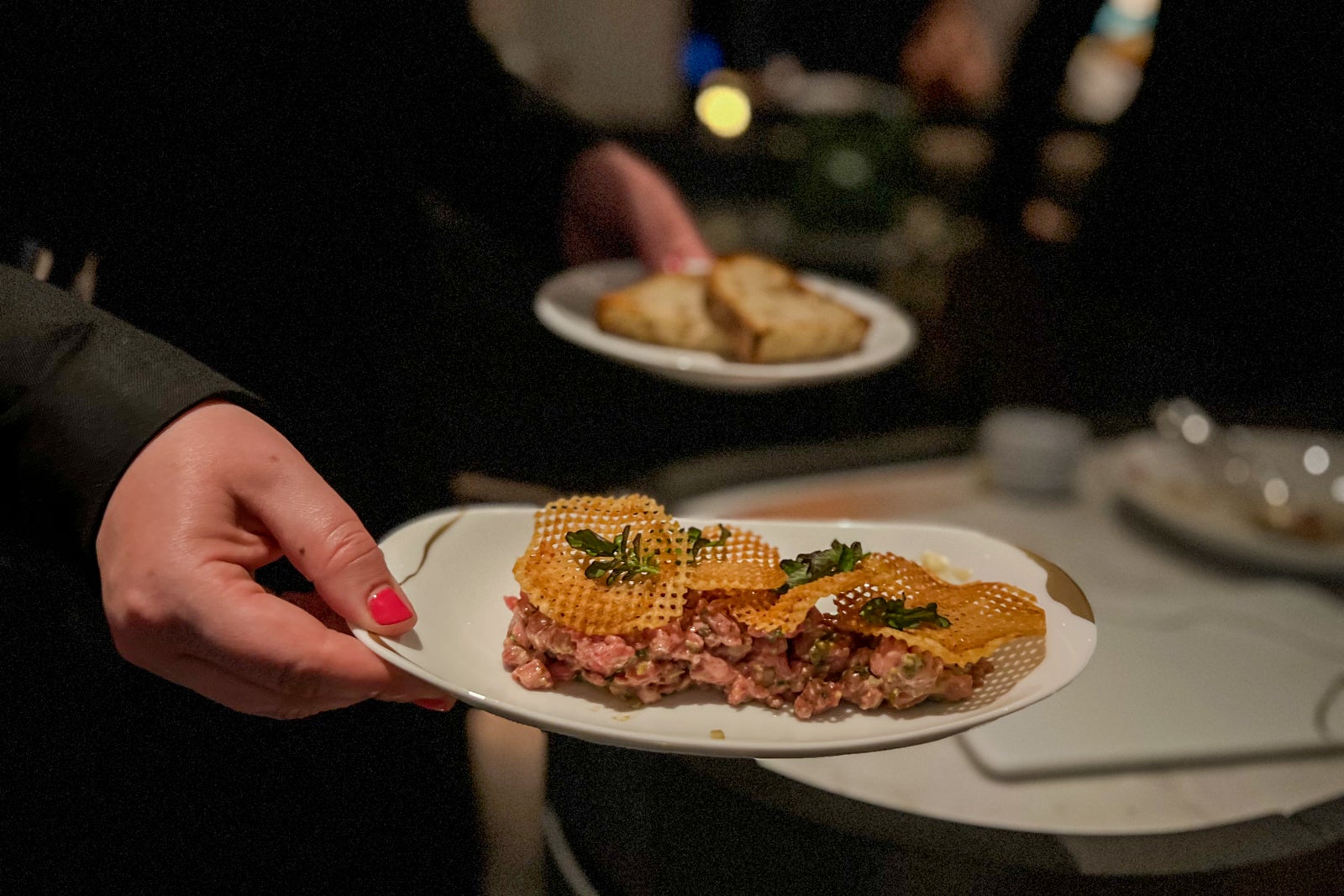 Daniel Boulud, best known for his Michelin-starred restaurant Daniel, is the creative mind behind the food at Centurion New York City. The food was a hit with my dining companion Marty Guerra and me.
They get high marks for presentation, with food rolled out on carts where some final flourishes were made to plates before service. The waiter drizzled sauces and added garnishes to the plates before placing them on the table.
The chicken was presented to the table in its cooking pot before being served.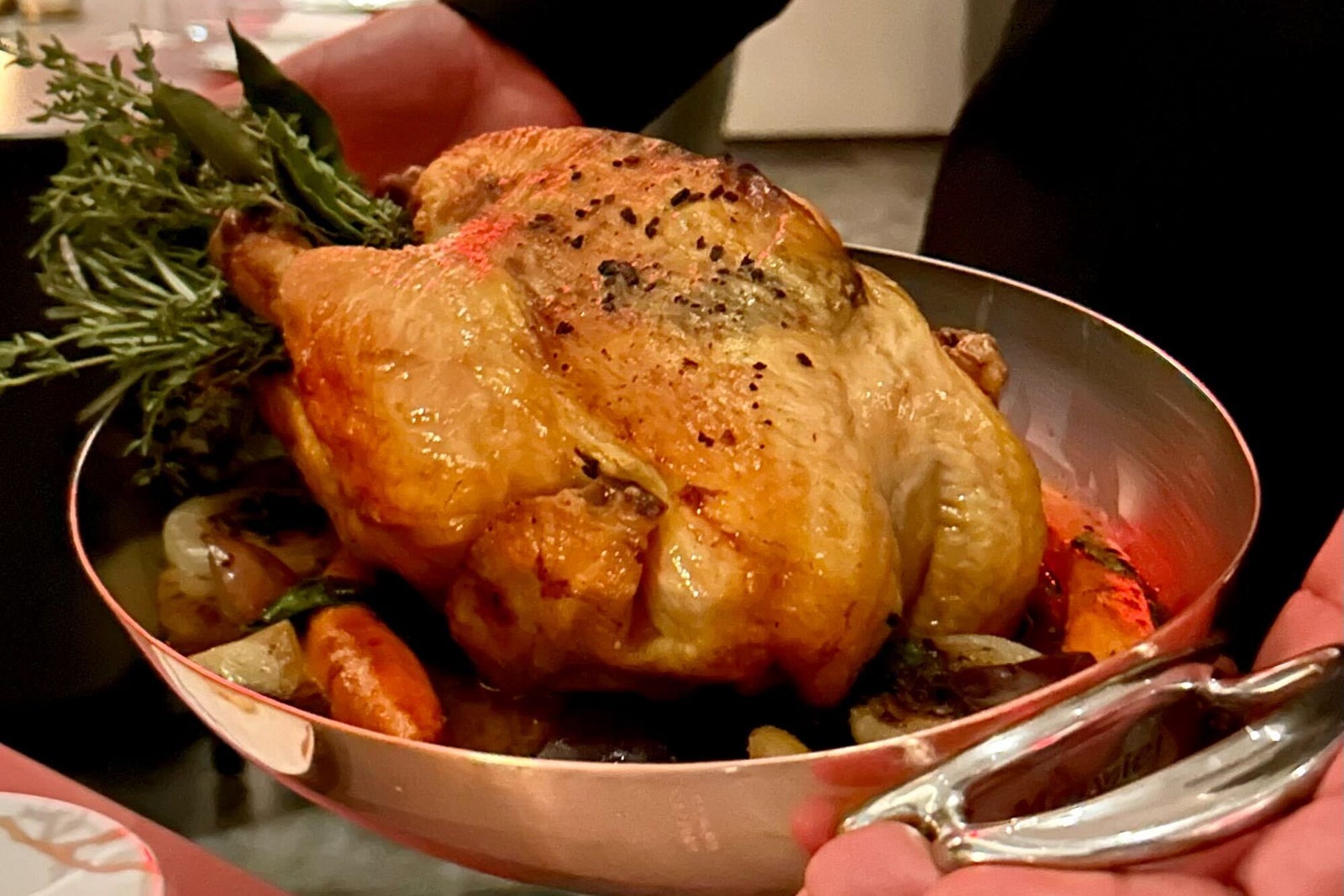 The dishware was from the renowned French porcelain maker Bernardaud.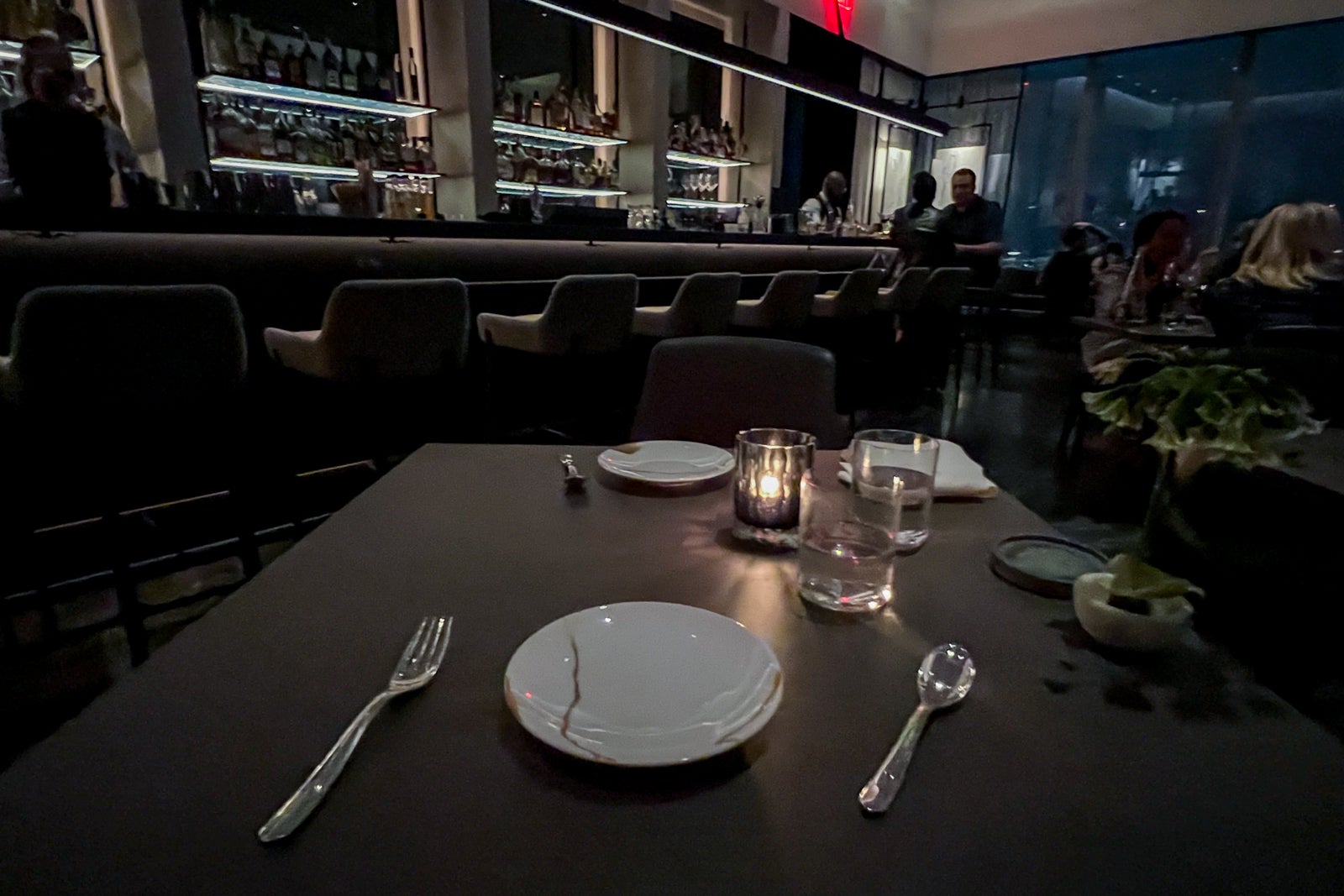 For dinner, Guerra and I shared green asparagus ($20), steak tartare ($28), beets and burrata on a bed of arugula ($18) and charred broccolini ($18).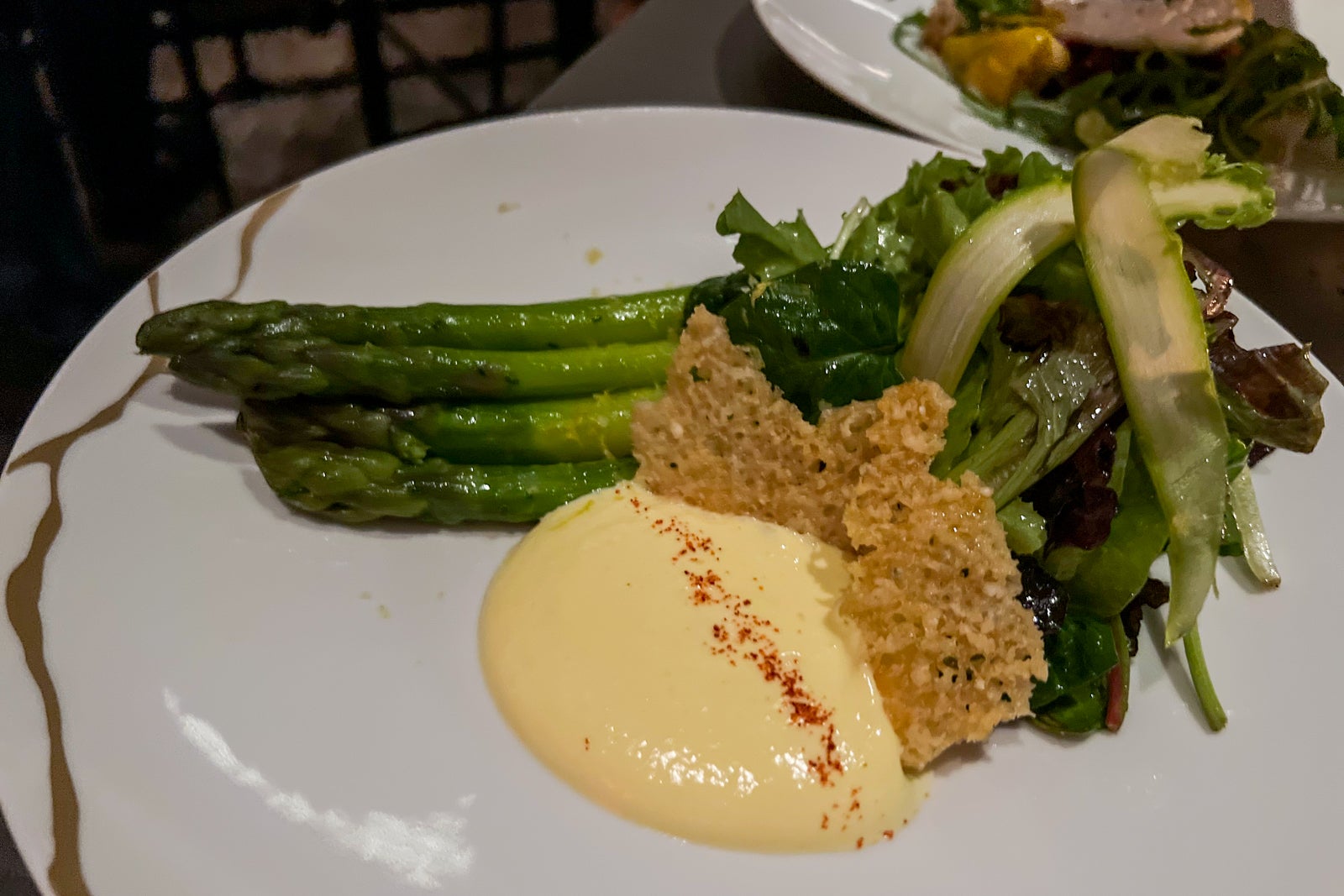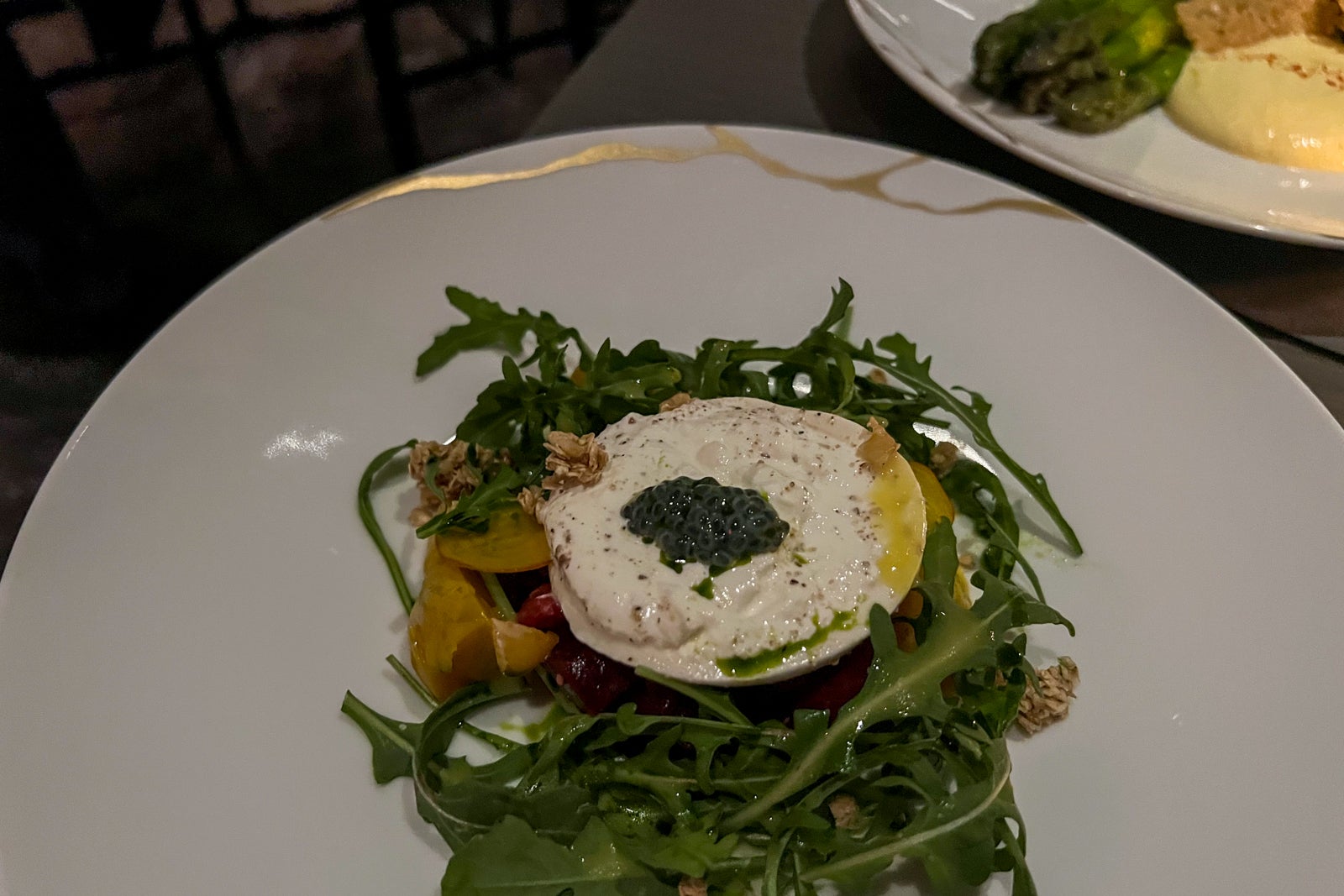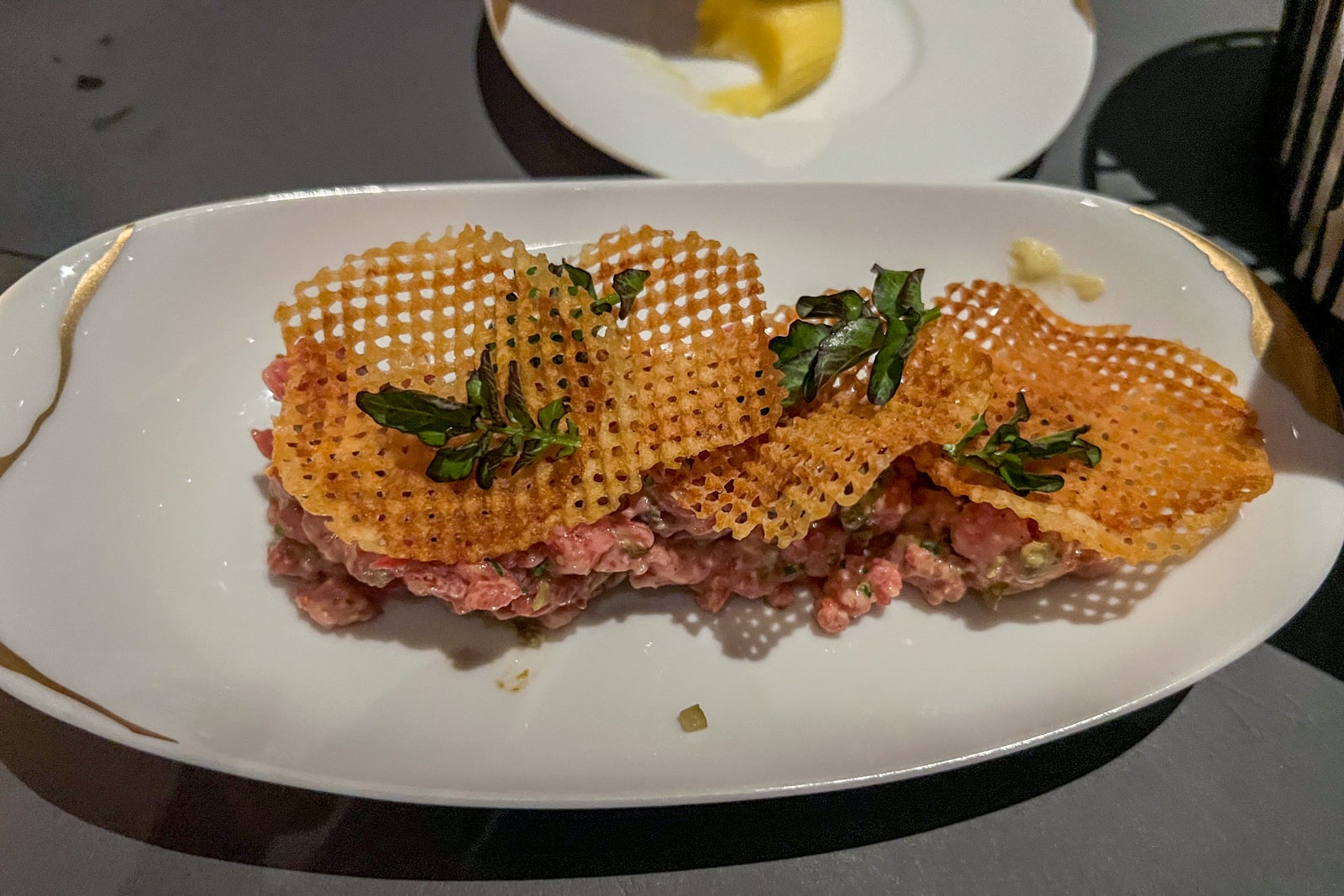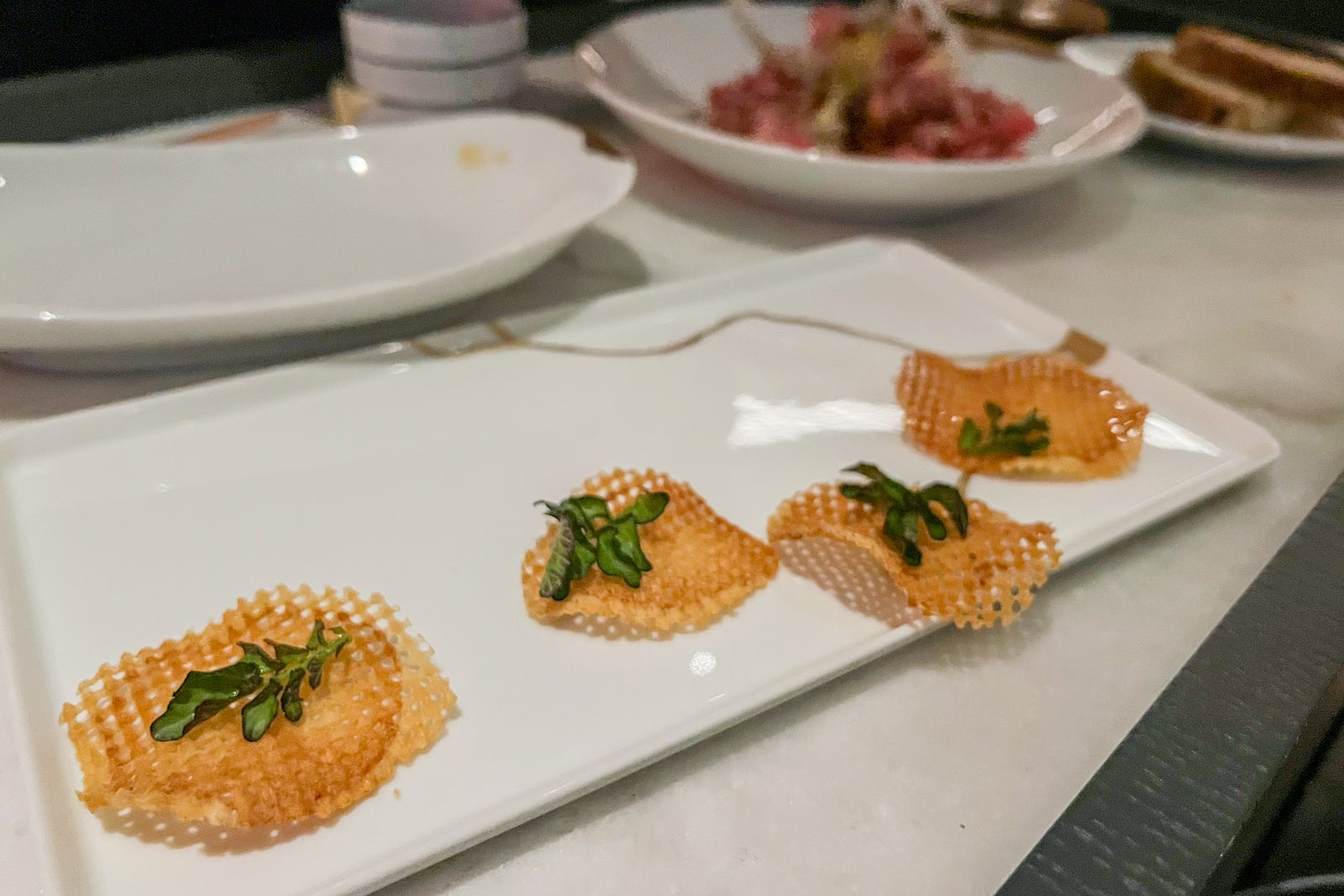 For our main courses, Guerra ordered that truffled chicken a la Broche ($50), and I had the Texas Wagyu burger ($35). Guerra said his dish was great, and "it was full of flavor and tender."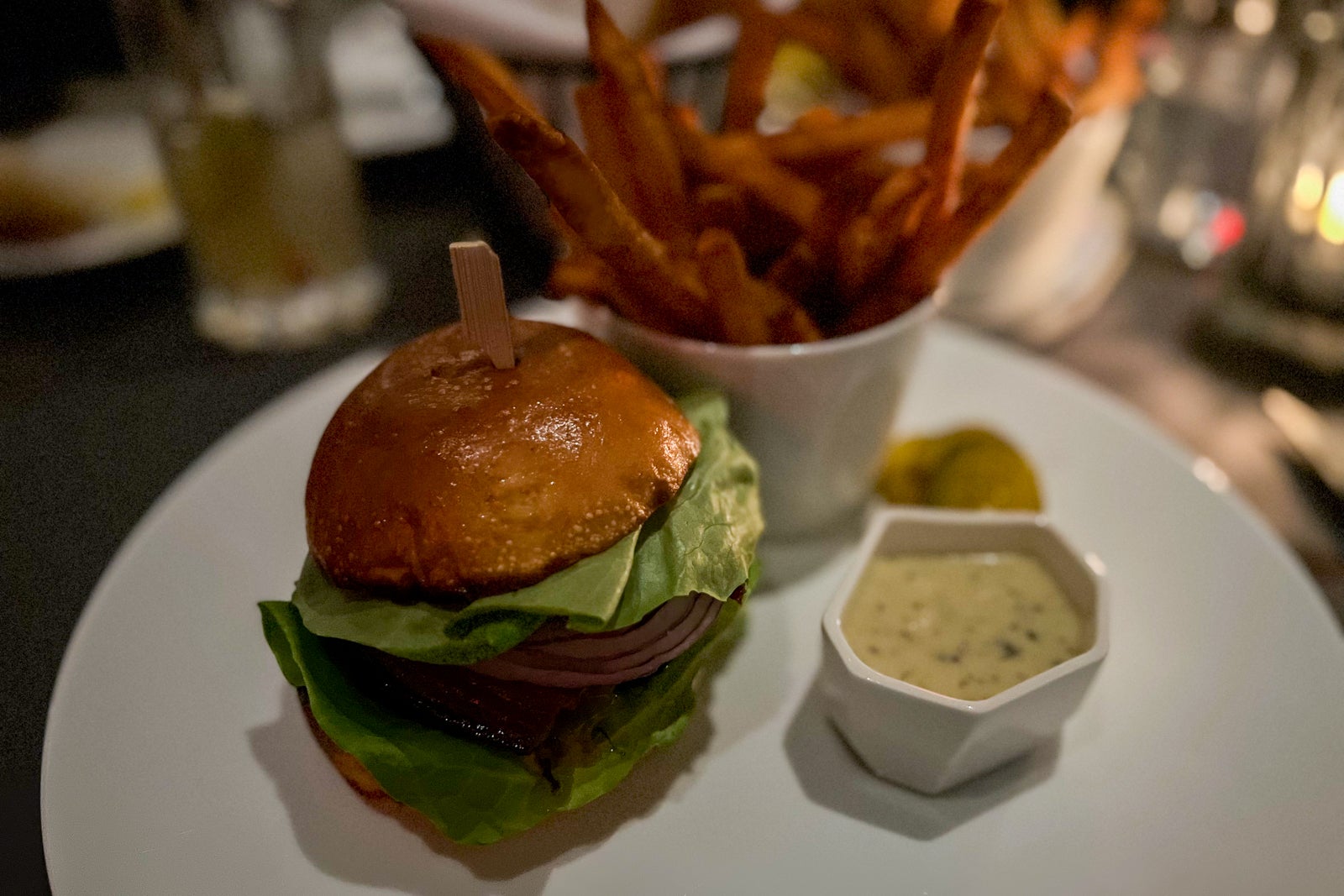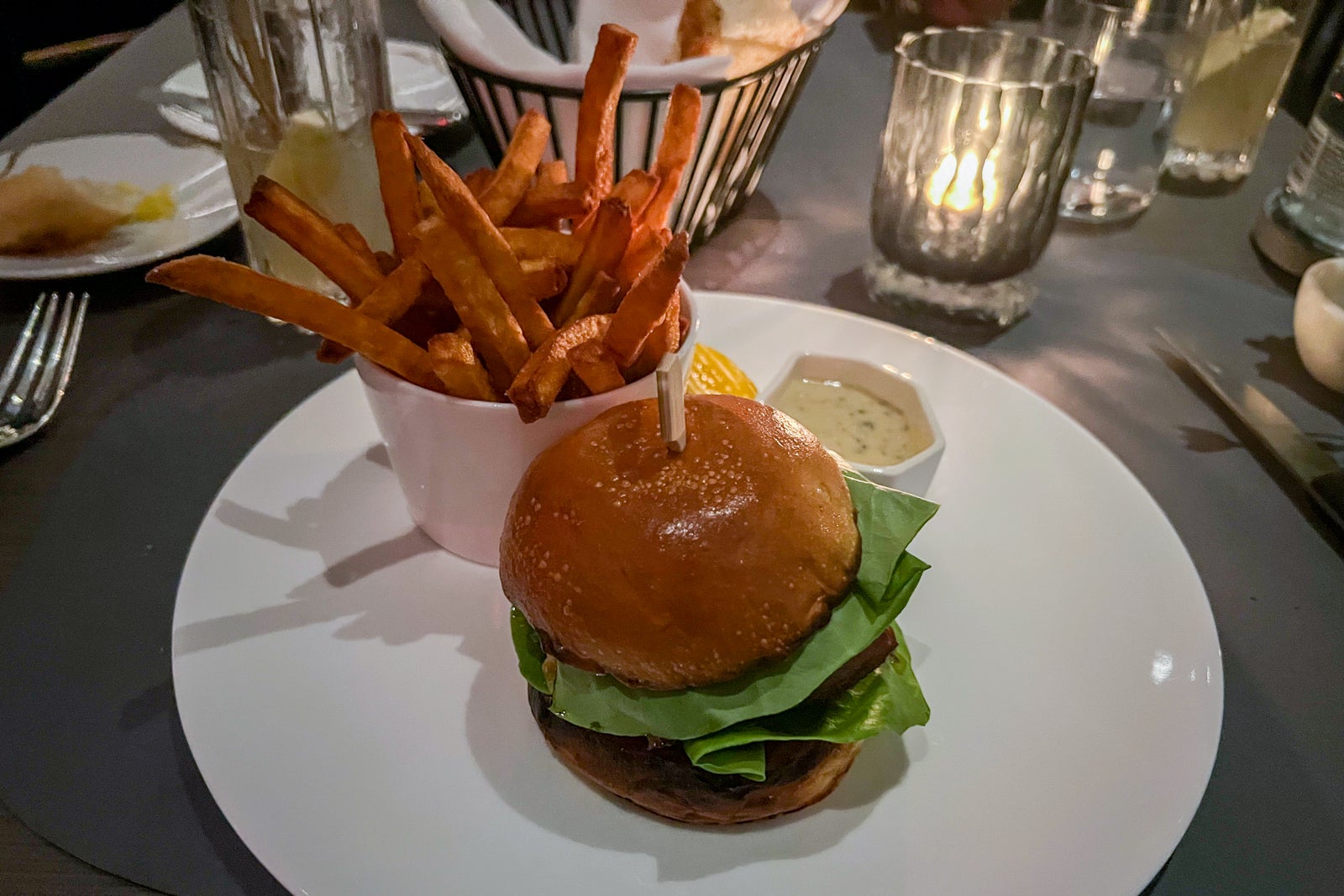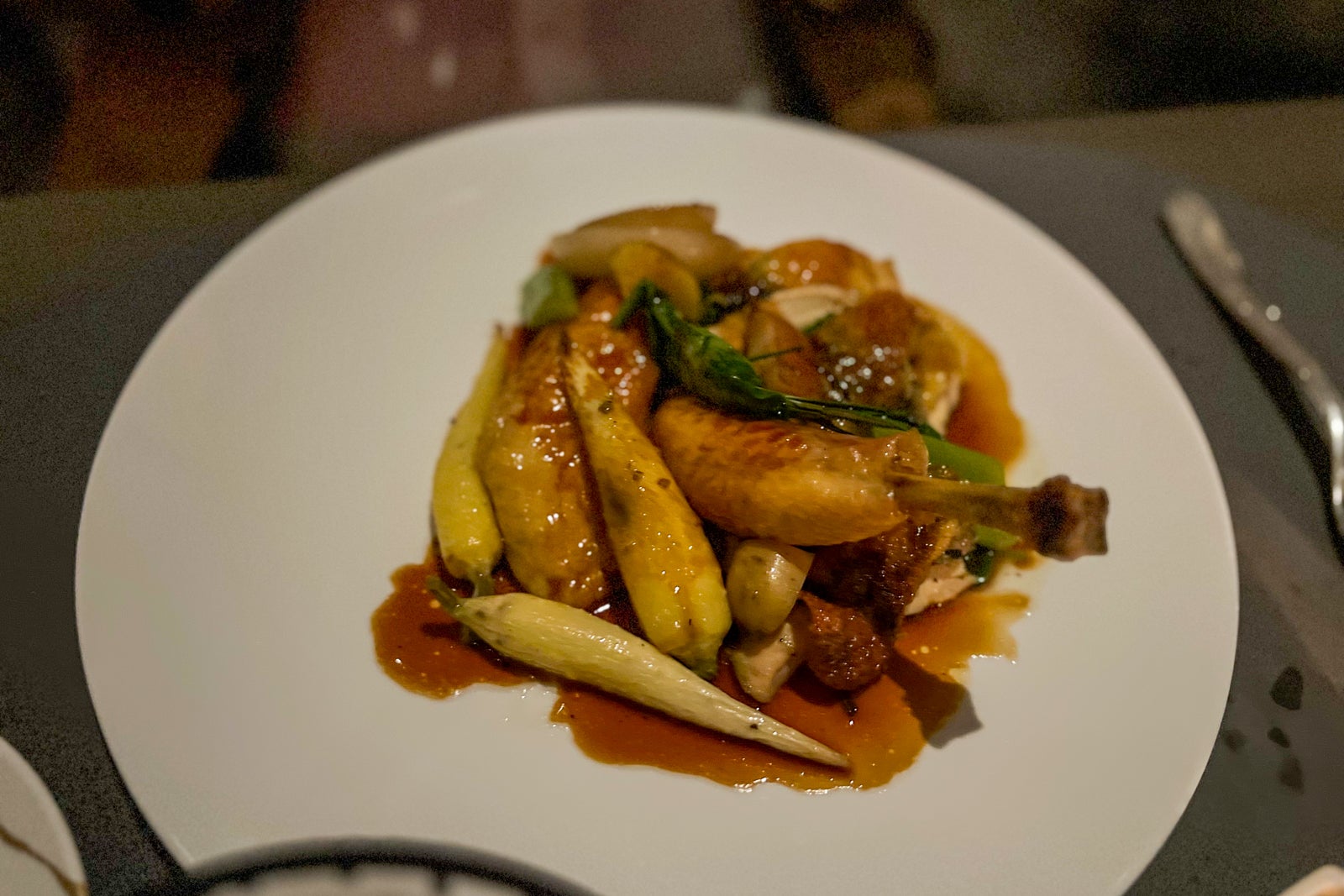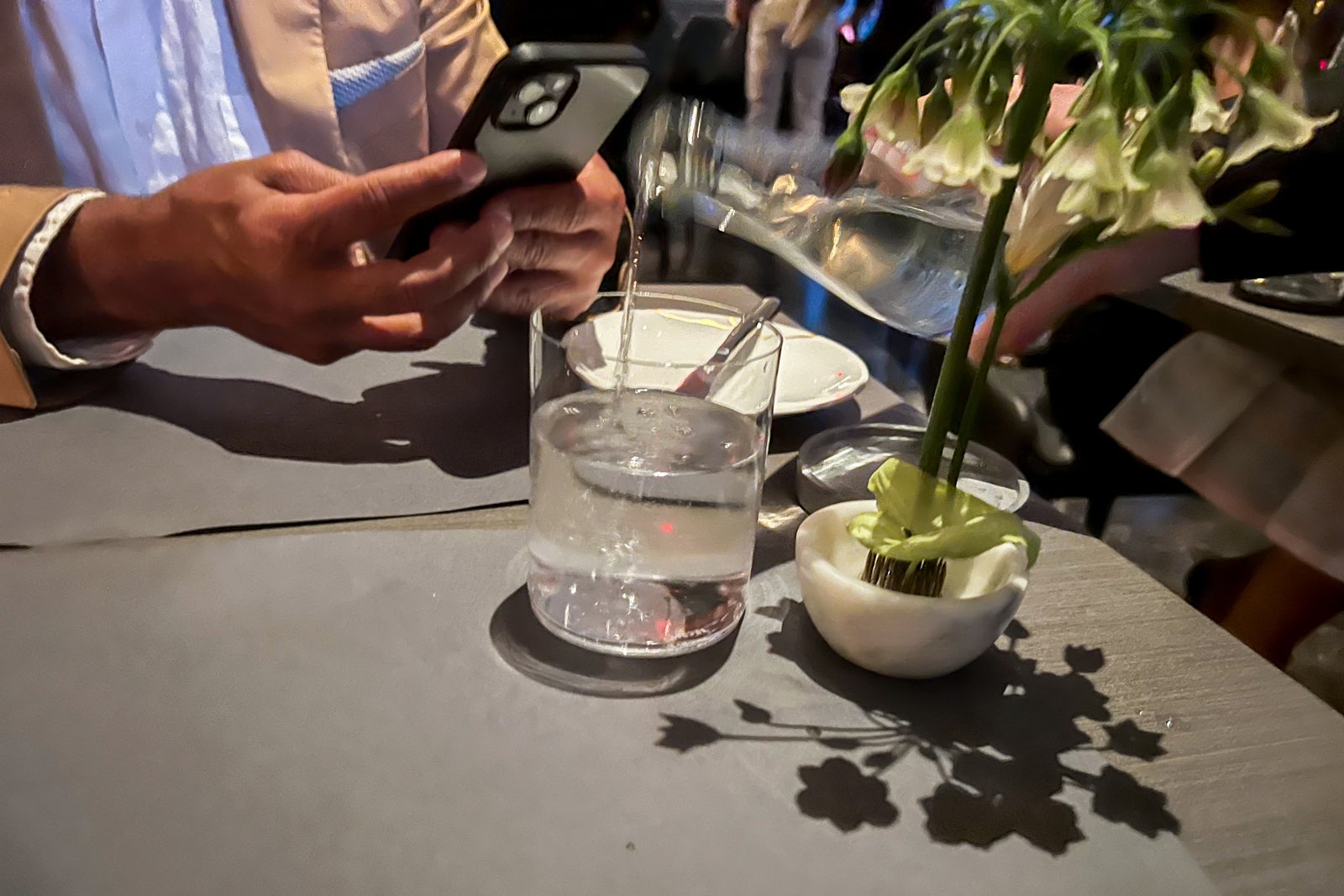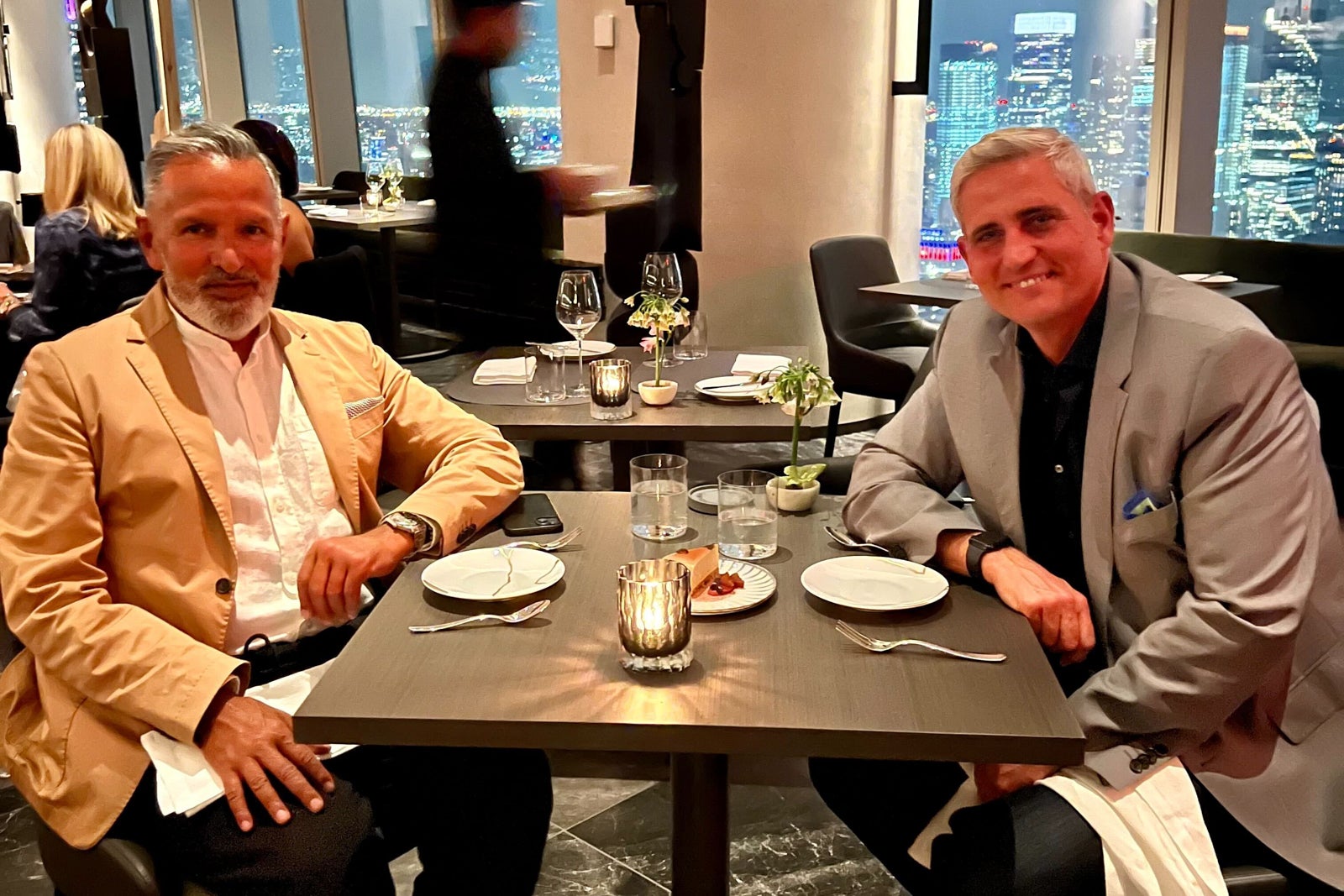 Dessert options included a vanilla eclair, yogurt ice cream with berries, a rhubarb cheesecake or a cocoa sponge cake topped with a Guanaja chocolate cremeux. All the desserts were priced at $20 each.
We shared the rhubarb cheesecake, which was light, sweet and absolutely delicious.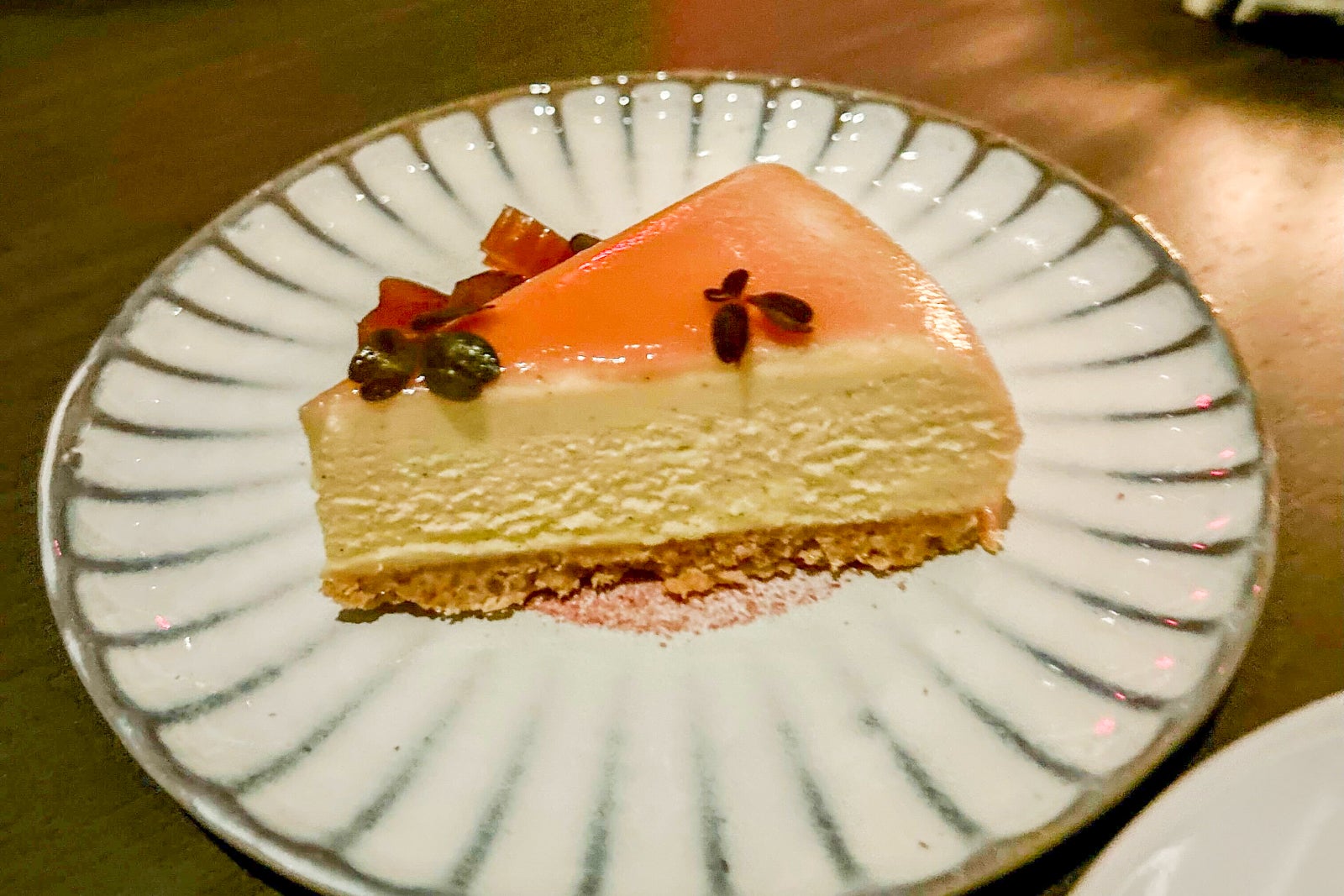 There is also an extensive drink menu and a hopping bar where bartenders can whip up any cocktail you can think of. One of the special cocktails they make is the Carbon martini, reportedly colored like the Centurion card with a mix of squid ink and olive brine.
You can also order a range of mocktails from the non-alcoholic drinks menu at $14 a pop. We tried the Big Apple, a delicious and tart mix of club soda with vanilla and green apple flavoring.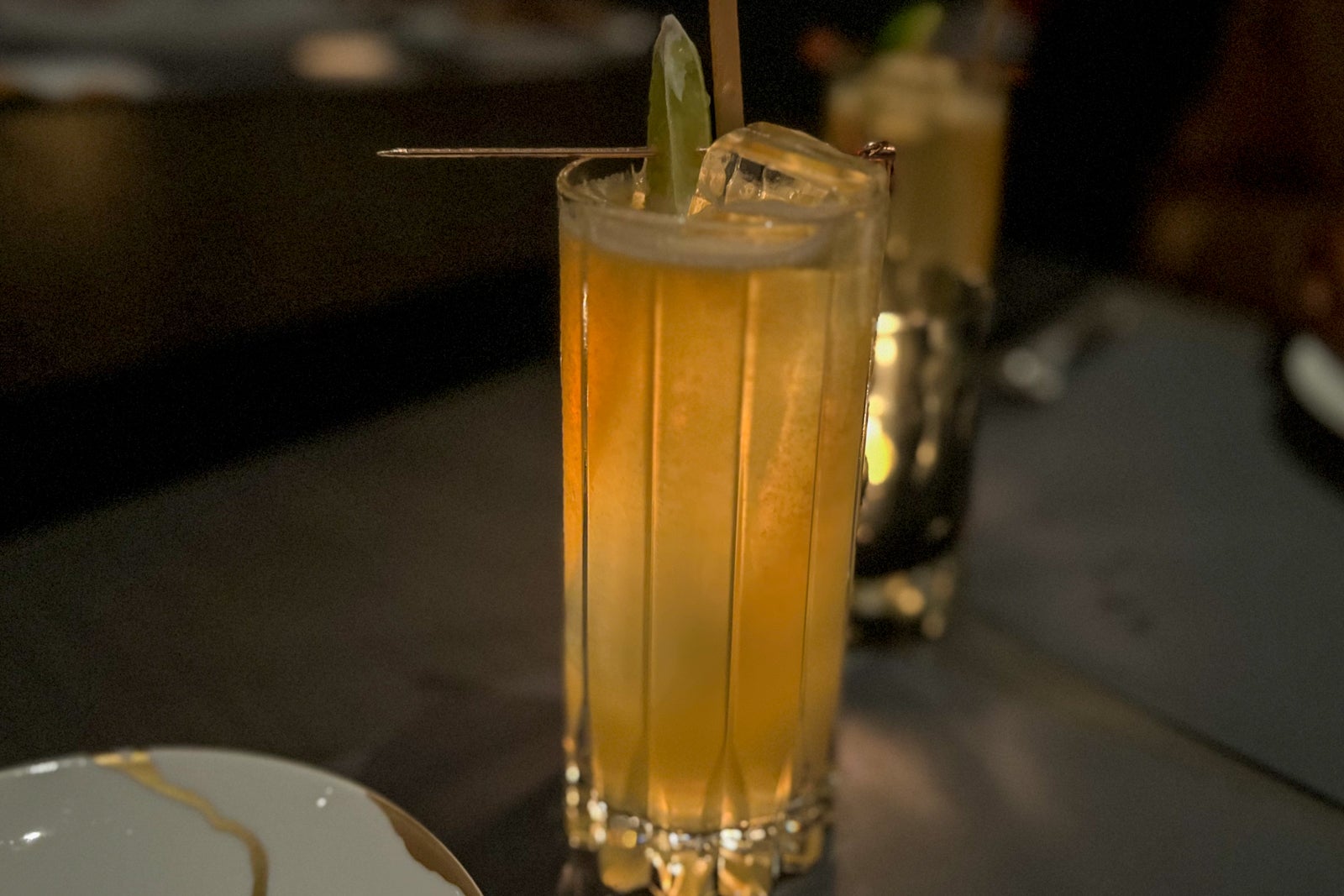 Here are a few surreptitious shots of the menu that I subtly grabbed before ordering.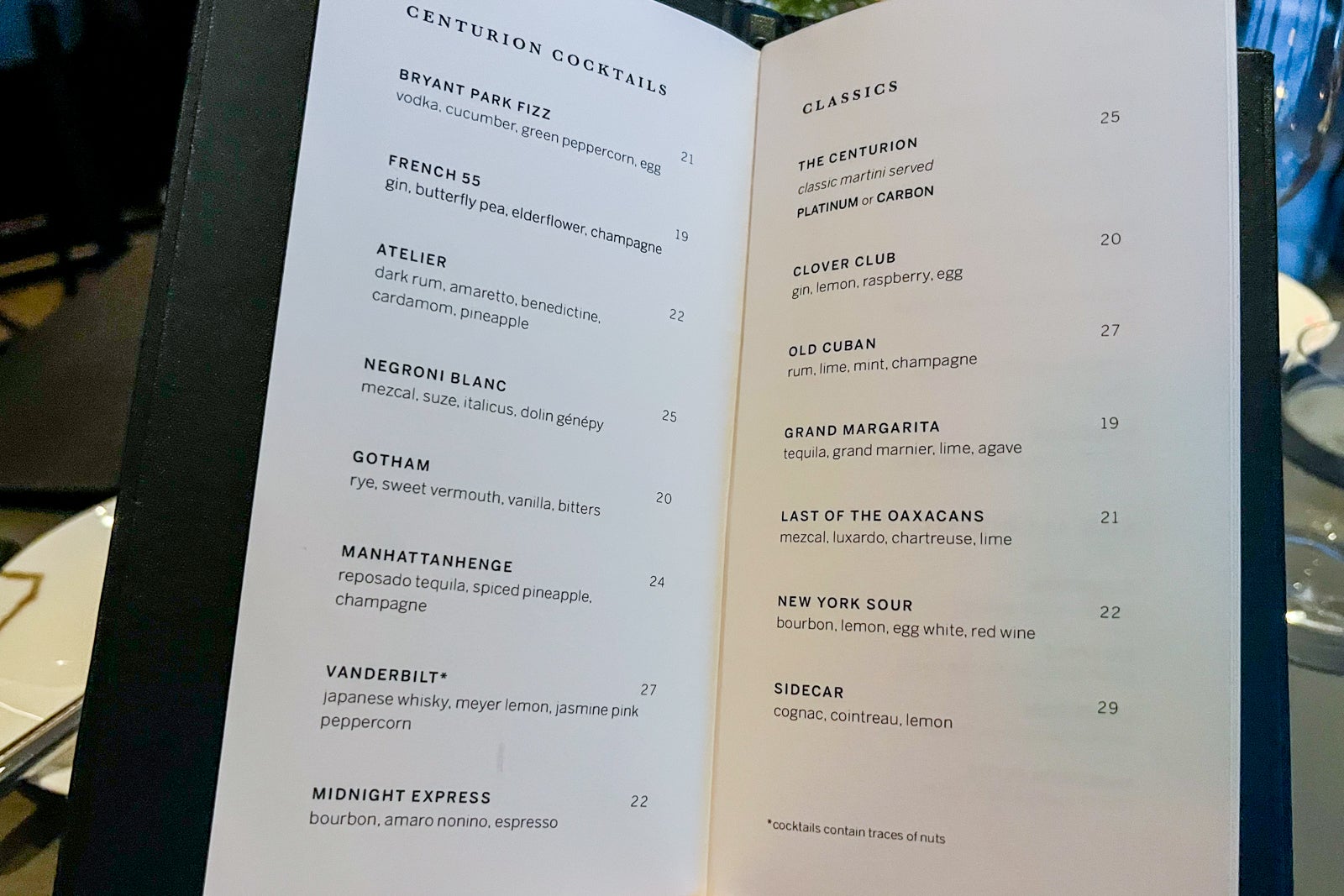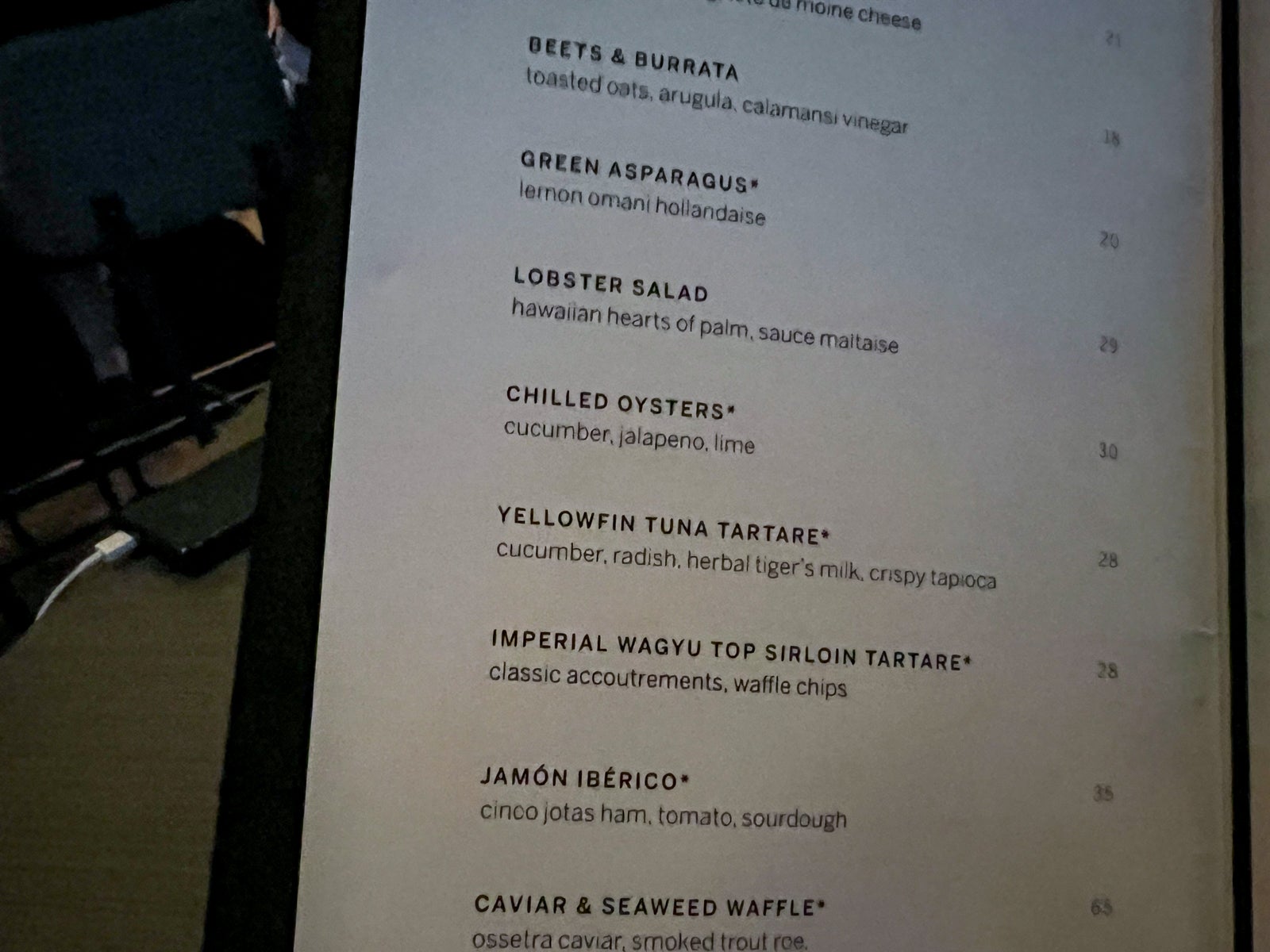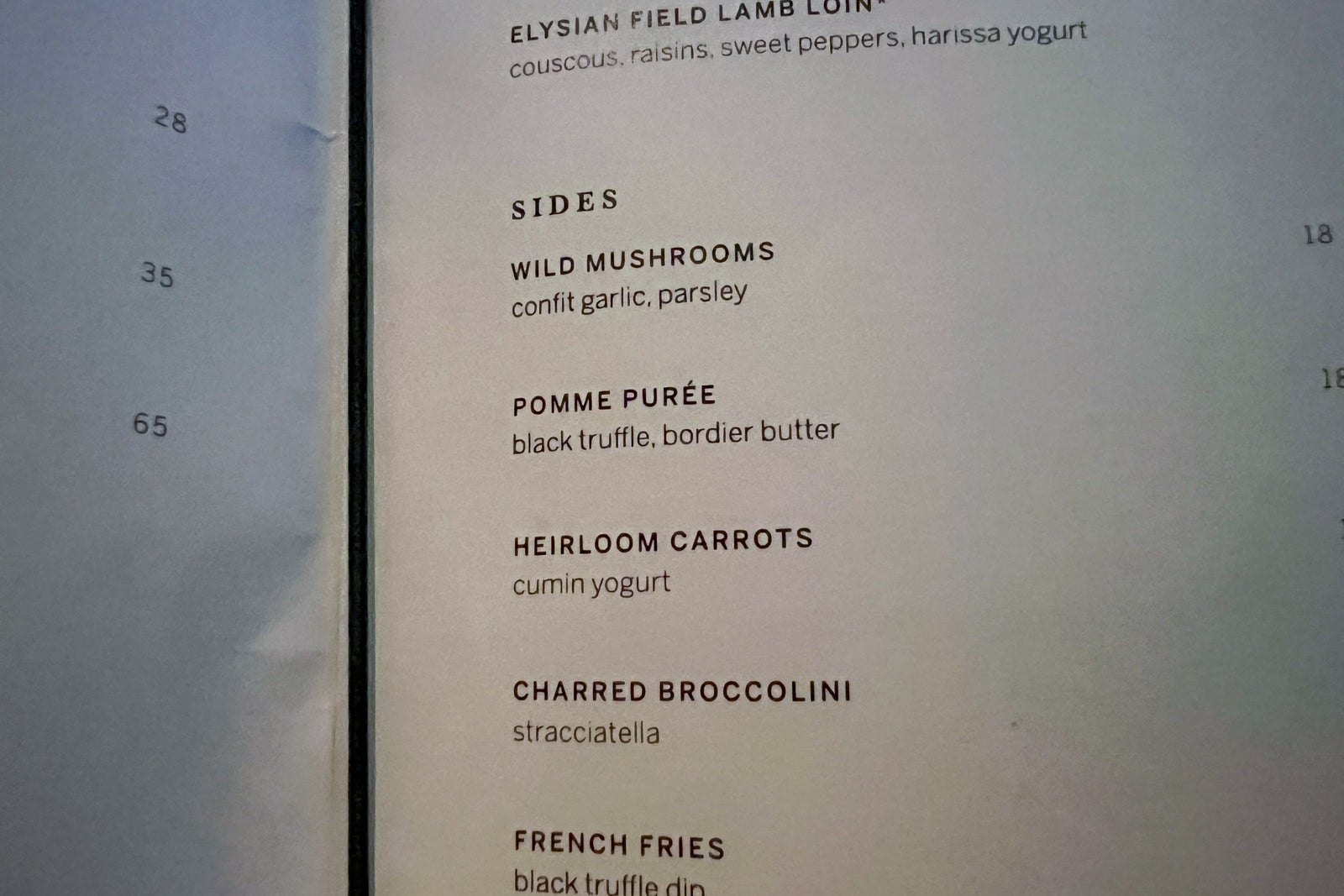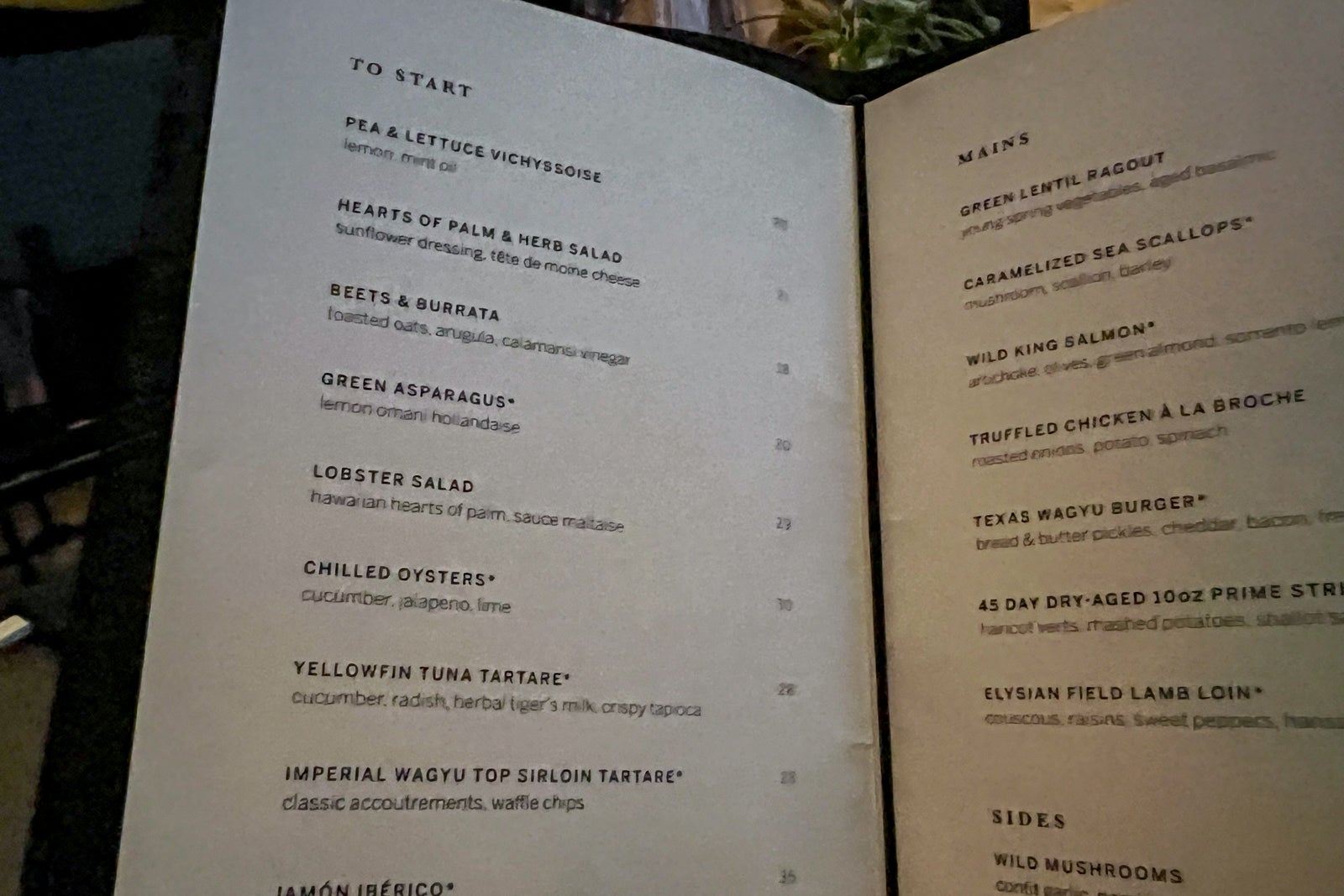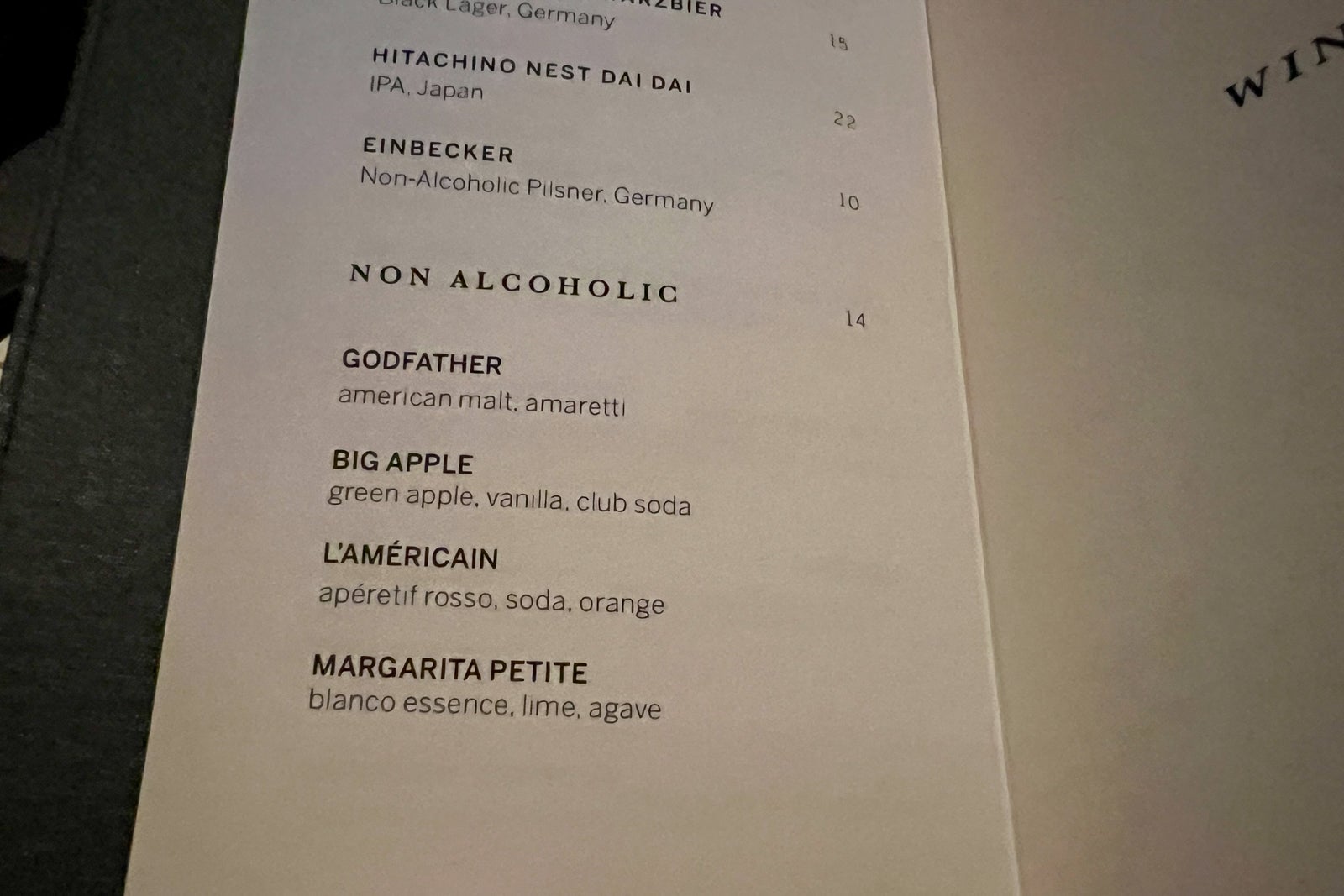 Bottom line
The Centurion New York is a fun way to spend an evening with spectacular views of Manhattan. It's a bit of an ordeal to get reservations (unless you are an Amex Centurion member, of course). However, it may be worth it for a night out on the town or for a special occasion if you have a Platinum card.
It's a well-heeled crowd, and it's fun to dress up and go out again. Guerra shared that, as a person who works in fashion, he didn't see any bad outfits and saw several men with nice watches like Rolexes.
Some Centurion holders have complained about having to enter the restaurant via an office building or that it doesn't feel exclusive, especially compared to places like Soho House or other private clubs in the city. That wasn't my experience, however.
The views alone made it worth any hoops you have to jump through for a fun night out on top of the town.
For more about American Express Centurion Lounges, check out: