Returning to Fiji has been high on my list since my husband and I first visited the country in 2019. On our first trip, we split our time between three beautiful resorts — Fiji Marriott Resort Momi Bay, DoubleTree Resort by Hilton Fiji and InterContinental Fiji Golf Resort & Spa — and were impressed by the rugged island terrain and the Fijian hospitality.
As we considered how to redeem miles to fly from New Zealand to the U.S. earlier this year, we decided to build a stopover in Fiji into an Alaska MileagePlan award. And I was thrilled to snag a two-night award stay at Nanuku Resort — previously an Auberge Resort — which is now available through World of Hyatt's partnership with Small Luxury Hotels of the World.
Here's a look at what it was like to stay at Nanuku Resort in Fiji.
[review-affiliate type="hotel" capi-id="8964″ post-id="1444670″]
What is Nanuku Resort?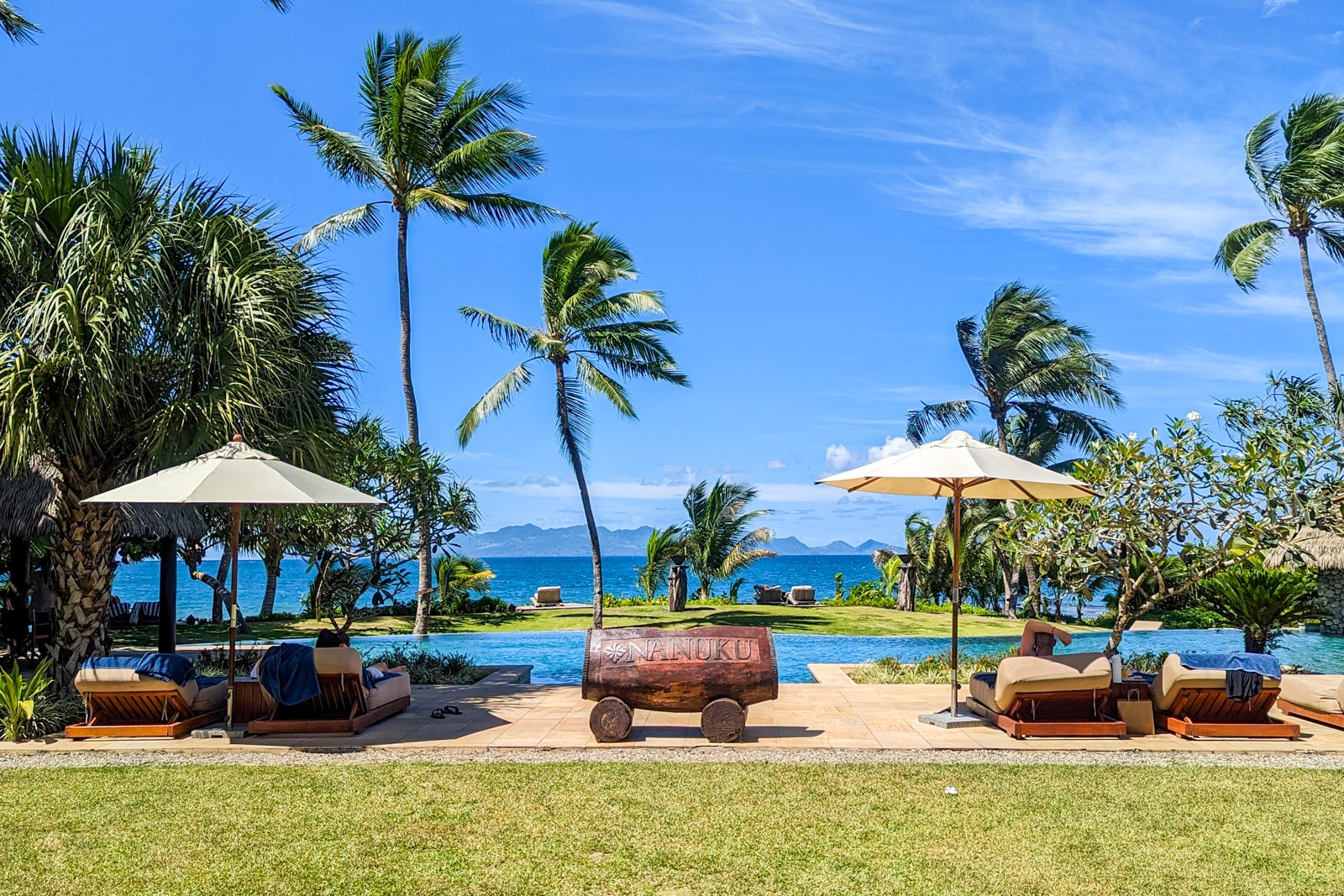 Nanuku Resort calls itself "a true tropical oasis situated on a private 500-acre coastal Fiji estate." The resort is an ideal escape if you're looking for a secluded vacation with plenty of outdoor activities, a casual style of luxury and memorable experiences for kids.
Located on the southern coast of Fiji's main island (Viti Levu) near Pacific Harbour, Nanuku Resort is 32 miles from Suva (about an hour's drive) and 86 miles from Nadi (about a 2 1/2-hour drive), where the country's main international airport is located, on Queens Road.
Before learning we'd have a rental car, the resort offered me the following transfer options (rates include taxes and fees):
25-minute scenic flight from Nadi directly to Nanuku's private airstrip: 2,550 Fijian Dollars (about $1,148) per way for up to six passengers by plane or 3,500 Fijian Dollars (about $1,575) per way for up to three passengers by helicopter.
Private chauffeur-driven ground transfer: Prices for up to two adults and two children vary based on the route and are charged per way. For example, Nadi Airport (NAN) transfers cost 500 Fijian Dollars (about $225) per way, and Suva-Nausori Airport (SUV) transfers cost 305 Fijian Dollars (about $137) per way. But Nanuku can also arrange private ground transfers to and from most other resorts in Fiji.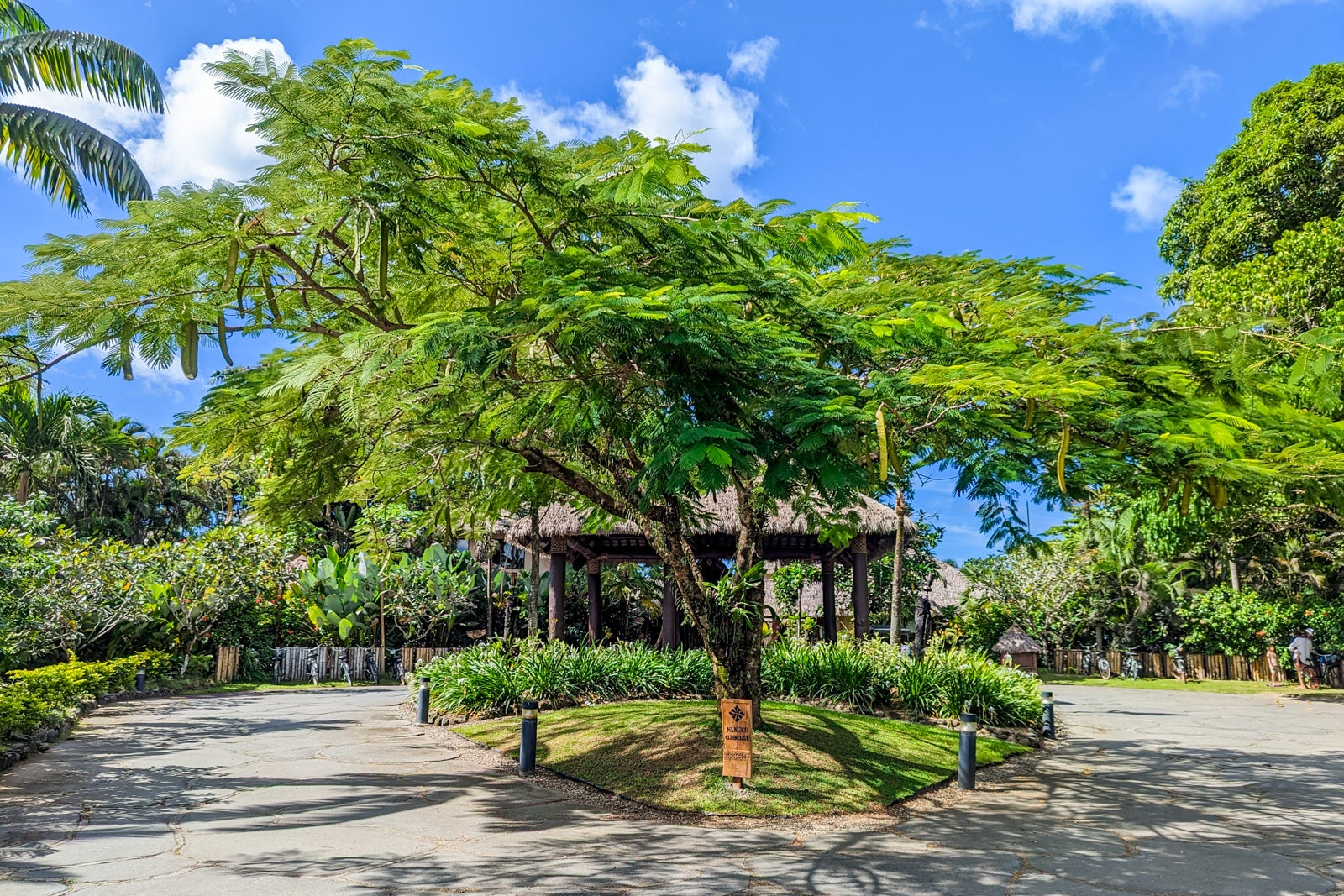 Auberge Resorts Collection began managing Nanuku Resort in 2014. But in early 2022, management shifted to Storey Hotel Management Group. Many of the Nanuku staff remain from when the resort was part of the Auberge Resorts Collection, and one guest I spoke to noted the on-site experience hadn't changed much since the switchover.
Related: It's exceptionally difficult to stay at these World of Hyatt 'unicorns' on points — here's how to book them
Suites, villas and residences
Nanuku offers 15 suites and 22 villas and residences.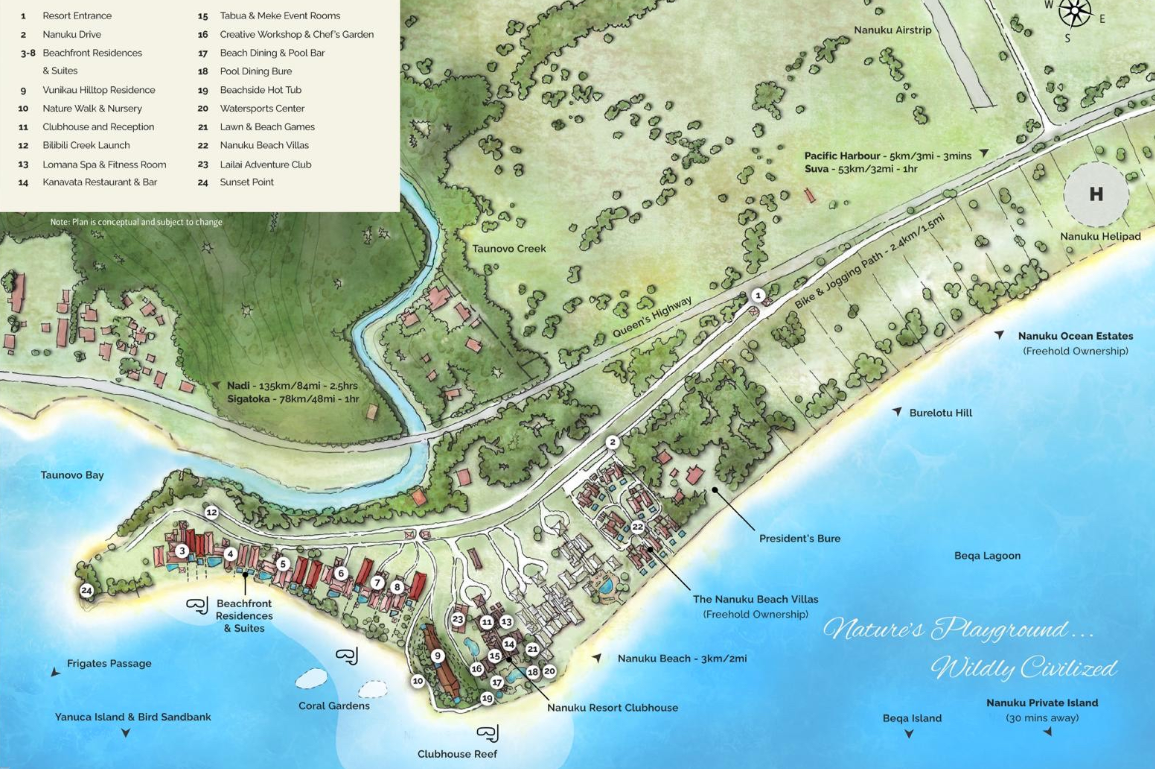 We reserved the only room type bookable with Hyatt points: a Nanuku Suite. This suite occupies the upper floor of a two-bedroom beachfront pool suite, while the lower floor, garden area and plunge pool are sold as a Beachfront Pool Suite.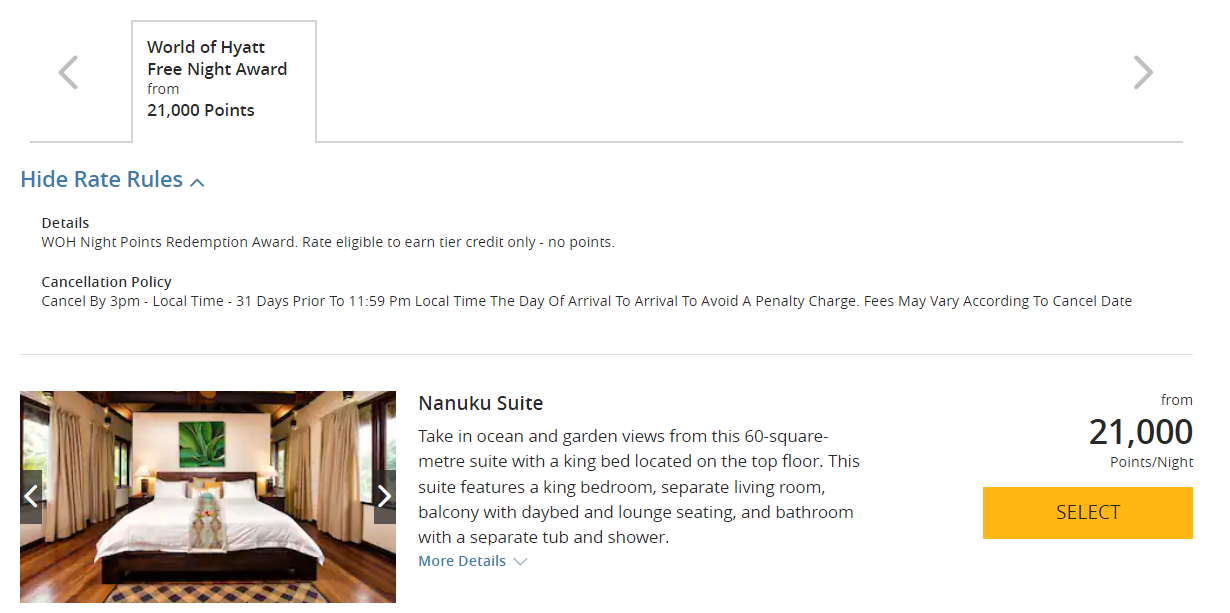 I hoped we'd get an upgrade, though. After all, World of Hyatt members are eligible for a one-category upgrade based on availability at check-in at Small Luxury Hotels of the World properties booked through Hyatt.
No one mentioned we'd received an upgrade at check-in. Instead, I discovered we'd been given a different room type as a staff member drove us up a large hill in a golf cart after check-in. Instead of a Nanuku Suite, we were assigned a one-bedroom Vunikau Suite in the Hilltop Residence.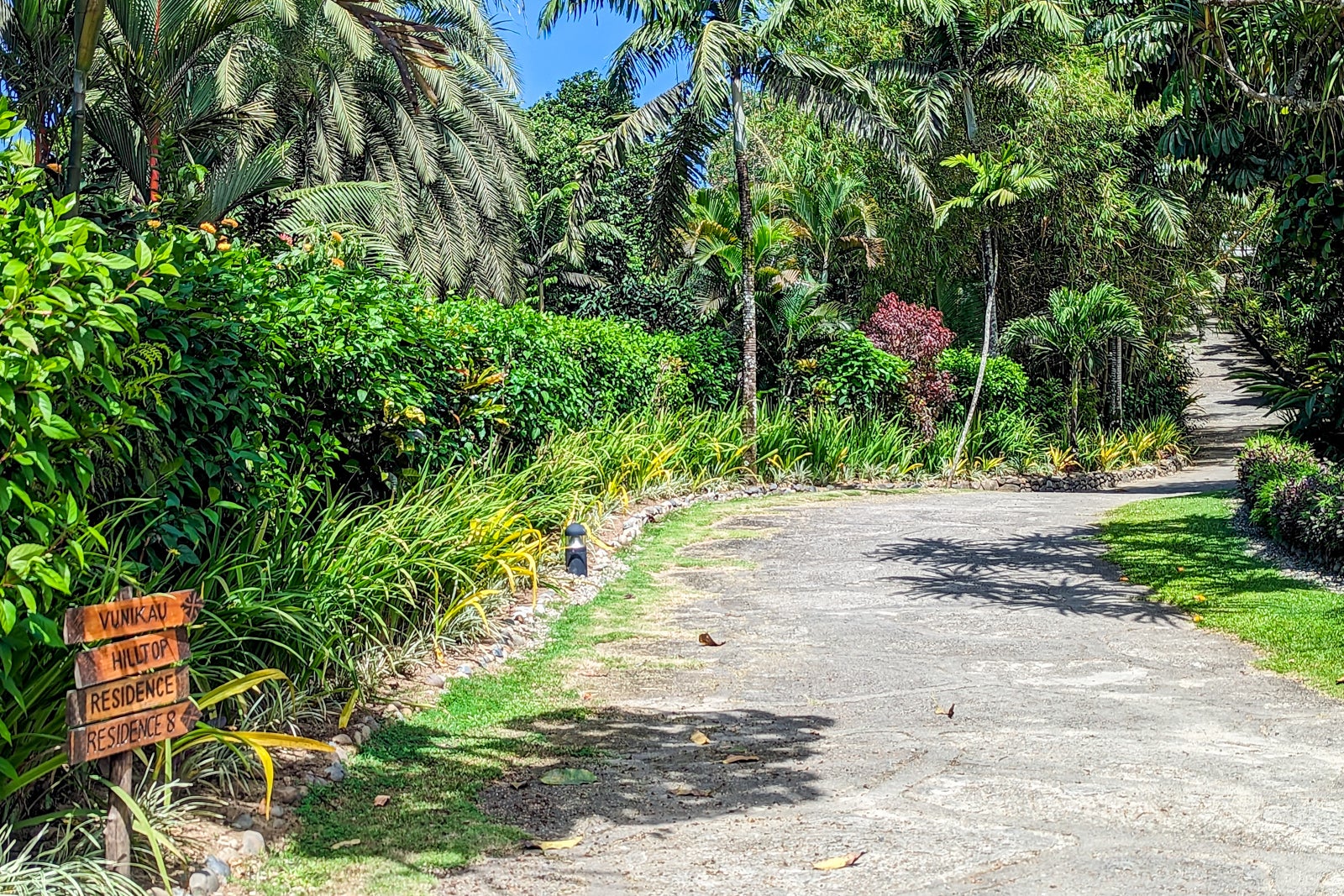 Nanuku doesn't show smaller than a three-bedroom Hilltop Residence on its website. And both the staff member who showed us to our suite and a staff member who later brought us room service noted they'd not previously seen the suite's interior despite working at the resort for multiple months.
Once we arrived in our suite, the staff member who accompanied us showed us around the also-new-to-him space, asked us to fill out some paperwork and encouraged us to put on red and blue wristbands that would serve as our room keys.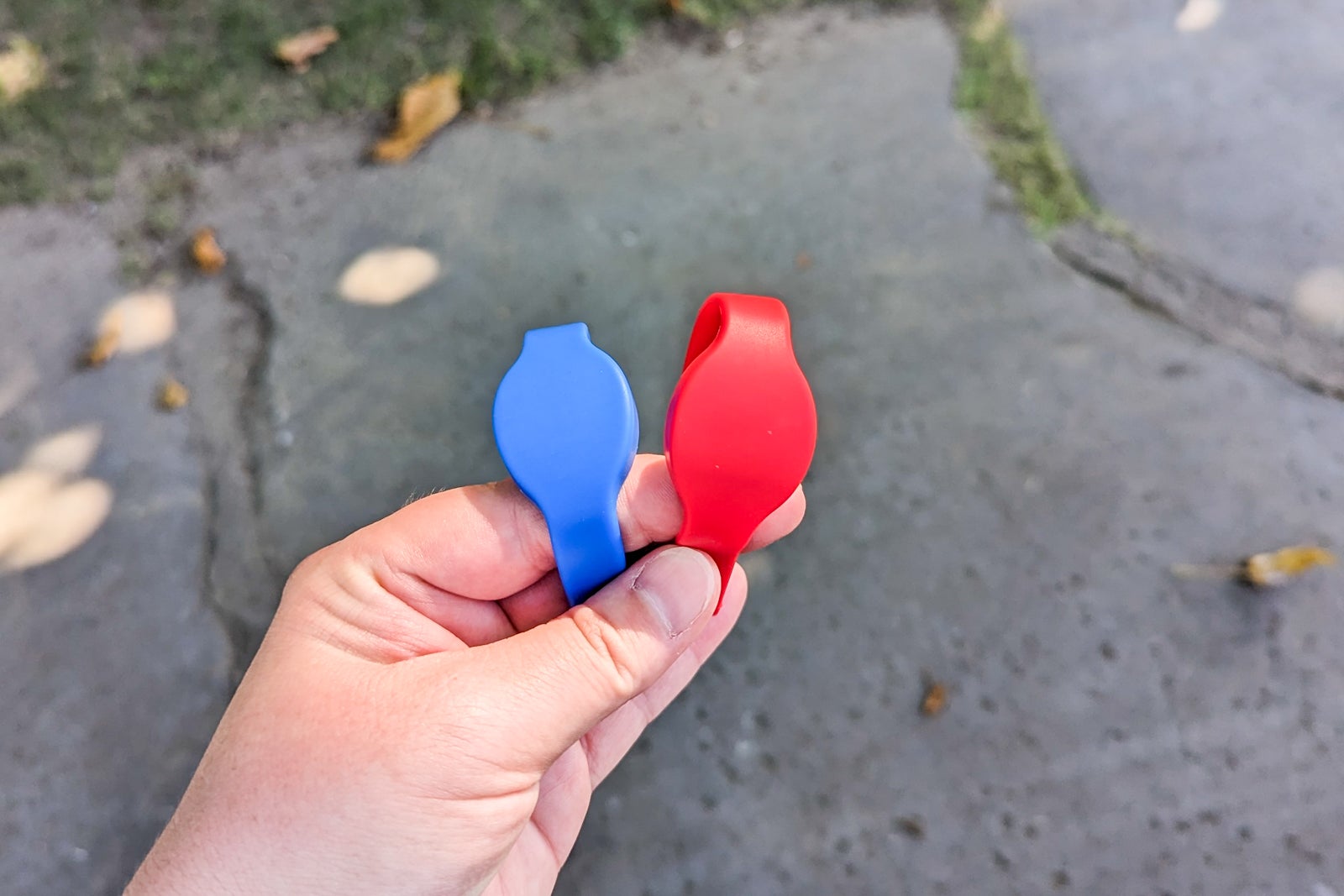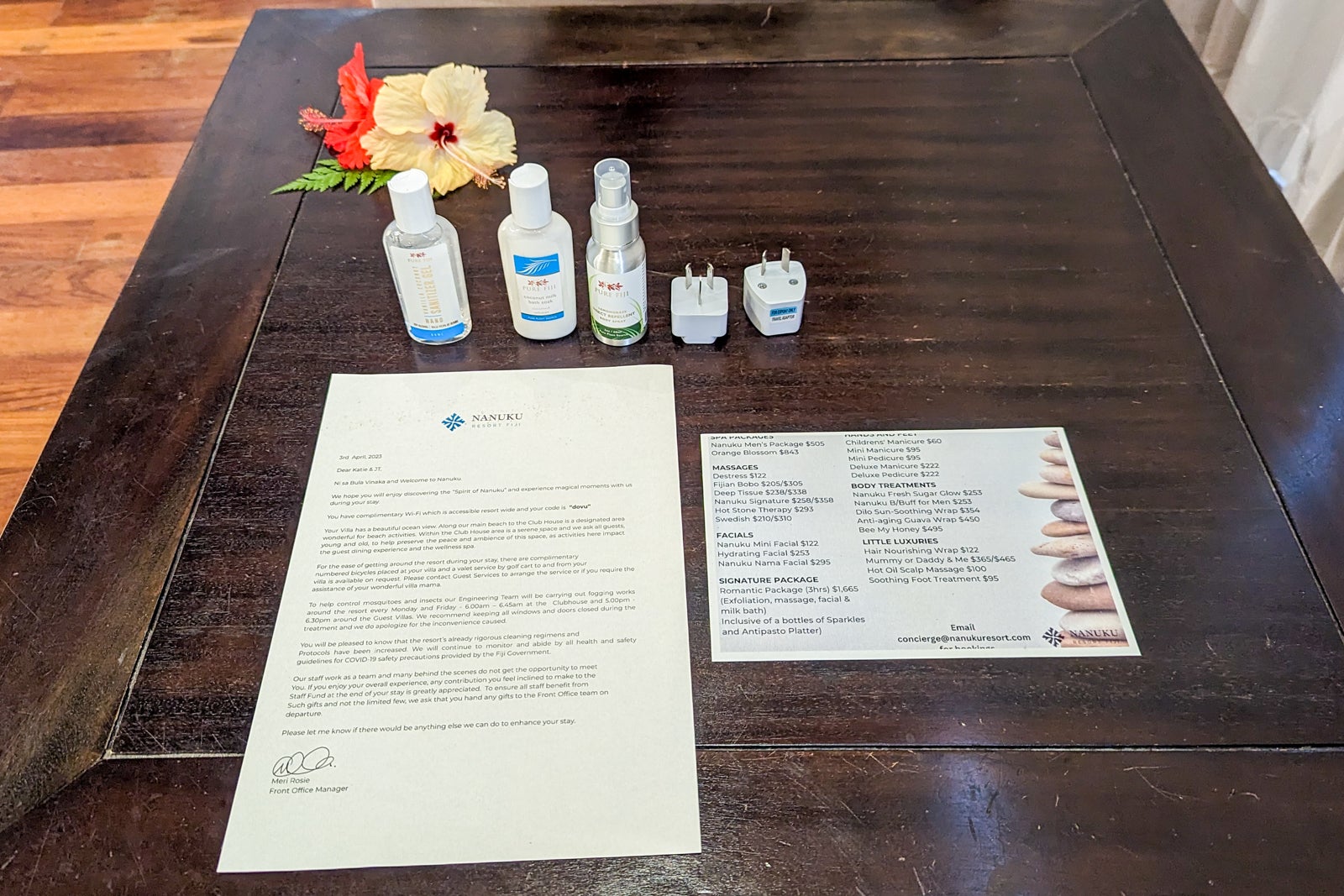 Staying in Nanuku's Vunikau Hilltop Residence
Nanuku's Vunikau Hilltop Residence consists of four units — a three-bedroom penthouse and three one-bedroom suites — each with an entrance from a shared open-air walkway.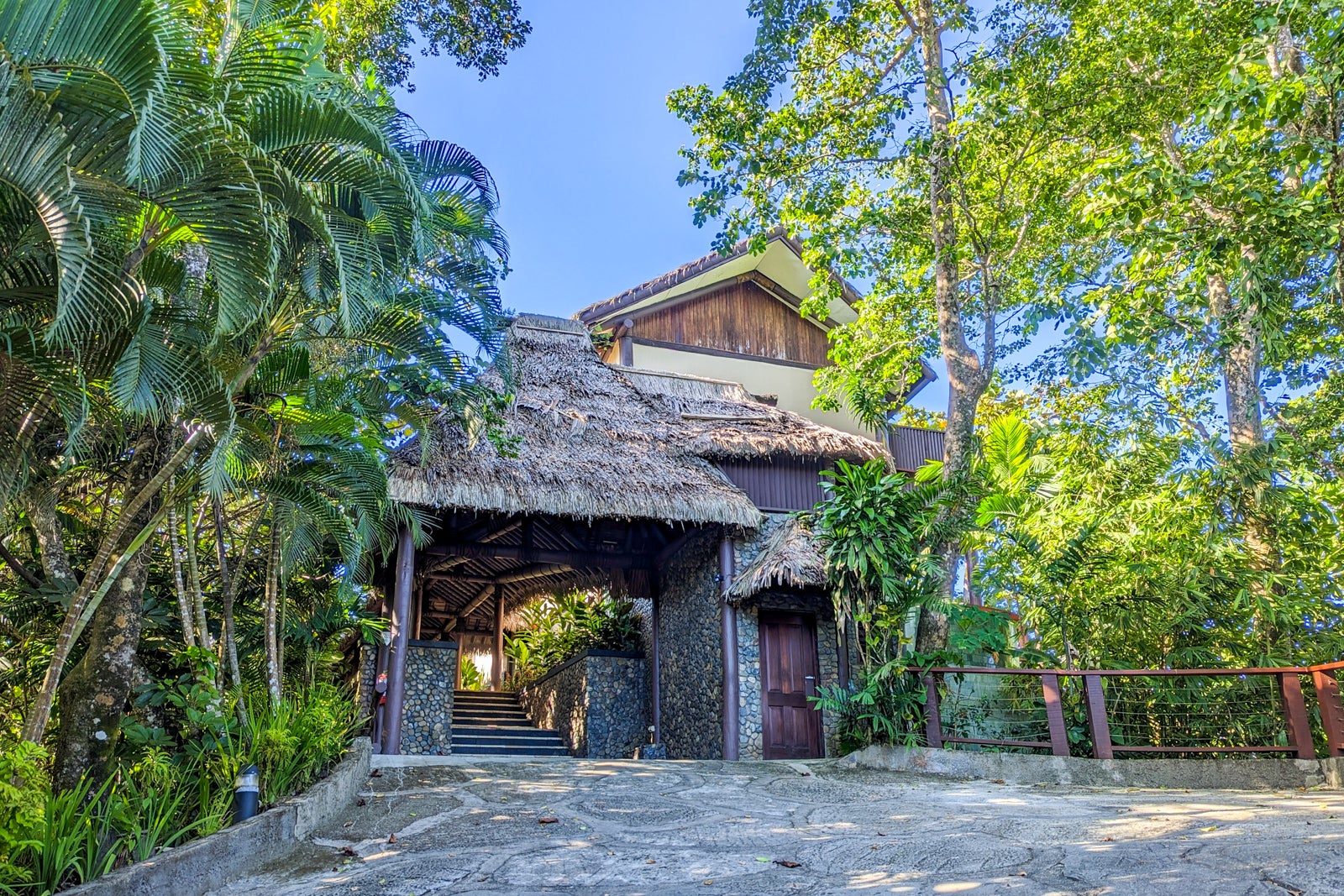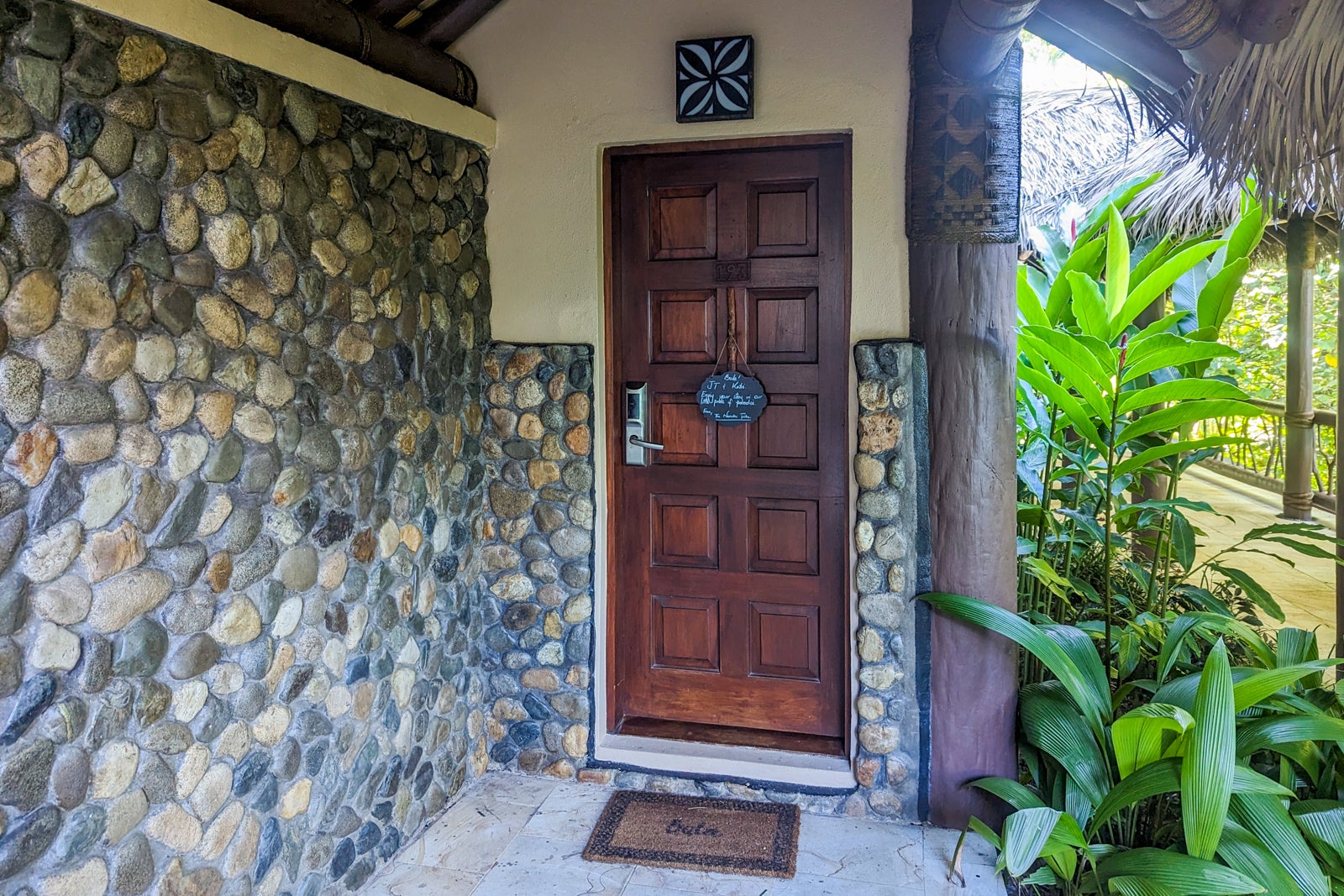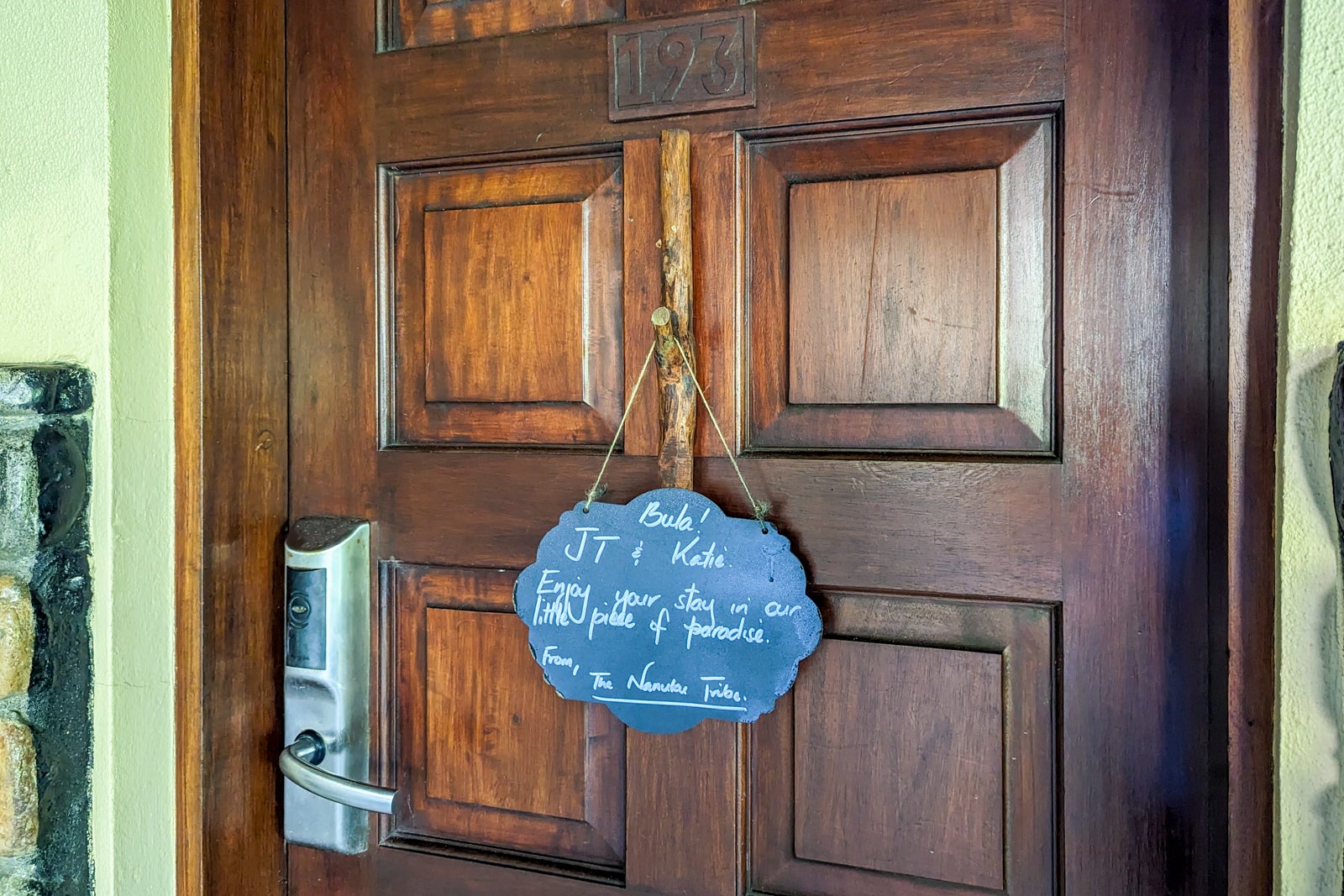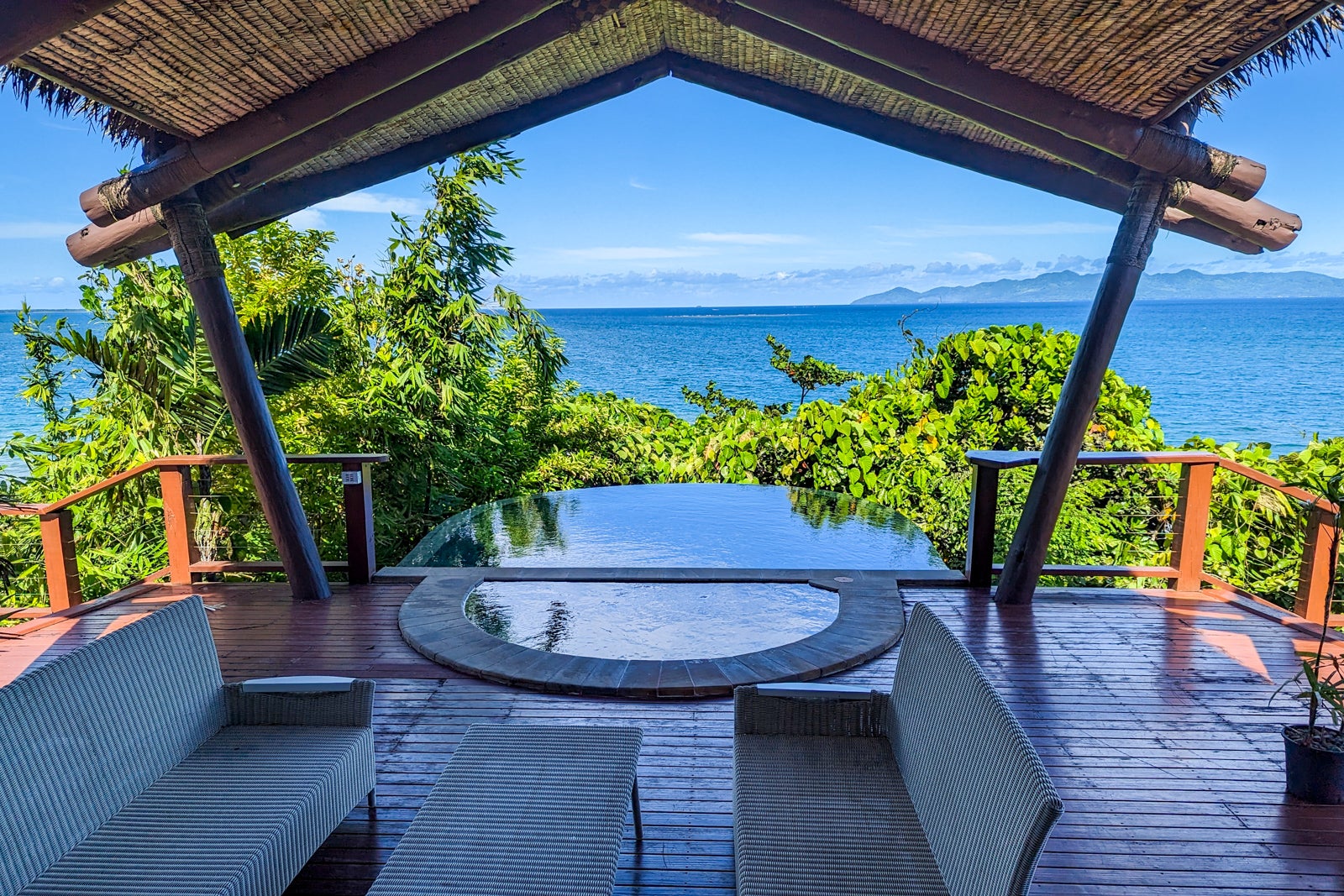 The unit we stayed in (193) was a one-bedroom Vunikau Suite offering excellent ocean views, plenty of natural light and a large patio with a table and two chairs. Our suite's single air conditioning unit effectively kept the space cool despite the hot temperatures outside. And the amount of power outlets was far more than we needed.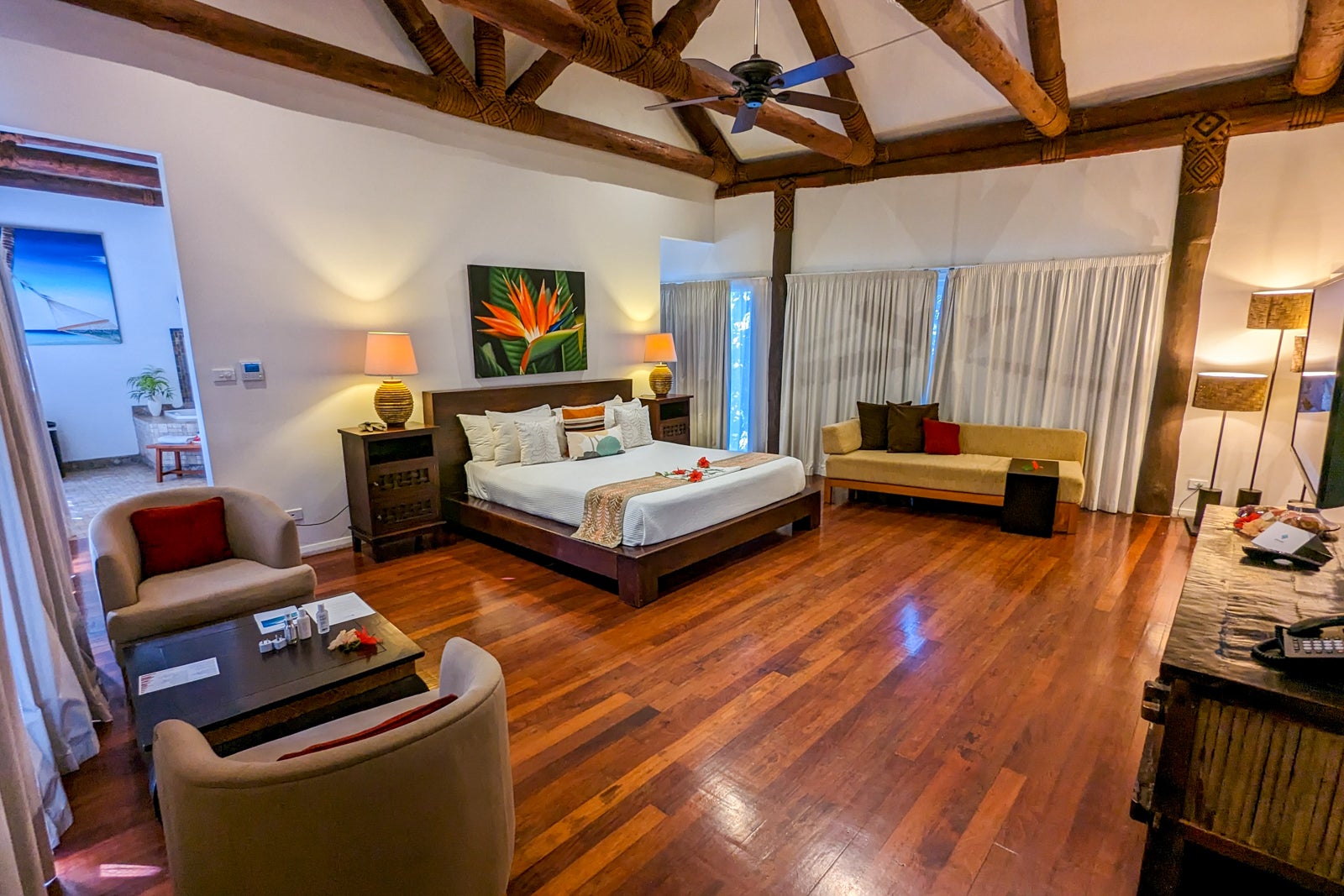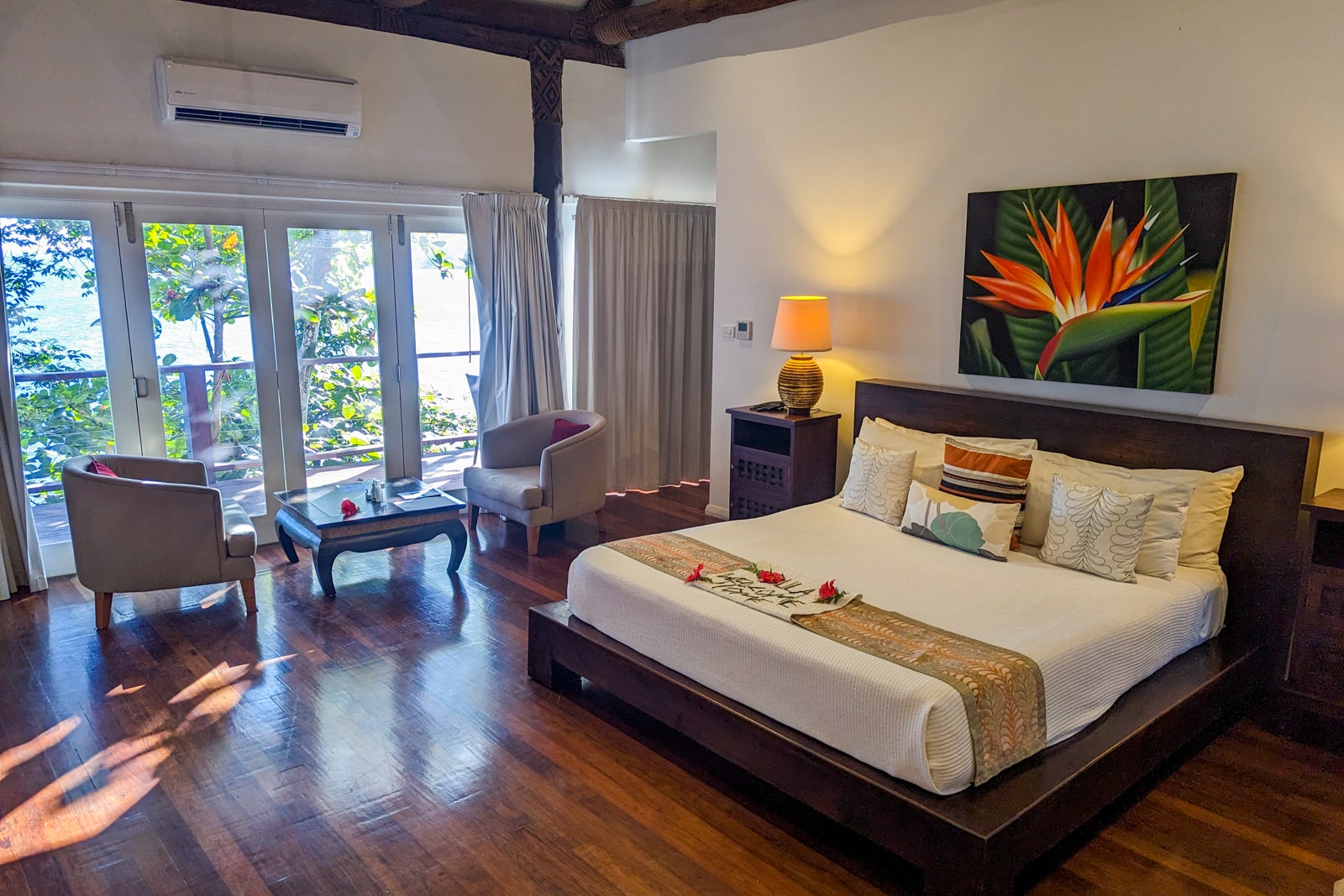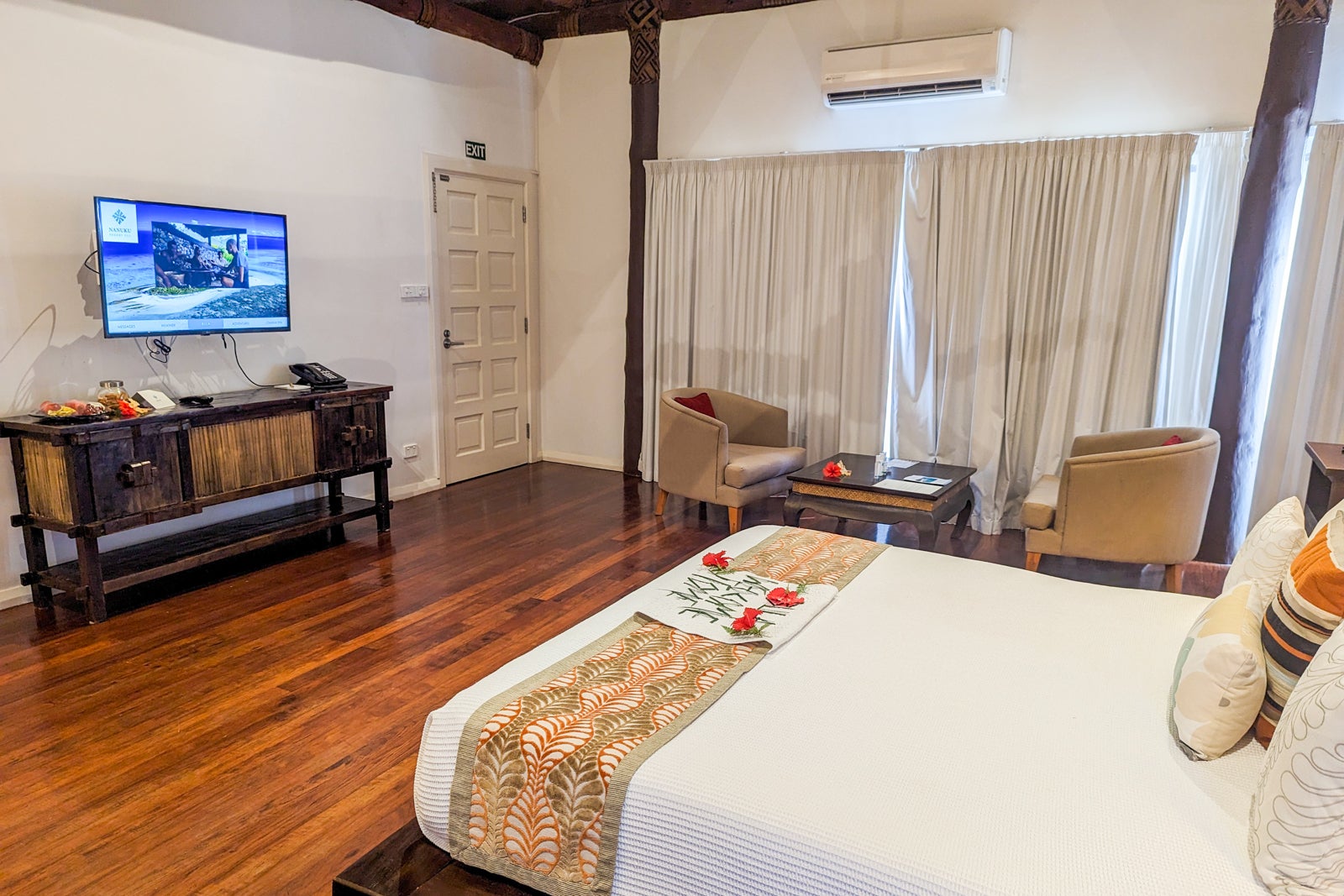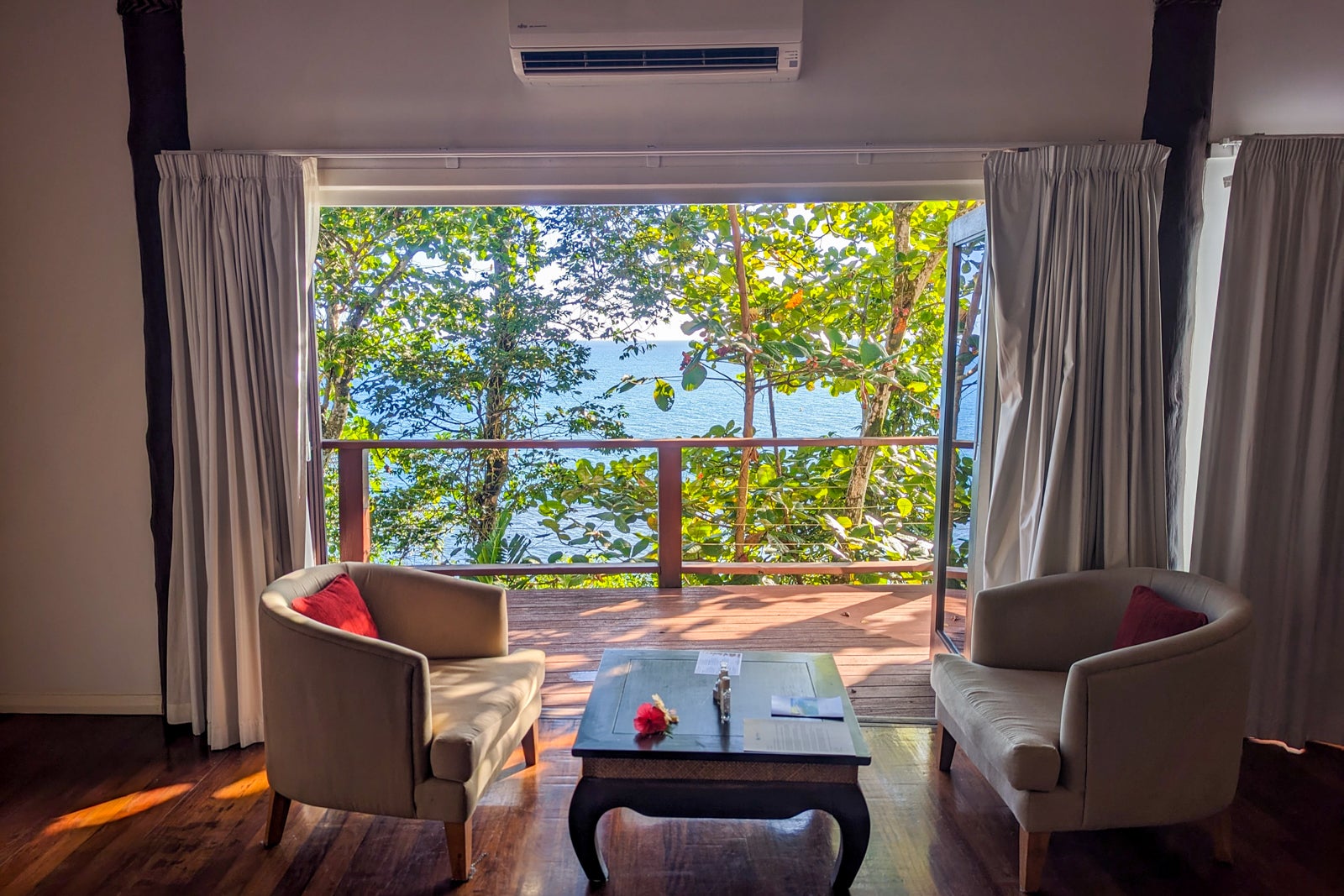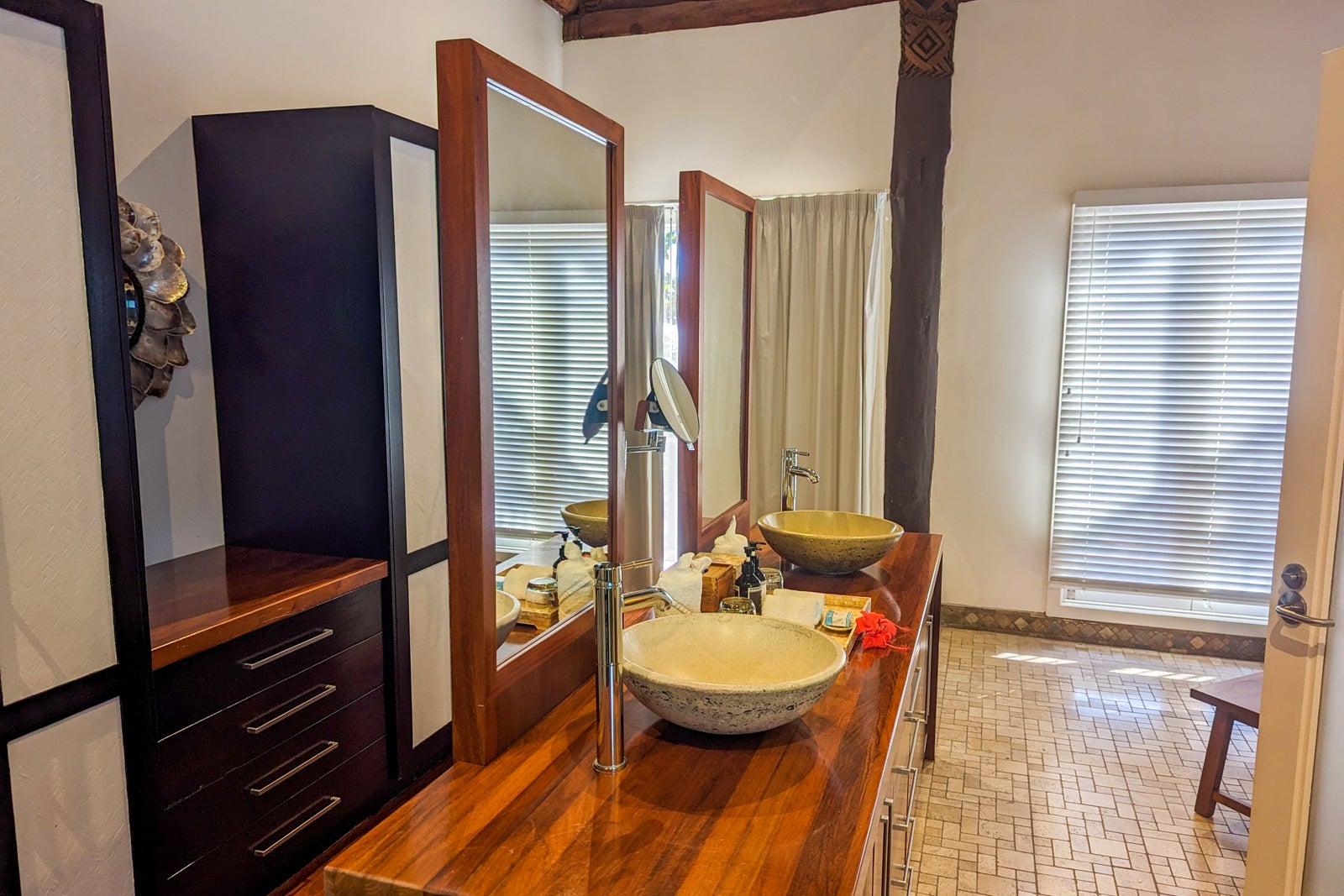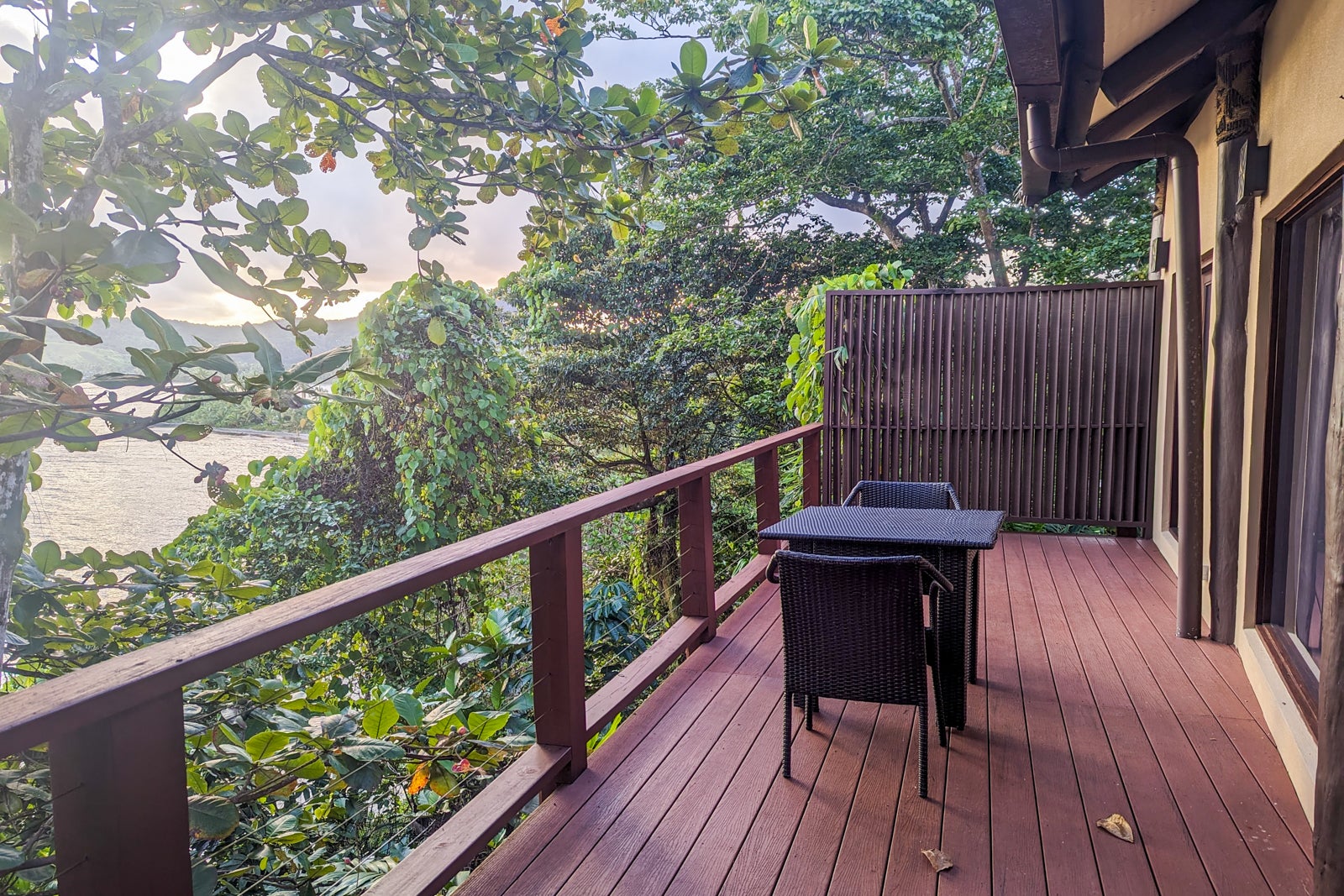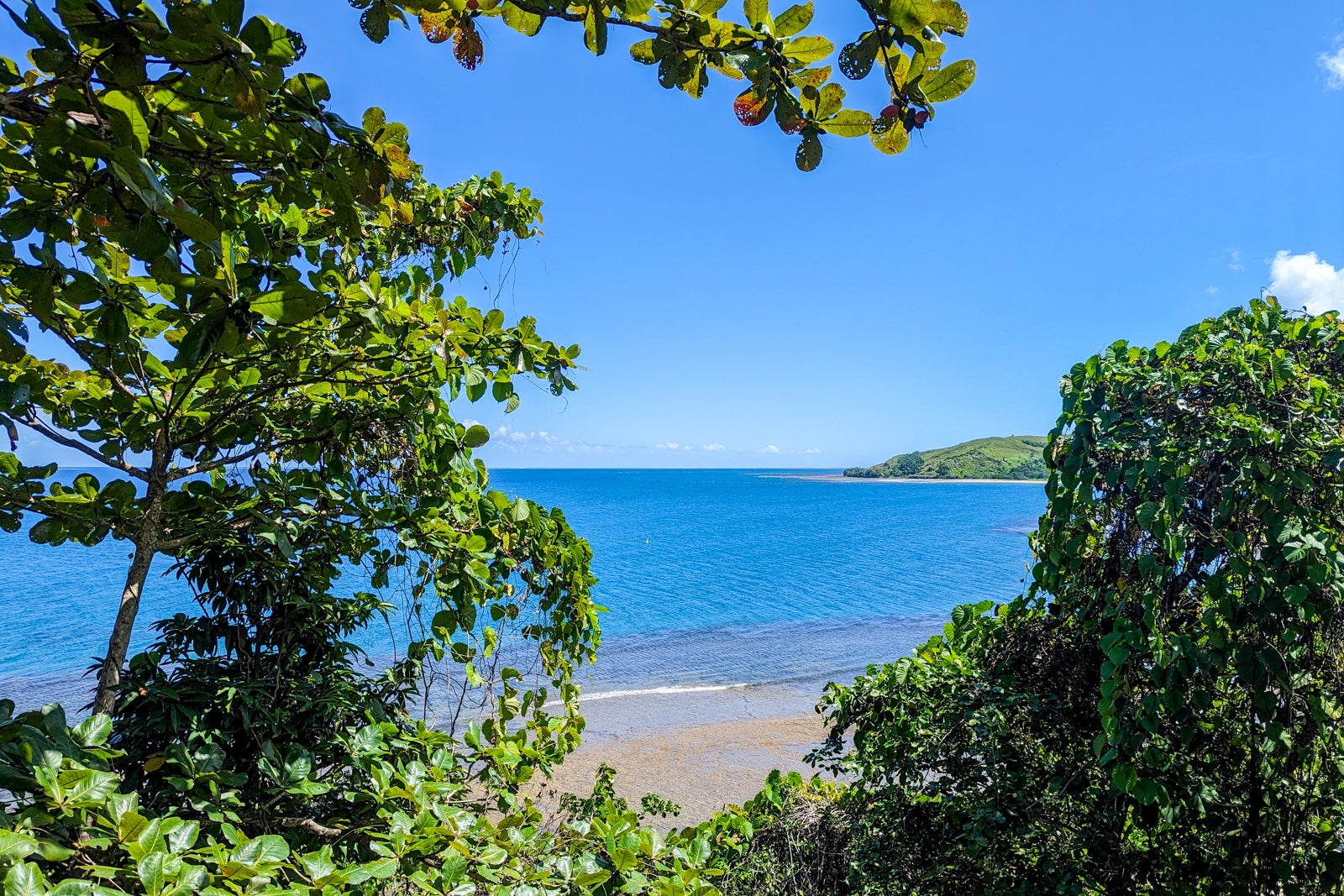 The wooden bed was comfortable but creaky and the curtains, when drawn, blocked out most light.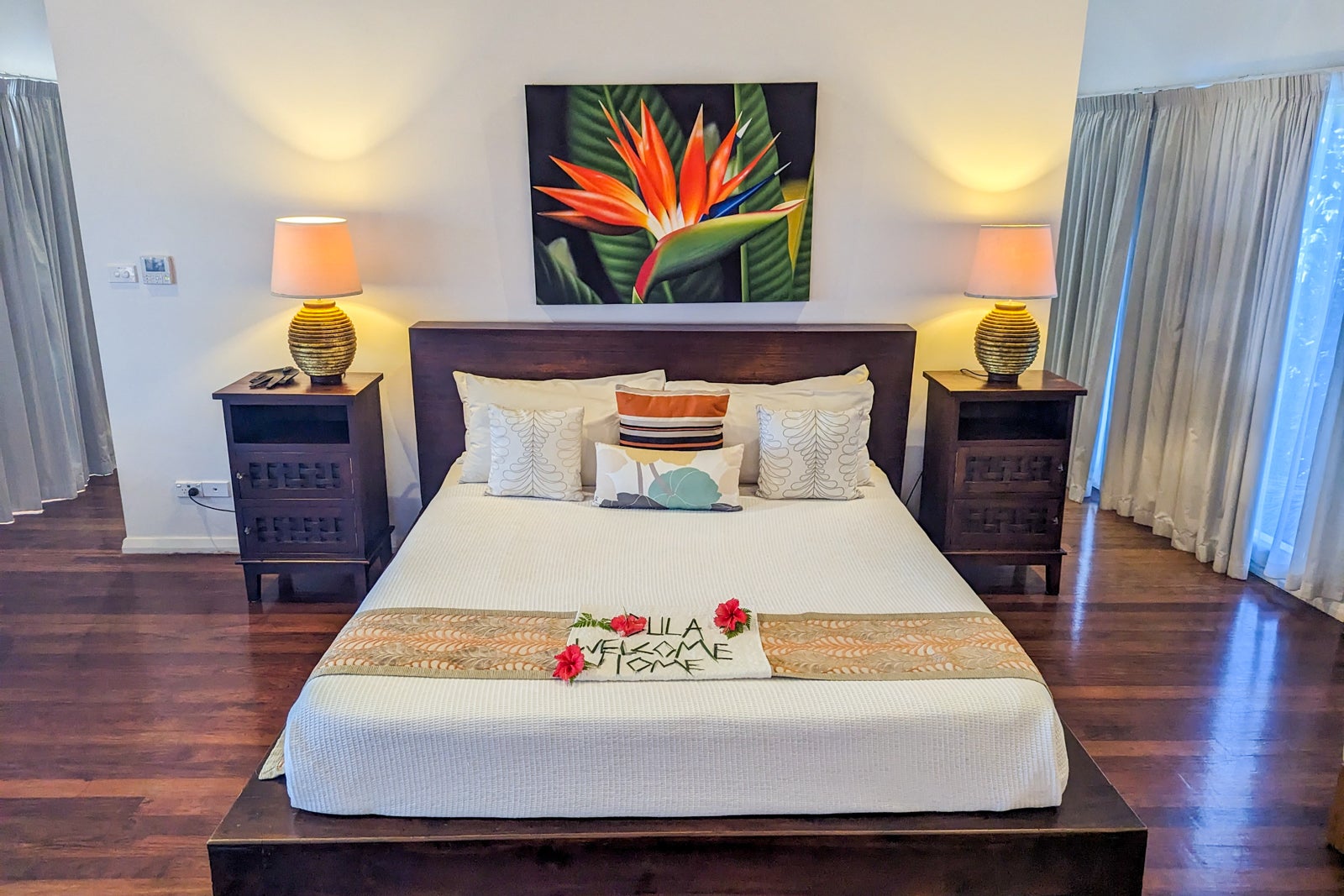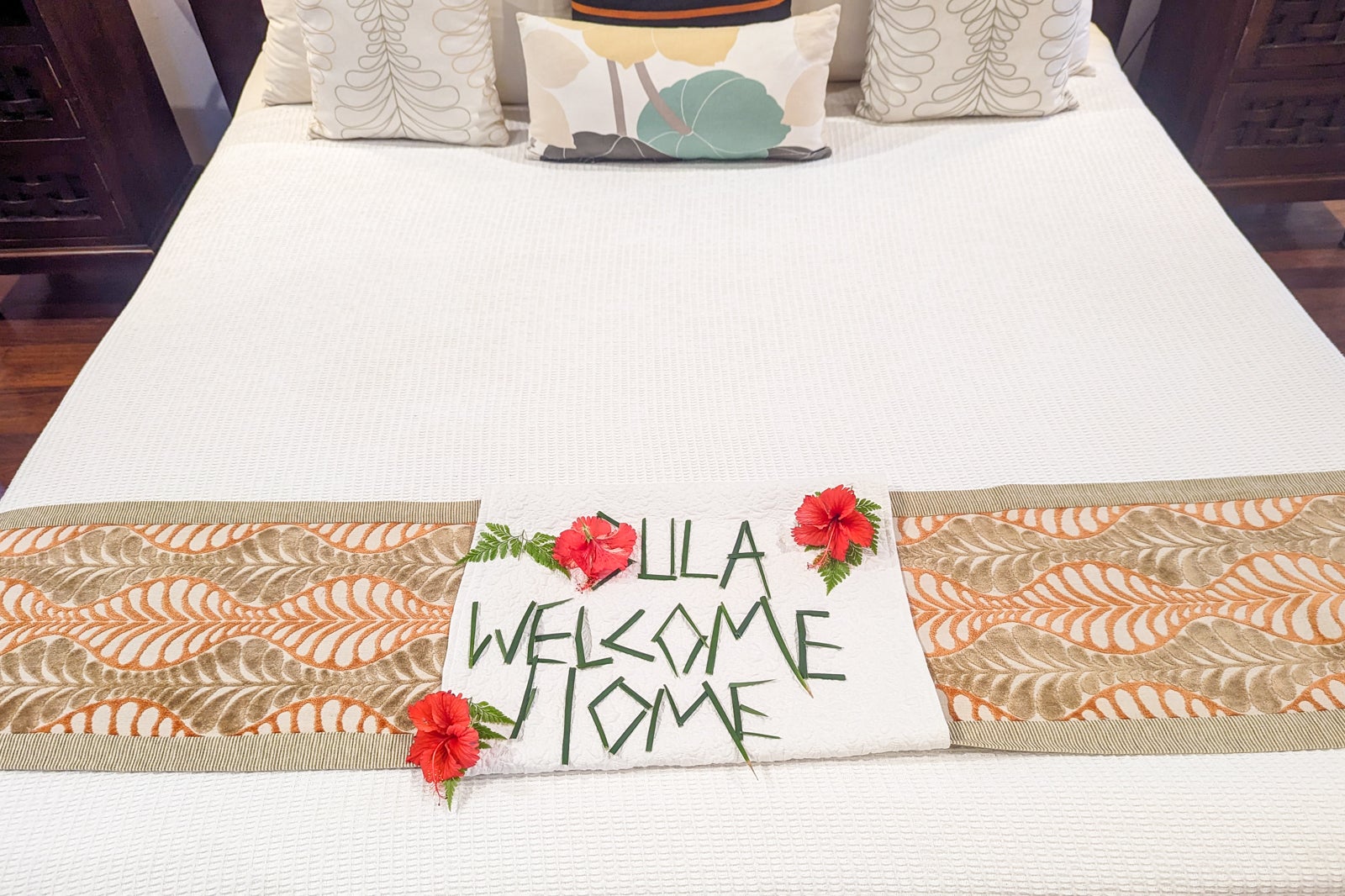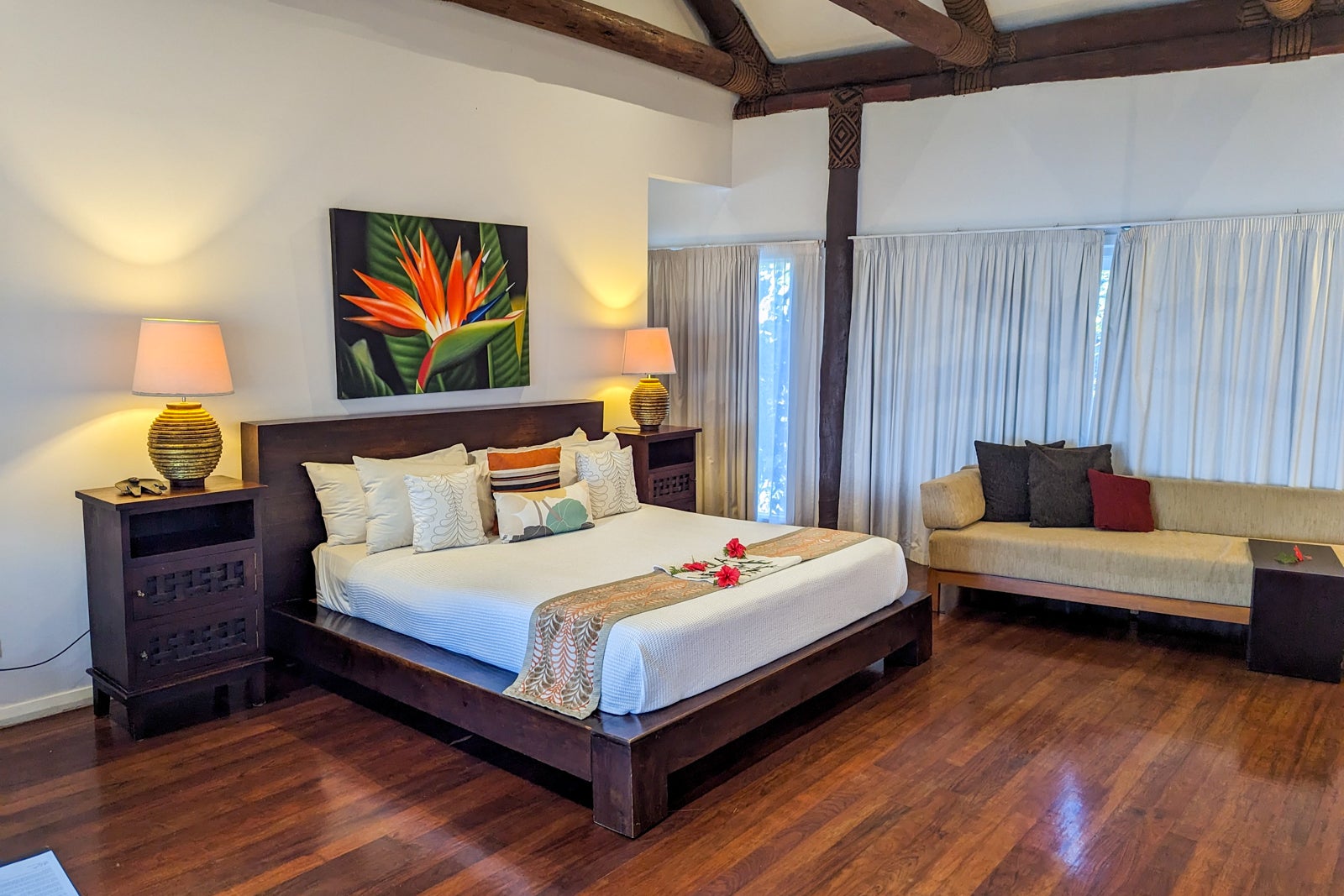 The bathroom had two sinks, a large bathtub, a toilet room and an open shower tiled in stone.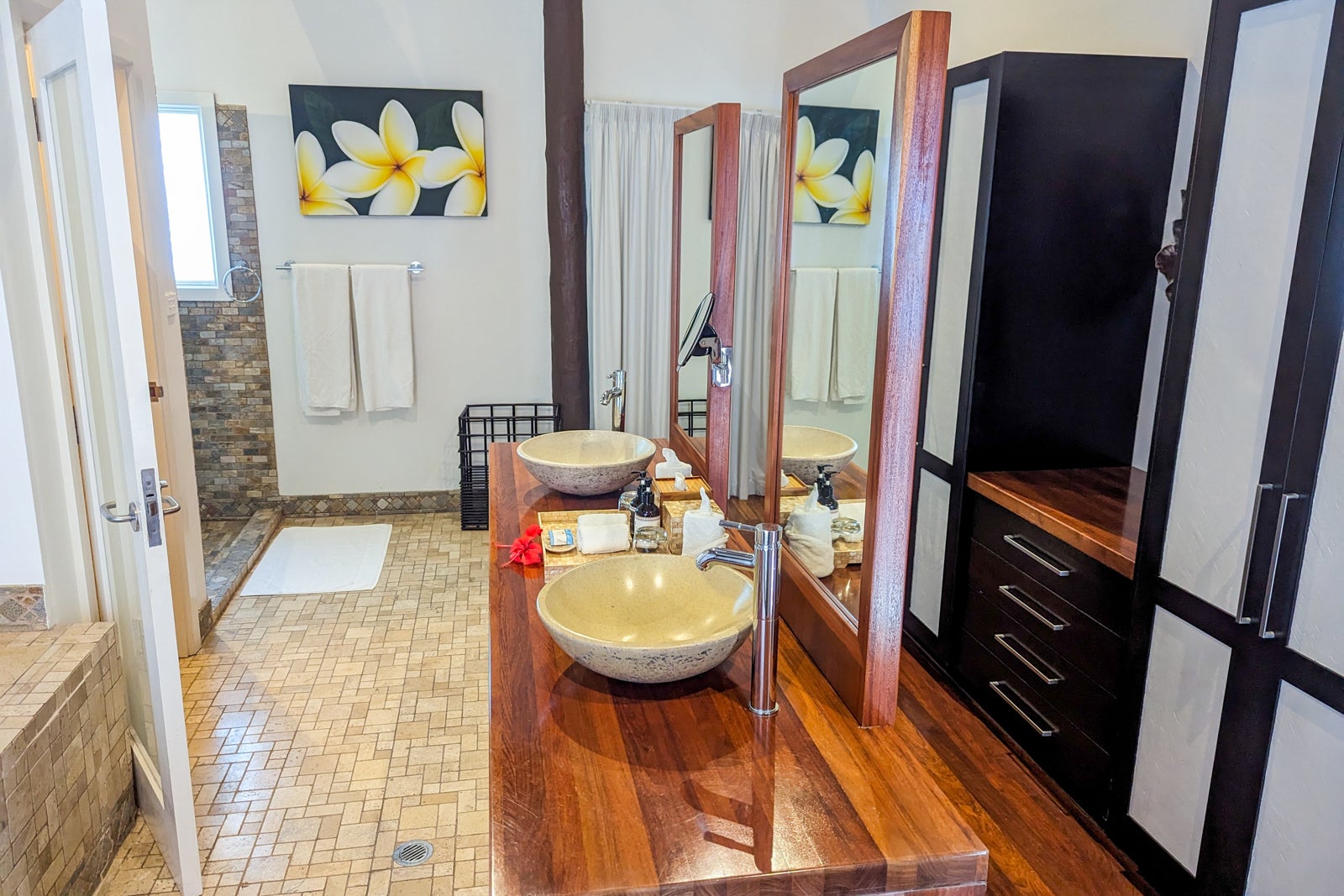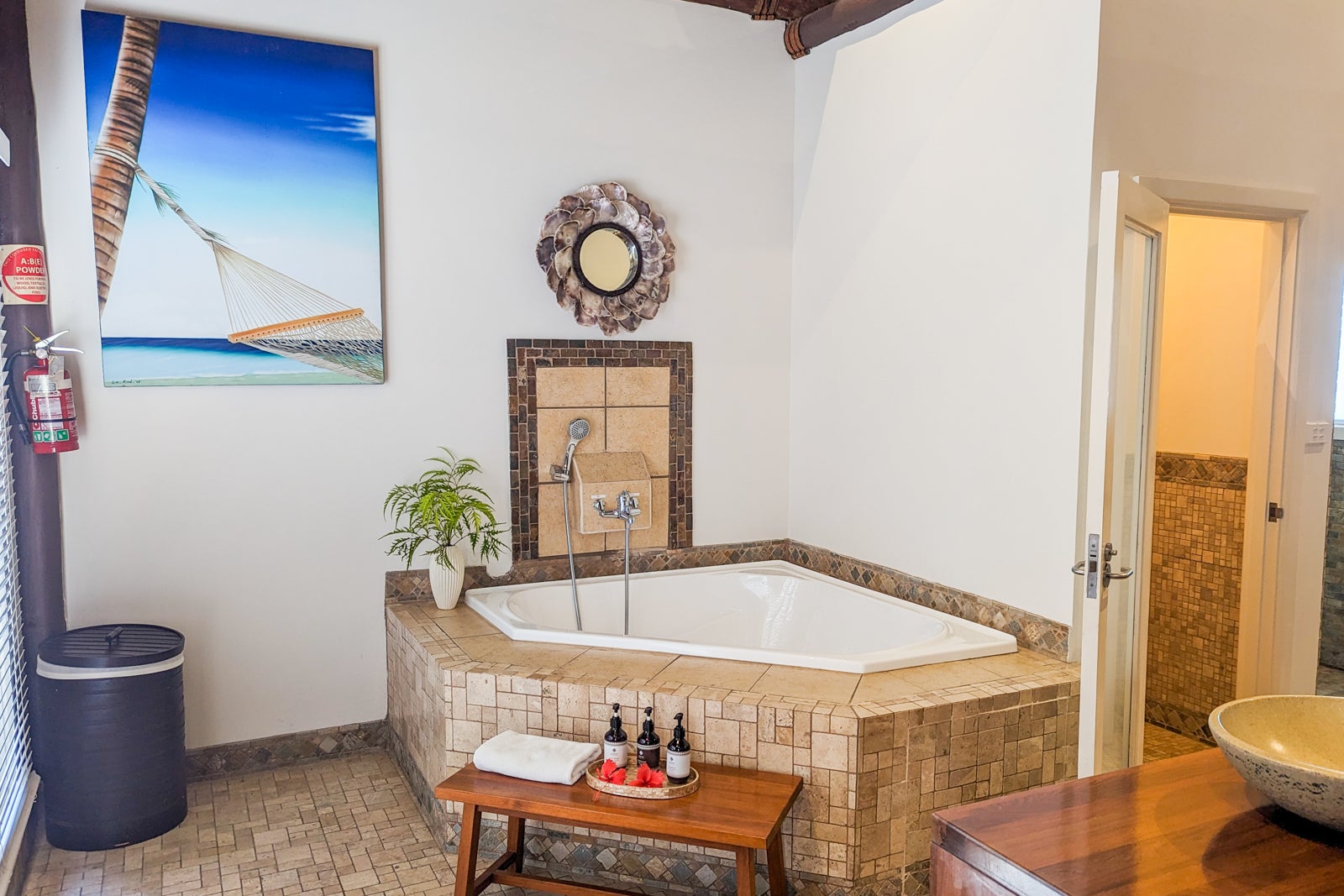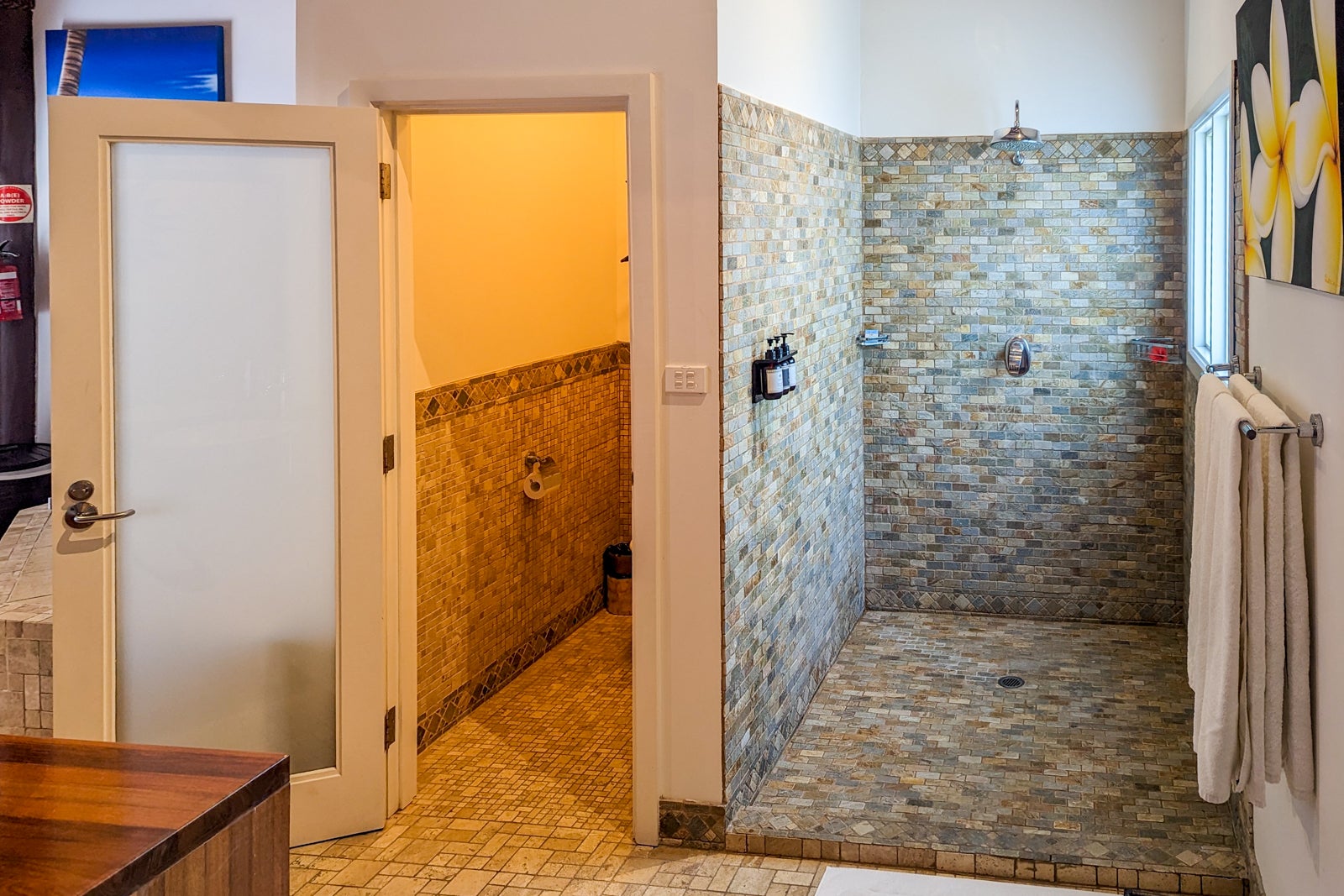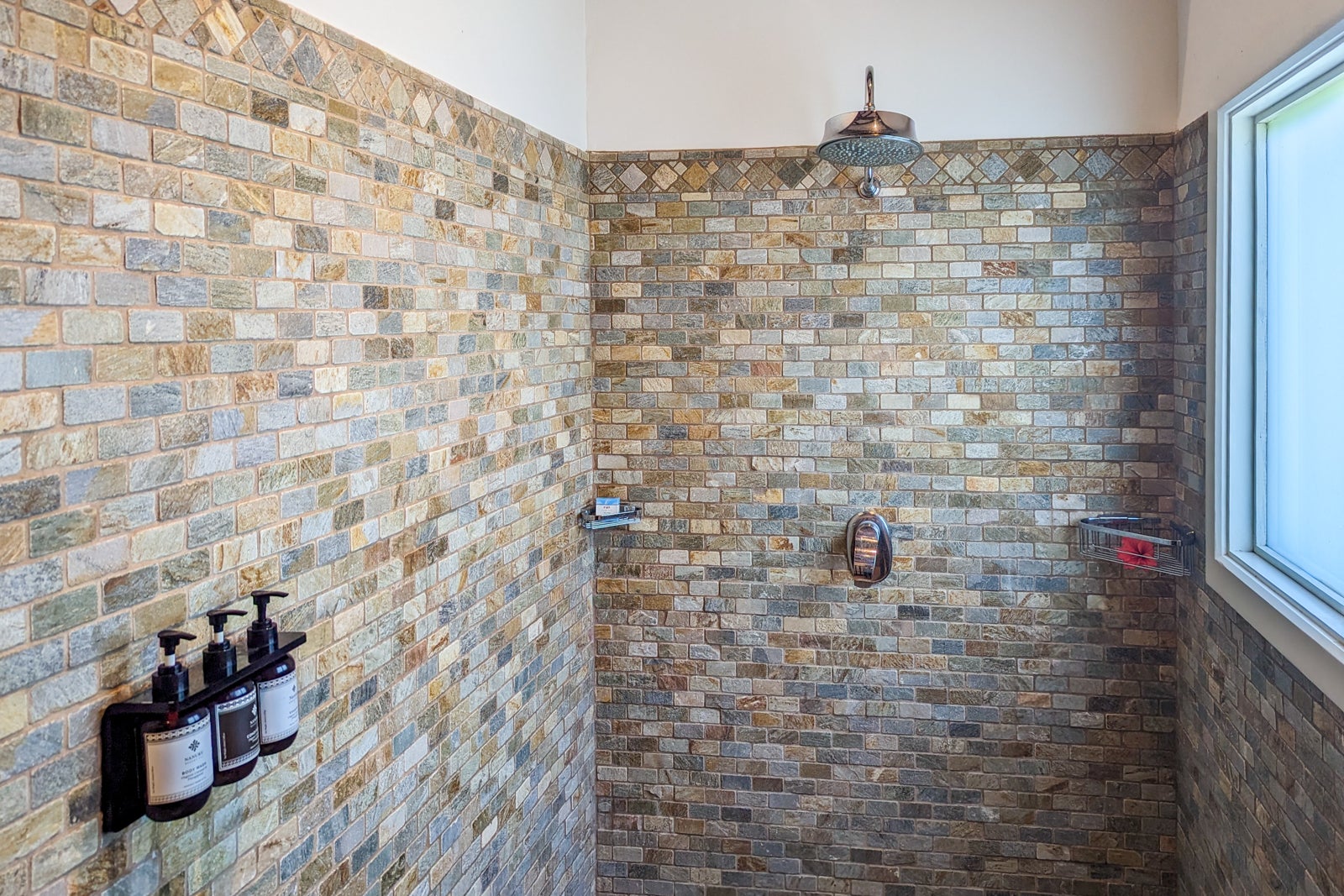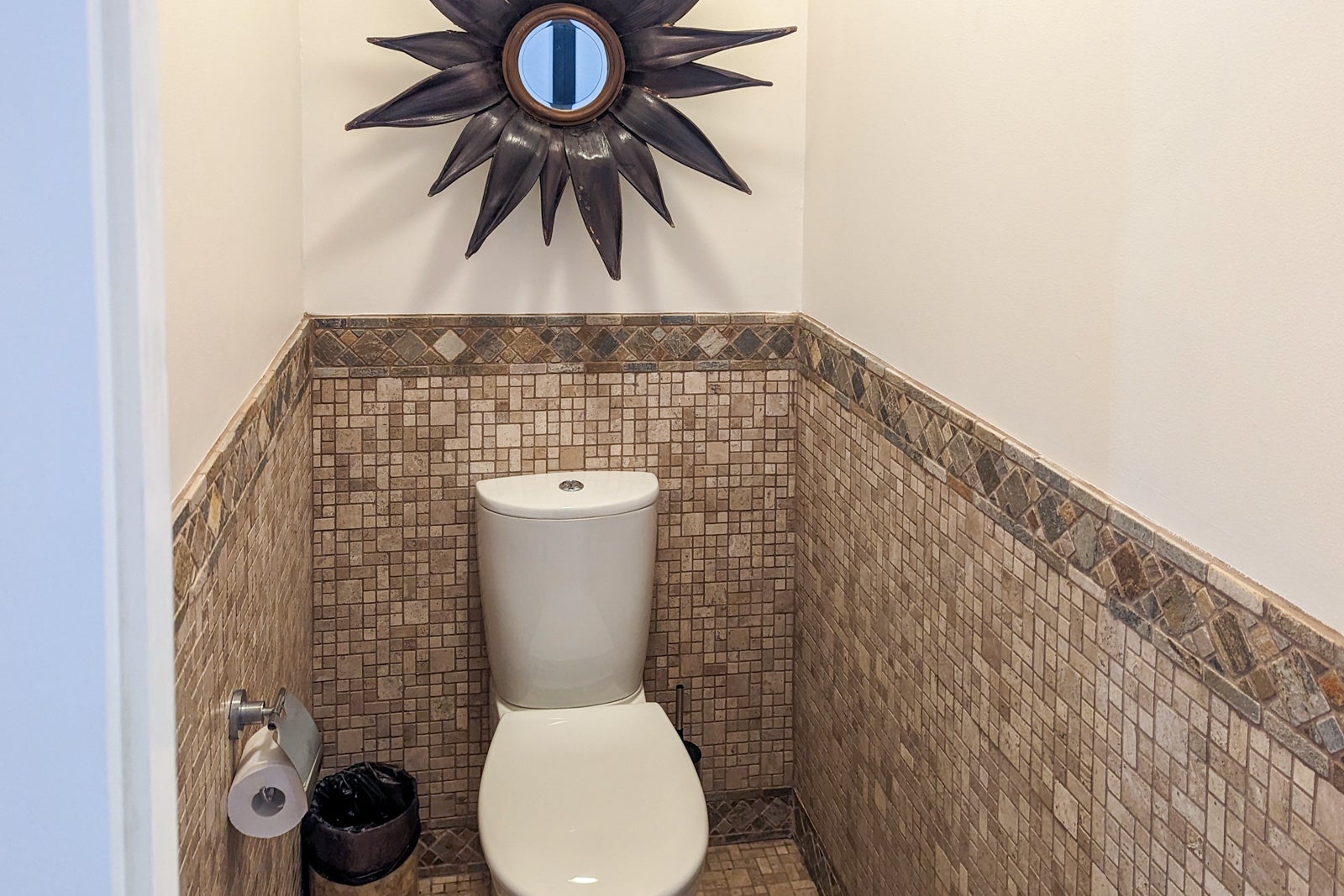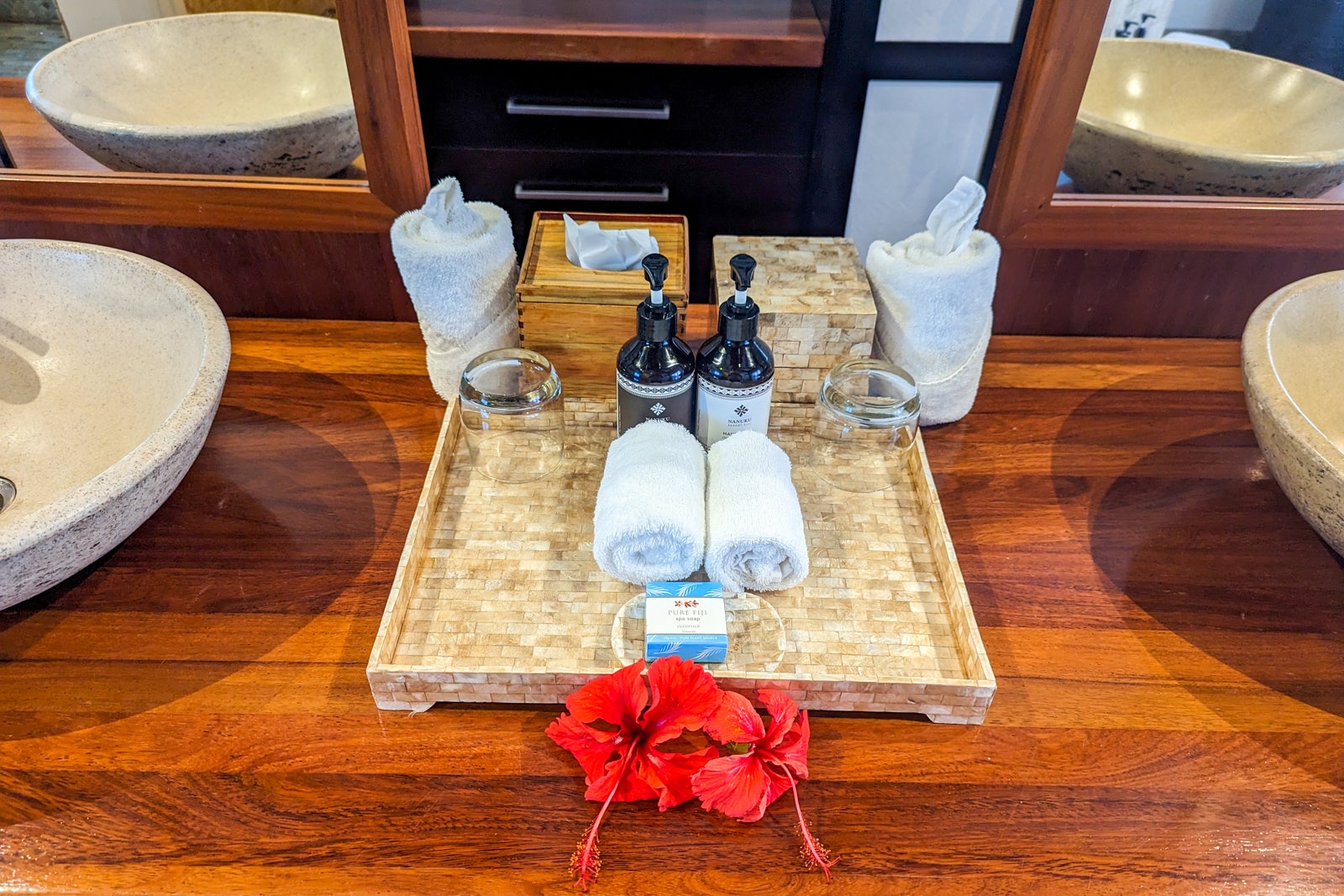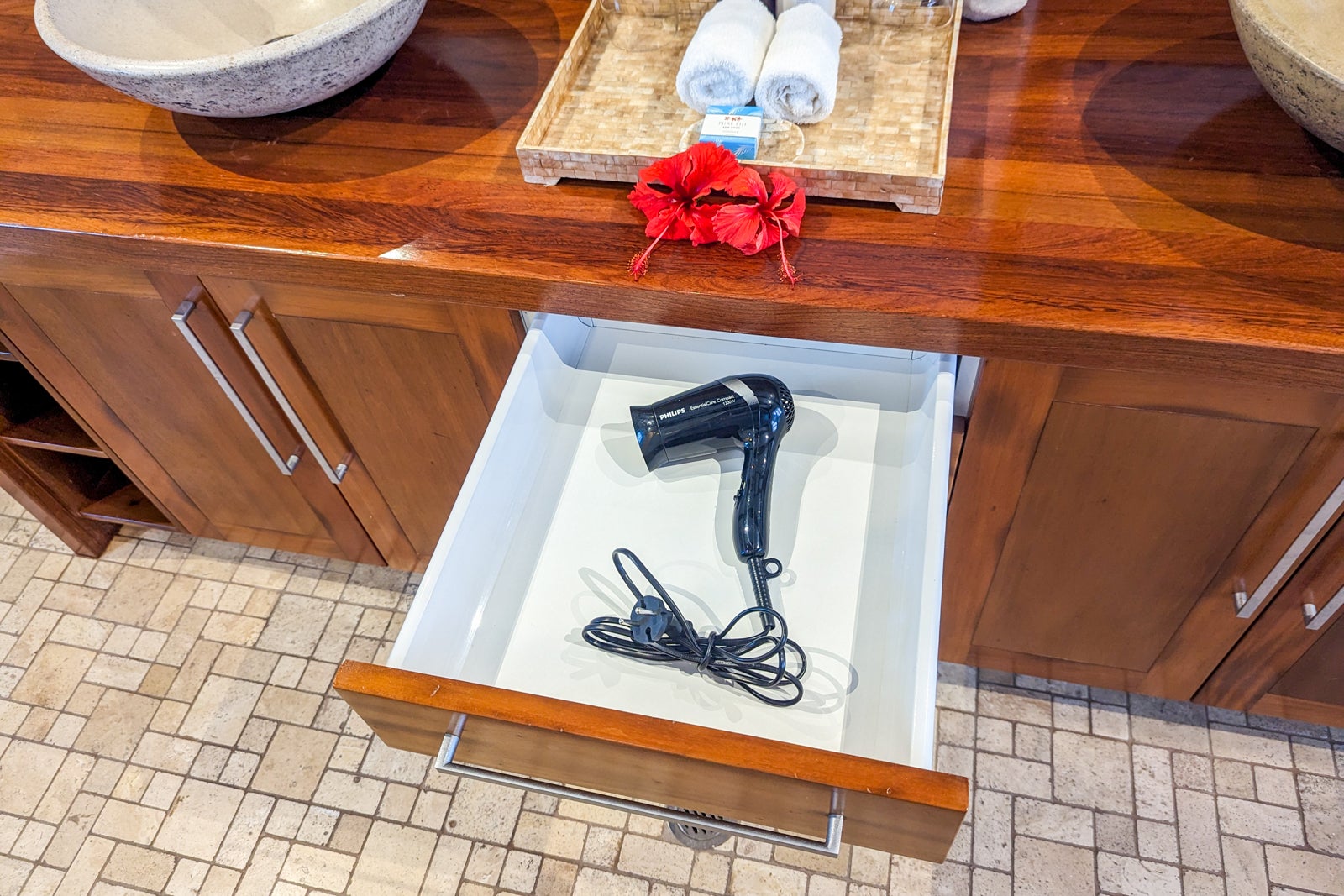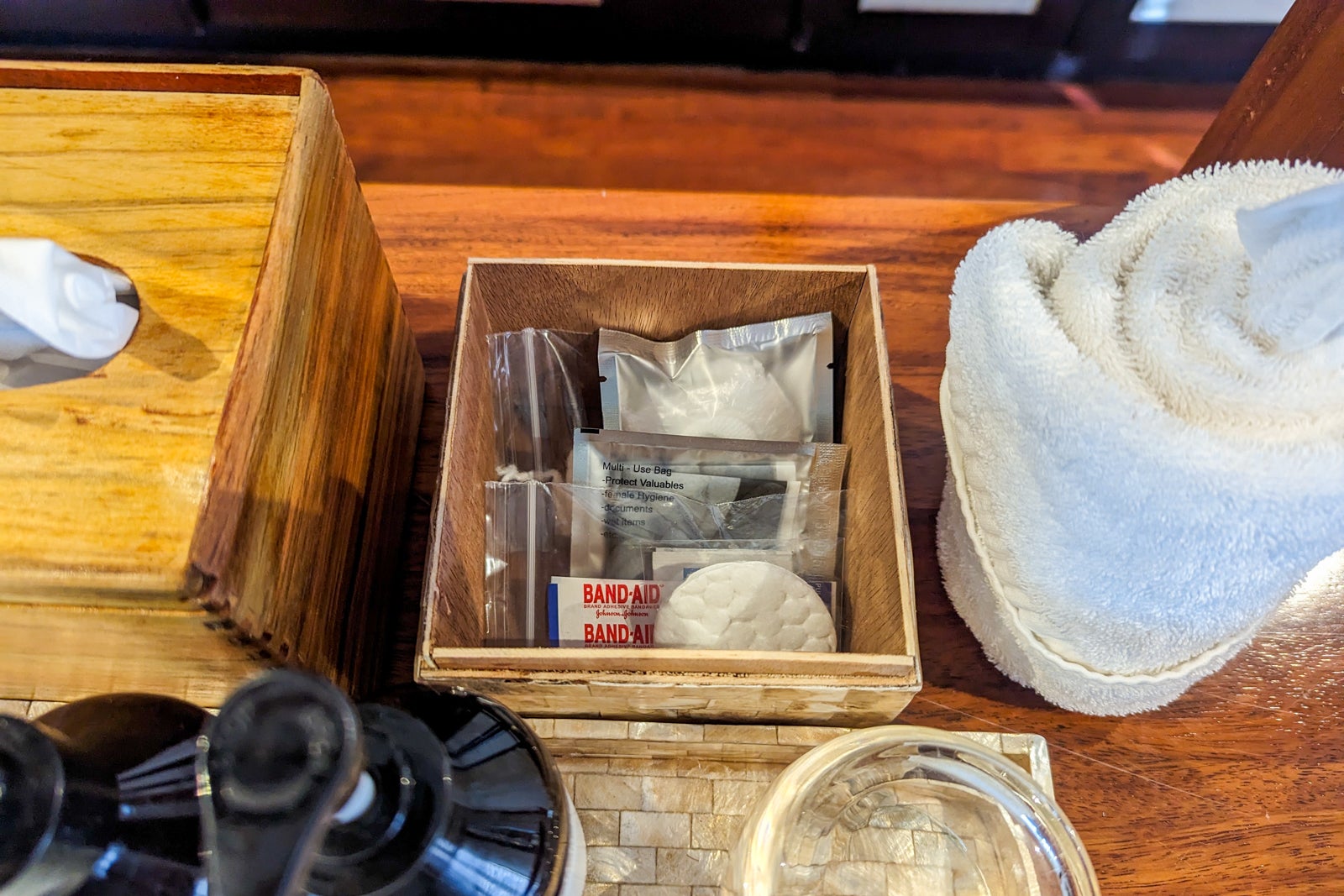 Behind the sinks in the bathroom, there was ample closet space.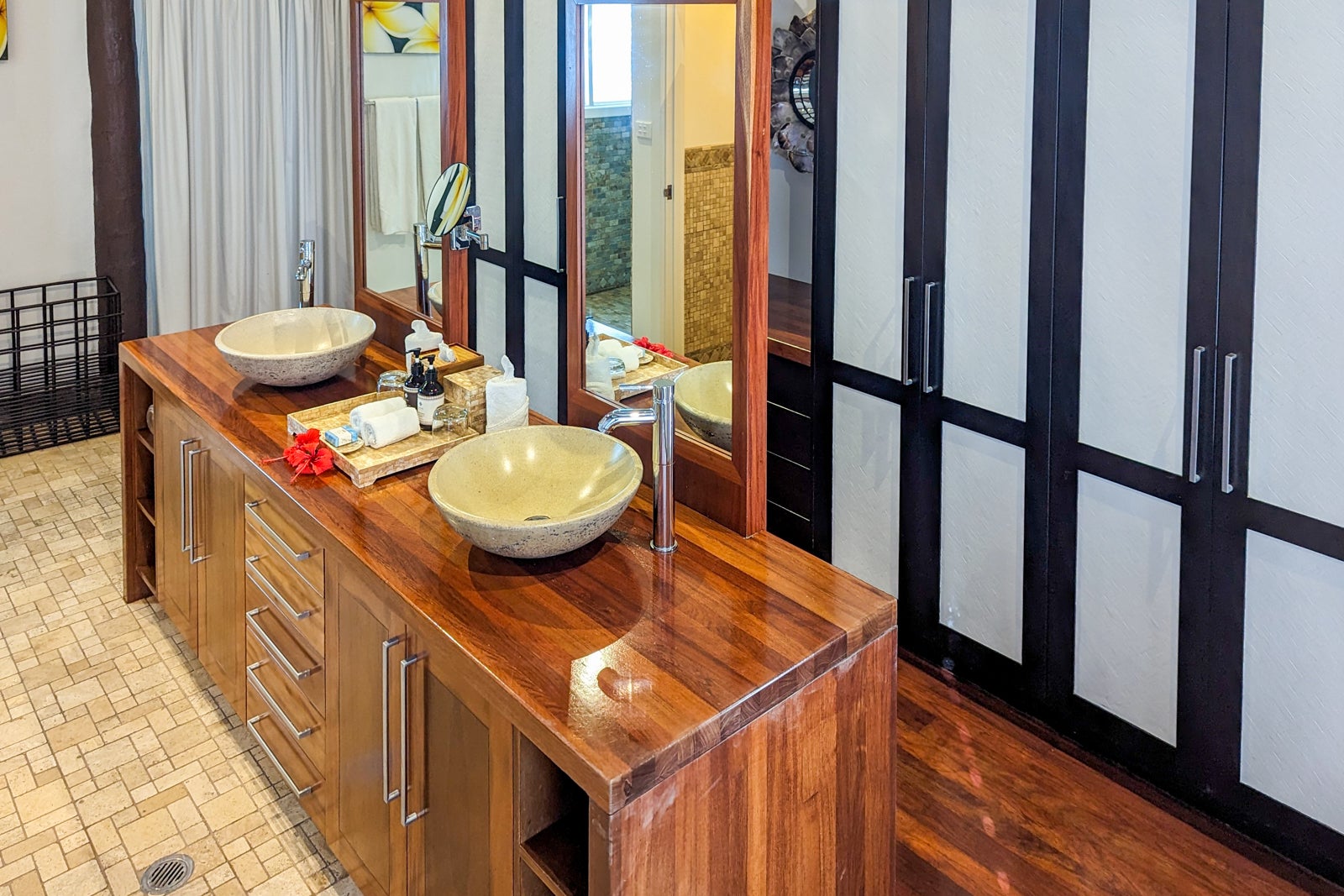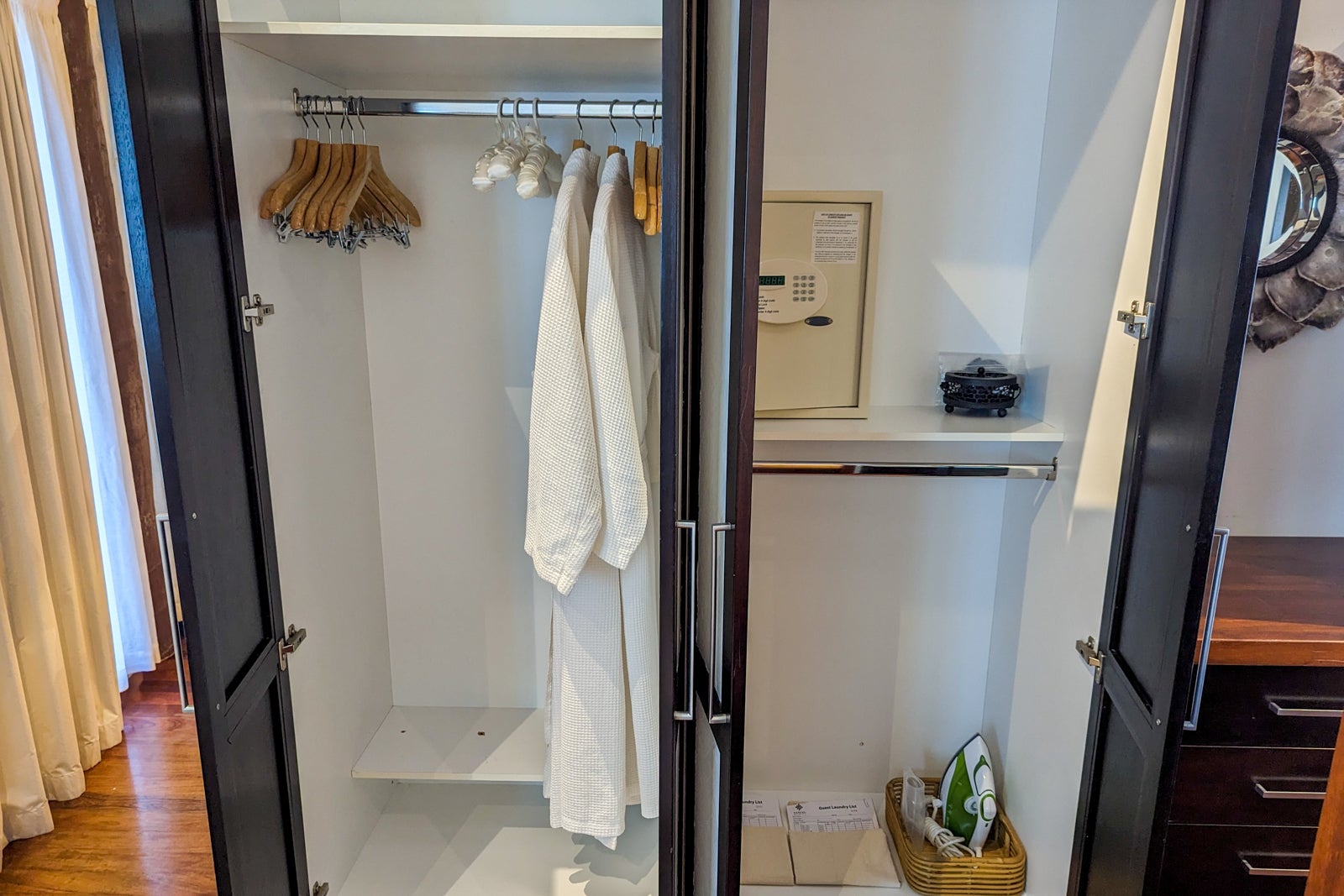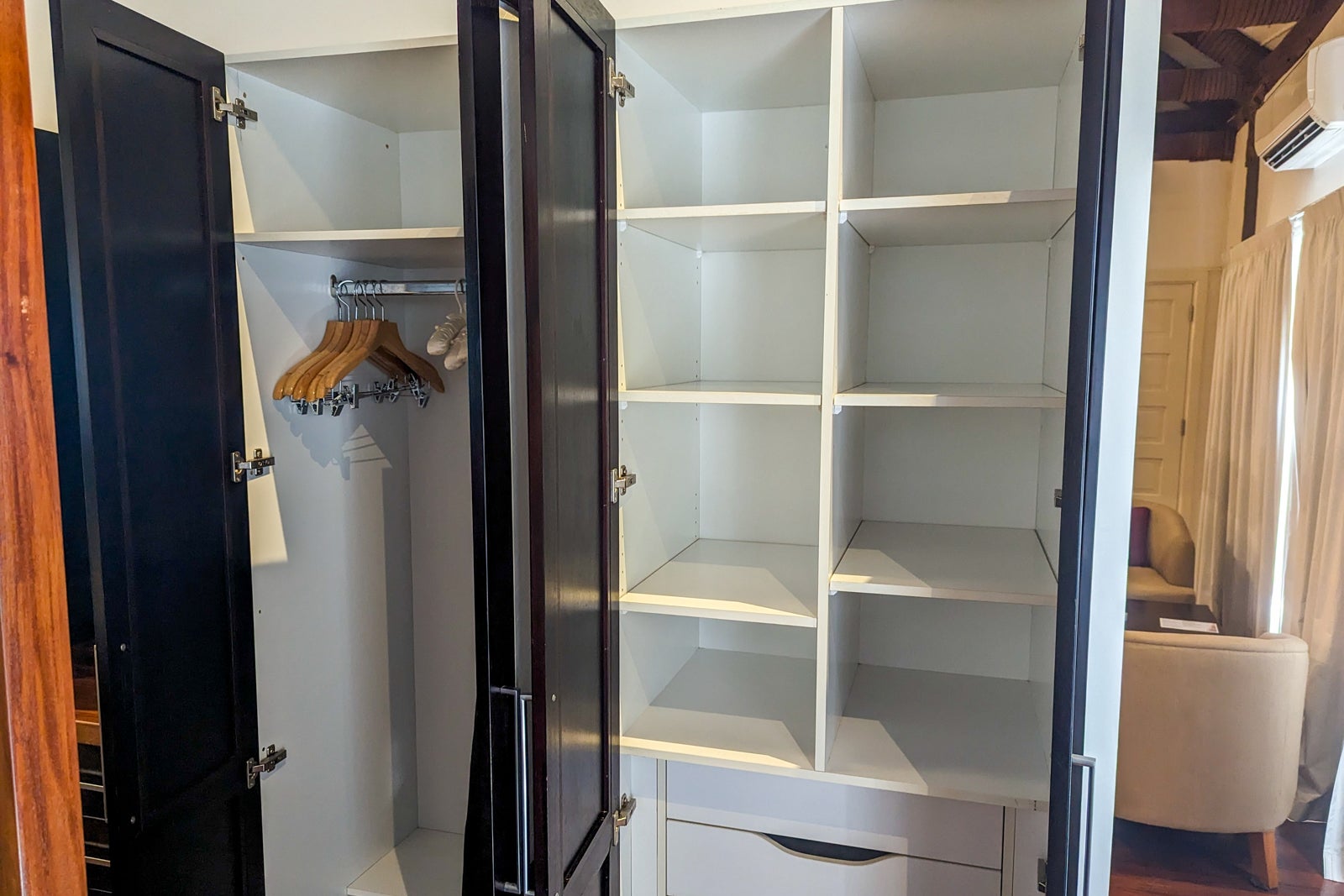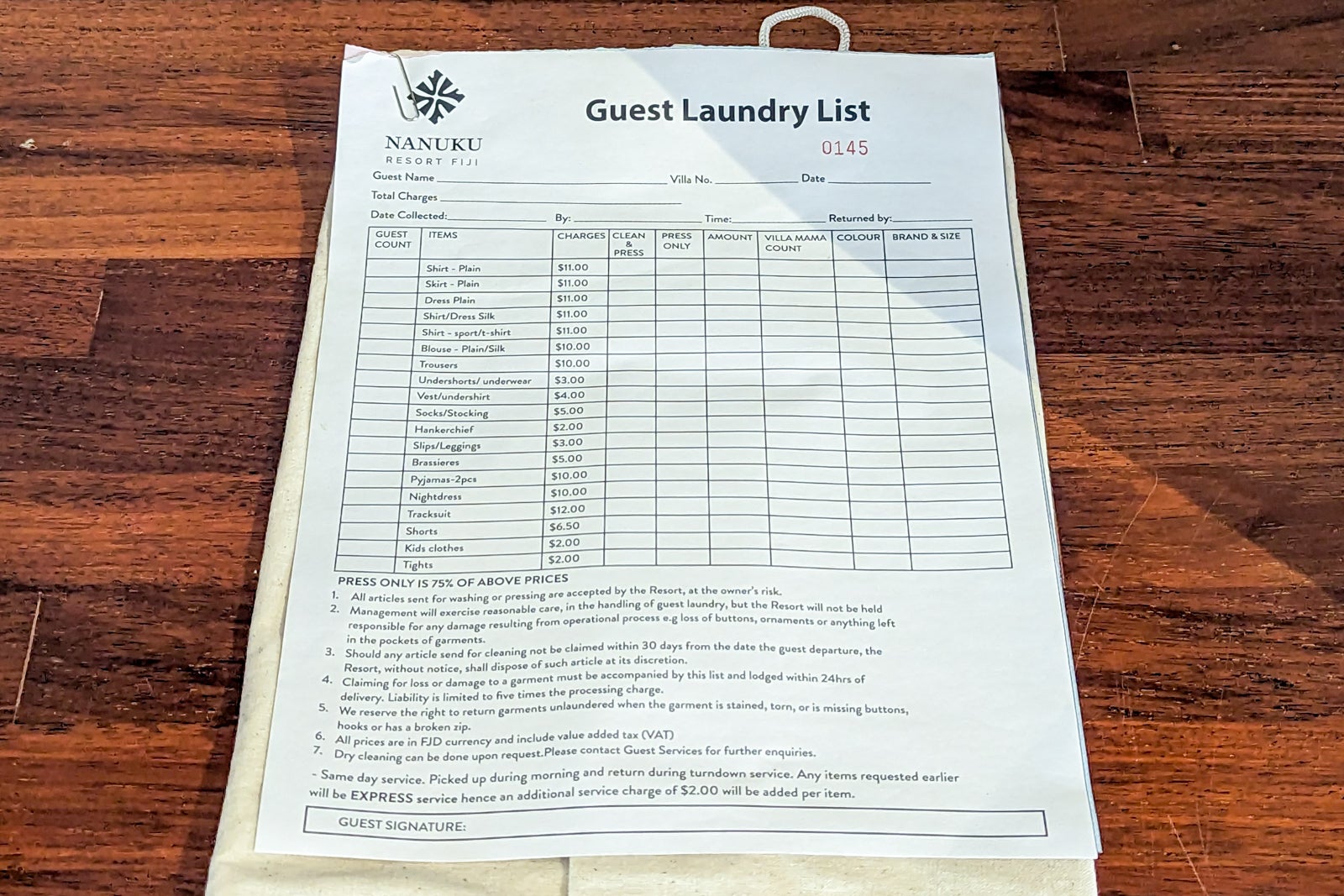 We loved the complimentary items in the minibar area, including a popcorn maker, a French press and non-alcoholic drinks. The cookies in a jar next to the welcome fruit platter were delicious, too.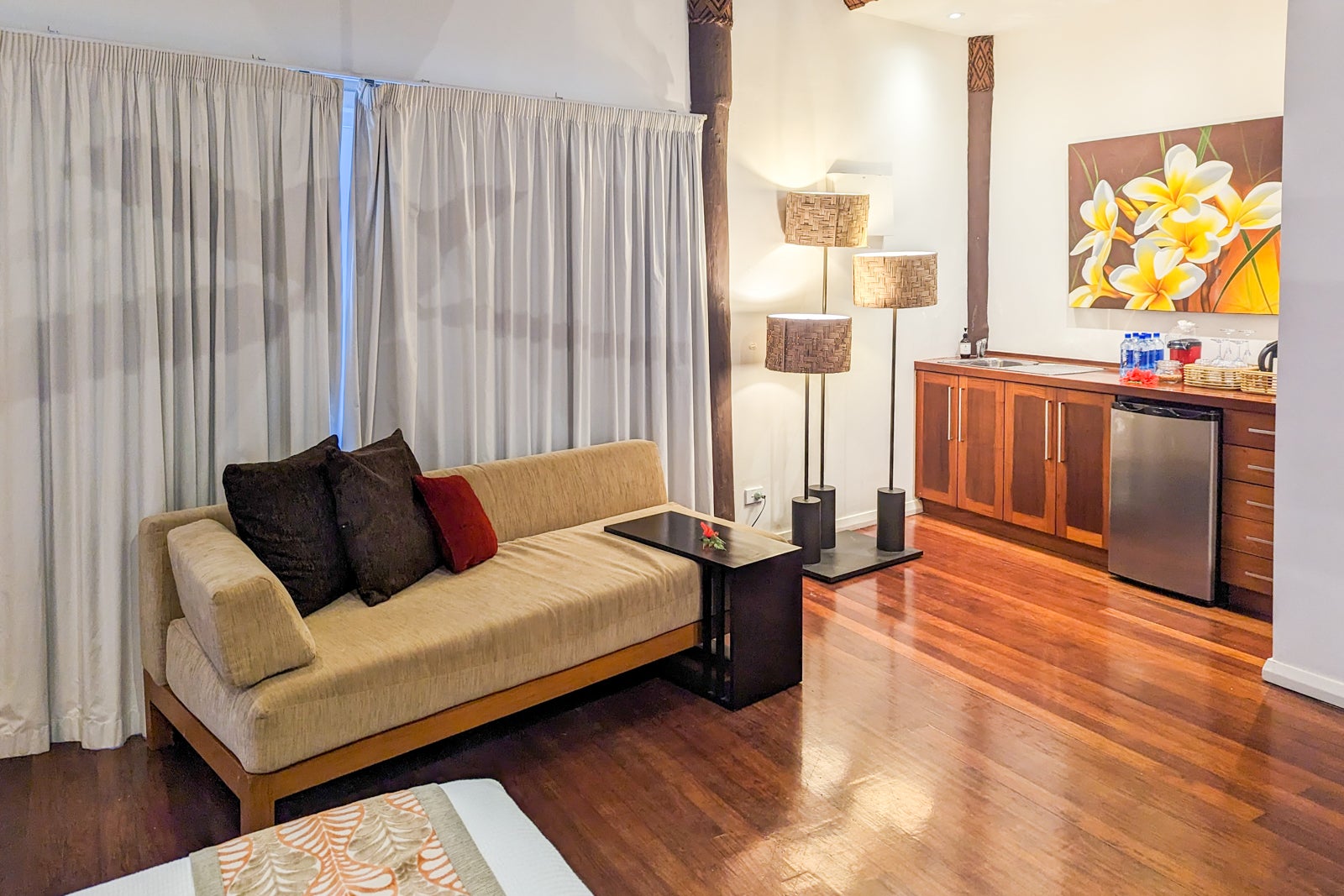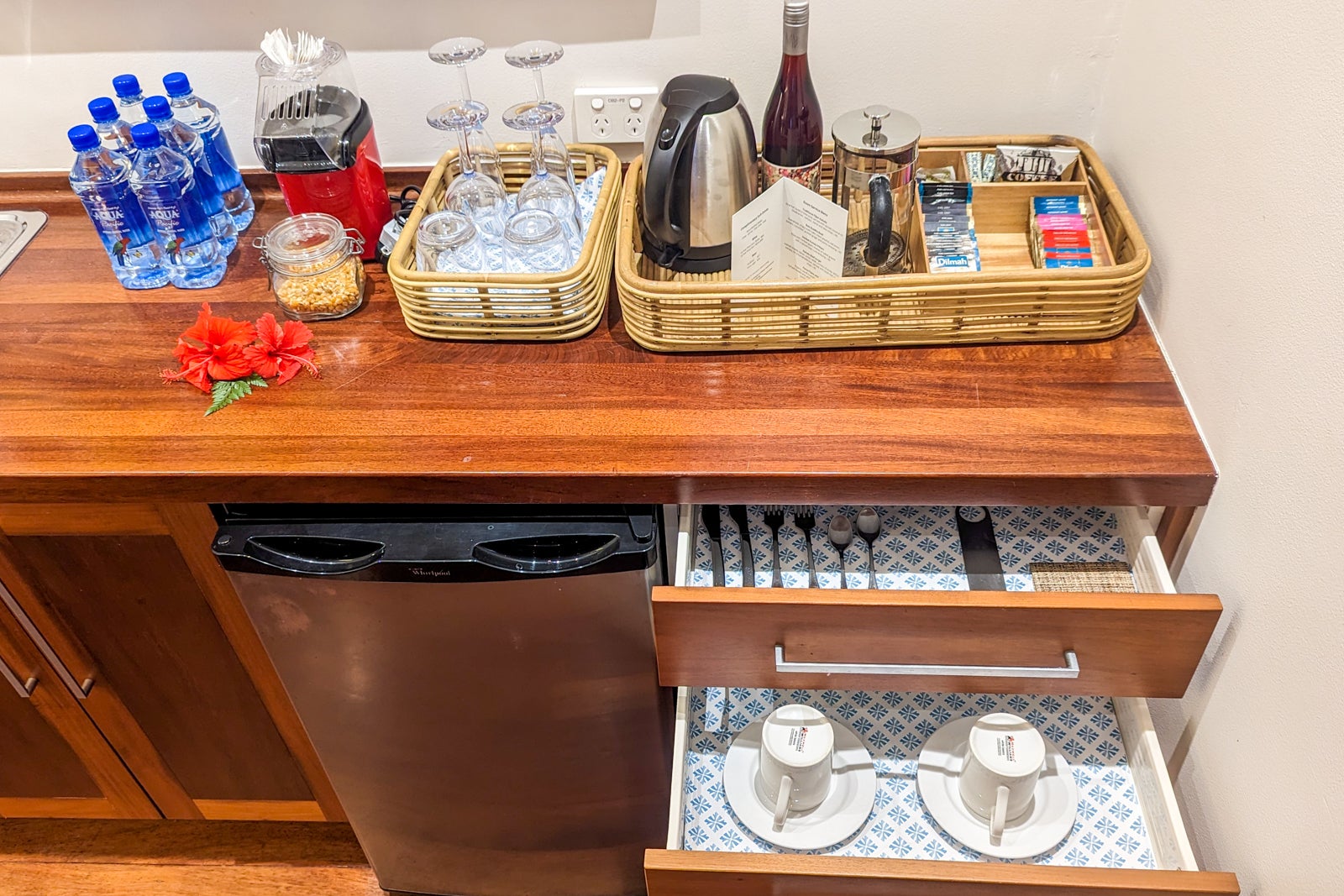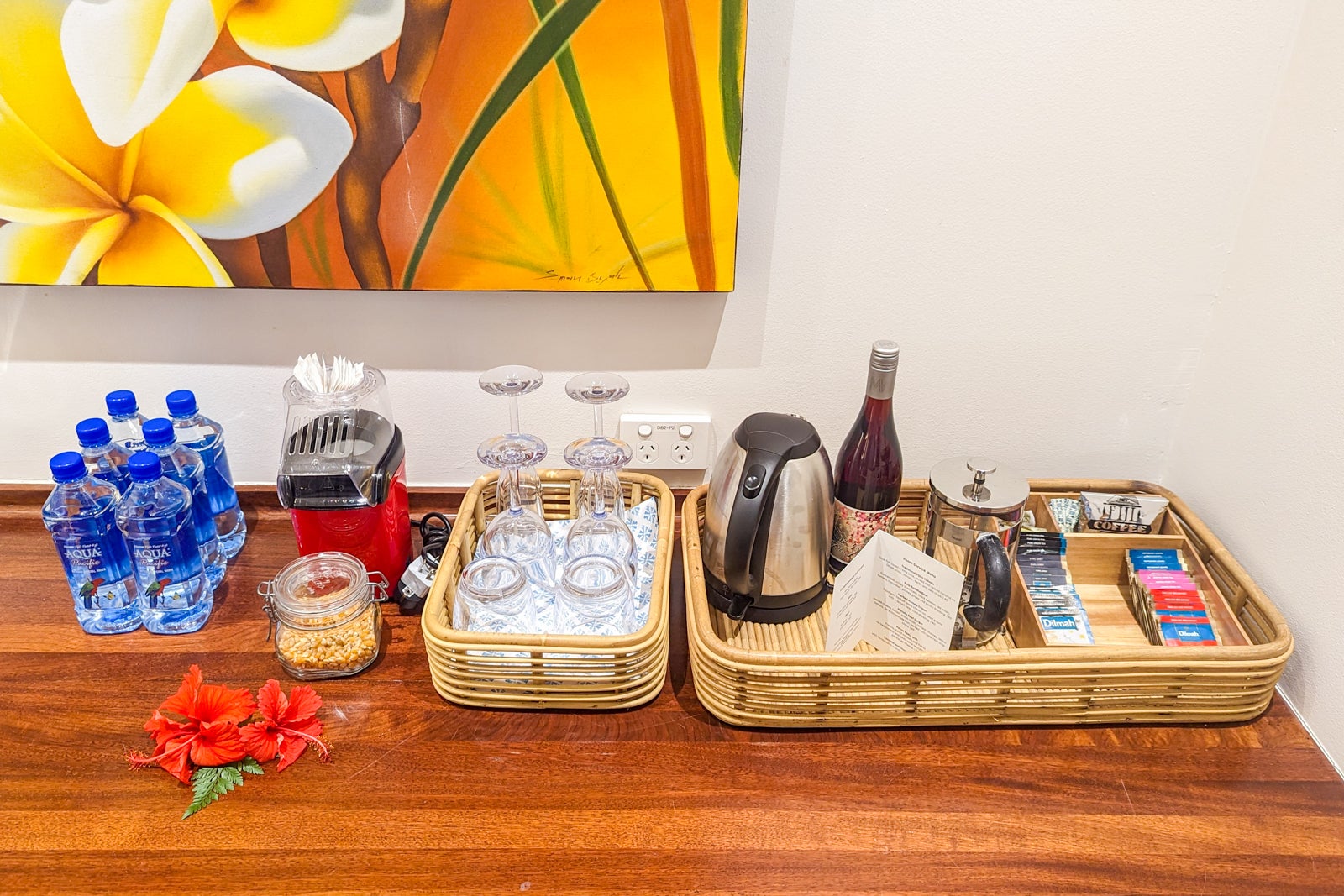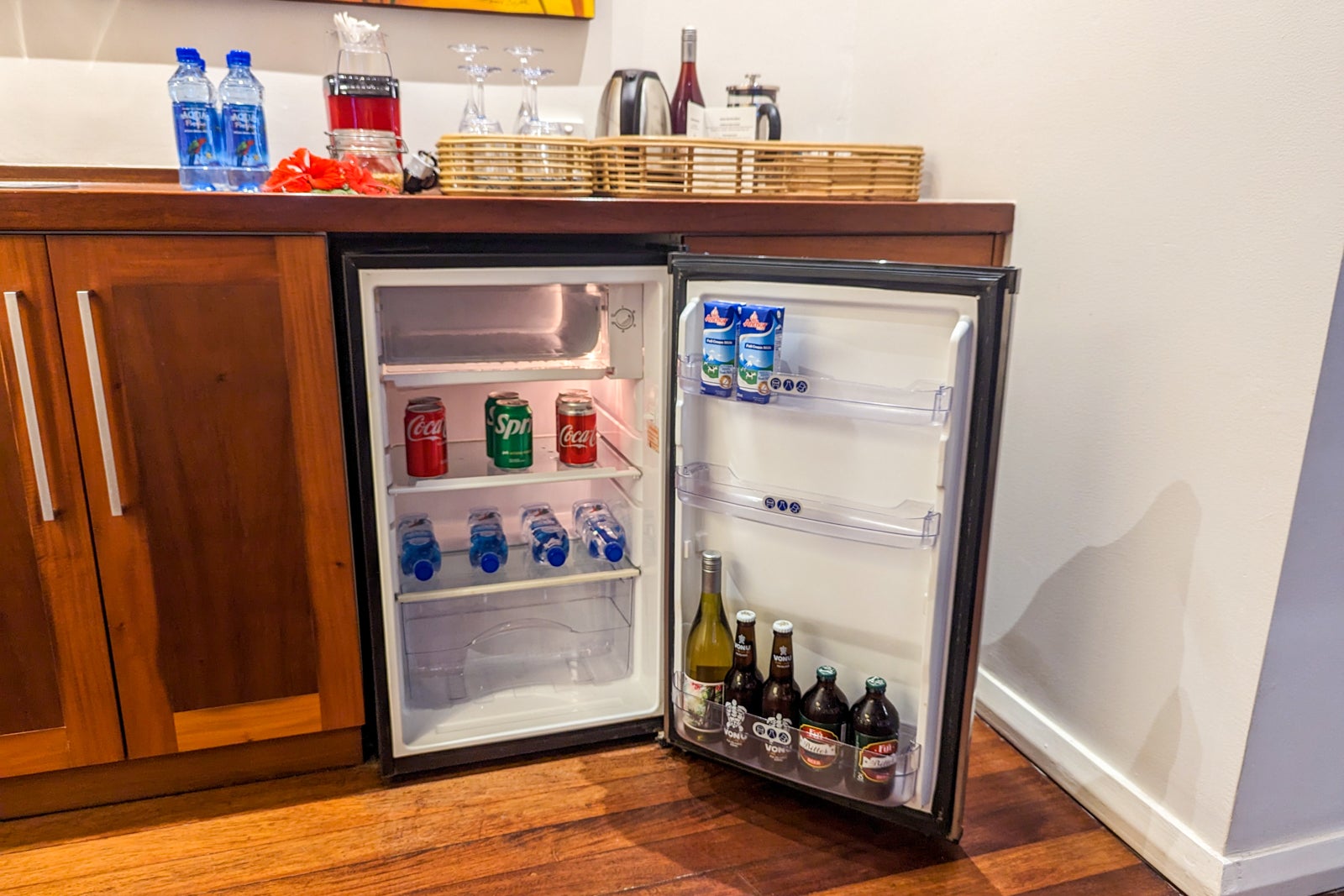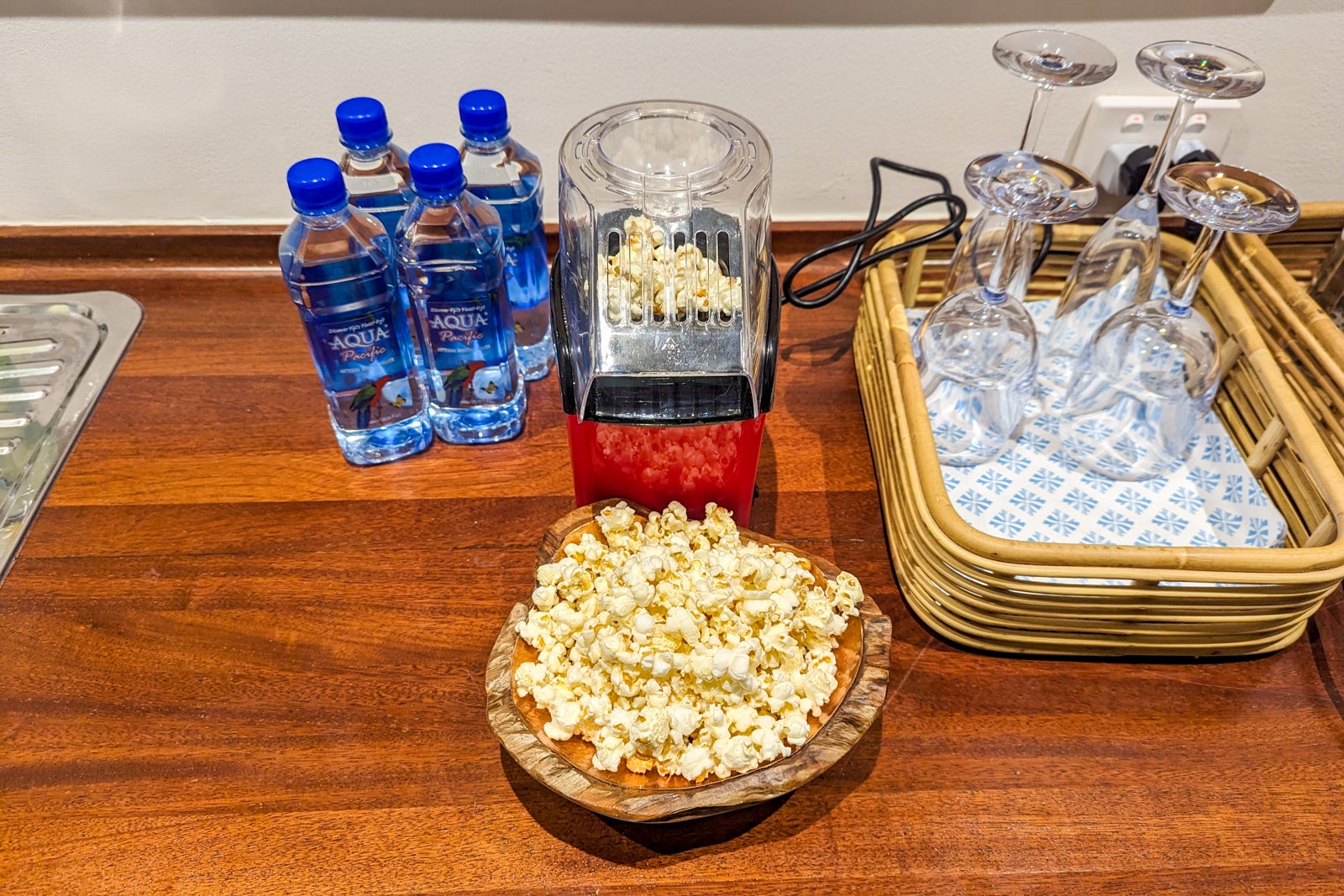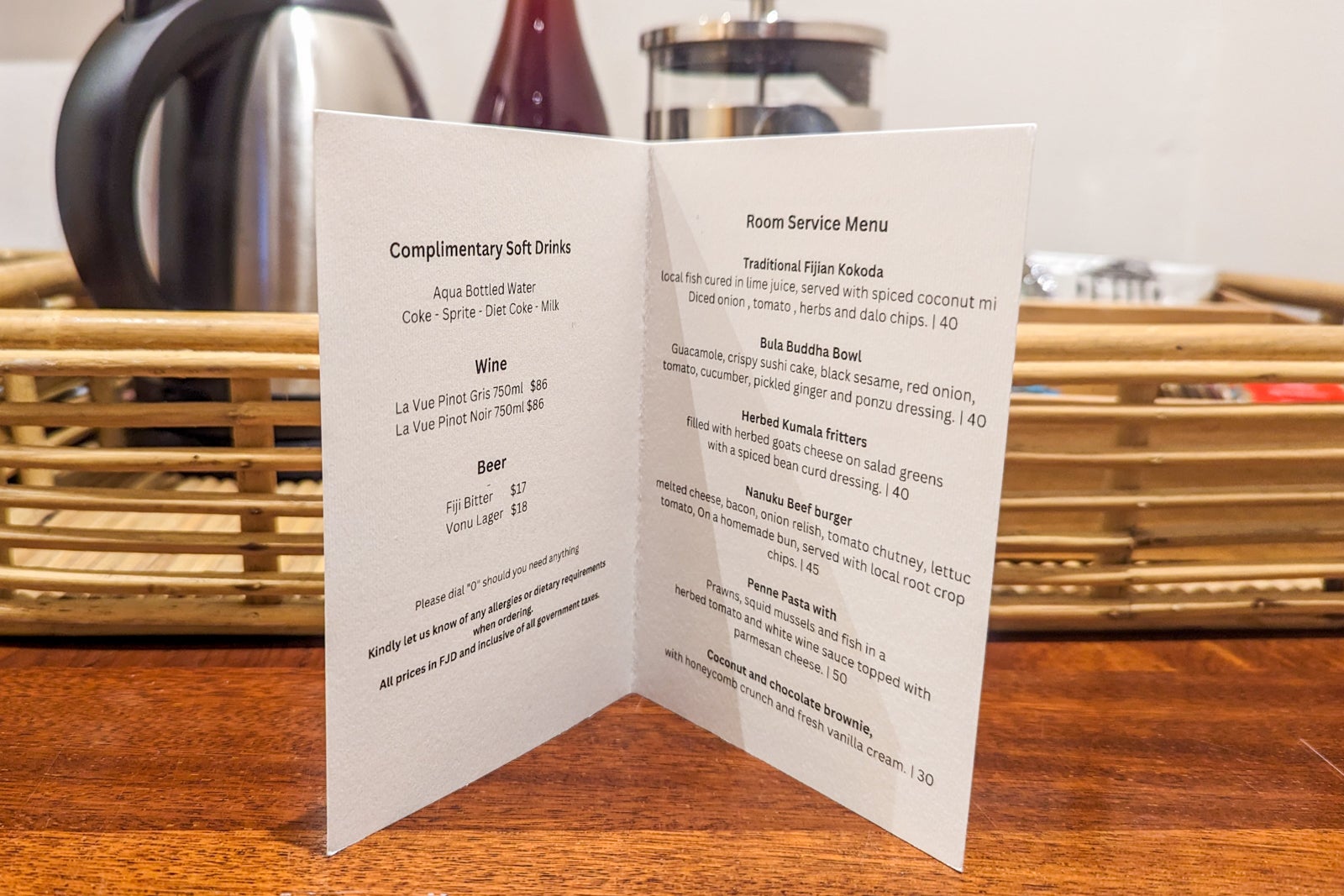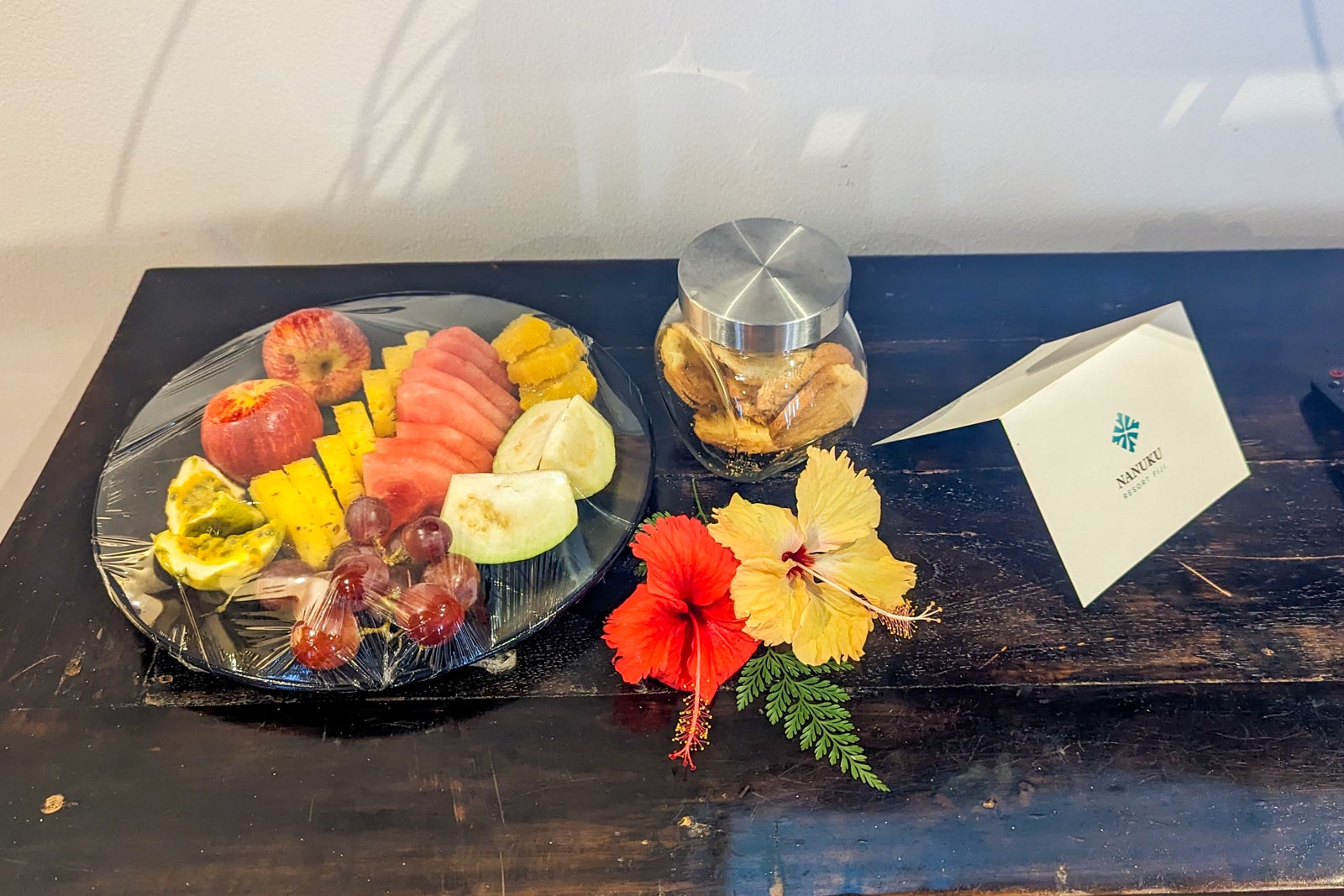 During our stay, no guests occupied the other three units in the Hilltop Residence. We heard some maintenance work on the surrounding units, though, so I expect it could get noisy when the other units are reserved — especially if other groups spend time on their balconies.
Related: A comparison of luxury hotel programs from credit card issuers: Amex, Capital One, Chase and Citi
Paradise for kids (and their parents)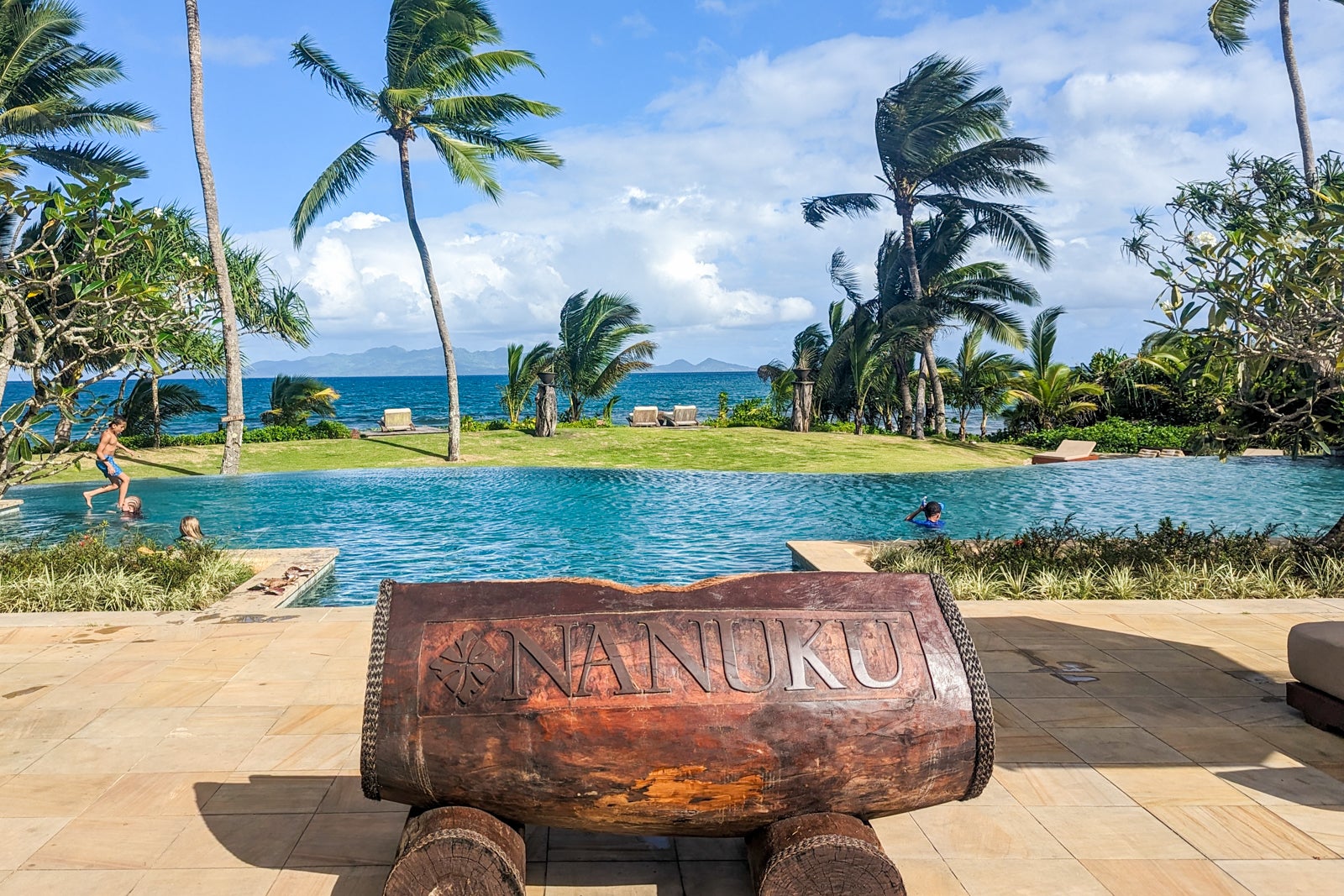 As a couple without children, we certainly missed out on one of the best Nanuku services: complimentary nannies and buddies for kids.
That's right, Nanuku provides a complimentary, dedicated nanny between 9 a.m. and 6 p.m. for every child under six. And families with children between the ages of 6 and 12 can opt in for their children to be partnered with a buddy during daily activities at the resort.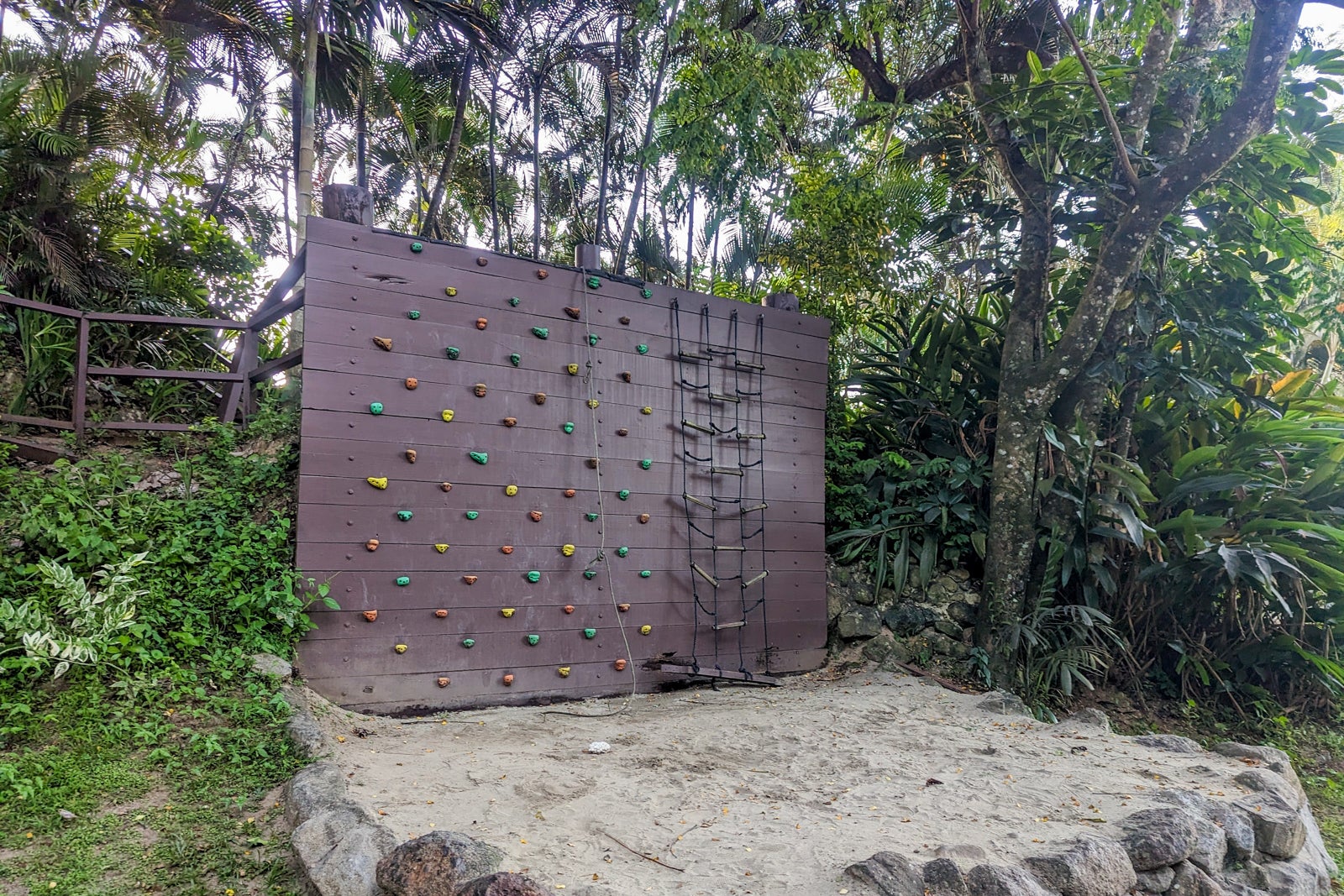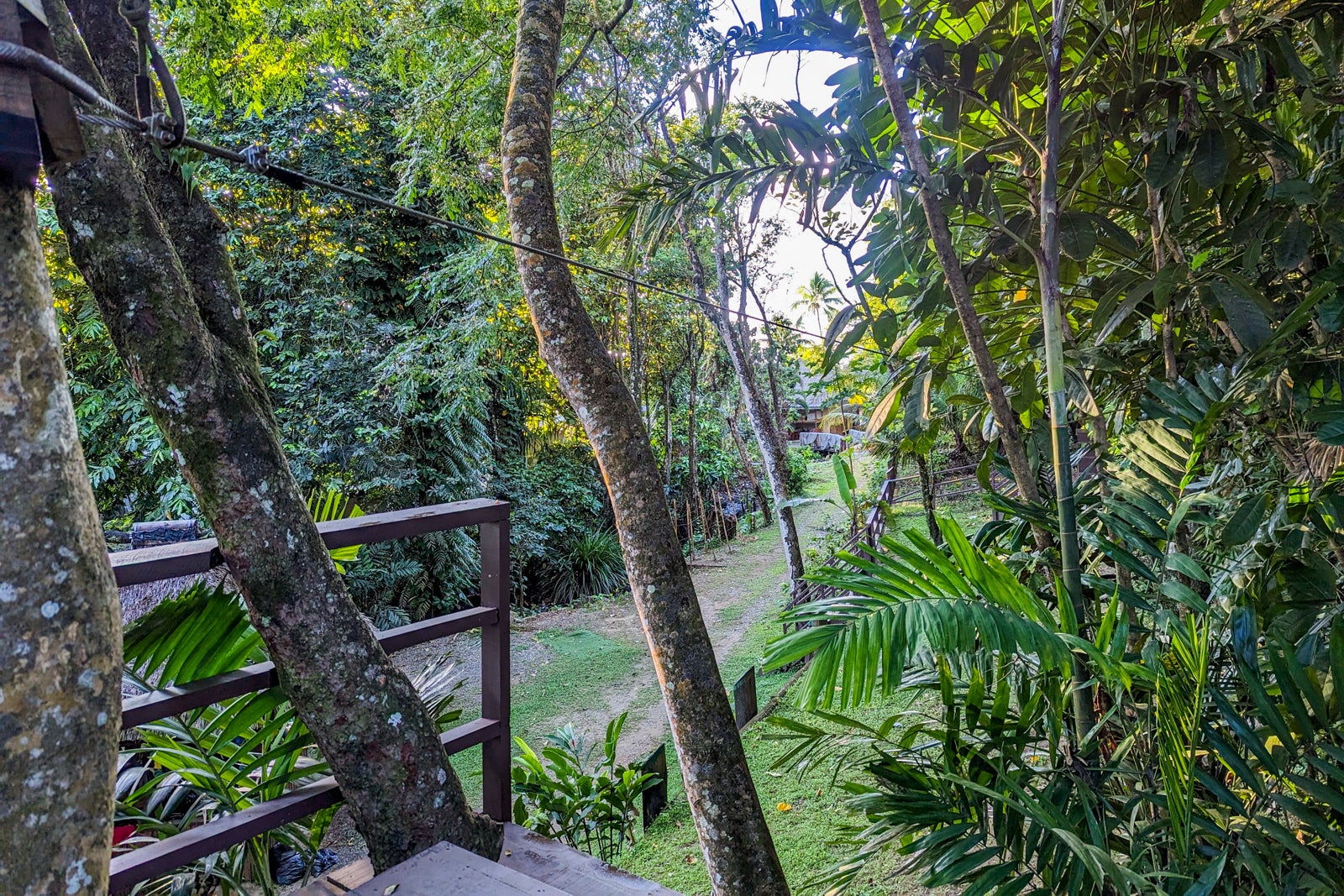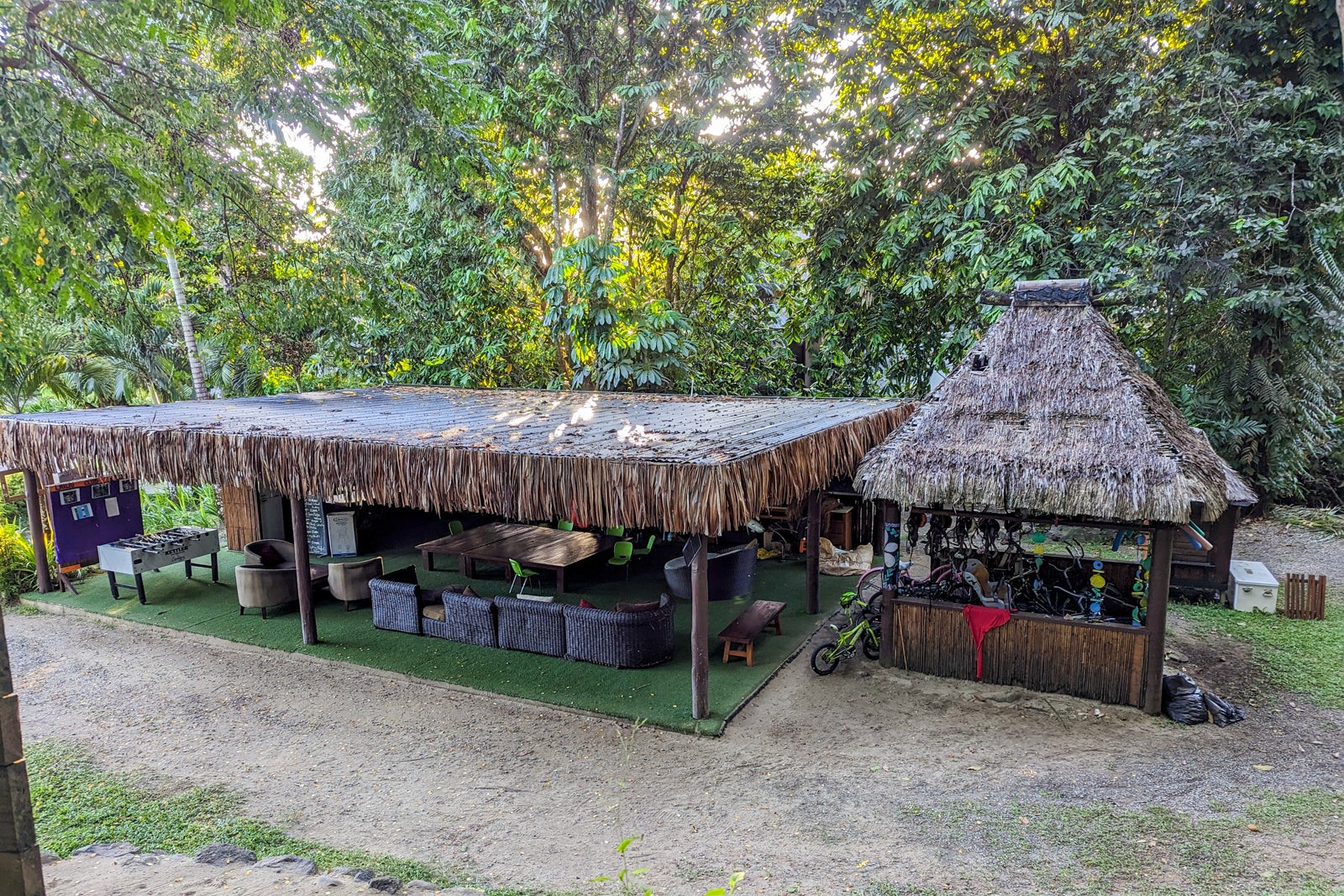 Seeing the children enjoying drumming lessons, kids' dinners, crab collecting and more with their buddies — and talking with families who loved the personalized Lailai Children's Club — made us realize Nanuku is a paradise for kids and families.
I expect spending time at Nanuku will be an impactful experience for many kids, in addition to just being fun, thanks to the cultural activities on offer. This being said, Nanuku certainly isn't only for families, and we met several other couples without children during our stay.
Related: 5 Fiji resorts for families where the kids clubs, and even private nannies, are included
One restaurant with enough variety
Nanuku has just one restaurant. And even if you have a rental car, there are few alternatives near the resort. So many guests will eat most, if not all, of their meals on-site.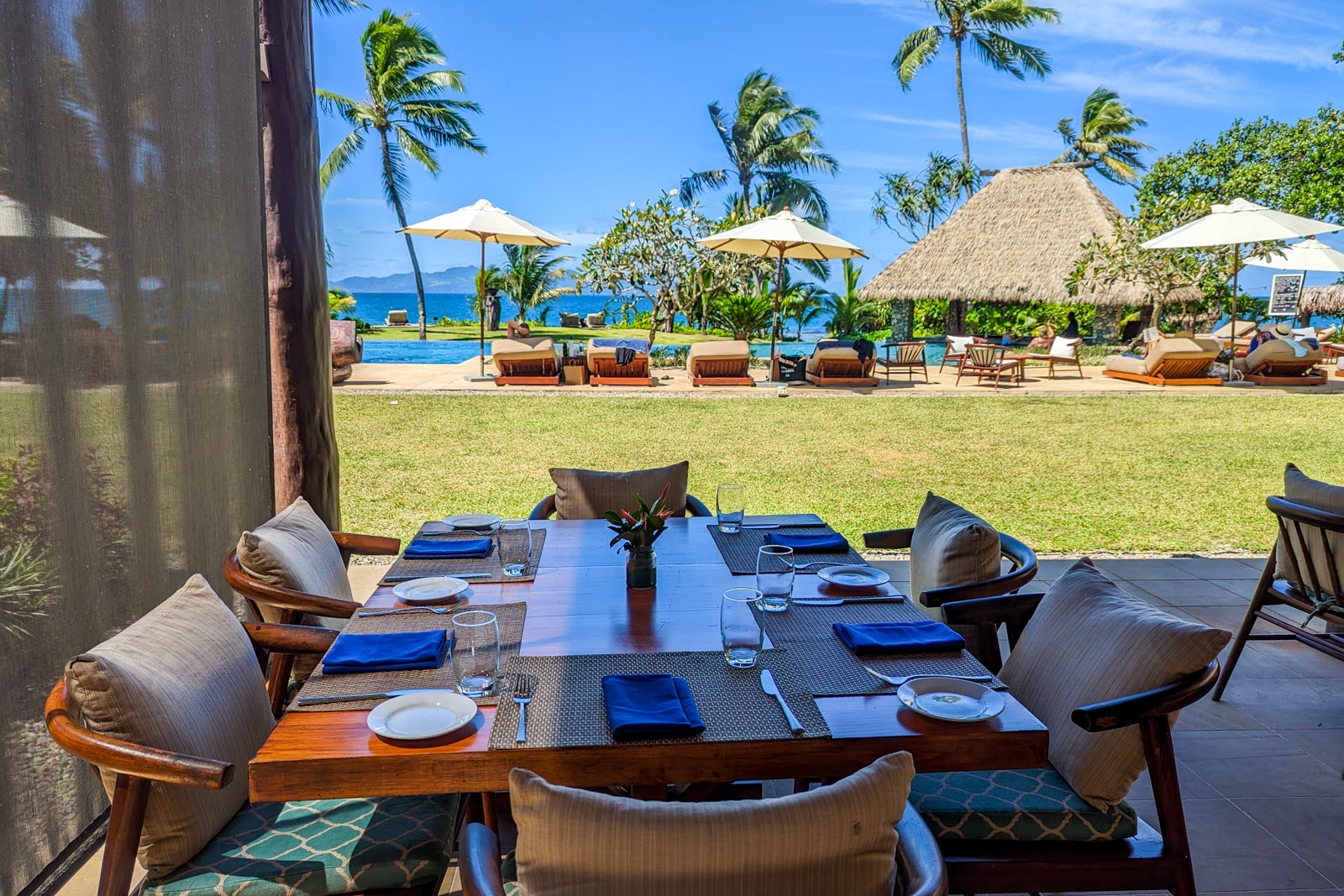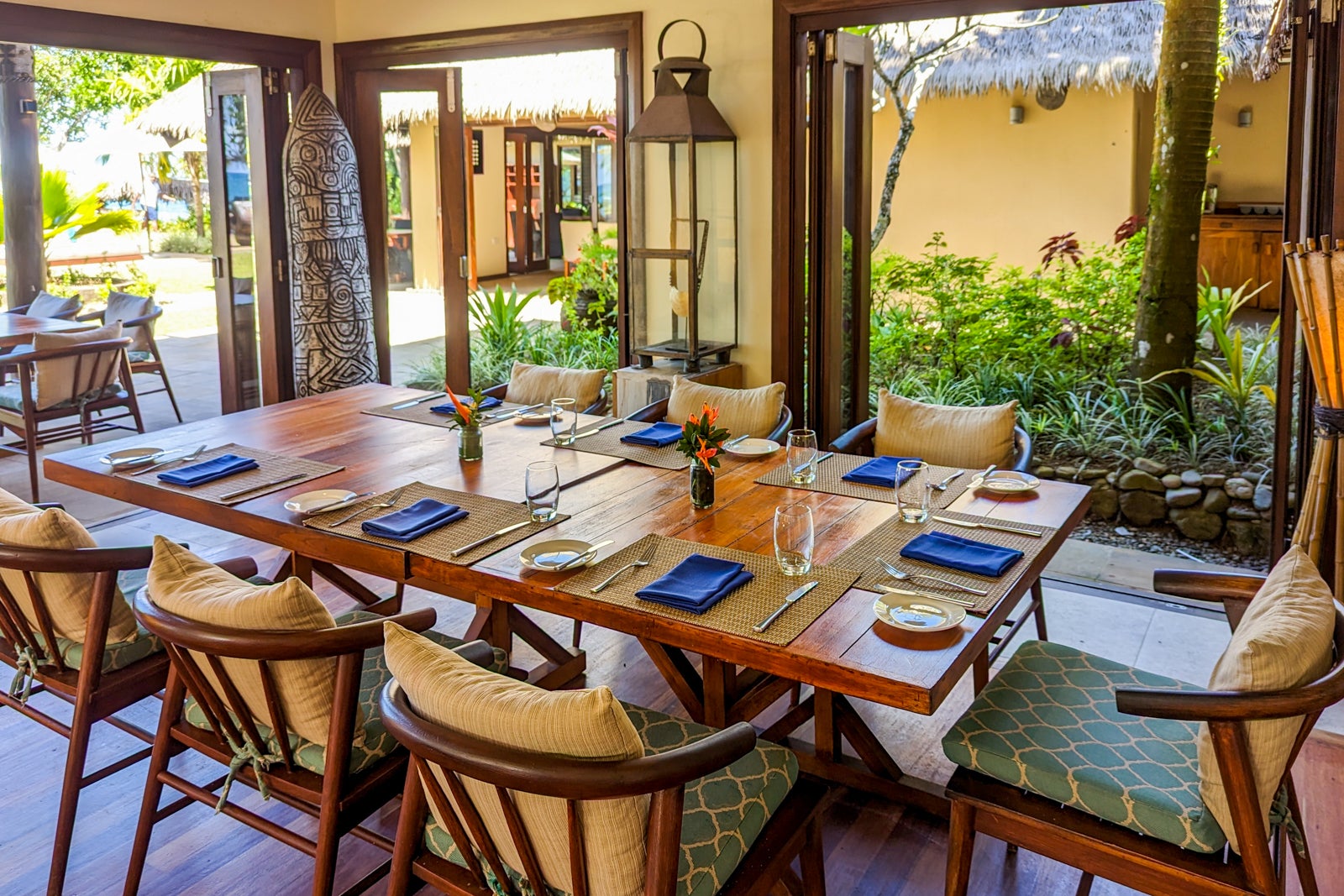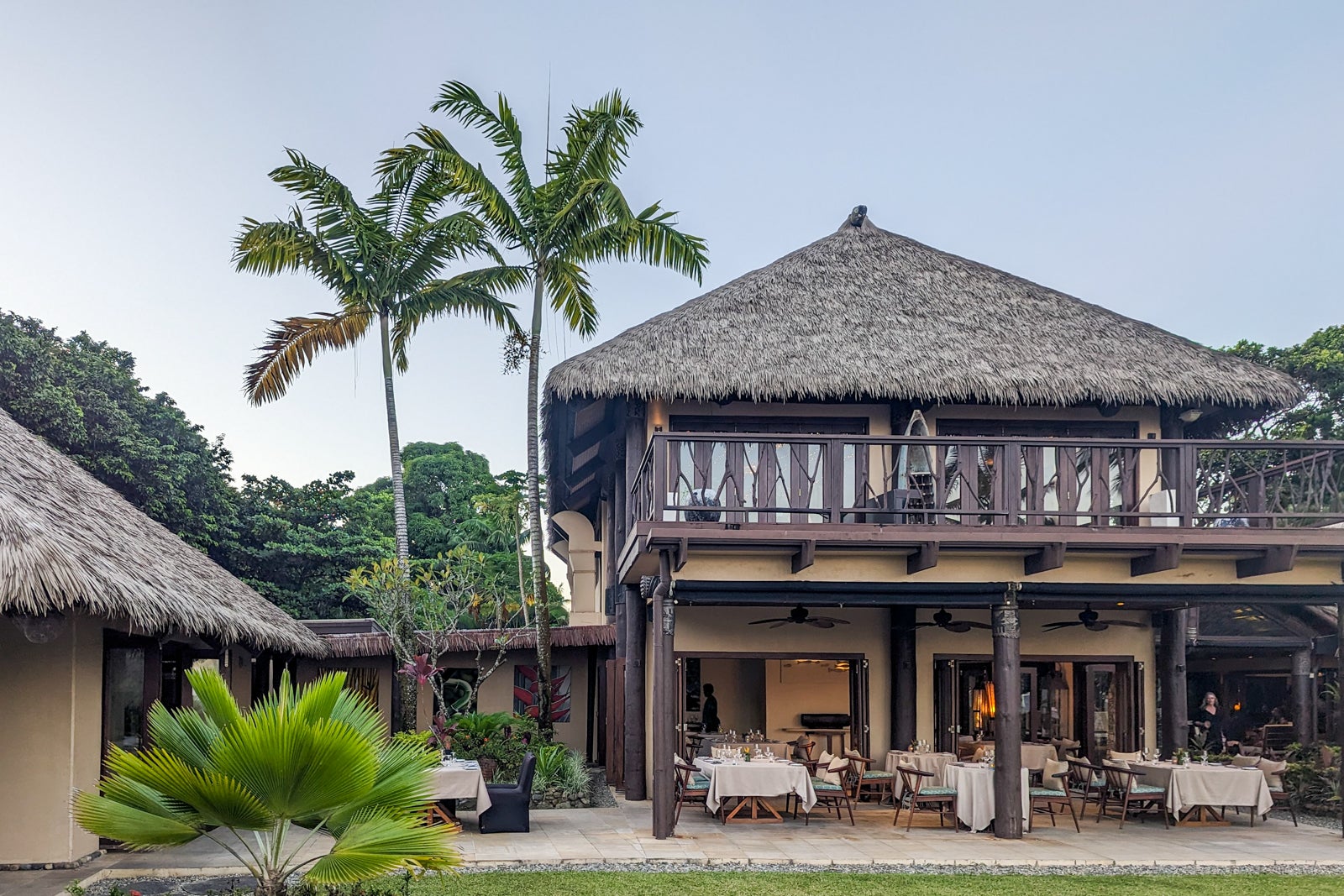 The breakfast menu was the same on both mornings of our stay. But with three starter options, seven main options and baked goods and fruits for the table, you likely won't grow tired of the breakfast offerings even if you stay for a week. I enjoyed both starters — the coconut oatmeal with dates and papaya and the chia bowl with tropical fruits and honey — while my husband fell in love with the crispy cassava cakes, and we both appreciated the freshly baked pastries.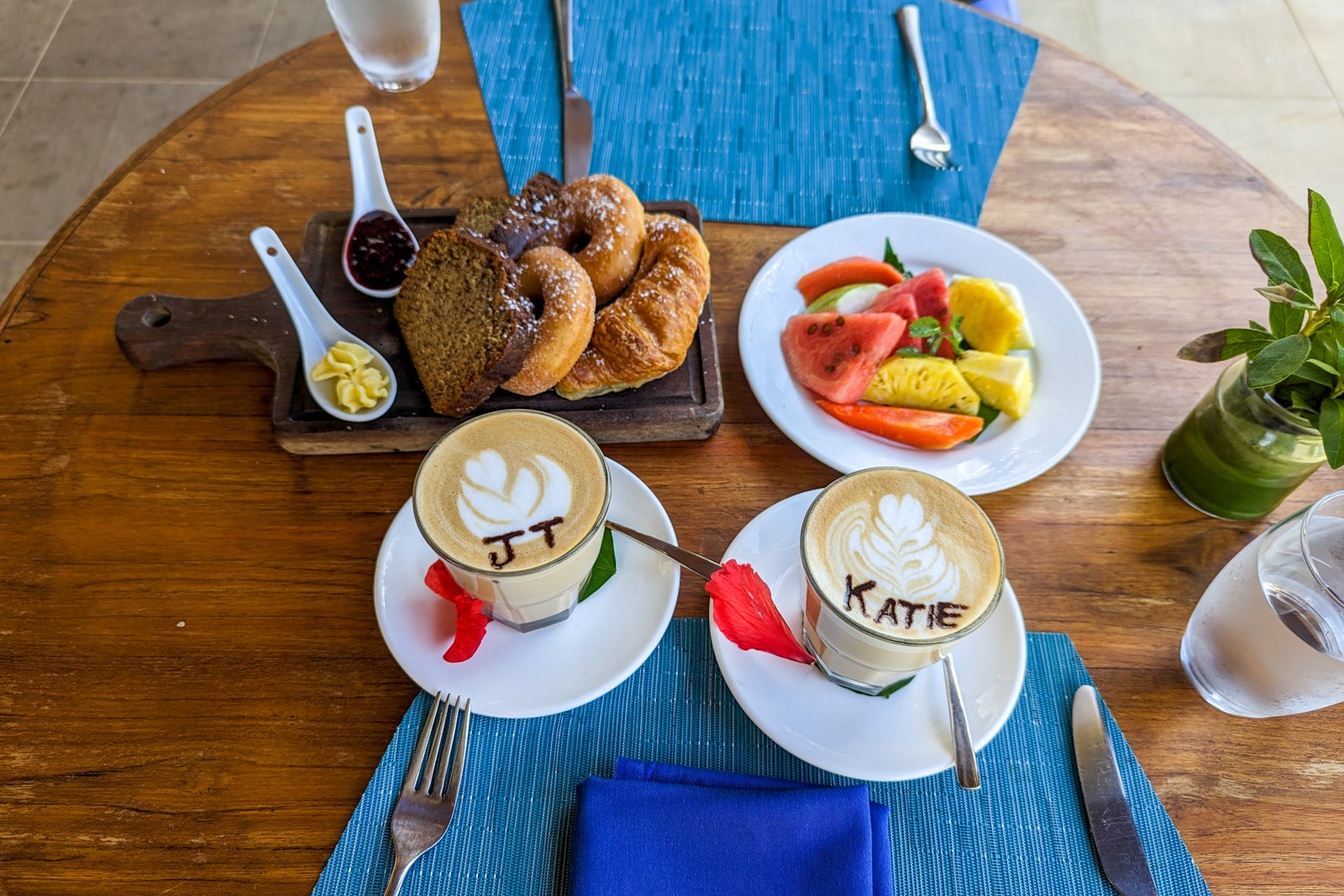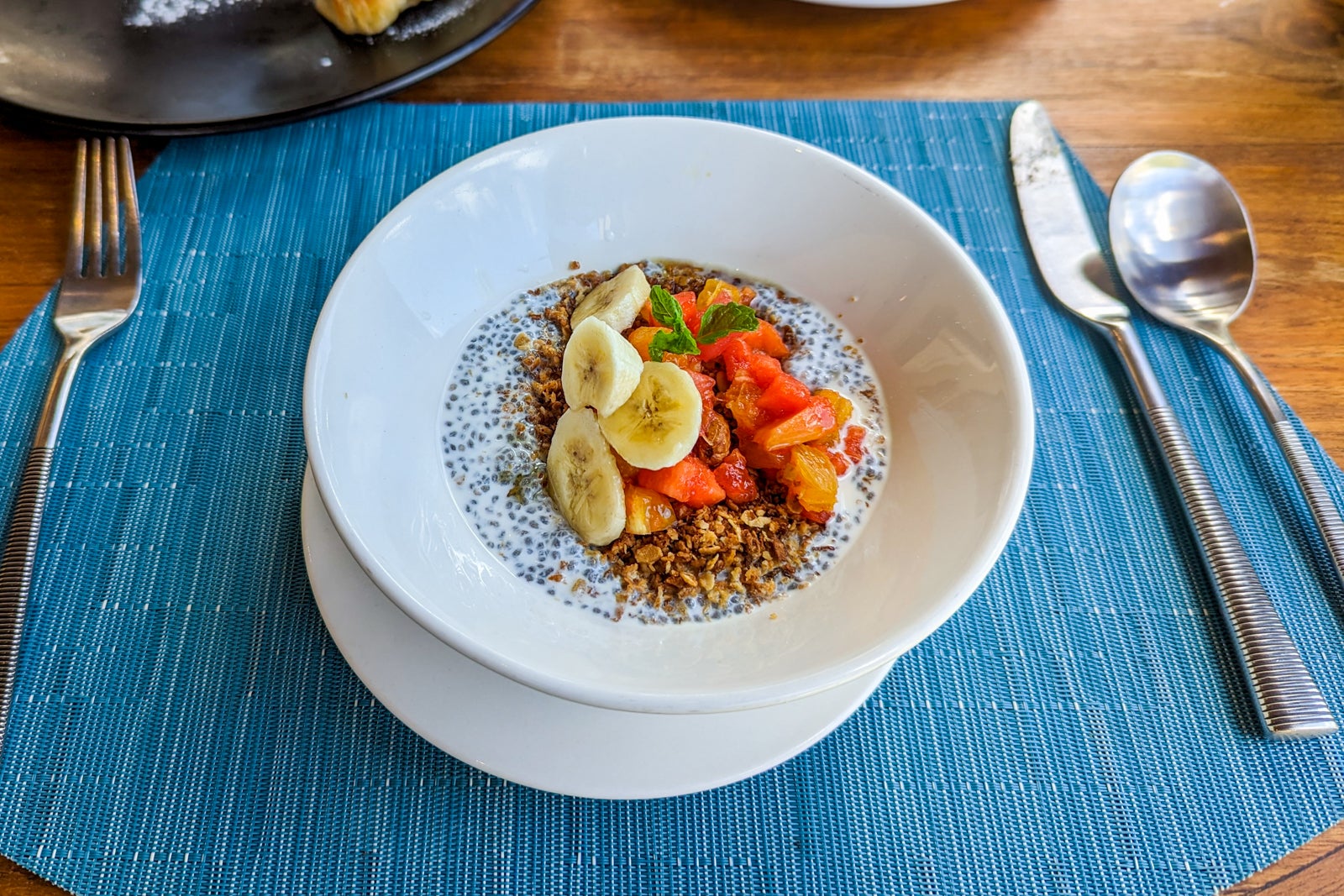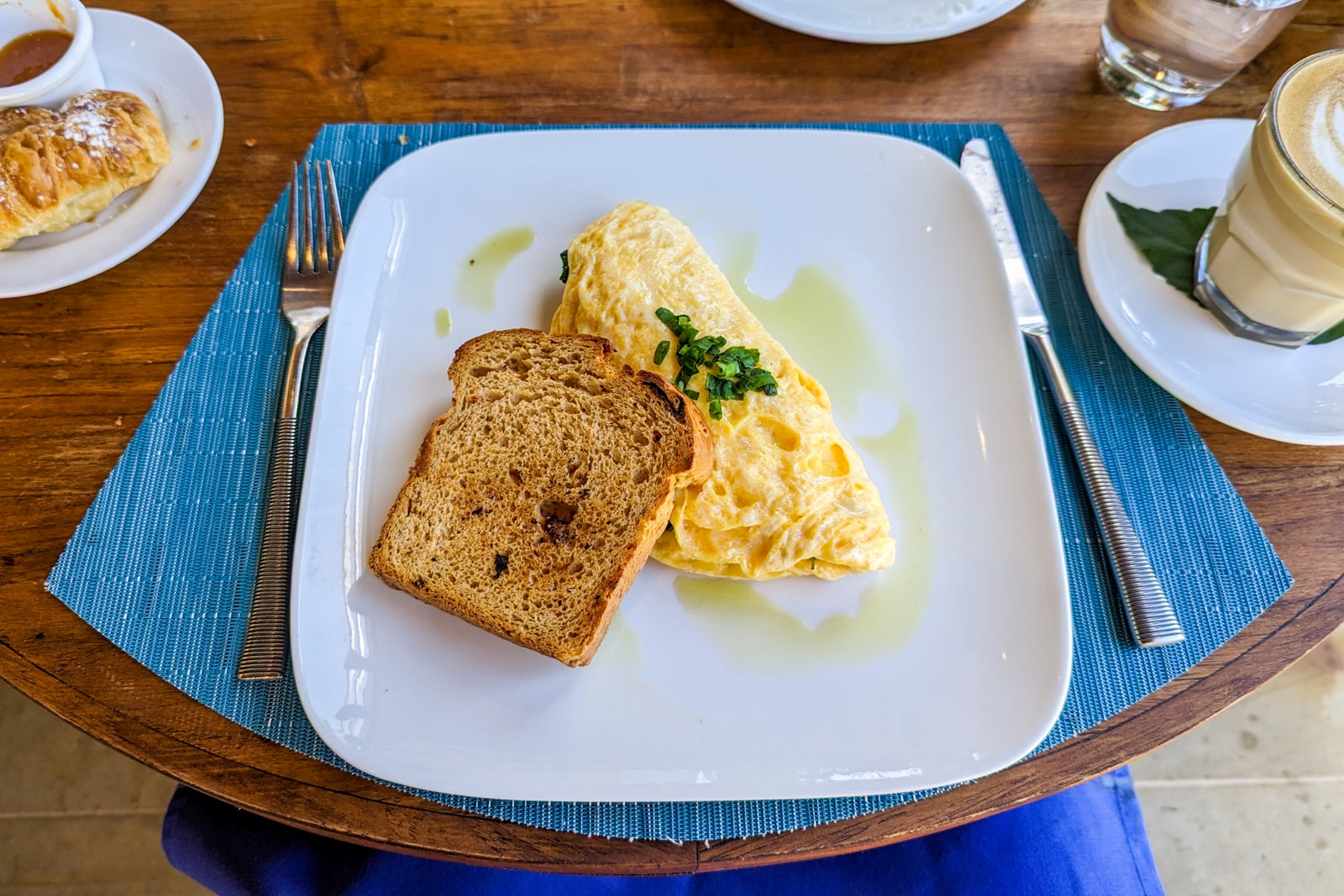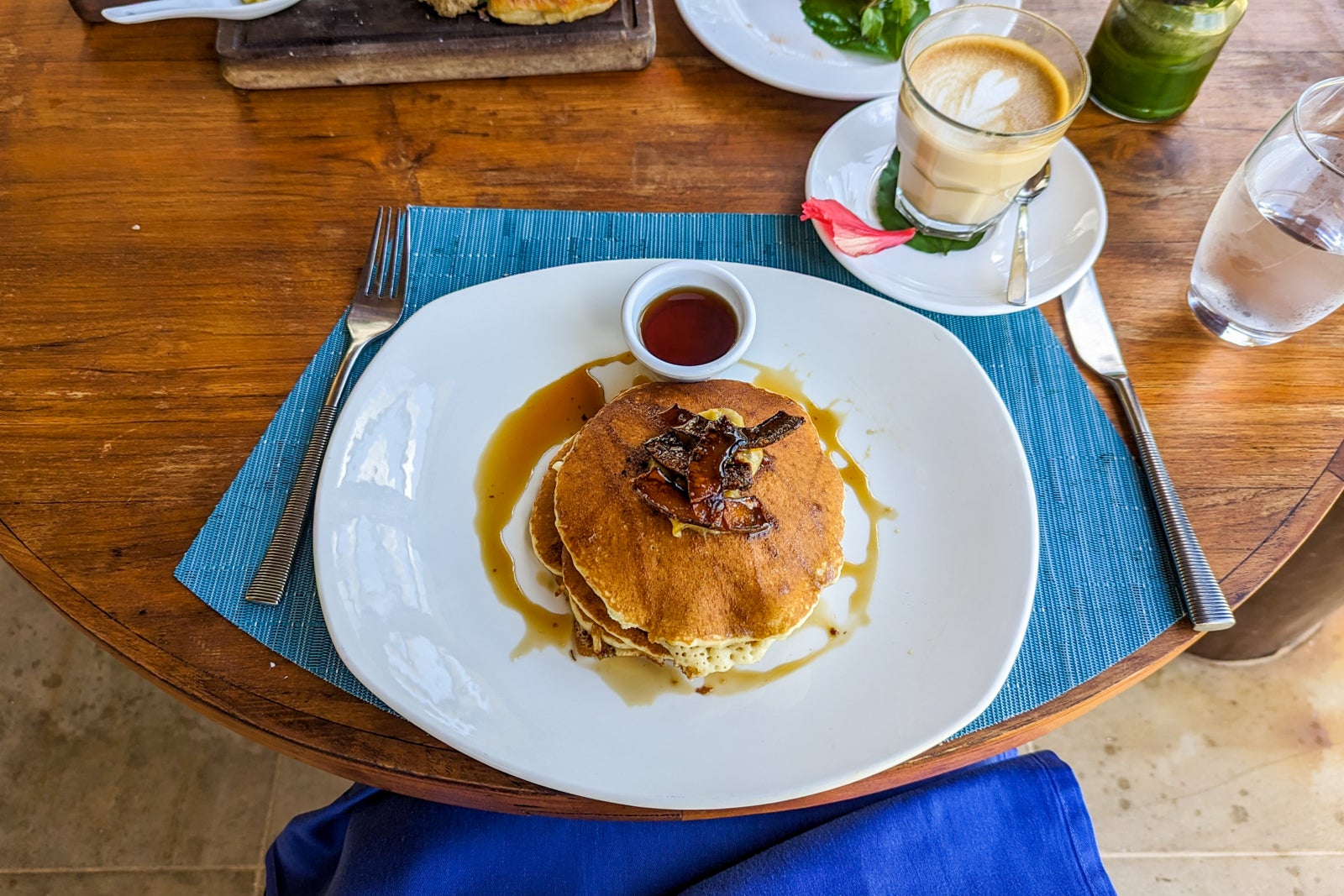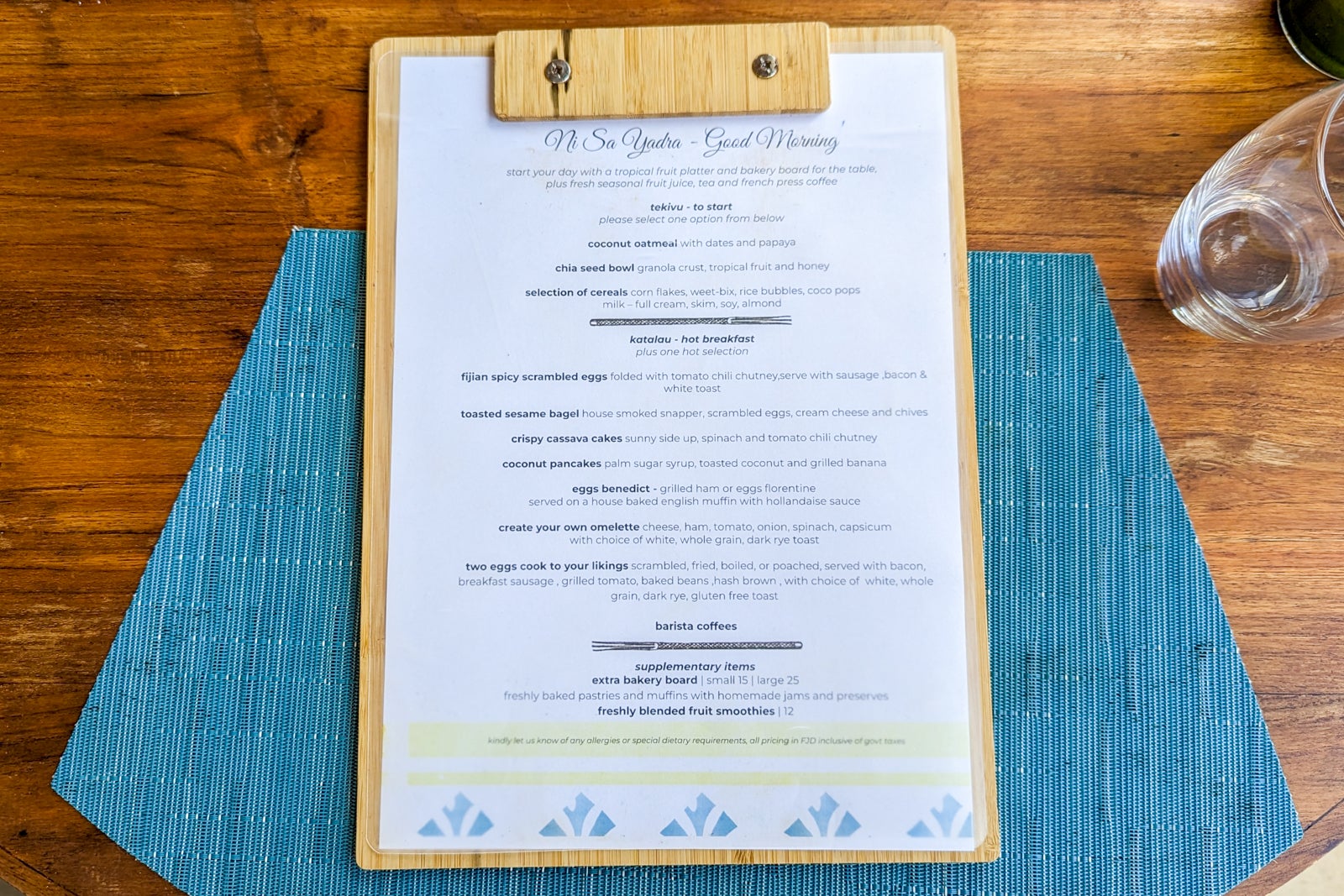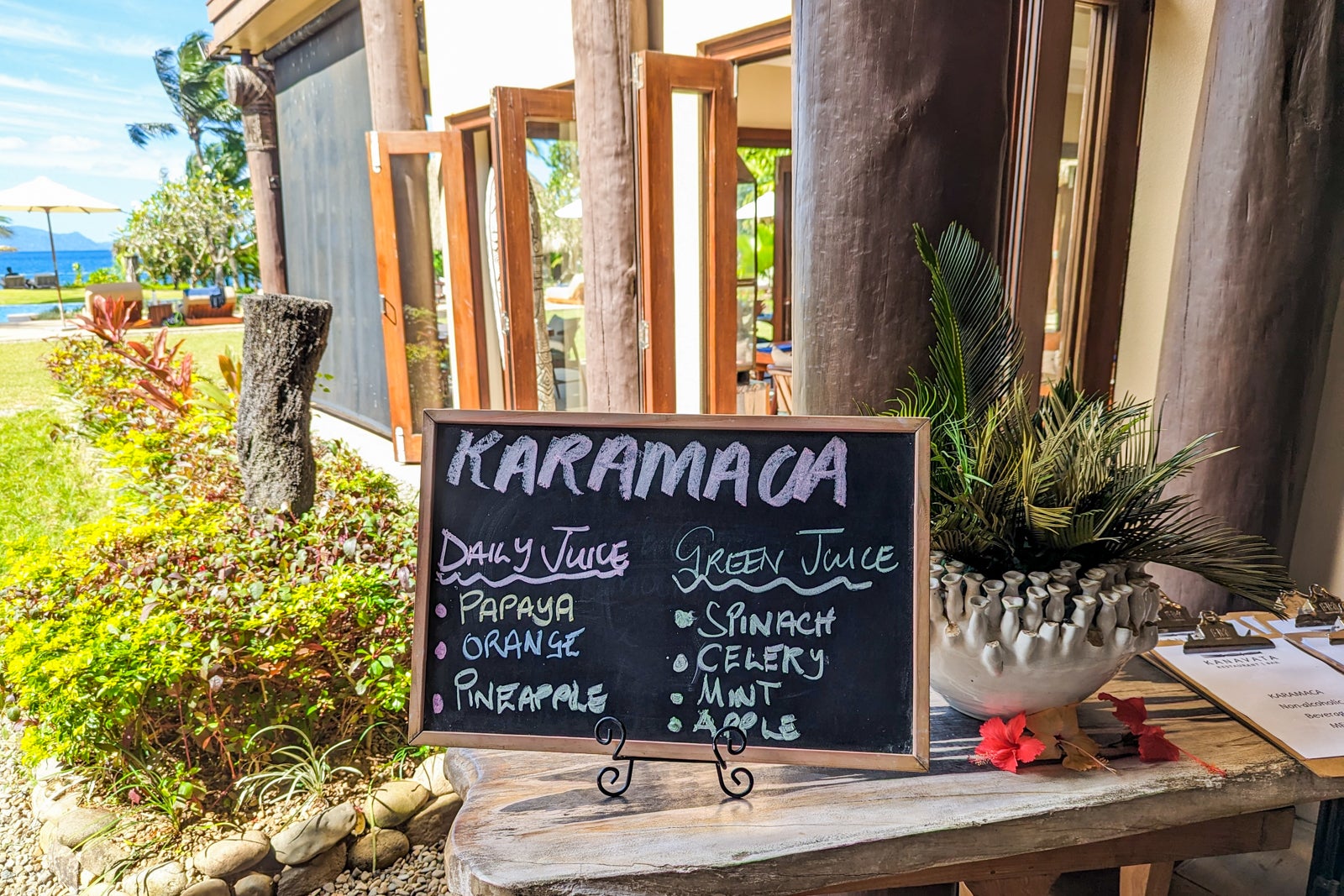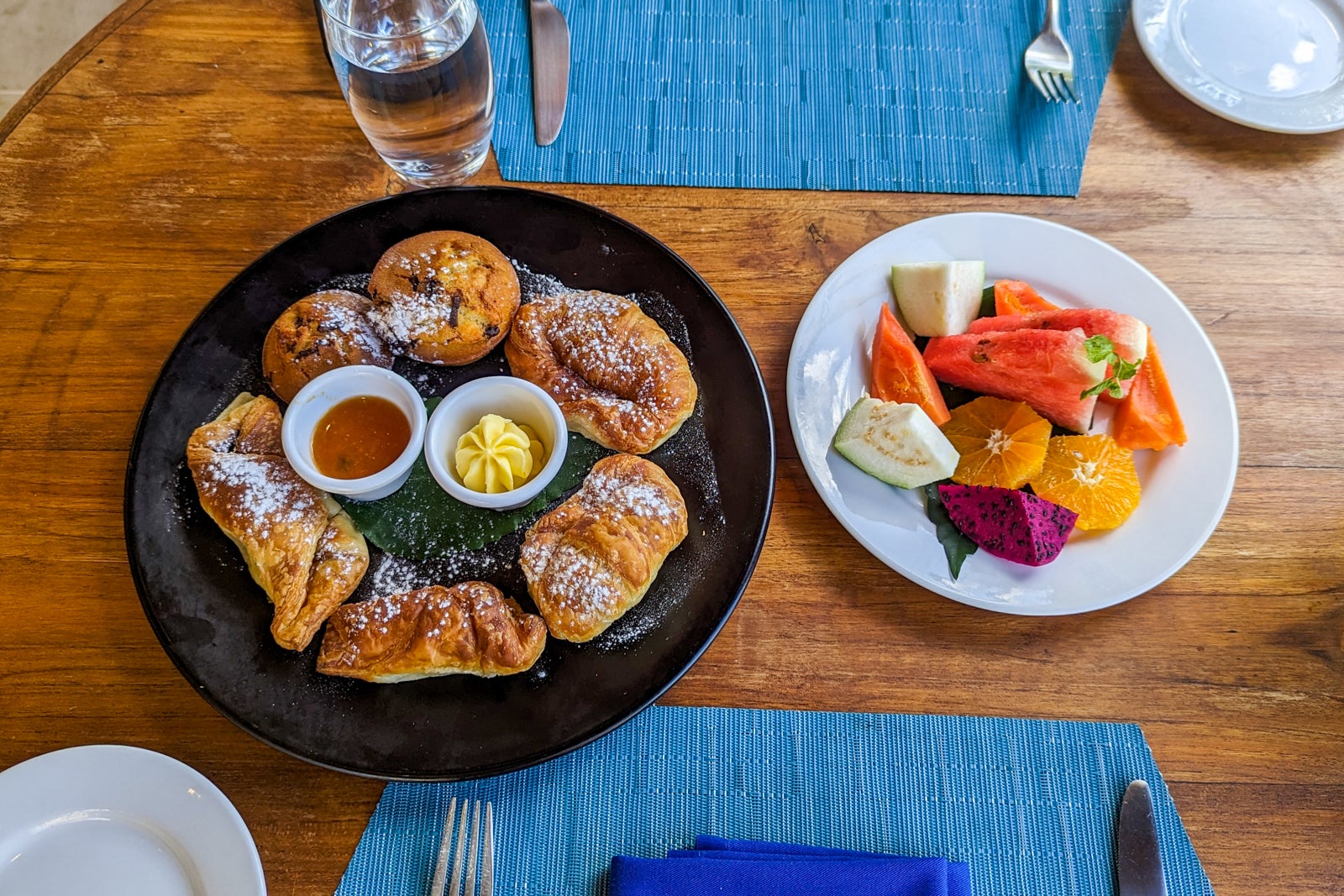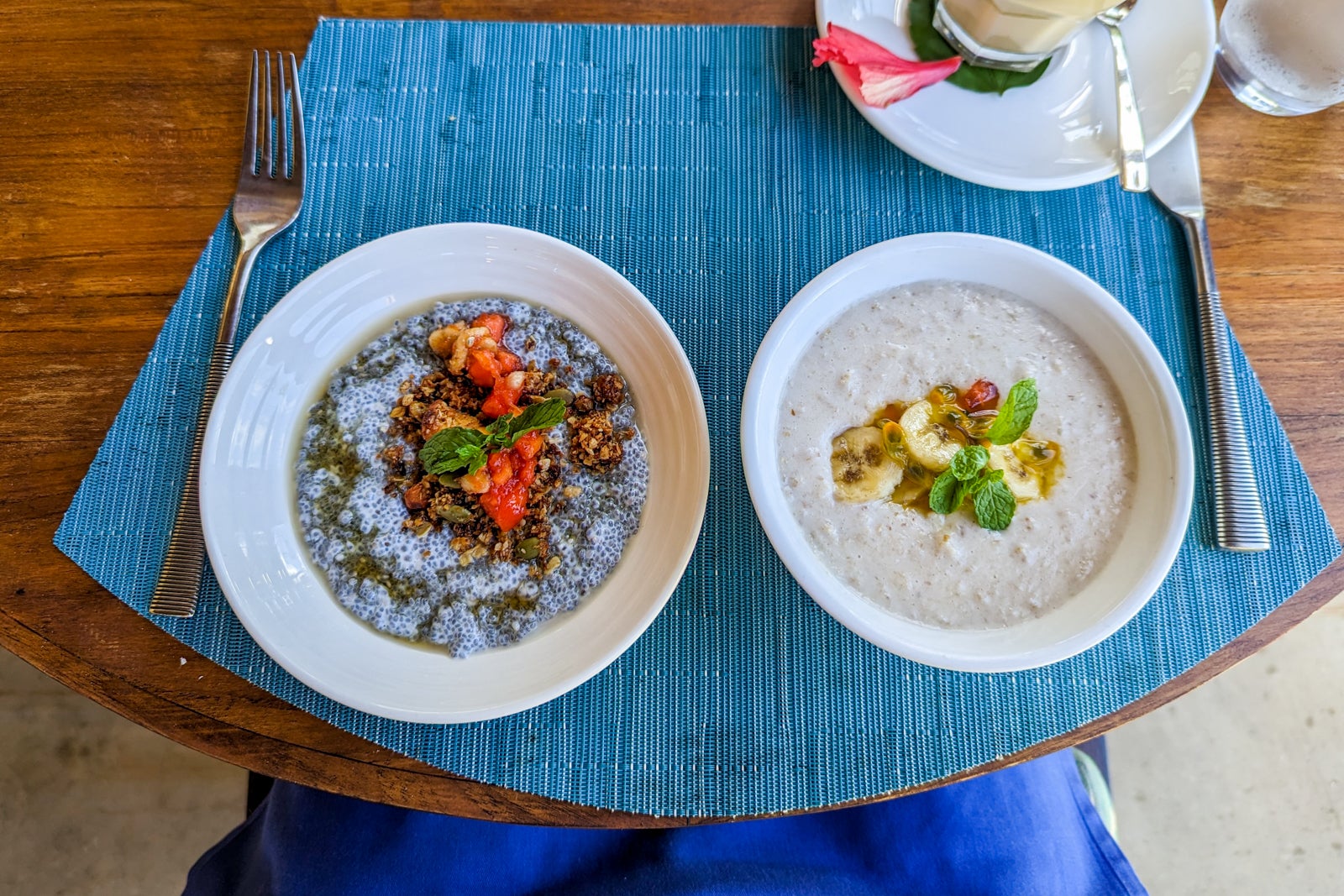 The restaurant offers a different dinner menu each day of the week, although there's also a vegetarian menu and special meals you can order in advance. But the standard dinner menus during our stay offered only two or three starters, four mains and three desserts each day. So picky eaters may not find enough options for their liking.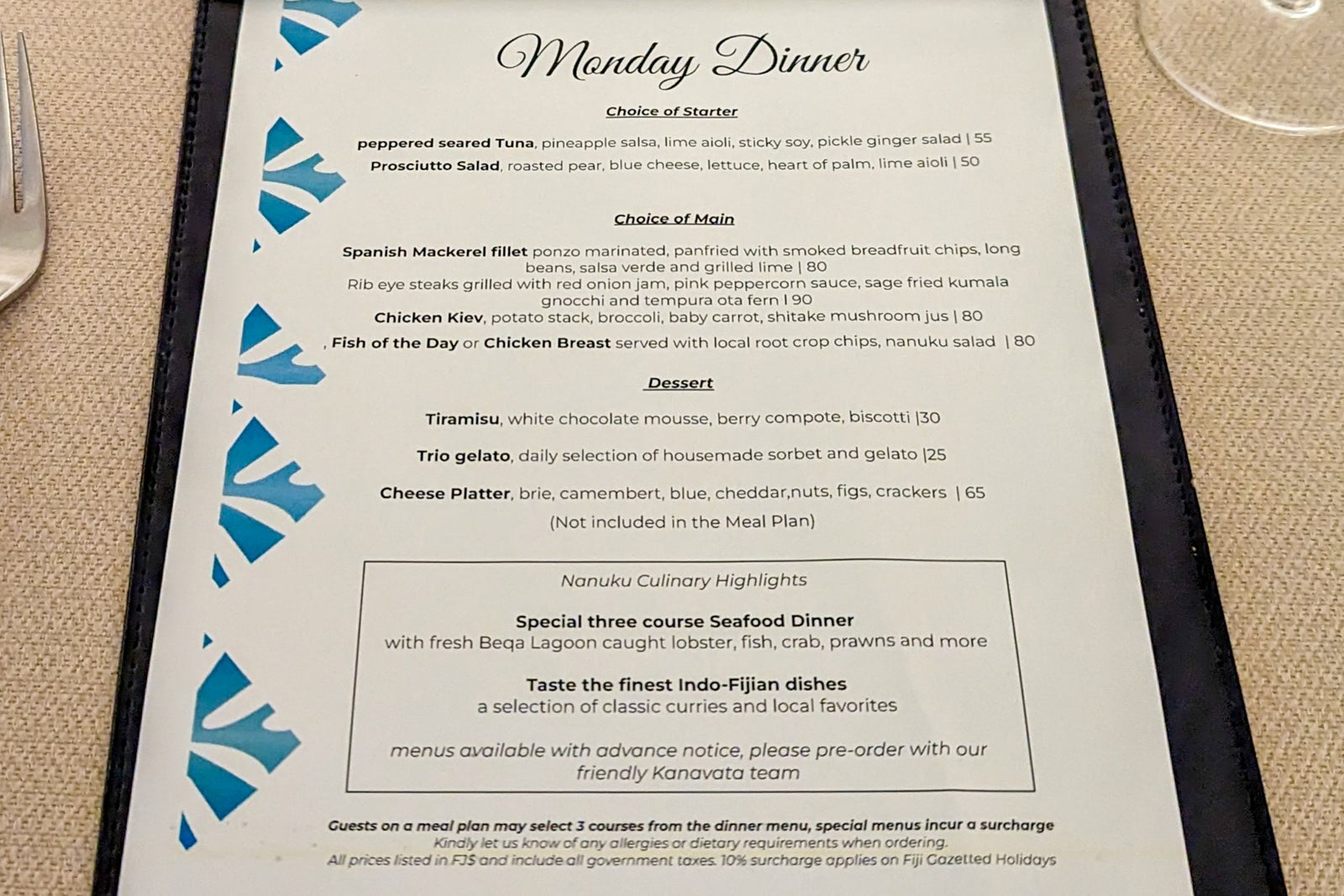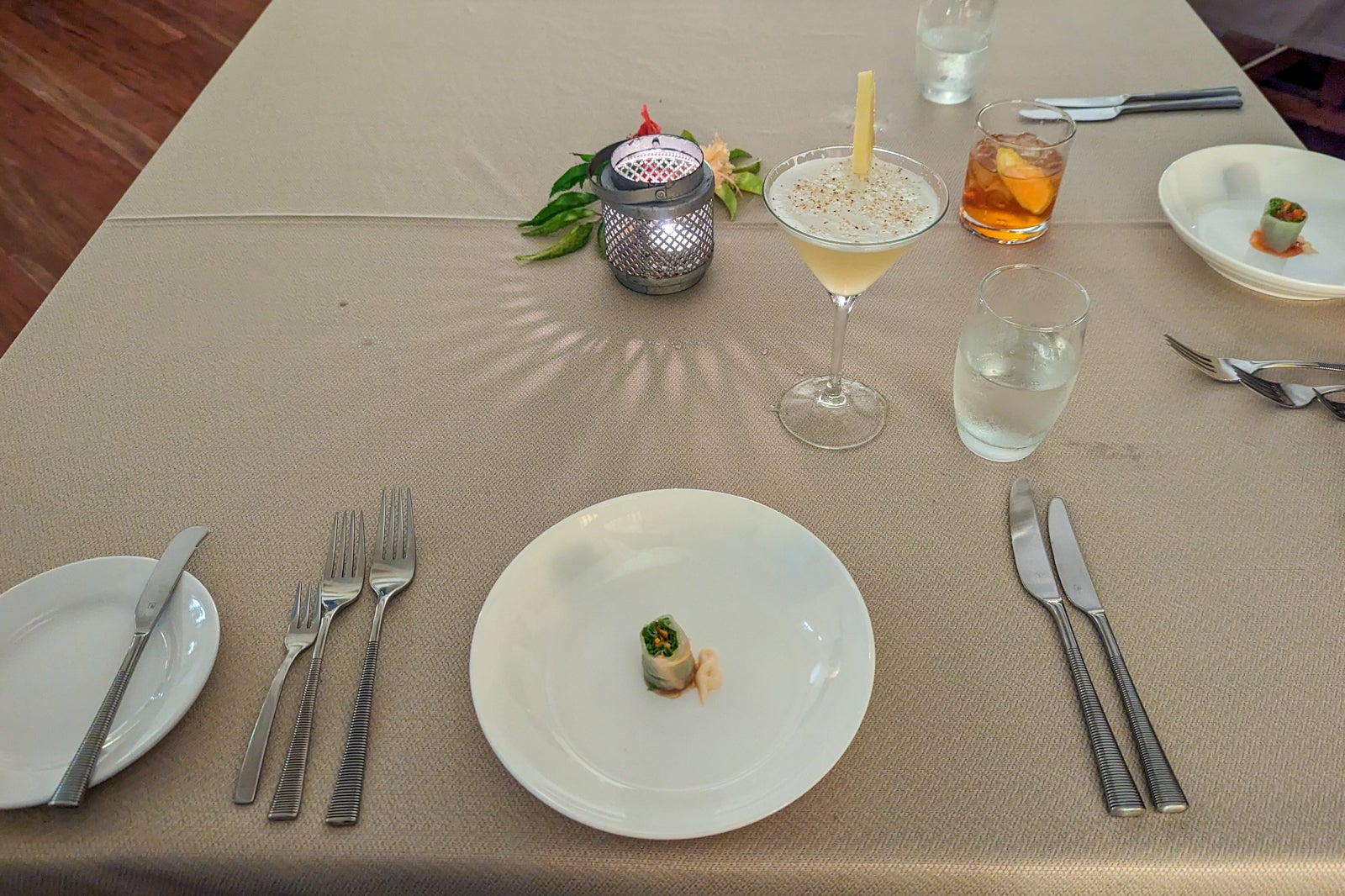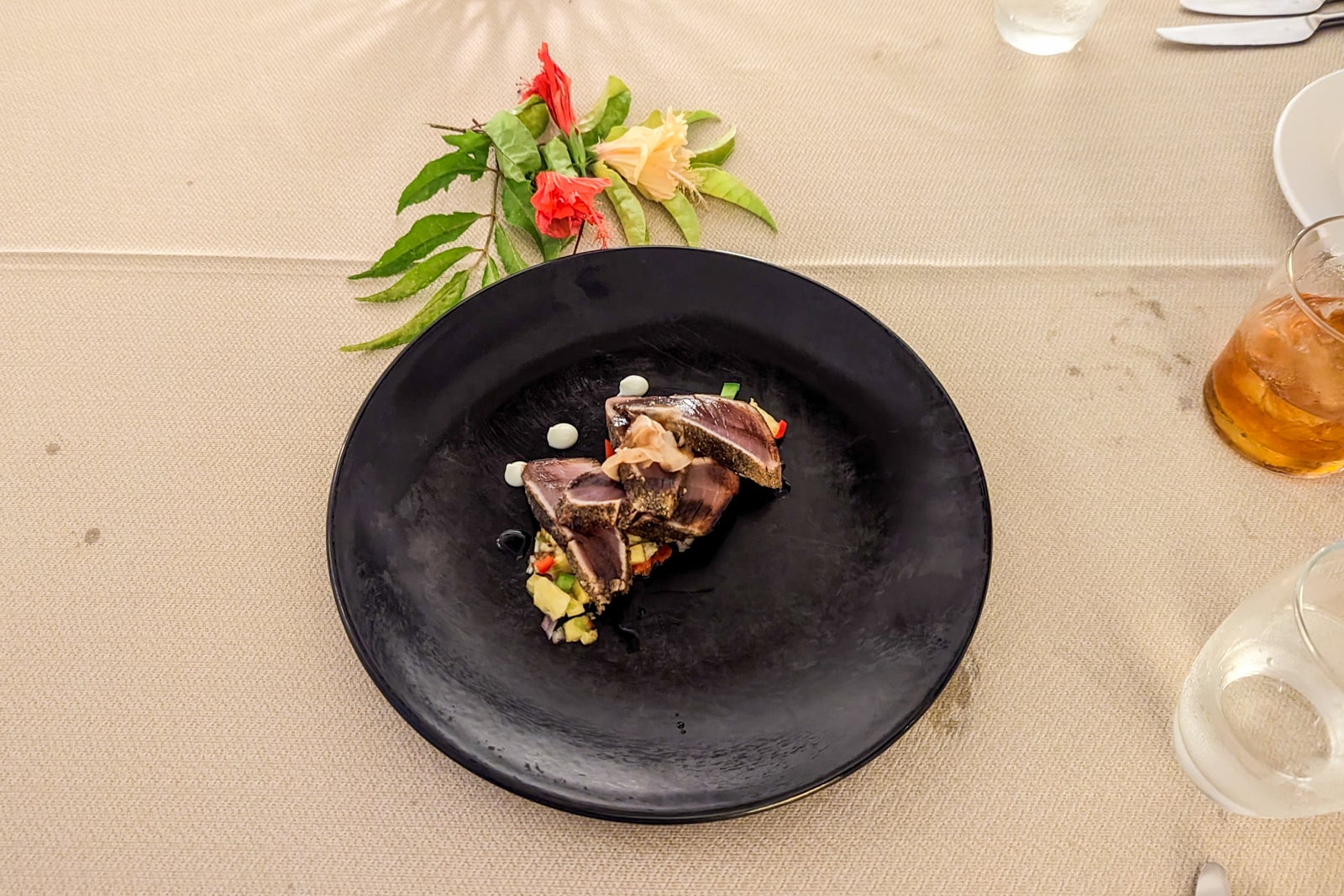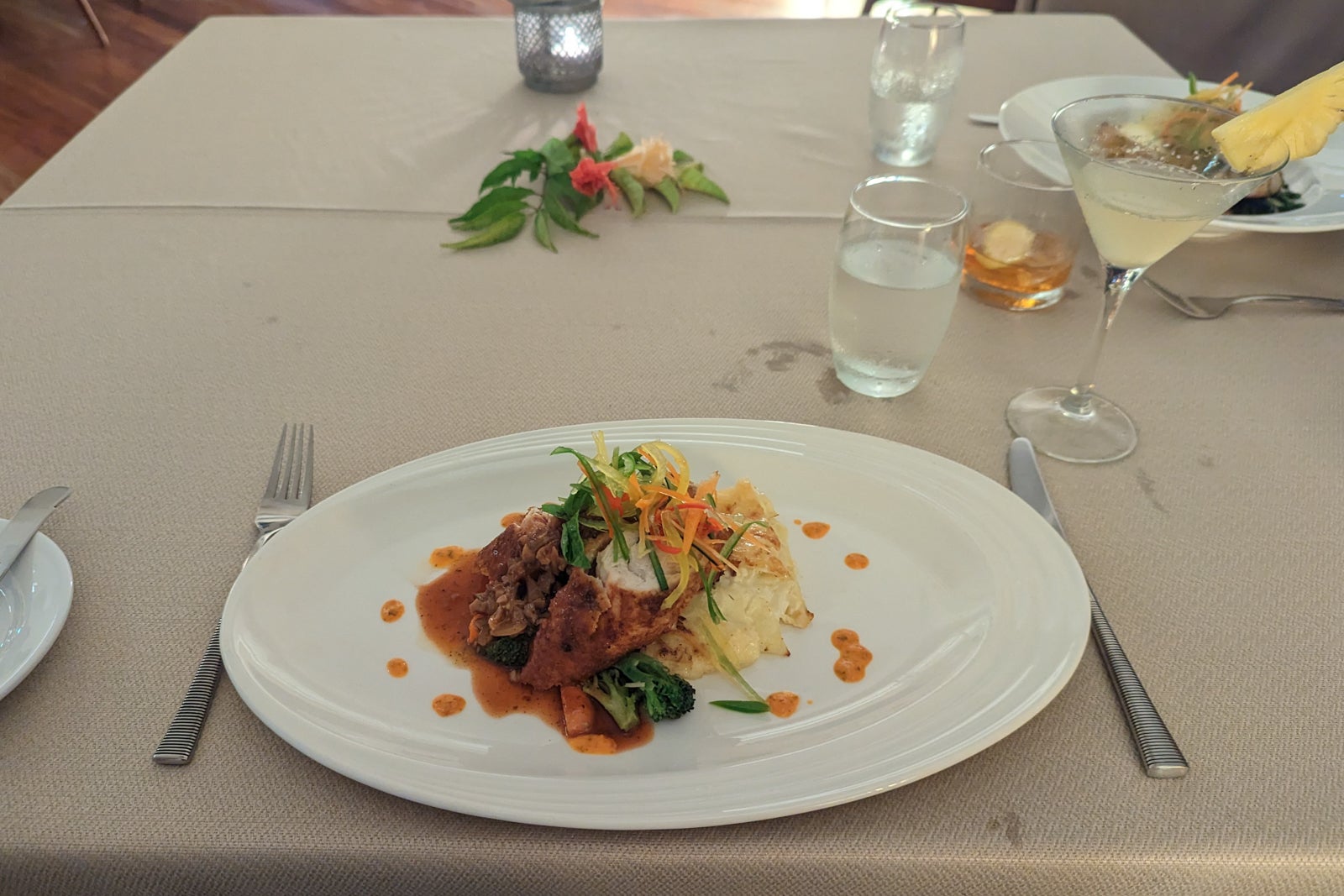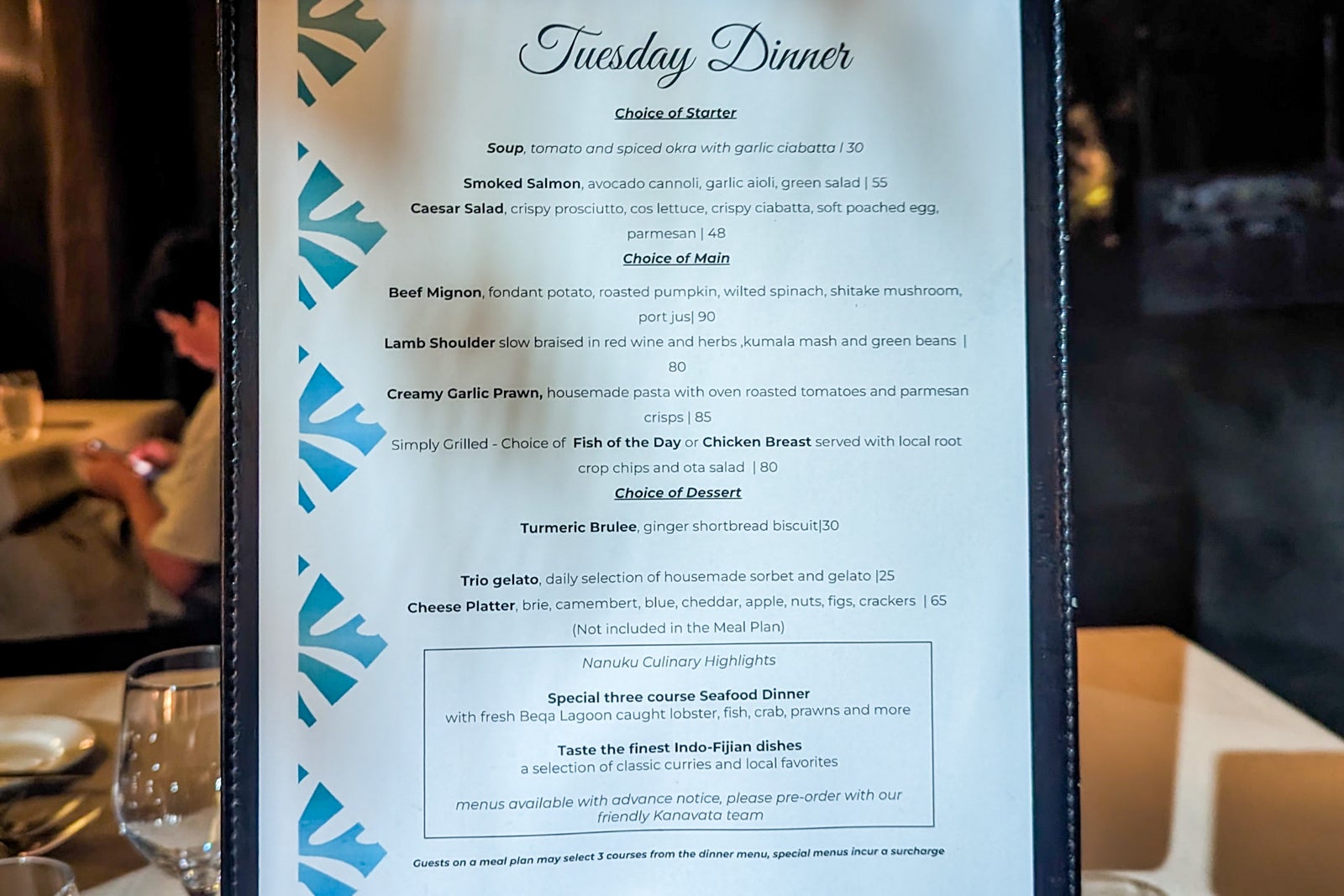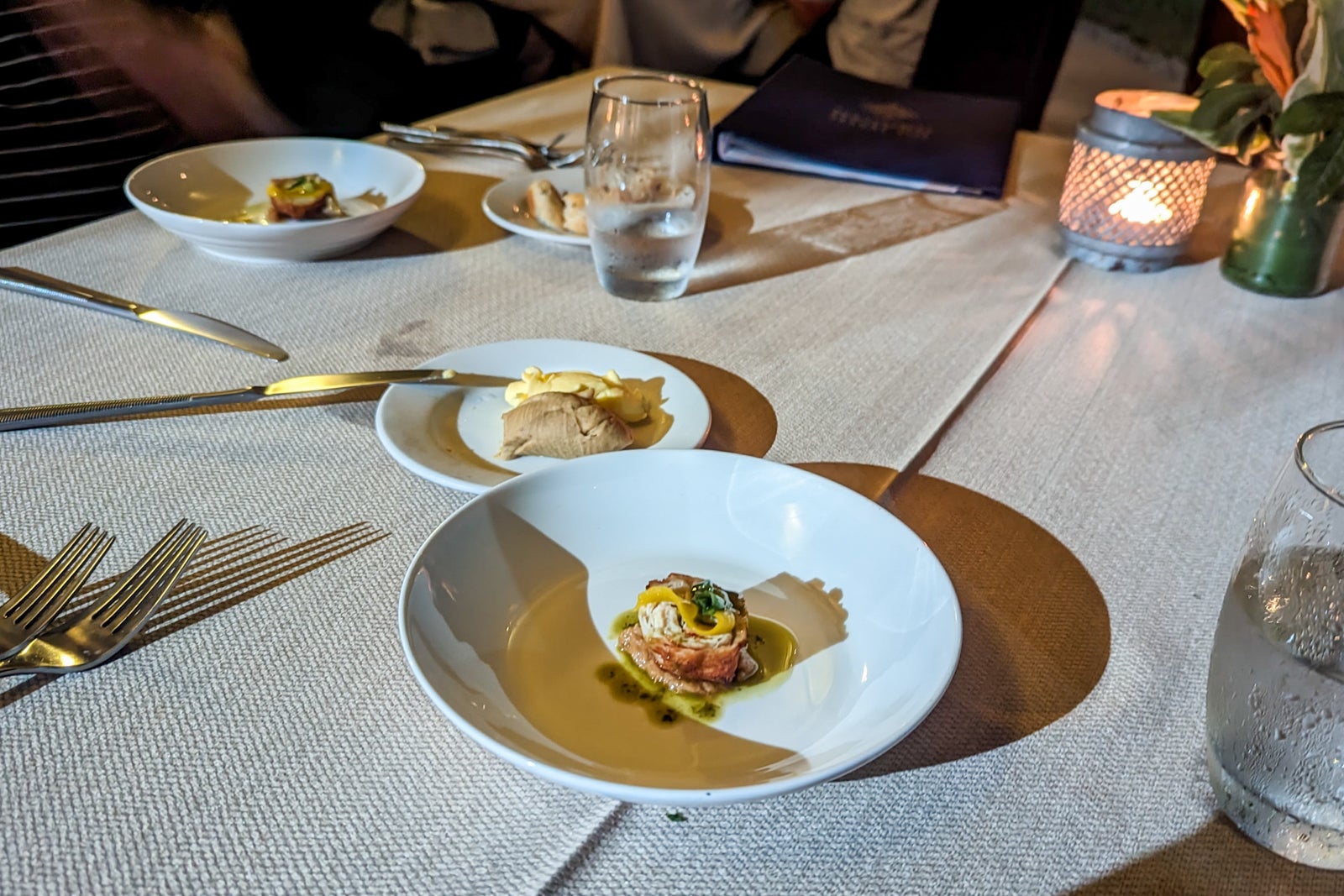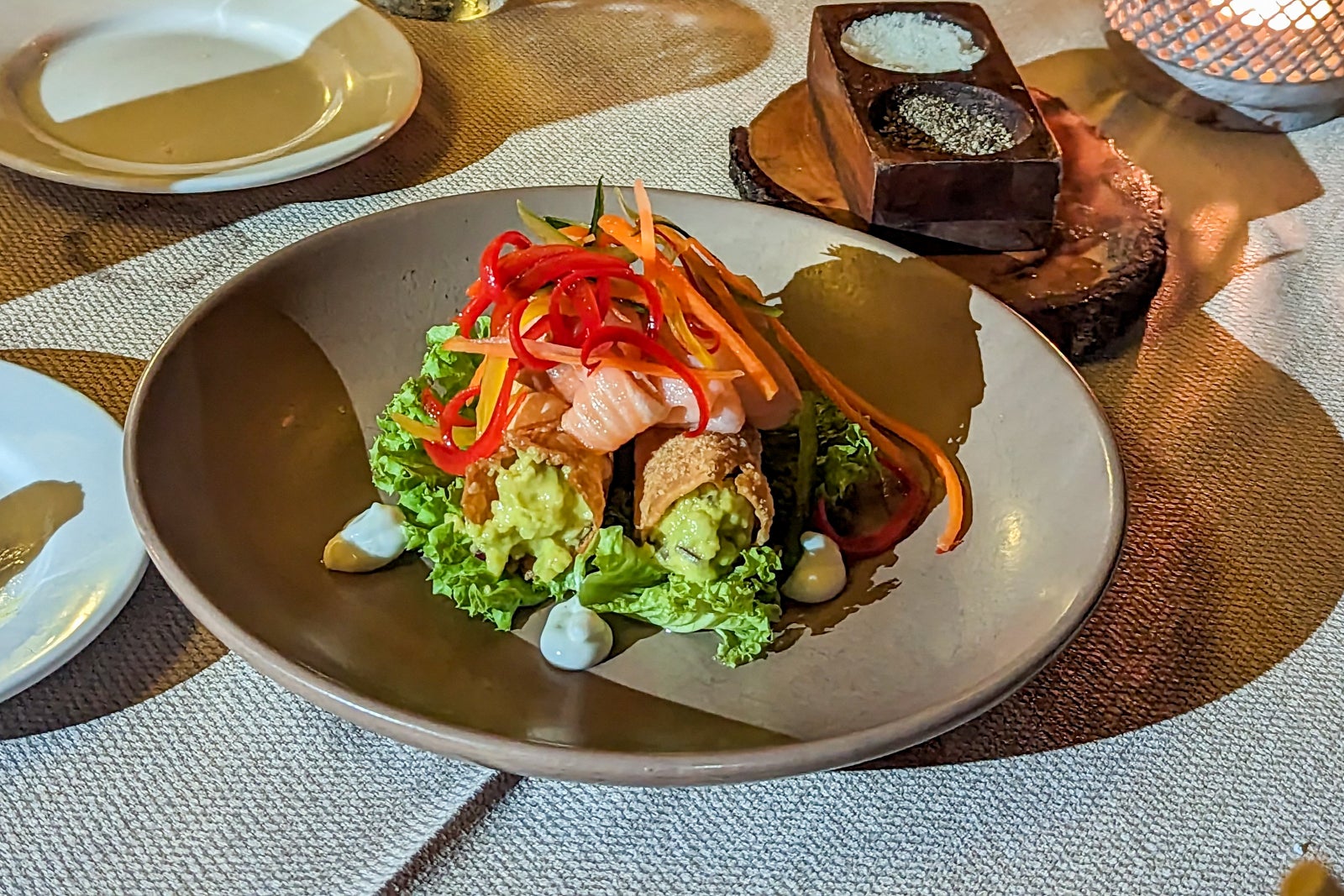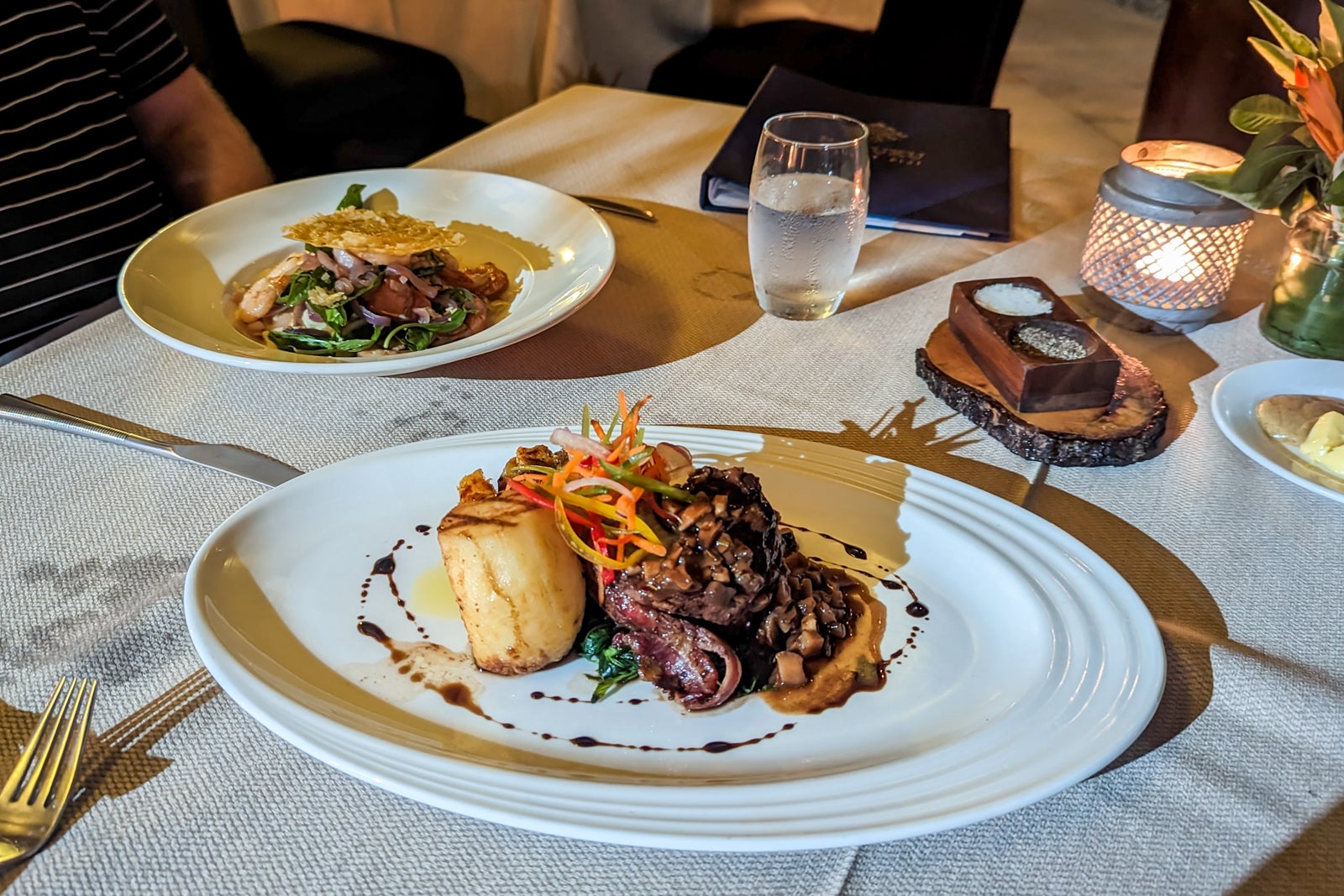 For my part, I especially enjoyed a smoked salmon and avocado cannoli for 55 Fijian Dollars ($25) and the juicy beef filet mignon with fondant potatoes, roasted pumpkin, wilted spinach and shiitake mushroom for 90 Fijian Dollars ($40).
You can also order room service from the restaurant, although there's a 20 Fijian Dollars (about $9) service fee. I ordered lunch from the room service menu on my last day before checking out and was impressed that it arrived just 22 minutes later. The Bula Buddha Bowl for 40 Fijian Dollars (about $18) before the service fee was fresh but a bit watery.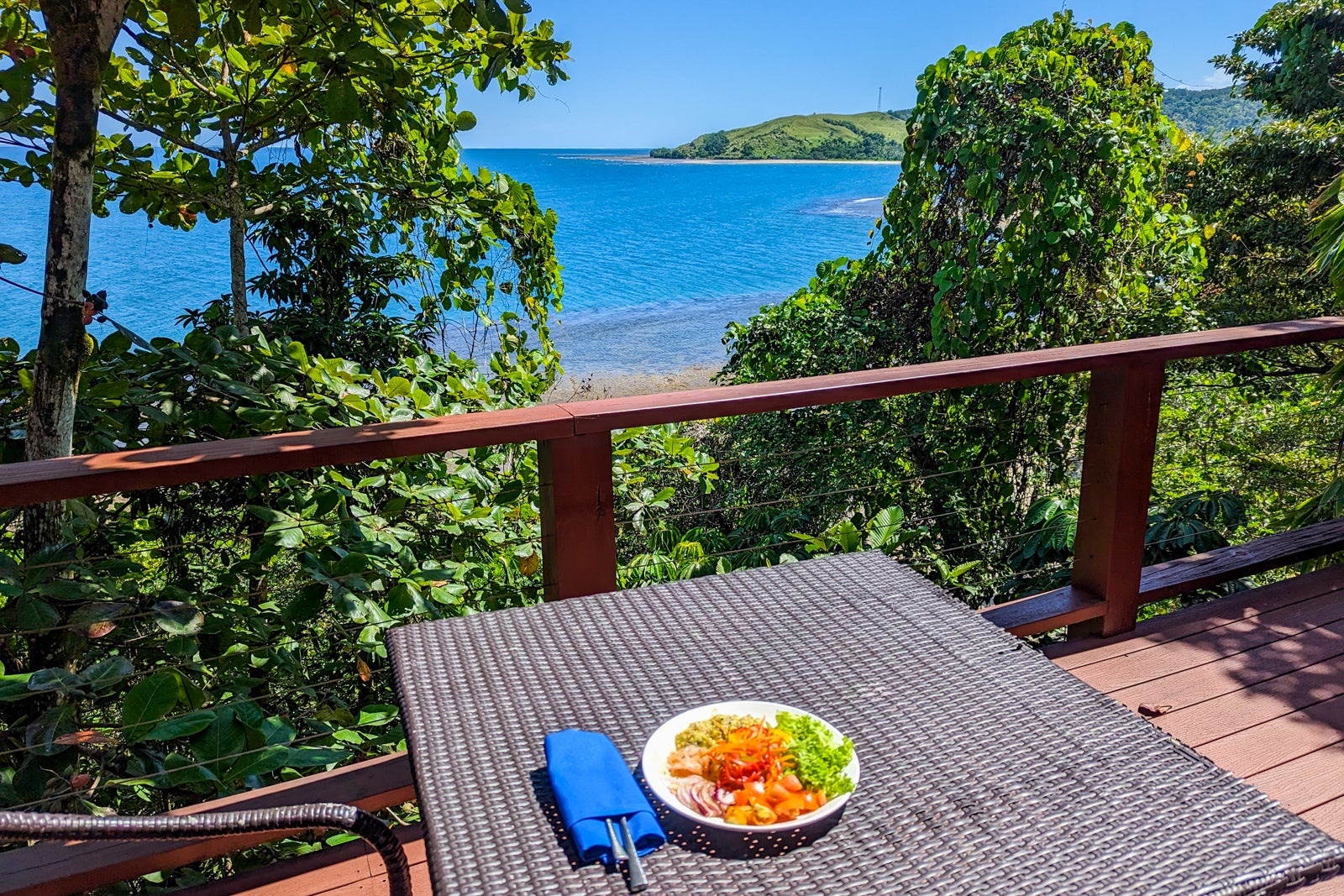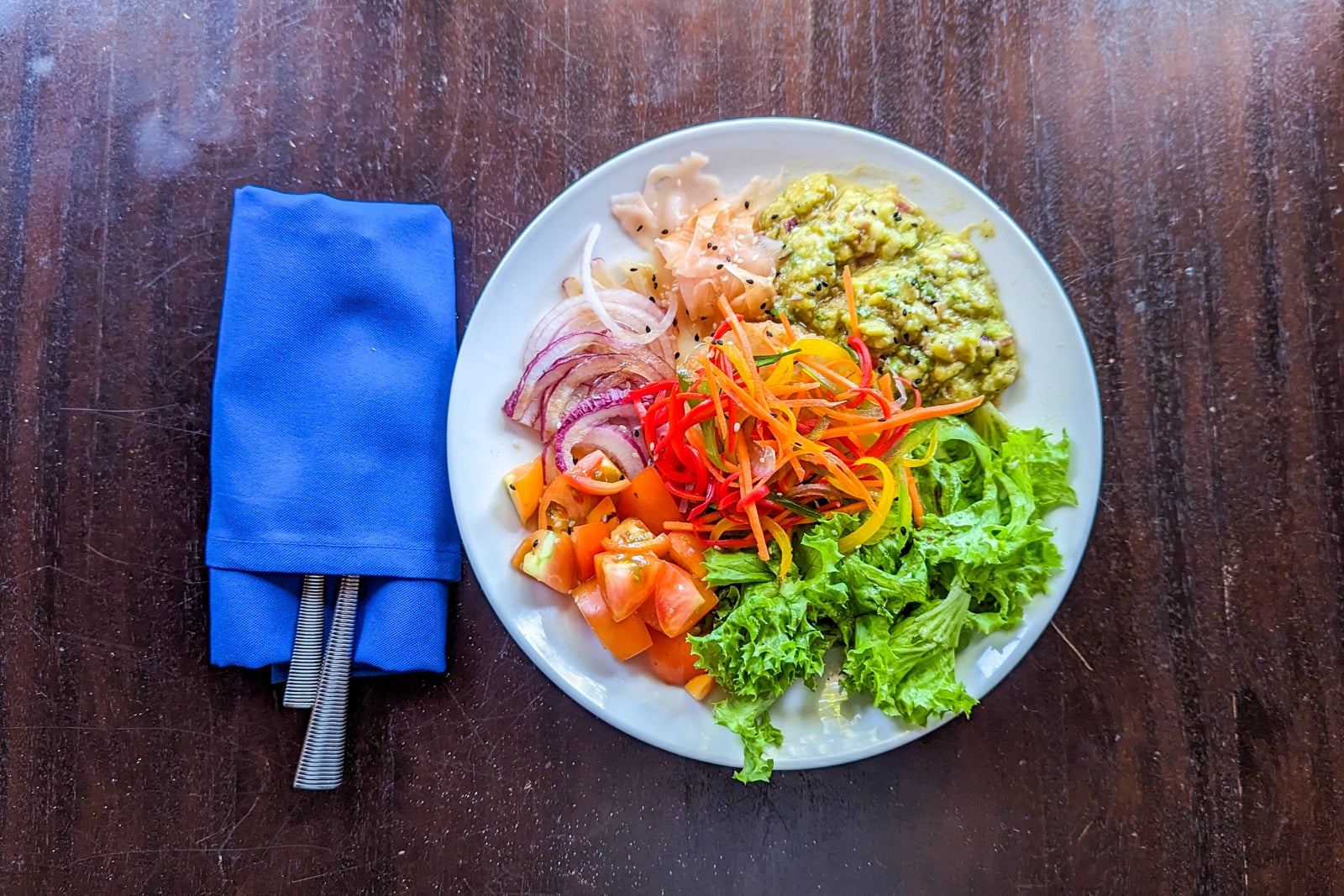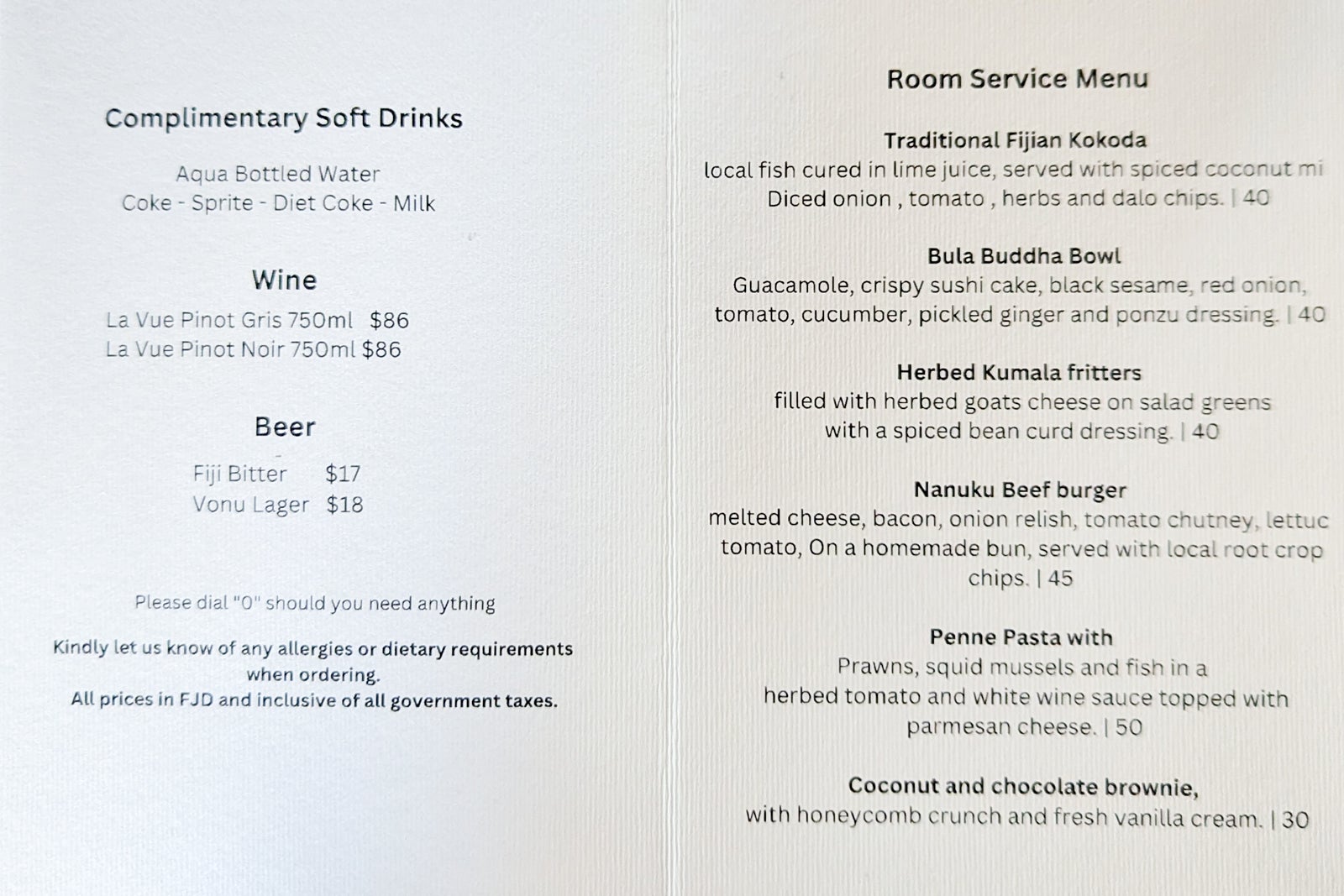 I enjoyed the meals I ate at Nanuku. But the quality and taste weren't quite as amazing as I'd hoped, especially considering the caliber of the resort. The resort's restaurant has a monopoly on most guests' dining needs, though, so it's nice that the prices aren't higher.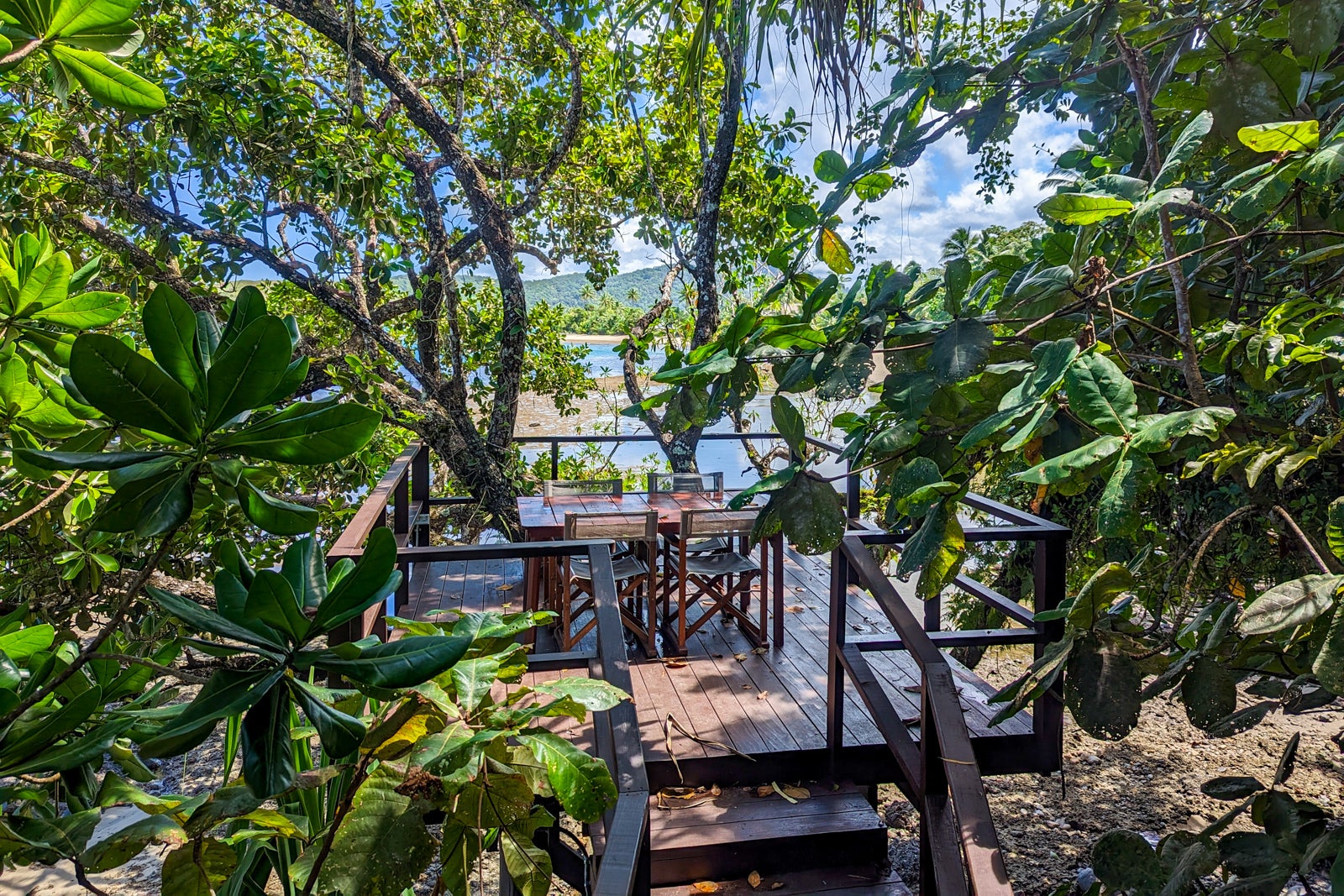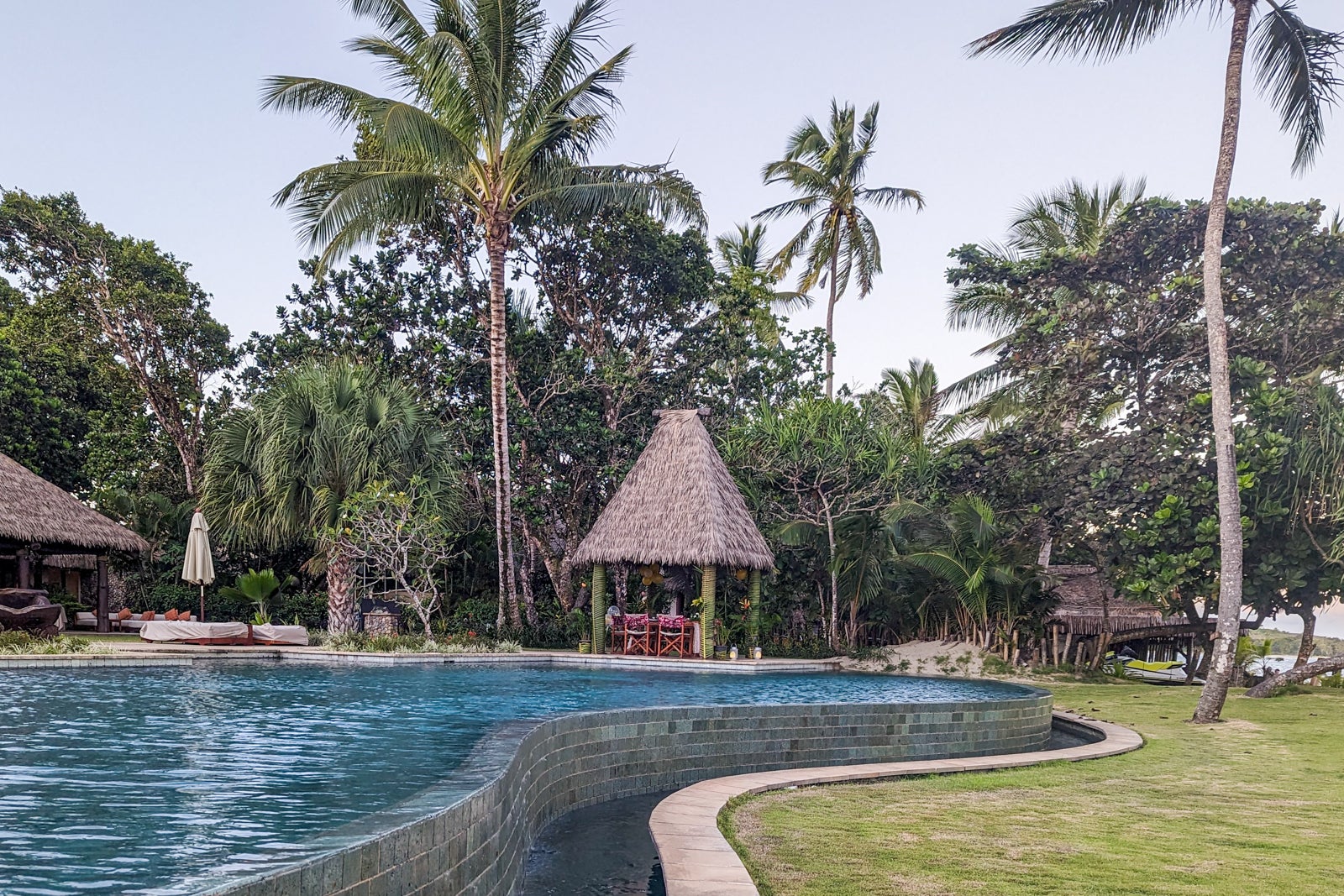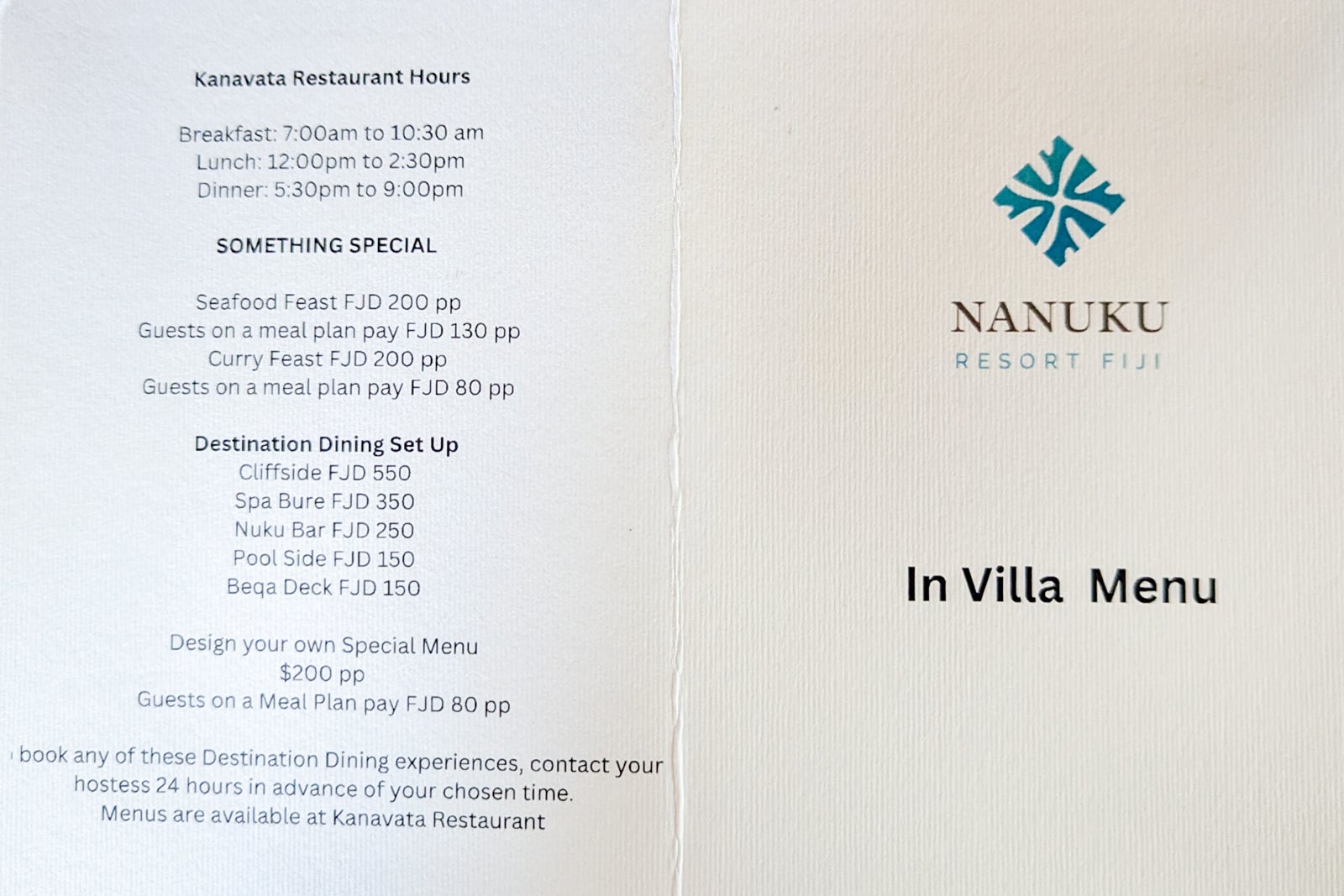 You can pre-purchase meal plans that include a two-course lunch and a three-course dinner. When the resort sent over prices before my stay, the rate was 260 Fijian Dollars (about $117) per person per day. You can also pay extra to dine in various locations around the resort, including poolside or along the trail in the forest.
Related: The 23 best Hyatt hotels in the world
Staff that are eager to please
Nanuku staff are friendly and eager to please. We connected with one staff member who served us breakfast both mornings and seemed sincerely interested in helping us have an excellent stay. I also enjoyed learning about Fijian medicinal herbs and culture from the staff member who led the herbal nature walk one afternoon.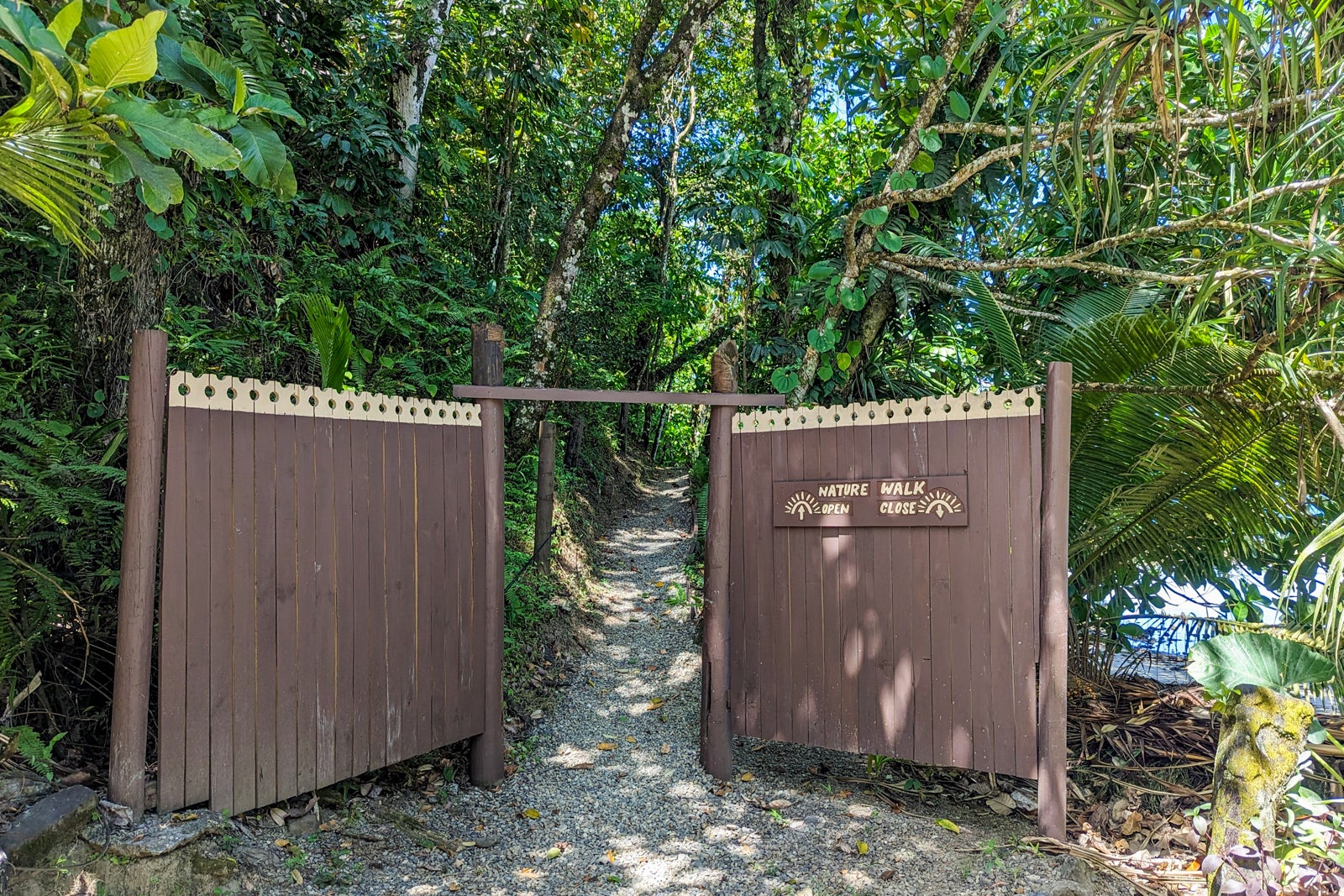 The staff also pay attention to details so that they can better personalize each guest's stay. Many of them worked to learn and use our names (I also appreciated how most staff members wear a necklace with their own names). The reception staff was also on top of things, including inquiring about my desired checkout time when I called to book an activity and asking the guide leading the nature walk to inform me that the hot water in my villa would be off for the next hour.
Each night, the resort has a fire-lighting ceremony and a small group of musicians plays near the clubhouse and restaurant, setting a relaxing and festive tone for the evening.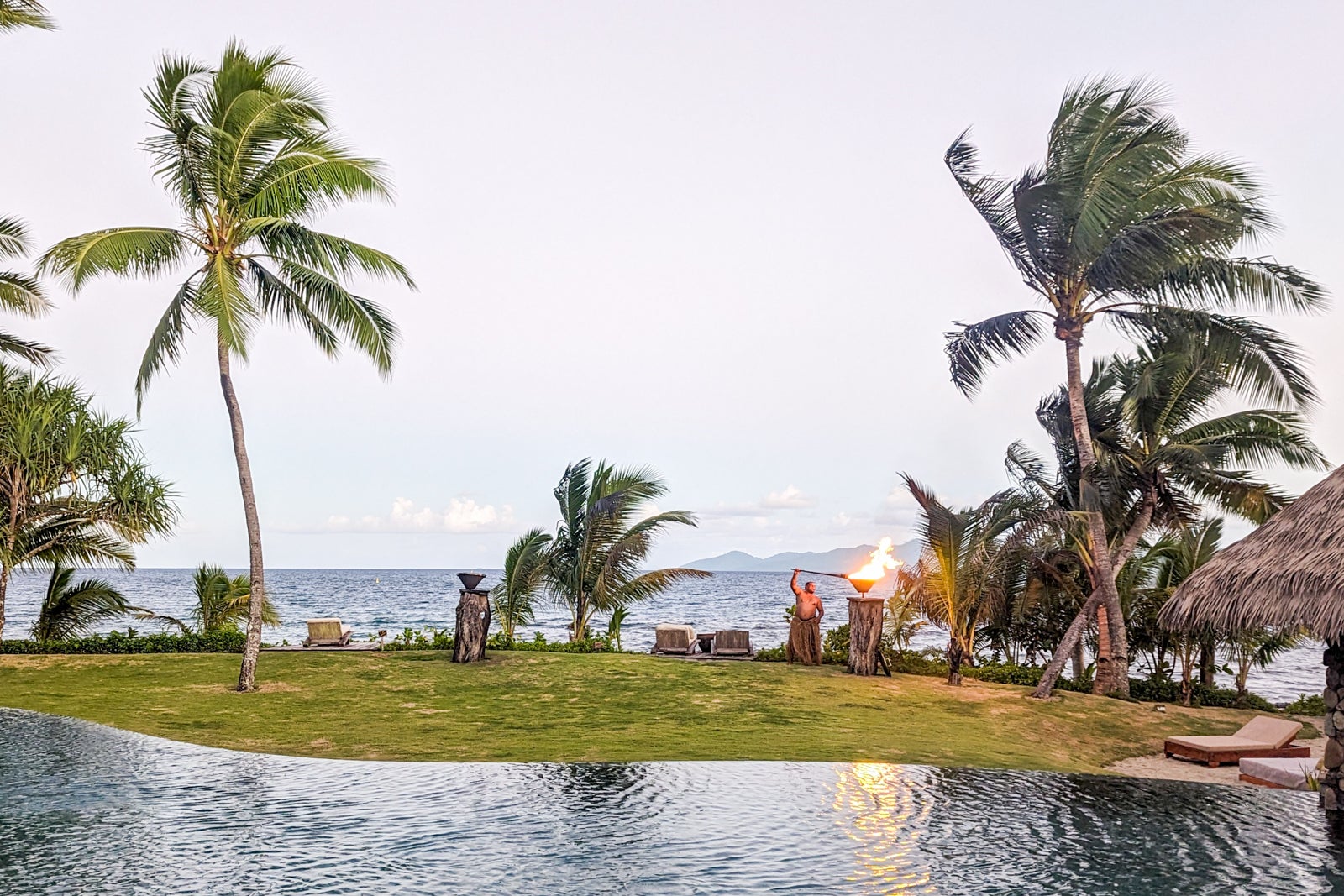 Service wasn't perfect at Nanuku, though. For example, we didn't get turndown service one night despite putting up the service-please broom on our door for over two and a half hours during dinner. And our server at dinner on our second night seemed to confuse us with another couple. These issues were minor though, with the service being excellent overall.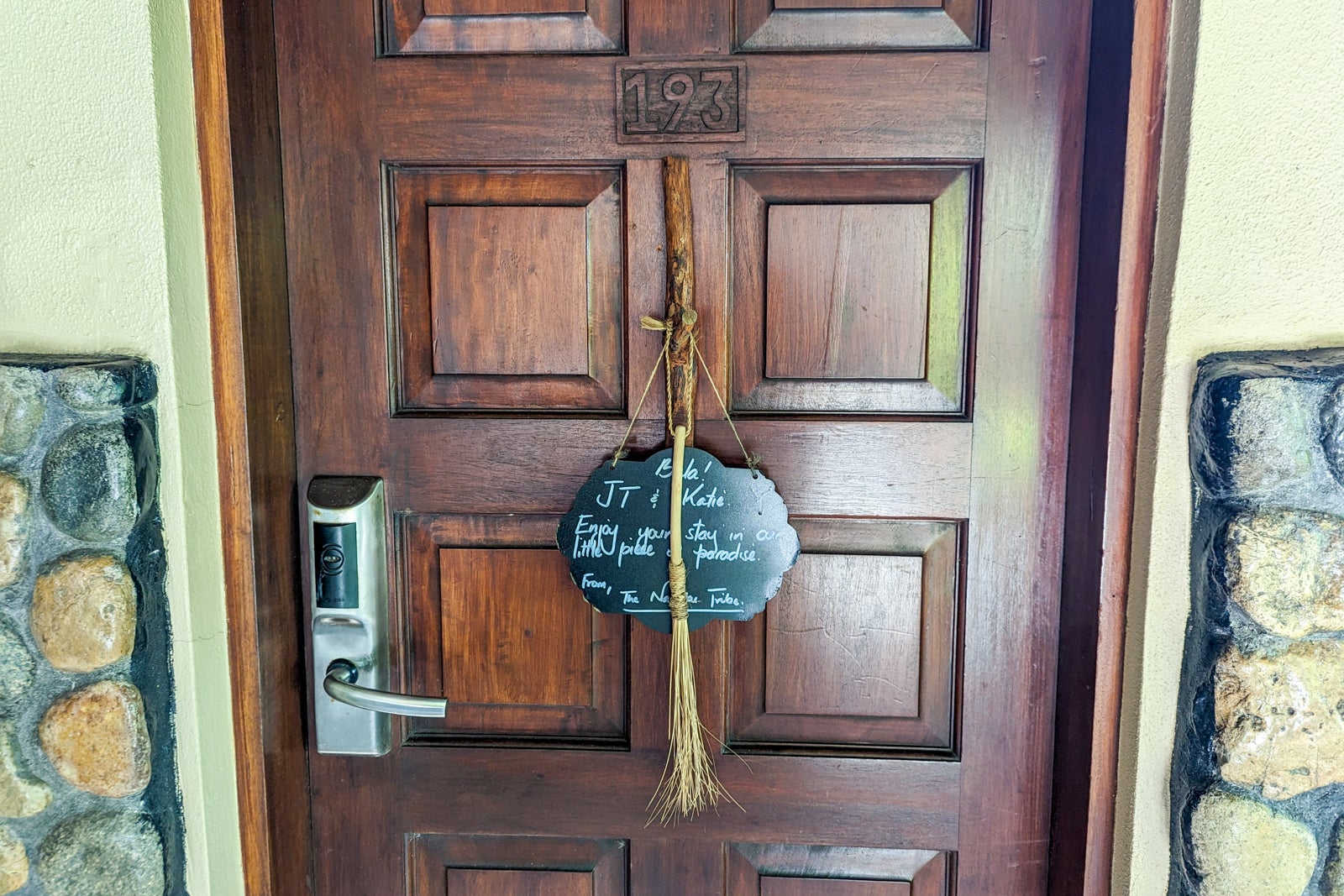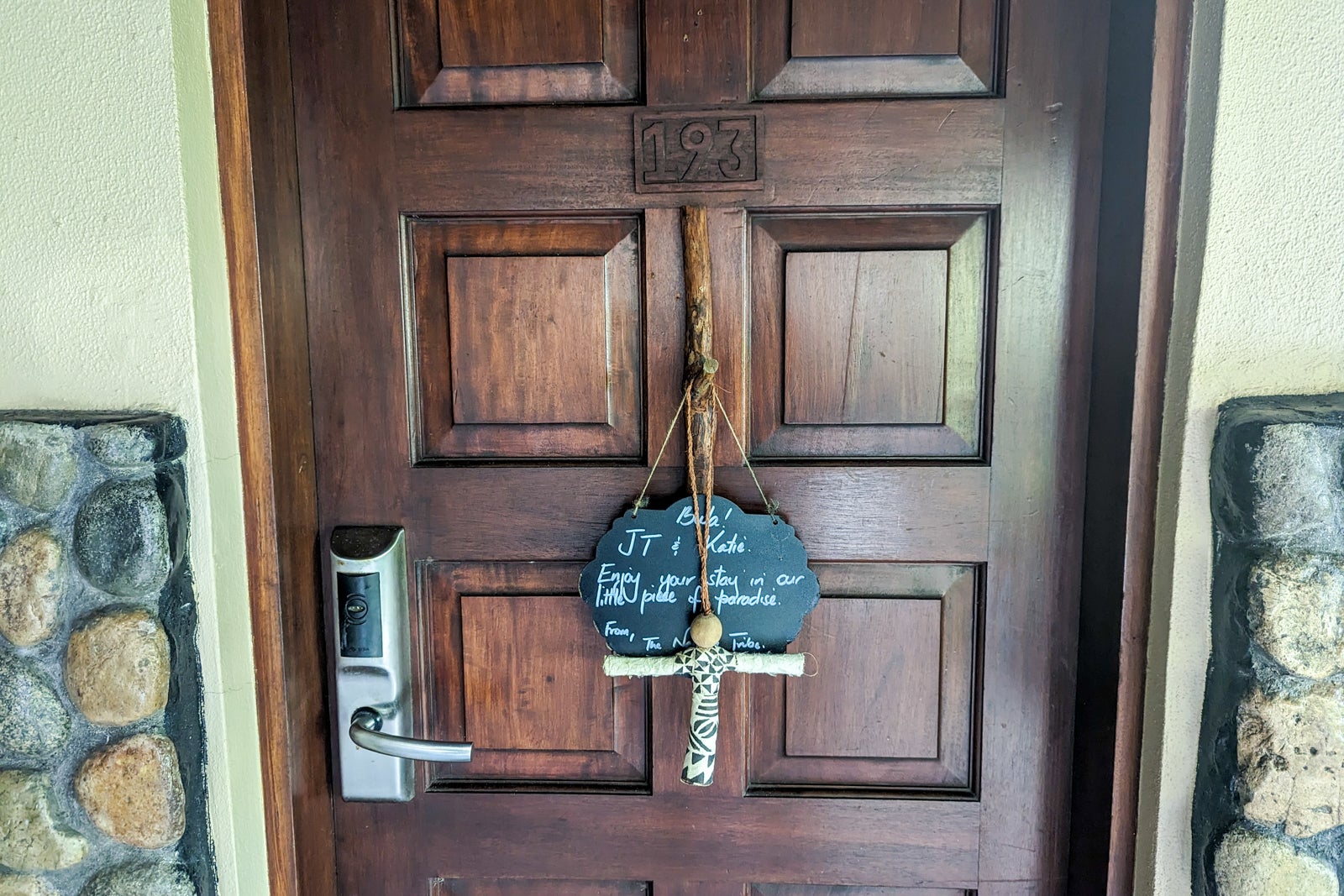 Related: Pack these 6 things to be a more eco-friendly traveler
You can earn and redeem Hyatt points
As I was walking back from snorkeling the resort reef my first morning with a woman from North Carolina, the Nanuku staff member who'd accompanied us for the excursion asked how we'd heard about the small resort. I smiled knowingly as the other guest said Nanuku was the only resort in Fiji that showed up when she searched on Hyatt's website.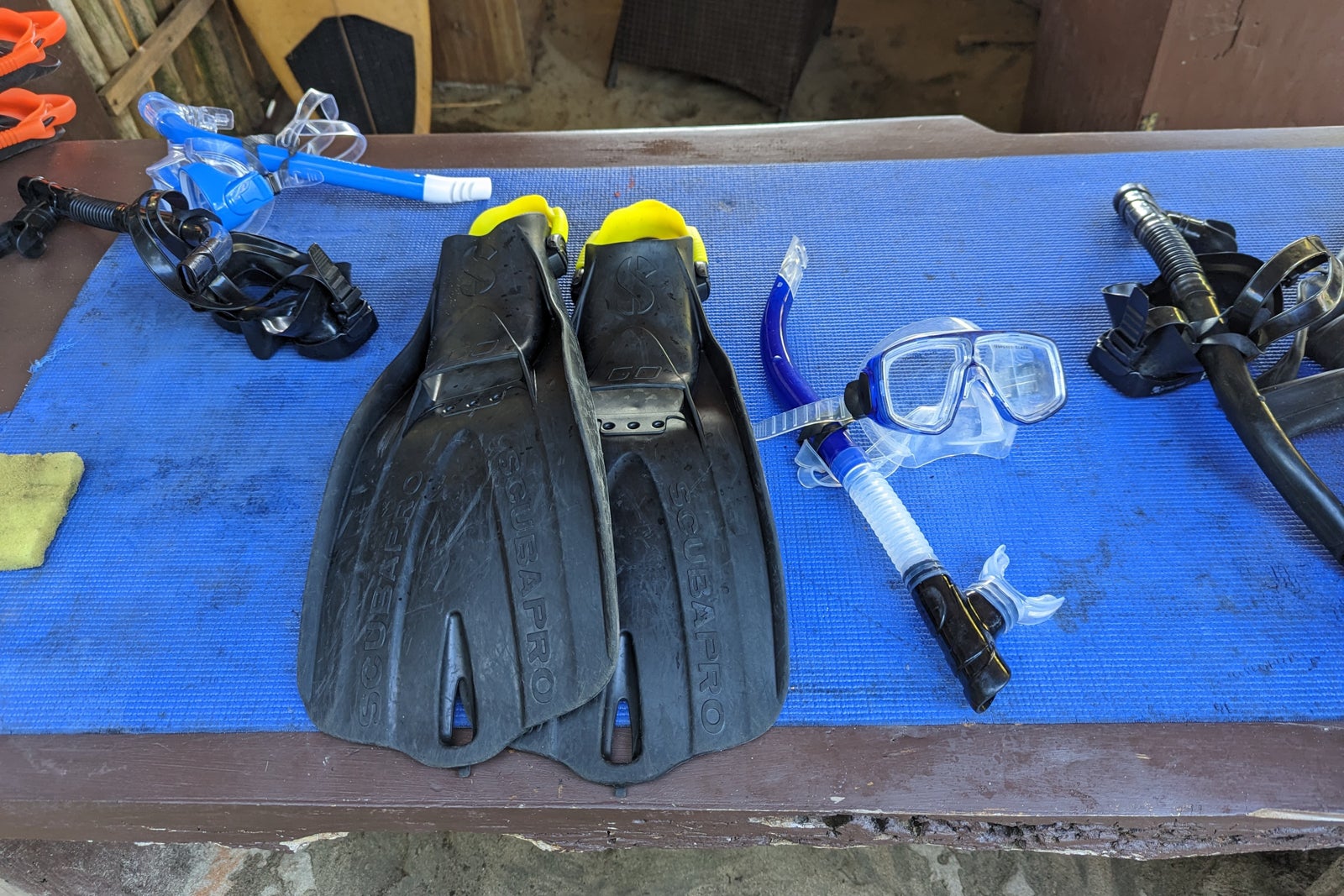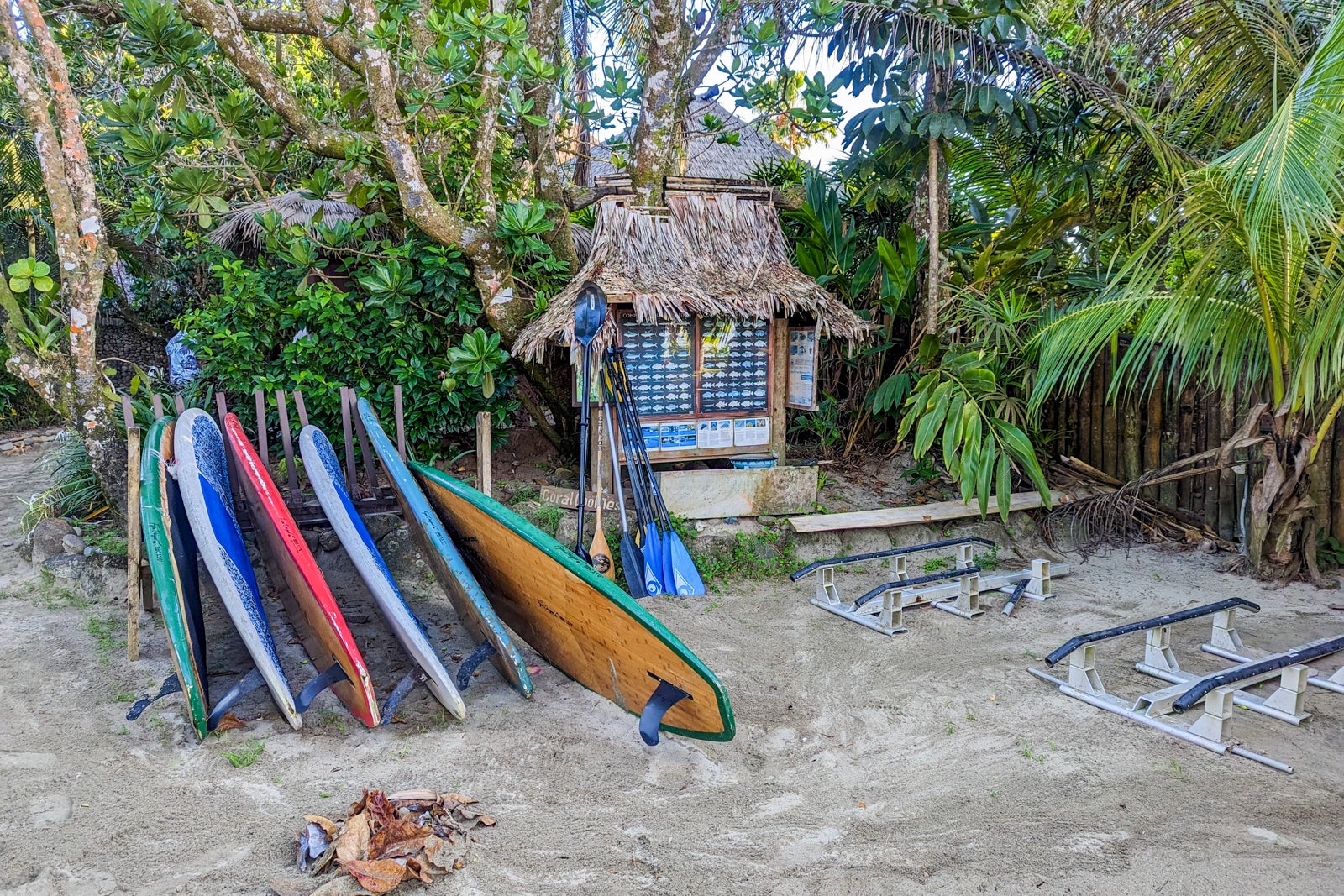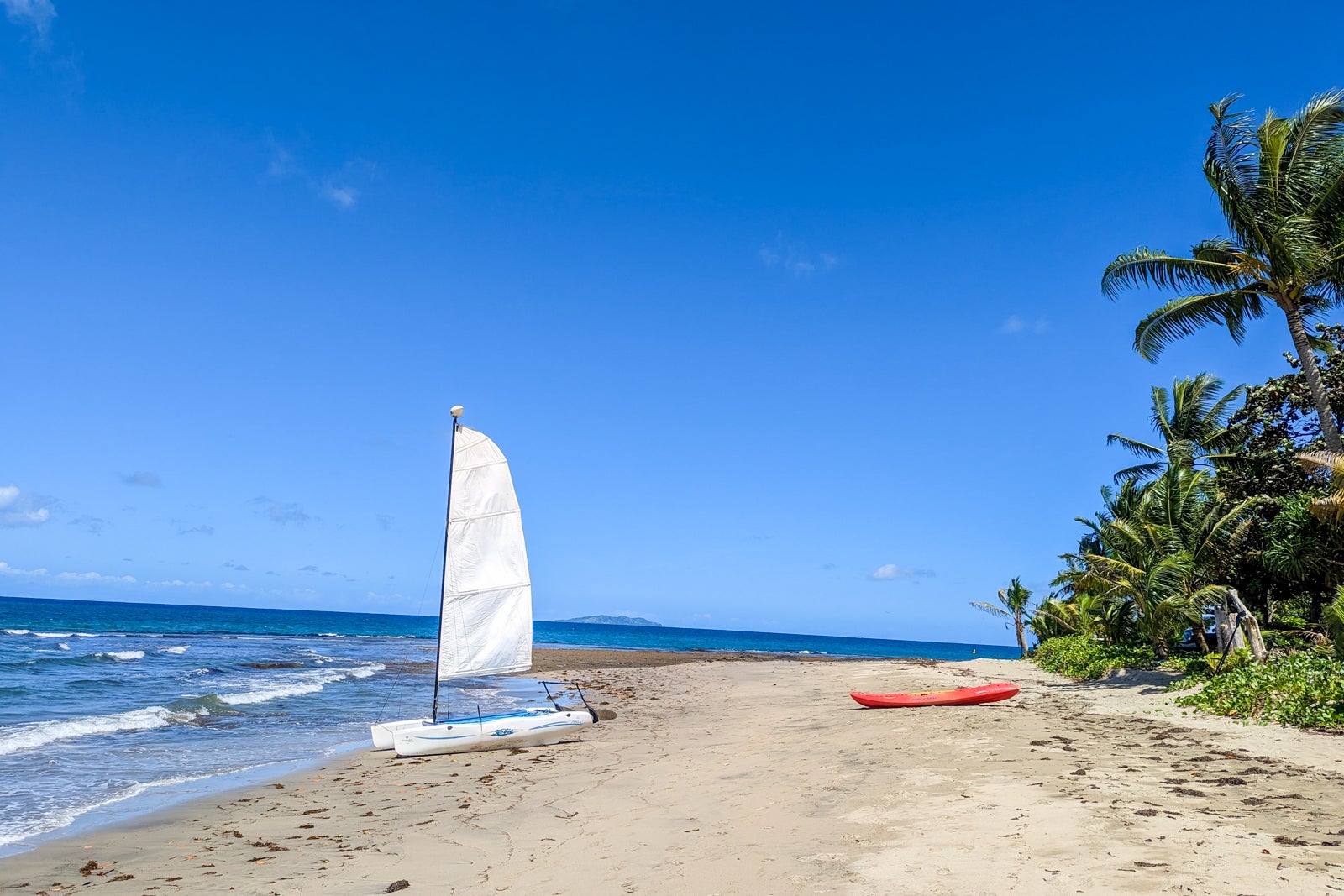 And indeed, you can earn and redeem Hyatt points at Nanuku through Hyatt's partnership with Small Luxury Hotels of the World. As of this writing, Nanuku is a Hyatt Category 6 property, so you can redeem 21,000 to 29,000 points per night. Paid rates start at around $650 per night; you can get between 2.2-3.1 cents per point in value on award nights (and sometimes more when paid rates are higher).
You'll get the following perks regardless of your Hyatt elite status when you book an eligible rate or redeem a free night award at Nanuku through World of Hyatt:
Daily breakfast at the Kanavata Restaurant.
One-category room upgrade, based on availability at check-in.
Early check-in at noon, subject to availability at the time of check-in.
Late checkout at 2 p.m., subject to availability on the day of departure.
Complimentary Wi-Fi in your suite or villa and at the Nanuku Clubhouse.
You should earn bonus points as you typically would at Hyatt hotels when staying at participating Small Luxury Hotels of the World properties if you use your World of Hyatt Credit Card to pay. However, I wasn't 100% sure how my purchase would code when I checked out, so I used my go-to card for general travel purchases: the Ink Business Preferred® Credit Card. Note you'll need to pay a 3.5% surcharge to use a credit card or international debit card (this type of surcharge is relatively common in Fiji).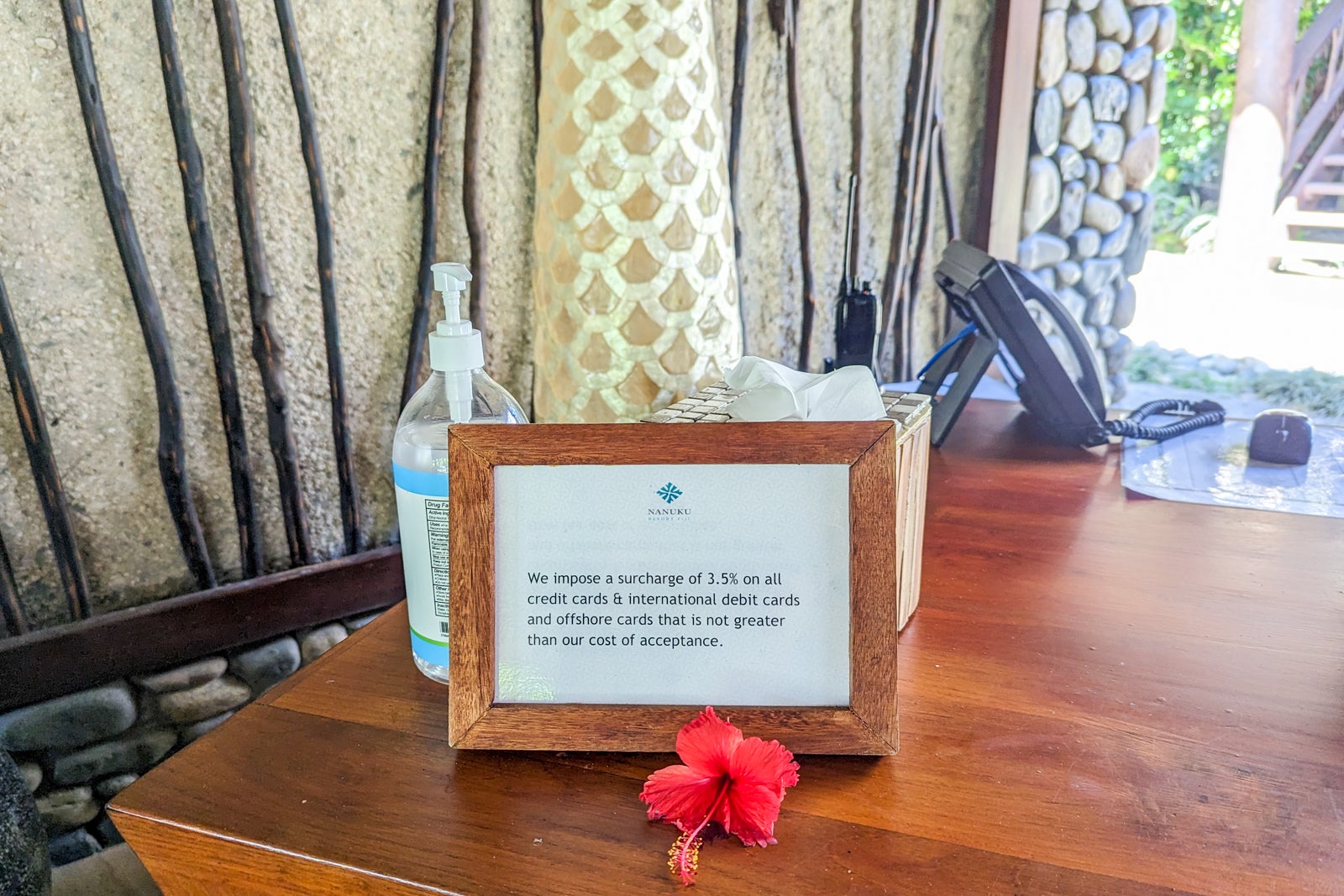 Related: Which credit card should you use for Hyatt stays?
You won't feel nickeled-and-dimed
A stay at Nanuku certainly doesn't come cheap, whether you're redeeming Hyatt points or booking a paid rate. And there are plenty of ways to spend money on-site, including spa sessions, dining set-ups in special locations and off-site excursions.
However, Nanuku also includes a lot in your stay, too. There's a selection of complimentary activities each day, including a weekly firewalking ceremony, mangrove planting and guided snorkeling.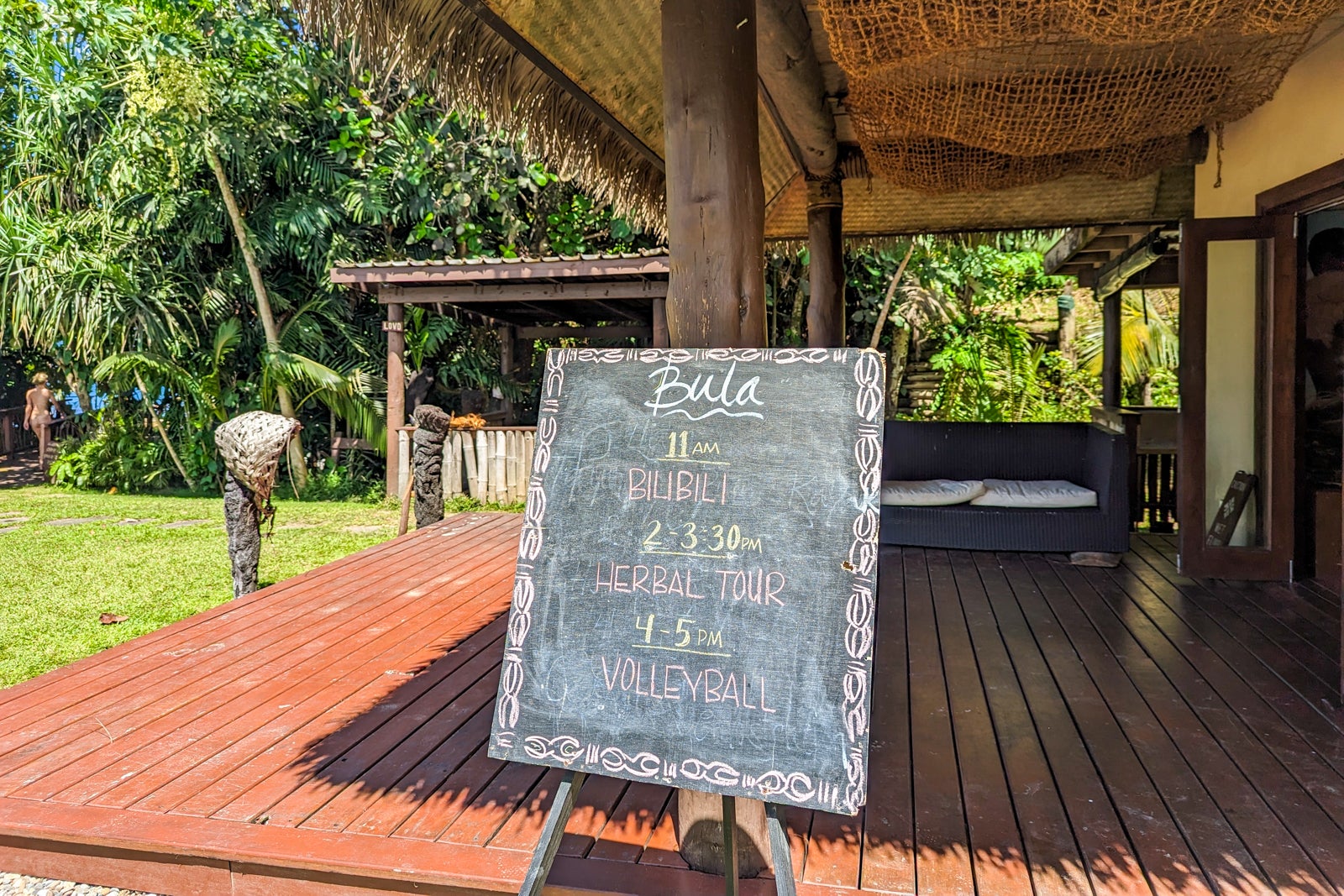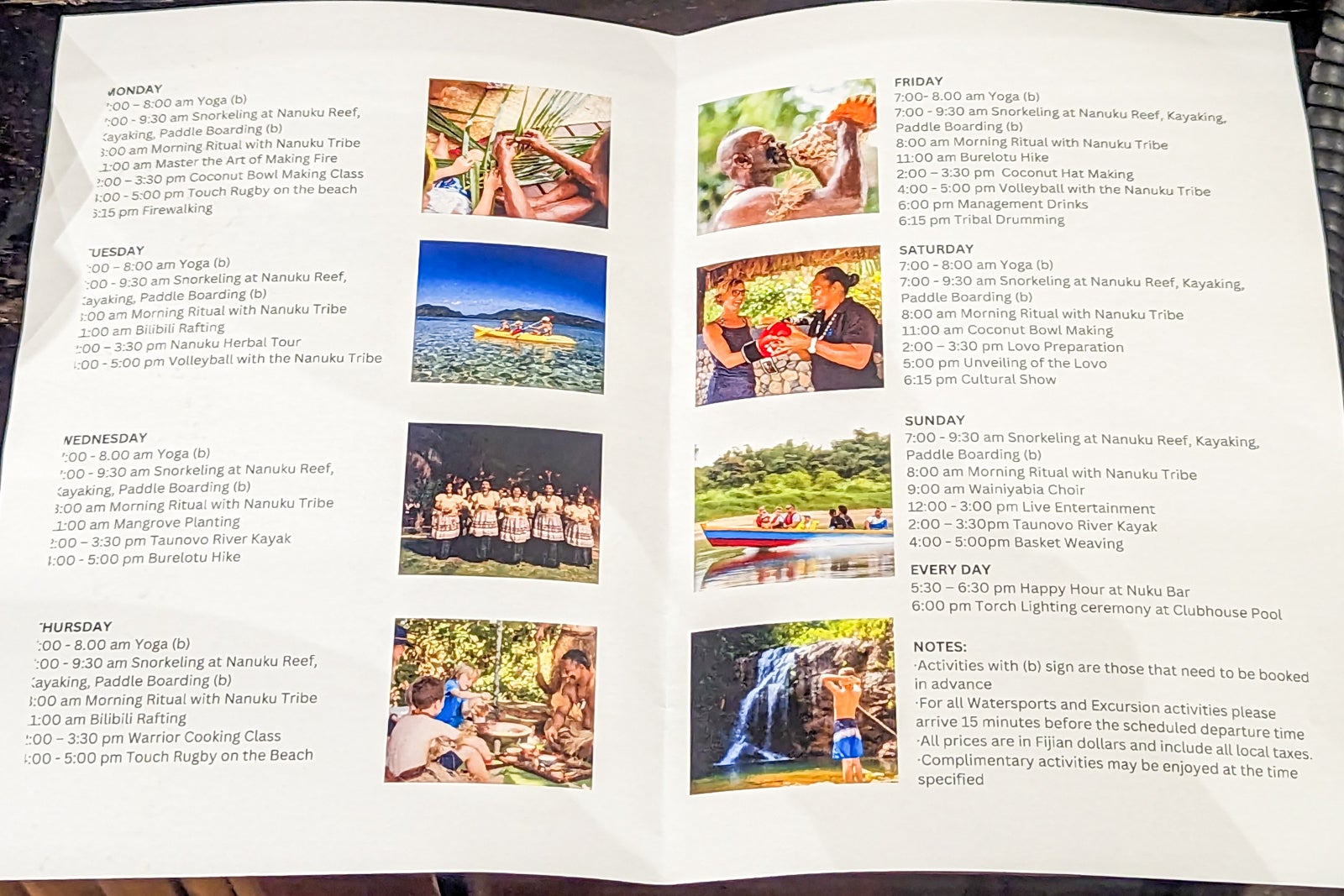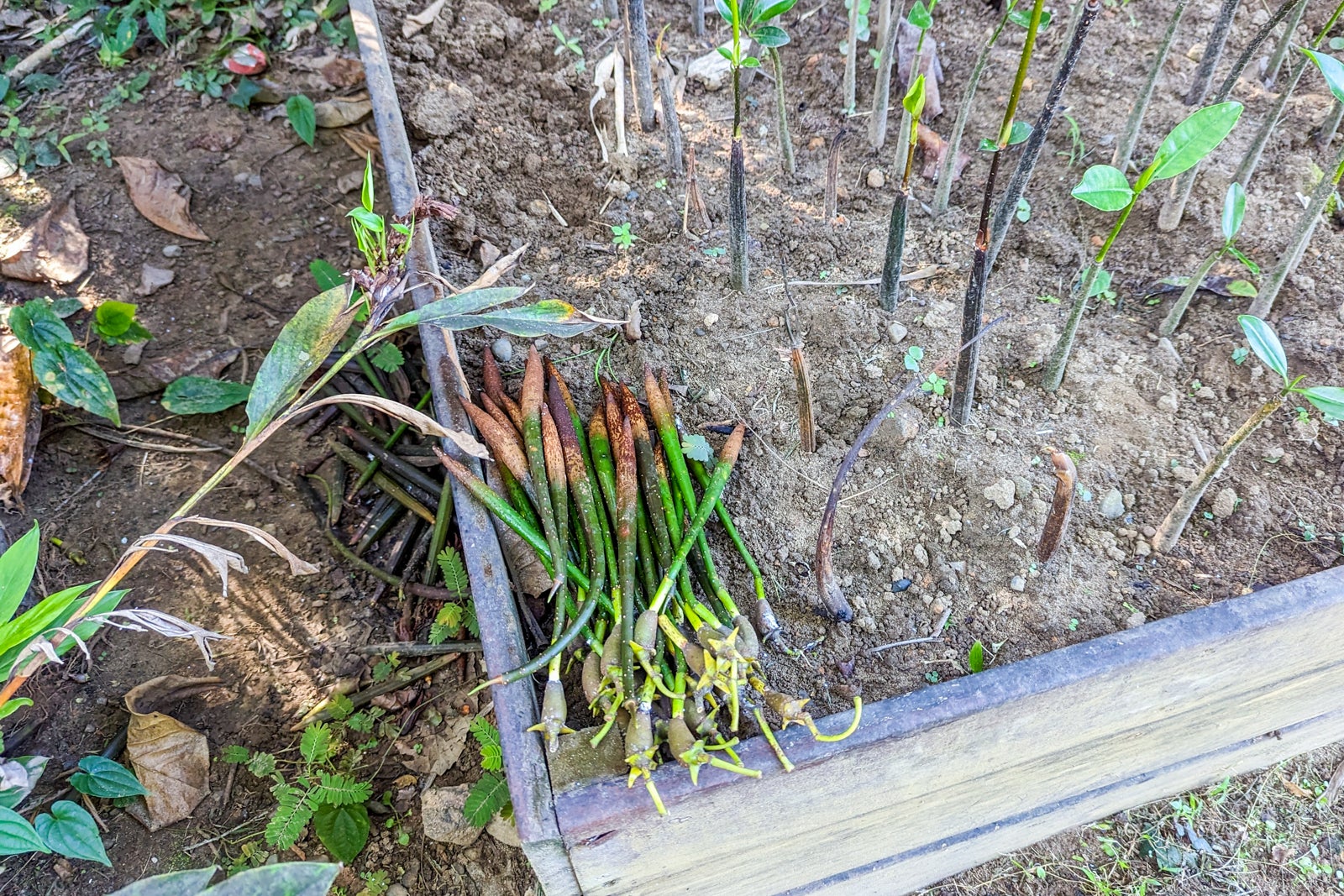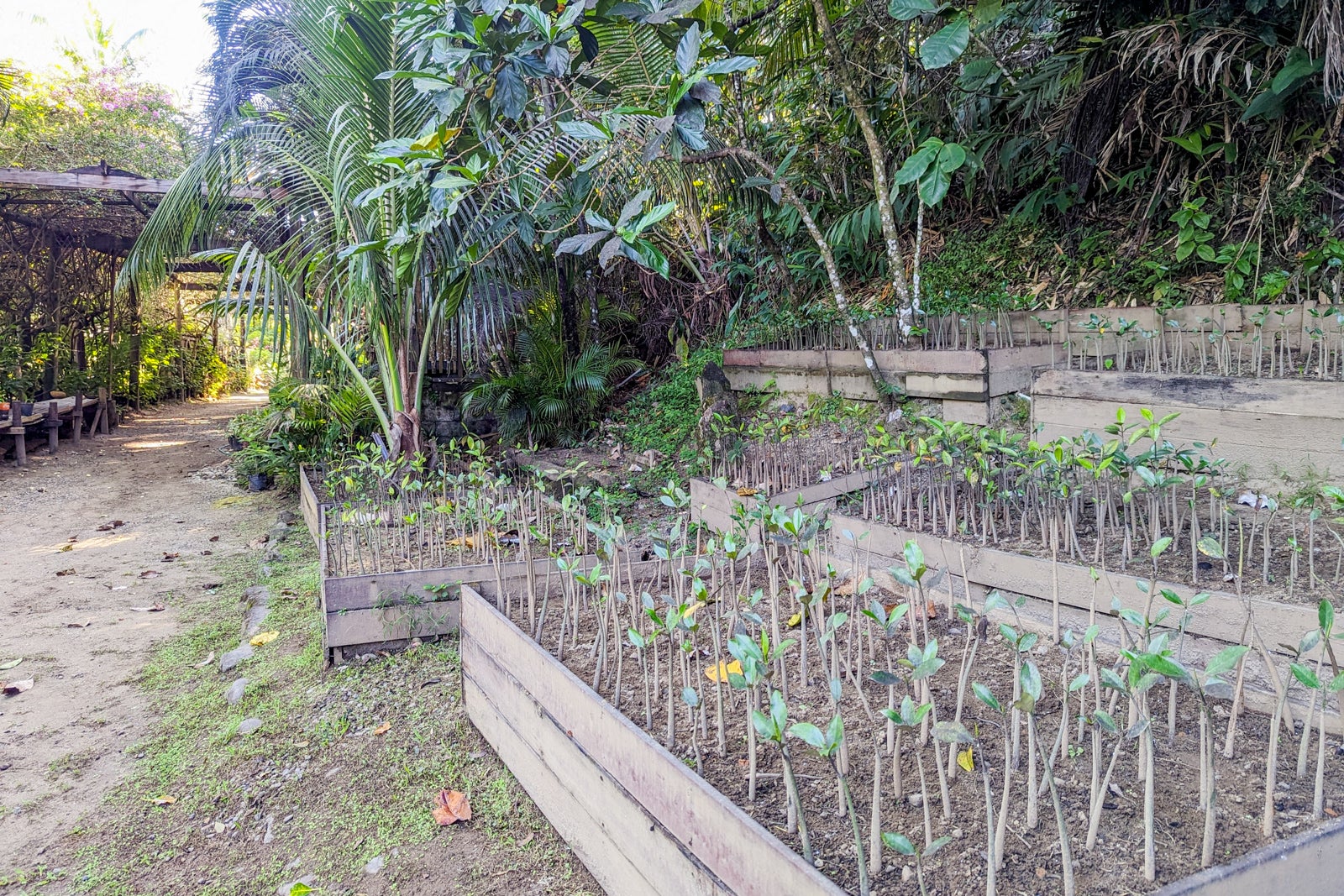 Non-alcoholic drinks are free from your minibar. And the breakfast — which is included for all guests — kept me satisfied until dinner. If you're looking for ways to spend your time that won't cost any additional money, you can enjoy the pool or beach.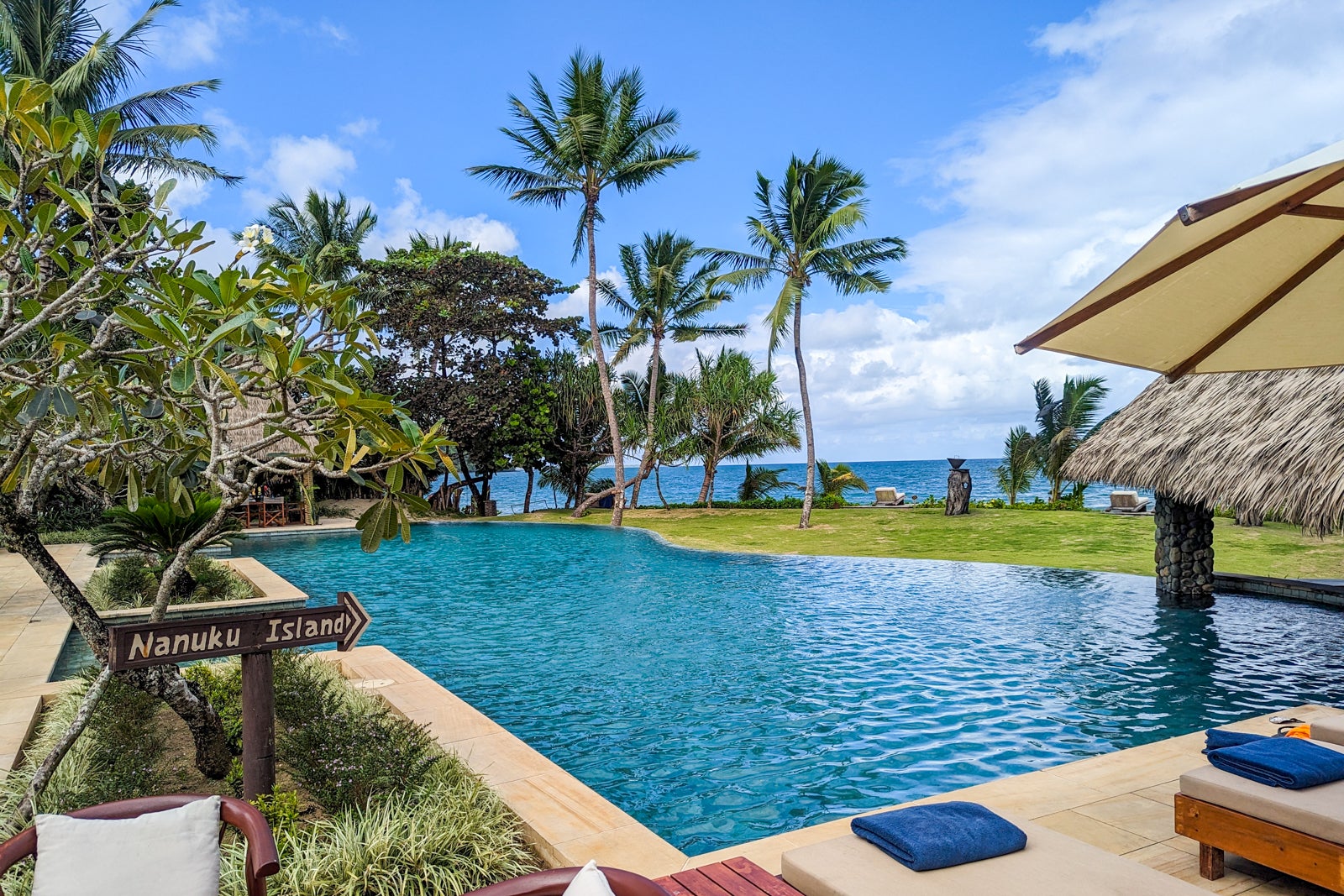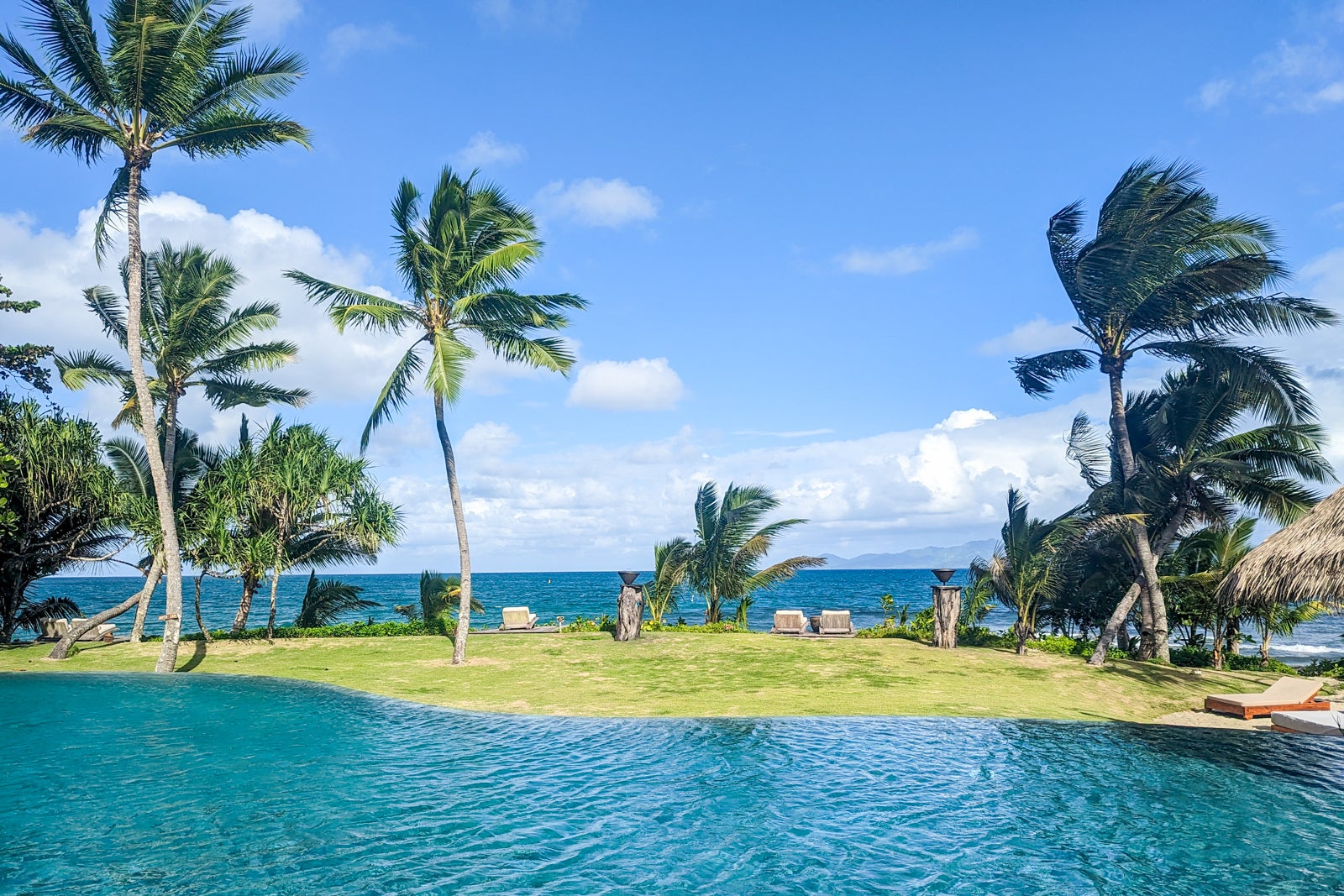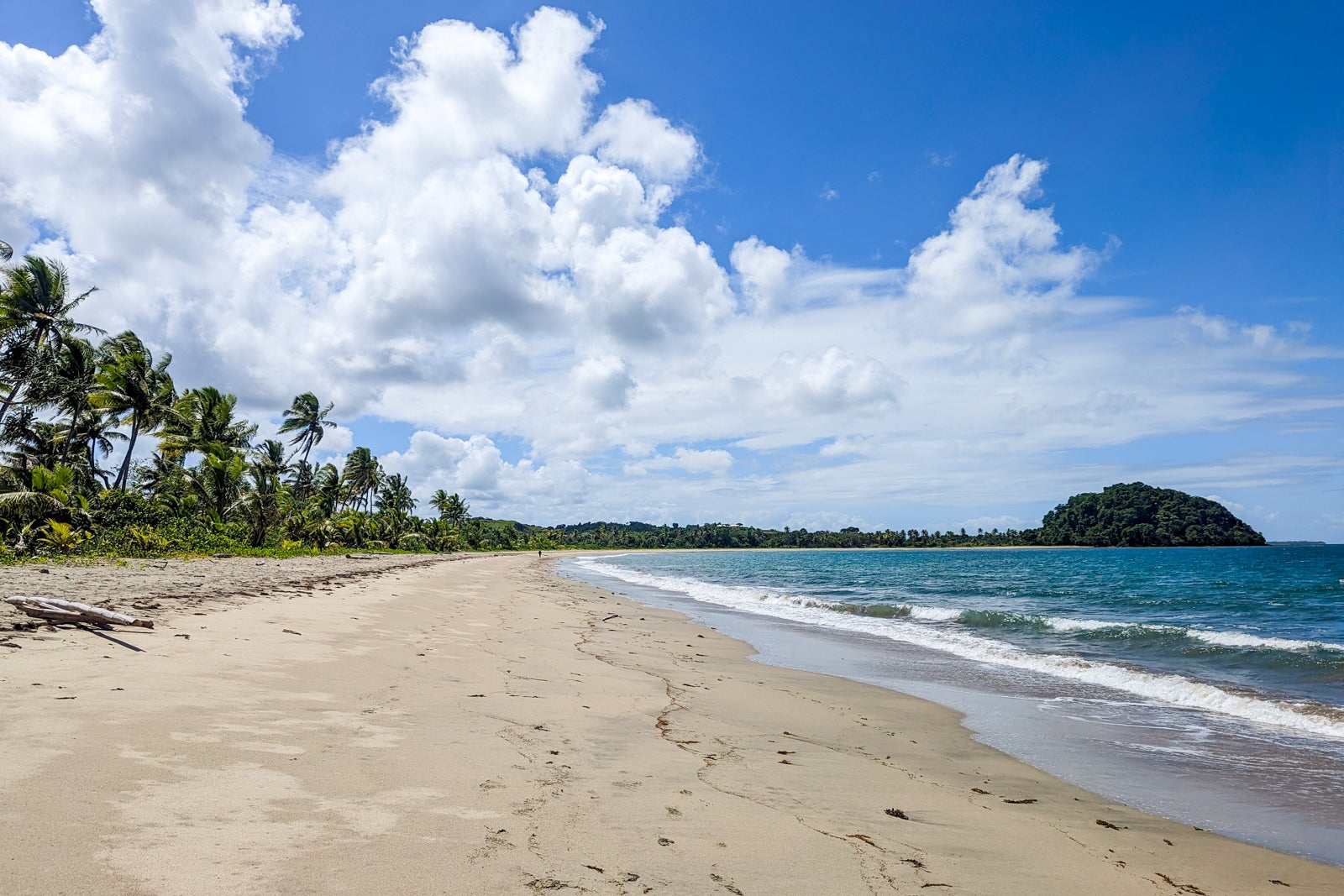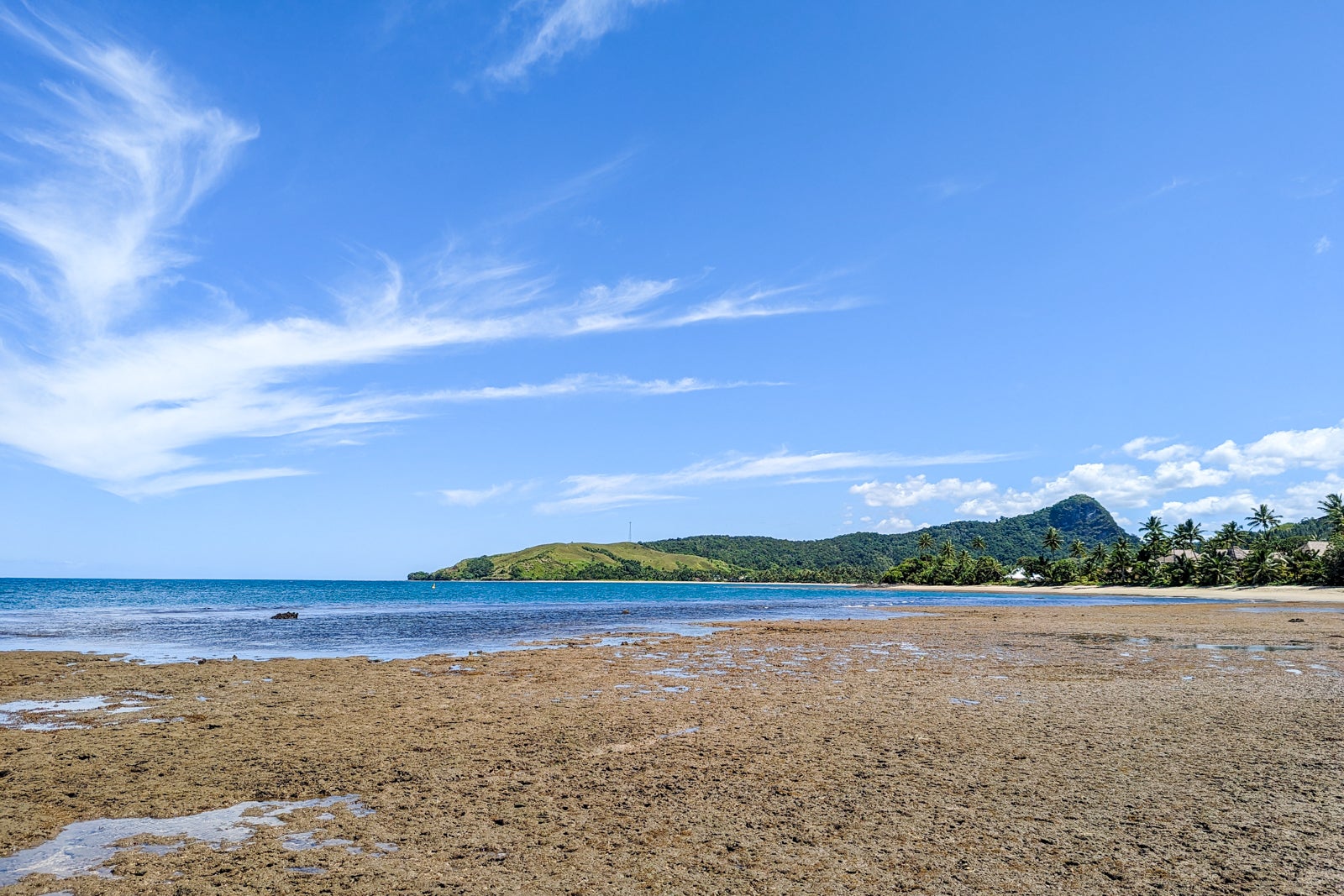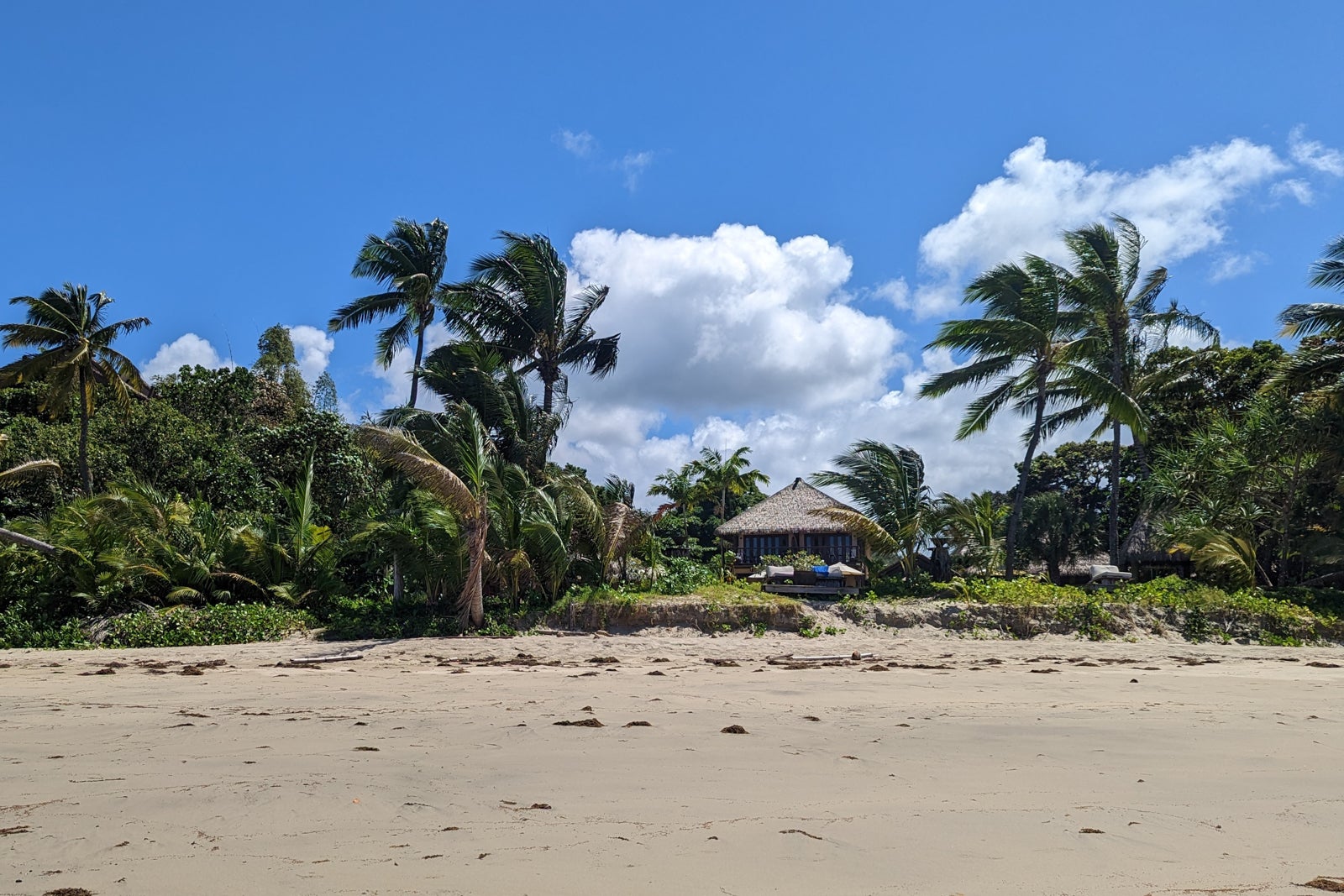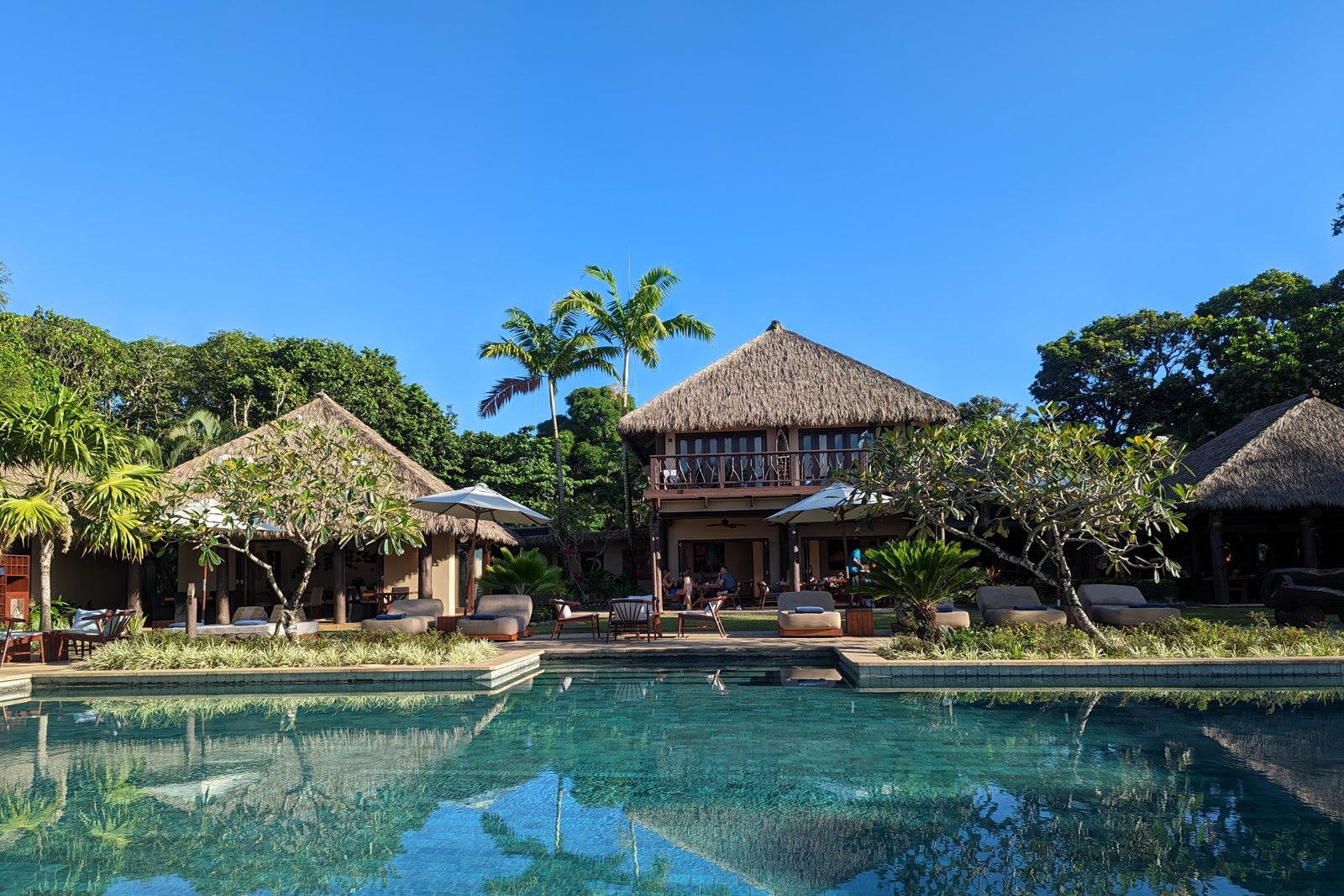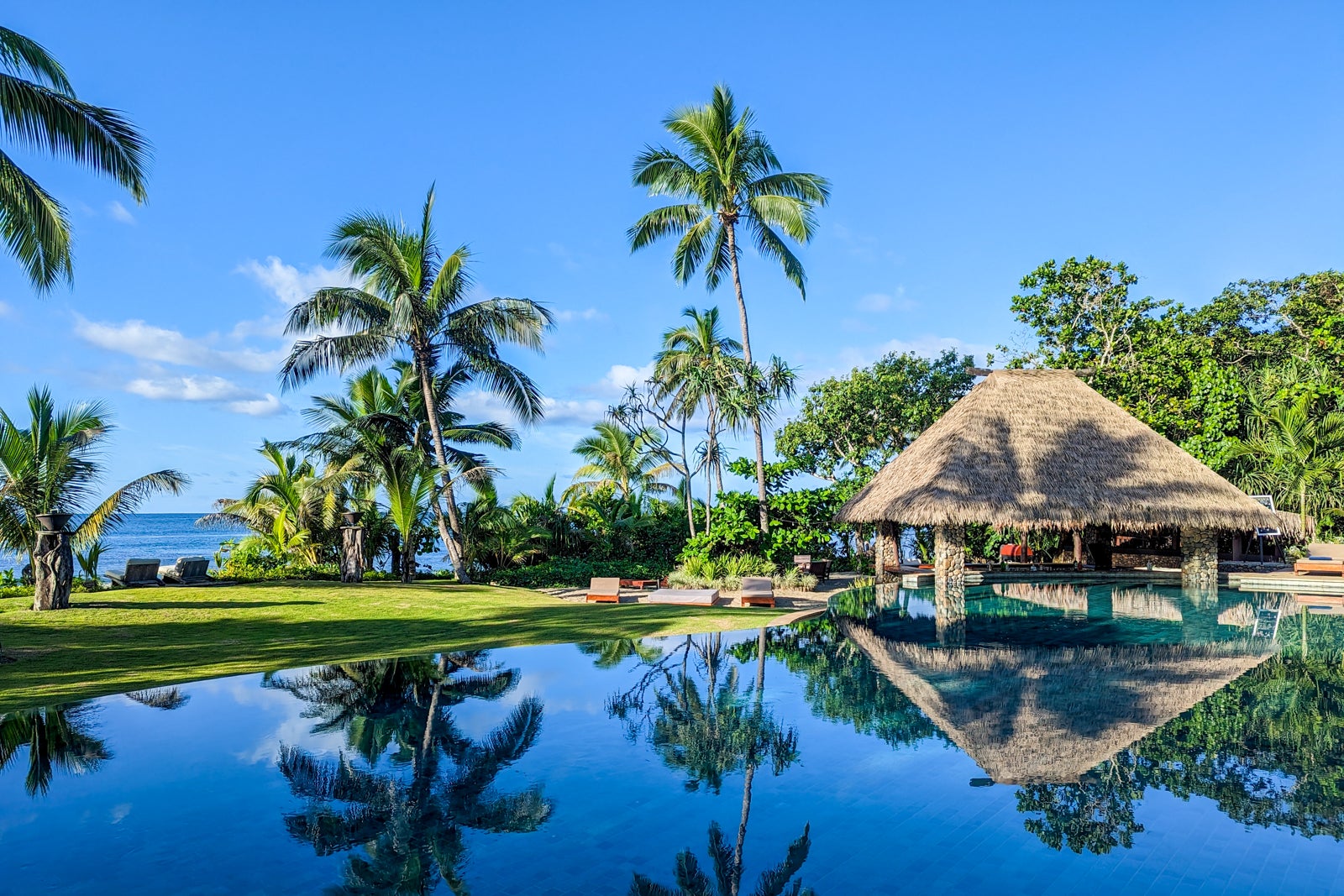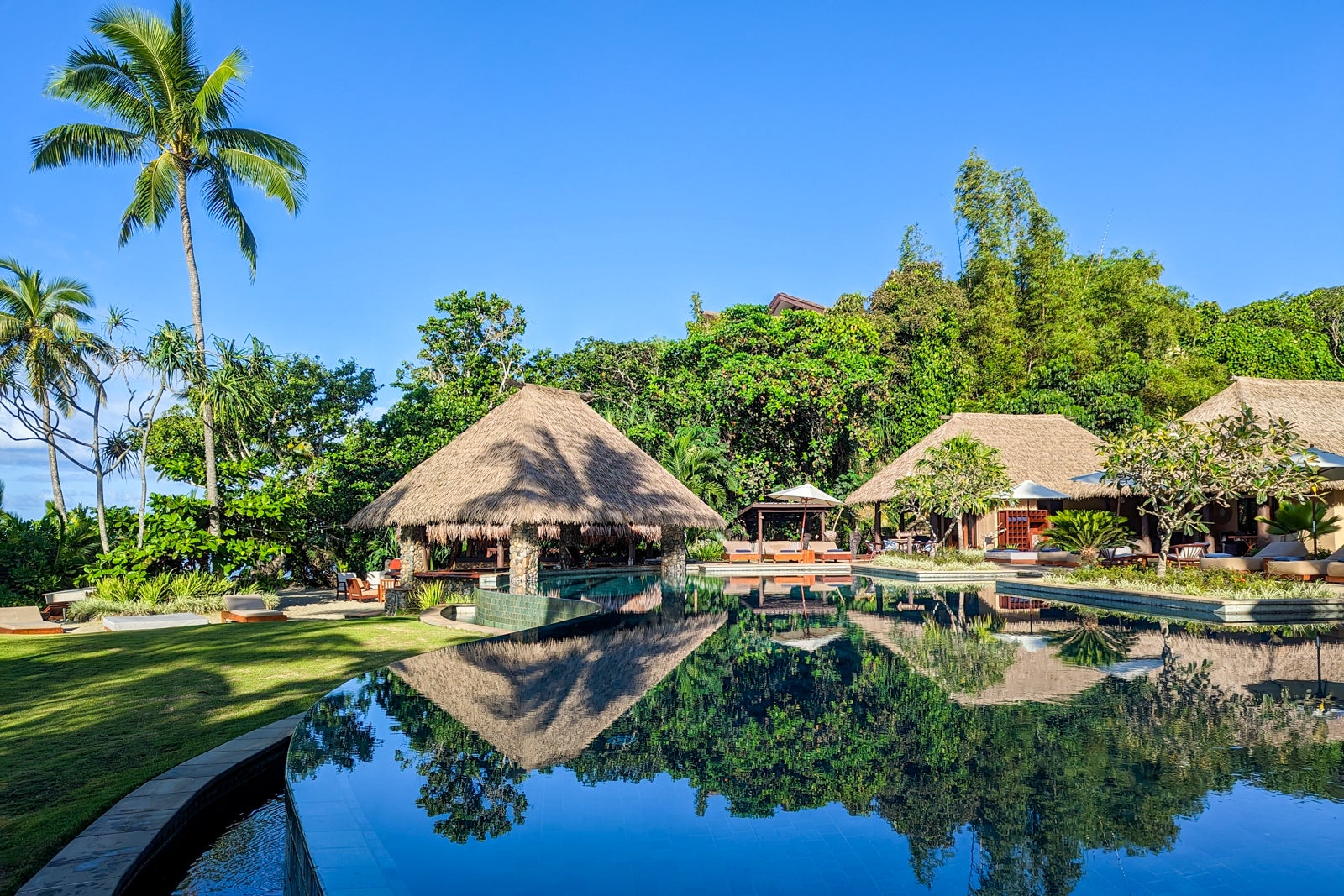 You can also play pool by the bar, relax in the hot tub, work out in the gym, or go for a bike ride (guests in most room types get bikes to use around the resort). You could also go to sunset point, which offers a nice ocean view and lawn games.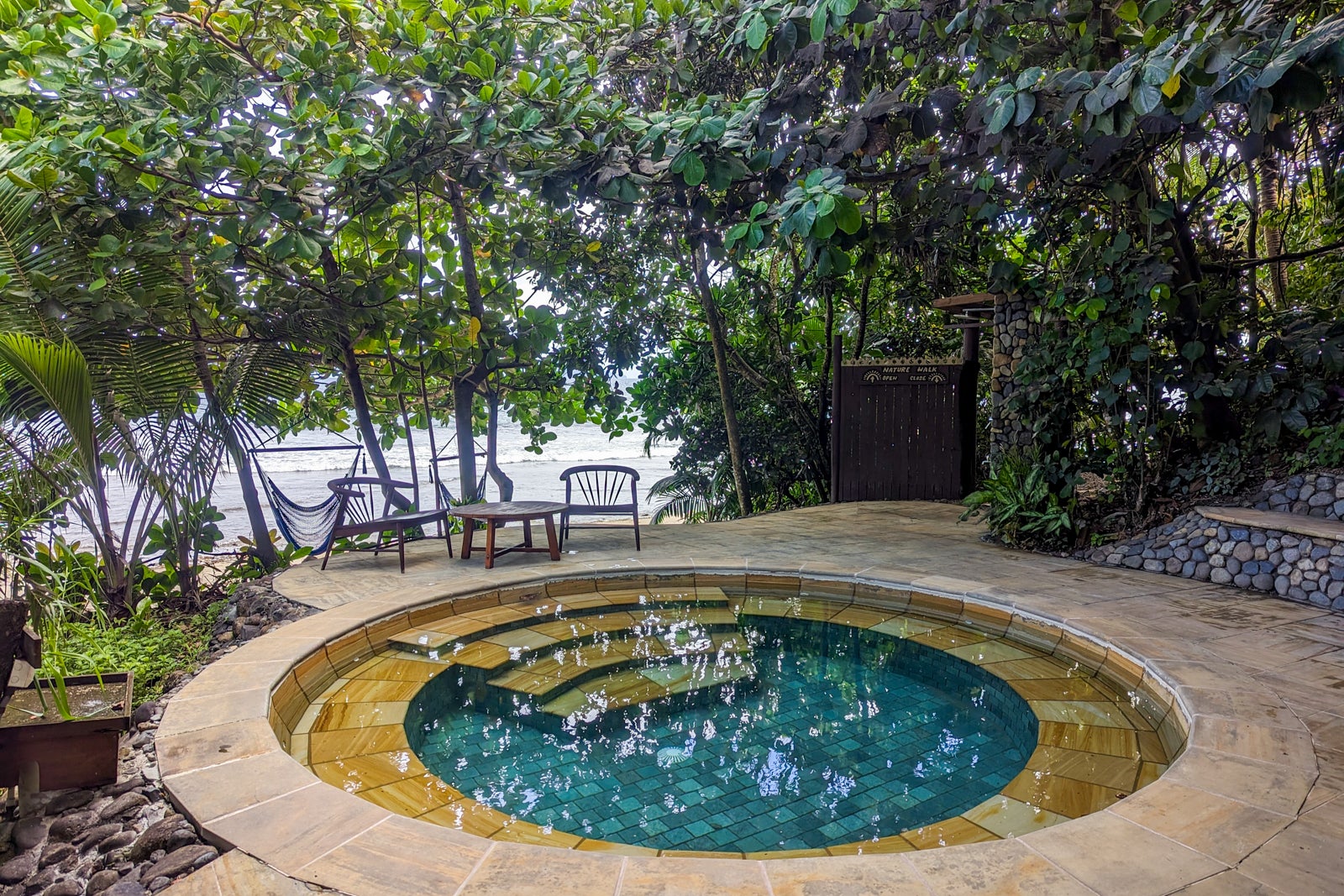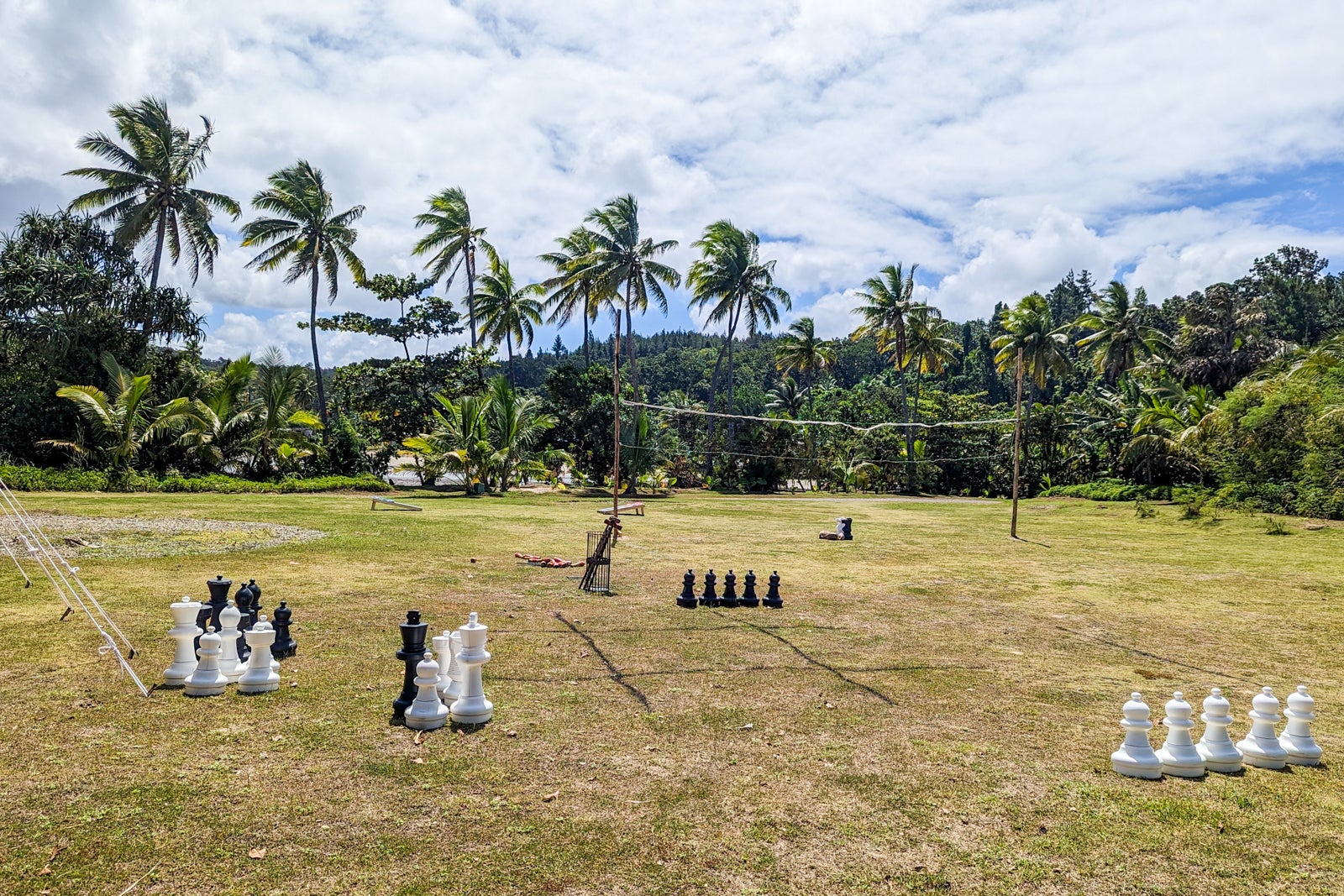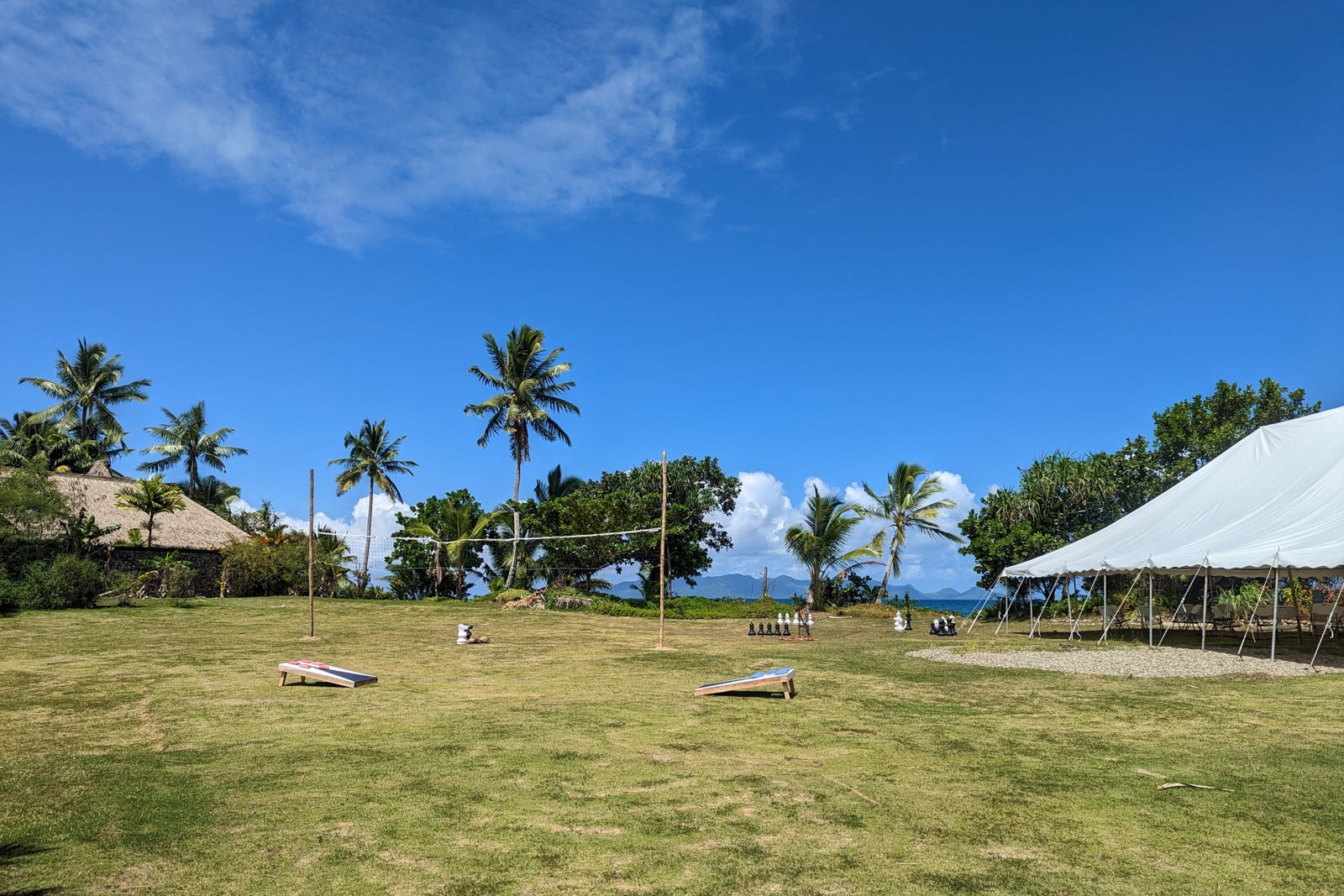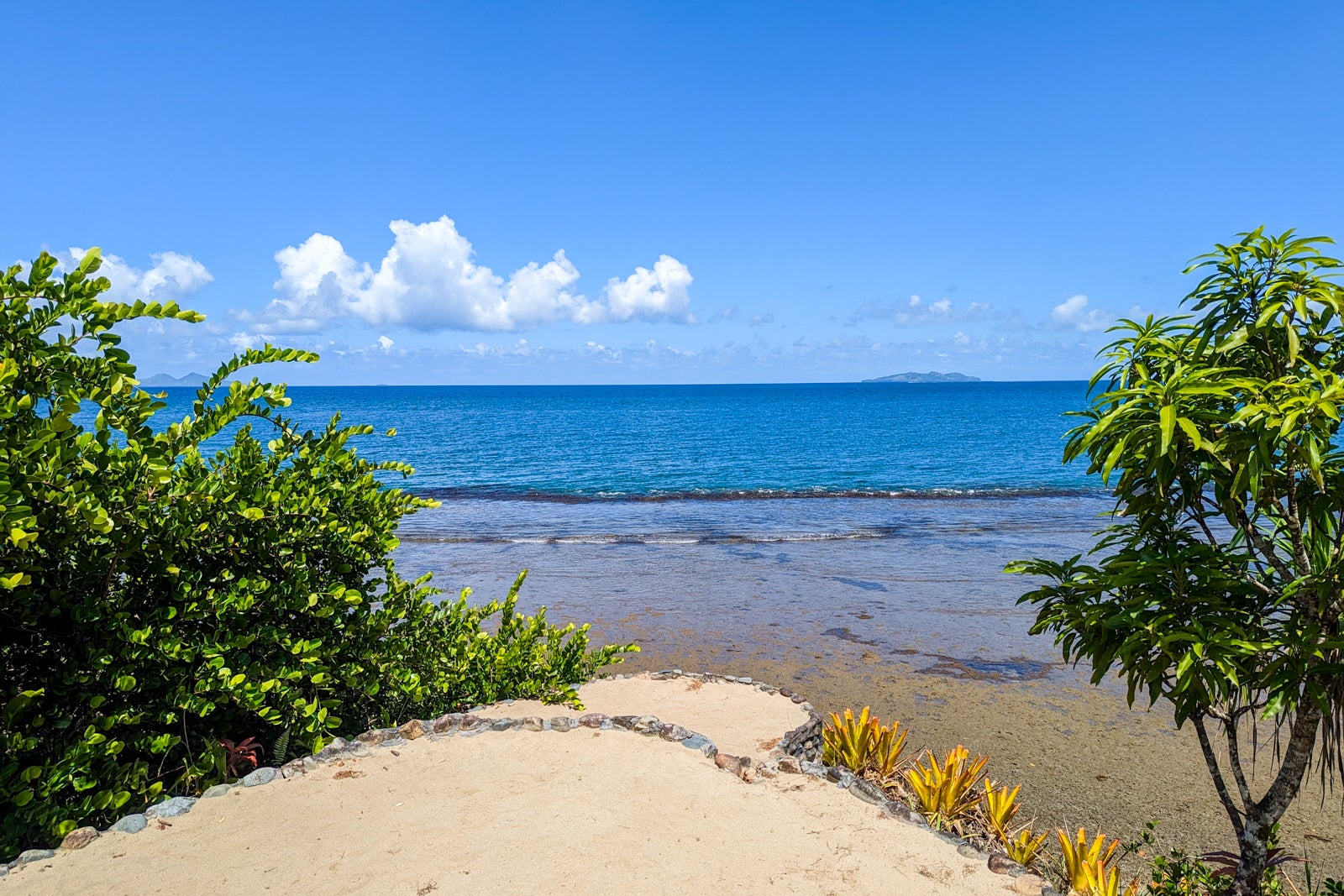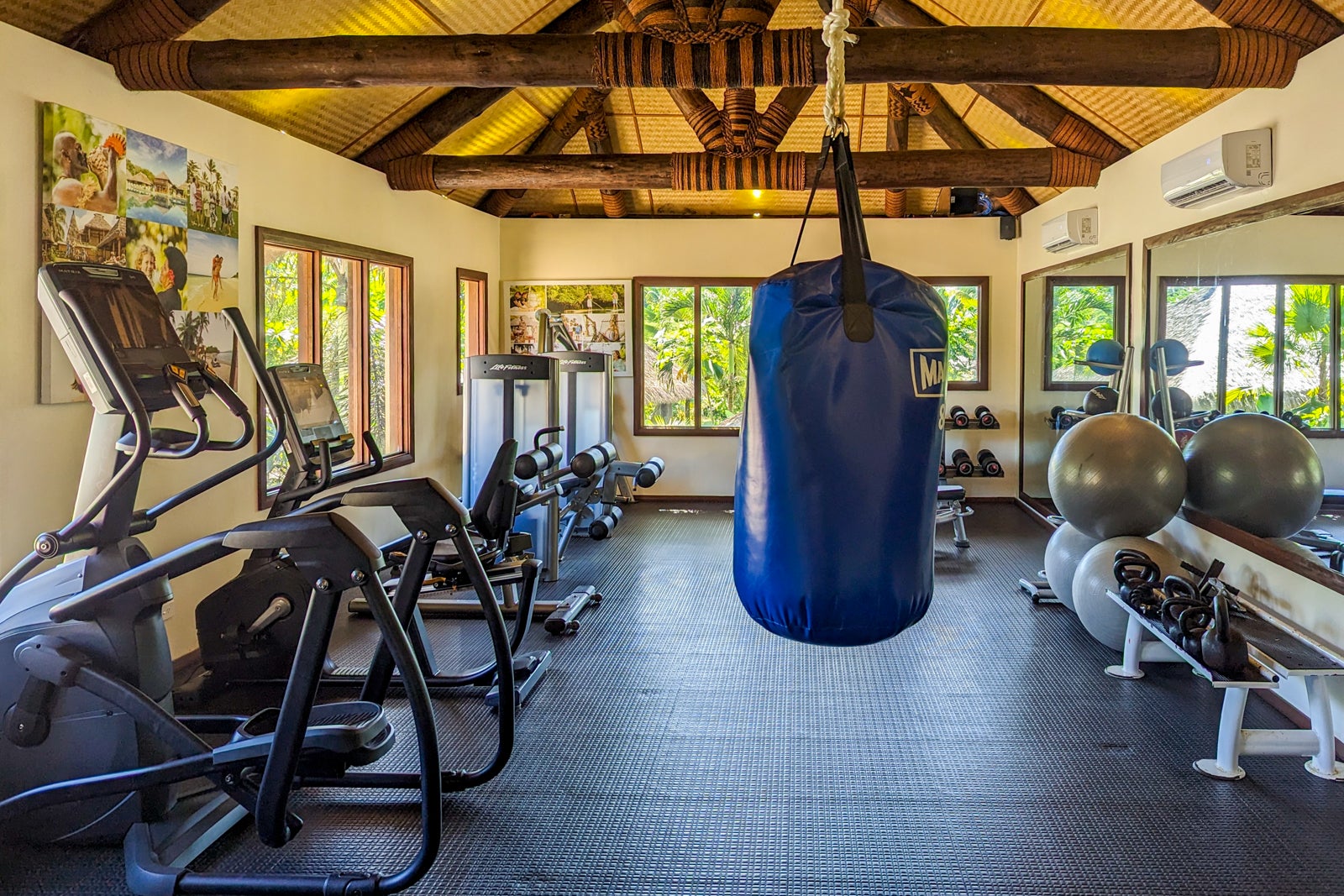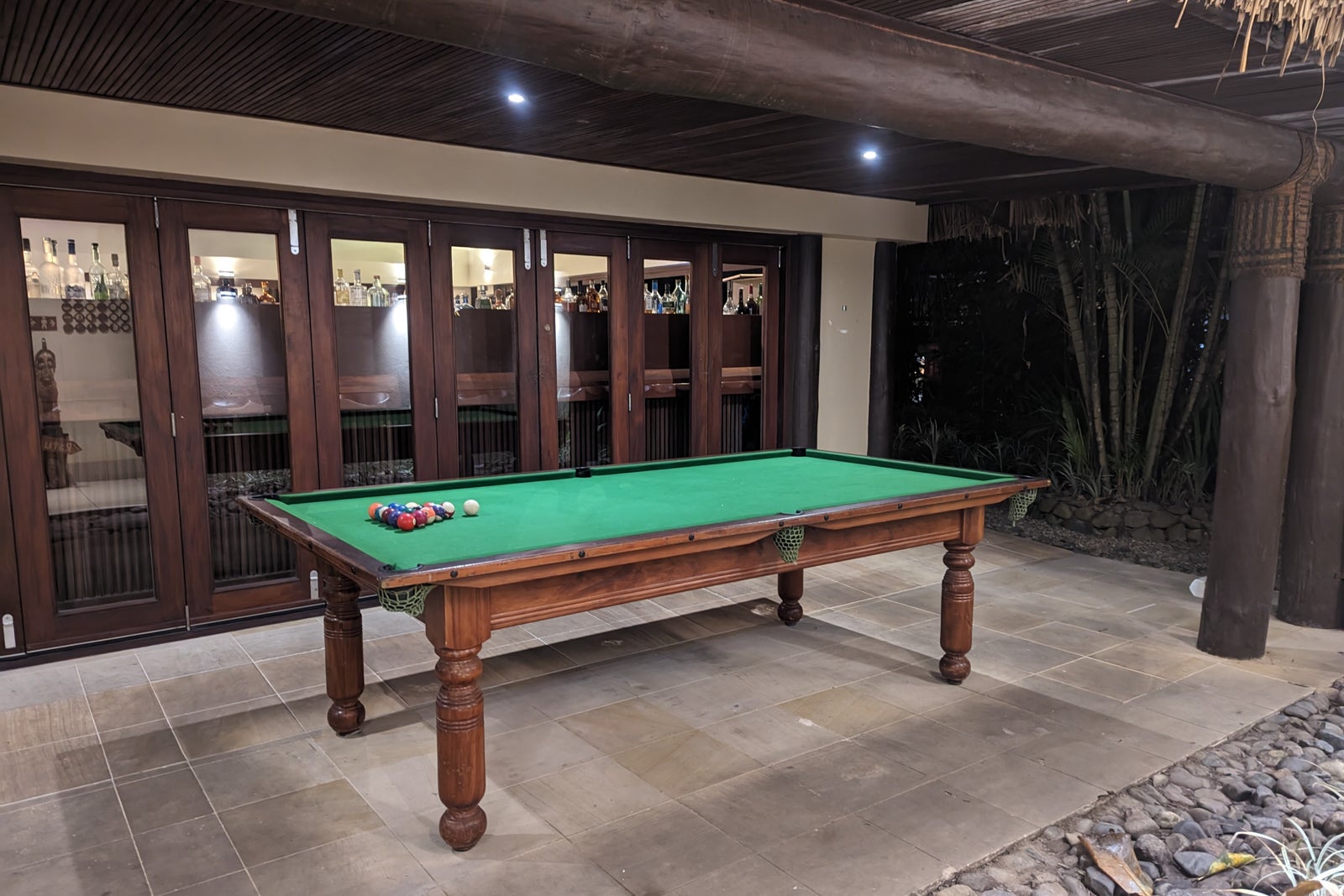 There are twice-daily happy hours, too. One happy hour is hosted at the pool bar midday with beers as cheap as 7 Fijian Dollars (about $3). The other happy hour is at the resort bar in the evening, with one specific cocktail discounted to 18 Fijian Dollars (about $8) each day. Even outside happy hour, the drink prices weren't any worse than you'll pay at a nice bar in most American cities. The same could be said for the food, especially considering the ample portions of the main courses at dinner.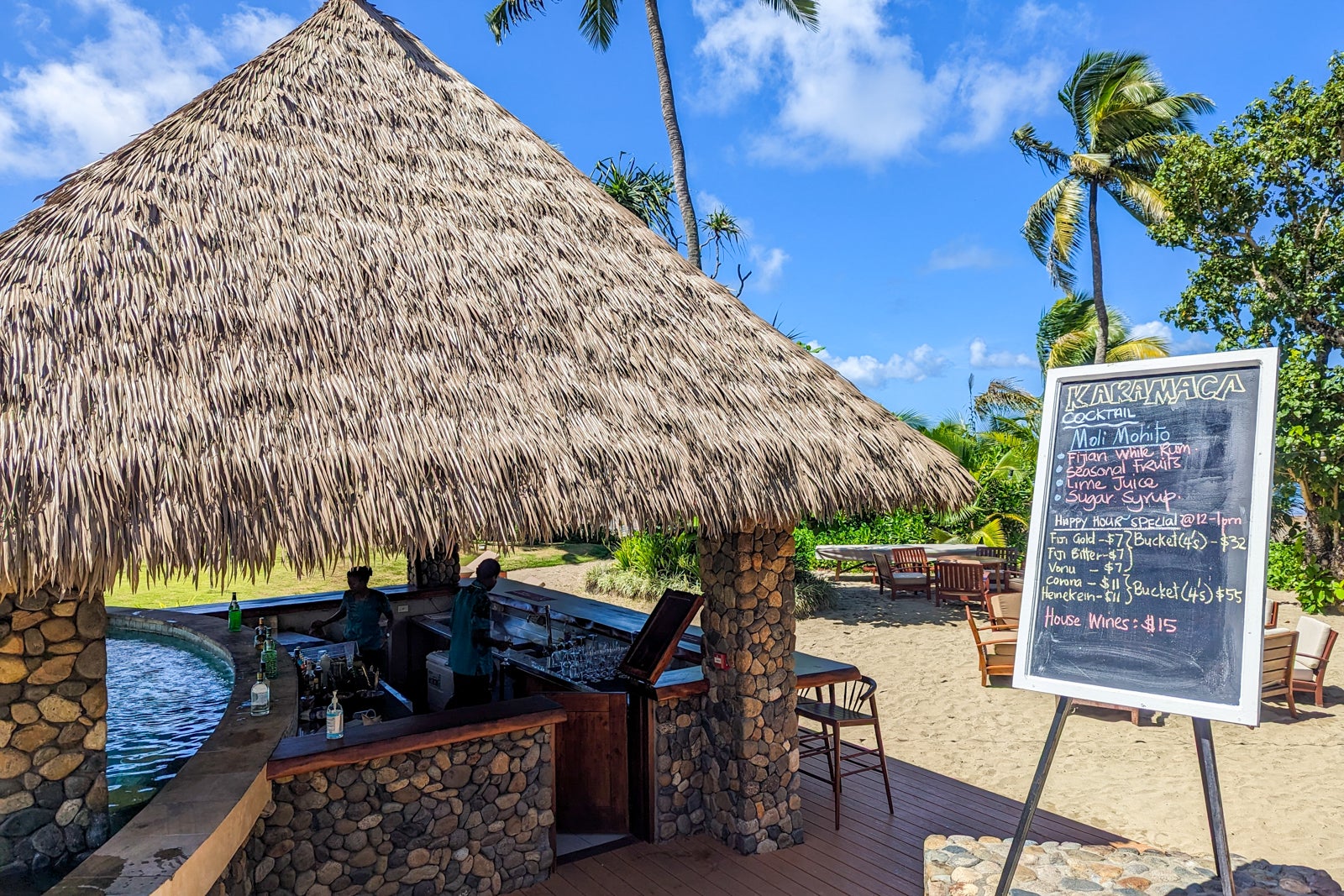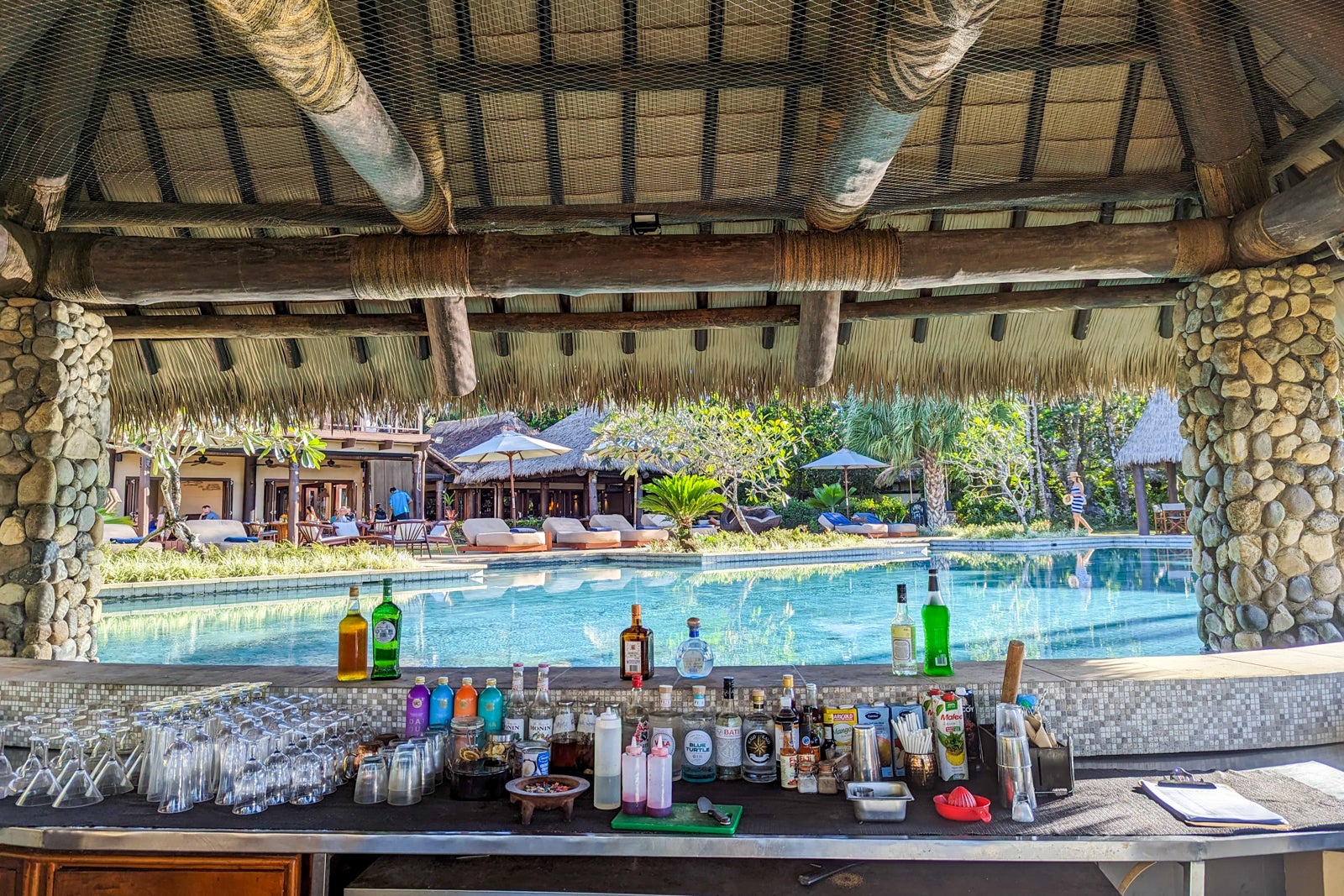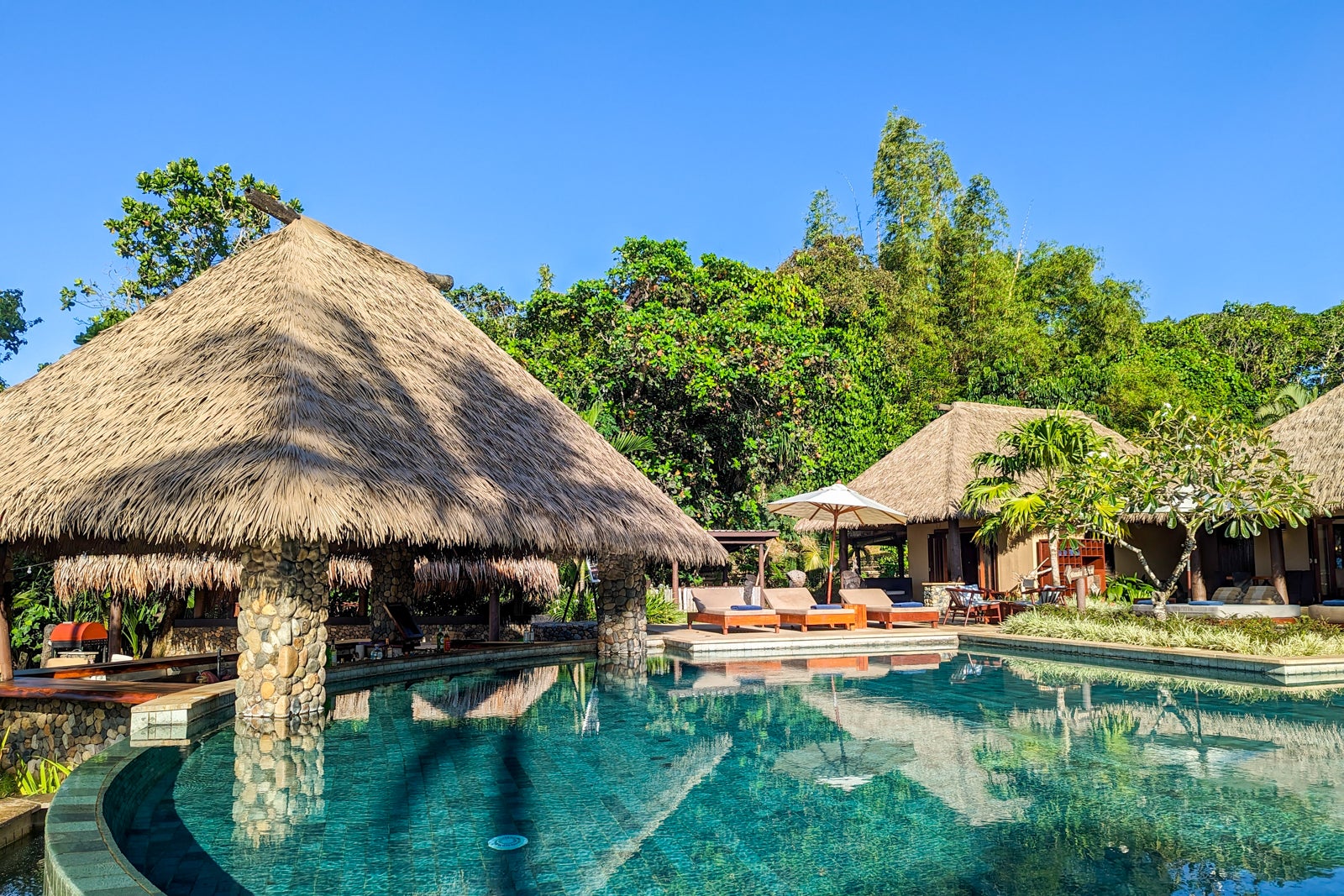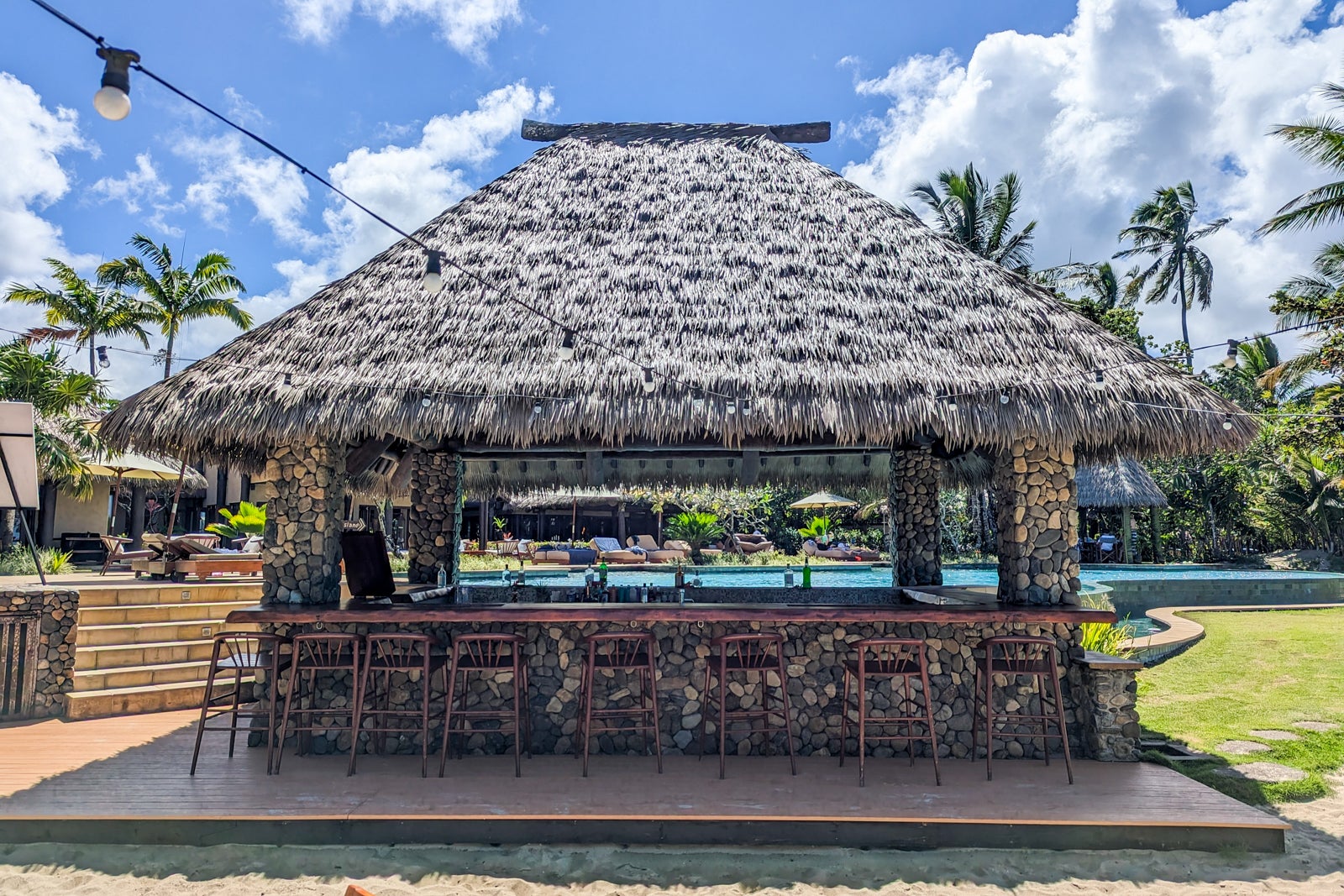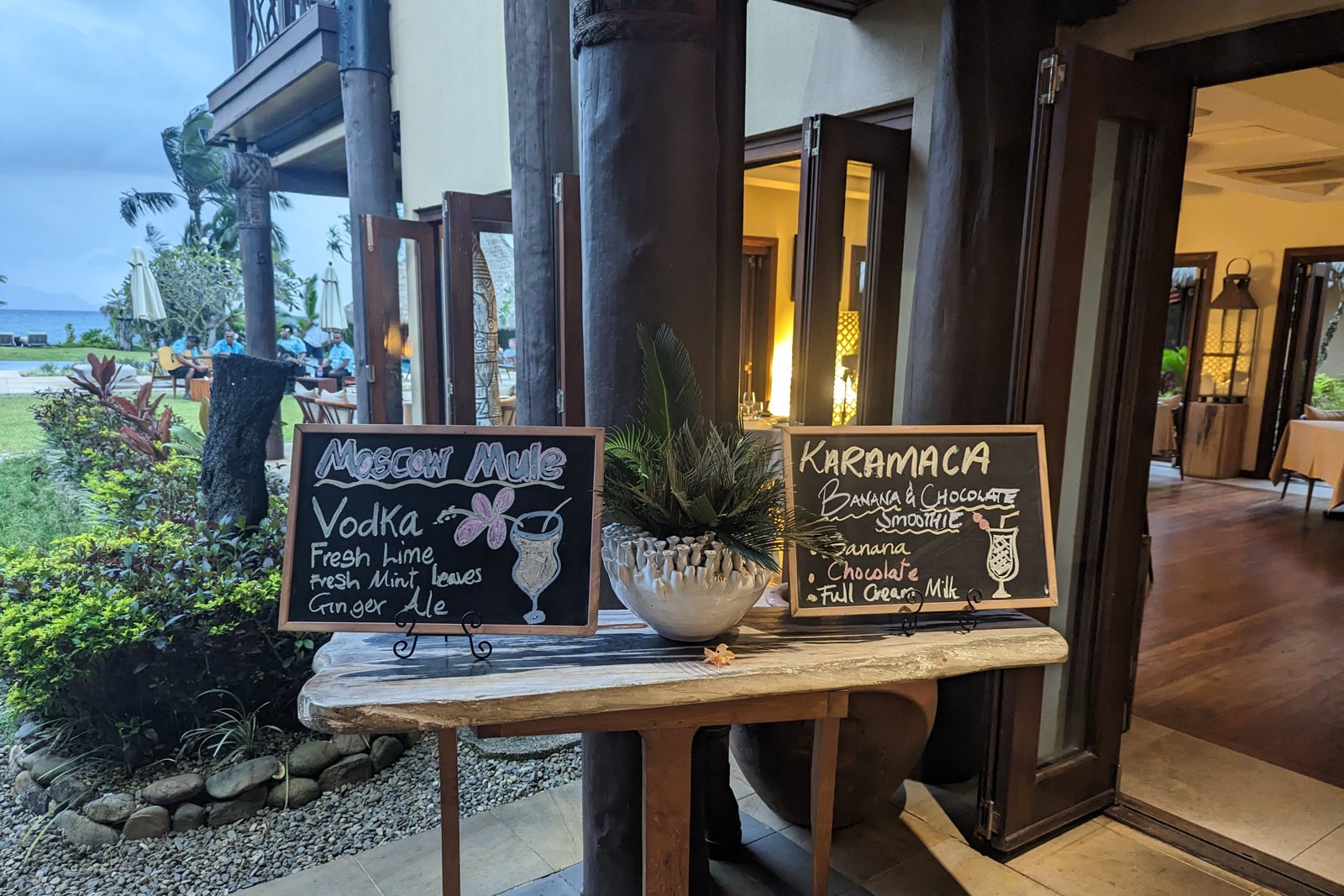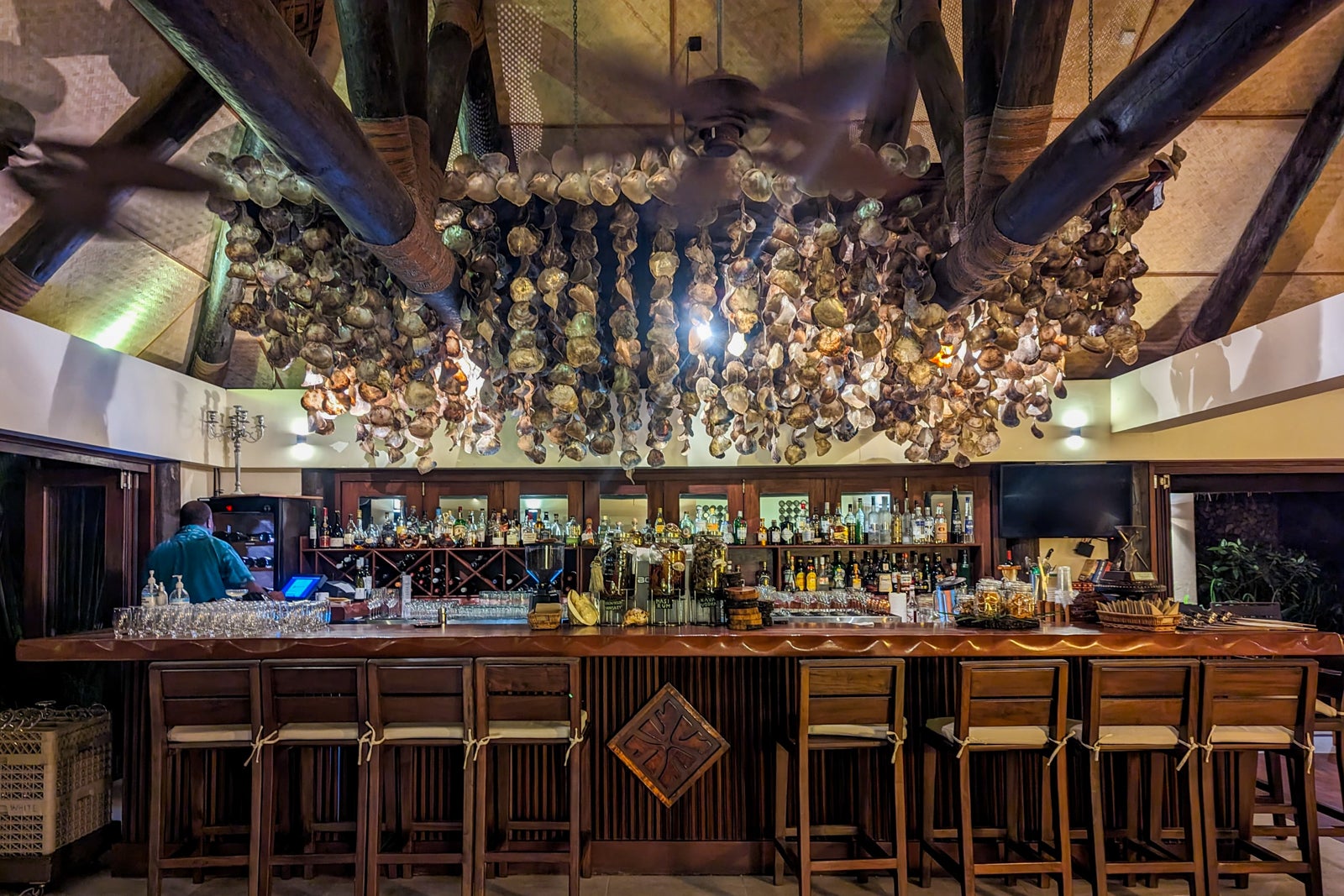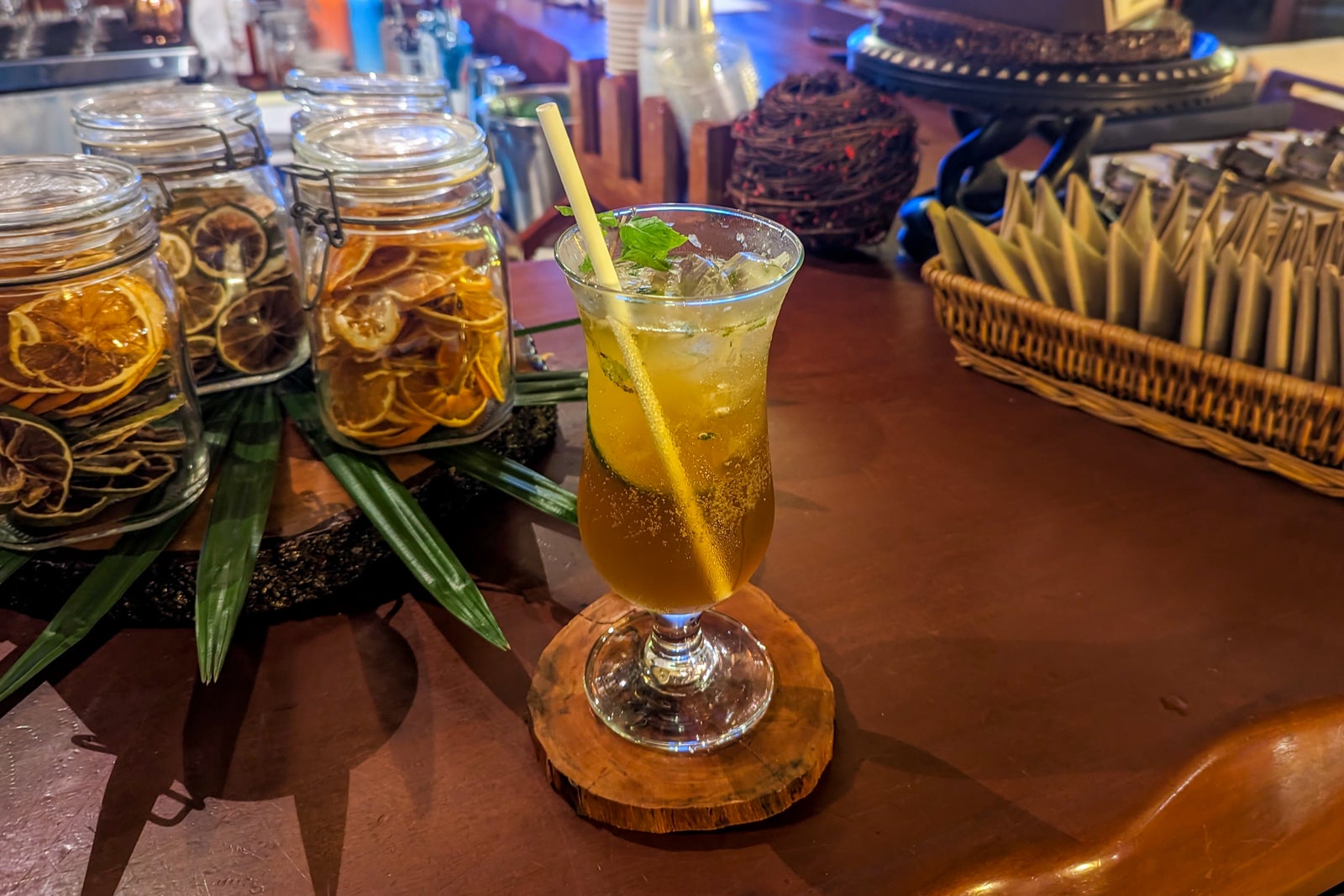 Finally, poolside massages were modestly priced at 45 Fijian Dollars (about $20) for a 30-minute neck, shoulders and scalp massage. I was happy I "splurged" on a poolside massage at that price, especially considering the quality experience and the relaxing environment.
Related: 8 amazing hotels around the world you can book with points
Aspects to consider before booking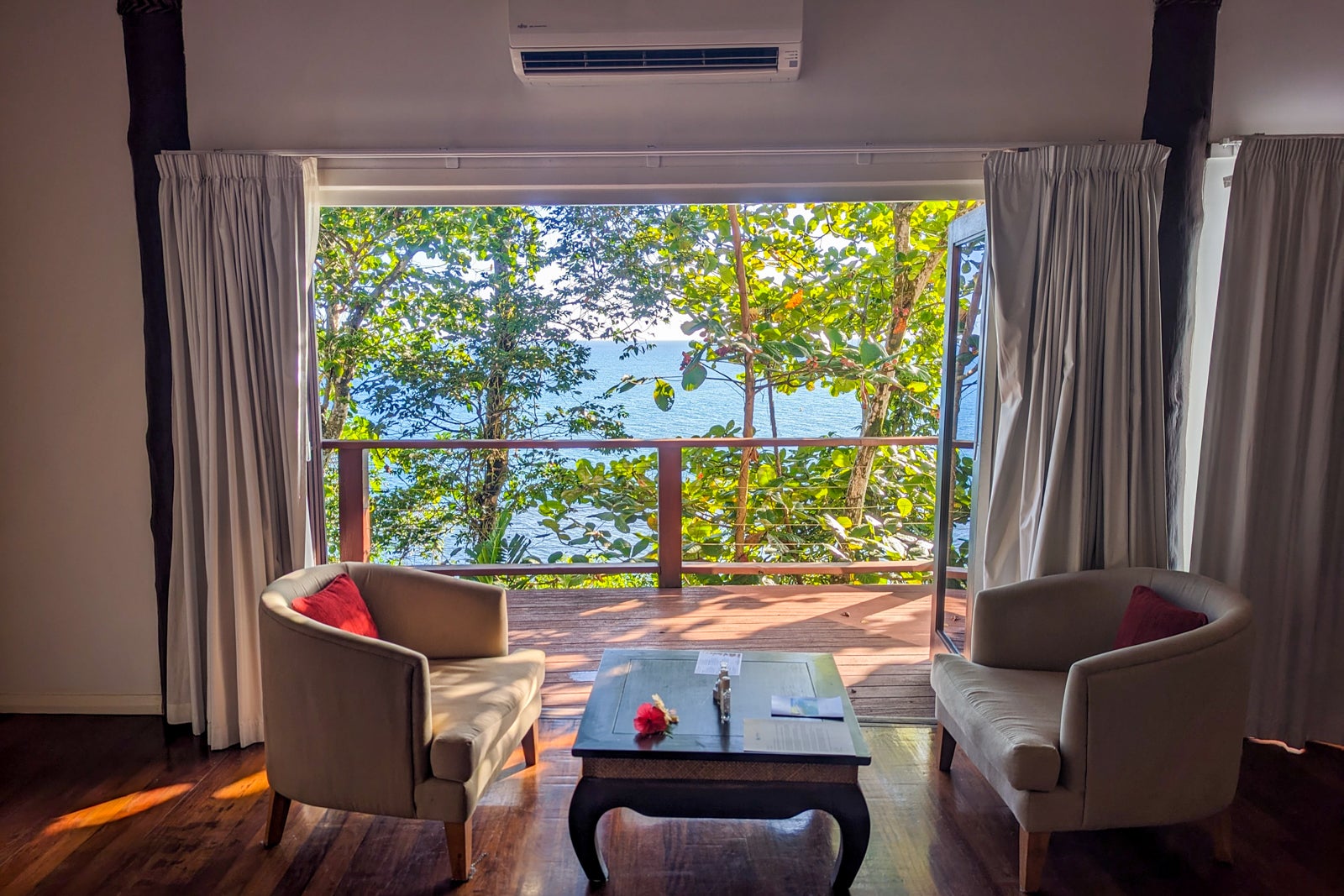 Although Nanuku was a relaxing oceanside paradise for me, it won't be a good fit for everyone. Here are some aspects to consider before booking a stay at Nanuku:
The vibe is casual, and the weather is warm, so it's not uncommon for guests to arrive to dinner with wet hair or in shorts and sandals. We also noticed children carrying a bucket of crabs they'd caught on the beach through the dining area one evening. You'll be happier elsewhere if you want a formal, classic-luxury experience.
Nanuku offers some excellent amenities to families and children. You won't feel out of place if you don't have children, but you shouldn't stay if you don't like kids or if you want an adults-only experience.
The experience at Nanuku is very much focused on nature and spending time around the pool, in the ocean or exploring the jungle, so if you're looking for other things to do, this might not be the right resort.
Remote workers should consider their internet needs. Wi-Fi is consistently available in suites, villas and residences, but it wasn't easy to connect in some other resort areas. And the Wi-Fi quality in our suite wasn't good enough to have consistent video calls; it tested at just 2.07 Mbps download, 2.08 Mbps upload and 5 ms ping.
Related: Romance is not dead: A review of On The Rocks, Hyatt's Small Luxury Hotels in Santorini, Greece
Checking out
Despite only spending two nights at Nanuku, my stay was memorable for all the best reasons. I loved how easy it was to connect with staff and learn about Fijian culture. And there were many appealing places to relax throughout the resort. The two hanging hammock chairs on the beach near the hot tub quickly became my favorite place to relax at the resort — it's a spot I've thought of many times since my stay.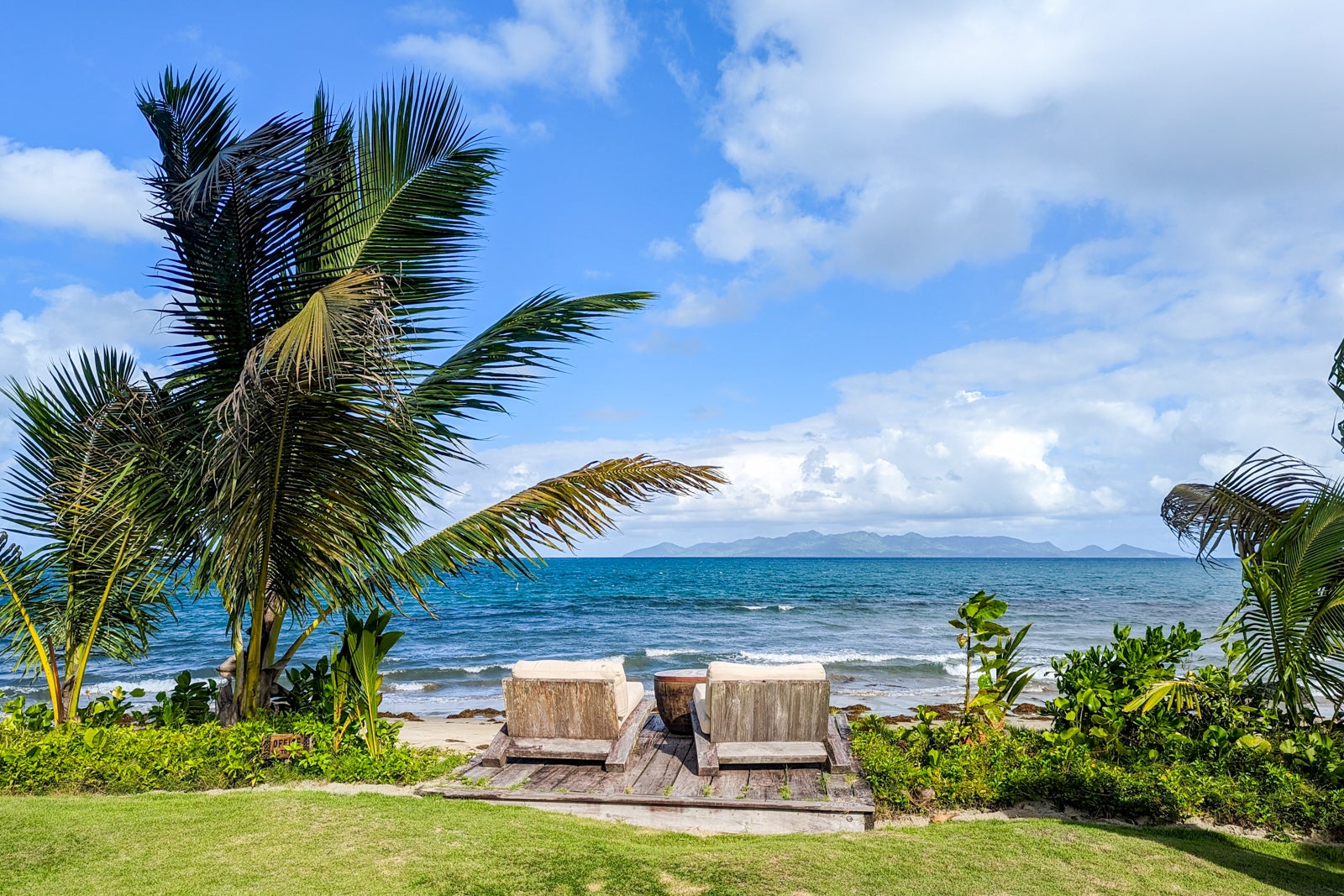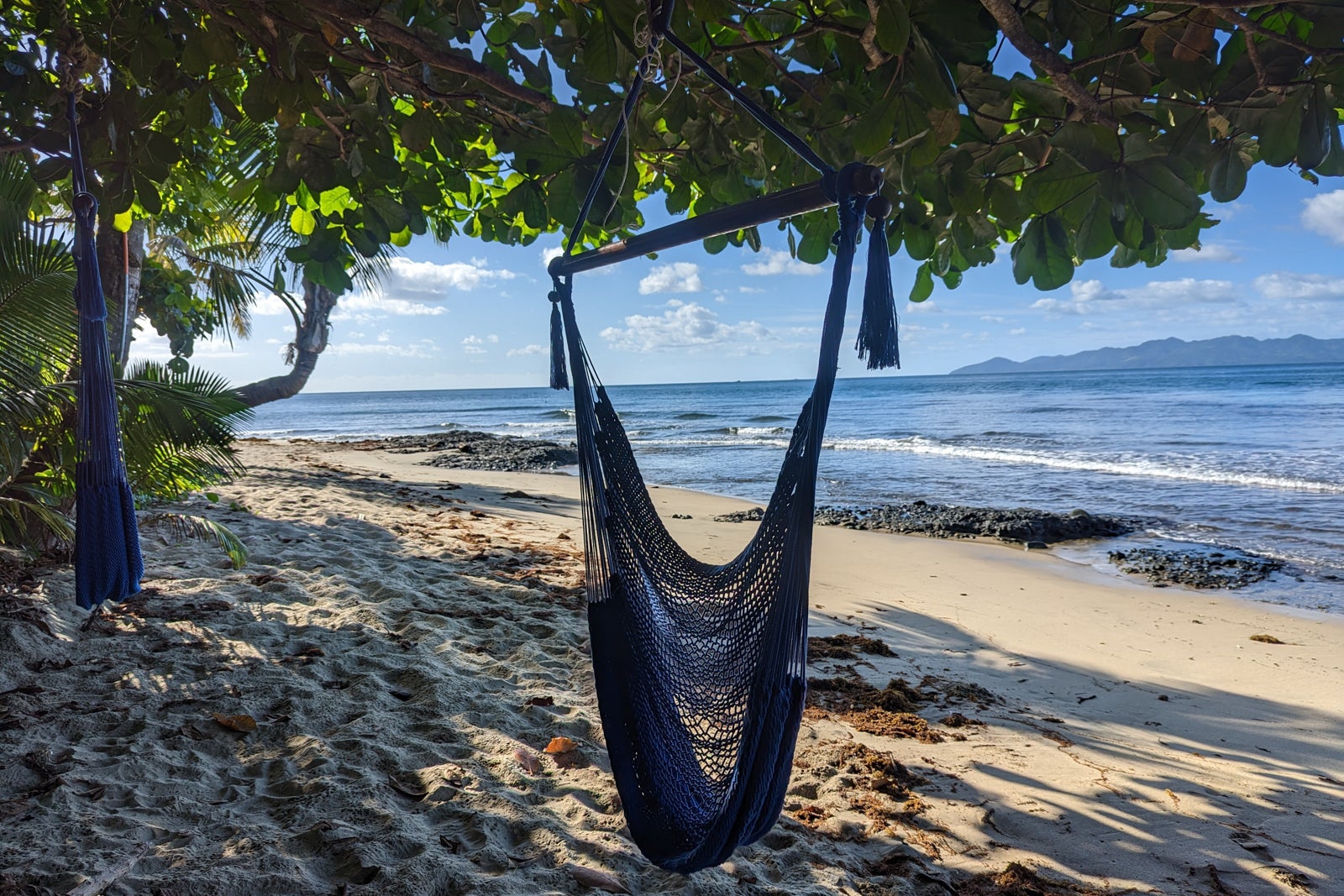 Nanuku is a Category 6 World of Hyatt property and redeeming World of Hyatt points can be a good deal considering the paid rates and the quality of the resort. That's even truer if you have children that can benefit from the nanny or buddy program. And although it's a multi-hour drive from Nadi International Airport, it's still easier and cheaper to get to Nanuku than many other resorts in Fiji that are on islands other than Viti Levu and require helicopter or small-plane flights.
Related readings: