Editor's note: This is a recurring post, regularly updated with new information and offers.
---
With its interactive maps, historical price charts and numerous filters to help you find the perfect flight, there's much to love about Google Flights.
While there are plenty of online travel agencies and flight comparison websites, there are none like Google Flights. While you can't use Google Flights to show the prices using points and miles, many features can make it worthwhile to use when redeeming your hard-earned points and miles.
Exploring routing options
One of the hardest parts of booking a long-haul flight on points and miles is figuring out all your routing options, particularly those with the least travel time. It isn't hard to figure out which airlines run nonstop flights between two cities. For example, British Airways, United Airlines and Virgin Atlantic operate nonstop flights between San Francisco International Airport (SFO) and London's Heathrow Airport (LHR).
But what if you're flying to Bangkok's Suvarnabhumi Airport (BKK) instead? With no nonstop options, Google Flights can help you quickly find one-stop routings.
In this example, the site found more than 80 one-stop options: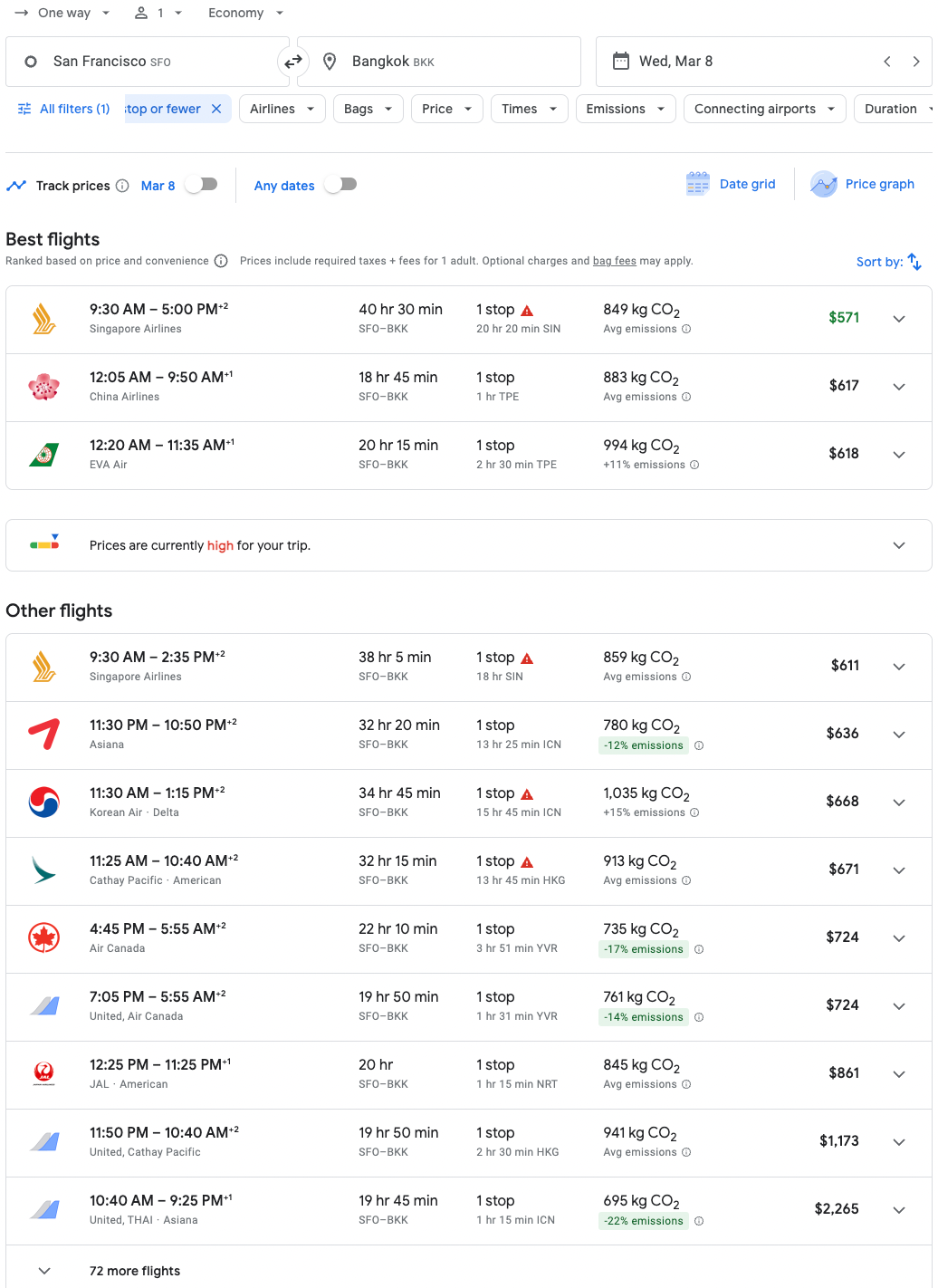 You might discover new routing options to help you look for award space. For example, in this search, Google Flights shows that Air Canada operates a flight directly from Vancouver International Airport (YVR) to Bangkok. Assuming there's award space, that could be an ideal way to travel to Thailand using Air Canada's Aeroplan sweet spots.
Related: Did your credit card points just get more valuable? Air Canada and Emirates expand partnership
Filtering by alliance
If you have points and miles with an airline member of Star Alliance, Oneworld or SkyTeam, you can generally use your loyalty account to book award travel on partner airlines.
With so many partner airlines, it can be difficult to track them all. But don't worry: Google Flights has you covered.
Say I want to redeem my United miles to fly to Bangkok on Star Alliance. Sticking with Star Alliance, I'll receive my Star Alliance Gold benefits, such as business-class lounge access on any member carrier. Click "Airlines" at the top and select your desired alliance: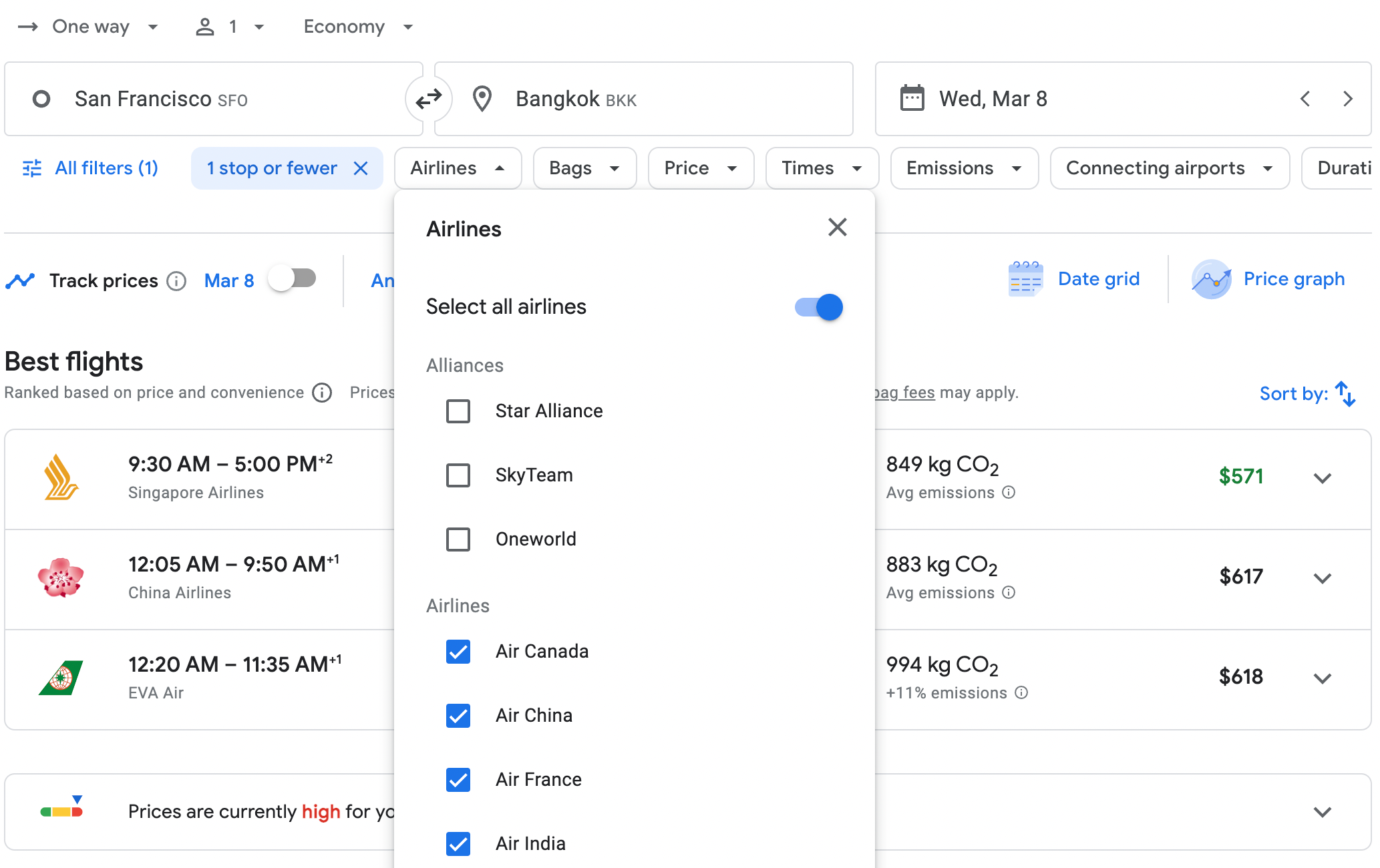 Your results are then filtered to only display carriers in that alliance, allowing you to hone in on the exact flights you want. In this case, Google Flights provided me with the four best Star Alliance matches from SFO to BKK (considering facts and convenience). A different Star Alliance carrier operates each flight. I can also change the order of the flights to show the lowest price, earliest departure/arrival times, and most minimal travel times and emissions.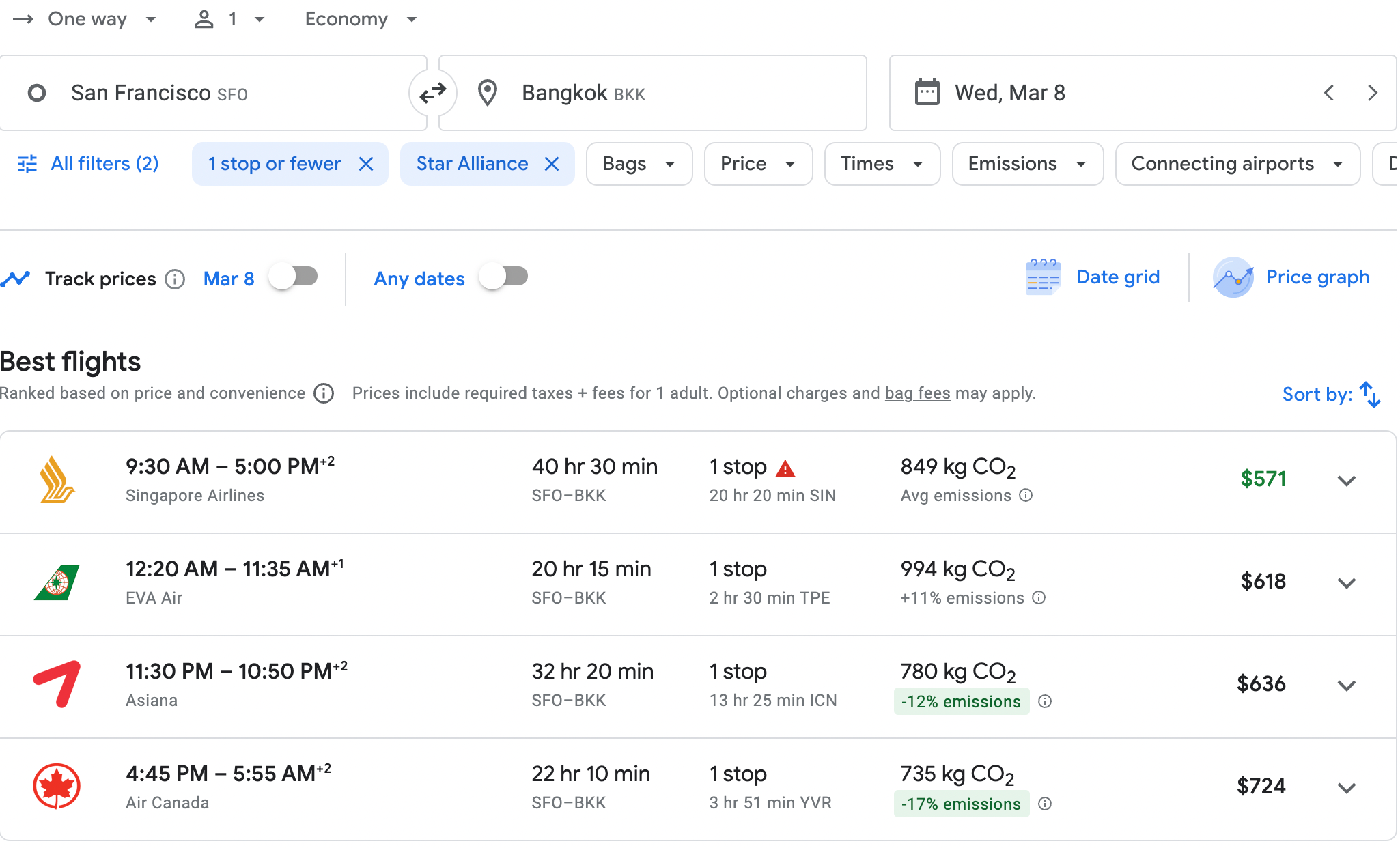 For additional tips on leveraging these programs, check out the following guides:
Related: After 10 years, nonstop service between North America and Thailand will resume
Comparing prices
While each of us has different criteria when deciding whether to use miles, Google Flights can help compare cash and award prices.
For example, in the search above from San Francisco to Bangkok, which has a Singapore Airlines flight for $571, I would probably opt to save my miles for another use when cash prices are higher. To book this flight, I'd consider using fixed-value rewards. After all, with the Chase Sapphire Reserve, I could book this flight for 38,000 Chase Ultimate Rewards points and likely earn Premier qualifying points to help me qualify for United Premier status next year.
Even if you're not looking to use your points and miles, starting your search with Google Flights still makes sense. Sometimes when booking a round-trip flight, it's cheaper to book two separate one-way tickets, even on two different airlines. While not every online travel agency provides this option, Google Flights shows you the lowest price and identifies that you're booking separate tickets.

Related: Maximize your airfare: The best credit cards for booking flights
Showing alternate airports
You'll want to be well informed about your options when searching for award space. That includes knowing about all the nearby airports.
When you initially search, you can select a city instead of a specific airport, so the results will include all applicable airports in the metropolitan area:

Many travelers are willing to make plans depending on award space, so the difference between flying into, say, Fort Lauderdale-Hollywood International Airport (FLL) instead of Miami International Airport (MIA) is insignificant. The same holds true for other cities with multiple airports, such as Heathrow and London Gatwick Airport (LGW). Google Flights will show flight itineraries to nearby airports.
Related: No major airport near you? Here's how expert travelers still get amazing flight deals
Inspiring your next trip
You can leave the destination box empty if you need inspiration for your next award trip. Google Flights will display a map with prices from your origin city to various domestic and international destinations. You can drag the map to see other parts of the world and apply filters to find flights that work for you. Looking for a nonstop flight that leaves after work in the next six months? You can adjust your filters accordingly to provide an incredibly customized search.
This map can also show all the nonstop flights available from your home airport. Here's a search with the cheapest nonstop flights from Denver International Airport (DEN) that include at least one carry-on bag.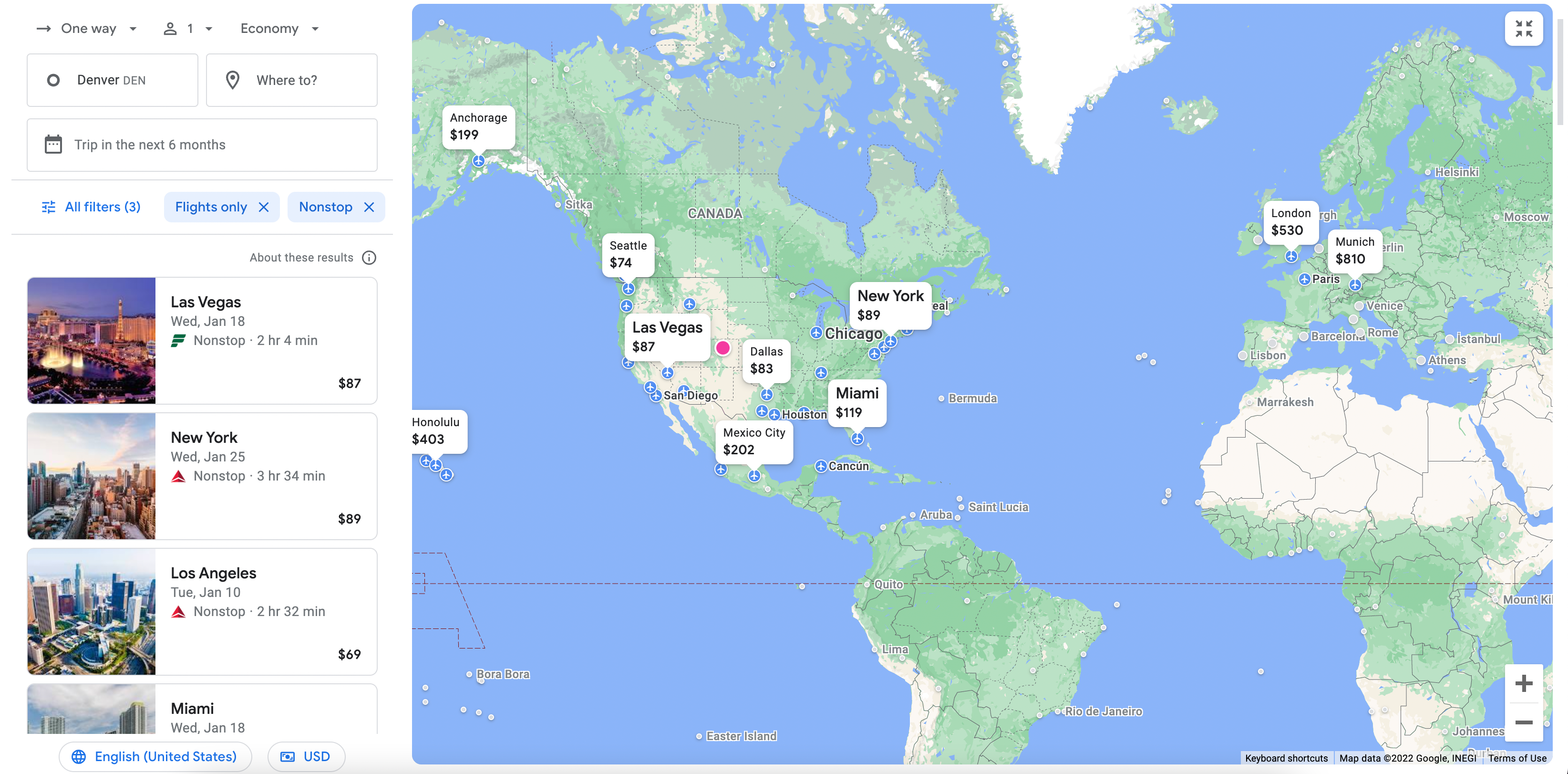 Of course, this doesn't mean these flights are available as awards, but Google Flights can be a great jumping-off point to see where you can travel from a given airport or city if your final destination is flexible.
Related: 9 awesome features you might not know about Google Flights
Additional filters
These search features come in addition to Google Flights' excellent additional filters, which let you customize your search pretty much however you want. You can filter by the number of stops, airlines, bags, prices, times, emissions and much more.

I also love the calendar view, which quickly shows you a two-month snapshot of prices based on the search criteria you've already selected. In this calendar, you can see the prices for the various filters I added: a nonstop flight from SFO to Newark Liberty International Airport (EWR) on United that includes one carry-on bag (i.e., not basic economy).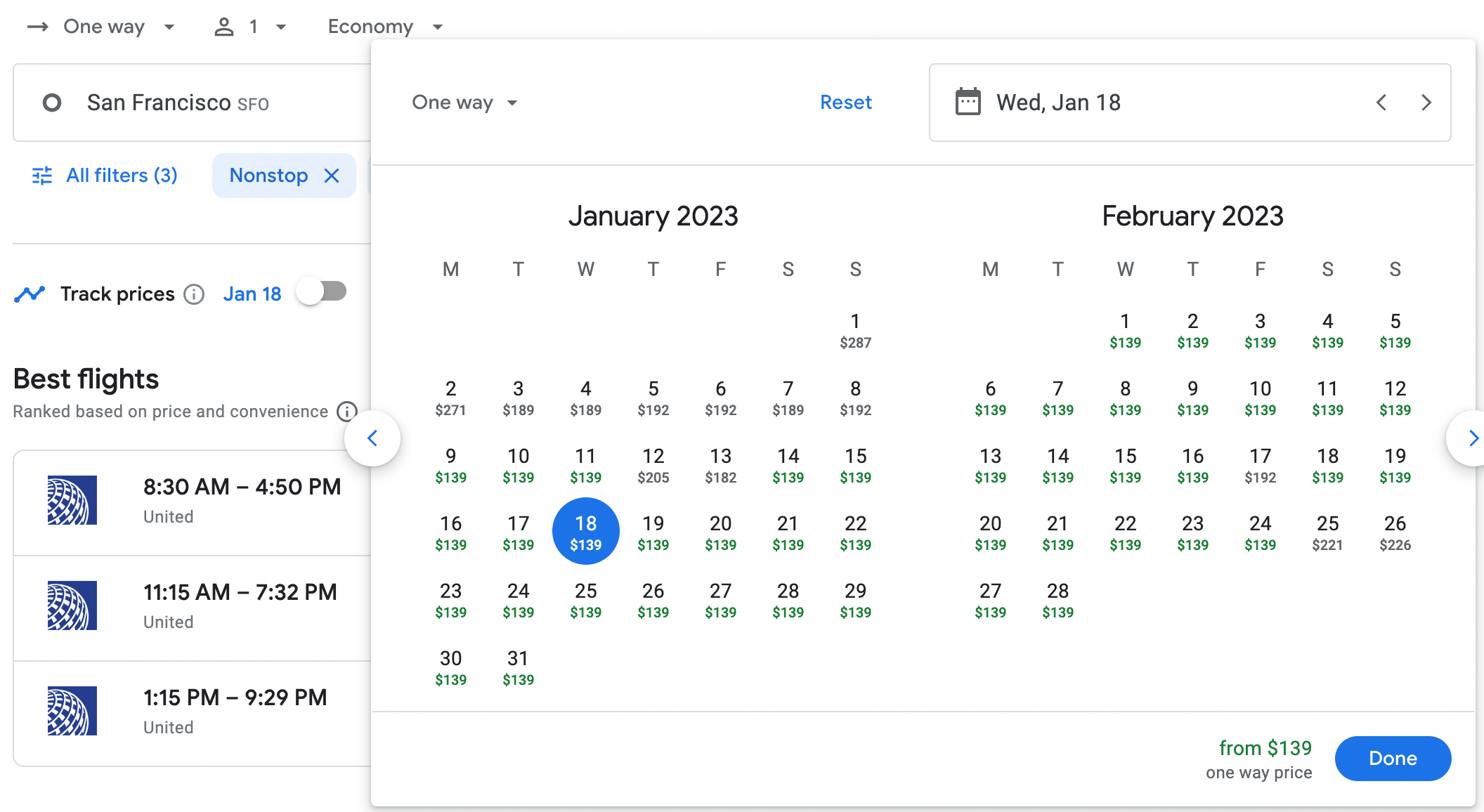 Related: United Airlines orders up to 200 Boeing 787s, setting stage for widebody fleet renewal
2 important notes
While Google Flights is a fantastic way to quickly see flight options, there are two very important things to keep in mind.
Google Flights is not an OTA
While Google Flights knows more about flight prices than any other site on the internet, it's not an online travel agency through which you can purchase airfare. Instead, once you've found the flight you want, Google Flights will compare prices for you and help you find the cheapest option — whether with an actual OTA or through a direct airline booking.
In this example, if you started your search with Expedia, you might be paying almost $50 more than necessary.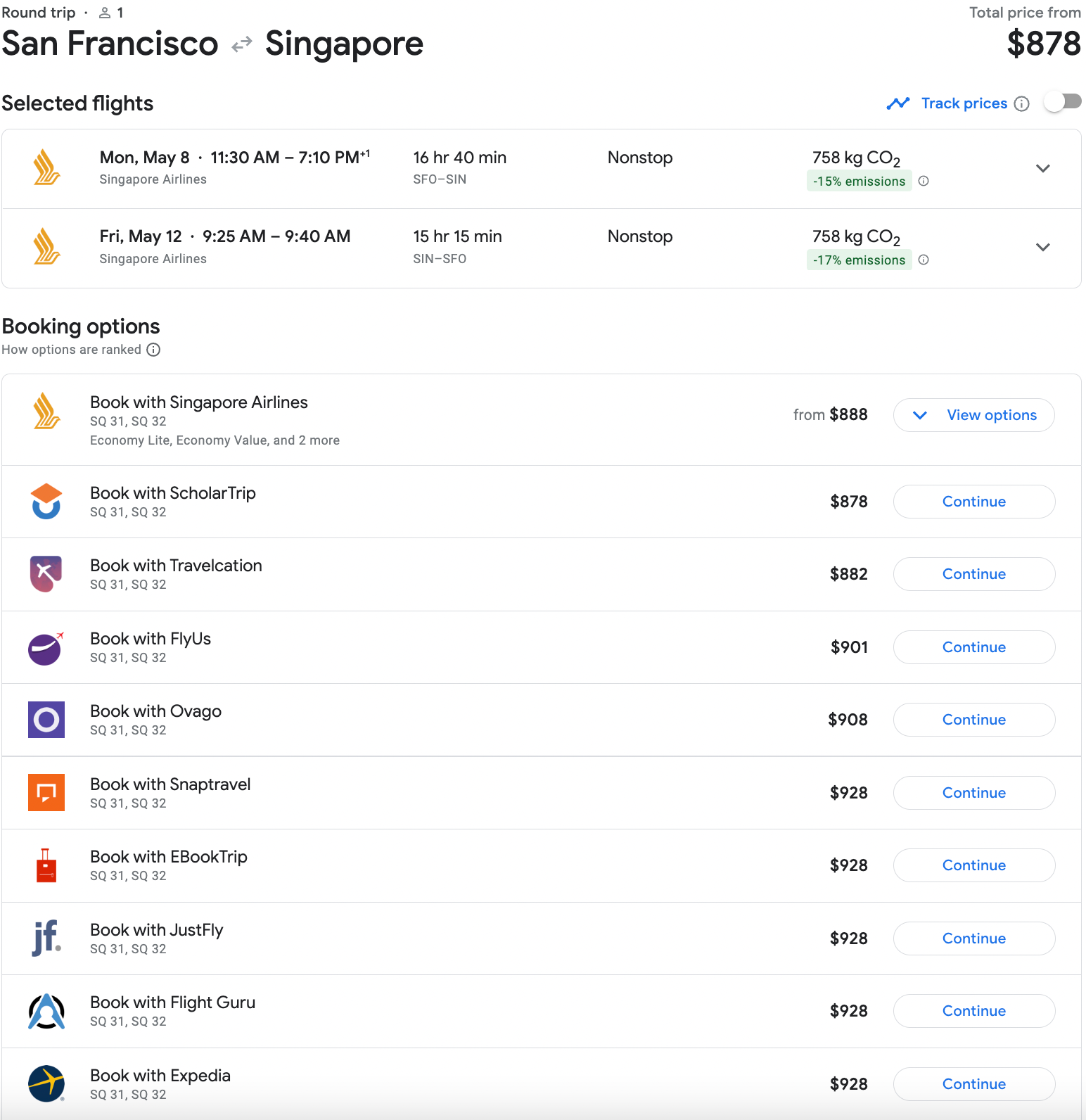 In many ways, it's ideal that Google Flights isn't an OTA. Often, it's cheaper to book directly with the airline.
By booking directly with the airline, you're guaranteed to earn your credit card bonus points if you're paying with a card like The Platinum Card® from American Express or the American Express® Gold Card (since these bonuses are only awarded on flights booked directly with the airline). It'll also ensure that your flight won't code as a special fare or bulk fare that would be ineligible for mileage accrual and may not count toward elite status qualification.
Google Flights doesn't display award space
In addition to not allowing you to pay for flights, the site has nothing to do with award availability. Just because you find a flight or an itinerary on Google Flights doesn't guarantee that it's available using points or miles. It depends on whether the operating carrier (or carriers) have opened award seats on the flight(s). For that step in the booking process, you'll need to search on a specific airline's website or use a service like ExpertFlyer (owned by TPG's parent company, Red Ventures).
For some tips on the best ways to find award availability, check out the following posts:
Related: What are points and miles worth? TPG's December 2022 monthly valuations
Bottom line
Google Flights has grown to be a much-appreciated tool for many travelers. Simply put, I haven't seen another website that provides the degree of intuitive customization that Google Flights provides.
Whether you're looking for routing options, cheap paid flights or available backup itineraries in the event of delays, Google Flights' massive data sets and intuitive user interface make it a go-to tool for most of your flight needs.
Additional reporting by Ethan Steinberg.