Well over 30,000 flights in the U.S. have been delayed or canceled this week already, with some of the busiest travel days for the Fourth of July holiday still to come.
United Airlines has been among the hardest hit among the mainline airlines, with 12.6% of its flights canceled between Saturday and Monday, according to archived FlightAware data — 1,019 flights — and an even worse situation as the week has gone on. Tuesday saw 785 canceled flights (26%), while by 5:30 p.m. ET on Wednesday, United had cut 508 flights, or 18% of its schedule.
While JetBlue has struggled as well, with significant delays and 174 canceled flights Tuesday (16%) and 92 flights canceled (9%) at publication time Wednesday.
American and Delta have fared better in recent days, with cancellations in the 1-5% range in recent days, although Delta canceled 465 mainline flights between Sunday and Monday, a total of 6.9%.
Why is this happening?
That's the question on the minds of many of the hundreds of thousands of travelers who have experienced disruptions since Saturday.
Just when it seemed that the disruptions would start to subside, on Wednesday, cancellations and delays began to inch up again. As of Wednesday evening, the U.S. had close to 7,800 delays and over 2,200 cancellations, according to flight-tracking site FlightAware.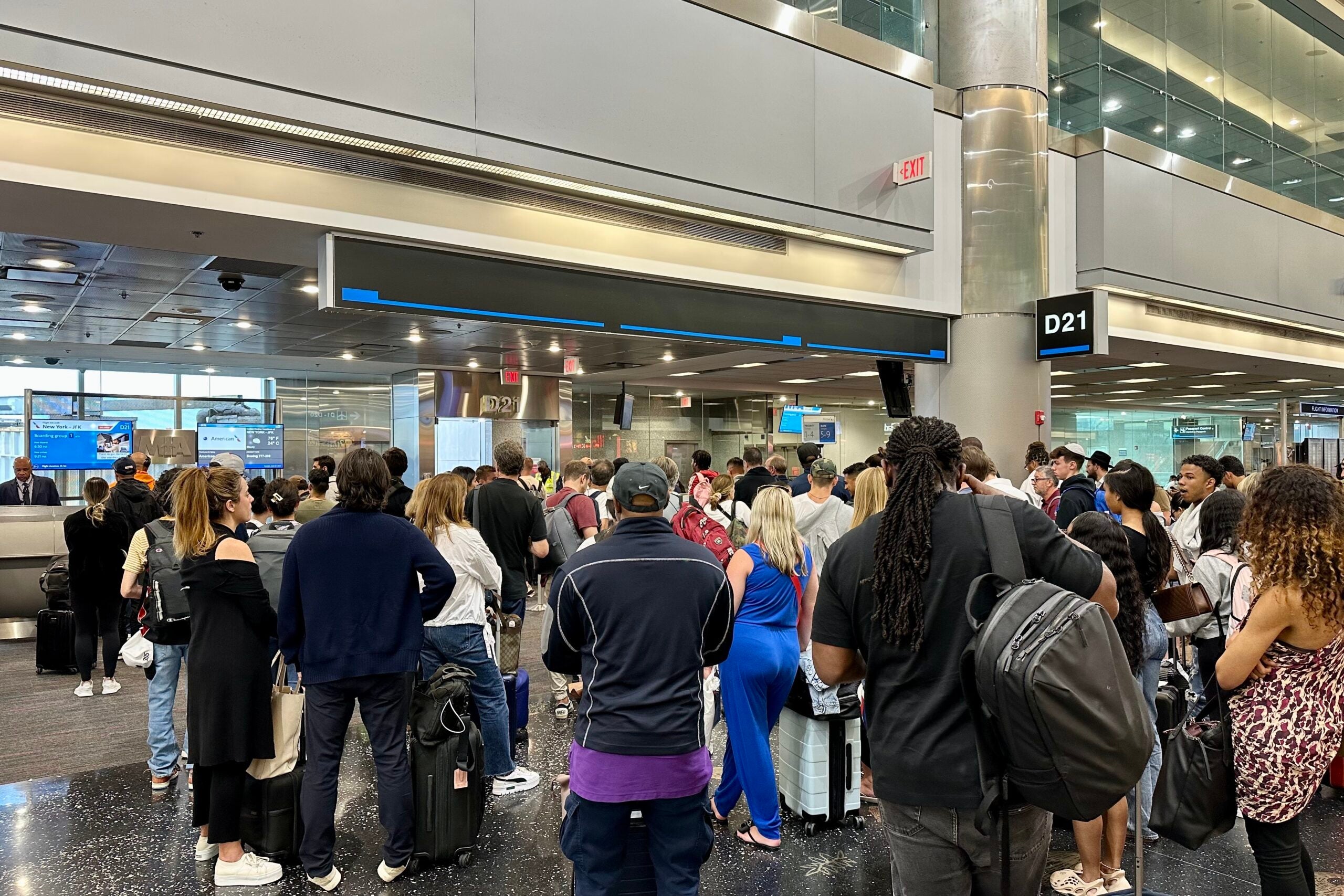 Despite how it might feel to passengers stuck on the ground trying to rebook after multiple cancellations, this time, it isn't a systemic meltdown at any one carrier.
Instead, it's the culmination of several things: staffing issues, congested airspace and regular pop-up summer thunderstorms that have conspired to knock flights off schedule across the eastern U.S. Mix in full flights, and the airlines have few backup options to offer affected passengers.
Problems started Saturday with storms
These flight disruption problems began Saturday when storms fired up throughout the Midwest and along the U.S. East Coast.
Storms are commonplace in the summer, but they're often harder to predict than the snowstorms that can snarl operations in the winter. Plus, when storms fire up in long lines, they can stretch for hundreds of miles — blocking flight paths and reducing takeoff and landing rates at multiple busy airports at one time.
And that's what happened during the weekend and leading into this week. Tuesday was especially bad, with long lines of storms across the east creating a "gridlock" of sorts at LaGuardia Airport (LGA) as flight paths to the west and south were largely blocked.
Coupled with ongoing shortages of air traffic controllers, the situation hit critical mass.
FAA shortages (and an outage) then made things worse
The Federal Aviation Administration had already warned about possible flight disruptions in the congested New York City airspace this summer as flight schedules have surged closer to pre-pandemic levels.
Then, on Monday, United CEO Scott Kirby blasted the FAA for not being ready for regular summer thunderstorms that snarled flights at United's hub at Newark Liberty International Airport (EWR) and elsewhere across the Northeast.
In a memo obtained by TPG, Kirby said, "the weather we saw in EWR is something that the FAA has historically been able to manage without a severe impact on our operations and customers."
Kirby said that the FAA reduced flight arrival rates at Newark by 40% and departures by 75% — a reduction in capacity there that threw the airport's operation into chaos that's been further exacerbated by the ongoing stormy weather.
Staffing shortages and renewed conversations on the FAA's aging technology came to the forefront this year after the agency issued a rare nationwide ground stop in January because of a computer outage. Before January, the last time the FAA issued a nationwide ground stop was during the Sept. 11, 2001, attacks.
During this past week of disruptions, an overheated cable at an FAA facility in Virginia further delayed flights out of the Washington, D.C., area Sunday, making matters worse.
Travel industry analyst Henry Harteveldt said the agency has struggled to market careers in air traffic control to younger generations, presenting a major thorn to the airline industry, which has been facing pressure to recover swiftly in time for summer travel.
"Becoming an air traffic controller is just not a career that enough young people think about as an option as they start to consider professions," he said.
Another issue facing the FAA has been its funding. Many in the airline industry have repeatedly voiced concerns about the FAA's funding, with some saying that airlines cannot be expected to operate at 2019 levels if the FAA doesn't update its infrastructure.
"The appropriations that are granted are rarely what the agency asks for," Harteveldt said. "In addition to paying the salaries of its air traffic controllers, the FAA has to continue investing in the so-called Nextgen, or the next-generation air traffic control system, back-end systems and more."
Beyond the FAA, staffing issues within airlines also presented problems.
Airline crew schedules are stretched at United
Multiple outlets reported that at United Airlines — the carrier that's been the most affected by the disruptions due to its big hub at Newark — flight crew scheduling took over three hours, leaving many crew members waiting for assignments. United is now offering triple pay to flight attendants who work more flights through July 6, according to CNBC.
United's chapter of Association of Flight Attendants-CWA, the union that brought attention to this issue, pointed to two public memos issued to its members offering flight attendants advice on managing their schedules and reminding them of the airline's incentives for voluntarily picking up extra trips.
The union cited "the unacceptability of the current state of the airline" in the memos, using typically advocatory language," but it nevertheless noted that the series of events leading to the cancellations were, in effect, a perfect storm.
"While we continue to press management to do all possible in accommodating Flight Attendants' return to base, we also recognize that the weather events preventing the challenges are, in some cases, unexpected and beyond the company's control," the AFA wrote.
Two United insiders who spoke with TPG on the condition of being kept anonymous described the airline's struggles as being like "death by 1,000 cuts." Normally minor or common operational issues at several hubs — but primarily Newark — aligned to make the airline's recovery from the storms and the air traffic control shortages even more difficult, they said.
Despite the ongoing problems on Wednesday, United said things were starting to turn around and expects to make a full recovery before the July 4 weekend.
"It's all-hands-on-deck as our pilots get aircraft moving, contact center teams work overtime to take care of our customers, and our airport customer service staff works tirelessly to deliver bags and board flights," the Chicago-based carrier said in a statement. The airline did not immediately address questions asked by TPG regarding the outsized impact on its operations compared to other carriers in the New York area.
United added that it was able to cancel fewer seats on Wednesday compared to previous days and reduced its baggage backlog at Newark by 30%.
When will airlines catch up?
The good news is that travelers in the New York City area may soon receive a break from the travel chaos as Thursday and Friday are expected to have clearer weather. However, with Thursday and Friday forecast to be some of the busiest days to fly this summer, there aren't a ton of available seats on flights for those who are still dealing with disruptions from the last few days.
On top of that, rain is expected to wash over the New York City area this weekend, and it's unclear if that will present problems for the July 4 travel period.
In short, while the hope is that most flights will happen as planned Thursday and Friday, it may take a little longer than that for everyone to get where they want to be.
Related reading:
Additional reporting by David Slotnick