Editor's note: This is a recurring post, regularly updated with new information.
---
One of the biggest choices you have to make once you decide to go to the Happiest Place on Earth (aka Disneyland) is where to stay while in Anaheim, California. There are a few options on Disney property where you can hang your hat, but there are several others situated not that much farther away that are also worth considering. As such, deciding on the best hotel for a Disneyland vacation for you and your family may not be easy to do simply because of the number of options.
If you're struggling to figure out where to stay near Disneyland, know that you're not alone. Along with park tickets, lodging is one of the most significant costs of any Disney vacation, so it's important to find the right balance between price, perks and location. Should you want to use your hotel or credit card points to defray part of the cost of a Disneyland trip, you'll also need to consider the value of your stay when narrowing down your options.
When visiting Disneyland, does it make the most sense to stay at an on-property hotel owned by Disney? Or, should you stay at an off-property hotel, whether it's independently owned or tied to a particular brand?
After dozens of Disneyland stays with my family, both on- and off-site, we've learned a few lessons about where to find value and what perks matter most to families. Here are the key differences between on- and off-property hotels — and which are the top options to consider.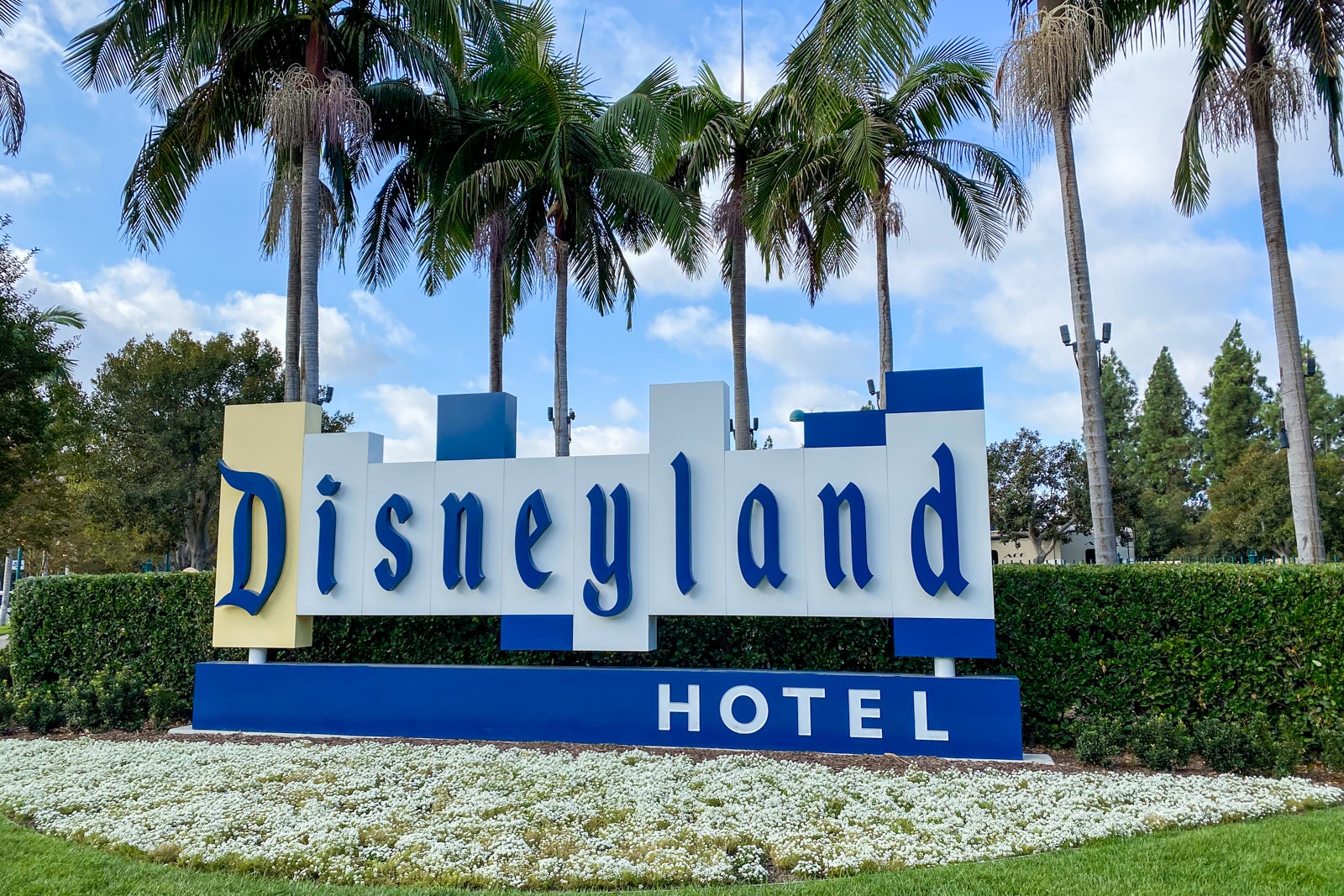 Related: Skip the lines at Disneyland: 9 line-busting tips for less waiting and more playing
Staying on- vs. off-property at Disneyland
How do you know whether an on- or off-property Disneyland hotel is right for you?
For families already familiar with the hotel options at Walt Disney World, it's important to understand the major Disneyland differences. In short, staying on or off property at Disneyland presents a very different lodging calculus than you'll deal with when visiting Walt Disney World.
While I almost always prefer to stay on-site at Walt Disney World because of the included perks and proximity to the parks, I usually stay off-site during my Disneyland vacations. There are some perks to staying at a Disneyland resort hotel, but the value of those benefits doesn't always match the price increase.
Why? To start, Disneyland's footprint is substantially smaller, meaning many of the off-property hotels are just as close to the parks as the on-property ones. There are literally dozens of hotels within walking distance of the Disneyland gates, so you don't have to sacrifice location or sign yourself up for extra transit when staying in a non-Disney-operated hotel.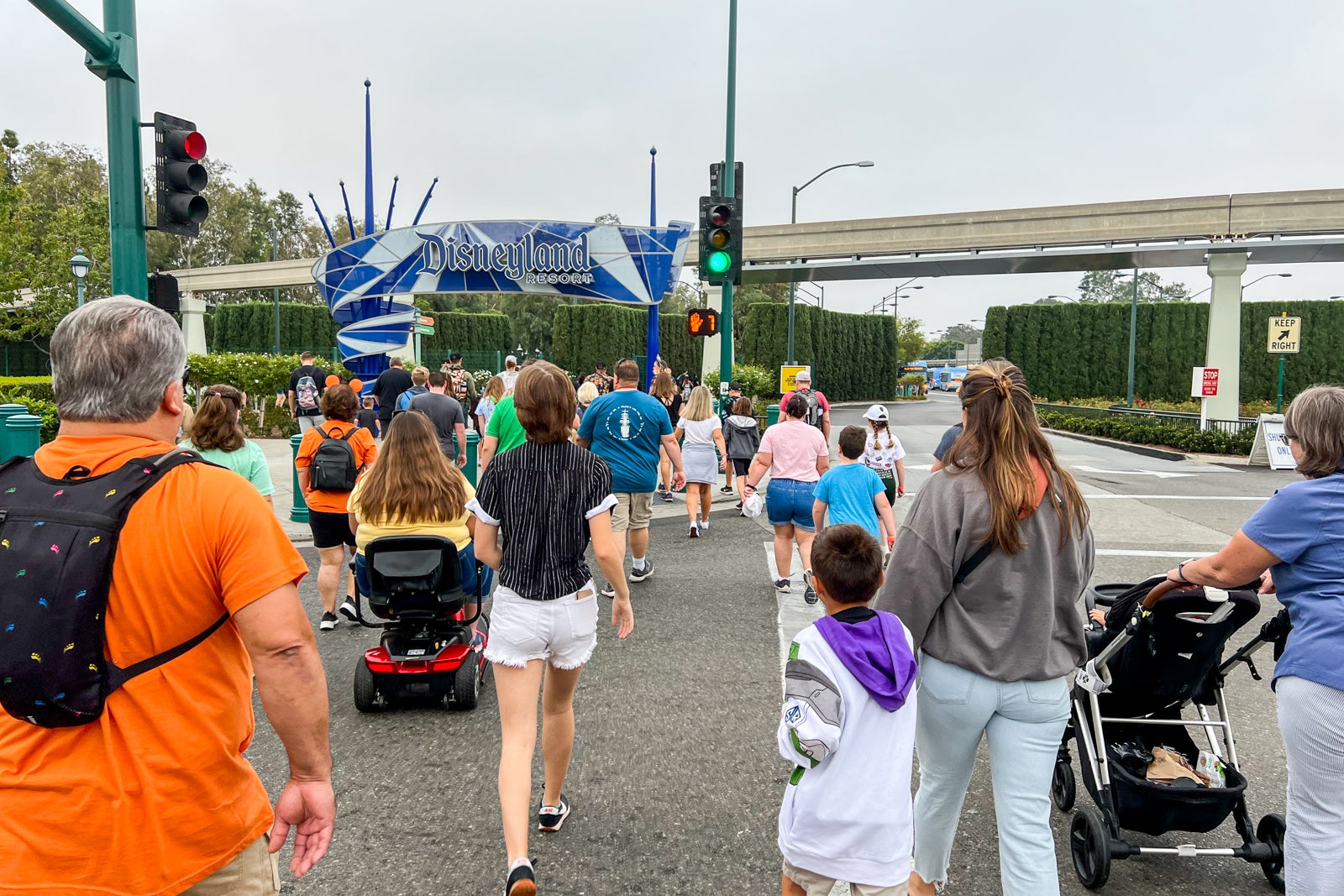 Additionally, there are traditionally fewer perks available to on-property guests at Disneyland than there are for those staying at Disney World-owned properties. Functionally, the biggest advantage right now is that those at Disneyland hotels can get into the parks 30 minutes early each morning.
This benefit can be a great way to ride a few rides without long lines, but it does require being up with the sun to make the most of that time, since that 30-minute head start often falls between 7:30 and 8 a.m. Still, if you're an early bird, then perhaps this is a reason to stay on property.
Know, though, that at an official Disneyland hotel comes at a cost. Disney World offers three different accommodation tiers: deluxe, moderate and value resorts. However, Disneyland has no such distinctions. As a result, all three on-property hotels are regularly priced at rates comparable to what you'll find for deluxe Disney World hotels, so if you're traveling on a tight budget, it may not be feasible to stay at a Disney hotel.
To trim costs, consider renting Disney Vacation Club points or using points or miles from a credit card to cover your stay. The Capital One Venture Rewards Credit Card lets cardholders redeem miles at a flat 1 cent per mile value. Meanwhile, with the Bilt Mastercard, you can redeem points for Disney hotels through the Bilt Travel Portal at a rate of 1.25 cents per point.
The information for the Bilt Mastercard has been collected independently by The Points Guy. The card details on this page have not been reviewed or provided by the card issuer. 
Related: You can rent DVC points via TPG's partner, David's Vacation Club
Best on-property Disneyland hotels
Despite my preference for staying off-site most of the time for largely budget-related reasons, not every family will feel the same. There is plenty of enjoyment to be found in staying within the Disney bubble.
I adore the three on-property hotels at Disneyland: Disney's Grand Californian Hotel & Spa, the Disneyland Hotel and the former Disney's Paradise Pier Hotel, which is currently undergoing a renovation and will reopen as the Pixar Place Hotel.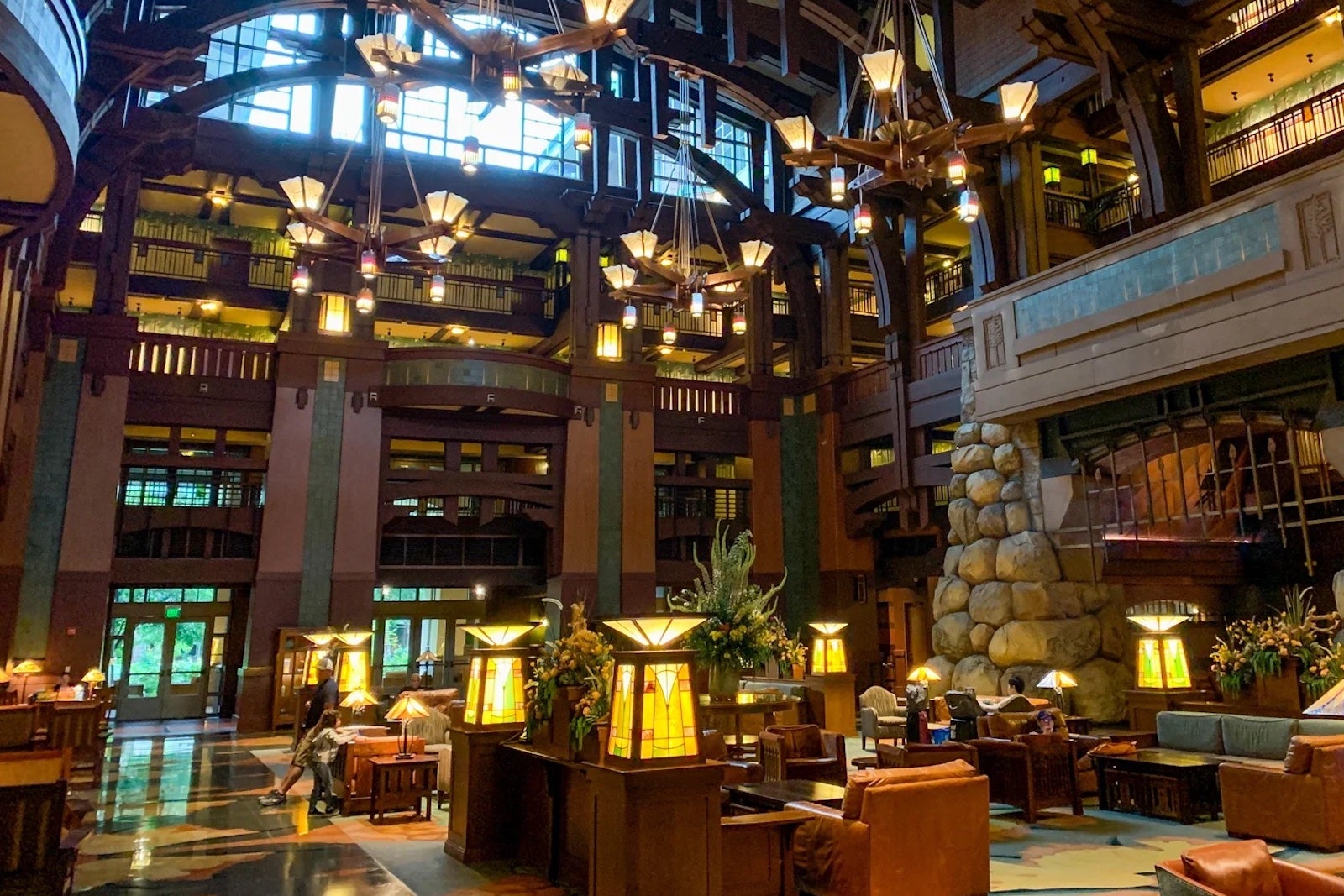 These three hotels all offer special decor, themed pools and expert Disney service. They're also within walking distance of the parks. For families that will make use of the extra perks, it's possible to justify paying a little more to stay at a Disney property during a special trip.
Disneyland Hotel
The Disneyland Hotel is a classic that dates back to the opening of the theme park.
It has arguably the best pool area of the three on-property hotels thanks to its multiple waterslides. Plus, you can get Dole Whips and have dinner in Trader Sam's (a fun tiki bar that comes to life when you order certain drinks) without stepping foot off the hotel grounds.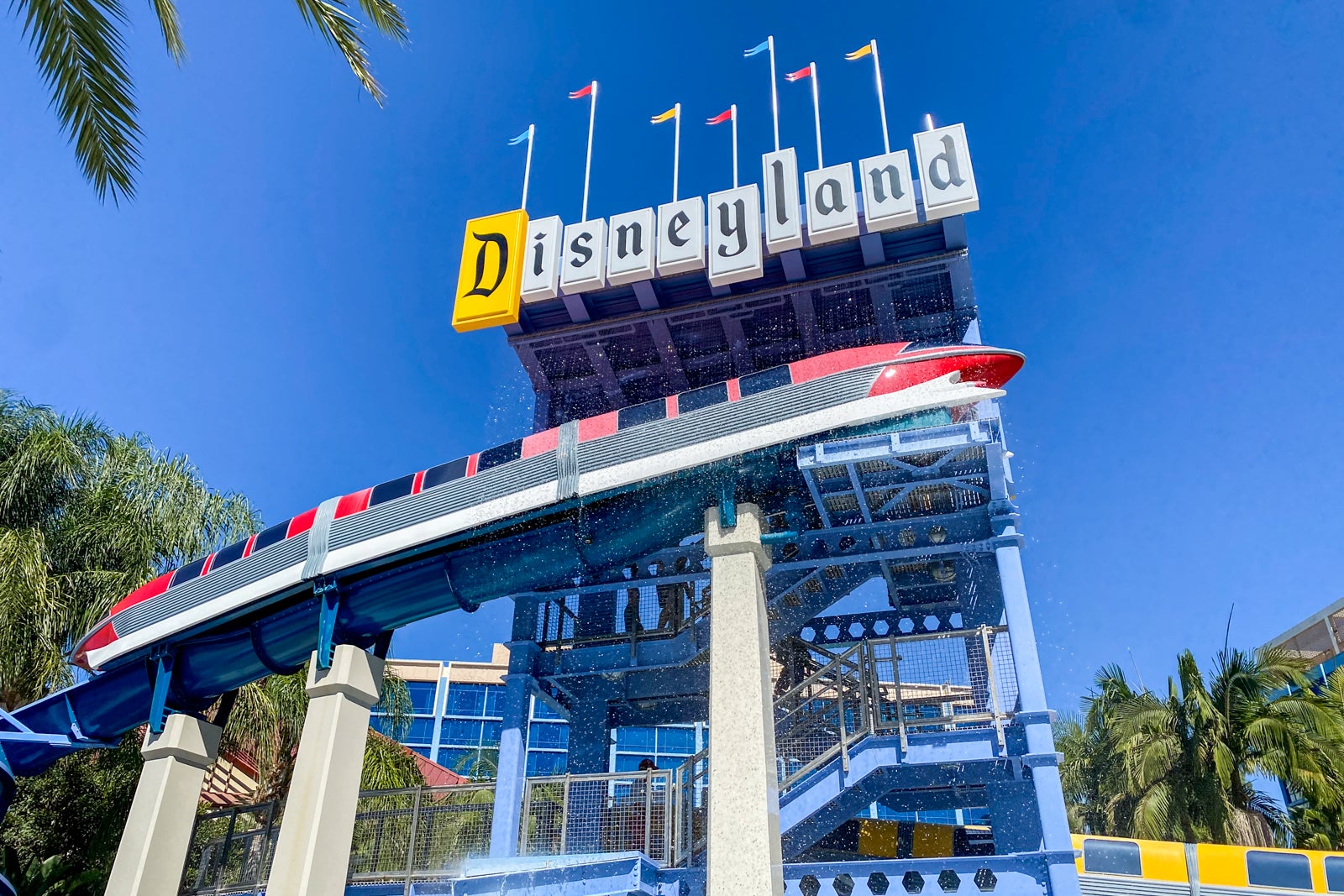 As far as accommodations go, you'll find a mix of standard rooms, club-level rooms and suites, including some with over-the-top Disneyland themes, such as a Pirates of the Caribbean suite and a Mickey Mouse penthouse. A new tower that will house Disney Vacation Club accommodations is also under construction; it's anticipated to open in 2023.
Starting room rates at the Disneyland Hotel often hover between $500 and $600 per night. If you choose a club-level room or suite, especially one with a premium view of Downtown Disney, expect the price to go up quickly.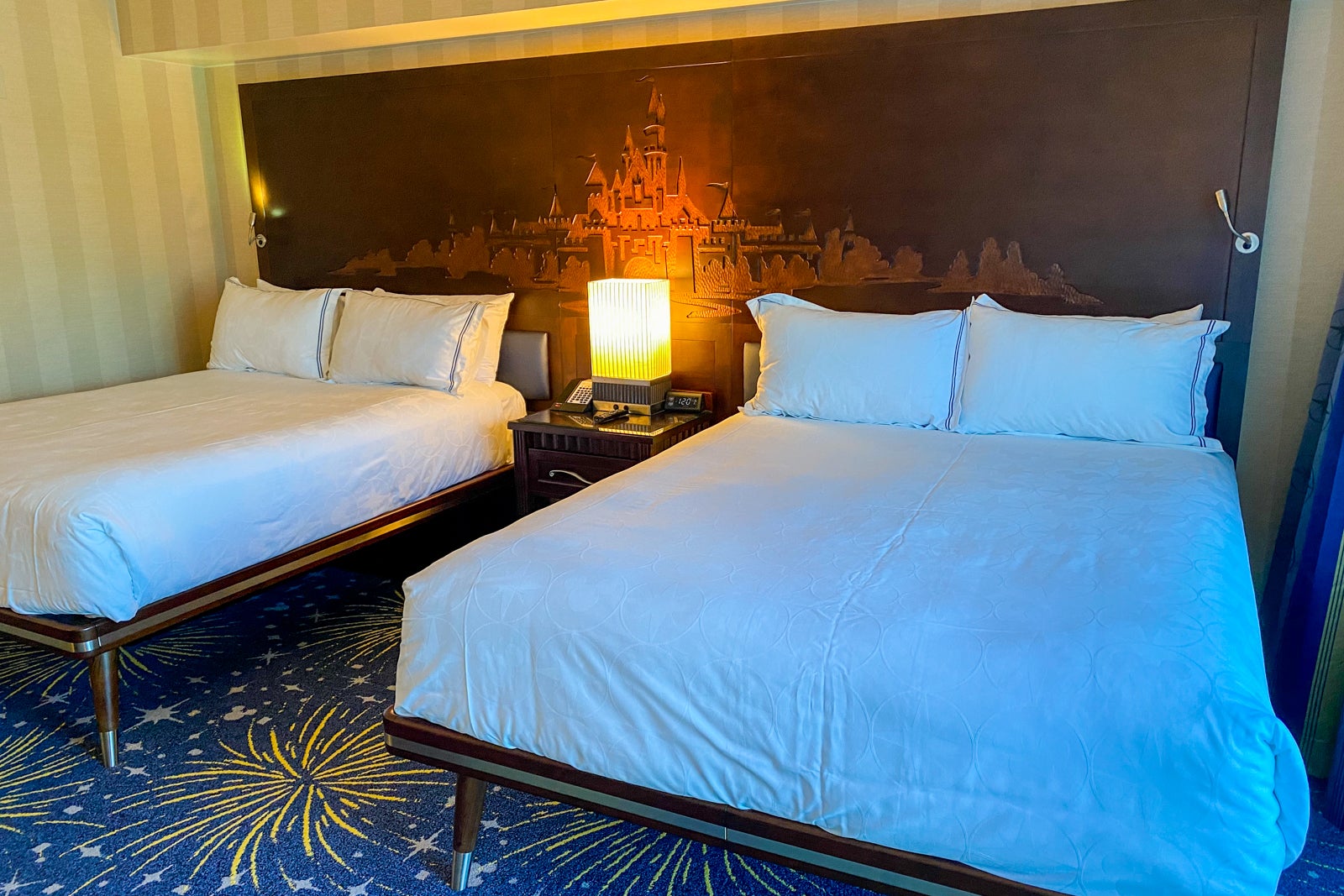 Disney's Grand Californian Hotel & Spa
Of the three Disneyland hotels, this one is the closest to the parks. As such, it's also the most expensive, with standard rooms usually costing at least $700 per night.
One of Disney's Grand Californian's biggest draws is its exclusive access into Disney's California Adventure Park. Because the property has a private entrance and is connected to the park, you can often get inside in a matter of minutes.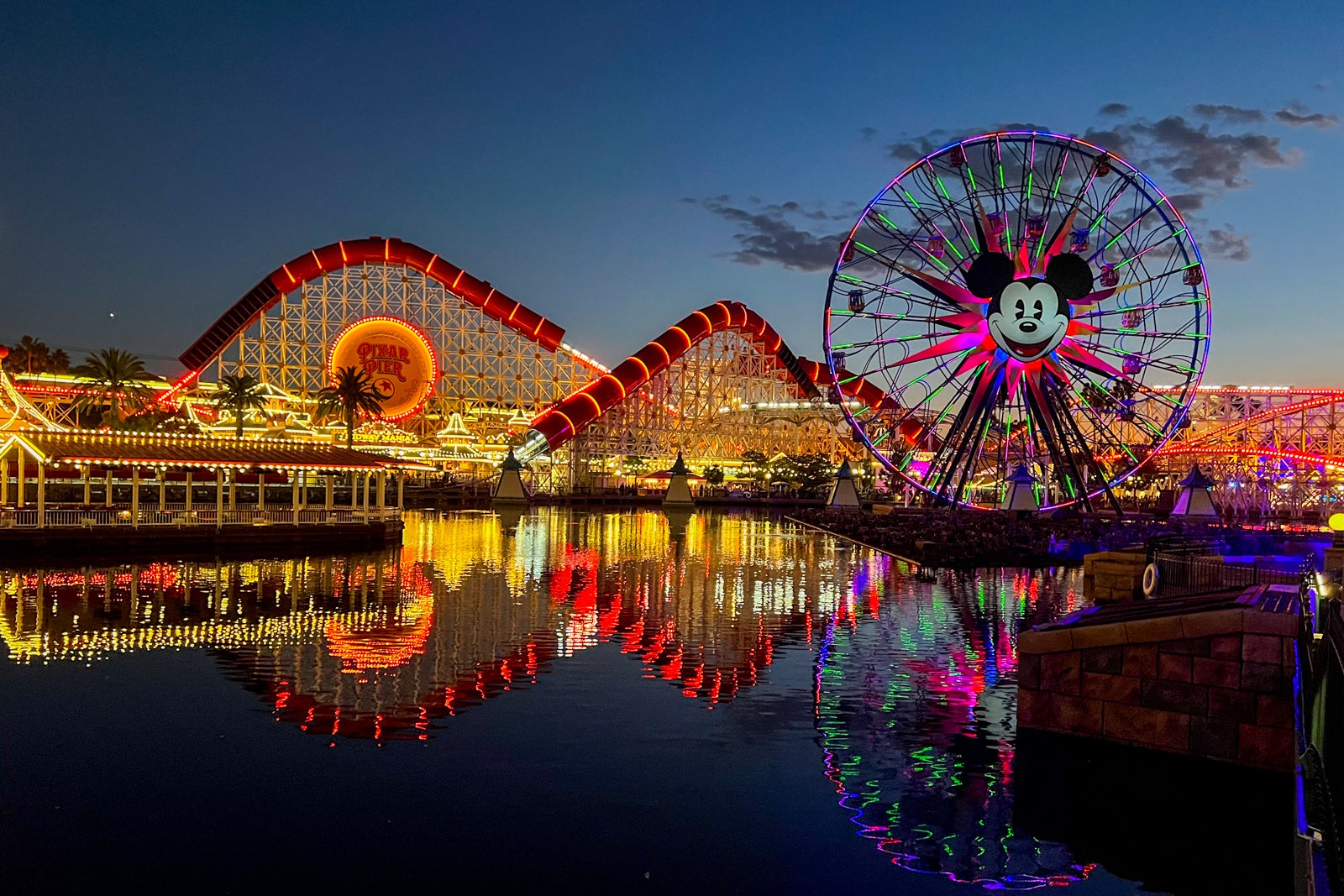 Additionally, you'll have a number of high-end perks you can take advantage of, including a spa, room service and private cabanas to rent by two of the hotel's three pools. It's the top choice if you want a dose of luxury and to be as close to the parks as humanly possible — without any concerns about cost.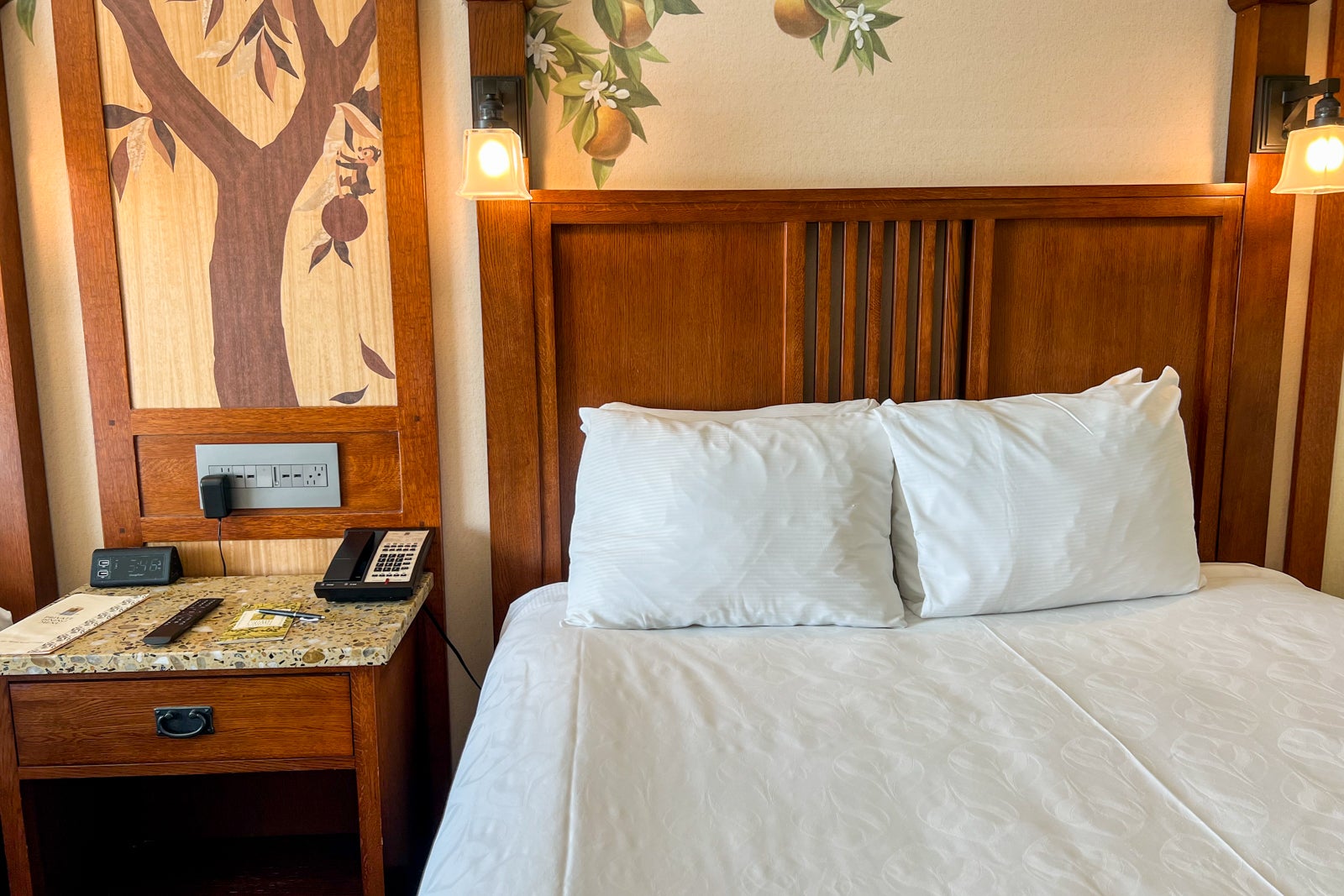 Disney's Paradise Pier Hotel (soon to be Pixar Place Hotel)
A refurbishment right now eventually will bring an entirely new design to Disney's Paradise Pier Hotel, but that doesn't mean you should skip considering this Disneyland option. It's the most affordable of Disneyland's hotels, with prices typically starting around $400 per night.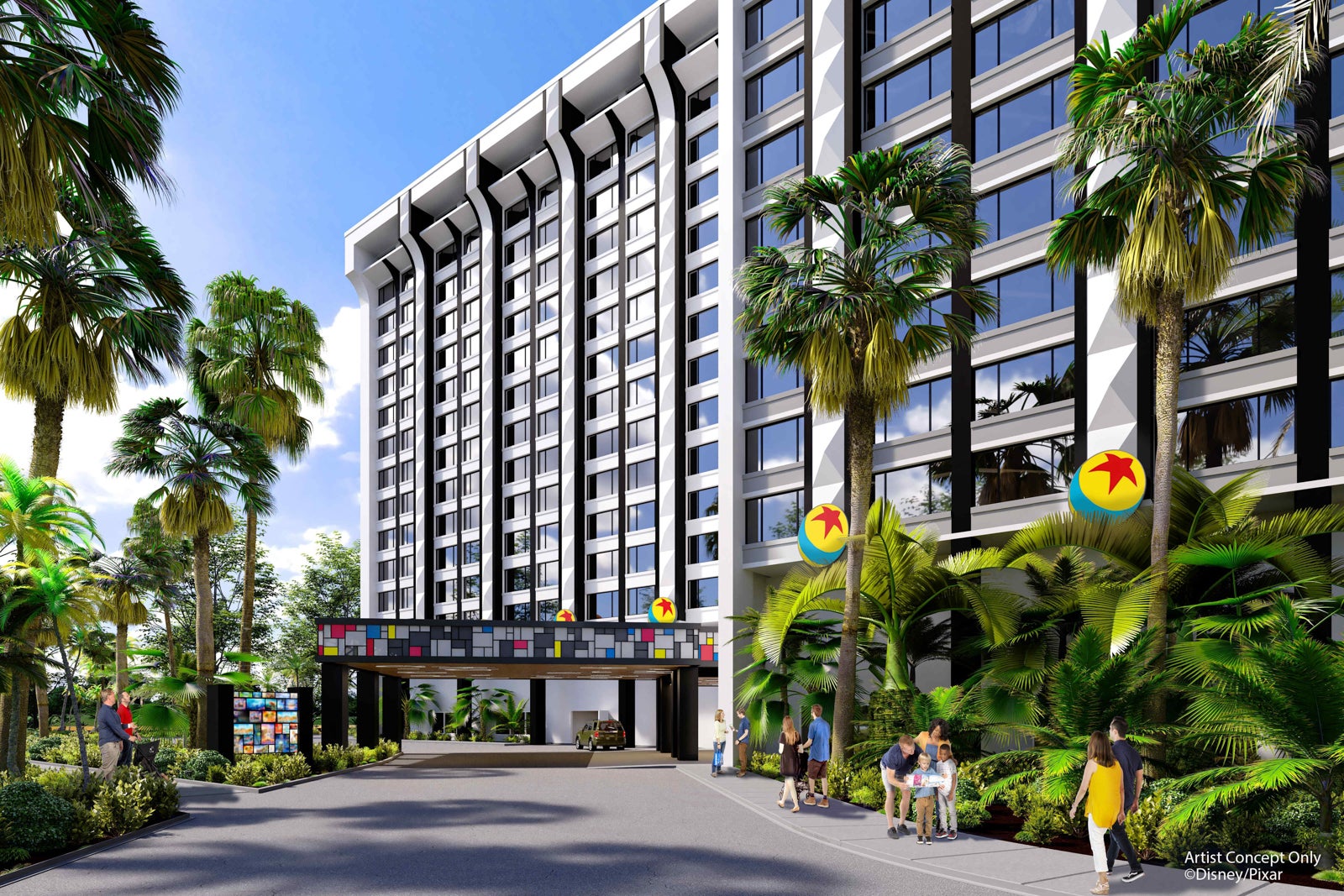 While many of the hotel's amenities are currently unavailable, once the renovation is complete, guests will have access to a rooftop pool deck for viewing fireworks and a "Finding Nemo"-themed splash pad for kids. One thing that is ready already is a new private walkway and entrance to Disney's California Adventure Park.
Related: You can tour Walt Disney's apartment at Disneyland — but is the $160 price worth it?
Best off-property Disneyland hotels
For guests sticking to a tighter budget, there are many off-property hotels situated close to Disneyland.
I personally prefer to stay in the hotels located on Harbor Boulevard across from the Disneyland pedestrian entrance. These hotels are the most walkable due to the layout of the crosswalks and freeways.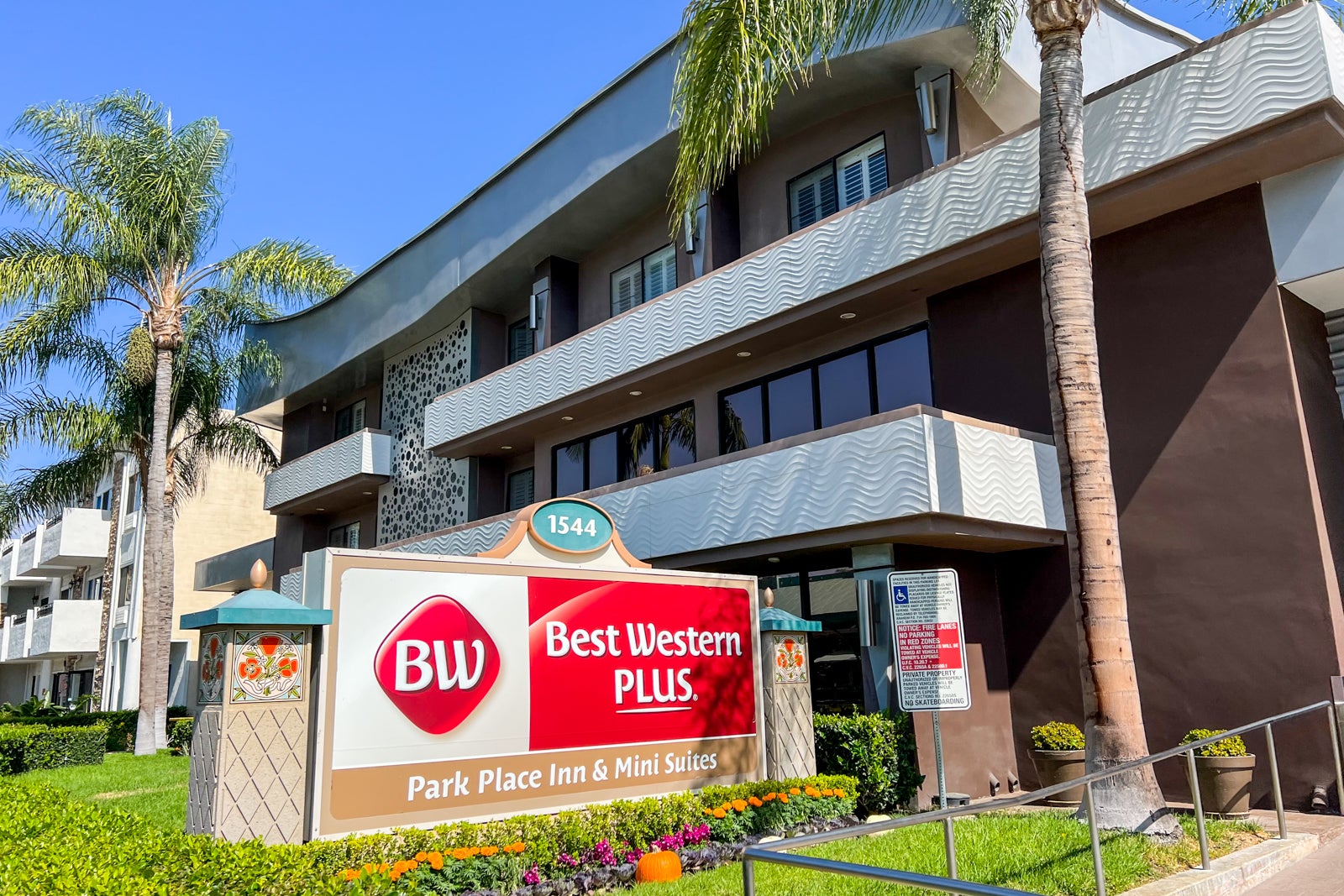 However, there are other lodging options available, including some that are accessible to the parks via a hotel shuttle or a short ride on Anaheim Resort Transportation (ART), a local transit system.
Fairfield Anaheim Resort
The Fairfield Anaheim Resort is the hotel my family has stayed in most frequently during trips to Disneyland.
It's on Harbor Boulevard and sits less than 10 minutes away from the pedestrian entrance to Disneyland Park and Disney California Adventure Park, so you can easily walk to the parks. Additionally, rooms here have been relatively recently renovated, with many offering colorful themed decor.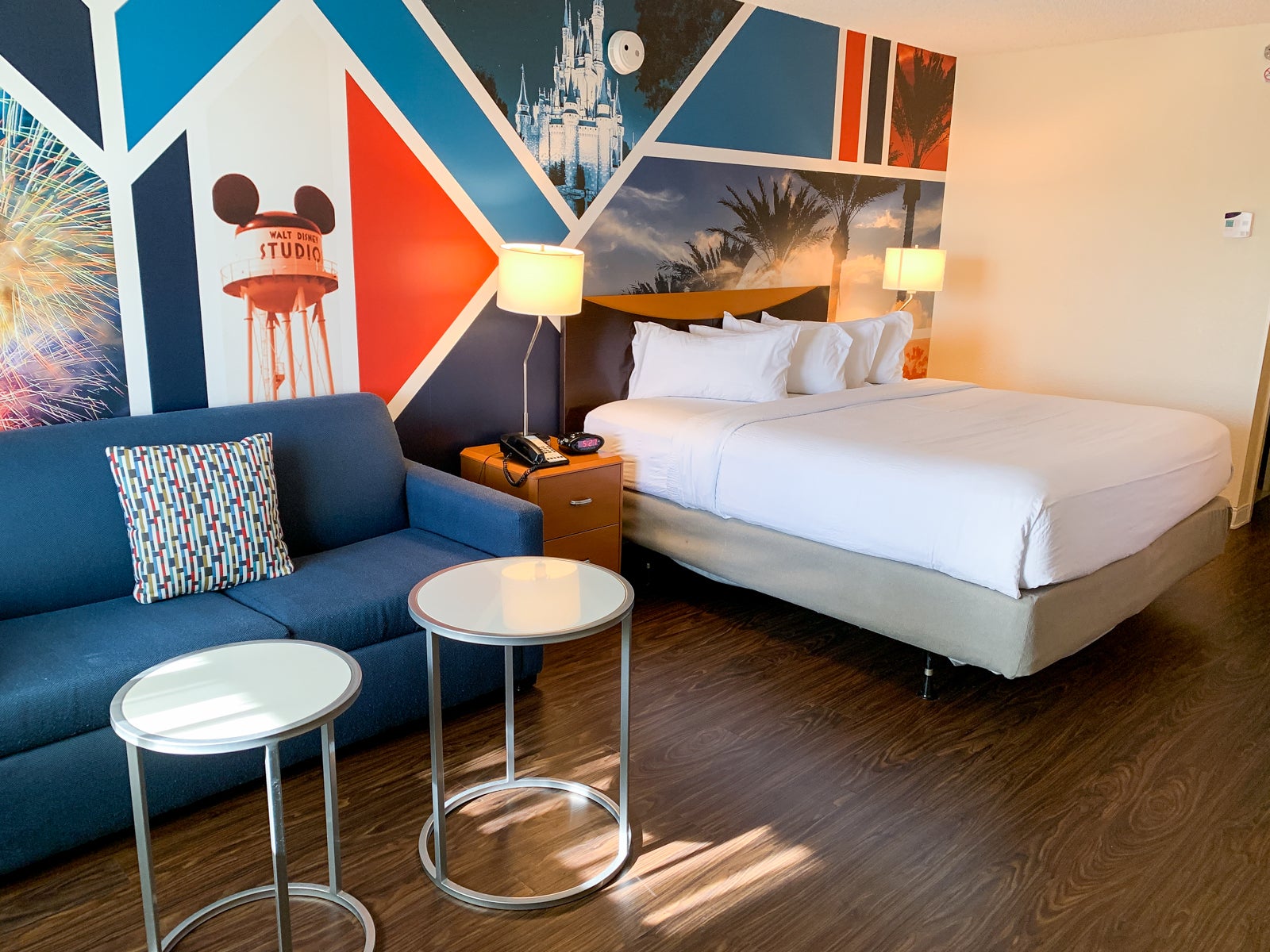 Unlike most Fairfield Inns, this location does not offer free breakfast, though there's a McDonald's next door that has become my go-to spot for a cheap and quick bite before my family hits the parks. Should you need a break from the parks, there's an outdoor pool you can cool off in.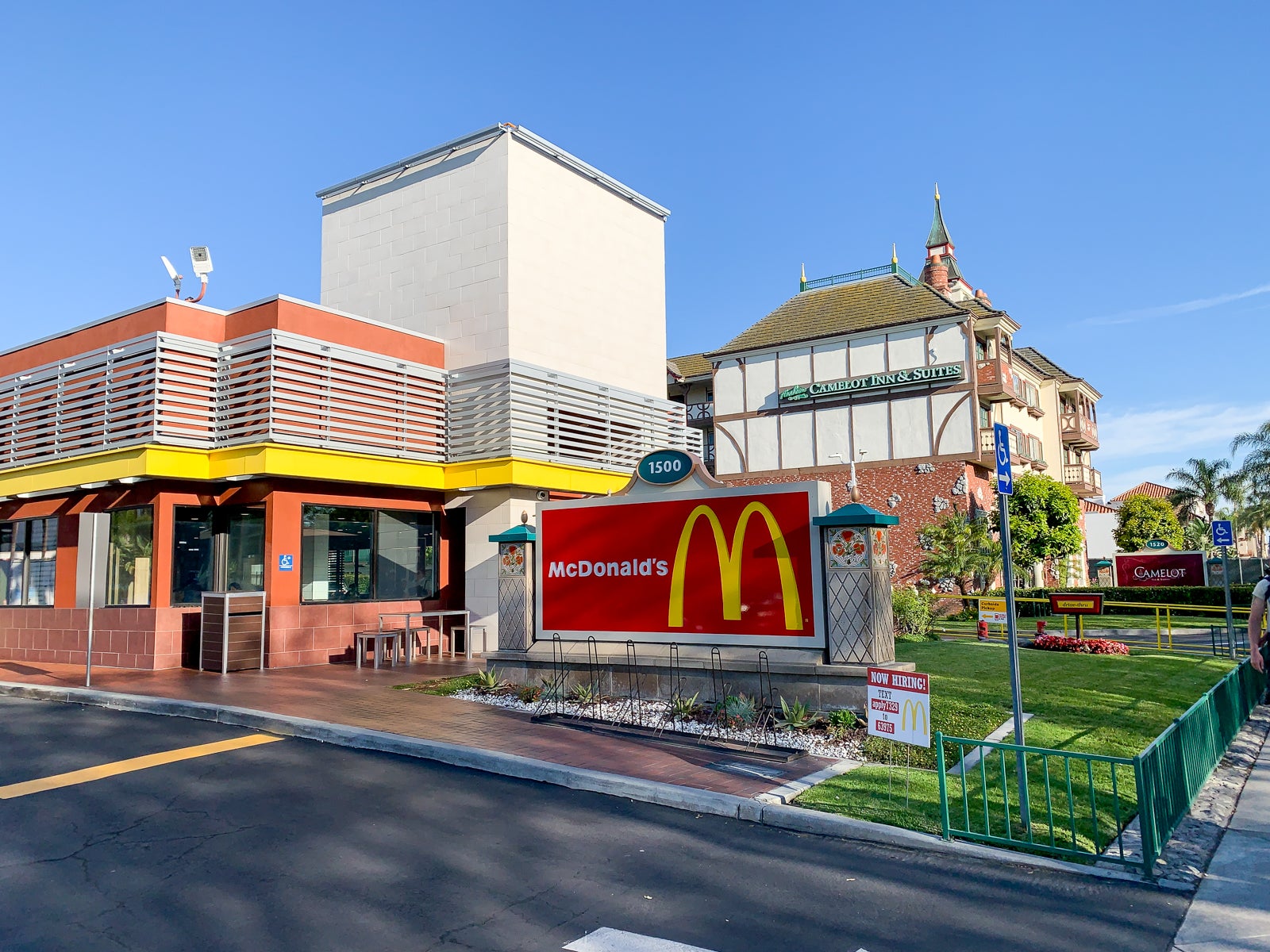 Room rates at this Marriott outpost generally cost between $200 and $425 per night. Or, you can use 31,000 to 42,000 Marriott Bonvoy points to cover the cost of a standard room.
Since there are times when you can score a room for 35,000 points (or less), this hotel is a popular option for holders of the Marriott Bonvoy Boundless Credit Card and the Marriott Bonvoy Business® American Express® Card. That's because these cards award a complimentary night yearly on the account anniversary that's worth up to 35,000 points. On nights that cost more than 35,000 points, you can add up to 15,000 points per night to the certificate to make up the difference.
Book a stay at the Fairfield Anaheim Resort.
Courtyard Anaheim Theme Park Entrance
The Courtyard Anaheim Theme Park Entrance is one of the nicest (and closest) off-property hotels for families.
Opened in 2016 and recently renovated during Disneyland's 2020-21 closure, the hotel is approximately a 10-minute walk away from Disneyland. It has a full water park on-site, making the pool area rival even the best on-property hotel pool (the Monorail Pool at the Disneyland Hotel).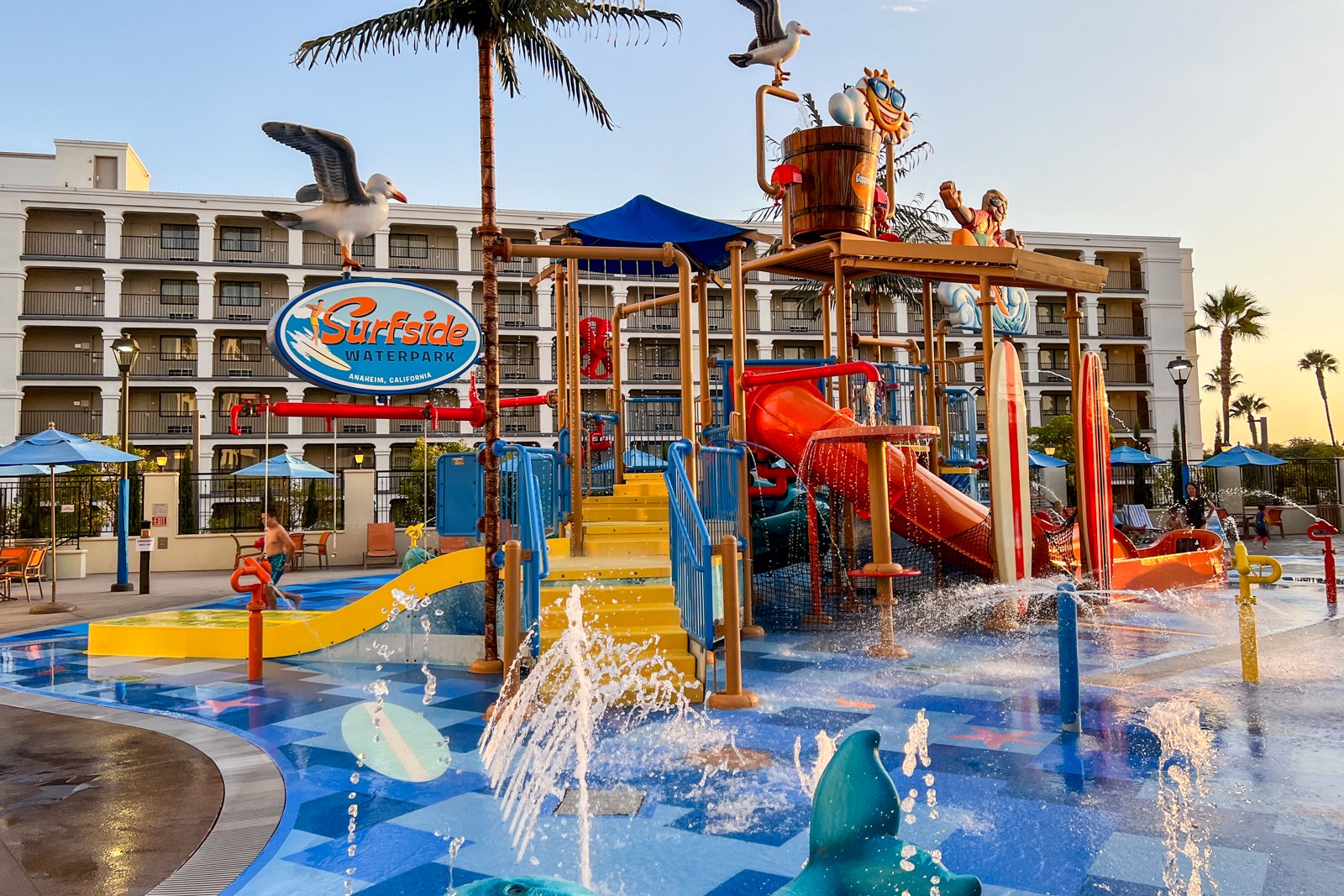 Rooms are a major upgrade from what you might expect from a Courtyard.
Every room here sleeps at least six people, with standard options featuring two queen-size beds and a bunk bed with two twin beds. Each accommodation also comes with an extra-large bathroom with both a shower and a tub/shower combination. The unique layout makes the property a value for larger families that may otherwise need to reserve two hotel rooms.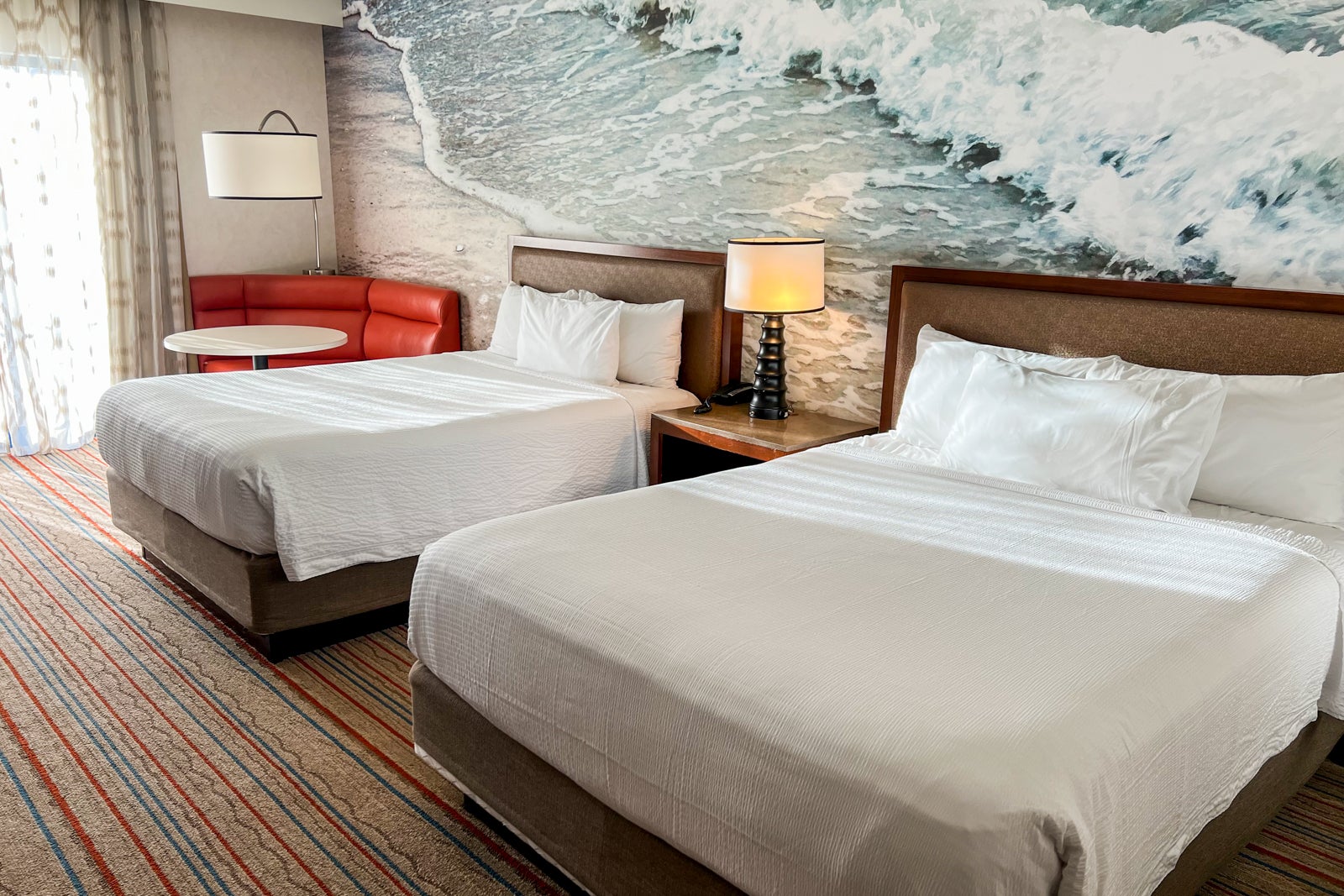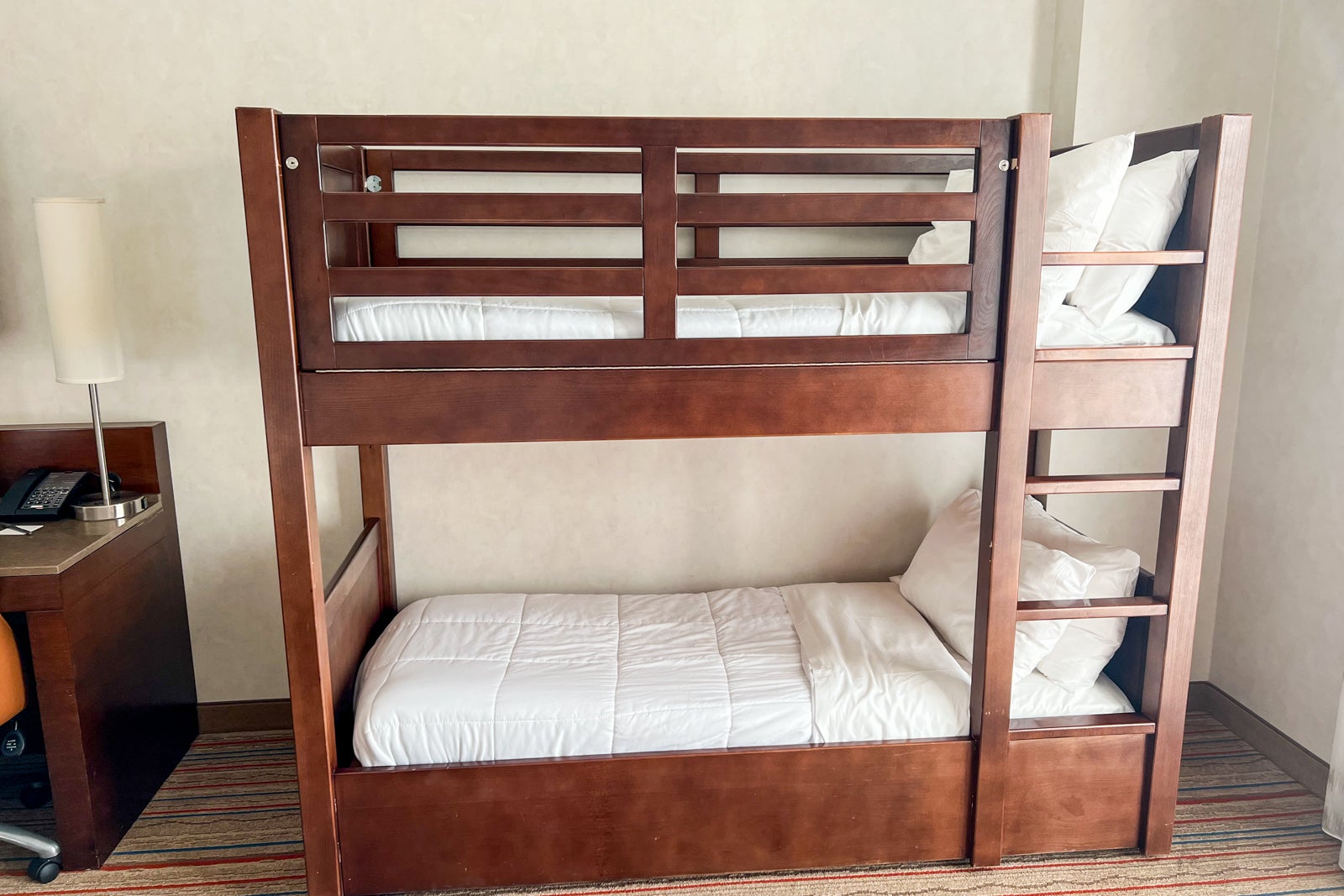 Due to its above-average rooms and amenities, cash rates at this Anaheim property are higher than what you may be used to paying at other Courtyard locations. Standard rooms cost anywhere between $230 and $700 per night or 57,000 to 74,000 Marriott points per night.
While the points rate is high for a Courtyard, you can get around the pricey redemption rate by using a 50,000-point certificate (and a few thousand points) on an off-peak night. You'll receive one annually with the Marriott Bonvoy Brilliant® American Express® Card.
Book a stay at the Courtyard Anaheim Theme Park Entrance hotel.
Westin Anaheim Resort
One of the newer options on the block, the Westin Anaheim Resort, which opened in 2021, is ideally situated for theme park visits. This hotel is located by the corner of Disneyland Drive and West Katella Avenue, which places it right behind the Pixar area of Disney California Adventure Park. In fact, you have a nice view of the Incredicoaster from the hotel's rooftop.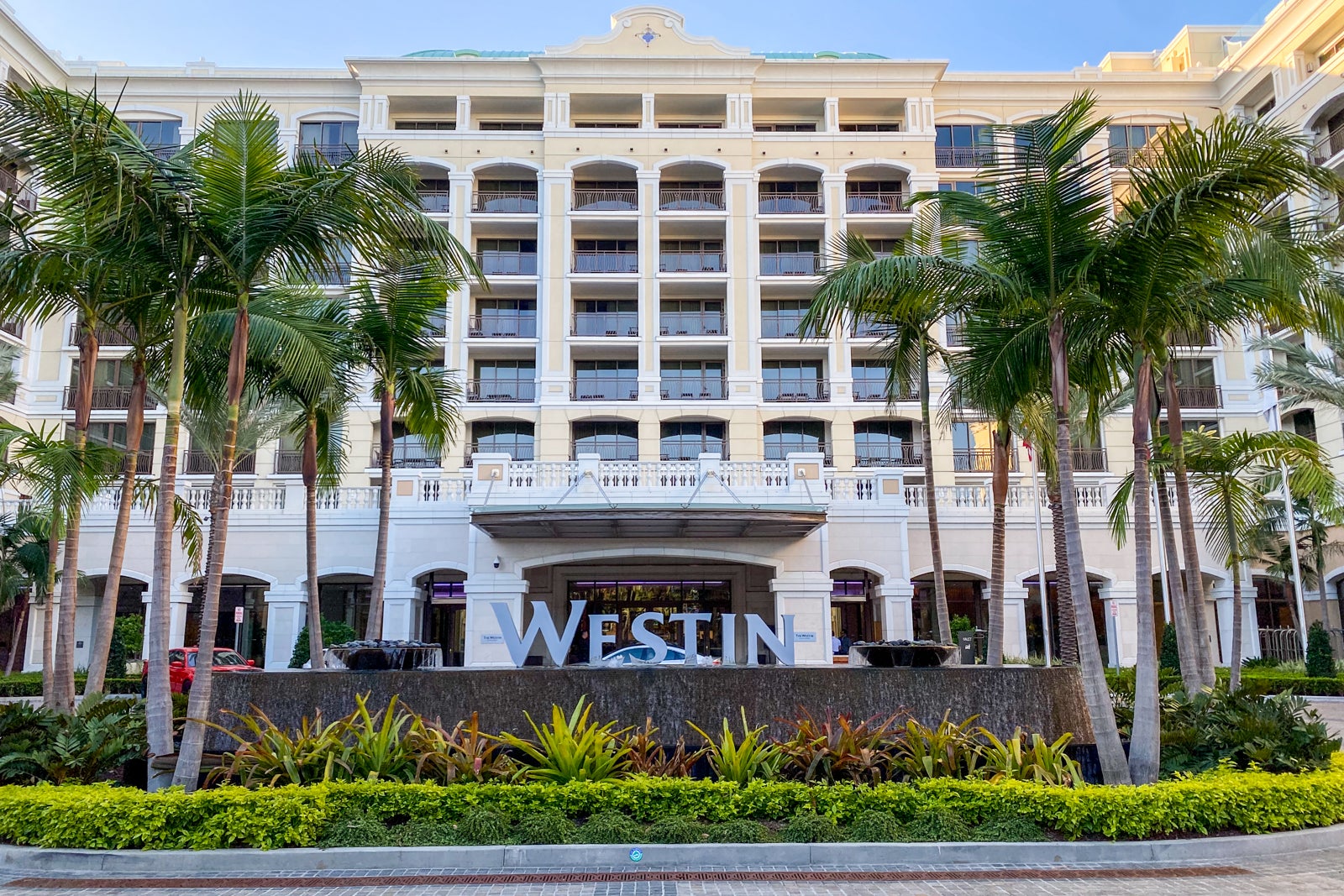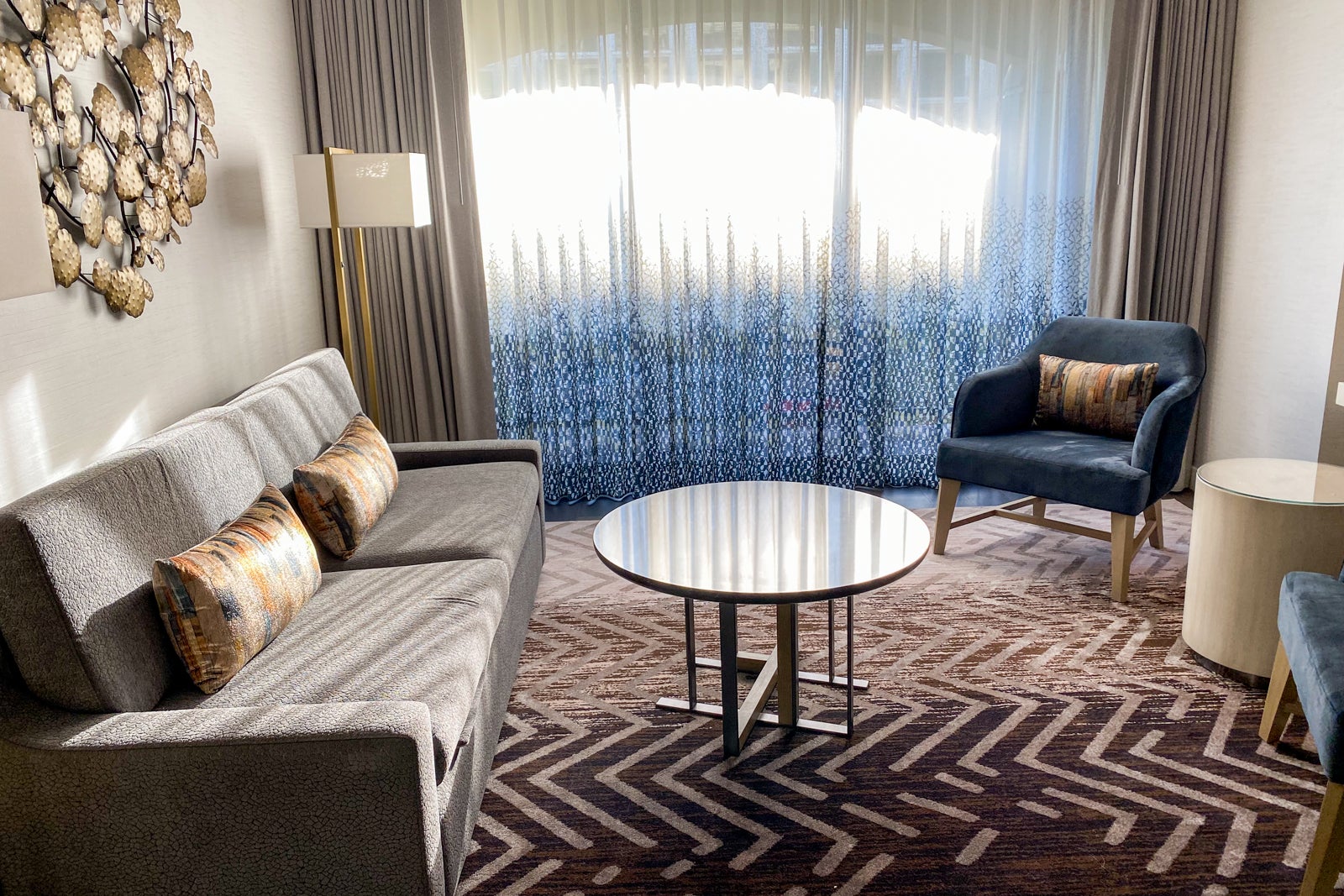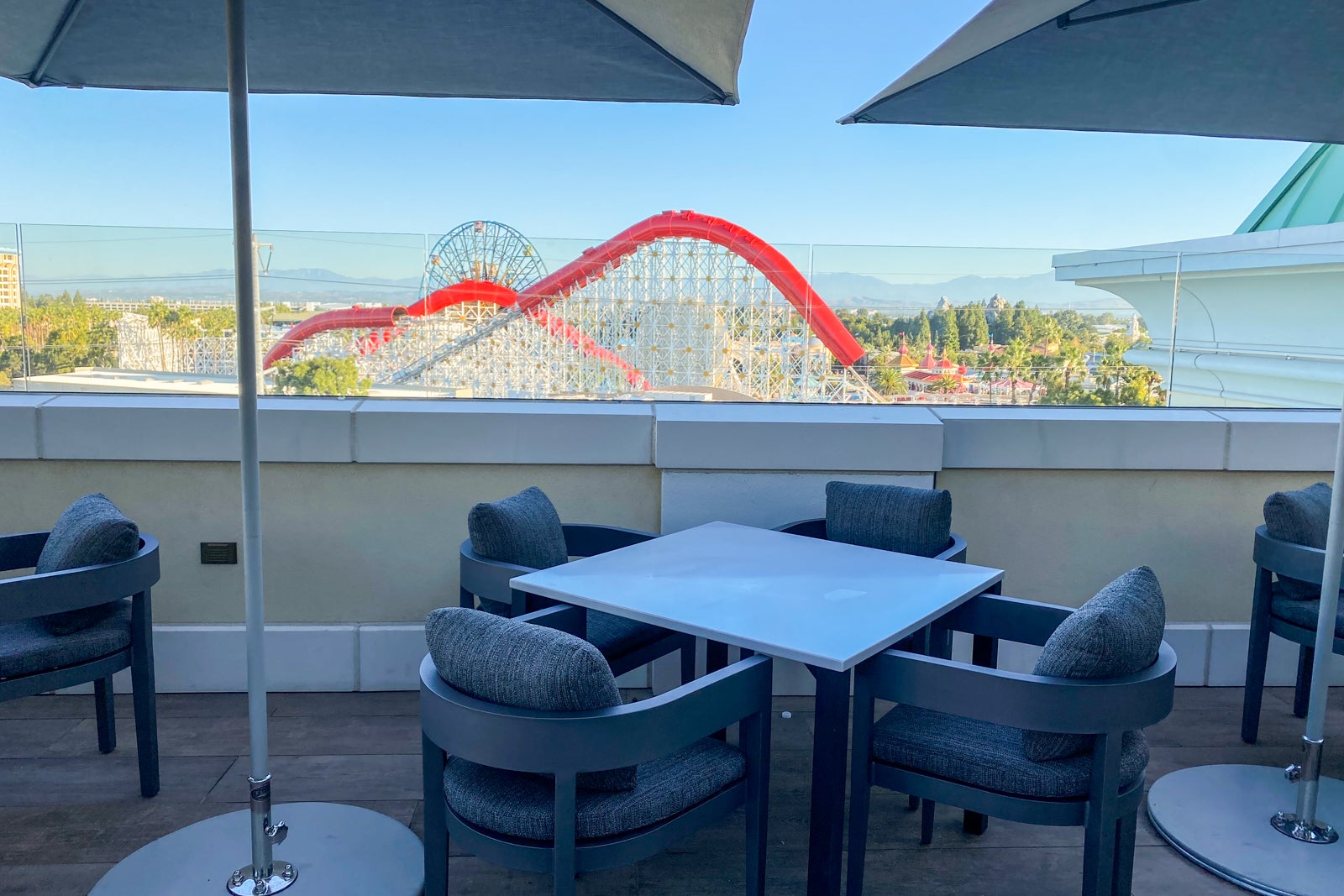 While the Westin Anaheim may have been designed with the convention crowd in mind, its club lounge, on-site restaurant and proximity to Disneyland can also work for families who are looking for a place to put their Marriott points and perks to good use while at Disney. Plus, select standard rooms come outfitted with two queen-size beds and shower/tub combinations, so you'll have the basics to keep you comfortable while on vacation.
Depending on the dates of your stay, you can expect to pay $260 to $600 per night for a standard room here. If you'd rather use points, you can cash in between 52,000 and 74,000 Marriott points for an entry-level room.
Book a stay at the Westin Anaheim Resort.
JW Marriott, Anaheim Resort
A newcomer to the scene, the JW Marriott, Anaheim Resort opened in 2020. It doesn't offer your typical Disneyland hotel conveniences (think: waterslides and character-themed rooms), but it's an option for those who want to use points and enjoy a touch of luxury after a full day in the parks.
Here, you'll find a rooftop pool with cabanas and guest rooms in a neutral color palette with one king or two queen beds. Additionally, there are chic food and beverage outlets like an Italian steakhouse and a rooftop bar with panoramic city views.
The hotel has a relaxed yet upscale vibe — but before deciding this is the best Disneyland area hotel for you, know that its location is not the best for a park trip, so map it out and decide accordingly.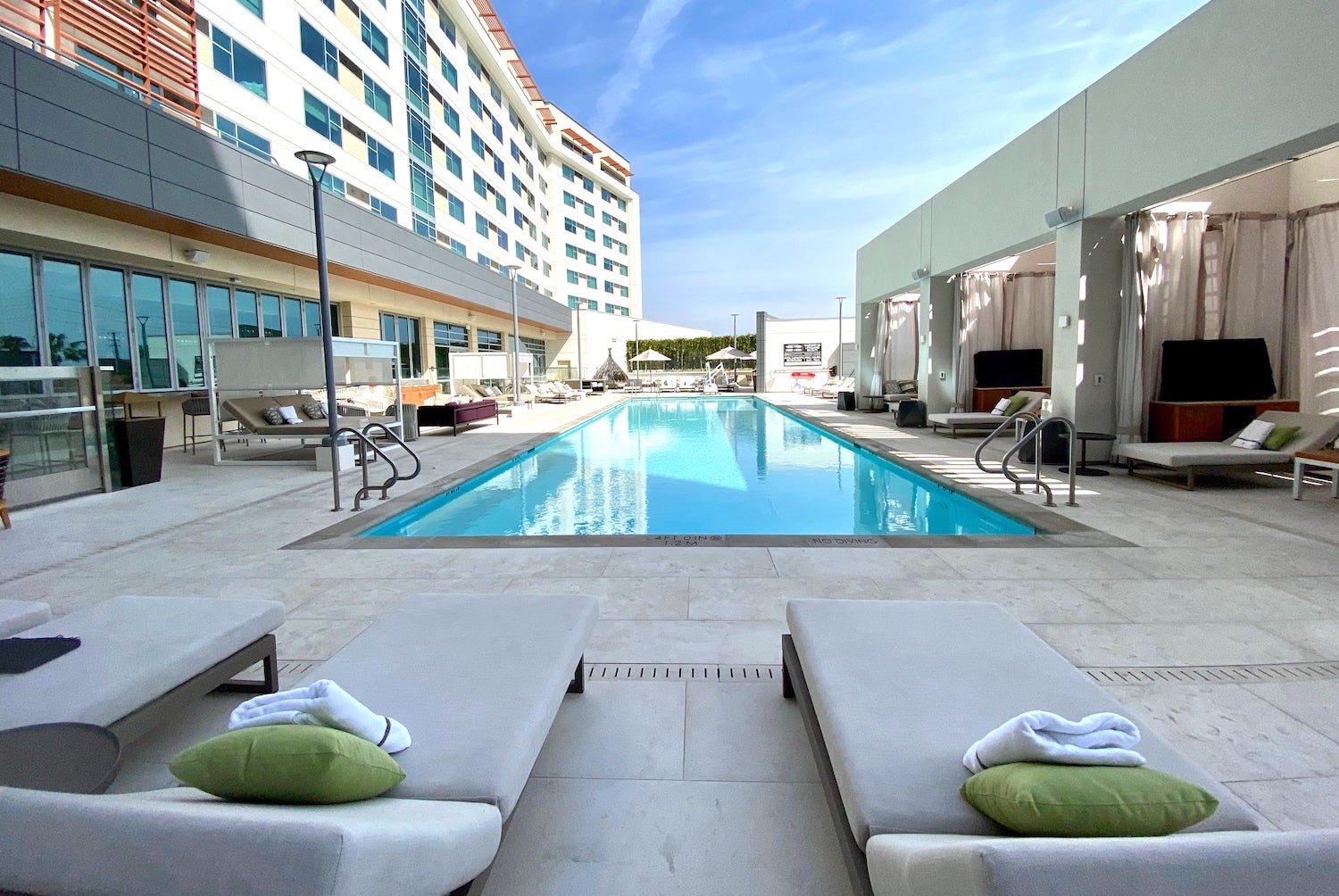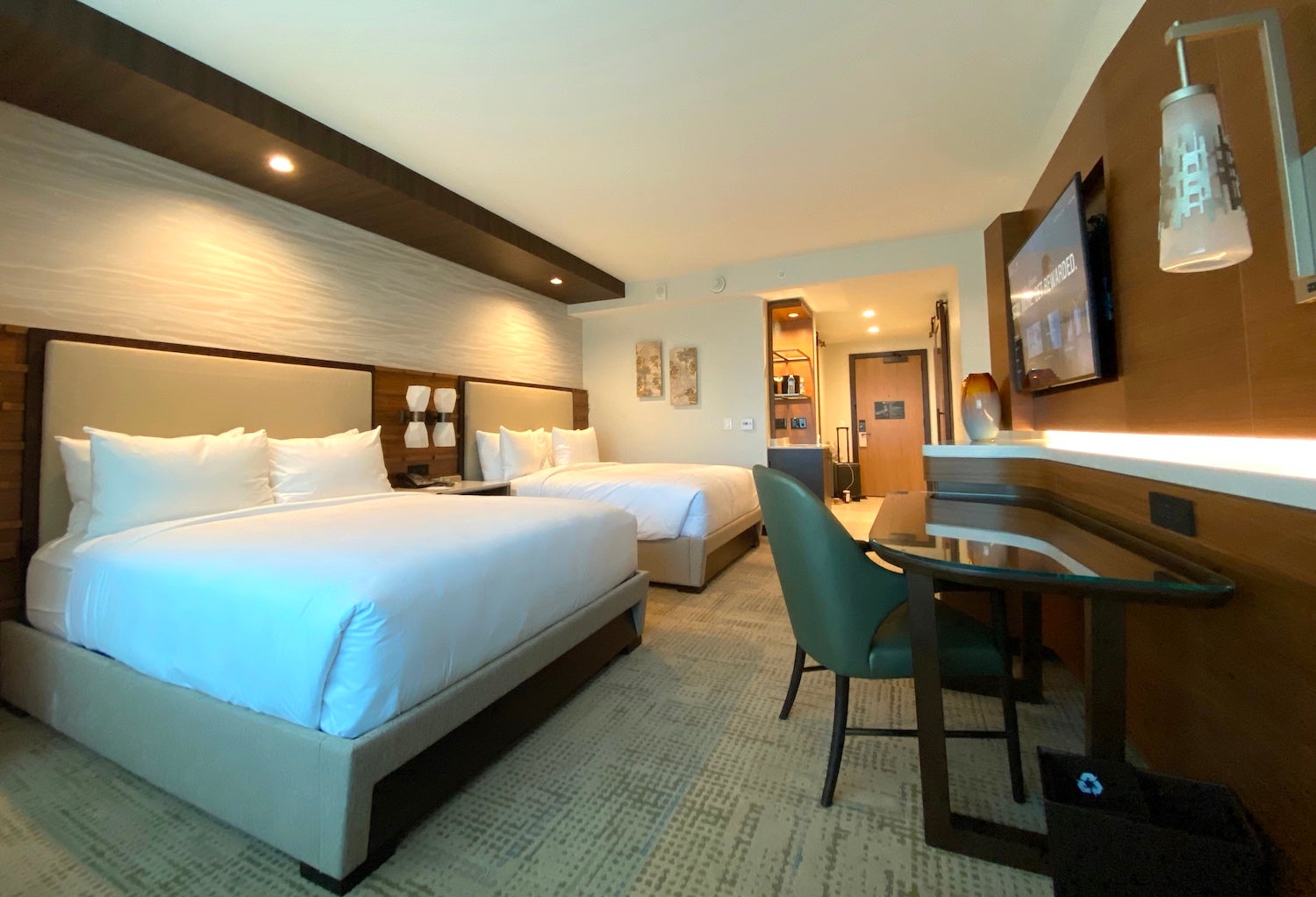 This JW Marriott does offer room rates that are easier to stomach. To reserve a room, you'll typically pay between $200 and $400 or use 50,000 to 70,000 Marriott points per night — that's often less than the Courtyard and, again, that's largely because of the difference in location (and the lack of a waterpark compared to the Courtyard).
Book a stay at the JW Marriott, Anaheim Resort.
Cambria Hotel & Suites Anaheim
Another newer addition to the list of points-friendly hotels near Disneyland, the Cambria Hotel & Suites Anaheim offers a slew of amenities that help make up for its lack of a walkable location for park visits.
There is a plethora of accommodation types, including standard rooms with two showers and a tub and suites that can sleep up to 11 people. Additionally, guests have access to an on-site water park with 30,000 square feet of waterslides, play areas and more, as well as a movie wall for poolside screenings and a complimentary hot breakfast daily.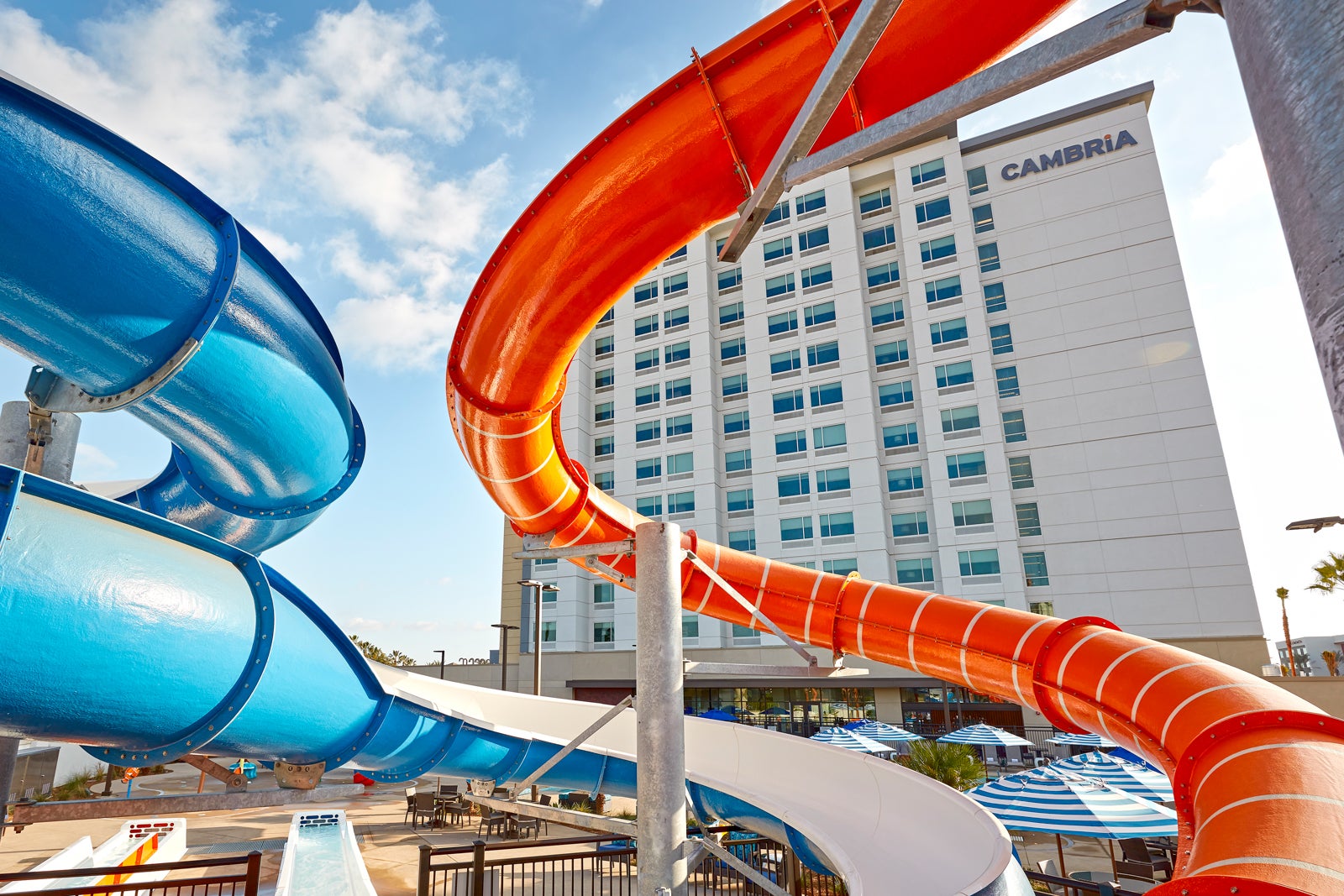 Room rates at this Choice Hotels-affiliated property cost $115 to $400 per night — or 20,000 to 30,000 Choice Privileges points per night. If you do decide to use points, keep in mind that Choice often lets you book several kinds of accommodations for the same price, so you may be able to score a one-bedroom suite for the same price as a standard room.
Also keep in mind that this location is not as ideal as, say, the Courtyard or the Fairfield, which in part explains the less expensive average rate.
Book a stay at Cambria Hotel & Suites Anaheim.
Hyatt House at Anaheim Resort/Convention Center
Situated by Anaheim's convention center, about a 15-minute walk away from Disneyland's gates, this property is just close enough to avoid the need to use transportation on theme park days.
What makes the Hyatt House at Anaheim Resort/Convention Center a smart choice for families is its standard Hyatt House layout: Standard rooms come with microwaves and either two queen beds or a king bed plus a sleeper sofa, while suites options range from one-bedroom suites with full kitchens to family suites with bunk beds.
Like other Hyatt House properties, all guests also receive free daily breakfast, so you don't need to worry about paying extra to fill your kids' stomachs before heading to the parks or swimming in the outdoor pool.
While rates for standard rooms can cost as much as $400 per night, generally you'll find that you'll need to pay at least $200 to stay here. You can also use 12,000 to 18,000 World of Hyatt points to cover your stay.
You may be tempted to bed down at the nearby Hyatt Place at Anaheim Resort/Convention Center, as it offers slightly lower cash prices and points rates. However, know that its location is inferior, so you'll likely find that the Hyatt House is a better overall value. If you have a few Hyatt Category 1-4 award certificates from the World of Hyatt Credit Card, consider using them to pay for your stay.
Book a stay at the Hyatt House at Anaheim Resort/Convention Center.
Holiday Inn Express & Suites Anaheim Resort Area
This IHG-affiliated hotel is located about a 15-minute walk away from Disneyland, making it a solid contender for a Disney vacation.
At the Holiday Inn Express & Suites Anaheim Resort Area, you'll enjoy many amenities that appeal to families. To start, the hotel has a complimentary breakfast buffet and a basic pool with a small splash pad for younger kids. Plus, each guest room is equipped with a minifridge, a microwave, a bathtub and a sofa bed.
Prices for this hotel can fluctuate wildly depending on demand (even more so than those for other area hotels), but it can be a good value depending on the rate. Cash prices for standard rooms usually fall between $200 and $400 per night, while award nights will set you back 40,000 to 80,000 IHG One Rewards points per night.
Should you decide to use IHG points to stay here, remember that the fourth award night is included for guests with the IHG Rewards Premier Credit Card.
Book a stay at the Holiday Inn Express & Suites Anaheim Resort Area.
Howard Johnson Anaheim Hotel & Water Playground
Wyndham Rewards is a program that many hotel loyalty program users overlook, but the Howard Johnson Anaheim Hotel & Water Playground is one property that should make you pay closer attention.
The hotel has recently completed a major renovation, so you'll enjoy a midcentury modern vibe that also feels fresh and contemporary, should you choose to book a stay. The hotel's new House of the Retro Future suite looks particularly adorable if you wish to fully lean into the property's retro-cool aesthetic. Don't forget to check out the on-site water playground, which is one of the best choices within walking distance of the parks for families with younger kids.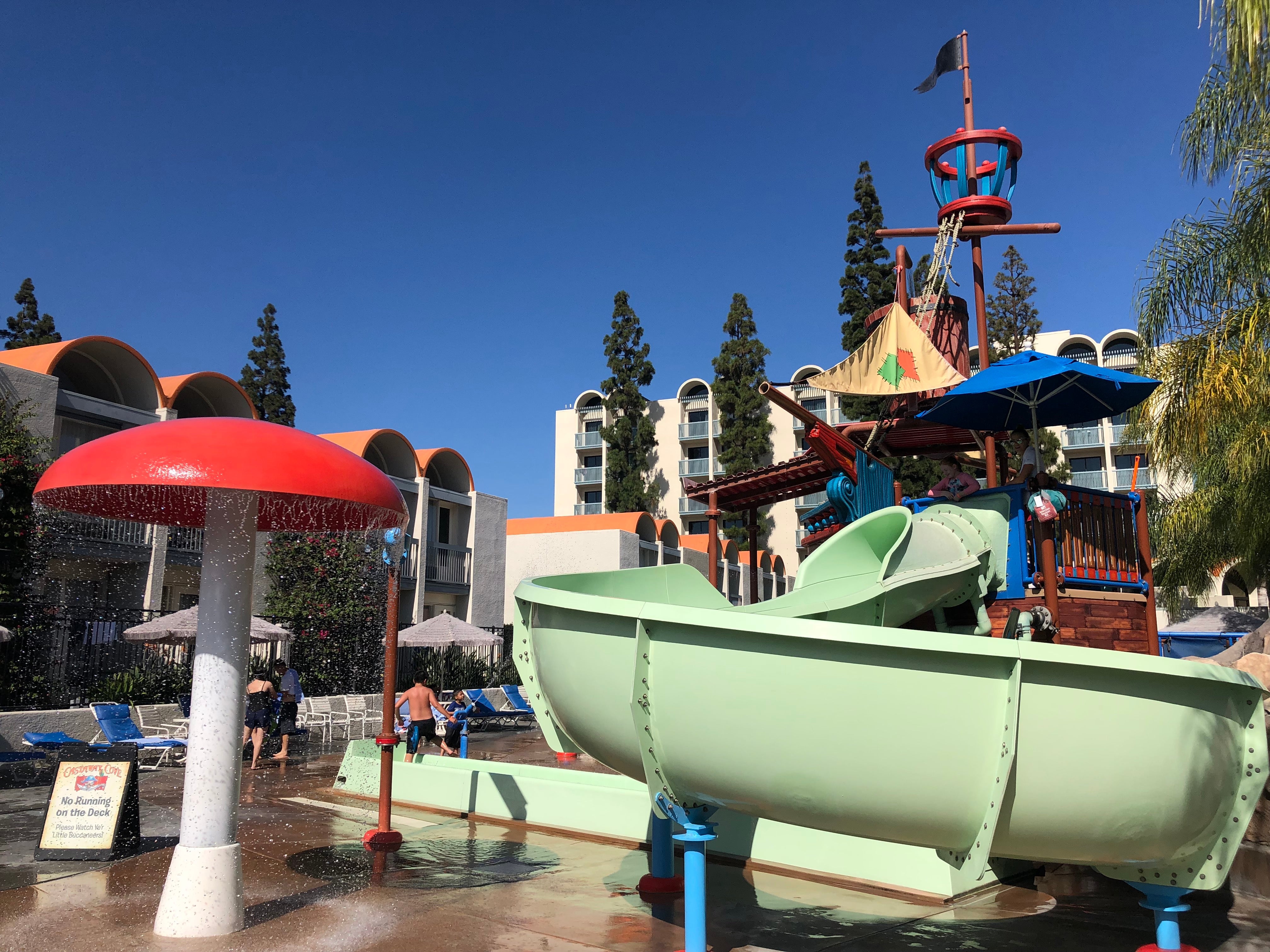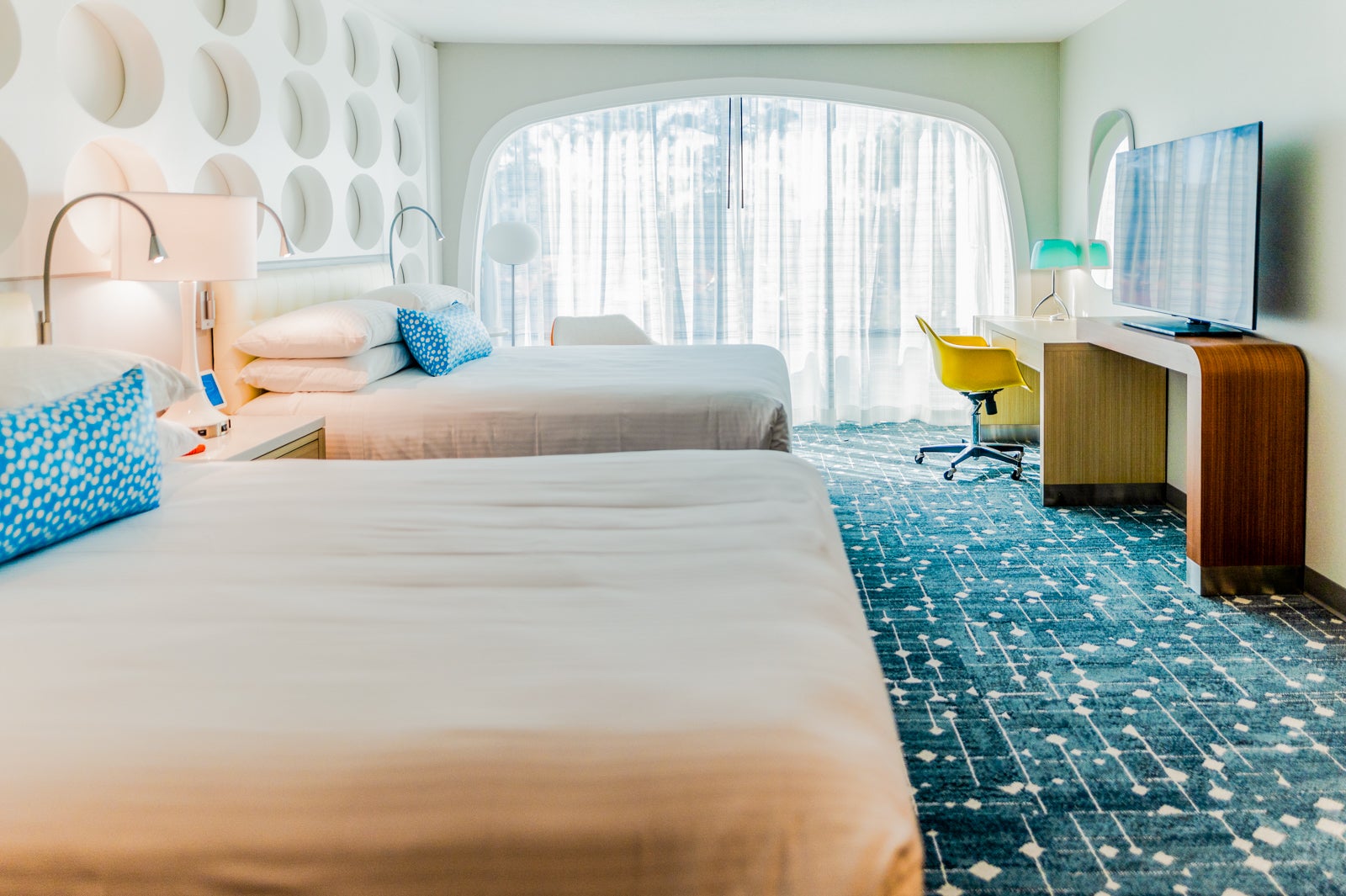 Rooms at the HoJo Anaheim are often priced around $200 a night, making this hotel comparably priced to other off-property TPG picks. Or, you could cash in 30,000 Wyndham Rewards points to cover the cost of a night.
Book a stay at the Howard Johnson Anaheim Hotel & Water Playground.
Best Western Plus Anaheim Inn
There are several solid Best Western hotels near Disneyland, but one you can't miss as you walk down Harbor Boulevard is the Best Western Plus Anaheim Inn, as it is virtually right where you cross the street to walk into the Disneyland complex.
While on-site amenities are fairly standard compared to other area properties, guests can enjoy a complimentary full breakfast every day of their stay plus an outdoor pool. Select rooms feature views of Disneyland's fireworks.
Standard rooms at this Best Western property cost $200 to $300 per night or 40,000 Best Western Rewards points per night.
Book a stay at the Best Western Plus Anaheim Inn.
Additional reporting by Summer Hull.