All eyes are on the greater Phoenix area as Arizona gears up to host Super Bowl LVII on Feb. 12. Not only is it high season in the Valley of the Sun — when annual events such as the WM Phoenix Open, which can easily draw 300,000 visitors on its Saturday, take place — but thousands of additional visitors are expected to descend on the destination for the big game. According to the local Arizona Super Bowl Host Committee website, the city saw more than 1 million visitors across all events during Super Bowl XLIX, which occurred here in 2015. 
American Airlines, the largest carrier servicing Phoenix Sky Harbor International Airport (PHX), said it would add 91 flights between Phoenix and 22 U.S. cities so sports fans have more travel options.
Even if you don't have tickets to the game, there's plenty to see and do leading up to Super Bowl Sunday. The NFL has a slate of events open to the public, including the free Super Bowl Experience at Hance Park in downtown Phoenix which features concerts, family-friendly activities and local cuisine. The Super Bowl Music Fest in downtown Phoenix will feature acts such as Paramore, Dave Matthews Band and Imagine Dragons. 
Airline award redemptions
The teams playing in the Super Bowl have not yet been determined. However, a quick search for award redemptions on American's website revealed a few deals for fans traveling from cities with teams currently in the playoffs — such as Kansas City, Missouri, and San Francisco.
A main cabin seat from Kansas City International Airport (MCI) on Feb. 8 starts at 8,500 miles with one stop. Nonstop flights were only 18,500 miles plus $5.60 in fees.
Prices jump Feb. 9 (expected to be the most popular arrival day), so if you can swing it and arrive a day earlier, it could save you miles. Prices go back down again for Feb. 10 arrivals.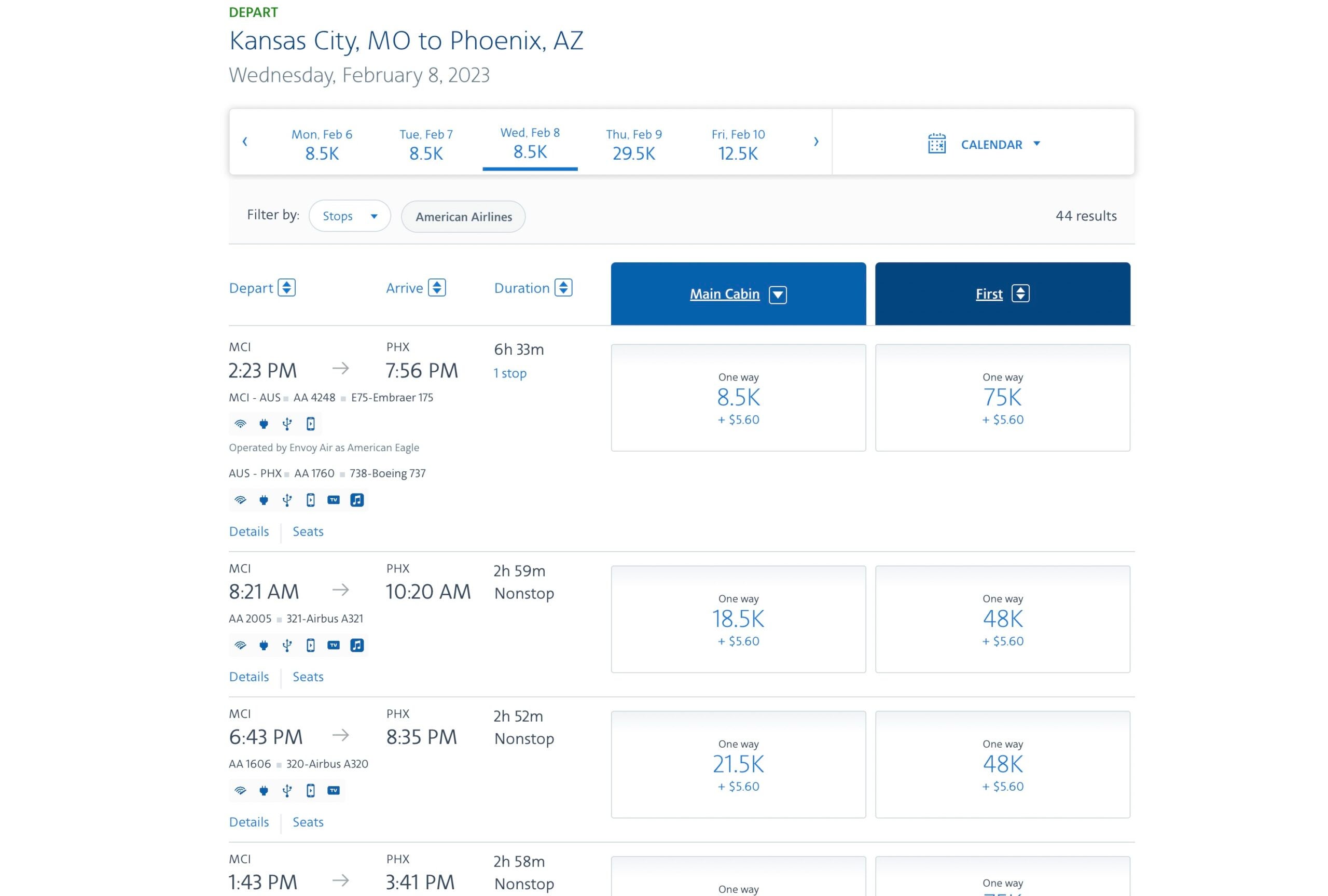 A sweet spot for a first-class seat at only 18,500 miles appeared when searching for nonstop flights from San Francisco International Airport (SFO) on Feb. 8. Main cabin redemptions started at only 8,500 miles one-way.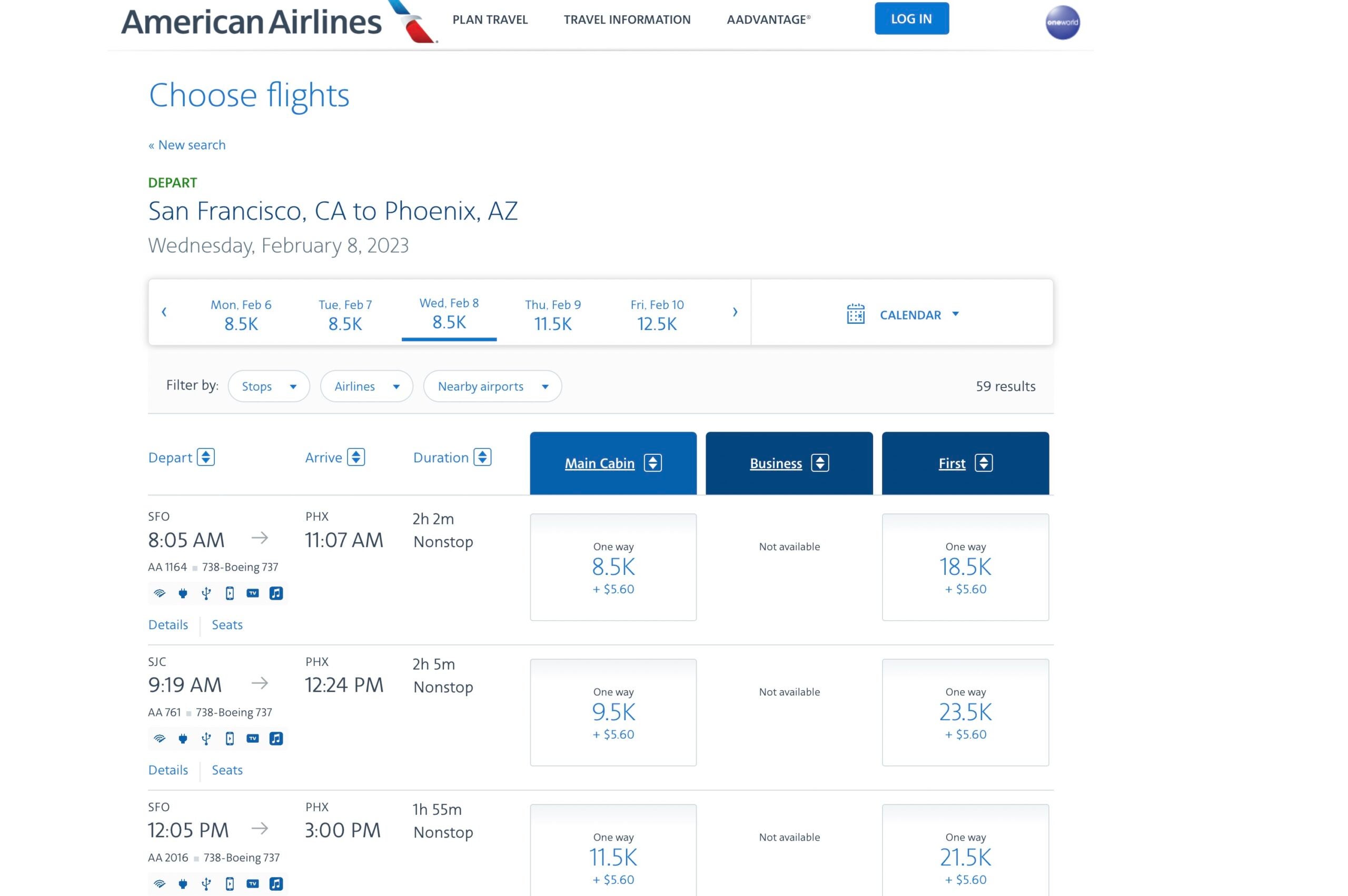 Main cabin redemption rates jump Feb. 9 to 25,500 miles and first-class redemptions jump to 90,000 miles on the nonstop route from SFO.
The same flights on Feb. 8 had cash prices starting at $99 for main cabin fares and $298 for first-class fares.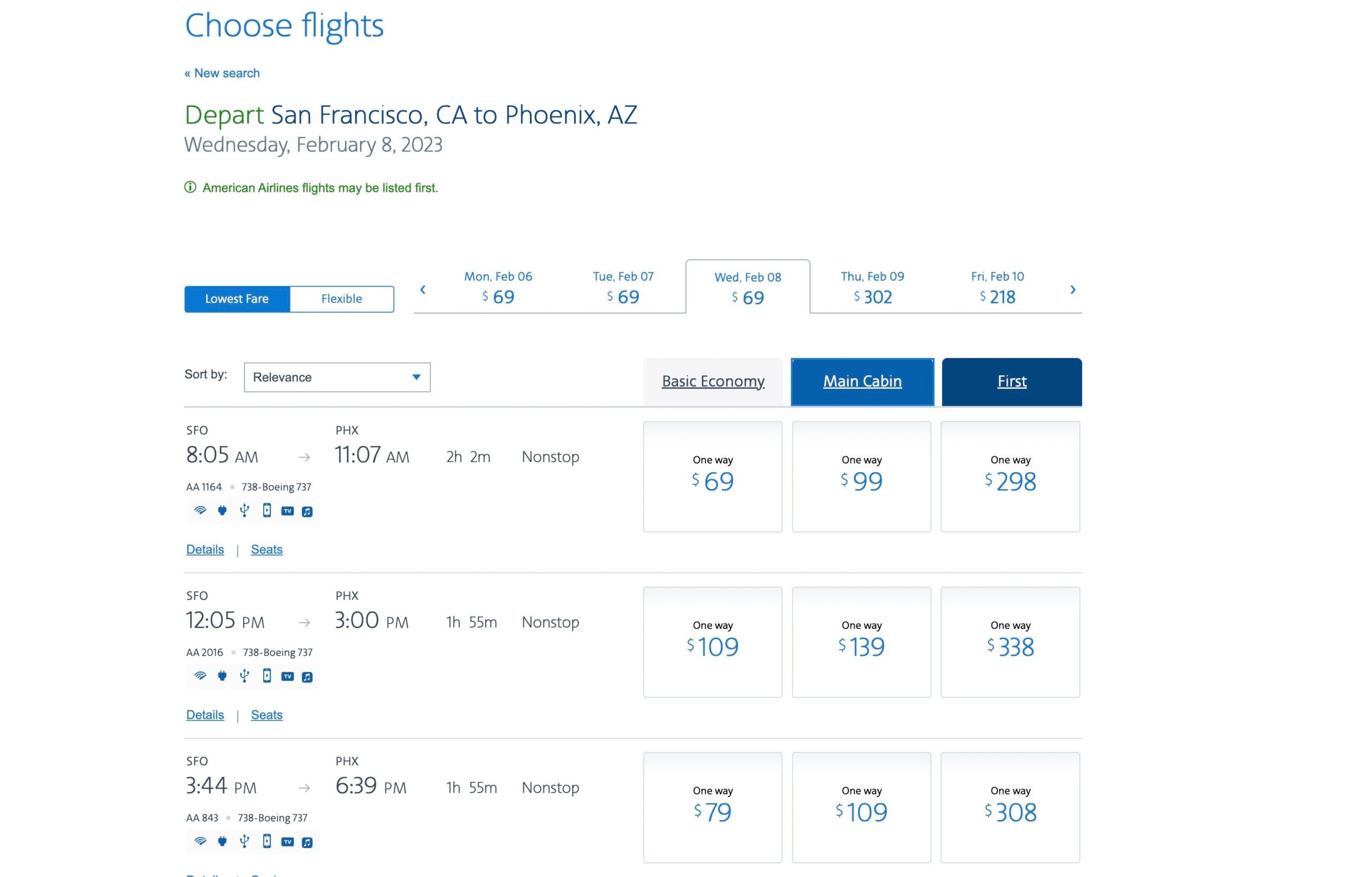 Flying private
If flying commercial doesn't sound appealing, this might be the time to try out JSX and earn United MileagePlus award miles. JSX is a public charter jet service that flies between private terminals on 30-seat jets. It's the ultimate travel hack for those looking to travel like a sports star to and from the event (without breaking the bank).
Flights will run from Dallas; Burbank and Oakland, California; Denver and Boulder, Colorado; Las Vegas; and San Diego. They will allow passengers to bypass the traditional hassles and long lines associated with congested airports. Prices for JSX flights start at $249 each way. 
Hotel redemptions
Don't expect to redeem points for a hotel stay over these high-demand dates in February. It appears all the major hotel brands almost totally blacked out redemption options in favor of cash prices; many are also imposing a four-night minimum and no cancellation.
Availability is few and far between also, but there are a few standouts.
If you don't mind an airport hotel, you can still book one king guest room at the Marriott Phoenix Airport from Feb. 9 to 13 for 120,000 Bonvoy points or $2,150 per night if paying cash. 
The TownPlace Suites Tempe at Arizona Mills Mall, south of the airport, shows availability for the same dates at 84,000 Bonvoy points or $849 per night if paying cash.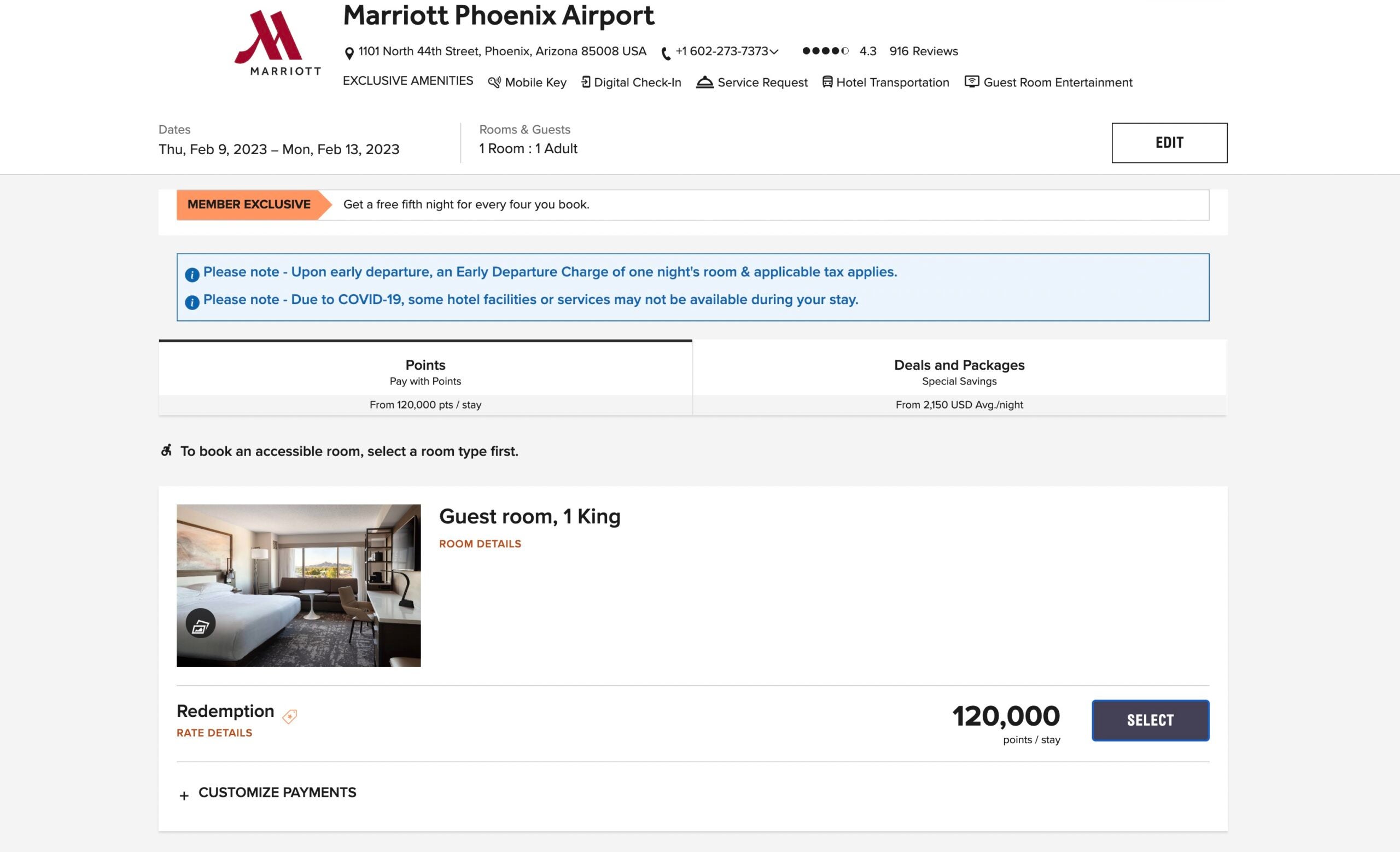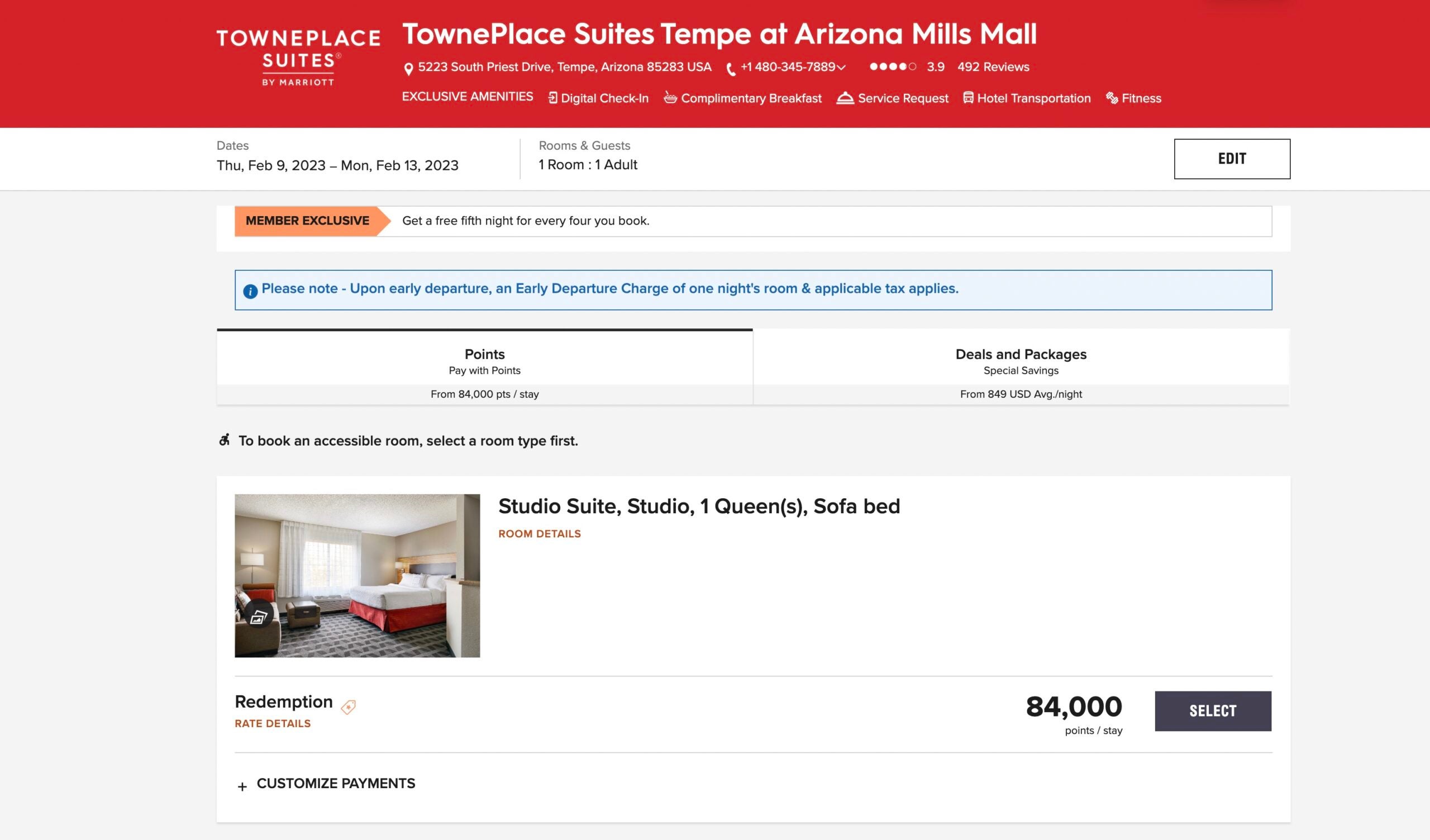 Luxury resorts
The Phoenix/Scottsdale area is home to dozens of luxury four- and five-star hotels and resorts, many with amazing golf courses. If you don't mind paying cash and want to splurge a bit on accommodations, there are a few luxury resorts in the area with limited availability. 
Mountain Shadows Resort in Paradise Valley has limited availability with minimum stay requirements, no cancellation and full nonrefundable prepayment due at the time of confirmation. Room rates start at $3,500 per night and suites start at $8,500 per night. All inquiries should go to Rachelle Vroom at 480-624-5418 or rvroom@mountainshadows.com.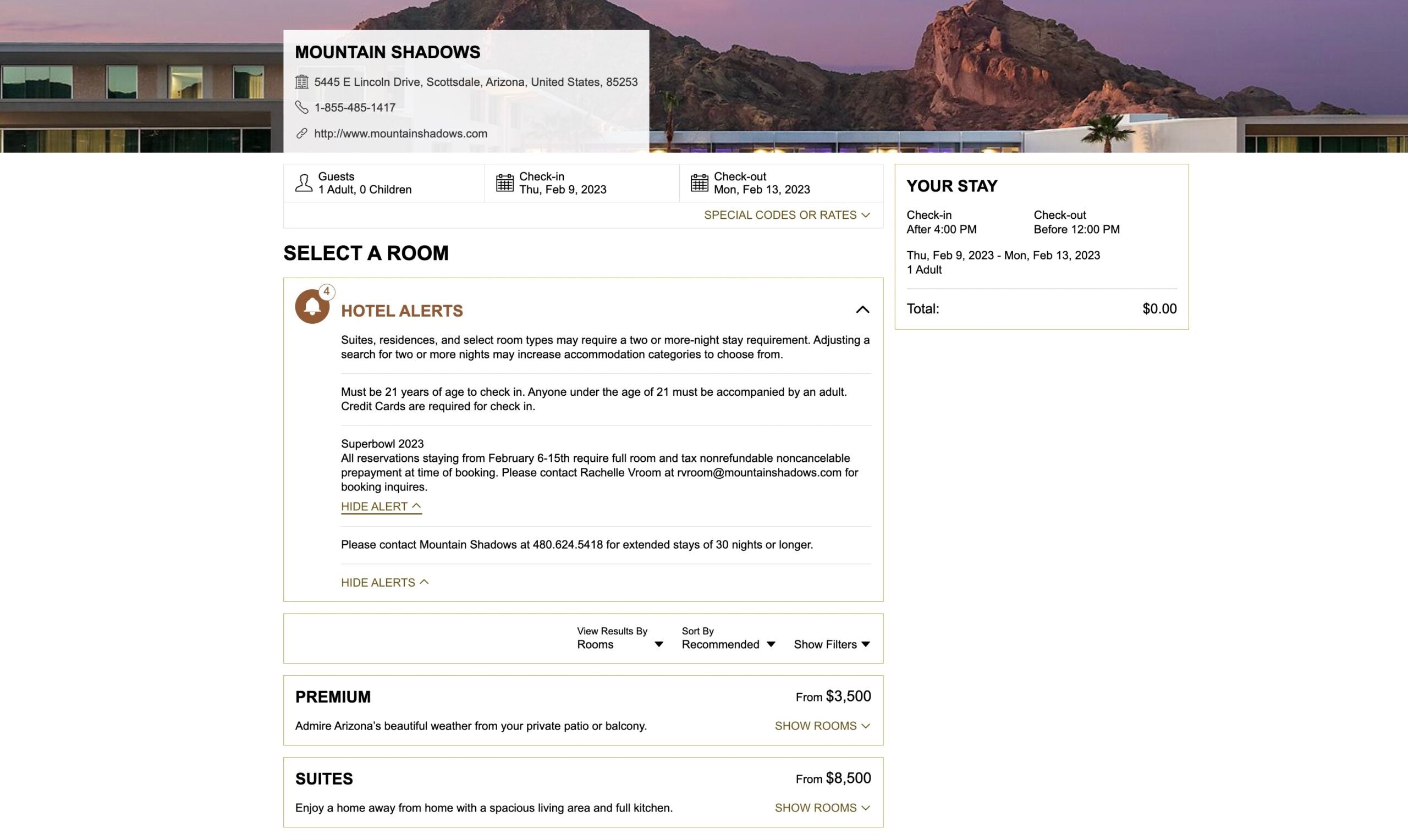 The nearby midcentury modern Hotel Valley Ho in Old Town Scottsdale also has limited availability; this is the area where the bustling nightlife and ESPN Main Street Tailgate fan events and filming will take place. Room rates start at $5,999 and must be booked directly through Jay Cedillo at jcedillo@hotelvalleyho.com.
The Four Seasons Resort Scottsdale at Troon North has limited availability for a four-night minimum stay from Feb. 9 to 13. Full advance payment is due at the time of booking and is nonrefundable and nontransferable. Terms and conditions are nonnegotiable. Due to the special event period, room rates and types are subject to availability until the time of confirmation. For availability, contact Erin Jette at 480-513-5011 or erin.jette@fourseasons.com.
Another luxury option is Castle Hot Springs, an exclusive, historic gem in the northwest area of the Valley of the Sun. Regular arrival and departure days are Thursday, Sunday and Tuesday. There are a few Sky View Cabins available from $2,125 plus tax per night for double occupancy; a few of the Spring Bungalows are available starting at $2,500 plus tax per night based on double occupancy. The rates at Castle Hot Springs always include three meals per night and associated gratuities, resort service fees and a wide array of resort activities including yoga, farm tours, electric mountain bikes, pickleball and unlimited access to the restorative natural hot springs. The resort also has a helipad if you prefer to arrive by helicopter. You must book rooms by emailing reservations@castlehotsprings.com or calling Tina Newman or CoyAnne Marneris at 888-533-2169.
Vacation rentals
If you'd rather skip the hotel or resort and stay in a private home, there are a few options available through Homes & Villas by Marriott and Airbnb.
Homes & Villas by Marriott shows a sprinkling of availability across the greater Phoenix area from Feb. 9 to 13. Apartments start at $564 per night and the options for homes range from "potentially affordable" to "second mortgage."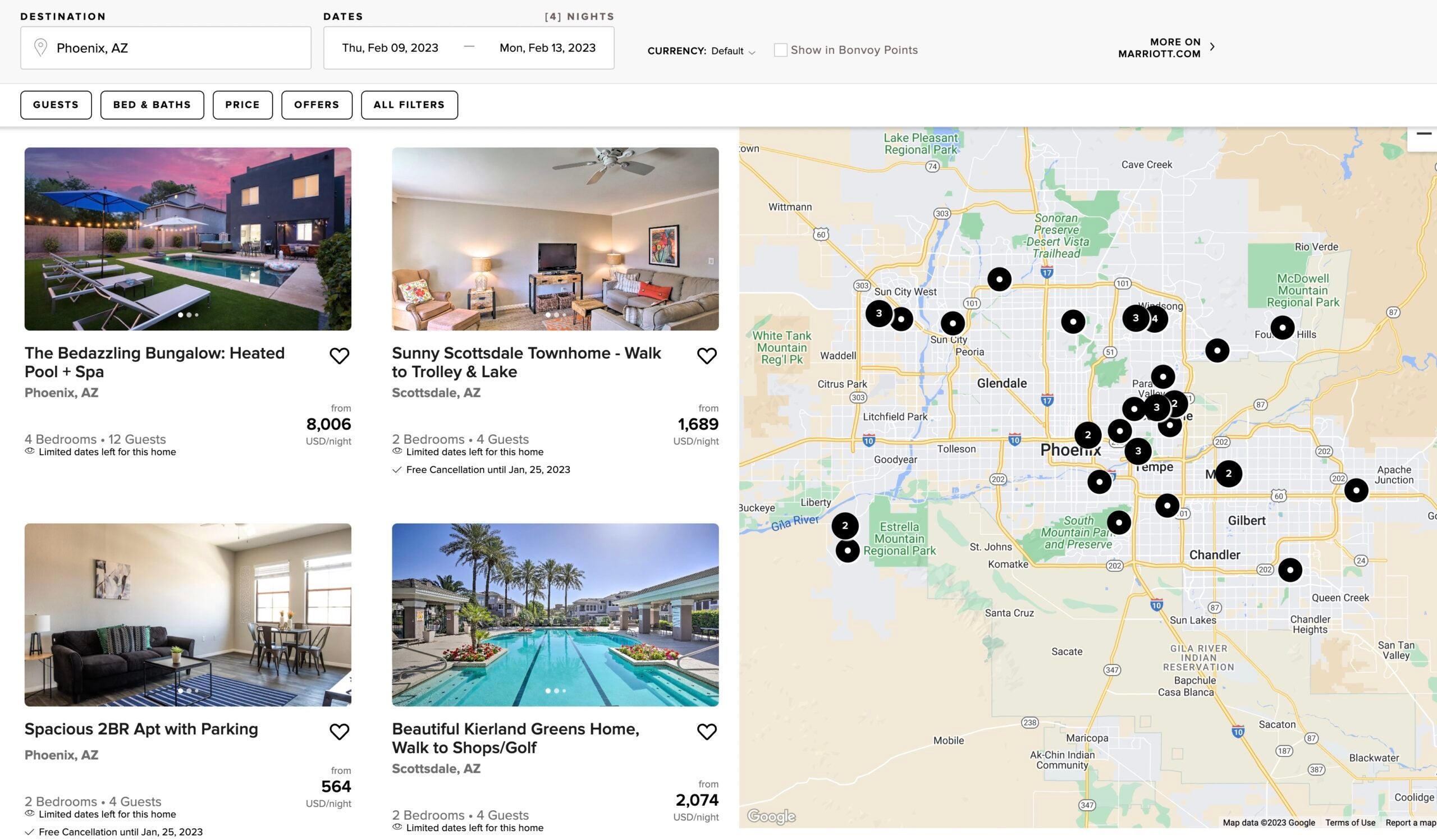 If you have 12 friends and they want to pitch in just more than $6,000 each, you could book the Paramount Palace with mountain views. This five-bedroom mansion in the heart of one of Phoenix's most exclusive neighborhoods, Arcadia, is available for $17,000 per night. The total stay for four nights with cleaning fees comes to just more than $80,000. The lucky person who books would earn 695,294 Bonvoy points — which, according to TPGs latest valuations, is worth just more than $5,840.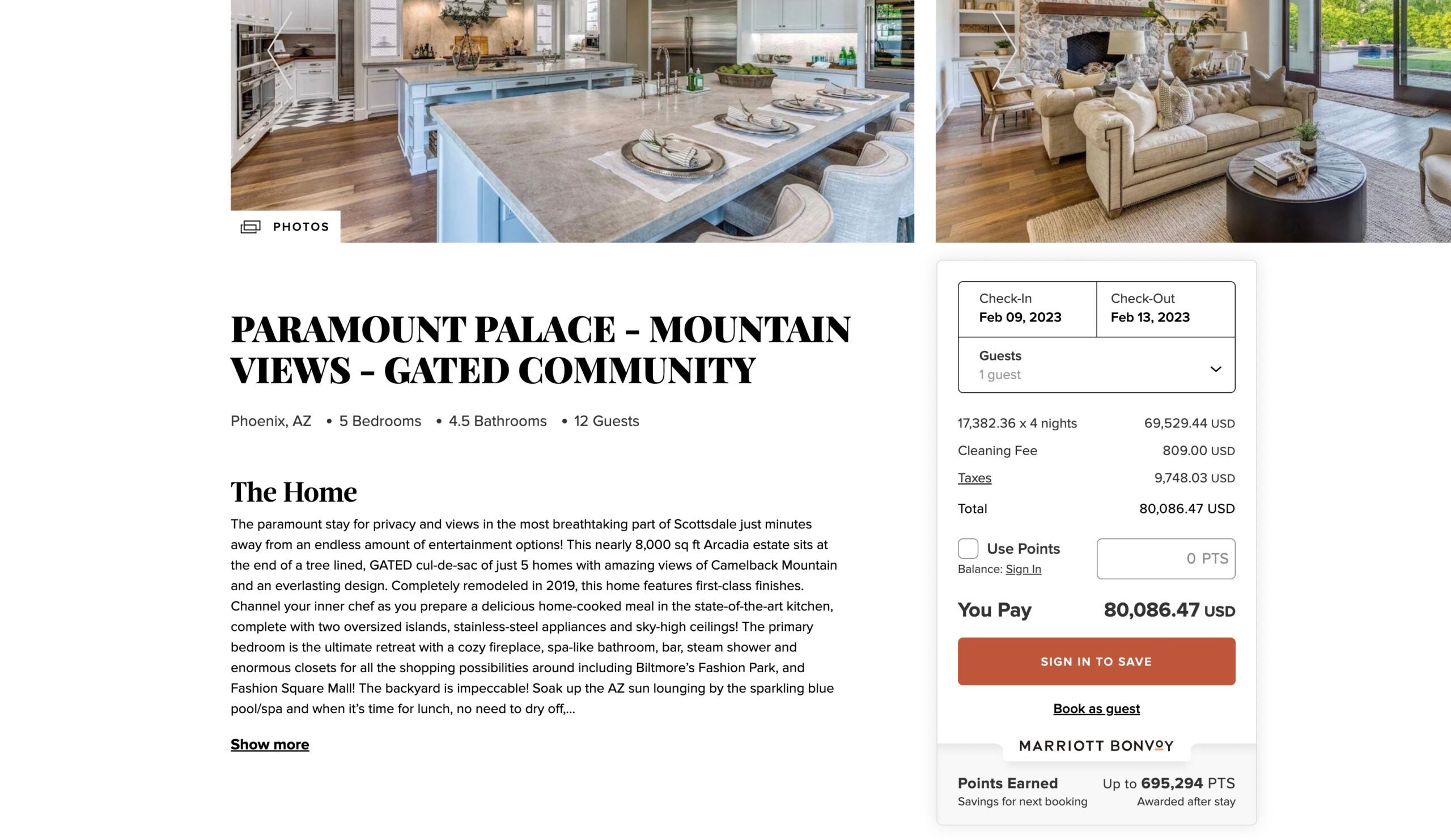 Airbnb availability was few and far between, but nightly prices were relatively low compared to local resorts and hotels.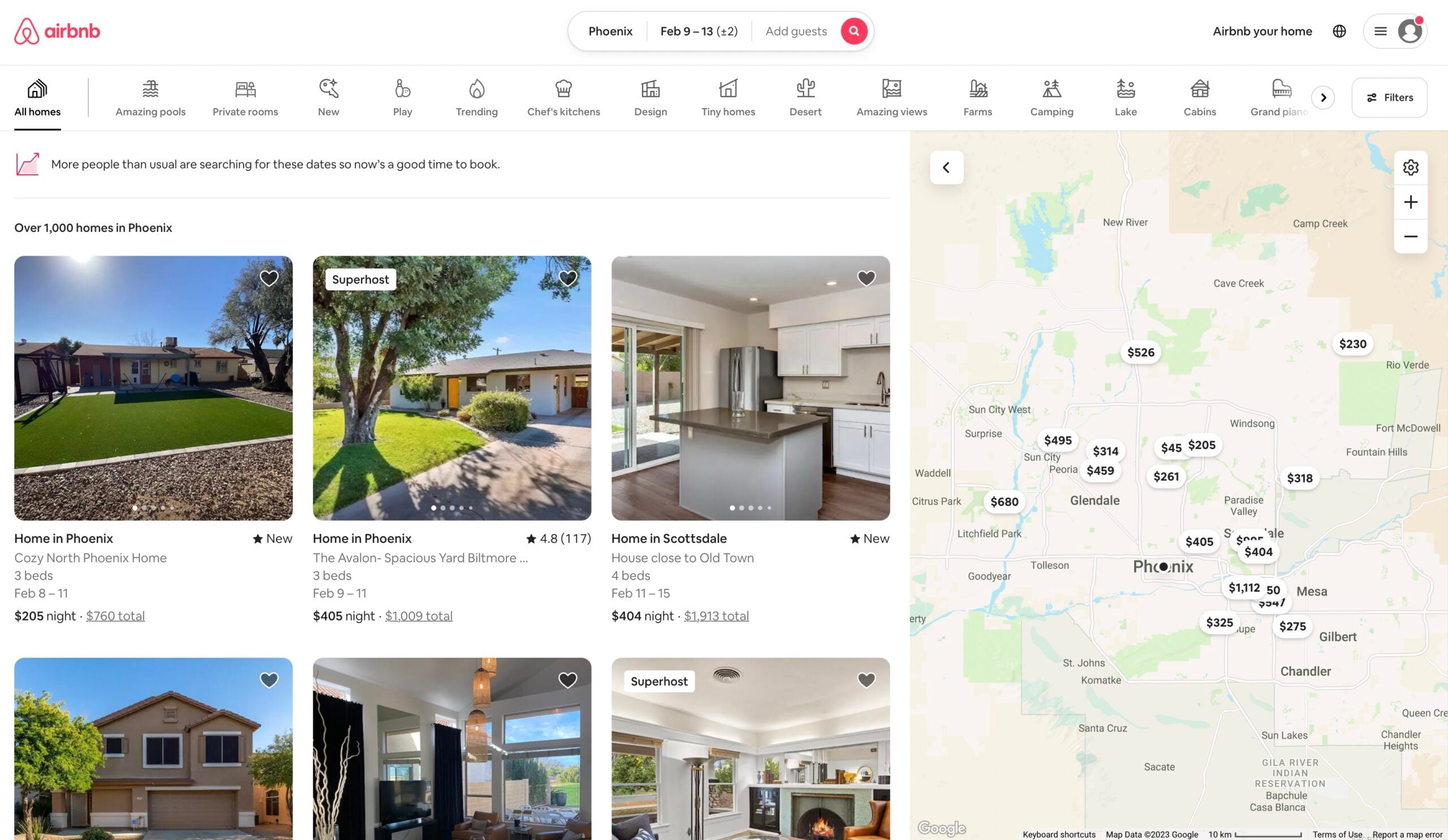 Bottom line
Even if you don't plan to attend the Super Bowl itself, there are plenty of events taking place in the greater Phoenix area during this time that allow you to enjoy the festivities without breaking the bank. 
There are many ways to save on travel costs with inexpensive airfare or by redeeming miles. Still, it might cost a pretty penny to afford the luxury of a hotel or resort during the crazy supply and demand of a Super Bowl weekend.