Singapore Airlines KrisFlyer members received emails early Tuesday morning stating that the airline has expanded its partnership with Marriott Bonvoy. While Marriott Bonvoy members have long been able to convert their Marriott Bonvoy points into KrisFlyer miles, you can now do so in the opposite direction. KrisFlyer members are now able to convert their Singapore miles into Marriott points.
But should you take advantage of this new option?
Here's what you need to know about converting KrisFlyer miles into Marriott points.
An underwhelming transfer ratio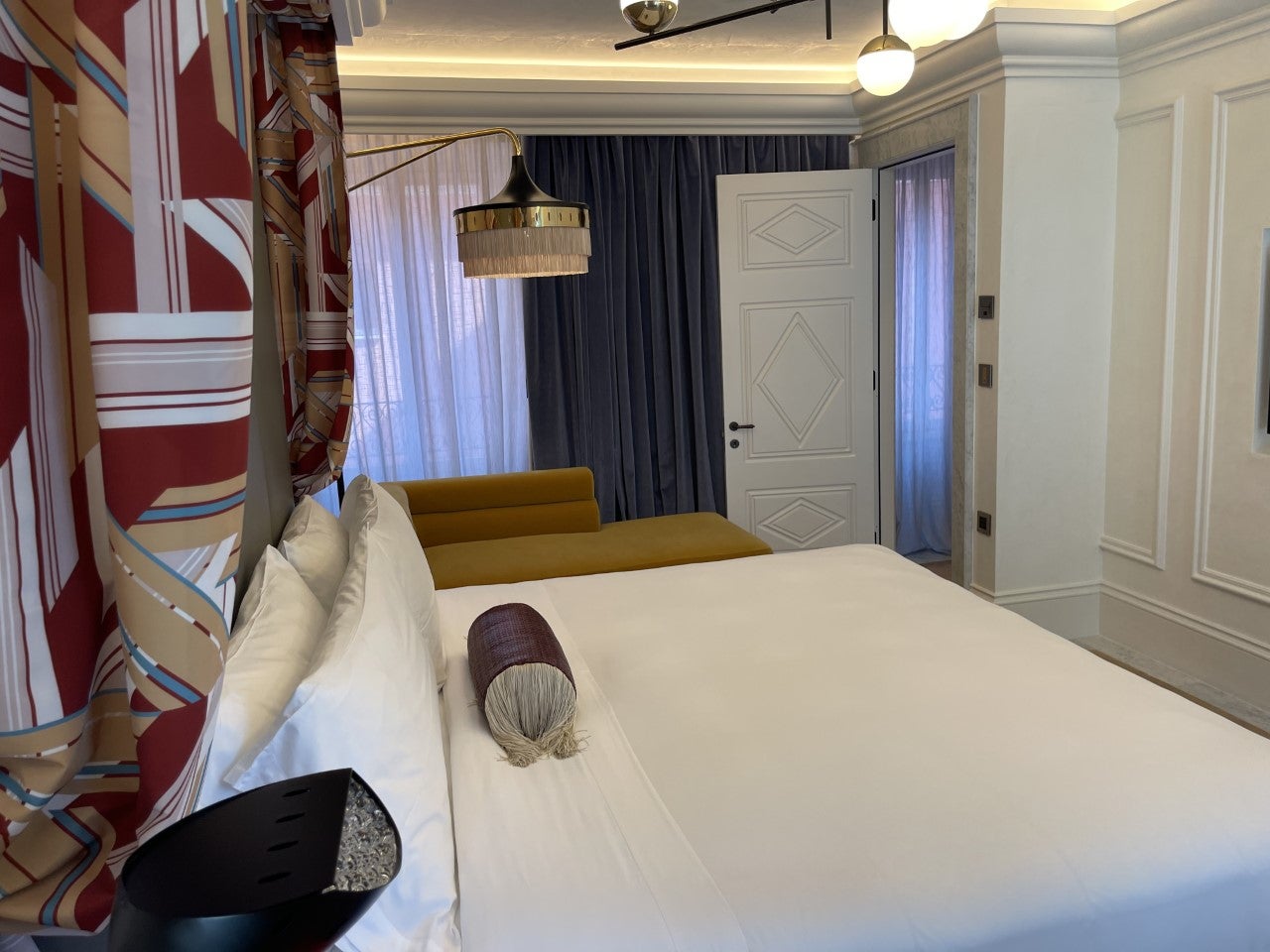 For starters, this new redemption option for Singapore miles provides a less-than-stellar transfer ratio. Specifically, KrisFlyer members can convert their miles to Marriott Bonvoy points at a 2:1 ratio. As TPG values Singapore Airlines KrisFlyer miles at 1.3 cents apiece and Marriott Bonvoy points at 0.84 cents apiece, on paper, transferring miles from KrisFlyer to Marriott Bonvoy significantly diminishes their value.
For reference, United Airlines MileagePlus members can convert up to 100,000 miles to Marriott Bonvoy points per calendar year at a slightly more appealing 1:1 ratio.
On the other hand, converting Marriott points to KrisFlyer miles may not provide the best value either. Specifically, Marriott Bonvoy members can convert their points to KrisFlyer miles at a 3:1 ratio. Marriott Bonvoy members receive 5,000 additional KrisFlyer miles for every 60,000 Marriott points transferred.
Related: Marriott is ending its 5,000-mile transfer bonus for a 4th airline program
A long transfer time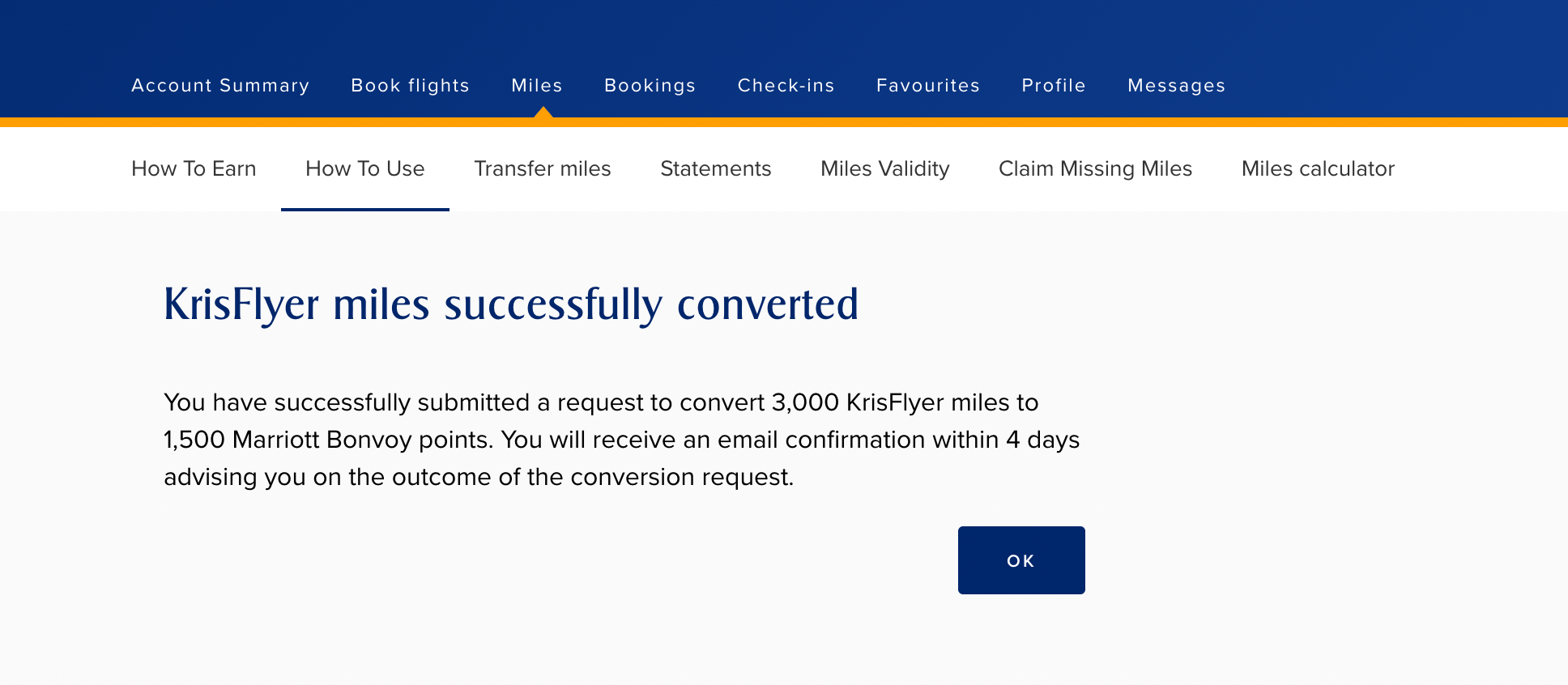 In addition, it appears that these transfers could take some time to process. When transferring rewards from one program to another, timing is of the essence. Transfers that don't process instantly could mean that award space disappears, or in the era of dynamic pricing, the original price may no longer be valid.
When TPG initiated a test transfer to see how long it would take for Singapore miles to become Marriott points, Singapore Airlines advised us that the transfer request could take up to four days.
For that reason, converting Singapore Airlines miles to Marriott points won't be your best option for a highly coveted award night, as room inventory could disappear (or increase in price) before the points arrive in your account.
Related: Here's what you should know before converting Marriott points to airline miles
When might you consider transferring KrisFlyer miles to Marriott Bonvoy?
Despite the underwhelming transfer ratio and long processing times, some might consider converting KrisFlyer miles to Marriott Bonvoy points. This would likely only make sense in the following scenarios:
You need to top up your Marriott account balance for a specific award and are willing to wait up to four days for the transfer to process.
You have orphaned KrisFlyer miles that would otherwise expire.
Remember, there are ample ways to earn Marriott points that don't always involve staying in Marriott hotels. Some ways to earn Marriott points include dining out at participating restaurants in the Eat Around Town program and earning points through a cobranded Marriott credit card.
Additionally, if you have orphaned Singapore Airlines miles, remember that you can use your miles to travel with United Airlines and Alaska Airlines. If you find award space, one-way Alaska Airlines economy-class awards from the West Coast to Hawaii cost just 12,000 KrisFlyer miles.
In addition, Singapore partners with all of the major transferable currencies, so you can always boost your account balance by transferring points from programs like American Express Membership Rewards and Chase Ultimate Rewards. And there are many great uses of KrisFlyer miles — especially for premium cabins on Singapore's own flights.
Related: It doesn't get much better than this: Singapore Airlines' A380 in business class from Frankfurt to New York
How to transfer KrisFlyer miles to Marriott
If either of these options makes sense for you, the process to convert your KrisFlyer miles to Marriott points is relatively straightforward.
Log in to your Singapore KrisFlyer account and navigate to your account homepage.
Click on "Miles," then click on "How To Use."
Scroll down to find Marriott Bonvoy under the "Other redemption options" section.
When you click that icon, you'll likely receive a prompt to verify your account using a one-time password. After that, simply input your Marriott number, note the number of miles you want to transfer and follow the on-screen prompts.
Note that there's a minimum of 3,000 miles for each transfer, and you can transfer a maximum of 180,000 KrisFlyer miles per calendar year.
Bottom line
Singapore Airlines and Marriott have expanded their partnership, allowing KrisFlyer members to transfer miles to Marriott Bonvoy at a 2:1 ratio. Unfortunately, these transfers take up to four days and will almost always result in a redemption rate far below TPG's valuation of KrisFlyer miles.
If you have Singapore Airlines miles burning a hole in your pocket, consider looking into other uses of KrisFlyer miles.