Editor's note: This post has been updated with new information.
Your credit score plays a large role in your overall finances. We talk a lot about what goes into a credit score and how you can keep it in tip-top shape, but where does your score actually come from?
Let's take a look at the three major credit reporting agencies that determine your score.
The 3 major credit reporting agencies
Three major credit reporting agencies collect your financial information and compile it into a report — TransUnion, Equifax and Experian. Those reports are a key part of your credit score, and it's what banks and creditors pull when you apply for a credit card, loan or other lines of credit.
Each credit reporting agency has its own method for compiling your credit report and determining your credit score. That's why your score may vary by agency. Let's take a look at each agency and the scores each produces. Then, we'll talk about which issuers look at which scores when you apply for a new card.
TransUnion
TransUnion was created in 1968 as the parent holding company of Union Tank Car Company, a railcar leasing operation. The company jumped into the credit reporting business in 1969 when it acquired the Credit Bureau of Cook County (CBCC). Since then, it has expanded its services beyond just credit reporting. But it remains one of the primary credit bureaus in the country.
One of the defining characteristics of TransUnion is that it offers a service called Identity Lock. If you believe you are a victim of identity theft, TransUnion will put a freeze on your report and reach out to Experian and Equifax to let them know of the freeze.
Equifax
Equifax is a global data, analytics and technology company. Like TransUnion, it is another major credit reporting agency used by lenders, although it also offers other financial services. Equifax has been in the spotlight for the past few years after a massive data breach was reported in 2017 that affected 147 million people. In the years since, the company committed to a security transformation, hired new leadership and put forth steps to rebuild its reputation and security infrastructure.
Experian
The last of the "big three" is Experian. I've found that Experian has more to offer in terms of credit education. It releases numerous reports each year based on the data and analytics collected by the company. Of course, Experian also offers credit reporting and monitoring services.
The company now called Experian actually started as a London-based forum back in 1803. But the U.S. credit reporting operation really began under the company name TRW, which acquired Credit Data (a credit reporting agency) in 1968. Eventually, the London and U.S. companies merged to form Experian, the global company it is today.
Related: How to check your credit score for absolutely free
FICO vs. VantageScore
FICO and VantageScore are the two primary methods credit reporting agencies use to determine credit scores. All three agencies use both of these methodologies to determine different types of scores. FICO is the more established methodology and has been around for much longer. VantageScore is newer, developed by all three of the major credit reporting agencies back in 2006.
Both types of scores range from 300 to 850 — and the higher the score, the more reliable the borrower is. While there is a lot of overlap in the factors each methodology takes into consideration, there are some slight differences between the two.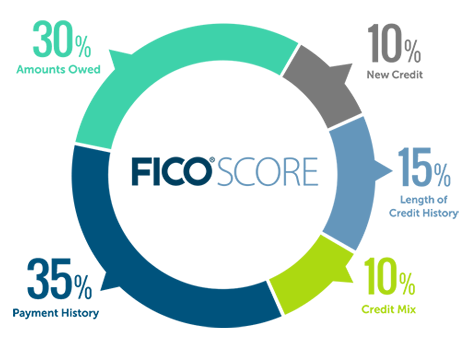 FICO gives specific percentage weights to each factor:
Payment history (35%).
Amounts owed (30%).
Length of credit history (15%).
New credit (10%).
Credit mix (10%).
VantageScore keeps its formula on the vague side, listing out the general level of importance of each factor:
Payment history (extremely influential).
Age and type of credit (highly influential).
Percentage of credit limit used (highly influential).
Total balances and debt (moderately influential).
Recent credit behavior and inquires (less influential).
Available credit (less influential).
There is no singular credit score used by every credit card issuer, bank and lender. Also, each credit reporting agency may have different financial information on file. Unfortunately, this can mean that your approval odds differ depending on which type of score is being pulled to make a decision.
Related: Your FICO score and which credit issuers offer it for free
Which credit bureaus do banks check?
When you apply for a credit card, the issuer contacts a credit bureau (or several) to purchase a copy of your credit report. Included in your report are the categories mentioned above. Knowing which credit reporting agency a card issuer uses to pull reports might help give you a better picture of your approval odds.
You can also use this knowledge to space out your applications (or bundle them, as the case may be) in such a way that helps you maintain an optimal credit score, even if you are applying for multiple cards in a shorter timeframe.
Many credit card companies rely on one bureau to process credit card applications. However, the credit bureau they use to buy reports may change depending on the state you live in and the specific card you want.
Here are a few anecdotal data points that have been reported over the years:
Let's say you find out that Citi usually pulls from Equifax, and Chase primarily uses Experian. You could apply for cards from both issuers in a single day and potentially improve your approval odds for both.
Unfortunately, credit card companies don't publicly reveal which credit bureau they favor. However, there are online resources that gather customer feedback to provide an overall average of which issuer uses which credit bureau.
These resources aren't perfect and are subject to unverified (and perhaps outdated) user input. Still, you may be able to glean information to help you in your search, as long as you understand that it may not be 100% accurate.
CreditBoards.com
The CreditPulls database on CreditBoards.com is a popular online resource for information about credit card applications. You can use the database to determine which credit report will likely be pulled for your application and the score you may need to get approved for a particular card. (Tip: Check the dates of the posts; there may have been changes since the data was posted.)
Access the database using the following steps:
Visit CreditBoards.com.
Click the CreditPulls option on the menu bar.
Select your search criteria — the applicant's state of residence, credit reporting agency (CRA), date applied and whether the application was approved or denied.
Click "Update."
To see a wider range of card issuer options, only fill in your state and date range in the search criteria. For example, I looked up data for credit pulls throughout 2020 in Maryland. Here are some of the results: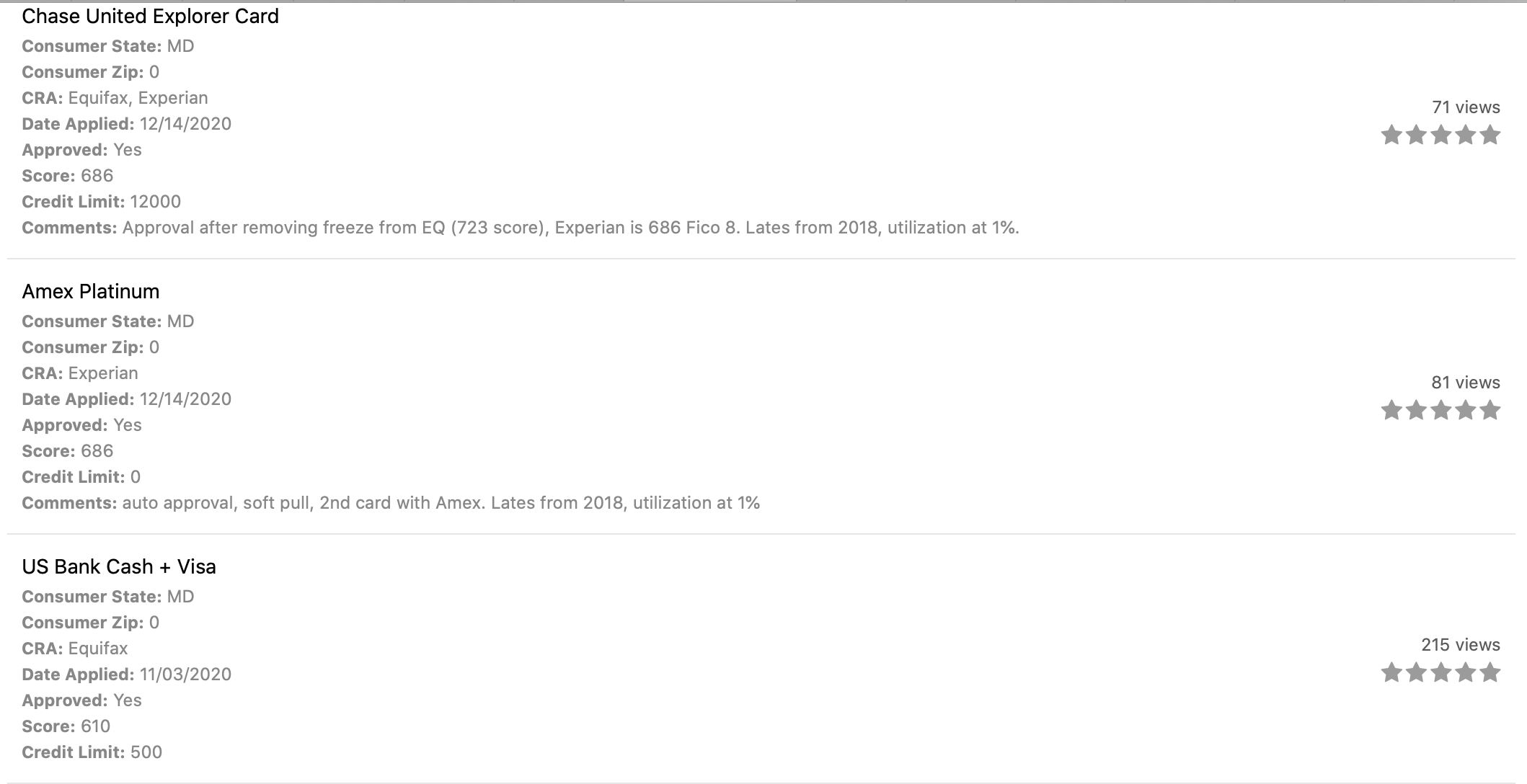 However, I must stress again that the card issuer's agency to pull reports can fluctuate between cities and even individual customers. To get the best picture possible, you should check the site for yourself and enter your own information. Even then, your application results aren't guaranteed to be the same as what others experienced.
This is really just a guide to help you make an educated guess as to where an issuer may get your data.
Related: Best credit cards for excellent credit 
Bottom line
When you apply for a new credit card, your issuer will pull data from one of the "big three" credit reporting agencies. Because there are differences in the information from each agency (and therefore variations in your scores from each), it's important to stay updated on your credit score at each company.
You are allowed to receive your full credit report for free from each agency once per year under U.S. law. Ensure you're taking advantage of that to keep an eye on your report and the information being compiled (even if you are also monitoring your scores through your credit card issuer's mobile apps or other financial services).
Additional reporting by Ryan Wilcox and Michelle Black.